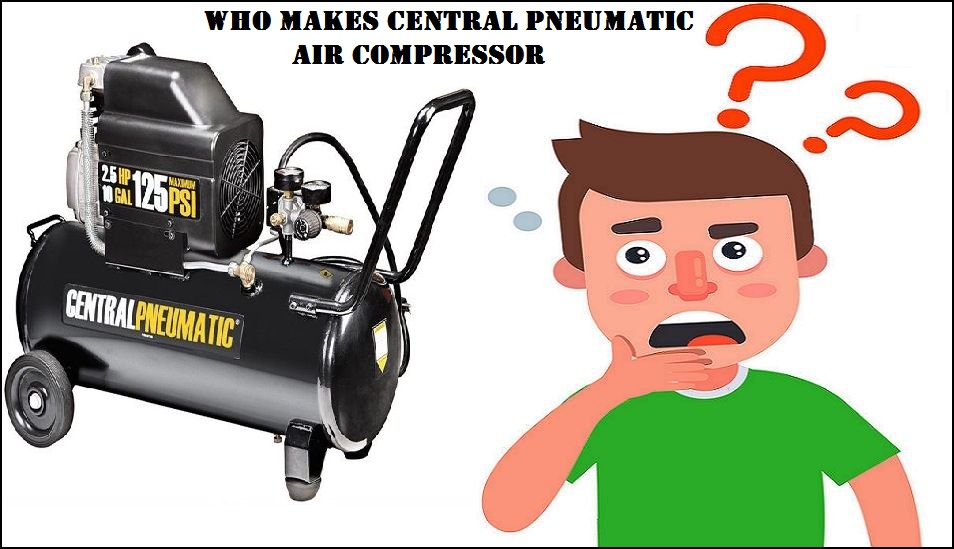 Air compressors have made a lot of things easier than before. After the invention of air compressors, life has become easier. You'll find several types and sizes of air compressors specifically made for different types of tasks. Starting from inflating tires to running large equipment, air compressors can help you in a lot of ways.
While looking for air compressors, you must hear the brand Central Pneumatic. People suggest using air compressors from this brand because of their reasonable price tag and moderate quality. We'll talk about that later.
I was eager to know the manufacturer or marketer behind this brand. It was just a curiosity. While searching for the answer, I've seen that many people were looking for the name behind the brand too. So, here in this article, I'm going to talk about the name behind this brand and a few more words about these air compressors. If you're interested, stay with me.
Who is the Owner of Central Pneumatic Air Compressors?
Central Pneumatic started its journey at the end of 1982 which is almost 40 years back from now. From the very beginning till now, Harbor Freight has owned the brand. The brand was established to meet the demand for affordable and quality air tools.
Besides air compressors, you'll find several other tools under this brand including an angle grinder, nailer, impact wrench, stapler, and so on. These tools under this brand were introduced so that the homeowners and DIYers can have some quality tools within budget.
Later several professional tools also have been introduced under this brand.
Who Makes Central Pneumatic Air Compressors?
As far as I could understand from the research, Harbor Freight doesn't manufacture these air compressors directly. These are manufactured in Taiwan under proper quality control and then marketed and sold by Harbor Freight.
The central pneumatic segment has some related accessories products also.
Why Choose Central Pneumatic Air Compressors?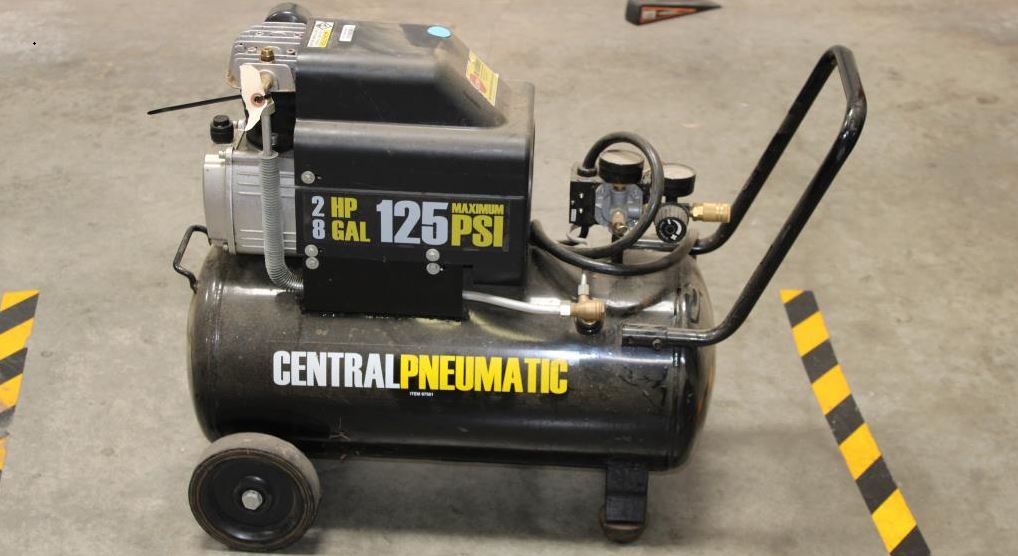 I've already said that people suggest buying these air compressors for several reasons. Let me talk about the major reasons why you can go for these air compressors to serve your purpose.
Central Pneumatic was introduced for providing quality tools for homeowners and DIYers. It is still continuing the quality and helping DIYers to get their expected performance within a friendly budget.
If you're picking a Central Pneumatic air compressor for your home use or DIY projects, you'll get the quality you're looking for. Every air compressor fails and your Central Pneumatic will fail too someday. But you can depend on the Harbor Freight quality. It is not going down soon.
Harbor Freight uses several modern technologies to build these air compressors. Besides, these are tested through real-world simulations to make sure that all the tools are ready to perform.
As a result, you'll find your Central Pneumatic performing great. For all your DIY jobs, this can be a perfect choice for you. With a smooth performance and strong build quality, this air compressor is going to win your heart for sure. You can depend on the performance of these air compressors without any hesitation.
As these are made for homeowners and DIYers, Central Pneumatic air compressors come with a reasonable price tag compared to the benefit and performance provided. You'll find the options from Central Pneumatic within the budget range.
This is another reason that has made this one of the most favorite air compressor brands to the DIYers. Other tools from Central Pneumatic are also priced reasonably.
Air compressors from Central Pneumatic are designed keeping portability in mind. Home applications require high-portability because portability makes the task easier. That's why the air compressors from Central Pneumatic are made portable so that DIYers get maximum satisfaction using these air compressors.
You'll find wheels and handles in the large air compressors from this brand. These are used to make the compressors portable.
Downsides of Central Pneumatic Air Compressors
An issue with Central Pneumatic Air Compressors is durability. These tools are moderately durable. You can't expect them to be there for you for a long time. From a budget air compressor, you can't expect that though.
For continuous use, you won't find these air compressors that reliable. These perform great when it is a short task. While performing longer tasks, these often fail to impress you. So, if you're looking for something to help you in the longer run, this is not the one you should pick.
My Favorite Central Pneumatic Air Compressor
1/3 Horsepower 3 Gallon 100 PSO Oilless Pancake Air Compressor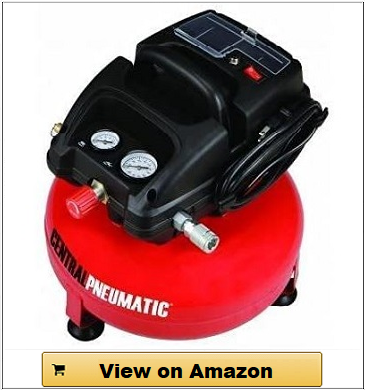 This small pancake-shaped air compressor from Central Pneumatic is something that is very useful for inflating your vehicle tire. This small and portable tire inflator served me well for a long time. You can go for this too.
Using it for inflating tires is very easy as it is light and portable. It comes with a 3-gallon tank that allows you to get all 4 tires inflated without taking long rest. At 90 PSI, it ensures 2.5CFM airflow which is good enough for inflating tires and running small tools. The easy-to-read pressure gauge allows you to check the air pressure.
Maintaining this tool is not a big issue. You won't have to do it frequently as it is an oil-less tool. Just store it at one corner of your garage and use it when needed. However, don't leave it there for a long time if you want it to last long.
For safety, it comes with thermal overload protection. There is a built-in space where you can store accessories and hoses.
A downside of this air compressor is the noise it makes. Compared to the size, it is loud.
Related Post: Who Makes Kirkland Motor Oil?
Pros
Carrying is easy as it is lightweight
Can inflate four tires without any rest
Maintenance is not a hassle at all
Packed with safety steps

---
Central Pneumatic 3 Gallon Air Compressor Video Overview
---
FAQs About Central Pneumatic Air Compressor 
What if I use Central Pneumatic Air compressors in my Professional Project?
I've already said time and again that these air compressors are mainly for home use. You'll find the perfect performance from these if you use them for small projects at home.
If you try to use these in your professional projects,  these can't support you for long. Professional projects continuous support for a long time. Central Pneumatic air compressors can ensure small work cycles only. So, you'll have to frequently stop working and allow some time to recover. This will make your progress slow. You don't want it to happen, I know.
How do Central Pneumatic air compressors perform compared to other compressors in a similar price range?
Some air compressors you'll find in a similar price range as Central Pneumatic are Husky, Kobalt, etc.
While comparing Central Pneumatic with these brands, you'll see several noticeable differences in some cases. Also, in some features, all of these have similarities. So, checking the user reviews is the best thing you can do here.
According to my findings, Central Pneumatic performs a bit better than others in a similar price range. Build quality is the main reason behind this.
Where to find Central Pneumatic air compressors?
As Harbor Freight manufactures these air compressors, you'll find these on Harbor Freight shops. Besides, Amazon is another source where you can find them.
Several other sellers sell these air compressors. You can check the hardware shop near you to see if they sell it or not. If it's a big shop, there is a high chance of getting Central Pneumatic air compressors.
Are Central Pneumatic air compressor parts available everywhere?
Many people say that finding parts for these compressors is a bit tough. Well, the claim is right. I've also faced some issues getting the parts. However, you'll find the parts in Harbor Freight shops mainly.
Searching for the parts on Amazon or the shops beside your home won't be an effective step in most cases.
---
Final Verdict
I guess now you know the name behind Central Pneumatic air compressors.
Central Pneumatic is a reasonably-priced option from Harbor Freight. So, you can't expect a great performance from it for professional tasks. If you want something that can be there in your small household repairing and other tasks, you can go for it.
It is definitely good according to the price point it comes, but you can't expect it to do magic for you