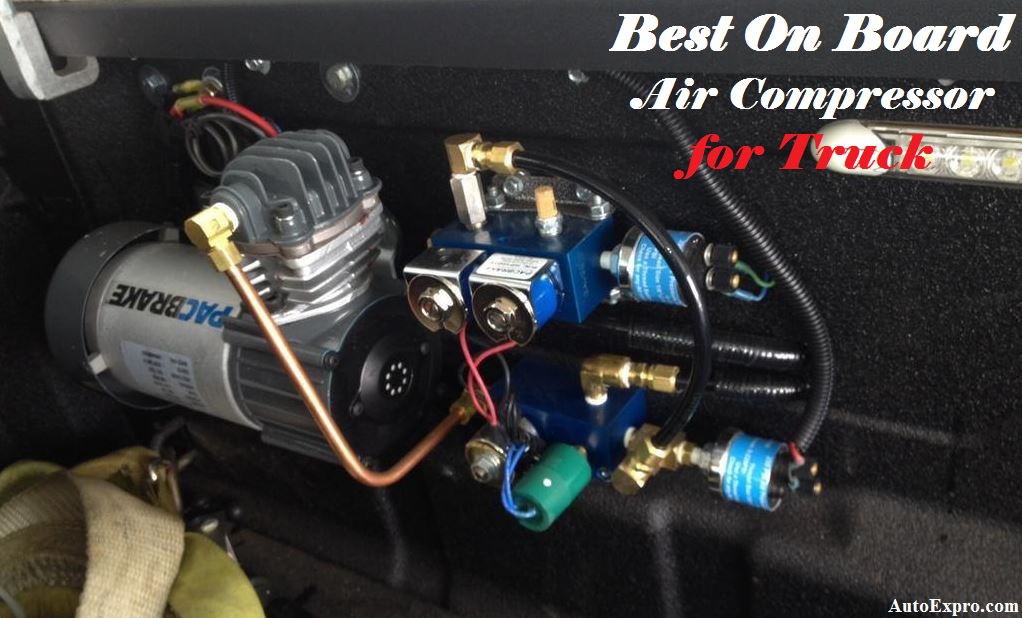 A few weeks ago, my buddies and I left in one of their trucks to attend a concert in the countryside. We were getting late already. And, on top of that, we ended up with a flat tire.
My buddy had an air compressor on board. So we thought the flat tire wouldn't be an issue. But I was wrong. The air compressor wasn't solid and fast enough for his big truck tires.
By the time we reached the place, we had missed so much already. But that wouldn't have happened if my buddy had the best onboard air compressor for truck.
So after we got back home, I decided to write down some of the top-rated air compressors I've come across so far. I've also added a buying guide and answered some frequently asked questions so that you don't have an issue finding the best one.
Check our Editor's Choice

VIAIR 20185 Dual Stealth Black 485C 
Since you are here to look for a heavy-duty air compressor for a truck, I guess you must be in a hurry to find the answer. If the time is short, you can check out my top pick for your truck.

Comparing my experience with all my favorite models, the VIAIR 20185 Dual Stealth Onboard Air System is the best of all. It is not the cheapest compressor, but once you take a look at everything the package contains, you will understand why.

The VIAIR 20185 has a 200 PSI level with a 3.82 CFM. It also has a 100% duty cycle, which means the compressor will work fast and will require less break. Furthermore, this compressor comes with all the necessary accessories and hardware to make things easier for you.

Top Rated 10 Truck Air Compressor Comparison Table
Image
Product
Details
Price
ARB CKMA12 Air Compressor

PSI: 175

CFM: 3.08
Duty Cycle: 50%

Check on Amazon
Vixen Horns Heavy Duty Air Compressor

PSI: 200

CFM: 1.1
Duty Cycle: 25%

Check on Amazon
VIAIR 20185 Dual Onboard Air System

PSI: 200
CFM: 3.82
Duty Cycle: 100%

Check on Amazon
Wolo Air Rage Heavy-Duty Compressor

PSI: 120
CFM: 3.5
Duty Cycle: 100%

Check on Amazon
ARB CKMTA12 '12V' On-Board Air Compressor

PSI: 150
CFM: 6.16
Duty Cycle: 100%

Check on Amazon
Vixen Horns 2.5 Gallon Air Compressor

PSI: 200
CFM: 1.7
Duty Cycle: 100%

Check on Amazon
VIAIR 10002 Onboard Air System

PSI: 120
CFM: 2.03
Duty Cycle: 25%

Check on Amazon
Viair 00088 88P Portable Air Compressor

PSI: 120
CFM: 1.47
Duty Cycle: 45%

Check on Amazon
HPDAVV Gas Driven Piston Air Compressor

PSI: 125
CFM: 43.5
Duty Cycle: 100%

Check on Amazon
---
Top 10 Best On Board Air Compressors for Truck
1. ARB CKMA12 Onboard Air Compressor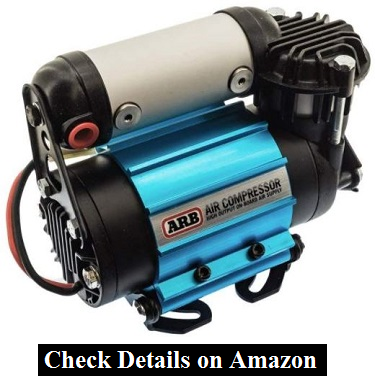 ARB is one of the most reliable brands and the first choice of many professionals. This compressor is made of high-grade material and is suitable for off-road driving.
Features:
Easy To Handle: The ARB CKMA12 is built with high-grade material. Besides, it is comparatively lightweight. That is why you can handle it without much trouble. Moreover, being tightly sealed keeps the compressor free from dust and moisture.
Air Pressure: While most air compressors will provide air pressure no more than 150 PSI, this one will go as high as 175 PSI, along with 3.08 CFM. It makes inflating the tires more flexible and faster.
Gauge Accuracy: I always tell users to watch out for gauge accuracy. You are going to rely on it, so you have to make sure you get it right. As for the ARB CKMA12's gauge, its accuracy amazed me.
Pros
Well-built compressor with high-grade material
Suitable for tires up to 35 inches
Suitable for 4×4 traction in an off-road range
It comes with safety features
Lightweight
Cons
Installation can be a little tricky
Does not come with an air tank
Expensive
ARB CKMA12 Video Review
---
2. Vixen Horns Heavy Duty Onboard Air Compressor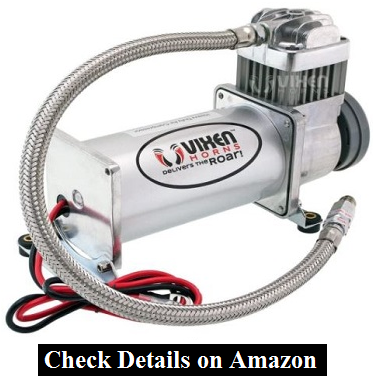 The Vixen Horns come with a variety of on-board air compressors. Its VXC8301 model is not any different from the rest when it comes to quality and price.
Features:
Affordable: Vixen Horns will not empty your pockets if that's what you are worried about. It is a replacement compressor, and that's why the price is affordable.
Air Pressure And Flow: The airflow impressed me the most. I barely come across a 200 PSI air compressor at such a low price. Though the airflow is only 1.1 CFM, it will still fill the tank and tires fast enough.
Includes Hardware: To reduce the vibration, Vixen Horns includes mounting hardware. The air filter is also compatible with remote mount installation.
Pros
Excellent air pressure with a fast response
Affordable price
Suitable for 12V semi/pickup trucks and jeeps
Universal replacement size
Anti-vibration hardware
---
3. VIAIR 20185 Dual Stealth Black 485C Onboard Air System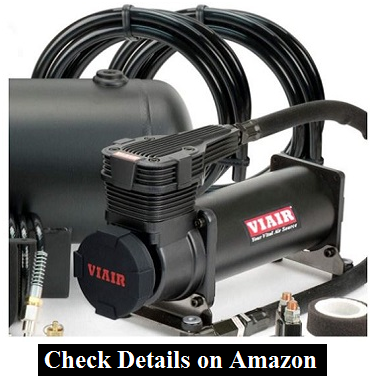 This model from VIAIR never ceased to amaze me. Not only does it fill the tires fast, but it is also one of the most reliable compressors you can get. And I'm sure the review will tell you why it's chosen as the best air compressor system.
Features:
Easy Inflation: The VIAIR 20185 model makes inflation easier for several reasons. It has a 2.5 gallon air tank which is probably not the most suitable size for trucks. But with a 100% duty cycle, inflating the tires becomes super fast and less tiring. On top of that, the compressor comes with a digital gun to help you inflate the truck tires quickly.
Fast Inflation: If ARB's PSI seems a little low compared to your truck tires, VIAIR's compressor with 200 PSI and a 3.82 CFM will be ready to finish the job without trouble.
Dual Air Compressor: As two are better than one, VIAIR's dual compressor is better than any regular air compressor. You will be receiving two compressors along with other necessary items.
Pros
Quick and easy inflation
Higher PSI and CFM level
Digital inflation gun
It creates less noise
Dual compressors
Removable air filters
VIAIR Air Compressor Review & Installation
---
4. Wolo 860-C Air Rage Heavy-Duty Compressor
Once I bought a compressor with a larger tank. But it didn't live up to my expectations. So, I ended up getting the Wolo 860-C Replacement Compressor as my onboard air compressor. To this day, it is one of my favorites, and it is pretty affordable.
Features:
Compatible With Large Tanks: With a 3.5 CFM rating, this compressor is compatible with tanks as large as 5 gallons. Besides, its powerful motor pumps the truck tires faster.
Cooling Fins: The compressor's head and the cylinder have cooling fins. These fins cool down the pump faster, allowing a 100% duty cycle.
Rubber Bushing: There's a heavy rubber bushing on the compressor base. The perk of having the bushing is that it eliminates any sort of vibration.
Affordable: Even after being robust with high-quality performance, this onboard air compressor comes at an affordable price. If you are not up for expensive models, you can purchase this one and still be satisfied.
Pros
Affordable
Strong pump and fast inflation
Rubber bushing for minimizing vibration
Cooling fins offer a 100% duty cycle
Cons
Durability needs improvement
---
5. Air Lift 25980 88204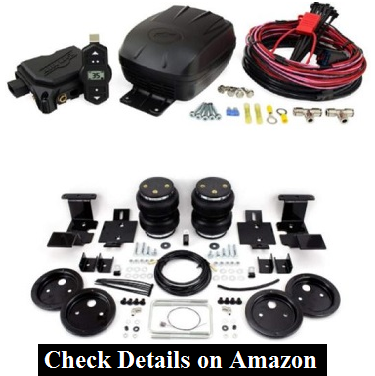 If you are tired of buying the compressor's spare parts separately, I suggest you purchase this Air Lift 25980 88204 onboard Air Compressor. But before that, make sure this compressor will be compatible with your truck.
Features:
Fitted Vehicles: Anyone who owns a 2007-2019 GMC Sierra or a 2007-2019 Chevrolet Silverado will find this air compressor mind-blowing. As it fits these vehicles, it will lift your vehicle without difficulty.
Smart Control: The compressor comes with a remote control system. You can download a mobile app to connect to the compressor through a wireless network and lift your vehicle from a distance. You can also save three different settings for fast lifting.
Lifting Capacity: This Air Lift 25980 88204 is designed to lift heavy vehicles. It is strengthful enough to lift up to 5000 lbs. The air spring system will deflate and inflate in equal measure. So there's no need to worry about losing balance.
Installation: The installation won't be a tough job if you follow the instructions correctly. It will take less than an hour if you do it right. You have to mount the included brackets and other hardware as well.
Pros
Smart control with a mobile app
Heavyweight capacity
Worth the value
The airbag protects it from any damage
No need to buy separate spare parts
Cons
Does not fit MagneRide-equipped vehicles
Very expensive
Air Lift On-Board Air Compressor Video Review
---
6. ARB CKMTA12 '12V' On-Board Twin Air Compressor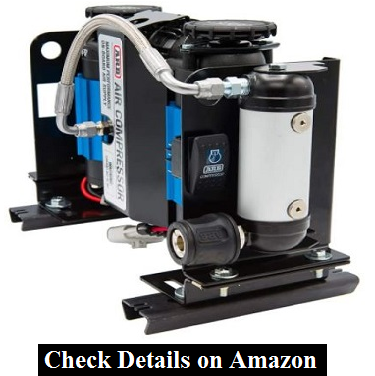 I recommend this air compressor to anyone who has already used the ARB CKMA12 but feels like that one isn't working out for them. Along with a powerful motor, it will make sure you don't end up disappointed.
Features:
Powerful Motor: You will be impressed by its motor power. These motors are thermally protected so that high heat cannot damage them. Moreover, they are water-sealed and equipped with ball bearings. Dual heavy-duty Maxi-Fuses will protect them against any circuit fault.
Performance: The ARB CKMTA12 provides maximum performance with a 6.16 CFM and a maximum of 150 PSI. And its 100% duty cycle makes it more reliable.
Installation: Installing this compressor is not as troublesome as you might think. It comes fully assembled, which saves half of your time. And the instruction guide comes with illustrated pictures, making the installation process a lot easier.
Price: It isn't exactly a budget-friendly air compressor. Having a twin compressor with high-performance parts and features makes it more valuable. But its reliability and satisfying performance make up for the extra you are paying.
Pros
Washable air filters
Airlock system
Suitable for inflating both tires up to 37 inches
Easy installation guide and process
Powerful twin motor
Cons
Comparatively expensive
Gauge and other accessories need to be purchased separately
---
7. Vixen Horns VXO8325 On-Board Air Compressor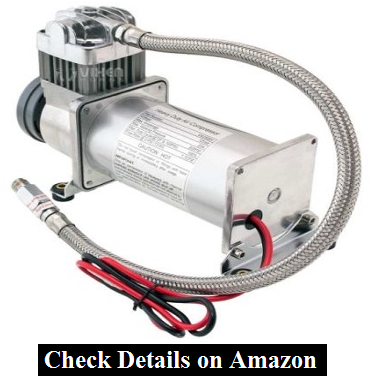 Did the ARB CKMA12 seem far from your budget? Then you can check out the Vixen Horns VX0825 air compressor. Not only does it come at a budget price, but it is also reliable.
Features:
Air Tank Included: The compressor has an air tank that includes seven ports. It has two 1/4″ NPT ports at the front, three on the left, one on the right, and one at the bottom. The tank capacity is 2.5 gallons (9.5 liters) which fill up really fast.
Pressure Switch: You can turn on the pressure switch when the PSI level is 170. Once the compressor reaches 200 PSI, turn off the pressure switch. The gauge responds fast and with accuracy.
High Performance: The Vixen Horns VX0825 might not give you the exact performance you are hoping for. Some parts of it may not meet your full expectations. However, with that affordable price, the high PSI level, and the tank size, it is exceptional in several ways.
Pros
Affordable price
High performance
Reliable air compressor
Maximum 200 PSI level
Accessories included
5 gallons air tank with seven ports
Cons
Lower CFM level
No choice for pressure switch
Vixen Horns Air Compressor for Truck Video Review
---
8. VIAIR 10002 Quarter Duty Onboard Air System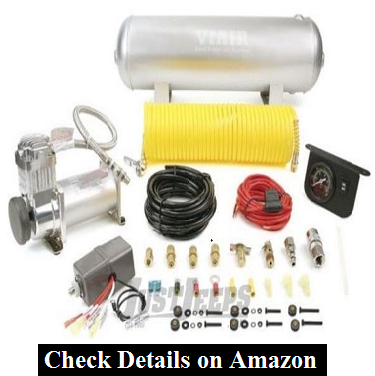 If you are not expecting much from air compressors but want an average-performing one, I have a suitable model to suggest. The VIAIR 10002 Quarter Duty Air Compressor switches between 90-120 PSI to inflate your truck tires. Though the duty level is 25%, it takes less than three minutes to refill and charge the tank in less than half a minute.
Features:
Includes All Parts: To make the installation hassle-free, the manufacturer includes all the necessary parts and hardware in the package. All you have to do is connect the airline to the onboard air system.
Inflation: The things you can inflate with the compressor speak a lot about its performance and capacity. Following the description, I tried inflating the helper bag with the compressor, and the result was better than I had hoped for. You can inflate four tires up to 31 inches.
Performance: As I mentioned a moment ago, the VIAIR 10002 isn't the highest-performing air compressor. However, its 120 PSI refills and recharges the tank faster than you would expect.
But I would ask you to avoid using thread tapes to seal this while installing this compressor. Using thread sealant is a better option to seal the compressor.
Pros
Budget-friendly
Fills and recharges the tank faster
Easy to install
Includes all the necessary accessories and hardware
Lightweight enough for off-road rides
Cons
Shorter durability
Tank leaks sometimes
---
9. VIAIR 00088 88P Portable Air Compressor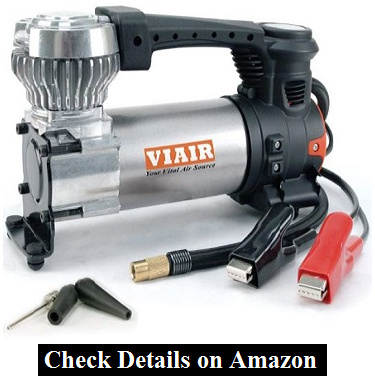 Yes, one more air compressor from VIAIR because it is too good to miss. If you liked the previous model but would like to have something more simple and at a lower price, this is your compressor.
Features:
User-Friendly: This 12V air compressor is suitable for almost all vehicles with up to 33 inches of tires. From my experience, I have found it easy to remove this clutch while the truck goes through regular checking.
Safety Ride: Being small and lightweight puts the compressor at an advantage. You can install it without difficulty, and it will not weigh down your vehicle. It means your highway ride will be safe, no matter where you go.
Budget-Friendly: As I said, one of the many reasons to pick this air compressor is its affordable price. If you are tight on budget, you can get this compressor to work up to your expectations.
Pros
Budget-friendly
Excellent air pressure
Lightweight
Easy to install and remove
Reliable compressor for different types of vehicles
Cons
Not fast enough
Durability needs improvement
VIAIR 88P Air Compressor Video Review
---
10. HPDAVV Gas Driven Piston Air Compressor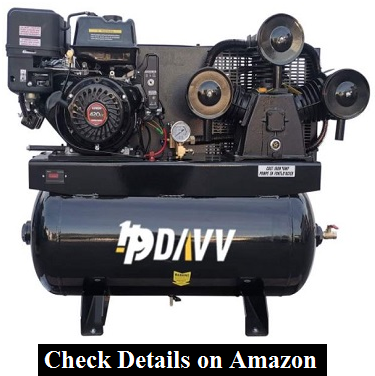 If you own a service truck or do portable mechanical services, small air compressors are not suitable for you. In that case, you can invest some more, a lot more, to ensure having the heavy-duty onboard air compressor by purchasing the HPDAVV Gas Driven Piston Air Compressor.
Features:
Air Flow And Pressure: The HPDAVV 13HP is a heavy-duty air compressor. No matter what, it will work faster than any other compressors on today's list. Along with a 125 PSI level, it has an impressive 43.5 CFM airflow.
Multi-Purpose Use: It's not just your truck tires that this compressor will inflate. The compressor is known to be used in the health, electronics, mining, chemical, light, and textile industries.
Truck-Bed Mount: It isn't exactly a lightweight compressor. Since it is made for doing heavy work, the manufacturer ensured to equip it with strong material. However, you can still keep it on the bed of your truck.
Pros
Suitable for any project
Made for heavy works
Robust performance
Two-staged gas-powered compressor
Strong airflow
Long durability
Cons
Very expensive
Heavy
Not suitable for small indoor use
---
How To Choose The Best On board Air Compressor?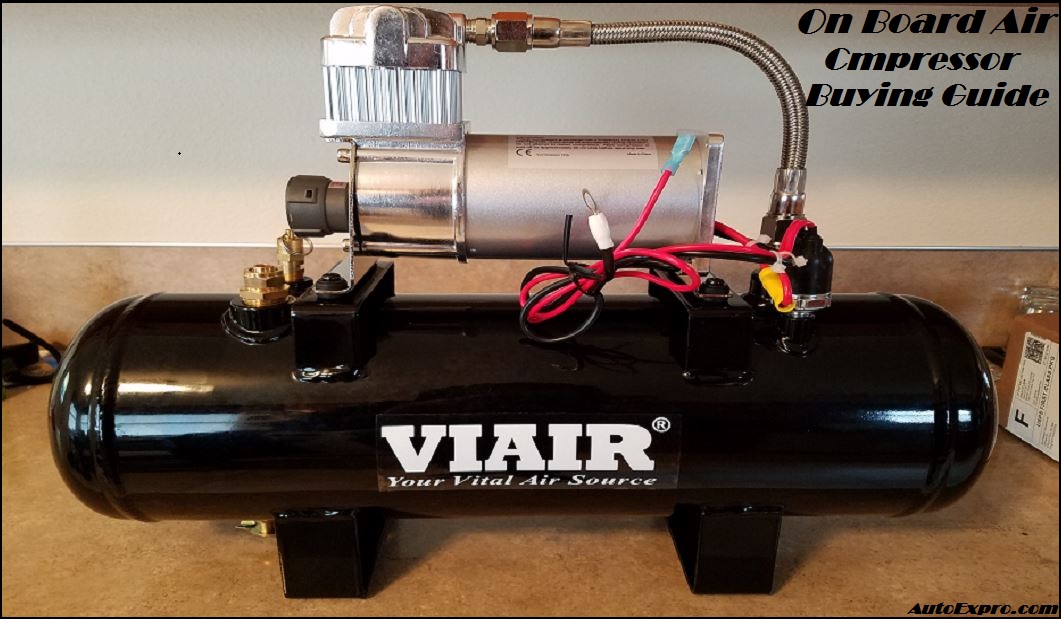 The air compressor must come with a perfect PSI and CFM level, tank size, weight, noise level, duty cycle, power source, and other stuff. So I asked you to be a little patient and make sure the compressor comes with the following.
The level of pressure that comes out of the compressor tank to fill the tires is called PSI or pound per square inch. The higher the PSI level the compressor has, the faster it will inflate the tires. And the faster it inflates, the lesser the chance of overheating it has.
Usually, the PSI level ranges between 30 to 150. Before purchasing, you need to test if the PSI level of your preferred compressor is suitable for your truck.
Remember that you cannot upgrade the PSI, unlike other features. So make sure to get the right one so that you don't have to change it anytime soon.
CFM or cubic feet per minute refers to the amount of air the compressor can provide in a specific amount of time. Portable air compressors may not have higher air pressure. However having a large cylinder gives it the advantage of providing faster airflow.
But that doesn't mean you will be having any less in an onboard air compressor. Most of these compressors these days have a high airflow and can fill up the tires super fast. I recommend using compressors whose CFM level is 1.5 times more than your truck tires.
Some compressors require a break once or a few times while inflating the tires. These breaks help the compressor to cool down before it can start again. Each of these run times before break is a duty cycle.
The Air compressor duty cycle is measured in percentage. If your compressor has a 50% duty cycle, that means its run time and cooling time are equal. Once you understand the duty cycle, it will get easier for you to select a compressor.
Tank size is as important as PSI because the size will determine how many breaks the compressor needs. The bigger the tank, the less break it will require.
Though a 2-gallon tank is suitable for a smaller job, you should have a tank with at least four to six-gallon capacity for larger vehicles. They are more convenient and will help you finish the job faster.
Air compressors can be extremely noisy. It is very annoying, especially when you are trying to speak to someone over the noise. In that case, you can get yourself a high-tech air compressor. These compressors are less noisy.
An onboard compressor will be a part of your vehicle. It means adding some weight to it. That's why you need to be a little careful with the compressor's weight. It should be light so that the truck can handle the weight.
---
Benefits Of An On Board Air Compressor
On board, air compressors are hands down the best thing for every highway-driving person. Riding on such roads, especially with trucks, can be troublesome sometimes.
Still, if you are not sure why you should get the top truck air compressor or how it's going to benefit you, let me give you plenty of reasons for that.
Time-Saving: Once installed, the air compressor will always be a part of your vehicle. Unlike portable air compressors, you don't have to worry about carrying a heavyweight or forgetting where you kept it. This compressor will be right there when you need it.
Less Space Consuming: Air compressors are not significant. That's why they fit easily in any tight space, like under the hood or below your vehicle.
Reliable: When you have this compressor installed in your car, you know that you'll have it right there in case of any emergency. That makes this air compressor a reliable tool.
Suitable Powering Tool: When you have an air compressor, you don't need to buy any separate compressor. You can even inflate vehicle airbags with it.
---
How to Install Onboard Air Compressor on a Truck
---
Frequently Asked Questions About Air Compressor
Are you still searching for answers? Then here are some of the most frequently asked questions I receive regarding truck air compressors.
Is it possible to install a portable air compressor as an onboard one?
Some onboard air compressors come with the system to be used as a portable air compressor. However, portable compressors are not suitable to install as on-board ones.
There are several factors regarding the weight, power system, and a few more things. That's why I strongly forbid users to do so.
Where should I install my onboard air compressor?
While some trucks have compressors installing space, you can install an onboard air compressor anywhere in your vehicle. Nevertheless, always choose a place that will not be shaky or where the compressor will be easily accessible.
Should I buy a seamlessly sealed air compressor?
Yes, it is better to be safe by buying a well-sealed air compressor. If it is an onboard compressor, you will have to leave it exposed to light and dust. Thus, the compressor can easily gather dirt, dust, or anything else. A perfectly sealed compressor will last a long time.
---
Video Reviews on Onboard Truck Air Compressor 
---
Final Verdict
If you are familiar with vehicle machinery, it shouldn't be a problem to find the best products. From my experience, I can recommend a few for you.
If you want a quality air compressor at a budget price, I recommend Vixen Horns Heavy Duty Onboard Air Compressor, VIAIR 20185 Dual Stealth Air Compressor, and the Wolo 860-C Air Compressor. And if you are doing heavy work and willing to pay more to get a high-performing onboard air compressor I recommend the HPDAVV 13 HP Gas Driven Piston Air Compressor.
Nevertheless, it is wise to consult someone directly as well before you purchase the compressor. The right one can ensure a long and safe journey, while the wrong one can make you end up as I did.