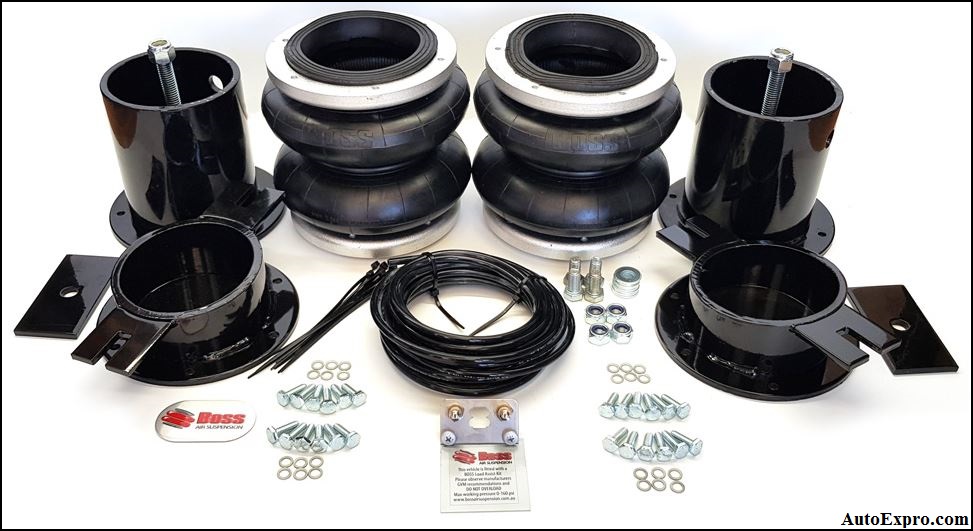 Carrying a huge load or towing large vehicles and cargo regularly means huge pressure on your truck. To reduce the pressure, an upgrade is needed. A common upgrade to increase the ability to take load is adding airbags at the rear side of your truck.
That's why you're here, in search of the best airbags for Ram 2500, right? I know that too. Don't worry, I have something for you.
As an auto workshop owner and vehicle enthusiast, I can say that I know the airbags which offer quality to ensure durability and safety. Among the airbags I've used, received suggestions to use, I ask my clients to use and my online research, I'm going to talk about five airbags for ram 2500 that you can call the bests.
The airbags I'm discussing below come with quality, ensure user comfort, offer durability, and are preferred by a lot of people. So, you can pick one among those without any tension. But before that, let's know about those first.
Top 5 Best Airbags for Ram 2500 Reviews 2021
1. Air Lift 89295 LoadLifter 5000Air Spring Kit
With an ability to load leveling off around 5000 pounds, this airbag kit from AirLift is something that'll blow your mind. If you're looking for a durable, strong, and dependable airbag for your 2003-2013 Ram 2500, picking this up is the best thing you can do, I'm sure. However, if you're looking for one for Ram 2500 cab-chassis, I'm afraid it can't support you.
The convoluted-style airbags of this kit are prepared from quality materials. Both sides of the bags are protected with stainless steel plates. The plates also help to increase the load capacity. There is a Jounce bumper inside the air spring which is designed for absorbing shocks.
So, when you're running with zero air pressure because you don't need lifting, the air spring is safe. The stainless steel mounting hardware keeps it firm in its place.
The air cables of this kit are made with stainless steel and braided. These allow you to run on rocky roads without any tension because the rock splits can't harm the airline. For joints, it comes with military-grade AN fittings to ensure strong sealing. Stainless steel parts are used to keep corrosion away.
It fits the single and dual rear wheel models of Ram. Besides, it is fully compatible with the factory in-bed hitch system and fits most of the side mount fifth wheel hitch applications. Thus it provides you a wide scope of selection.
The kit comes with a full set of rear lifting components including 2 air springs with roll plates, 2 five-foot airlines, 2 Schrader valves, 2 AN-style elbow fittings, necessary mounting brackets, and attachment hardware, and an installation guide with a full illustration of how it install the kit. It takes only less than 2 hours for a professional mechanic to install it.
Pros
Comes with maximum quality
Made to be durable
Easy to install
Safe from any external and internal harm
Cons
May face minor air loss problems

---
2. Firestone W21-760-2299 Ride-Rite Air Helper Spring
If you want to get the best benefit from your airbags, this one from Firestone can also be on your list of preferences. I haven't used it directly, but from my research and reviews from some of my clients, I can strongly say that buying this won't disappoint you.
If you have a 2003-2013 Dodge Ram 2500 2WD or 4WD, this can help you with lifting the rear side of your truck bed. But, for 2004-2008 Dodge Ram 2500Cab-chassis 2WD and 4WD, it'll be compatible under some conditions. So, in such a case, you need to check to see if your truck fulfills all the conditions or not.
Talking about the airbags of the kit, those come with quality and durability until you don't exceed the load limit. The tapered-style bags together can take a load of up to 5000 lbs. So, don't overdo that. Continuing with moderate air pressure inside the bags will help you to use them for a long time. Typically the minimum air pressure of these bags is5 PSI and the maximum is 100 PSI.
The airline is not braided in this like the previous ones we've discussed, but strong and flexible enough to withstand the outside pressure and impacts. So, you won't have to think much about it. But I suggest checking before going out. The kit is compatible with trucks that have an in-bed hitch.
The whole package comes with everything that is needed- 2 airbags, airline pipes, valves, mounting brackets, and necessary hardware. Installing it is very easy and you won't have to drill a hole. You'll find the installation guide online. With the help of regular tools, a professional can install this kit within one and a half hours.
Related Post: Chevy 350 Engine Intake Manifold Review 
Pros
Easy to install
Safe and dependable
Comes with quality parts
No drilling is required to install
Cons
Mounting hardware could be better

---
3. Air Lift 57595 LoadLifter 7500 Air Spring Kit
If you're an owner of a 2003-2013 Ram 2500 (except cab-chassis models) and 5000lbs is not your load limit, you can try this from Air Lift. This is the third pick in my list of the best airbag suspension for ram 2500. It is stronger than the previous two we've talked about and comes with a load-leveling limit of 7500 lbs. Hence, you'll be able to cover more types of works and take the better load on your truck bed.
As it can take a heavy load, it is made to be stronger. The convoluted-style airbags are made of quality material and the diameter is increased compared to the one that we've discussed previously. There are wide stainless steel plates for both sides of each airbag. Besides protecting from external shocks and bumps, the plates also help by aiding in the load capacity.
A feature that I love about this kit is its controlling system. You can simply control the air pressure inside it with the help of a mobile application. An easy-to-use interface, controlling the air pressure is more comfortable than ever. It doesn't come with a stainless steel airline, but the airline you'll get with the package is strong enough to withstand different weather conditions.
This airlift system is compatible with both single and dual rear wheel models. It fits a side-mounted fifth-wheel hitch system and also a factory-made in-bed hitch system. So, I'm sure that it'll be a perfect fit for your Ram 2500 if you don't make any significant change or addition to your truck.
For convenient installing, it comes with all the necessary hardware you'll need. All you need to do is getting some common tools, unpacking the kit package, and install it. You won't need a huge time to install. All you need is basic DIY expertise.
Pros
Suitable for larger operations like towing heavy loads
Installing is easier
You'll experience the Air Lift quality
No drilling is needed to install
Cons
You may need to modify mounting brackets

Air Lift 57595 LoadLifter 7500 Air Spring Kit Review
---
4. Air Ride Universal D2500-1 Air Ride Suspension
Well, here is the one that'll be your best friend for a reason. This is a package that saves huge bucks if your airbag accidentally tears or wears out. Yes, this package comes with the airbag only so that you don't have to buy a full package again. As it doesn't come with any mounting bracket or other things, I typically suggest this to my clients as replacements of torn or worn airbags.
This convoluted-style airbag is compatible with your Dodge Ram 2500 for sure, along with many other makes and models. For carrying loads, it is made with thick rubber. The best thing about this airbag is it is able to handle a maximum air pressure of 600 PSI, which is huge.
But the thing I'm not satisfied with is the load capacity. It is able to handle a maximum load of around 2100 lbs. per bag which is 4200 lbs. in total, not a huge number. So, only if you carry a similar or less load than it can handle, you can go for it.
When it doesn't have air inside it, the height is 2.8 inches. The height becomes 10.5 inches when it is fully expanded. So, it allows you to have a usable height span of 7.7 inches, which is enough I guess.
As you're buying it to replace the existing airbag, the mounting hole size, mounting hole distance, and air hole size is important. The mounting hole size is 3/8"-16 UNC and the distance between holes is 1.75". The air hole size is ¼"-14 NPT.
While installing, you'll have to use the existing mounting brackets and hardware. Installing it is not a big deal at all. If you have the necessary tools available, you can install them without putting in much effort. A rough ride, trailer sway, body roll, rear squat or anything- no matter what the situation is, it has got your back, factually.
Related Post: Chevy 350 Engine Spark Plug Review
Pros
Saves a huge buck for you
Fits to a wide range of makes and models
Able to handle a huge air pressure
Quick and easy to install
Cons
Comparing to the airbags it is replacing, the load capacity is a bit lower

---
5. Pacbrake HP10002 Rear Air Suspension Kit
This is another quality airbag kit which I must suggest to you if you're looking for one for your Ram 2500. It typically fits 2003-2013 Dodge Ram 2500 4WD and 2006-2008 Dodge Ram Mega Cab 2500 4WD. So, if you own any of these models, you can give it a try. I'm sure you won't be disappointed.
To ensure durability and strength, the airbags of this kit are made of high-quality and dense rubber material at a convoluted style. Being protected by roll plates, these bags can handle a huge air pressure and deliver the performance you need. The roll plates are corrosion-resistant and durable.
The steel brackets are laser cut and powder coated. The powder coating saves the brackets from rust and the laser cut ensures précised positioning and fitting. The hardware included in the kit is grade 5 plated to be harder and stronger.
The airline included in this kit is similar to the Firestone and Air Lift 7500 which I've talked about earlier. So, you can leave the worries because it is strong enough to withstand the outside frictions and bangs. In case if it is worn or torn, you can replace it easily with a new one that you'll find in the market.
The package comes with everything needed to install the whole system. All the mounting parts and accessories are strong enough to handle a huge load. So, you can install it under the truck bed without any confusion. Installing it is not a big deal, you can handle it. But if you're new to in-vehicle DIYing, you may need to go to a professional for this.
Related Post: Chevy Silverado 1500 Cold Air Intake Review
Pros
Dependable quality
Installing is hassle-free
Requires no drilling
Hardware is strengthened and safe from corrosion
Cons
Mounting brackets are a bit bulky

---
Best Airbags for Ram 2500 Buying Guide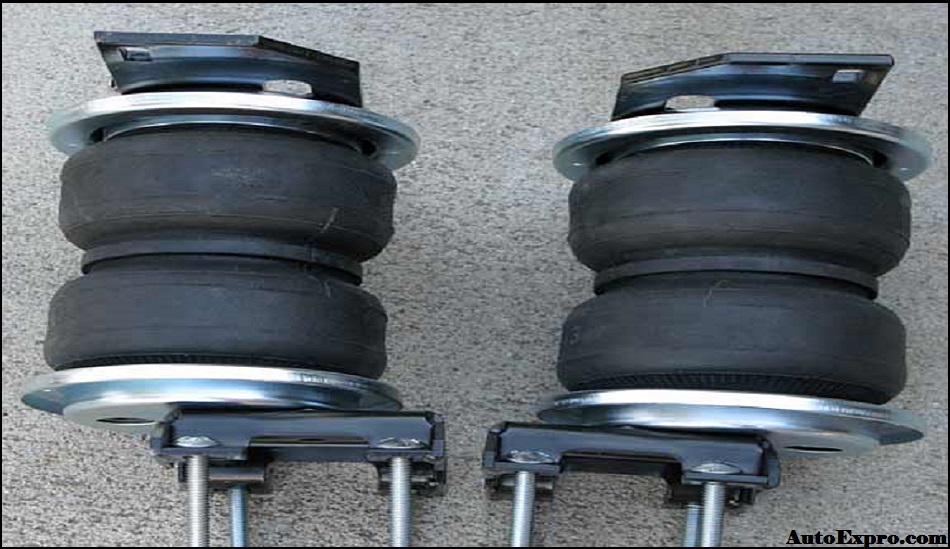 When you're going to buy the best, there are a lot of things to consider. Buying the best airbag for your Ram 2500 also needs you to focus on some serious things. Otherwise, you won't get the value for the amount of money you're spending.
Below are the key features you need to check when you're going to buy the best airbag. Knowing these will help you to pick up one that is the most suitable one for your Ram 2500.
This is something that you can't avoid. The airbag you're going to buy should be compatible with your vehicle model. Depending on the year, model, and some other factors, compatibility varies.
So, while checking an airbag, at first check if it is made to fit your vehicle model or not. If not, avoid it. Don't waste time on checking one that is not a fit.
Buying an airbag package is costly and you don't want to spend this huge amount of bucks daily. So, you should check the strength and durability of it.
Durability and strength depend on both airbags and hardware. Dependable airbags are made of quality rubber and come with a good density. Also, don't forget the heating issue. So, get airbags that can withstand torsion, heat, and obviously friction.
Dependable and strong hardware is made of strong materials like stainless steel. Also, you'll find that some are using aluminum. Those are also strong. To ensure durability and safety from rust, some airbags come with hardware and mounting brackets with a coating.
One of the prime reasons behind installing an airbag is enhancing the load-bearing capacity of the truck. So, the load-leveling capacity of the airbag kit is something that you should take into account.
Typically, for Ram 2500, maximum kits come with a load capacity of 5000 lbs. which is enough for small and medium tasks. But if you're focusing on some big tasks too, have no worries. There are some which come with the capacity of bearing around 7500 lbs.
I suggest my clients go for the package that includes everything when they're going to install airbags for the first time. The reason is simple- to avoid the hassles of searching for the right hardware and collect each of the pieces.
A package that includes hardware in it makes the task much easier for you. So, go for one that comes with everything, an installation guide too. Also, make sure that the mounting brackets and hardware are coated or somehow protected from corrosions.
---
Double-Convoluted or Tapered Sleeve- Which One to Pick?
Well, the confusion is real- what type of airbag you should pick.
To be honest, the answer is pretty easy. But before that, let's know the basics about those types.
A Double-convoluted airbag is the most common and comes with two big chambers. The chambers are connected to each other with a narrower part. Thus, it looks like an hourglass. On the other hand, a tapered sleeve type airbag is a one-chambered bag that is similar in width in every part of its body.
Normally, tapered sleeve airbags can take less load comparing to the double-convoluted ones. So, the thing is simple- if you take a huge load, go for a double-convoluted one. On the other hand, if you don't take a huge load, you can go for the tapered sleeve type airbag.
And finally, if you're not interested to calculate the load, the easy way is- go for a double-convoluted one.
---
How to Install Airbags on RAM 2500
---
Frequently Asked Question (FAQ) About Airbag
Are airbags safe?
The definite answer is- yes, airbags are safe. But you should buy quality airbags instead of cheap ones if you are concerned about safety. Accidents happen rarely. But standing at a neutral point of view, I must say that airbags are safe and secured to use.
The reason airbags blow out is the incorrect positioning. If the rubber bags are too near to a heat source or become rubbed by a metal part, there is a chance of blowing. Otherwise, there won't be any accident. The same thing goes with the airlines too.
Can I install an airbag kit by myself?
Installing an airbag kit is not a difficult task if you're a pro-DIYer. The packages come with an installation guide, and you'll find installation videos too. Following those, you can easily install airbags in your vehicle within 2 hours if you have the necessary tools. But if you're new to vehicle DIYing, it is better to let a professional handle the job.
Can I use airbags in winter?
Yes, you can use airbags in winter too. But for that, you may need to take some necessary steps. Use antifreeze devices to stop the air inside from freezing when it is freezing cold outside. Also, empty the airbags and fill again regularly. Do this once or twice a month to keep the bags working and supporting you.
---
Final Verdict
The suggestions are mine, but the choice is yours. You can pick anyone from the above-mentioned kits as you're looking for the best airbags for Ram 2500. All of these are performance-oriented and can support you for a long time, even after 10-16 years if you use them carefully and maintain them properly.
I don't think picking one from the list above will make you regret it later. I've suggested these to my clients and they are pretty happy with what they've got.