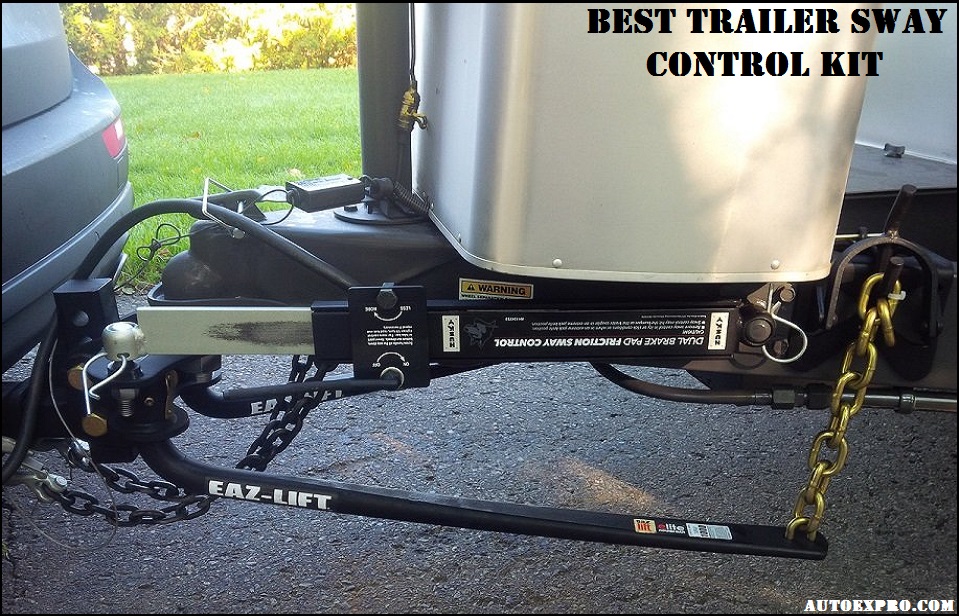 Have you ever witnessed a sight on the roads where an SUV or any vehicle has a trailer trailing behind them but in a funny way? I say funny because that's what it looks like to many of us. But the movement is both hectic and dangerous. Many highway accidents happen because of a swaying trailer.
But, how can one prevent it? Here, controlling the sway is the key. So, the only way to avoid such a thing from happening is to use the best trailer sway control kit.
The problem is, that you cannot just go to the store to buy a random sway control kit. There are many of them, and not all of them will fit your vehicle or have enough capacity to carry the load. You might even not know where to start.
If that's what brought you here, I've got you covered. Today I'll talk about some of my best picks, along with a buying guide and more.

Check our Editor's Recommendation

 Today I've ended up with two best picks. It is because both of them come from the very same brand. And I will tell you why. Both EAZ Lift 48068 1,200 lbs Elite Kit and EAZ Lift 0224.2014 Trailer Sway Control Kit have one difference.

One comes with both a weight distribution hitch and sway control kit, while the other is the kit only. Both of them are popular for their performance and reliability. My experience with them is nothing but full of awe.

The 1,200-lb TW allows you to carry around 12,000 pounds of weight on your trailer without any issues. And if you want to go with the sway kit only, that would still protect your trailer from getting into trouble even during crosswind.
Top Rated Trailer Sway Control Comparison Table
Image
Product
Features
Price
EAZ LIFT 48069 1,200 lbs Elite Kit

1,200-pound maximum tongue weight capacity
Adjustable hitch with clips and bolt package
Adjustable ball mount included
U-bolts and chain package are pre-installed
Comes with a manufacturer's 5-year warranty

View on Amazon
EAZ LIFT 0224.2014 Screw-On Sway Control

Will not reduce road clearance
Attaches with easy socket and spring clip connectors
Do not lose sway control ability in turns
Double friction pads provide constant sway abatement
Comes with all parts

View on Amazon
Reese Pro 49903 Weight Distribution Kit

Vehicle Service TypeTrailer
Material Type Alloy Steel
Hitch ball – 2-5/16" | Fits up to – 7" Trailer Frames
Provides everything needed to improve towing
Excellent weight capacity

View on Amazon
Camco Eaz-Lift ReCurve R6 Weight Distributing

1000 lb. Tongue Weight Capacity
Cutting-edge innovations, reliable design
Allows you to lock the trailer to prevent swaying
Strong built design

View on Amazon
Husky 37498 Left Handed Sway Control Kit

Right-handed and left-handed models
Comes complete with a Tongue ball plate and crank handle
Works with round and trunnion-style hitch
Provide enough stability
Comes with the necessary parts

View on Amazon
CURT 17200 Trailer Anti-Sway Bar Control Kit

Compatible with most weight distribution hitches
Adjustment bolts for different load sizes
On/off the handle for easy use as needed
Two sway controls recommended
Keeps trailer steady during rides

View on Amazon
CURT 17063 Round Bar Weight Distribution Hitch

Integrated grease fittings for continuous lubrication
Level towing of the vehicle and trailer
Corrosion-resistant powder coat finish
Extended longevity
Self-lubrication keeps it working for a long time

View on Amazon
Fastway e2 2-Point Sway Control Round Bar

No backing or turning restrictions
Comes in trunnion and round bar models
Sway control and weight distribution in one system
Available in 6,000 lb, 8,000 lb, and 10,000 lb weight ratings
Does not require disengaging while backing and turning

View on Amazon
Equal-i-zer 4-point Sway Control Hitch

Maximum gross towing weight: 14,000 lbs
Spring-bar dimensions: 36″ long x 1-1/2″ wide
Vehicle Service Type: Bumper pull trailers
Material Type: Alloy Steel
Finish Type: Dipped paint for excellent longevity

View on Amazon
Blue Ox BXW1000 SWAYPRO Weight Distributing

Pre-adjusted hitch head, no fine-tuning necessary
Spring steel construction for a softer, smoother ride
Comes with a pre-added hitchhead
Vehicle Service Type: Trailer

View on Amazon
---
Top 10 Best Trailer Sway Control Kit Review
There are many sway control kits out there. Some of them come with weight distribution hitches only. But many of them come separately as well. And then there are weight limits and sway control processes. To sum up, it's a challenging ride for anyone to find a suitable kit.
But you do not need to look here and there aimlessly. The following reviews are of some well-known and high-performing sway control kits and hitches to help you choose the one you need.
1. EAZ LIFT 48069 1200 lbs Elite Kit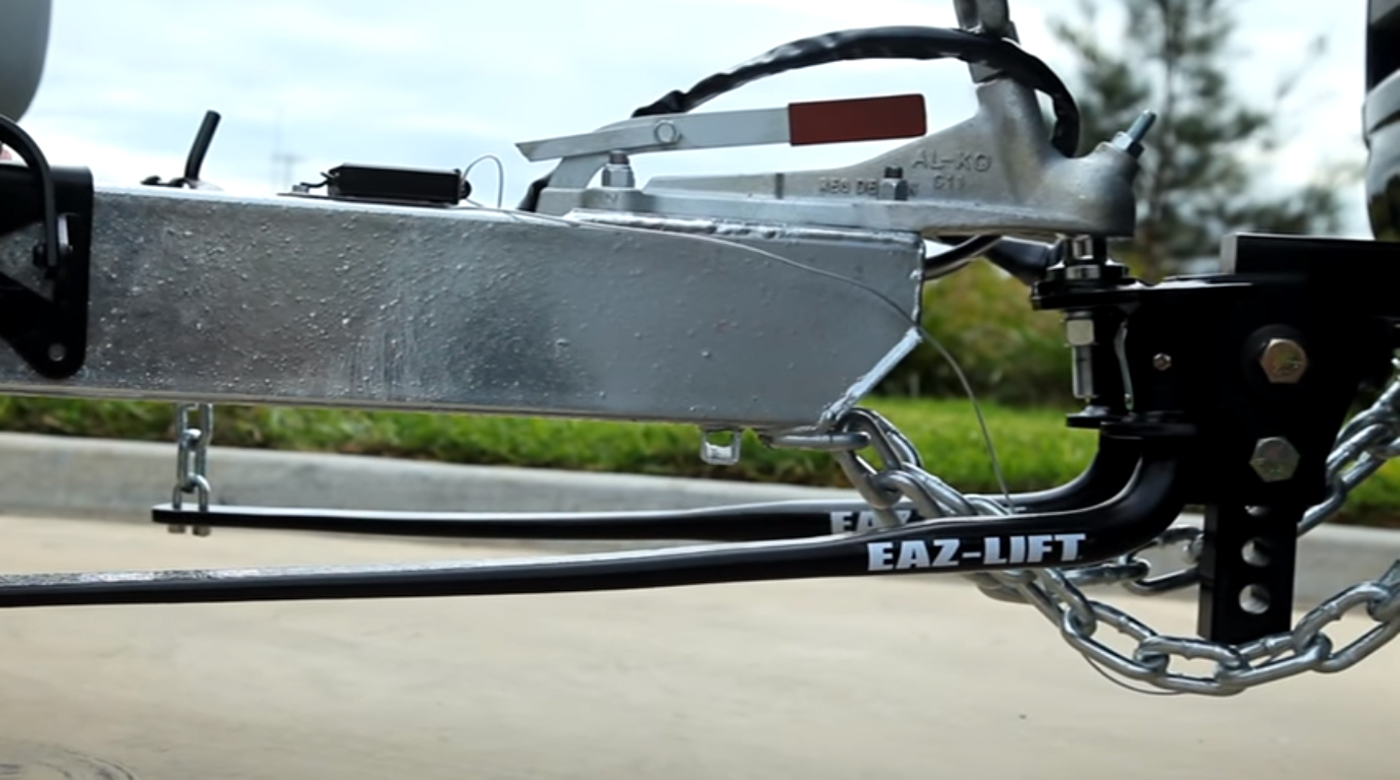 EAZ is one of the most recognized names for trailer weight distribution hitch and sway control. It is not the cheapest model, but wait until you find out what it has in store.
Features:
Weight Capacity: This EAZ Lift 48069 model has a maximum of 1200 TW. It means it can lift 12,000 pounds.
Universal Fit: Yes, this hitch comes with a universal fit sway control kit, which means it will fit any vehicle. And with that solid steel material, lifting will be less complicated.
Easier Installation: A completely unassembled sway control kit with a hitch can take as much as an hour to install. But, the chain package and pre-installed U-bolts come assembled. So, installing this hitch and kits will take less time.
Reliability: From what I have witnessed, EAZ Lift has always been reliable to its customers. So it comes to its 48069 Wight Distribution and Sway Control Kit, I can assure you to go for it.
Pros
Excellent weight capacity
Extended warranty
Pre-installed U-bolts make installation easy
Dual chain system to hold the trailer
Durable material
Worth its value
Cons
The installation process can be tricky for newbies
Extremely heavy
Some people find the hitch's instructions a little difficult to understand. Not to mention the weight, which can make installing it time-consuming. Other than these, it is a pretty solid weight distribution hitch with a robust sway control kit.
---
EAZ LIFT 48059 Elite Kit Review and Installation Process
---
2. EAZ LIFT Screw-On Sway Control Kits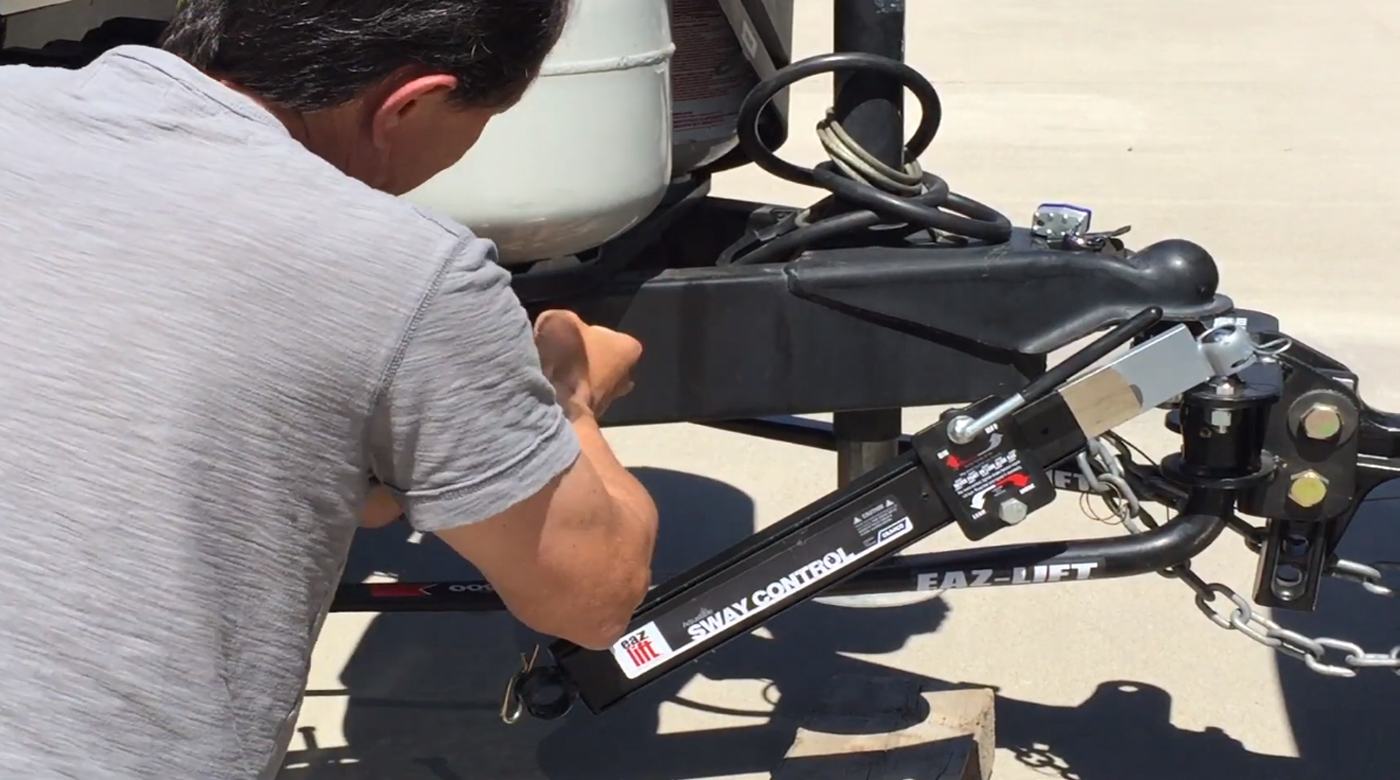 The EAZ Lift 48068 is a full-weight distribution hitch with sway control kits. But if you need a separate kit package for your trailer, you can get yourself the EAZ Lift 0224.2014 sway control kits. In my opinion, it is as good as the one mentioned in my previous review.
Features:
Controlled Sway: What I find remarkable about this kit is its unique way of working. The kit helps control the sway of the trailer that can happen from sudden wind or passing vehicles.
Double Friction Pads: One of the best things EAZ Lift did was add double friction pads on the bars. It keeps the noise to a minimum so that you can barely hear anything.
Spring Clip Connectors: When not in use, release the kit with ease using its spring clip connectors. The sockets are built in a way so that connecting and releasing does not become a hassle for you.
Price: Even sway control kits are often expensive like the weight distribution kits. However, this kit has an affordable price.
Pros
Affordable price
Easy to connect and release
Noiseless
Controls sway over wind and rush
Comes with all parts
Cons
Requires welding to be attached to the hitch
This kit is perfect when it comes to both price and performance. If you eliminate the welding part, it is pretty much the ideal sway control bit for your trailer.
---
3. Pro Series Reese Kit with Sway Control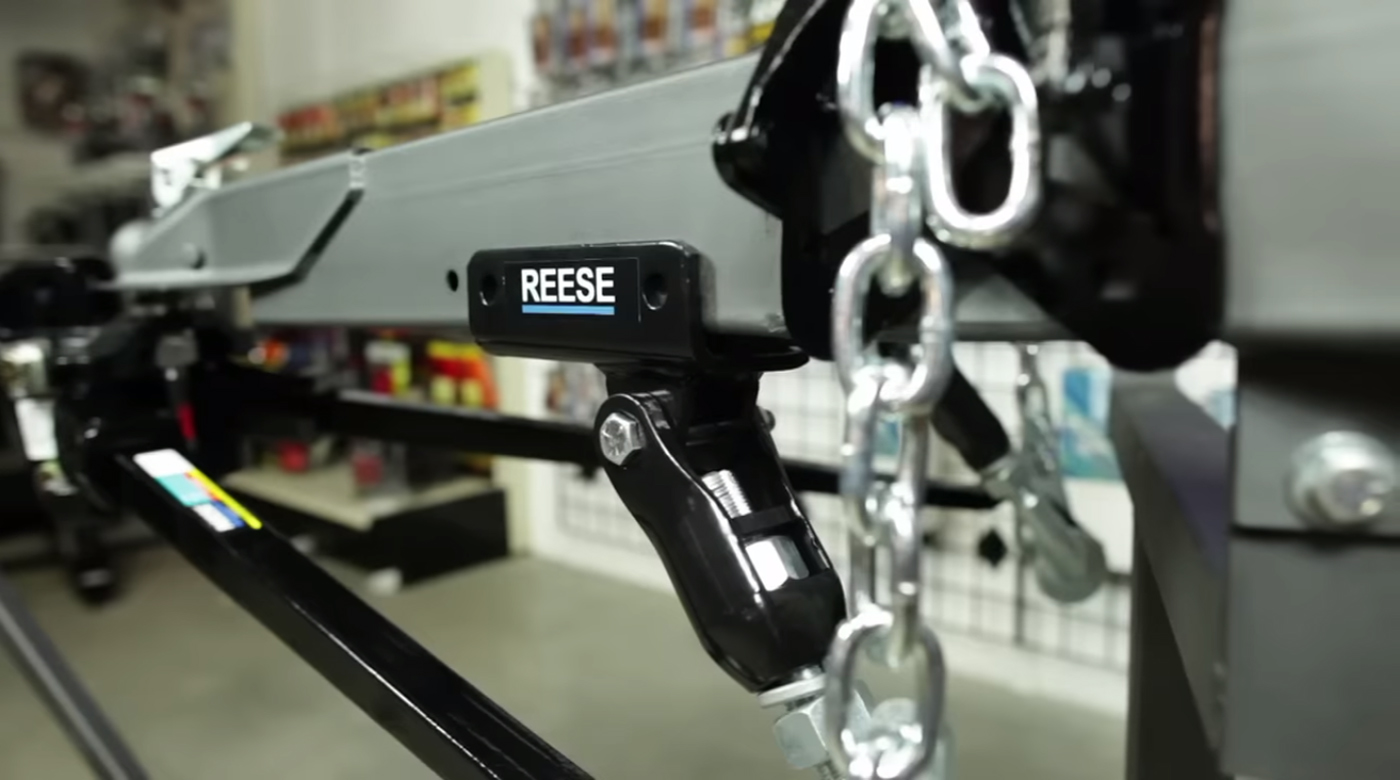 Everything about the Pro Series Reese 49903 says it is worthy of the best trailer sway control kit. Not just the material, the hitch, and the kits are robust enough to ensure a safe ride with your trailer.
Features:
Pre-Installed Parts: To make the installation process flexible, Pro Series has pre-installed bolts and chains in the package. So you can set up the hitch and kit in a short time.
Weight Capacity: The sway control helps you carry as much as 10,000 pounds GTW with a 1,000-pound tongue weight. It keeps the trailer moving as little as possible.
Hardware: The package comes with all the necessary hardware. So you don't have to purchase anything separately.
Warranty: This sway control comes with a 10-year extended warranty. If you maintain it regularly, it will last longer than that.
Pros
Comparatively low price
Easy to install
Pre-installed parts
Excellent weight capacity
Durable construction
Extended warranty
The material makes this hitch with sway control an excellent choice for towing your trailer. It is durable and reliable to have a long time service.
---
4. Camco Chem ReCurve Kit With Adjustable Sway Control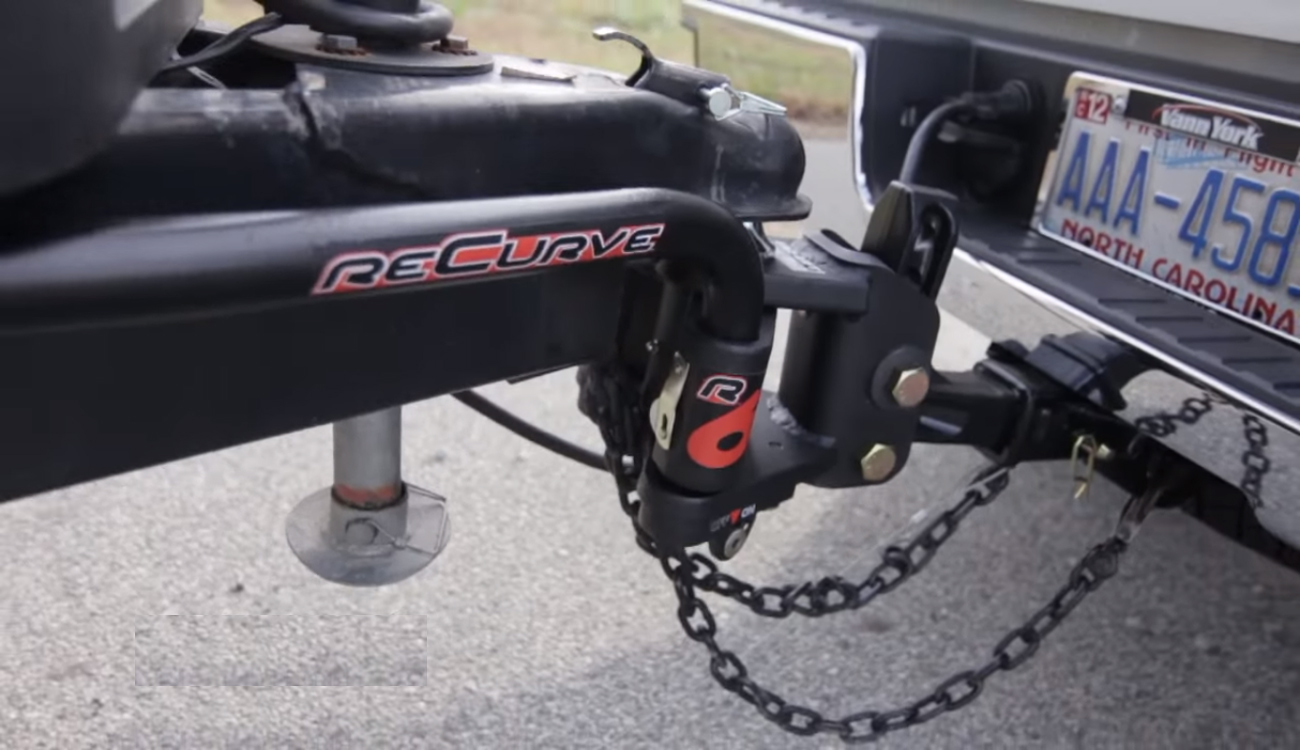 For better ground clearance and more grip, the Camco Chem ReCurve R6 is a game-changer. Not only is it a user-friendly device, but it also has the perfect sway control to make the turning more flexible.
Features:
GTW And TW: To keep the trailer movement smooth even when it's overloaded, the 1,000 TW rate will come in handy. Your trailer can carry up to 10,000 pounds of weight while the sway control keeps the movements pretty steady.
Sway Control: Sway control is an essential part of this model. It prevents all types of movement issues even when you are off-road. You can also turn it off when needed.
Lock Control: You can even lock the trailer to the device to control the sway. However, you need to disengage it manually if you need to take a sharp turn.
Pros
Durable material
Strong built design
Allows you to lock the trailer to prevent swaying
Good weight capacity
User-friendly
Cons
Expensive
Does not reduce sway entirely
A good sway control kit will reduce the sway, if not eliminate it. And this Camco Chem ReCurve R6 does that.
---
How to Install ReCurve Sway Control Kit
---
5. Husky 37498 Left-Handed Adjustable Sway Control Kit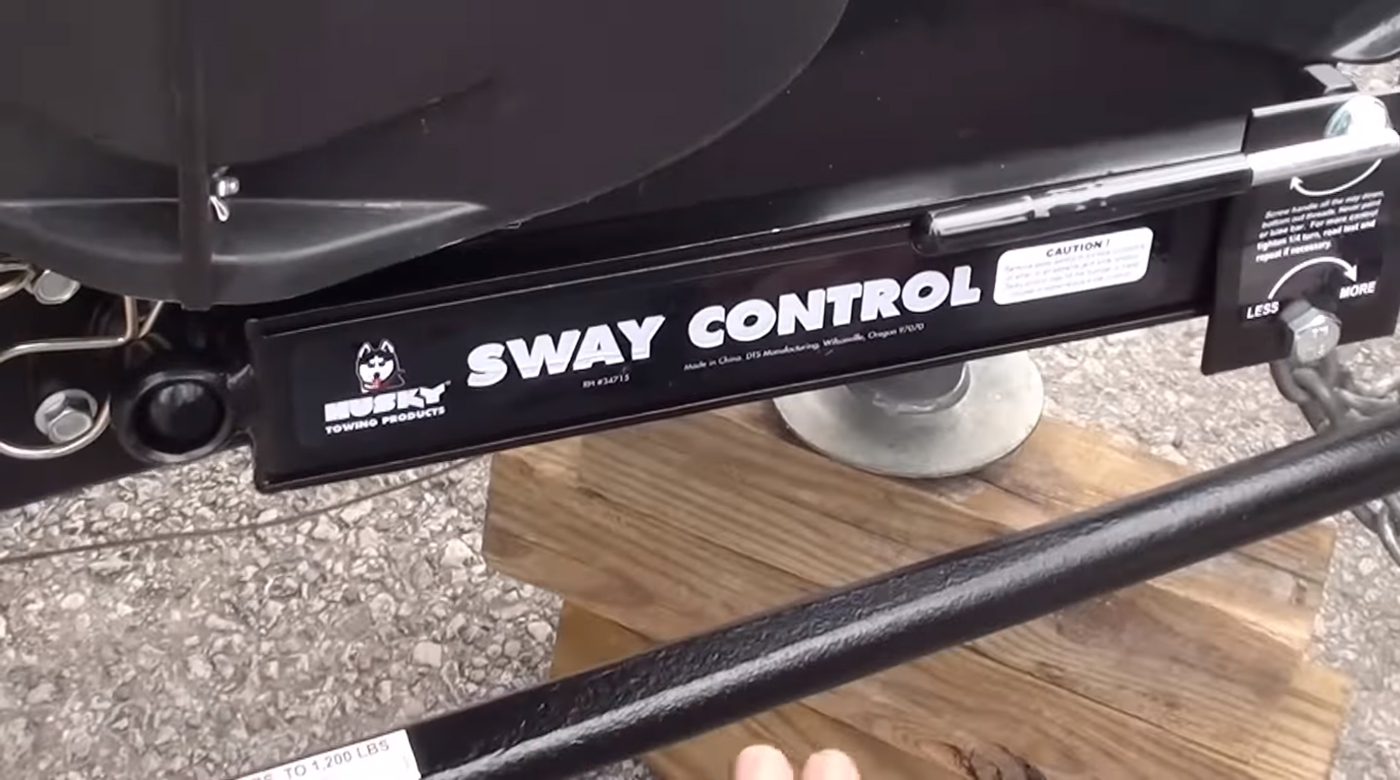 Customers prefer the Husky 37498 sway control kit for its stability during crosswinds. Judging by what it offers, it is worthy of controlling your trailer's sway. Besides, the price is also affordable.
Features:
Stability: Most trailers sway a lot even after you have attached the sway control. However, the Husky 37498 ensures the trailer does not sway much, even during crosswinds.
Hardware: A complete set of sway control kits includes every necessary part. This Husky sway control kit also comes with everything you need, such as tongue ball plates, friction plate, spring clip, 8 screws, crank handle, and sway control balls.
Left-Handed Model: This is only the left-handed model. If you want, you can purchase both left and right-handed control kits to provide more stability to your trailer.
Pros
Budget-friendly price
Provide enough stability
Controls sway during crosswinds and passing vehicles
Comes with the necessary parts
Available in both right-handed and left-handed models
Adjustable control
Cons
Complicated instructions
Difficulties when making sharp turns
The Husky 37498 is one of the very few models that actually achieved customer satisfaction. It provides you with precisely what you need.
---
6. CURT 17200 Trailer Anti-Sway Bar Control Kit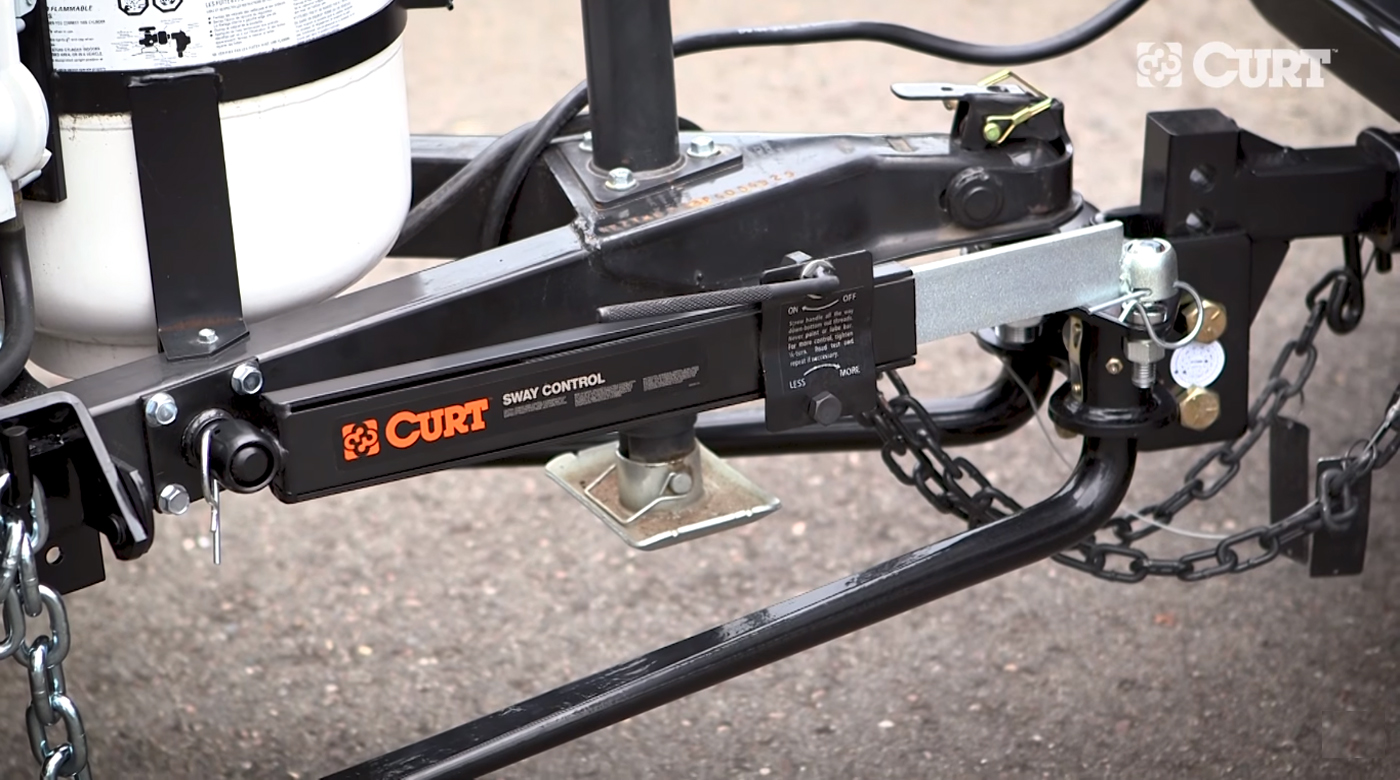 The Curt 17200 sway control kit is another trustworthy name to reduce your trailer's sway when driving. Other than easy installation, engaging, and disengaging, this bar control is also flexible enough.
Features:
Fits Most Hitches: This model is made to fit any Curt weight distribution hitch. But it can also fit into any weight distribution hitch with an ¾ inches diameter sway ball hole.
On/Off Handle: This sway control has an On/Off handle for quick engaging and disengaging. To secure the trailer to your vehicle, it also has cotter pins.
Adjustable Bolts: If you use different trailers, you can adjust them quickly to the sway control. It comes with a bolt adjustment toggle to ensure you get to do that.
Pros
Universal fit for all Curt weight distribution hitches
Will fit weight distribution hitch with ¾ inches diameter sway ball holes
On and Off handle for easy engagement and disengagement
Adjustable bolts
Keeps trailer steady during rides
Easy to set up
Finding a sway control kit that would fit most trailers is challenging. But this Curt 17200 sway control kit is excellent when it comes to fitting and reducing sway.
---
7. CURT 17063 Hitch with Sway Control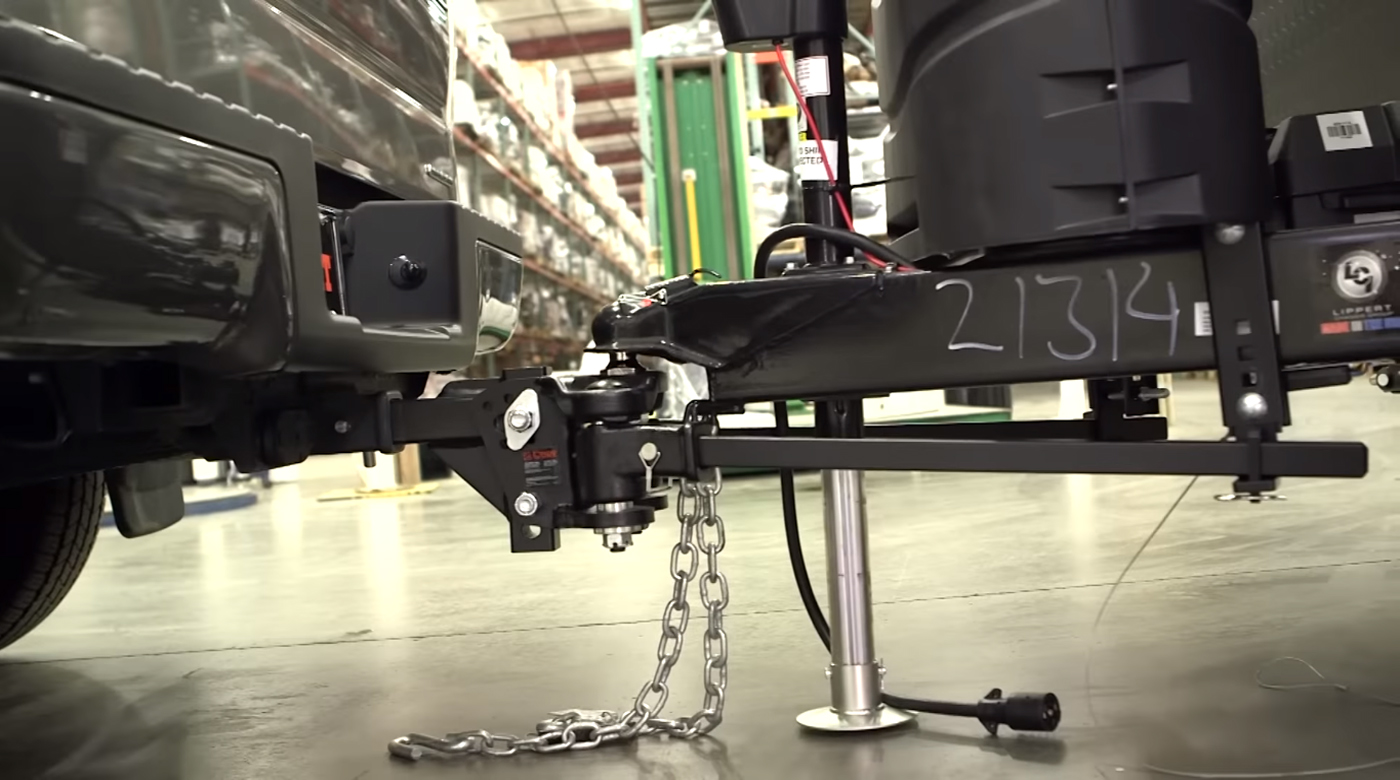 If you would rather have a sway control kit as a part of an entire weight distribution hitch set, you may have the Curt 17063 Weight Distribution Hitch with sway control. It has a massive weight capacity, and self-lubrication, and a perfect fit for most trailers. Thus, it landed in my best trailer sway control kit list.
Features:
Self-Lubrication: To keep the hitch from getting damaged, Curt made sure it stayed lubricated all the time. That's why they added the self-lubrication system to the hitch.
Weight Rate: This model is rated with 1,000-1,400 pounds tongue weight. It means it can tow as much as 10,000-14,000 pounds weight.
Carbic Black Powder Coating: To ensure the hitch and sway control last a long time, they have a coated finish of black carbide powder. It resists corrosion and makes the material more durable.
Pros
Affordable price
Self-lubrication keeps it working for a long time
Corrosion resistance
Massive weight capacity
All parts included
Durable material
Cons
Requires drilling when installing
Some customers faced an issue with the shipping
This Curt 17063 Weight Distribution Hitch with sway control is an affordable option for anyone who wants to tow their trailer. Hopefully, there won't be any shipping issues for you.
---
CURT Trailer Sway Control/Weight Distribution Hitch Review
---
8. Fastway e2 Sway Control Round Bar Hitch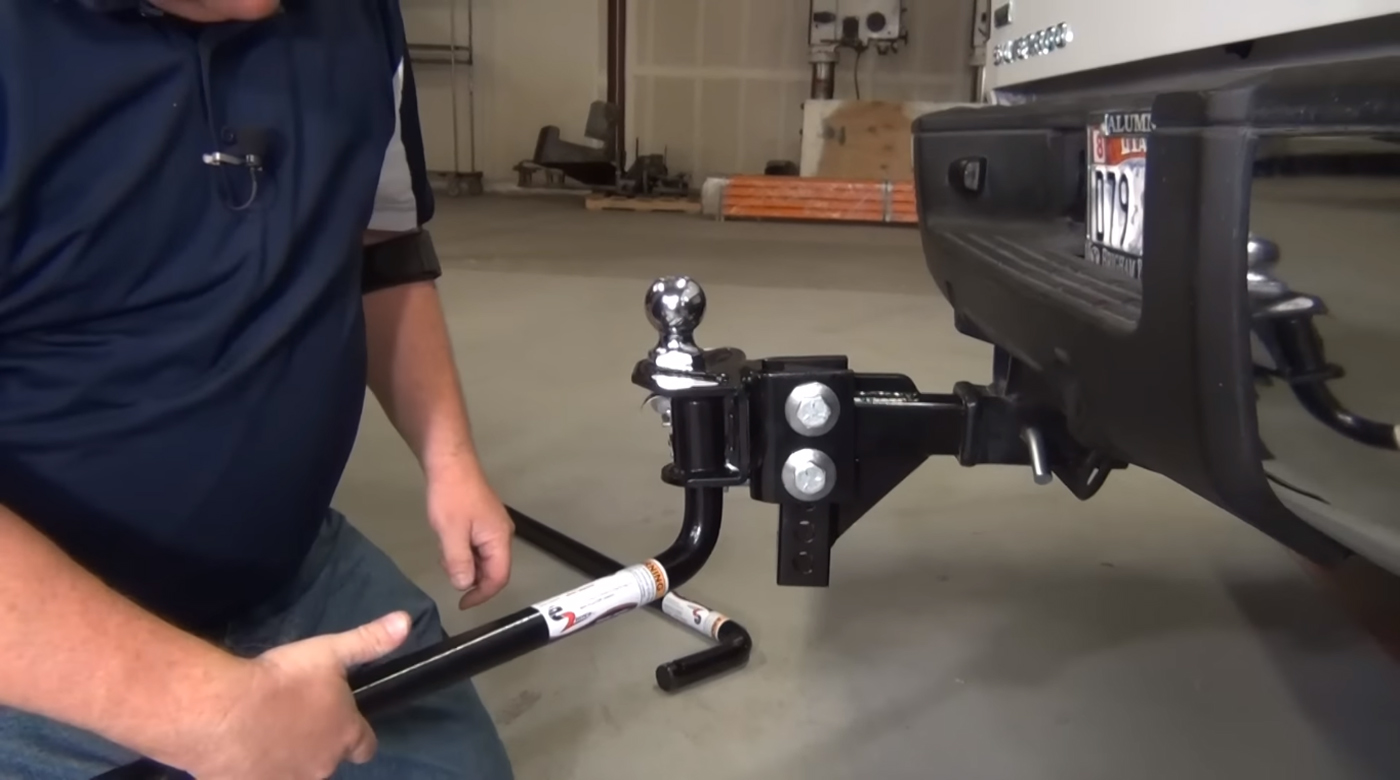 Spare yourself the extra trouble while installing sway control by having this Fastway e2 Sway Control Round Hitch Bar. And it offers you plenty of options.
Features:
Built-in Sway Control: Fastway makes sure your trailer does not move much and end up creating a hazard. So, they provided a built-in sway control.
Different Weight Capacity Models: Depending on your trailer weight capacity, you can choose from 6k to 10k models.
10-Year Warranty: It has a 10-year extended warranty, which makes the hitch and sway control more reliable to use.
Backing Or Turning Without Disengagement: While most hitches require disengagement when backing the vehicle or taking a shard turn, Fastway will not require any of that.
Pros
Affordable price
Does not require disengaging while backing and turning
Built-in sway control
Variable models available
Durable
Cons
Doesn't come with a hitch ball
If you are looking for a weight-distribution hitch with sway control that comes with variable models, this product is worth a shot.
---
9. Equal-i-zer 4-point Sway Control Hitch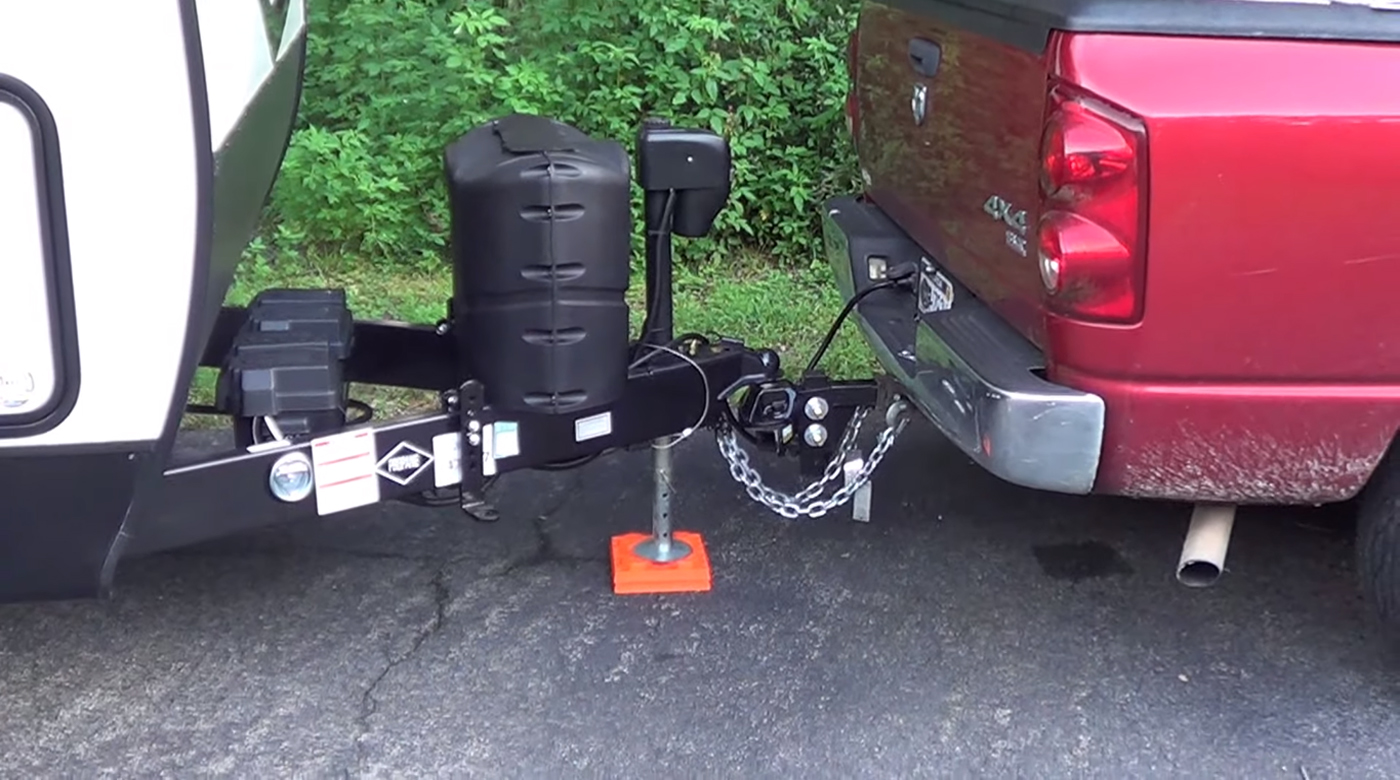 If the Fastway e2 2-Point Sway Control impressed you with its five available models, wait till you find out how many this Equal-i-zer has for you. It is one of the best trailer towing hitches that comes with sway control.
Features:
4-Point Sway Control: There are four unique friction areas on the hitch. They are built for carrying weight without any issues.
No Backing Up Restriction: With its excellent stability, you won't have to go through any hassle to back up or turn the vehicle.
400-1,600 Tongue Weight: There are six different models available for various weight limits. You can carry trailers weighing between 4,000-16,000 GTW.
Pros
Wide weight capacity range
No turning or backing up hassle
Impressive sway control
Extended durability
Cons
Very expensive
No hitch ball included
The Equal-i-zer 4-Point Sway Control Hitch is suitable for those who are towing small to large trailers. The price is a slight bummer but the quality matters.
---
Equal-i-zer 4-point Sway Control Hitch
---
10. Blue Ox BXW1000 SWAYPRO Weight Distributing Hitch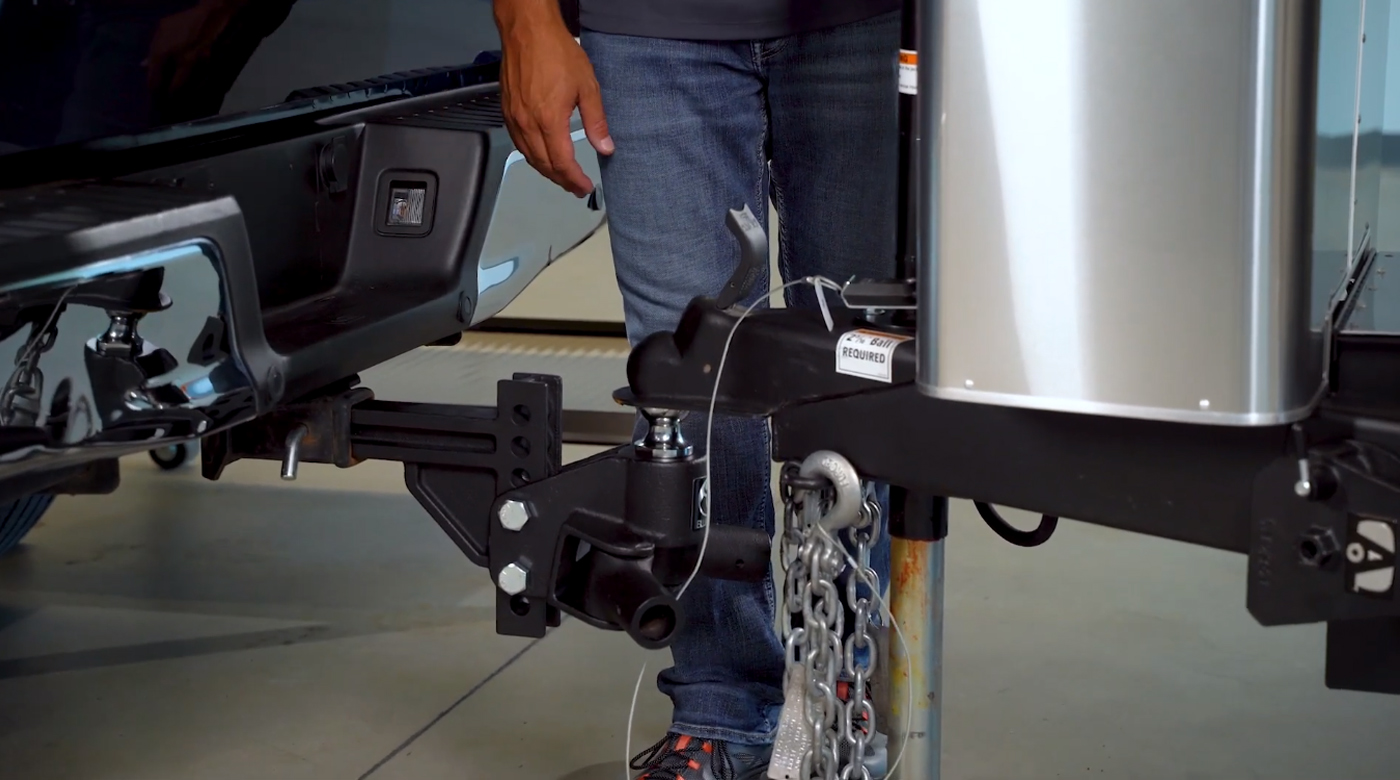 The last one on my list is the Blue Ox BX1000 SwayPro Weight Distribution Hitch. It's an expensive model, but the quality and how it works make up for the price.
Features:
Pre-Added Hitch Head: What I liked most about this hitch is that it comes with a pre-added head. It means no more fine-tuning is needed.
No Noise: There will be no jiggling, vibrating, or noise with this hitch and sway control. Because it successfully holds the trailer with enough stability.
Waterproof Hitch: Ride with your trailer in any weather condition. The hitch is waterproof, which will also help to keep it corrosion-free.
Pros
Waterproof material
Long durability
Comes with a pre-added hitch head
Makes no noise
Has a self-locking system
This sway control hitch is excellent enough to carry up to 10,000 pounds of weight trailer in any weather. So, you can still take a look at its price.
---
Best Trailer Sway Control Kit Buying Guide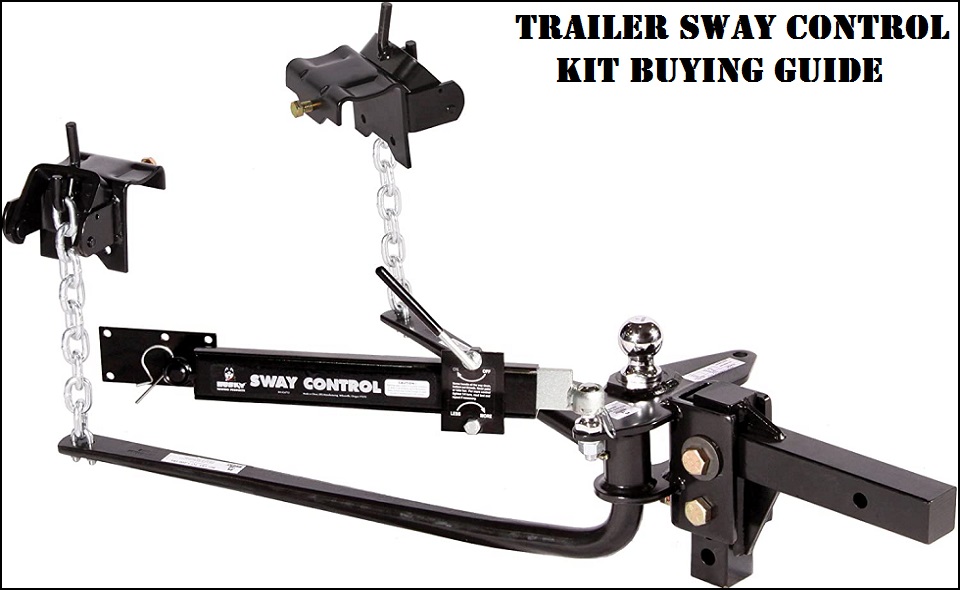 Sometimes, the reviews are not enough to find a suitable trailer sway kit. Because the same features will not fit all sway control devices. There are more factors that you need to consider.
You need to check its weight capacity, sway control, safety, durability, and more. This buyer's guide will make sure you can choose the kits with ease.
From my experience, I'll suggest to you one thing: always pay attention to this feature. It is an essential and a must-consider factor. The hitch or sway control must be compatible with the trailer weight.
Two things to consider for the load capacity:
GTW (Gross Trailer Weight)
TW (Tongue Weight)
Your trailer's maximum weight on the kit is gross trailer weight. And the trailer's downward force on the hitch is tongue weight. The TW will be around 10-20 percent of the GTW. Anything larger than this will cause the head system to go upward.
So, know your trailer's load capacity and tongue capacity to understand what sway control kit you will need. And always purchase a kit that is made to compete with more than your trailer's GTW.
The whole point of buying a sway control kit is to control the movement of the trailer. Taking a sharp turn will become hectic and dangerous if the kit does not have a sway control feature.
This system is of two types:
One reduces the sway as it happens
Another stop the sway before it happens
Both of these systems work well. So, you can go with what seems best to you.
If you are new to this, I have to warn you here. Because installing a sway control kit is not the easiest thing to do. It requires understanding several things.
Buying a kit that comes with a bunch of tools will make the installation even trickier. The trick is to buy the models that come with fewer tools. It will not exactly make the process easier, but it will eliminate some extra hassles.
Some brands tend to provide assembled pre-installation parts. Having them makes the installation process a little more comfortable and quick. The entire process should not take more than 30-40 minutes.
Easy to install and easy to use are two significant factors that go side by side. You are going to drive your vehicle everywhere in any weather condition.
Kits with double cam are more flexible to use because you won't have to disengage them after use. Besides, backing up will be flexible, and you will get better control over them.
How safe should your sway control kit be? Well, it should be very safe because you will be carrying heavy loads on your trailer. So, check how much weight the kit is capable of carrying.
And if there is a safety chain available, you will know it is more reliable. More importantly, if the chain's tension is adjustable, the better control it will have on the sway.
Sway control kits do not come at a low price. If the kit isn't durable, it means going through more trouble and spending more money. Replacing it is one hell of a job. So, the more durable it is, the less you have to replace it and the less trouble you will have to go through.
But how would you know which ones are durable? My experience taught me to pay attention to the material and purchase the ones with anti-corrosion features.
Sway control or weight distribution hitch comes in a wide price range. However, the best one will not come cheap. Depending on the material and type, the cost will vary.
Nevertheless, you can always find something at your budget price. And as long as you are happy with it and as long as it is safe to use.
---
Types Of Sway Control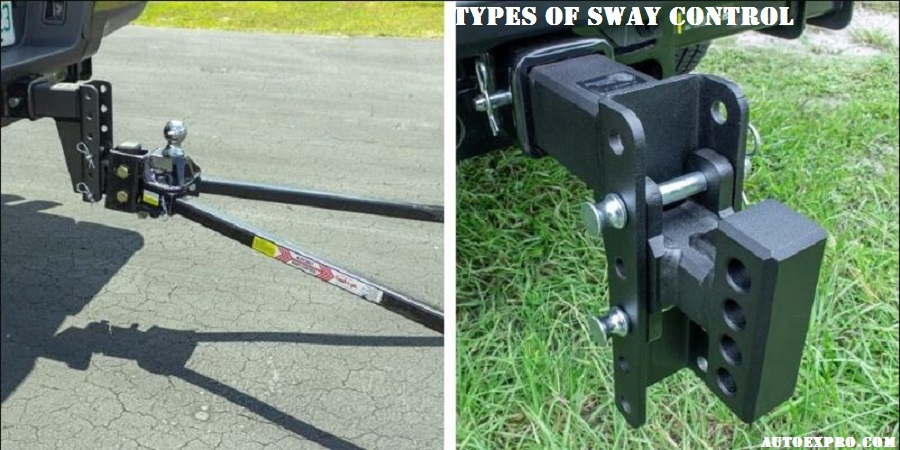 Not every weight distribution hitch comes with sway control. However, many of them do. As I've given you the primary idea in the buying guide, you will find two types of sway controls.
One reduces the sway, and the other prevents it altogether. Here, I will explain these two types even further.
1. Sway Control That Reduces Sway After It Begins
Here the sway control works in two ways:
Independent sway control
Dependent sway control
The independent sway control works via the bars that are bolted to the trailer frame. The bolts reduce excessive movements of the trailer.
On the other hand, dependent sway controls are built on the weight distribution hitch. The most significant advantage of this system is that the downward force will create resistance as the trailer begins to move.
2. Sway Control That Prevents Sway Before It Begins
This type of sway control has cams. This device suspends and locks the spring bars in place. The two ends of the cams will be attached to two different things.
One will be attached to the lift bracket using the lift chain, while the other to the trailer's frame. Thus, this system secures the trailer and prevents swaying.
---
Video Review on Top Rated Trailer Sway Control Kit
---
FAQs About Trailer Sway Control Kit
Do I Need A Trailer Sway Control?
If you have a trailer and want it to stay stable when you drive, my answer is yes. Having a sway control is the best piece of equipment that you will have. Without it, the trailer will keep moving from one side to another, resulting in an accident.
How Would I Know If The Trailer Is Overloaded?
Look at the way the trailer is standing. If the trailer is leaning at the front or if the suspension seems sagging, you will know it carries more weight than it should have.
How Much Trailer Sway Is Normal?
If the tongue weight is less than 10%, the trailer will sway a little. But you will hardly notice that. Unless it does not move a lot, it shouldn't be a problem.
Can I Reduce Trailer Sway Without A Sway Control?
Without a proper weight distribution hitch or sway control, it is challenging to reduce the sway. However, there are a few hacks to keep the trailer movements to a minimum.
One trick is to drive slowly when the wind is strong. Another one is to avoid crosswinds if possible. Other than these, a hitch is the best option.
How to Install Trailer Sway Control Kit (DIY Video)
---
Final Verdict
Choosing the best trailer sway control kit from the available options is challenging enough. But, since I've narrowed down the numbers with my reviews, it will be easier for you to pick now. However, if you are still unsure, I can make a few last recommendations.
EAZ Lift 48068 and Pro Series Reese 49903 are the best options for small and medium trailers, in my opinion. From my experience, I've found these two models lasting a long time without much hassle. And, if you have larger trailers that carry more weight, you can choose from the Fastway e2 2-Point Sway Control Hitch and the Equal-i-zer 4-Point Sway Control Hitch.
And do not forget to know your truck's weight and everything else there is to know before you purchase your sway control kit. Go through the buying guide one more time if you have to.