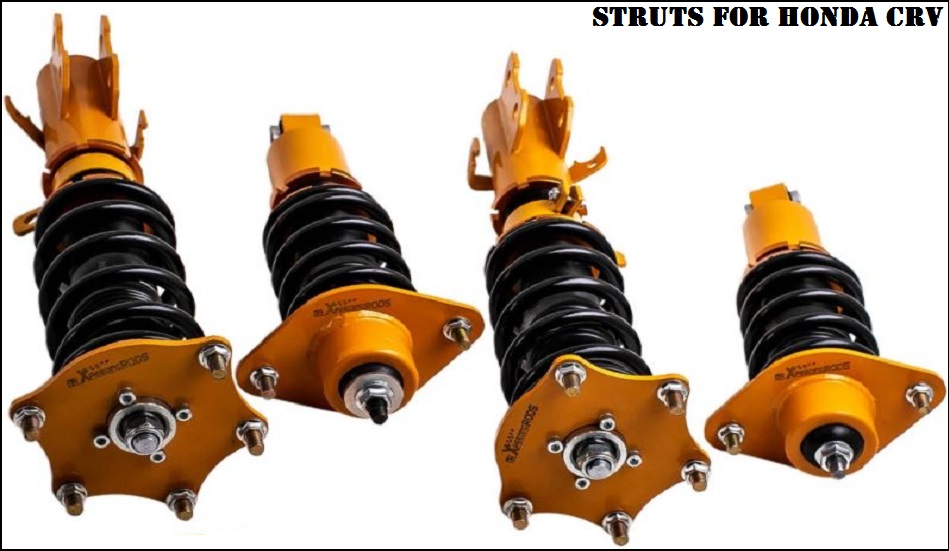 Vehicle struts are life-savers and play a crucial role in keeping the vehicle balance. Whenever the vehicle experiences shocks, the struts absorb them and increase its stability.
However, this experience cannot happen if your vehicle does not have the right struts. Recently, I had the opportunity to try out various struts for my Honda CRV. So, if you are also looking for the best struts for Honda CRV, you will find this article informative.
Here, not only have I reviewed the struts, but I also prepared a buying guide to help you choose any struts for your vehicle. So let's not waste more time and get started.
Top 5 Best Struts for Honda CRV in 2022
1. Monroe Quick-Strut 172144
Monroe Quick-Strut 172144 is one of the top-level struts for Honda CRV. This strut does an excellent job of reducing bumps and shocks and is easily available everywhere.
Features and Benefits
Fully Assembled Unit: This Honda CRV comes fully assembled, meaning you do not have to go through any extra hassle. You do not need to use any spring compressor for installation. And you can install this strut by yourself with some basic tools.
Maintains Vehicle Control: The coil springs of the strut help restore your vehicle's height. It also helps decrease continuous sway and gives you access to better control.
Improves Steering: Installing these premium upper struts changes the way your steering previously felt. It will become smoother, which will help reduce excessive noise, vibration, and hardness.
Corrosion Resistance: The strut is made with high-quality steel with thicker tubes. The advantage of having such a strut is that they resist corrosion, meaning more longevity.
Pros
The strut is made in the U.S.A
Increases ground clearance
Does not suffer from rust issue
Comes fully assembled, making it easier to install
Decreases noise and bumps
Cons
It is only for the left front
Expensive
May require an extension bar to get the right leverage
Monroe Quick-Strut Installation Guide Video
---
2. UNITY AUTOMOTIVE 11605 Strut
If you want struts for your vehicle but at a more reasonable price, I suggest you check out this strut from Unity Automotive. Though this is for the front left side, you can always purchase a second one to match the pair.
Features and Benefits
Pre-Assembled Strut: Like the previous strut, this one also comes fully assembled. So this feature saves a lot of installation time and hassle.
Riding Comfort: Old and worn-out struts tend to get lower and lose ground space. These spring struts will ensure the vehicle receives some heights and riding comfort. However, it might not eliminate bumps entirely.
Installation Ease: As I have just mentioned, this pre-assembled strut is easy to install. And even if you install the struts on all four sides, it can be done in less than an hour.
Affordability: The struts from Unity Automotive are comparatively affordable. And based on their performance, the cost is pretty much worth it.
Related Post: Best LED Headlight for Harley Davidson
Pros
Affordable price
Made with premium-quality material
Easy to install and repair
Everything comes pre-assembled
Increases vehicle height and ensures riding comfort
Cons
Comparatively less durability
Does not eliminate bumps entirely
---
3. KYB SR4244 Complete Strut
KYB struts are, without a doubt, among the best struts for Honda CRV and in the market. While they might not be the budget-friendliest option, their qualities are worth every penny.
Features and Benefits
Fitment: KYB strut manufacturers ensure to provide the best fitment for vehicles. As a result, you do not need to use any extension bar to fit it to your Honda CRV.
OEM Support: KYB has a reputation for making its own OEM parts. So you can rely on the struts for a long time.
Performance: The struts from KYB are all about quality and performance. Installing them in your vehicle will increase the ride's height and tire life. Besides, it improves steering and riding comfort.
Coating: The heat-treated springs are corrosion-resistant and impressively durable. The polished coating on the exterior keeps the metal protected.
Pros
Has the accurate fitment
Corrosion-resistant and durable
Improves steering and acceleration
Jounce bumper softens hard impacts
Helps maintain alignments with wheels
KYB Strut Mounts Video Review
---
4. Gabriel G57494 Ultra Strut
If you want a robust front strut, make sure to check out the Gabriel G57494 Strut. The parts are made of excellent quality material, and installation is also quick and straightforward.
Features and Benefits
G-Force Technology: This premium strut is made with G-Force technology. And the specialty of this technology is that it makes the part respond faster than usual, improving its performance.
Chromed Piston Rod: Like all Gabriel products, this strut is also made with a super-finished chromed piston rod. This material is corrosion-resistant, prevents tears, and wears for a long time.
Comfort: One of the reasons why I picked this strut is that it ensures the ride does not go through any unnecessary vibration or get bumpy. It improves steering and driving comfort.
Durability: The strut has an excellent fitment quality and is pretty durable. However, the packaging can be a little clumsy, which comes with a damage risk. So if that happens, make sure to contact the seller immediately.
Related Post: Top 5 Best Cylinder Heads for Ford 302
Pros
G-force technology boosts the strut's performance
Reliable for comfortable riding
Made with durable and corrosion-resistant material
Comes fully assembled and does not take long to install
---
5. Monroe Quick-Strut 171380L
I could not help but mention one more from Monroe as it is also one of the best struts for Honda CRV. Like any other Monroe Quick struts, this one also ensures a better performance even at a low price range.
Features and Benefits
Reliability: The Monroe Quick-Strut 171380L is made in the U.S.A. I believe that is a pretty good reason to trust the strut for your ride. The OE-styled design is meant to ensure a better fit. However, you might need to adjust the spring compressor to align them perfectly.
Durability: This strut is made with high-quality and premium steel. And the benefit of such a steel material is that it tends to last long and is corrosion-resistant.
Ease Of Installation: Since the strut comes pre-assembled, you do not have to do much to install it. You only have to insert the upper nuts loosely, mount the strut, install the lower nuts and torque them all.
Budget-Friendliness: I do not think the strut is expensive compared to its overall performance and quality. It is suitable for anyone looking for budget-friendly struts for Honda CRV.
Related Post: Top 5 Best Wheels for Jeep Wrangler JK
Pros
Budget-friendly strut
High-quality steel exterior
Increases ride height
Improves riding comfort and reduces vibration
Can be installed in a few simple steps
Worth the value
Cons
Spring compression needs adjustment
Not for vehicles that already have a higher body
---
How To Choose The Best Struts for Honda CRV?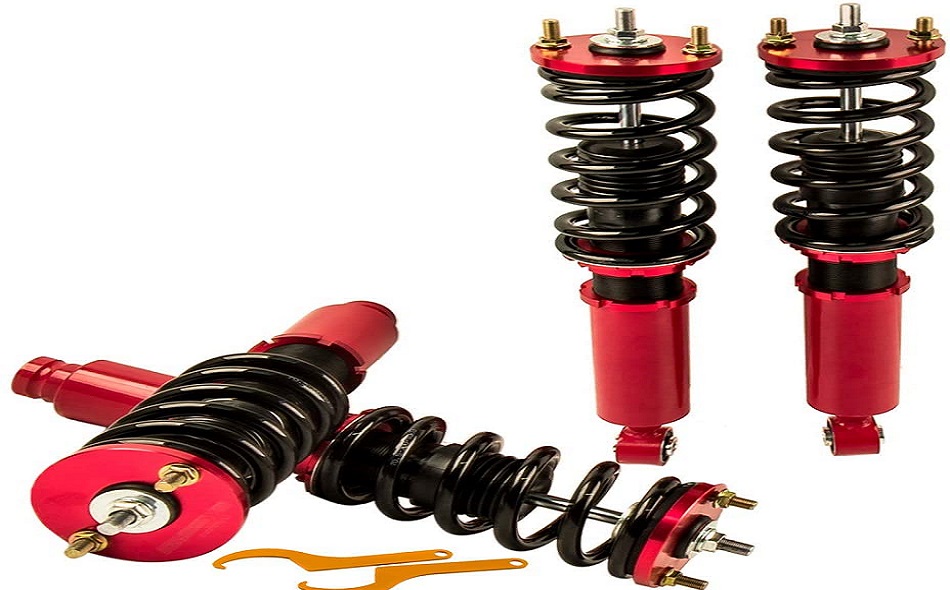 You can buy any from a popular brand's struts and be done with it, right? Well, I wish it was that simple.
The struts will be a significant part of your Honda CRV's performance. Besides, purchasing the right products means ensuring the vehicle's safety. So it is essential to look for some features that make the struts the best of all.
Compatibility
Will the struts fit your vehicle? The size and model of the struts are very important. Since there are many struts available in the market, it is not unusual to pick something only to realize it is not for your Honda CRV.
That is a good thing because at least you know that the strut is not compatible with your vehicle. And finding struts for Honda CRV will not be that challenging as there are many struts available for this model. But if you are not sure about the strut's compatibility, you can always ask the seller for more information.
Material
Struts are usually very heavy as they are made of steel. And high-quality or heavy-steel struts tend to weigh more than cheap and low-quality ones.
So the material plays a vital role in ensuring the struts' quality. That's why it is essential to do your research and find out the material used for the construction.
Strut Type
All struts have the same job. But not all of them do that job in the same way. You will find three types of struts: gas, Coilover, and pneumatic or hydraulic. Though all of them help reduce shocks, they work in the following ways.
Gas Struts: Gas struts obviously contain gas. But it also contains oil, which helps reduce foaming and boosts the struts' efficiency.
Coilover Struts: Coilover or coil-over pretty much makes it easy to guess that these struts have Coilover them. These struts help improve your driving experience by damping shocks.
Pneumatic/Hydraulic Struts: Such struts have compressed oil in them. They help reduce shock movements of the vehicle.
Front Or Rear Struts
Do all the struts of your vehicle look the same? If they do, you have struts in all of them. I am bringing this up because some vehicles have them differently.
While there might be struts at the front, it is not uncommon to use shocks in the back instead of struts. So you must know what your vehicle has before you purchase any.
Weight Transfer Rating
The weight distribution rating is the amount of weight the struts distribute during the turning, braking, and accelerating. That is why other than being robust, you also need to know whether the struts are hard or soft.
The struts should be neither too soft nor too hard. Softer struts dip a lot, creating safety hazards. On the other hand, if the struts are too hard, they will be challenging to control.
Stability
Here stability means the overall performance of the struts you want to purchase. Everything is to improve your riding experience and ensure comfort. How do you know if they will do it? The answer lies in the product description.
Whether you purchase from online or physical stores, always make sure to read the product specifications thoroughly. It is essential to know the details so that you can ensure a stable and safer ride.
Installation
Struts come in two different options: fully loaded and unloaded. The loaded option is more straightforward because all you have to do is to take out the old strut and install the new one quickly. If you want to install the strut yourself, this can be the best option.
On the other hand, unloaded ones come bare and require extra tools and installation equipment. Though it is cheaper, installing such struts can be challenging if you do not have any prior experience.
Durability
Of course, you need to consider the durability of the struts as much as everything else. But don't worry much because if you have got good-quality struts, they can last at least 5-6 years and up to 10 years. It mostly depends on how much pressure your precious ride is going through.
If the vehicle is handling lots of bumps and is always overloaded, the longevity of the struts will not be too long. So consider what your vehicle and struts will go through to understand their durability.
Spring Rate And Adjustability
The spring setup is also a part of the strut setup. Both of them are equally essential in increasing the vehicle's suspension system.
Together, they help absorb all the bumps and brakes your vehicle goes through and gives it a bounce when necessary. That is why you need to choose the struts that match your vehicle's spring level. And if the springs are adjustable, the struts setup will become easier.
Price
You will find struts of various quality and a vast price range. So even if you have a comparatively low or medium budget, you can still get some excellent-quality struts for your Honda CRV.
The price is determined by the brand, material, performance, and other qualities. That is why some of the best ones turn out to be a bit more expensive than others.
---
6 Signs Of Bad Struts
Struts are among the main mechanical parts of a vehicle. So after years of riding, they eventually get weaker or damaged. But how do you know it is the right time to change or replace them? Here are some signs that will tell you that the struts are not working correctly.
1. Instability/Bumpy Ride
When there is an issue with the struts, the riding experience will not be the same. The car will get bumpy even if the road is not that bad. And you will also notice slight instability when driving. It happens when the struts are defective or broken.
2. Tipping
A vehicle with faulty struts will tip at one side when you take a sharp turn. The turning side usually tips while the rear side lifts up.
3. Noise
Do you hear unusual noises when driving? Something that sounds like a clunk, especially when you hit a bumpy road? Well, that is another way to know that the struts will not hold on for very long.
4. Steering Issue
Another way to tell if the struts have issues is that it will be difficult to control the steering wheel. The steering wheel will feel either too hard or stiff, making it tough to switch lanes or turn the vehicle.
5. Wear And Tear
When the struts go bad, the alignment between the wheels and the suspensions goes out of balance. This results in causing wear and tear on the vehicle tires.
6. Mileage
The struts are not meant to last forever. And as the years pass, they begin to lose mileage. So at some point, it becomes time to replace the old struts with new ones.
---
Frequently Asked Questions About Honda CRV Struts
How much does it cost to replace the strut on a Honda CRV?
The struts usually cost between $200-$400 each, but the overall cost can be pretty expensive. While replacing a pair of struts with a labor charge can range from $500-$700, replacing all four can cost $1,000 or more.
How often should I replace struts?
Every car part comes with a specific working timeline until you fix or replace them. As for struts, it is essential to replace them after they reach the 50,000 miles limit. But if you do not notice many visible tears and wear, you can wait some more time before replacing them.
Should I replace all 4 struts at once?
Generally, struts are replaced in pairs, such as front and back ones. But it is best if you get all four replaced at once. The advantage of changing all four struts together is that they all come with the same miles and last a long time.
---
How to Install Honda CRV Quick Struts
---
Final Verdict
Can you decide on the best struts for Honda CRV now? If not, let me recommend a few of my top picks as always.
If budget is not your problem, you can close your eyes and just pick the KYB SR4244 Strut. It is the best-known brand in the market, and also the struts are popular for their incredible performance and reliability.
But if you want something affordable or budget-friendly, you can choose the Monroe Quick-Strut 172144 or the Monroe Quick-Strut 171380L. These struts are also excellent enough to ensure satisfying performance.