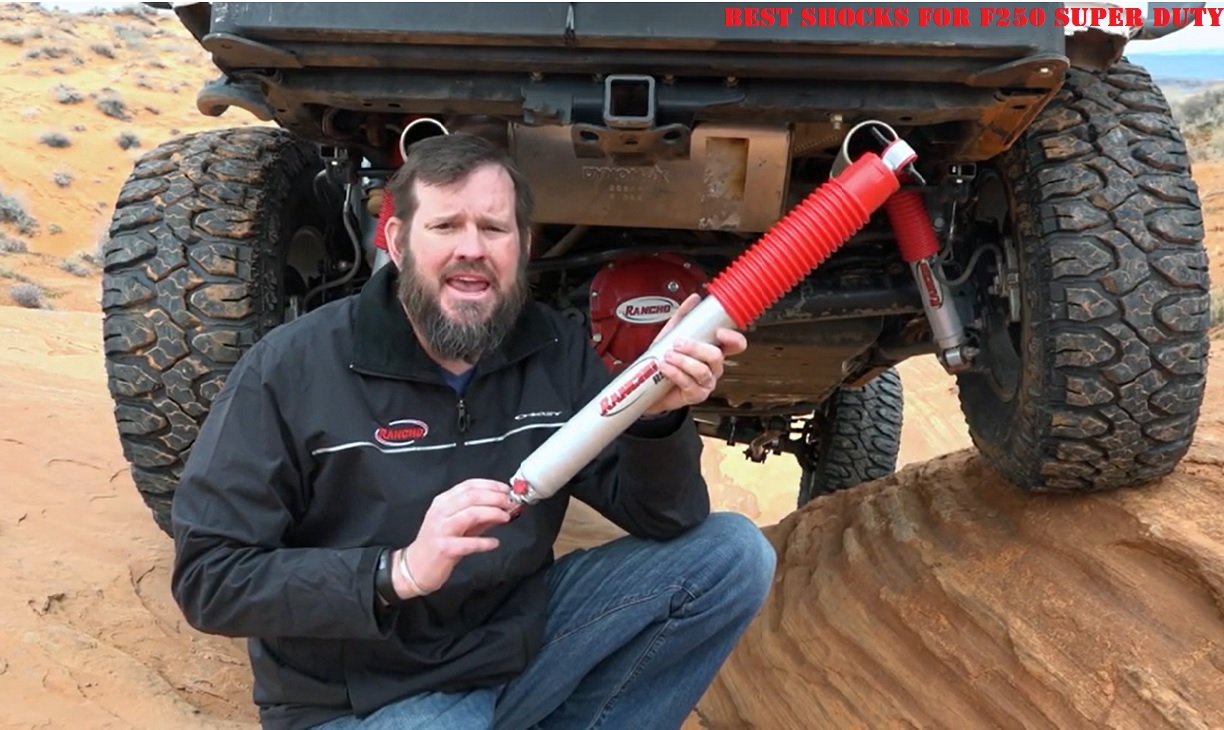 If you notice your F250 Super Duty coming short of providing super duty, that may signal the necessity of introducing brand-new aftermarket shocks. Although F250 is known for its strength and reliability, it loses its effectiveness over time upon exhaustion.
That will not make much difference on highways. But you will feel the rough and wobbly ride quality when it is somewhere else. Your only option to fix the situation is to buy a set of shock absorbers.
The best shocks for F250 Super Duty are challenging to find these days because of countless subpar brands coming up with low-quality products. So, I spent some time carrying out my research on finding them to lend you a hand.
I reviewed the top-rated shocks from trusted and established brands to transform your F250 with more smoothness, control, responsiveness, and whatnot. Check them out and see what you think the best for your vehicle.
Top 5 Best Shocks For F250 Super Duty Reviews in 2022
1. RANCHO RS9000XL Adjustable Shocks Set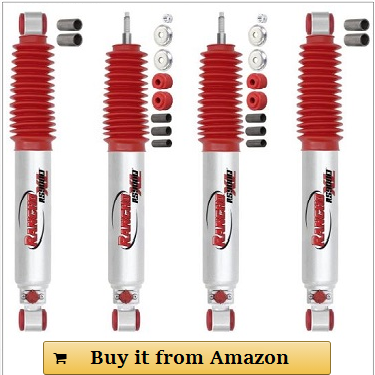 The adjustable shocks set from Rancho will get your car thriving in notching up the comfort and handling based on your purposes and needs. Let's have a look at what it offers.
Features And Benefits
Nine Performance Levels: Rancho featured its shock absorbers with nine performance levels. Each works differently at a different ride quality demanded by the situation. That is the coolest thing about the products. The company thought of the possible scenarios and made their shocks accordingly.
Adjustable Damping: The adjustable damping of the shocks make your F250 feel smooth and polished, giving you the upper hand. You will realize its function when it comes into effect on bumpy terrains. No matter how uneven the road is, your truck will swoosh away just fine without any problem.
Easy Installation: The package has two front and two rear shock absorbers for immediate effect. The brightest upside of them is the easy installation process. You can do it manually on your own with some tools like washers, nuts, and bushings included in the set.
Large And Thick Body: A large and thick container houses each shock, activating it to remain efficient and cool when driven to the edge. But one thing to remember is that the paint quality is not up to the mark compared to other features. So you should expect rusting within a couple of years.
Warranty And Guarantee: Rancho has a limited lifetime warranty to protect the shocks against premature failure and defects. Besides, it has a ride guarantee for 90 days that covers the RS9000XL too.
Others: Extending the lifespan of your F250 Super Duty and providing good value for your money, the shocks will last a long time, provided that you maintain them regularly.
Related Post: Top Rated Traction Bar Review from BDS 
Pros
A massive container to house the shocks
Quick installation with simple tools
Nine performance levels to accommodate the car on different terrains
Adjustable damping to enable the vehicle to run smoothly everywhere
Limited lifetime warranty with a 90-day ride guarantee
---
2. Bilstein BE5-6248-H5 5100 Series Gas Shock Absorbers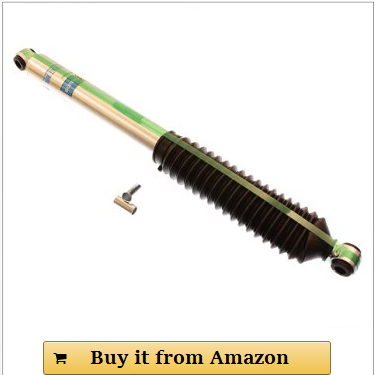 The Gas Shock Absorbers from Bilstein are debatably the best aftermarket shocks in the current market. And if you have a first-generation F-250 Super Duty truck, they will make a worthy addition.
Features And Benefits
Less Noise And Vibration: The shocks do wonders at minimizing the vibration and noise. Even if you hit the bumpiest road in the town, you will enjoy a peaceful and comfortable ride without high rattling.
Top-Notch Build Quality: The build quality of the shocks is unmatched. It catalyzes their long-lasting and reliable properties. The image you see online does not do proper justice. You will know it when you examine them at the shop.
Easy Installation: A minor bad news is that the shocks come unassembled. But assembling them is not a mammoth task at all. Hence, the installation will be swift and straightforward.
Customized Design: The company designs its 5125 series shock absorbers based on custom cars to obtain the desired rising experience. So you will not have to worry about their suitability with your F250 truck.
Warranty: The manufacturer will give you a limited warranty period. You can avail of it to cover for defects or premature failure.
Others: They come with ⅝" eyelets with an hourglass on each end. Moreover, they have a 46mm digressive piston and a deflective disc valving system with self-adjustments. These essential yet unique characteristics distinguish the Blistein shocks from the mediocre ones.
Pros
Steady, lasting, and reliable service
Customized design for the best suitability
Highly well-built with a limited warranty
Minimized vibration to ensure a cozy riding experience
Uncomplicated installation process
Self-adjusting disc valving
---
Bilstein 4600 vs Bilstein 5100 – Shock Comparison
---
3. Skyjacker H7091 H7060 Pairs of Hydro Shock Absorbers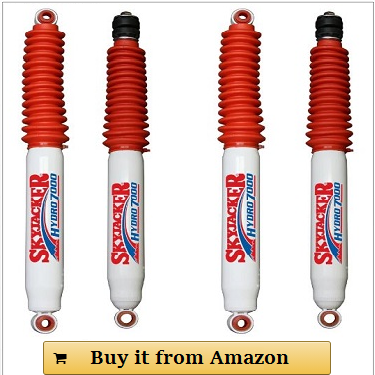 A common nightmare of every truck owner is finding their vehicle jumping like crazy on bumpy roads. Hold on. I will not go into the details of the possible ways things can go wrong at that time because I came here with the solution – the Skyjacker H7091 H7060 Pairs of Hydro Shock Absorbers.
Features And Benefits
Remarkable Improvement: The shocks will ensure controlled, light, and evened-out rides on tough grounds. It is as if you will discover your F250 with an entirely different energy. The performance-specific internal parts of the shocks will respond instantly to the off- and on-road situations.
More Convenient And Stable: Regardless of the terrain's conditions and the car's speed levels, the sensitive valving with true velocity will produce a steady magnitude of resistance for maximum convenience, improved stability, and better handling. As a result, every aspect of its performance will improve altogether.
Suitability: Finding the best shocks for your F50 Super Duty diesel 4×4 becomes challenging when you do not find the right ones for your truck model. Again, this is another concern that Skyjacker has solved for you. Its H7091 H7060 shock absorbers will fit with lots of F250 models. From 2005 to 2016, be it the 2nd-gen or the 3rd-gen, it will suit all of them.
Affordability: All the enhanced performance and compatibility should naturally boast of a handsome price, right? But Skyjacker decided to deliver its sky-high performers at a surprisingly affordable price. You can check out all the premium-level yet budget-friendly shock absorbers to find these unbeatable.
Limited Lifetime Warranty: Last but not least, you will get a limited lifetime warranty with the shocks to fix certain damage issues.
Pros
Smooth riding experience
Higher control, stability, and convenience
Remarkable changes in the truck's performance
Capable of functioning per road conditions
Super budget-friendly without any compromise with quality
Compatible with a variety of F250 models
Cons
Installing the shocks may be hectic, especially for beginners, because there will be no user manual in the package. But YouTube tutorials can be the savior here.
---
4. ECCPP 994585-5211-1644531 Front Pair Shock Absorbers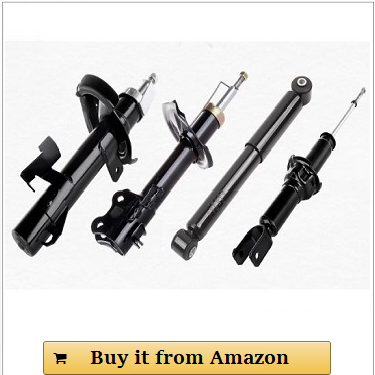 The shock absorbers from ECCPP are the best f250 shocks if it belongs anywhere from 2005 to 2014. ECCP has been making them since 2007, being the customer-favorite brand in the market.
Features And Benefits
Stable And Durable: The manufacturer used Japanese oil for the CFM multi-lip piston rod associated with one-time molding and TRP material procedures to make the shock absorbers handy and resilient. There will also be no squeaking or leakage.
Longer Lifespan: If you do not want to replace your shock absorbers anytime soon, the ECCPP shocks will take care of that. The steel rod of the shocks, micro-polished, comes with a double plate of chrome. That prevents high corrosion and secures a longer service life for the products.
Quality And Price: The balance between the quality and the price is well-justified. ECCP charges very reasonably for all it provides through its shocks. I am not enunciating that it will be budget-friendly for everyone, but that you can resonate the price with the quality well enough.
Comfort: Comfort is what won over the hearts of customers among all the features. When installed, the shocks will lessen your car's impact, increasing riding comfort and changing your driving experience to a new standard.
Easy Installation: The shocks arrive with buckle holes consistent with your car model. So you can do the replacement without taking apart your already existent struts or making other changes. That way, the installation will be speedy.
Pros
Special one-time molding process to ensure high precision and durability
Quality and price perfectly resonated
Increased comfort due to the lighter vehicle impact
No changes required during the installation
High compatibility with F250 models
Cons
Some customers faced issues with their leveled trucks.
---
5. Maxorber – Best Shocks for F250 Super Duty 4×4
If you have to take your F250 on difficult terrains most of the time, the Maxorber Front And Rear Shock Absorbers will make your journeys light and cozy. That is because the shocks specialize in dealing with shaky and jumpy bumps.
Features And Benefits
Quick And Quiet Braking: Most shocks increase the stopping power of the brakes slightly. But with Maxorber, the improvement will be visible. Also, they enable quiet and quiet braking, a fundamentally important feature you will need on tough trails.
Japanese Oil Seals: There will be a lot less friction between the rod and the seal because the company has used Japanese oil for the seals.
Steady Damping Force: The seamless sleeves and cylinder will minimize splitting to a large extent. Besides, it will also keep direct contact between the cylinder and the piston. So, the damping force will be steady without any risk of leakage.
Improved Performance: The uniquely sourced hydraulic fluid has multi-range viscosity to put up with any weather. Moreover, the shocks are anti-shear and anti-foam, which reduces internal wear. And the shocks run on N2 gas. All of that invigorates your car for better, faster, and more powerful performance.
Consistency: When you hit challenging terrain, the shocks will maintain consistency in the braking and handling by keeping the wheels aligned. So, even if your truck hits a bouncy road, it will hold its ground all the way, and you will be in full control.
Pros
Swift and soundless braking on bumpy roads
High protection against corrosion
Reduced friction, no leakage, and steady damping force
Suitable for any weather
Consistency to keep the car balanced while giving you the upper hand
Cons
Unfortunately, durability is not the strongest suit of the shocks.
---
How To Buy The Best Shock Absorbers For 250 Super Duty?
The section is for informing you about the determinants that will significantly impact your search for the best f250 shock absorbers. So, if you already have made up your mind about them, I suggest you give it a read anyway. It will either reaffirm the accuracy of your decision or lead you to a better one.
The shocks creating hype in the current market differ significantly from the ones a decade ago. Now they are technologically more advanced and better functioning with a high ability to keep you safe while empowering your car.
You can look for the latest shock absorbers that offer a variety of services when choosing them. Also, the quality of their build should concern you. A good bunch will work for more than 10 years. If you opt for used products, they should be well-maintained without prior damage.
So, quality should get priority over everything else. If it does not meet your expectation, look for others because poorly built shocks will not only fail to upgrade your vehicle but also put your safety at risk.
You will find gas-run and oil-run shock absorbers at stores. It will bode well for your car to have the gas-run ones. They make the oil flow faster into the car chambers, causing stronger all-wheel grips in adverse situations. Besides, as they have higher control over tire motions than oil shocks, they can lower vibration.
Suitability is a critical criterion. You may find the perfect, flawless, and high-functioning shock absorbers, but they will still not be the best absorbers for your F250 Super Duty if they lack compatibility. So, do not let yourself forget that during your purchase.
If you have an eye for uncommon and different stuff, be aware. You cannot have that mentality while searching for the best shock absorbers, at least not to the extent that you fail to find their replacement when they wear out.
Your shock absorbers should have easy replacements so that you do not panic when they malfunction during a drive. Not everyone pays enough heed to this point, especially when they find a unique bunch of shocks. Make sure you do not hop on that bandwagon, too.
Configuration Of The Shocks
Companies produce shocks to abide by standard suspensions, allowing you to reuse the same springs, bushings, bearings, and other parts. Seek these cost-efficient shock absorbers in the market.
Apart from that, you can see what the other configurations offer. If they have a monotube design to decrease body roll, pick them. Their performance is more satisfactory than the rest.
Now this one is not that important for everyone. But if you are into appearance, you can look for shocks that match or contrast your F250's color suitably.
You can go for silver. But if that is not your color, you can look for black, red, yellow, or blue. Chrome and clear-coated ones are also trendy these days.
Load-Adjusting Properties
The best shocks should be capable of taking high loads. If you cannot rely on them enough, you will always have to worry about them letting go and wearing down due to pressure.
There are shocks for F250 Super Duty, which let you adjust the load according to your demand. It would be wise to pick them.
Measurements And Materials
The shocks must be fitting for your F50. If the measurement is not precise, the mismatch will hold back the shock absorbers from performing their best. Get the original measurements prior to visiting shocks to prevent that.
On another note, the materials used to manufacture the shocks play a huge role in their lifespan, performance, and sustainability. Customers often prefer rubber, polyurethane, aluminum, and steel because they last longer and protect them against corrosion and leakage. That will ask for extra money, but all of it will be worth it.
Price is always a concern, and so is quality. You want the top-rated F250 shock absorbers, but you cannot pay more than your budget for them. The dilemma is common.
However, remember that you do not need to find ones at a price double your budget. They will not offer double the features and benefits. Then again, you cannot be adamant about bargaining so much that you end up with poor-quality shocks. Find something in between that serves your purpose and does not cost you a fortune at the same time.
While you maintain all of the factors above, do not forget to list what you expect from your shock absorbers. The fundamental characteristics include proper handling, control, safety, comfort, and durability. These are the minimum you should want. If your chosen ones cannot promise that, you should keep up your search and research.
---
How to Install Shocks on F250 Super Duty
---
How To Maintain Shock Absorbers
Regular and proper maintenance of shock absorbers prevents technical issues and decreases the cost of maintaining your truck. The following tips can help you in that regard.
Keep them properly inflated. Otherwise, inaccurate inflation will make the tires wear unevenly and affect other suspension components.
Always install them in pairs. Since both shocks have the same exposure to wear and tear, experts recommend replacing them at once.
Your shocks and struts may deteriorate over time due to road salt, water, and other materials used to repair roads, necessitating maintenance or replacement soon. Driving on treated roads is unavoidable, but you may lessen corrosion by waxing and cleaning your truck whenever possible, focusing on the base.
Shocks may experience increased wear due to the vertical movement of the vehicle during braking. If you have to drive in congested locations with lots of intersections that require frequent braking, try slowing down and braking gently.
Finally and most importantly, do not procrastinate regular inspections. Have a professional and certified mechanic examine the suspension system annually or every 12k miles to look for potentially serious wear that might result in further damage.
---
FAQs About F250 Shocks Absorbers
What do shock absorbers do?
Shock absorbers dampen or absorb the rebound and compression of the suspension and springs. They control excess and unexpected spring motion while keeping the tires connected to the road.
What causes damage to shocks?
When you frequently travel on dirt roads, the sand and dust particles get in contact with your shocks' seals, causing fluid leakage from the inside and damaging them.
How do worn-out shock absorbers sound?
Shock absorbers make unusual noises, sounding like knocking or clunking when worn out. The metal-to-metal contact creates the sound when bottoming out on a bumpy road.
How often do I need to replace my shocks?
According to auto repair specialists, you should generally replace them after every 50k to 100k miles, varying on how worn-out they are.
Can I repair my shocks instead of replacing them?
You can repair your shocks instead of replacing them. It will not only reduce the cost but also make the rebuild shocks more dependable than brand-new ones. Enhancing their seal elements and guides improves their capability to resist environmental and mechanical effects.
How many years do shocks last?
If you reside in a city and drive cautiously at all times on even and well-maintained roads, your shock absorbers will last for more than a decade. But if you occasionally hit potholes running your car on shaky grounds, expect to look for replacements for your shocks within 5 years.
---
Final Verdict
So, I am down to the end. While each brand has the best shocks for your F250 Super Duty, I have narrowed them down further based on some criteria that suit my perspective better.
I found that Blistein shocks deliver an unparalleled performance in terms of reliability, compatibility, and comfort. Moreover, they have custom designs. So talk about size and measurements. Nothing will go wrong with Blistein.
Then I have Skyjacker. Hands down, it has the best f250 shocks at the most affordable price. They literally check all the boxes of the buyer's guide!
Up next is the Maxorber shocks. Owners and drivers who mostly run their F250 trucks on wobbly and rough terrain will consider the Maxorber shocks the upgrade for your cars. They will make your rides remarkably less hectic by offering quiet, consistent, and steady performance.
That is all from my side. Hopefully, the article was informative for you. Thank you for reading!
---
References: 
https://www.monroe.com/en-gb/blog/shock-absorbers/audi-a4.html
https://www.cumminsforum.com/threads/best-shocks.2431850/
https://www.rctalk.com/forum/threads/best-shocks-for-the-price.133982/
https://www.tundras.com/threads/best-rear-shocks.48204/
https://www.cherokeeforum.com/f67/whats-best-shocks-get-215004/
https://www.jkowners.com/threads/which-shocks-are-the-best.216810/