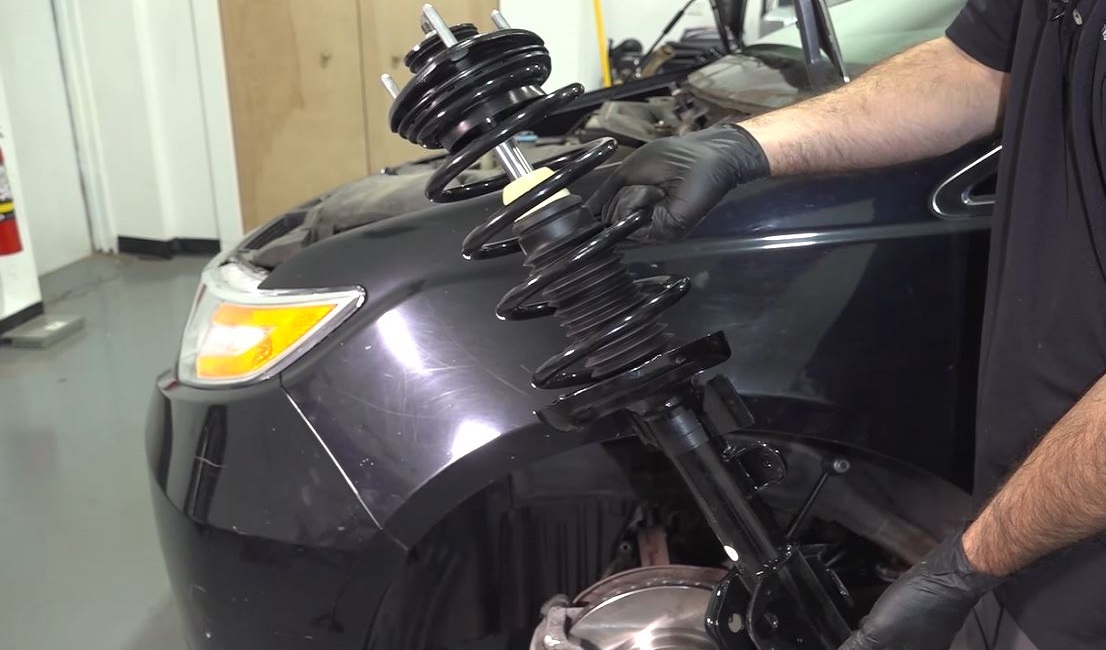 Struts are those parts of your vehicle's suspension system that bear the vehicle's weight, absorb road shocks, and prevent your tires from rolling off. That's why selecting a proper Strut is crucial for your cars.
Recently, Struts from TRQ became quite popular among users for their relatively lower price. But are TRQ Struts Good for You? In short, they are a pretty good option compared to the price range. However, they are not durable for heavy SUVs like Tahoe. Plus, the nuts 1A Auto included are not good quality.
So, before deciding, let's dive deeper into the pros and cons of TRQ struts to determine if they can fulfill your vehicle's needs.
Are TRQ Struts Good Fit For Your Car?
TRQ struts, aka the Trusted, Reliable Quality struts, certainly lived up to their name. They are known for being affordable and giving your car a solid performance. People especially love the TRQ shock strut-loaded spring because it's easy to install, makes your ride smoother, and lasts a long time.
Now, let's talk about money. TRQ struts won't break the bank. They're like the budget-friendly alternative to other brands like Detroit Axle. In fact, they can be 20-30% cheaper than even the cheapest KYB Excel G struts.
TRQ borrows some excellent stuff from KYB but skips some fancier features to save you some cash.
But wait, there's a catch. While TRQ struts are cool for American-made cars, they may not be the best choice for Japanese cars.
Also, if you tend to use them on heavier SUVs, don't do that. My experience with TRQ air shocks on my Tahoe wasn't great – they barely lasted four months.
Plus, when you hit those little bumps at higher speeds, they can make the rear end of your vehicle bounce like a trampoline. And many users also complained about the cheap nuts that come with the package.
When you compare TRQ to Monroe struts, they're like Monroe's basic RoadMatic line. They're okay but not as fancy as Monroe's Quick-Strut ones.
So, in a nutshell, TRQ Struts are 80% of OEM at 45% less price, which can be a decent choice for many. Just double-check they fit your car before you go all in.
Which TRQ Struts Should You Use On Your Car?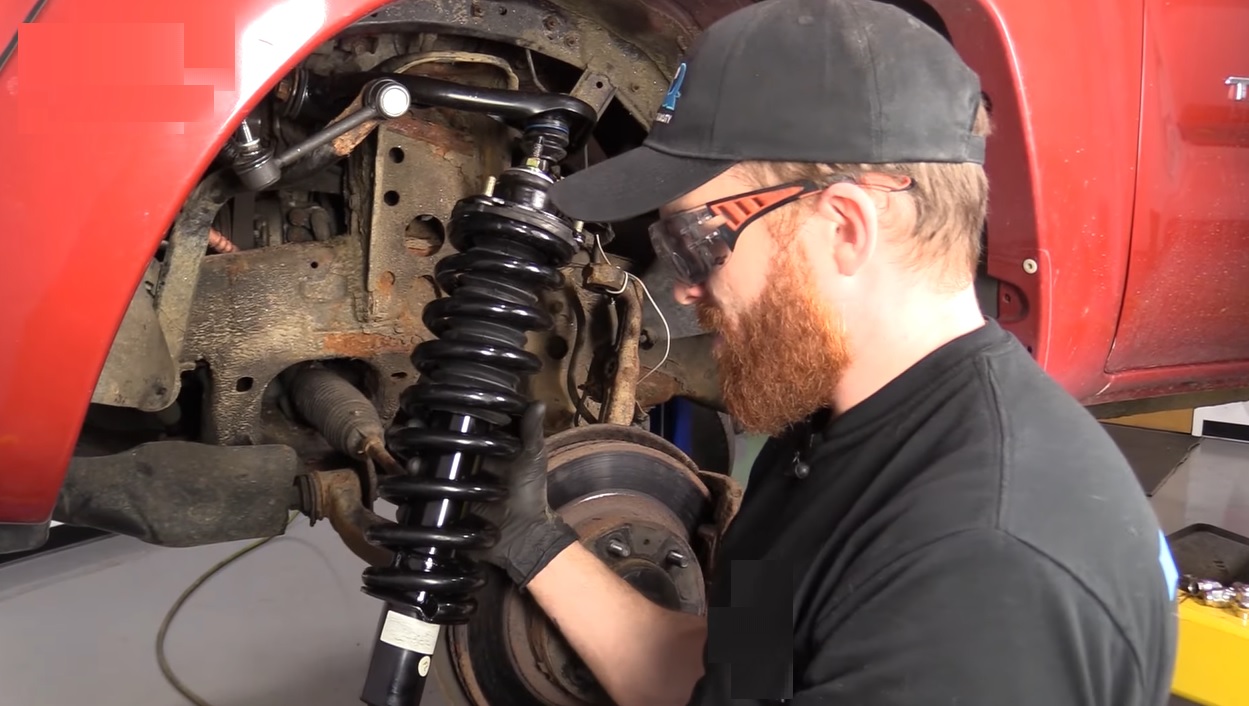 TRQ struts from 1A Auto have quite a selection to pick from. So, to make a smart choice, you need to look at a few things, like how long they'll last, how they mount, and how they perform.
But don't worry; after reviewing tons of TRQ Struts in different vehicles, I've selected the four best options. Here's the overview for each of them:
1. TRQ Front Suspension Kit Strut
TRQ Front Suspension Kit is just as good as the factory-made ones. Also, it takes about 40 to 60 minutes, and you can put them on either side.
TRQ even included ABS mounting tabs on both sides, and there are link connectors, too.
The price is reasonable, and 1A Auto offers a lifetime warranty for the parts, which is fantastic.
Pros
Time Saving.
Works just as well as the original parts.
Lifetime warranty.
Cons
If you're not in the US, you might have warranty issues.
Check Today's Price of the TRQ Front Suspension Kit on Amazon.
2. TRQ Loaded Quick Complete Strut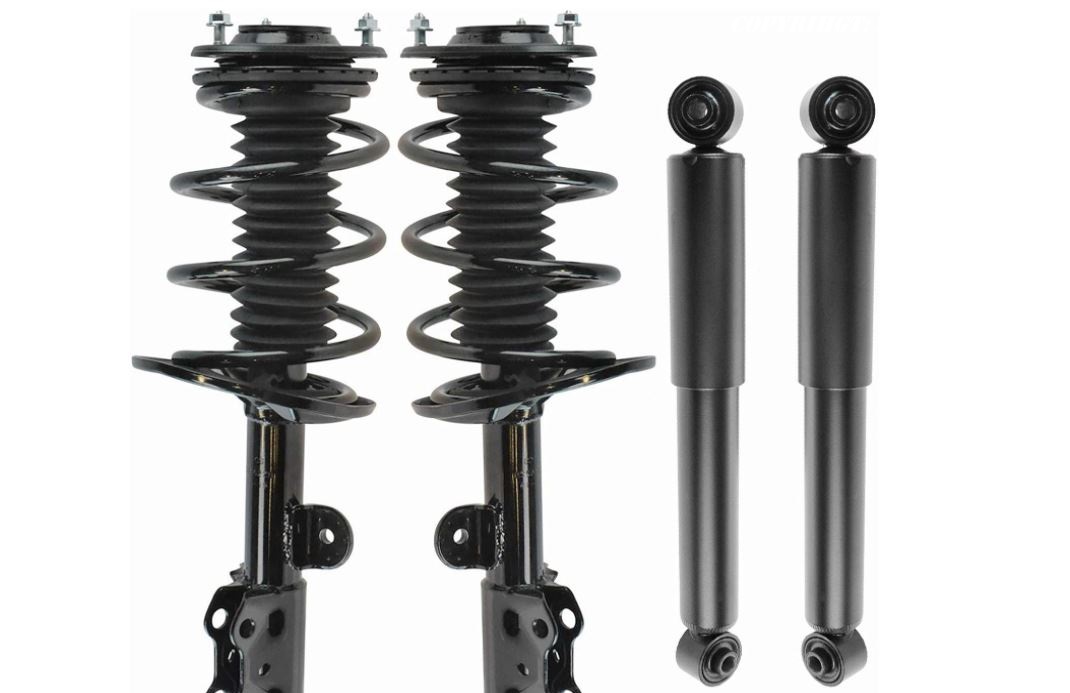 The TRQ Loaded Strut provides both front and rear struts made of durable materials to increase your car's stability.
Installing them is way easier than dealing with old struts. Moreover, you can verify the installation process by watching TRQ YouTube videos.
However, some users have experienced unnecessary sounds after a year.
Cons
They might get a bit noisy after a year of heavy use.
Check Today's Price of the TRQ Loaded Quick Complete Strut on Amazon.
What Makes TRQ Struts Different from Other Struts?
Trusted, Reliable Quality struts (TRQ struts) are relatively newcomers to the entry-level suspension market.
They may not have the long history of some other brands like Monroe, KYB, or the car manufacturer's original equipment (OEM) parts, but they offer distinct qualities that set them apart.
Let's take a closer look at what distinguishes TRQ struts from Monroe and OEM struts.
| | | |
| --- | --- | --- |
| TRQ Struts | Monroe Struts | OEM Struts |
| TRQ struts are suitable for lighter vehicles and offer good value for the price. | Monroe struts are made to last longer. | OEM struts are customized for specific car models to give a steady performance. |
| Simple and basic design with no fancy options | Great design features including rust resistances | Custom-made for every car model. |
| TRQ struts are an affordable choice for regular driving. | Monroe Struts has a Slightly higher price than TRQ, but they are worth it. | The cost of OEM struts varies from model to model, but they usually have a premium price tag. |
| TRQ provides a limited lifetime warranty for all struts. | Monroe gives a limited lifetime warranty for some products and a 5-year warranty for others. | The warranty period of OEM Struts depends on the car company. |
| TRQ offers helpful YouTube videos for its customers. | Monroe includes some installation guides in their packaging. | To install an OEM strut, you need professional help. |
| TRQ Struts are best fit for Low-budget customers. | Monroe Struts are suitable for customers with a moderate budget who want a car performance boost. | OEM Struts are mainly prepared for Premium Users. |
So, if you're low on budget, the TRQ Struts is a solid choice. Monroe strut offers more features at a higher price, and OEM is a premium option for any car strut.
How long Does TRQ Struts last?
As the brand name suggests (Trusted Reliable Quality), 1A Auto made TRQ Struts durable. These Struts usually last more than two years.
However, that duration may vary depending on your driving habit, carload, or road condition. When you drive on rough terrain or have an aggressive driving style, your TRQ Struts may wear out sooner. On the other hand, if your roads are generally smooth and you drive calmly, they will last longer.
But don't worry too much. 1A Auto provides a Lifetime Warranty with almost all the TRQ Struts. So you can purchase and use them without worrying too much.
What's the cost of TRQ Strut?
1A Auto offers a range of Struts support for various vehicles. As a result, the price tag is different for each model. However, you may find most TRQ quality Struts in the $100 to $400 price range.
You may find some cheaper options under $100 on the 1A Auto website, but I wouldn't recommend those.
Here's a price chart for some well-known TRQ Struts available in the market:
| | | |
| --- | --- | --- |
| Model | Current Price | Check on Amazon |
| TRQ Front Suspension Kit Strut & Spring Assembly | $242.00 | |
| TRQ Loaded Quick Complete Strut Spring Assembly Shock Kit | $301.25 | |
| TRQ New Front Rear Complete Loaded Strut Spring with Assembly Shock Absorber | $360.50 | |
| TRQ Front Complete Strut & Shock Spring Assembly Pair Set | $236.25 | |
What Are Users Saying About TRQ Struts?
As Per my research, most customers have a positive opinion about TRQ Struts. However, there are also some harsh feedback in various forums and review sites. Here are some helpful reviews from different sites:
"TRQ Struts won't let you down. I used them on my car for about 6 years, and they were great for everyday driving."
— Cookiemonster101289 on Reddit.
"I got these and installed them about a week ago. Honestly, I'm not a fan, and I'll be sending them back. I don't like how much they lower my car. I knew they would lower it, but it's lower than I prefer. Now I'm thinking about switching to Gabriel struts for OEM or considering Type R struts."
— Justhere4pron2 on Reddit.
---
Frequently Asked Question
Here, I've collected some frequently asked questions people often ask about TRQ Struts. These quarries will give you some insights about the product.
What Can Go Wrong with TRQ Struts?
Over time, TRQ struts may lose their ability to control weight transfer, which can reduce your vehicle's control. And your tires may lose contact with the road for that uncontrolled weight.
Do TRQ Struts Impact Ride Quality?
Yes, TRQ struts can make your ride feel different because they affect how well your car handles, how you control it, and how it breaks and turns. And they can even make your tires wear out faster.
Do Struts Affect Tires?
Yep, they can make your tire wear out faster. When your struts become shabby, your car can start bouncing, which can make the tires lumpy & bumpy. And those uneven wears aren't good for your tires.
---
How to Replace Front Struts Assembly
---
Conclusion
And there you have it. After reading this article, you should have a good idea about TRQ Struts. So, are TRQ Struts a good choice? Well, now it's up to you to decide.
However, always check compatibility and read reviews on different forums to get more opinions before selecting any product for your car.
Peace out!