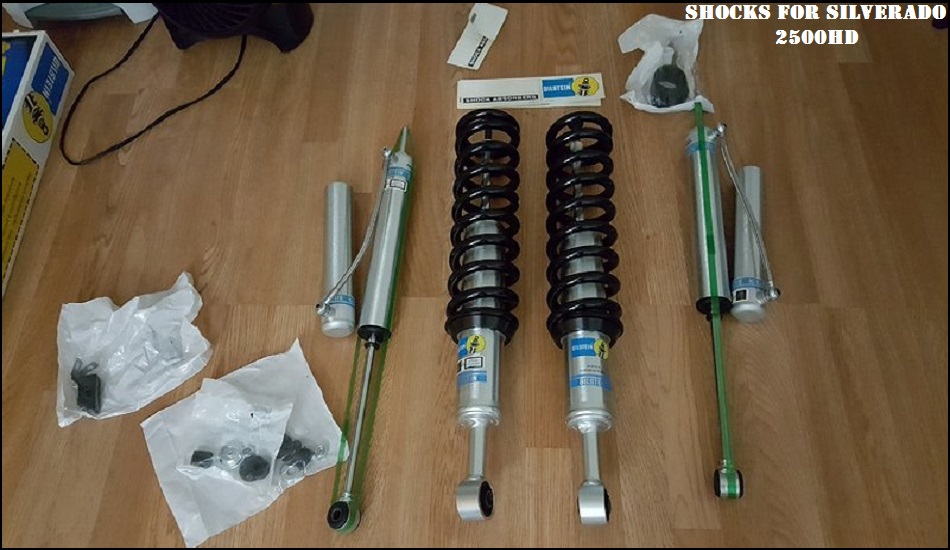 Your vehicle can ride on the roughest roads and handle bumps with the right shocks. Not only do they help have a smooth driving experience, but they also help your vehicle last a long time.
And if you have a Chevy Silverado, you know how important it is to ensure everything goes right. But there are so many shocks for Silverado, and they often fit different models. So how will you know which are the best shocks for Silverado 2500HD?
That's right! Today we are talking about shocks that will improve your riding experience, especially if you own a 2500HD model. Our team did a great job finding such shocks, and we are sharing everything you need to know about them.
Top 5 Best Shocks For Silverado 2500HD Review
1. Monroe 34690 Gas-Magnum Truck Shock Absorber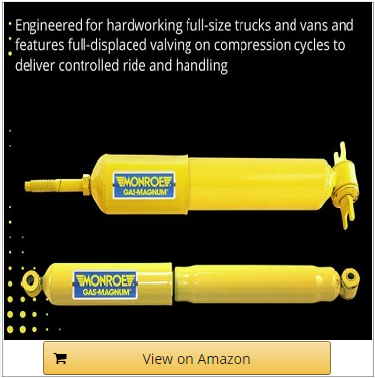 For off-road driving and heavy-duty trucks, you need durable and robust shocks. Thankfully, we found the Monroe 34690 Gas-Magnum truck shock absorber. It is suitable for mid-size and full-size trucks and comes at an affordable price.
Highlighted Features:
Shock-Absorbant: This shock absorber works by placing loads vertically on the tires. You will be able to drive with more safety, and taking sharp turns won't be an issue. Vertical bounces or rolls it is ready to resist anything. But do not expect it to perform sway control.
Compatibility: These shocks can shock your small trucks with your high-performing ability. So the manufacturer recommends using them on medium mid-size or full-size trucks, and we also recommend the same.
Longevity: The Monroe 34690 Gas-Magnum truck shock absorber can help you ride around 50,000 miles. It is perfect for your Silverado 2500HD and allows you to drive on off-road terrains.
Price: It is a budget-friendly option for any Chevy Silverado owner. It will not cost a lot, but the only issue is that the shock does not come in pairs or sets. You have to purchase them separately.
Pros
It has a more fluid capacity
Suitable for mid and full-size trucks
Resist shocks and allow you to drive on uneven roads
Very durable and suitable for covering many miles
Provides better driving control
Cons
Stiffens up the truck
Thin paint coats wear off faster
---
2. Bilstein 5100 Shocks Kit For 99-10 Chevy Silverado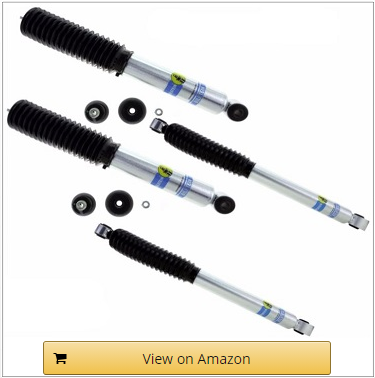 If you would rather buy sets of shocks, you can check out the Bilstein 5100 Shock Kit for 99-10 Chevy Silverado. Bilstein is well-known for manufacturing durable and powerful shock absorbers. And these shock kits are not any different. You get both front and rear shock replacements to complete your Silverado 2500HD.
Highlighted Features:
Design: What is better than a gas-charged mono-tube design with floating pistons inside? The rod connecting the piston helps push the fluid through the valves. It ensures the damping level stays in balance.
Compatibility: It is built to fit perfectly in your Silverado 2500HD trucks. It is also a good fit for 3500HD models. So if you own more than one model, you know what to get for your trucks.
All-In-One: It is a complete set of four shock absorbers with essential kits. It comes with two front shocks and two for the rear side. The front ones can lift 0-3 inches, while the rear ones ensure 0-1.5 inches lift.
Effectiveness: All of these absorbers have auto-adjusting features. So even if you are hauling heavy loads on bumpy roads, the shocks will keep the truck in balance and provide stability. All you need to do is spend around two hours installing the shocks to get the benefits they provide.
Pros
It is a complete set, which is cost-effective
Auto-adjusting system ensures better grip on bumpy roads
Easy to install and suitable for Silverado 2500HD models
Allows you to cover extra mileage
Cons
Not suitable for non-lift trucks
Takes a few days to work effectively
---
3. Rancho RS5000X Gas Shock Set 2001-2010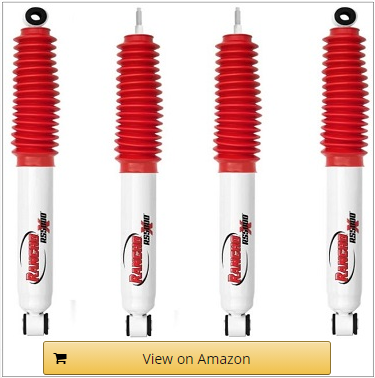 The Rancho RS5000X Gas Shock Set 2001-2010 for Chevrolet Silverado 2500 HD is the 3rd one on today's shock list. This set is another popular shock set for incredible performance and changing your driving experience. These shock absorbers are durable, and built to perform highly and ensure a safe ride.
Highlighted Features:
Design: The shocks have a polyurethane bumper design. They are effective for controlling the rebound motion of vehicles. Each shock has a twin-tube design to store more oil, which helps the shocks adjust themselves automatically based on various road conditions.
Performance: We do not recommend these shocks if you have level trucks or custom lift models. They are suitable to tow your vehicle off-road. But we also suggest not to do that on a regular basis.
Efficiency: These shocks are highly effective in minimizing foaming and shock fading due to the air-to-oil mixture. They also ensure a smooth ride with their controlled fluid transfer. So even though the shocks are a little expensive, they are many users' favorite.
Compatibility: The set is suitable for any Silverado 2500HD model with the 2001-2010 year. The shock size is a perfect fit for these models, and they are adjustable. These front and rear shock absorbers are exactly what you need to boost your vehicle's performance.
Pros
The manufacturer provides a 90-day risk-free trial
Boost the truck's performance and ensure more stability
Increases fuel efficiency by increasing mileage
It Fits two-wheel and four-wheel vehicles
Cons
Not very effective when it comes to off-road performance
Do not come with shock boots
---
Rancho RS5000X Gas Shock Absorber Video Review
---
4. Bilstein 5100 Gas Shock Set for Silverado 2500 HD 4WD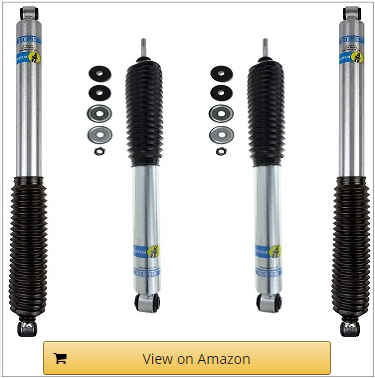 Here is one more shock set from Bilstein. It is from the 5100 gas shock set, but for 2011-2018 Silverado 2500HD 4WD models. These sets are also designed to ensure smooth driving on bumpy roads, and they are built to last a long time. Users have crossed more miles with these shock absorbers.
Highlighted Features:
Compatibility: This shock set is designed for 2011-2018 Chevy Silverado trucks. Two of these are for the front with 0-1.5 inches adjustable height. And the read shocks are adjustable with 0-1 inch lift height.
Performance: These are gas-charged mono-tubes. And the perk of such shocks is that they perform excellently and last a long time. Whereas most shock absorbers cover up to 50,000 miles, this set will help your truck last around 100,000 miles.
Stability: The shocks take a few days to get into action. So you have to be patient with them and give them the time to adjust to your car. It sounds like newly adopted kittens, but you know what we mean. Once the shocks start working effectively, you can drive on off-terrain without many issues.
Installation: Installing these shock absorbers is pretty similar to any other model. They are easy to install, and you don't need to be an expert to do that. However, be prepared to spend at least two hours setting up the entire set.
Pros
The package comes with all the necessary nuts and bolts for installation
The robust set offers extra mileage
Keeps shocks at bay even if drive off-road
Improves driving experience by providing a smoother ride
Cons
The package does not include a rubber dust boot
The shocks are harder than they should be
---
5. Bilstein 24-060813/24-060820 4600 Series Shock Absorbers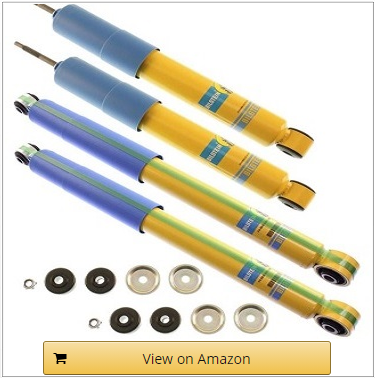 We swear this is our last pick from Bilstein for today. This brand has been manufacturing some of the most high-performing, robust, and durable shock absorbers. And this Bilstein set from the 4600 series is no exception. So if you need a shock absorber for driving on highways or bumpy roads, these are a must-have for you.
Highlighted Features:
Design: Just like our previous popular shocks, this set also comes with four moto-tube absorbers. The design ensures effective shock absorbent and prevents oil from foaming.
Air Suspension: The shock absorbers have air suspension technology. This technology increases the shocks' damping power, ensuring a comfortable and safe ride. Moreover, they help you haul or tow heavy loads with ease.
Effectiveness: These shock absorbers make your vehicle ride smoother and more enjoyable, even on the roughest roads. They will give you exactly what you expect from any high-performing shock absorbents.
Compatibility: The Bilstein 4600 series shocks are built to fit the 2001-2010 Chevy Silverado 2500HD models. The set comes with two front and two rear shock absorbers. The best part is that you are getting a lifetime warranty for this shock set.
Pros
The vehicle-friendly design ensures a comfortable and smooth ride
Provides more stability and helps tow heavy loads
The set has excellent durability
The package comes with essential nuts and bolts
Cons
The shocks are not adjustable
Not entirely corrosion-resistant
---
How To Choose The Best Shocks For Silverado 2500HD?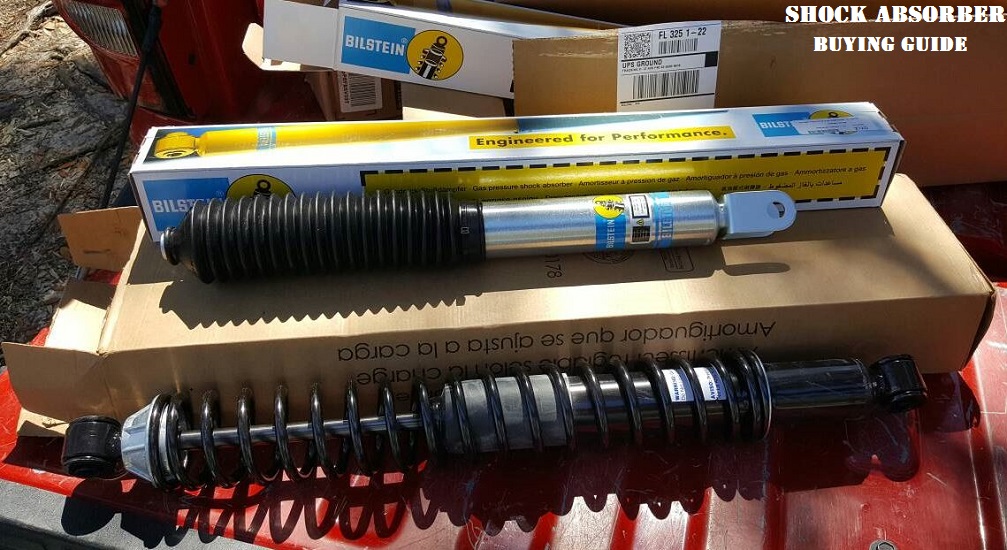 Choosing the right shocks can change a lot of things about your Chevy Silverado. And the best way to do that is to pay attention to what you purchase. The shocks may look small, and almost the same, but are they?
The one you purchase should fit your vehicle, the material has to be long-lasting, and it needs to be easy to install. Other than those, you need to pay attention to the brand and see if they are known for manufacturing durable shocks at a reasonable price. Here, in this buying guide, we have explained everything in detail for you.
Types
Generally, you will come across two types of shocks.
Hydraulic shocks
Gas shocks
Hydraulic shocks require oil to work. It helps lubricate the valves. The oil will enter through one end and move to the other. This part will depend on how the vehicle moves.
On the other hand, gas shocks are also similar to hydraulic shocks, but with one exception. It comes with nitrogen in air and gas to cool the system.
The advantage of using hydraulic shocks is that they improve your vehicle's speed. Gas shocks are pretty the same, but they provide a better grip on the tires.
Size
You can choose shocks of your choice, but you also need to pay attention to their size. If the shocks do not fit your vehicle, they will not work. Now think about your truck's performance and make your next move.
If you are using a light-duty Silverado, 2-inch diameter shocks will be suitable for everyday rides and towing. But if it is a medium or heavy-duty truck, you need 2.5-inch shocks for more stability.
Design
For your Chevy Silverado 2500HD, you will find a variety of designs in shocks. If you can distinguish from one another or how they will perform, it will help you choose the right shocks.
Double-Tube Shocks: You will find this one almost everywhere because it is more popular. This one has an external and an internal tube.
Mono-Tube Shocks: Mono-tubes are more robust than double-tubes. The tube in this one can cast oil, gas, valves, and piston.
Gas-Filled Mono-Tube Shocks: As you can tell from the name, these shocks are more high-performing than the previous two designs. These shocks work on a combination of oil and nitrogen, minimizing bubbling. They are best for riding on uneven and rural streets.
Material
Since the shocks are going to work under immense pressure, the material quality matters a lot. You should look for the ones that provide maximum performance, but not all Silverado shocks can ensure that.
Vehicle shocks are usually made of steel or aluminum. Both of them are known for their compatibility to absorb shocks. However, steel shocks are not usually adjustable, but they are low-priced. Aluminum shocks are expensive but adjustable and more robust.
Compatibility
The right size and height make shocks compatible with your vehicle. Yet, many people forget to check this part before grabbing shocks. The simplest way to find the best shocks for Silverado 2500HD is to research as much as possible, even if you are already using a pair.
Make sure the shocks are made for your vehicle model, and the size is an exact match for your truck. Some shocks may look fancier, but the appearance does not guarantee compatibility. Check the packages or labels that mention which vehicle models they will fit before buying them.
Brand
One common mistake most buyers make is not checking the brand. They simply purchased the shocks because they looked right. But as we have said before, do not go after their looks because it does not guarantee compatibility.
It is safer to purchase from well-known or popular brands or the ones that provide the maximum warranty. Brands like Bilstein, Monore, and Rancho are some of the well-known vehicle parts and shock manufacturers.
Durability
What makes vehicle shocks last longer? The material would be the first answer, but it also depends on a few other factors.
You will find plenty of affordable options in the marketplace. Some low-priced shocks can last thousands of miles, while high-priced ones can stop working sooner or not work the way you expected. So always look for models with more mileage and corrosion resistance.
Installation Ease
You don't want to spend a lot of your precious time installing the shocks. Well, none of the shocks we have chosen takes very long to install. But, naturally, some shocks will take more or less time than others.
You don't need pro skills to replace or install new shocks. You can watch some tutorials online and understand exactly what to do. But if it seems complicated to you, it is better to take help from someone with experience.
---
Frequently Asked Questions About Shocks For Silverado
How Long Do Shocks Last?
Generally, shock absorbers last 50,000 to 100,000 miles, give or take. The longevity depends on the quality of the shocks and how frequently you drive on rough roads. Driving on uneven roads can make the shocks wear off more quickly.
How Do I Know If My Truck Shocks Are Bad?
If the truck shocks are bad, you will notice the following things.
Every time the vehicle moves over bumps, you will hear noises.
The tires will wear unevenly, and the steering will be out of control.
The truck will lean more whenever you make a turn.
The truck's front will drive sharply during a hard break.
How Do I Replace Shocks On Chevy Silverado?
You can replace truck shocks in a few small steps. First, you need to ensure the truck is on level ground. Then jack the truck's front and loosen the retainer nut's bottom.
The next step is to remove the old shocks and install new ones. Finally, tighten the bolts and follow the same steps for other shocks.
---
How to Install Front & Rear Silverado Shocks
---
Final Words
All the shocks we have reviewed are popular, robust, and high-performing. These are what make them the top Silverado Shocks in the market.
If you want durable shock absorbers for either front or back of your truck, you can purchase two of the Monroe 34690 Gas-Magnum Truck Shock Absorbers. But if you want a complete set at a reasonable price, my money is on both the Bilstein 5100 Shock Kit for 99-10 Chevy Silverado.
Make sure to research and look for the essential features and qualities in whichever you buy. Some shock absorbers are a little more expensive, but you can always look into reasonable options.