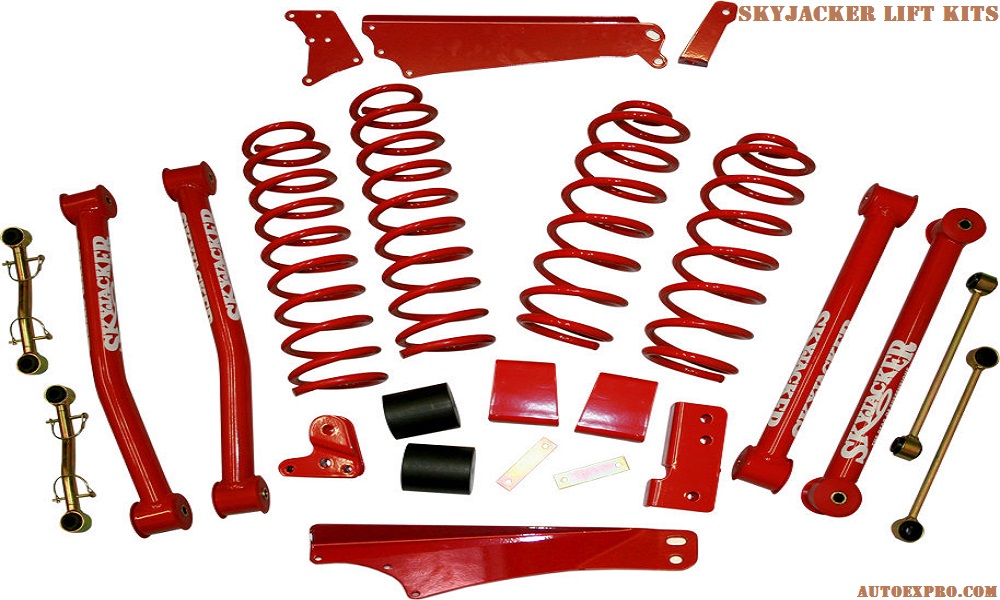 When it comes to lifting your truck or SUV, you should always rely on a heavy-duty and reliable lifting kit. But with so many of them out there, which one would you trust to offer the best performance for your money?
A few months ago, I got a lift kit from Skyjack and gave it a try. Though I cannot say it is the best one I have seen so far, it did give me a mixed performance. But what I liked about the lift kit more its user-friendliness, installation ease, and cheaper price.
If you want to know more about it, you will find this article helpful. Today, I have shared the Skyjacker lift kit review to provide you with a complete guide regarding the product. So feel free to keep reading.
What Are The Skyjacker Lift Kits For?
All lift kits work in pretty much the same way, and Skyjacker is not any different. These kits are installed in trucks and SUVs to help lift their height and also get more ground clearance.
Installing these kits boosts a vehicle's off-road performance, and that is why they are more popular with off-terrain vehicles. The lifting kits often also come as suspension kits or leveling kits, which also help increase the vehicle's overall performance and offer rider comfort.
Now, as for the lifting kits from Skyjacker, you can get pretty much everything from basic bolts and springs to packages that have shocks. Since the company offers low-cost kits, even with shocks included, you can choose whichever kit set you need for your vehicle.
I will discuss more these kits, their features, and their advantages in the following parts of the article.
Related Post: Top Rated Ball Joints Review for Silverado 
Skyjacker Lift Kits Reviews: Notable Features
The good thing about Skyjacker suspension lift kits is that they offer you more visibility and a comfortable ride on and off the road. But you must choose the kit type that seems suitable for your vehicle and your choice. Over time I have noted down some of the important features the kit has offered, and here they are.
Vehicle Appearance
With the lift kits, your vehicle gains a few inches in height. And whether it is a truck or SUV, the raised height can make it look pretty dashing. With that extra height, your vehicle can easily make passer-bys' heads turn.
Road Visibility
The perk of the lift kit is that it offers more road visibility. That's right! When the entire vehicle is lifted higher, it helps you get a better view of the street. That also helps with driving more safely because you can clearly see if there is any obstacle ahead or know when to turn the wheels for more accuracy when it comes to taking a sharp turn.
Ground Clearance
The Skyjacker lift kit lifts the height of your vehicle, which leaves more ground clearance between the ground and the vehicle's suspensions. With enough ground clearance, you will be able to ride on rough and harsh terrains more smoothly and without experiencing many bumps. And, if you want more stability, you will need these suspension lift kits instead of spacer lift kits.
Load Capacity
Not all Skyjacker lift kits are suitable for weight lifting or taking some extra load than usual. I would not trust the suspension lifts to do the job. For that, you will need an add-a-leaf kit as those kits offer more tools to add to the springs, making them suitable for load lifting.
Fuel Efficiency
Here is where the vehicle lifts and lift kits have major drawbacks. With the lift and kits adding more parts and height, it adds some weight and stress to the vehicle. As a result, it begins to affect the vehicle's fuel economy. If you install lift kits, you should also know that your vehicle will lose gas mileage.
Parts/Accessories
The problem with buying low-price lift kits is that you may not get everything in one package. While some lift kit packages come with shocks, lift springs, and more, others come only with necessary hardware like nuts, bolts, coil spring spacers, lift blocks, etc., like the one I picked today. If you choose to purchase all components, including the shocks and lift springs, it will cost you a lot more.
Affordability
The Skyjacker kits are not exactly the most recognized brand for lift kits. However, it does offer a variety of kits for different purposes at an affordable price. At the same time, some of them can cost pretty high, depending on how many parts or components you are getting. But I suggest sticking to the essential kits only if you already have other parts installed in your vehicle.
Skyjacker Pros And Cons At A Glance
Pros
The brand offers a variety of lifting and leveling kits.
Very affordable price.
The lift kits are worth the money in quality and performance.
The kits are easy to install.
Comes with pretty much everything required.
Increases vehicle height and offers more street visibility.
Cons
The kits are good enough but definitely not the best ones available.
Does not support all vehicle models.
Sometimes, some kits may not include all the necessary hardware.
Suspension Lift Kit from Skyjacker Video Review
---
Skyjacker Lift Kits Types That You Should Consider Buying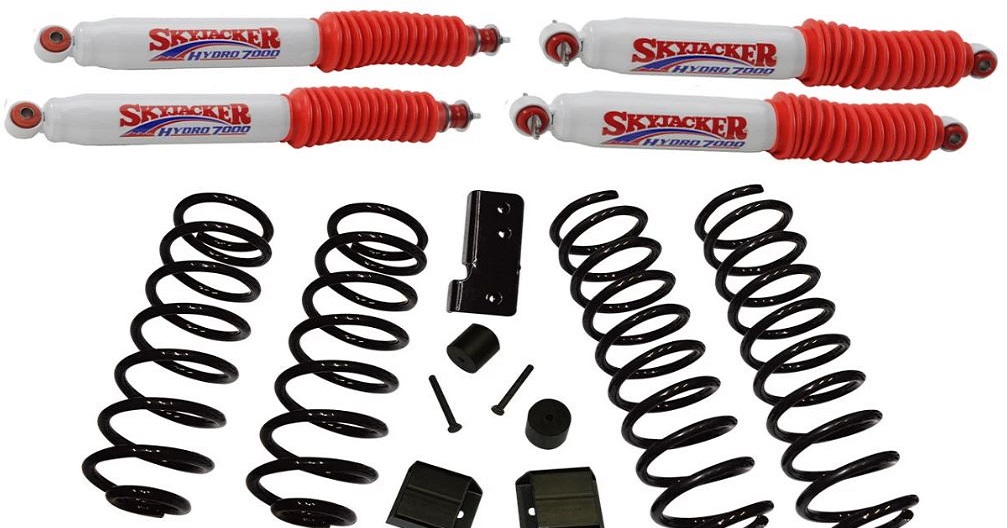 Today, I reviewed the Skyjacker suspension lift kits. But other than that, the company offers a few different types of kits to improve vehicle performance. Each of these kit type works differently and come at various price ranges.
If you are a newbie, it is natural to get confused regarding these lift kits. So here, I have mentioned all the available Skyjacker lift kits to help you understand and decide which one you need for your vehicle.
1. Suspension Lift Kits
The suspension lift kits are the most popular among users because they give you more ground clearance between the ground and your vehicle's suspension. As a result, you can ride with more stability on all terrains, and it also improves the vehicle's off-road performance. On the downside, Skyjacker suspension lift kits are complex when it comes to installation, especially if you are a newbie.
2. Spacer Lift Kits
While the suspension lift kits help lift the vehicle's suspension height, the spacer lift kits only lift the body. These kits usually come with a few kits, such as nuts, bolts, spacers, etc. On the downside, these kits don't lift the suspicion, which means your vehicle will not get any ground clearance.
3. Leveling Kits
Some vehicles come with a low front and high back because loading the back with weight ends up leveling the vehicle. But if the low front bothers you, you can get the leveling kits because it helps raise the height of a vehicle's front side only. These kits have only a few components and are pretty cheaper.
4. Add-A-Leaf Kits
If you own an old truck that sags when you drive, you can get yourself the add-a-leaf kits. They will not increase your vehicle's height. However, when you add them to your vehicle's springs, you get more stability than before as you drive. And the best part is, you don't have to take off your vehicle springs to install them.
>> Check More Photos and Details on Amazon <<
---
Benefits of Installing the Skyjacker Lift Kit 
Skyjacker is designed to enhance the performance, appearance, and off-road capability of your vehicle. These kits are a popular choice among enthusiasts who want to take their vehicles to the next level. In this article, we will discuss the benefits of Skyjacker Lift Kits and why you should consider installing one on your vehicle.
Improved Off-Road Performance
One of the valuable benefits is improving the off-road performance of your vehicle by increasing ground clearance and articulation. This allows you to tackle more challenging terrain, such as steep inclines, rocky roads, and muddy trails. The lifted suspension also improves the approach, departure, and break-over angles, which reduces the risk of damage to the undercarriage.
Increased Ground Clearance
Another significant benefit of Skyjacker Lift Kits is increased ground clearance. This allows you to navigate over obstacles such as rocks, logs, and ditches without scraping the undercarriage. Higher ground clearance also makes it easier to traverse through deep snow or mud.
Skyjacker can also increase your vehicle's towing capacity by improving the stability and weight distribution of the vehicle. This makes it easier to tow heavy loads, such as a trailer or a boat.
Installing a Skyjacker Lift Kit gives your vehicle an aggressive and rugged look. The lifted suspension and larger tires add a muscular and powerful presence to your vehicle. This is especially true if you choose a lift kit that is designed specifically for your make and model.
Improved Handling and Stability
The lift kits are designed to improve the handling and stability of your vehicle. The lifted suspension lowers the center of gravity, which reduces body roll and improves cornering. The larger tires also provide better traction and grip, which enhances the overall stability of the vehicle.
---
Maintenance and Upkeep of Skyjacker Lift Kits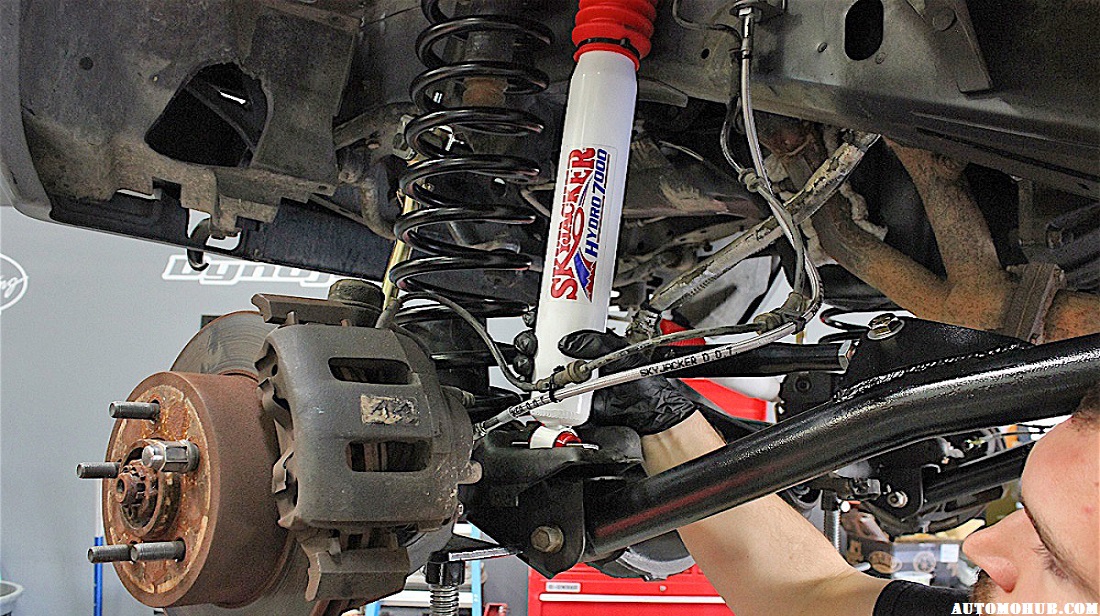 Installing a Skyjacker Lift Kit on your vehicle can significantly improve its off-road performance, ground clearance, and towing capacity. However, like any other aftermarket accessory, proper maintenance and upkeep are essential to ensure your lift kit functions optimally for an extended period.
Routine Inspections
To ensure that your Lift Kit is performing correctly, it's essential to conduct routine inspections. Check the components regularly, including the shocks, bushings, brackets, and control arms. Ensure that they are in good condition and properly tightened. Look for signs of wear, such as cracks, rust, or damage, and replace any worn-out parts immediately.
Maintenance Schedule
The kit has specific maintenance schedules that you should follow to keep them in good condition. The maintenance schedule may include regular greasing of the components and checking the shock absorber fluid levels. The maintenance schedule will depend on the type of lift kit and the driving conditions you are subjecting your vehicle to.
Common Maintenance Issues
Some of the common maintenance issues are included here:
Worn-out bushings and mounts: Over time, the bushings and mounts can wear out and cause excessive vibration or instability in your vehicle.
Damaged control arms: Control arms connect the suspension to the frame of your vehicle. If they are damaged or worn out, they can lead to improper alignment, making it challenging to steer and control the vehicle.
Rust and corrosion: The lift kit components are exposed to harsh weather and environmental conditions, leading to rust and corrosion. Regular cleaning and rust prevention measures are necessary to prevent rust and corrosion from damaging your lift kit.
Proper Cleaning and Lubrication
Proper cleaning and lubrication of components are essential for ensuring their longevity. Regular cleaning can help prevent rust and corrosion, while proper lubrication can help reduce wear and tear on the bushings and mounts.
---
Issues With Skyjacker Lift Kits
As I said before, these kits are good enough and cheap. However, the problem with a low-cost brand is that you can often face various issues when using the kits. Do Skyjacker kits have such drawbacks?
Yes, they do. And here is what you should expect if you are getting these kits for your vehicle.
The first thing you must expect from a low-price lift kit is its not-so-good quality. Though the kits from Skyjack are not too bad, they still need to be better performers. The parts are not made with high-quality materials like top-notch brands. So it is best to keep your expectations a little low here.
Lifting kits are known for increasing the center of gravity. It means the vehicle can have slight to noticeable stability issues. And if the vehicle is not stable, you will not be comfortable throughout the ride. However the Skyjacker lift kit may not always create this issue.
Once again, we go back to the lift kits' quality. Since the quality is not exactly up to the mark, the kits do not last like high-quality kits. However, maintaining them properly and not straining them often can increase their life expectancy a little.
Missing Parts In The Package
There were several complaints from some customers that they did not get all the parts when the package arrived. But once they contacted the dealer about it, the issue was resolved. But even then, it is a hassle to go through the whole thing and wait for the rest of the parts to arrive.
A few more users said they experienced a squeaking noise from the lift rubber when driving. But that issue can also happen if you haven't installed the lift with kits as you should. That is why it is essential to follow the installation instructions strictly.
Vehicle Height And Warranty Issue
These are not a problem that is caused by the Skyjacker kits, but these certainly are an issue with installing lifts and kits. When you use lift kits to raise the height of your vehicle, you invite two possible problems:
The height can be uncomfortable
You may have trouble claiming your car warranty.
Unless you are tall, it is unwise to increase your vehicle because getting in the car will become challenging. And if you have little ones at home and it's a family vehicle, car lifts are NO-NO. On top of that, installing a lift means modifying your vehicle, which can become an issue when you try to claim your vehicle warranty.
---
How to Install Skyjacker Lift Kits on Jeep
---
Frequently Asked Question 
Is Skyjacker compatible with all types of vehicles?
No, the kit is not compatible with all types of vehicles. It's important to choose a lift kit that is specifically designed for your vehicle make and model.
Is it safe to install a Skyjacker Lift Kit on my vehicle?
Yes, as long as the lift kit is installed correctly and maintained properly, it is safe to install on your vehicle.
How long does it take to install a Skyjacker Lift Kit?
The installation time for the Kit can vary depending on the vehicle make and model, as well as the lift kit's complexity. It typically takes several hours to install a lift kit.
---
Final Verdict
As you can see, there is more than just one type of lift kit from Skyjacker. That is why I decided to discuss pretty much everything in this Skyjacker lift kit review to give you a better idea. And since the type of kits depends on your vehicle type and requirements, it is up to you to decide which type to buy.