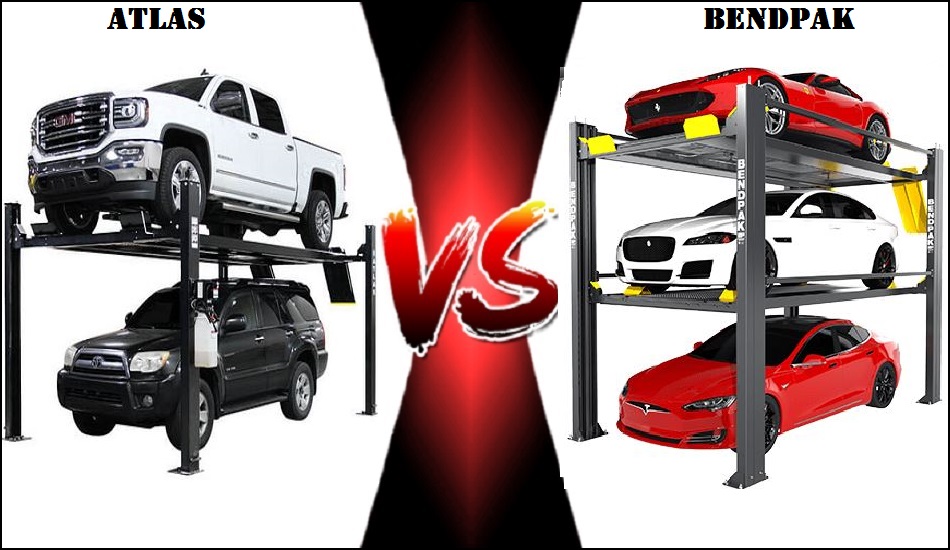 Of all the things invented to save effort, space, and time, car lifts happen to be among the best. Whether you own a garage or have a narrow parking space on the property, car lifts can be an excellent way to make things easier. They help lift cars when you work on them and are also useful for parking more than one car if you do not have a bigger garage.
Though many types of car lifts from various brands are available, I will discuss and compare lifts from Atlas and BendPak in this article. So if you are having trouble deciding which car lift would be best for your needs, I urge you to stick around and read this Atlas Car Lift Vs BendPak comparison article.
Who Makes Atlas Car Lift?
Atlas Automotive Equipment is a company in the United States that manufactures and sells automotive parts and equipment. The company is widely known for manufacturing reliable and high-quality car lifts.
These car lifts are known to be best for small and standard-weight vehicles. Moreover, Atlas car lifts come at a fairly reasonable price than many other brands. As for safety. Atlas car lifts are ALI certified, meaning it has passed the safety requirements to meet international standards.
Who Makes BendPak Car Lifts?
BendPak is one of the oldest automotive equipment manufacturing and selling brands. The USA-based company has been operating since 1965 and selling products nationally and internationally for a long time.
The BendPak car lifts are among the top-notch and high-performing ones. This is why BendPak car lifts are more suitable for lifting bigger and heavier vehicles. An interesting thing about this brand is that because of the high-grade specialty, BendPak car lifts had to acquire both the ALI and ANSI certifications.
Atlas Car Lift Vs BendPak – Detailed Comparison 
It is not unusual to get confused about products between two popular and best-selling brands. So if you are looking into these two, how do you know which one is more suitable for your work type and expectations?
Well, the best way to know that is to look into the details and find similarities and dissimilarities between these brands. Here I have discussed various aspects of Atlas and BendPak car lifts so that you can compare them more easily.
Related Post: Intercooler Vs Radiator: Everything You Need to Know
Weight Capacity/Load Capacity
The main task a car lift would have to do is lift a vehicle, regardless of its weight. The lift's design and structure play a significant role in its overall performance and keeping the car stable. And if the car's weight is within the load capacity, it can lift the vehicle virtually without a problem.
And here is where one of the biggest differences between these two brands stands out. A two-post Atlas car lift can come with 12,000-15,000 lbs weight load capacity, and a four-post model can lift around 18,000 lbs.
On the other hand, a BendPak two-post car lift has a load capacity of 15,000-18,000 lbs. And a four-post BendPak model can lift around 40,000 lbs.
Size
You must know the car lift size to ensure your vehicle fits perfectly. If not, it will become a hassle to load and fit the car properly into the lift and elevate it.
And since Atlas car lifts are made for smaller and medium-size cars, they are not very large and wide. On the other hand, BendPak lifts are bigger and wider as they are made for larger cars.
Oil Requirement
Car lifts usually require a lubricant to ensure safe and better performance. You can use two types of liquid for it, such as hydraulic oil and lubricant oil. Hydraulic oil is more suitable as it contains a high viscosity, making the lifters less prone to damage and corrosion.
However, the Atlas and BendPak car lifts require different types of hydraulic oils. Take a look at the following to know what type of hydraulic oil you need for Atlas and BendPak car lifts.
| | |
| --- | --- |
| Atlas Car Lift: | BendPak Car Lift: |
| Requires AW-32 for hotter weather | Works on AW-46 in the tropical regions |
| Requires both AW-46 and AW-32 during cold weather | Requires non-detergent and non-foaming hydraulic oil |
Hydraulic Power Unit
The component that supplies power to the lift is the hydraulic power unit. Not just car lifts, but it also works for any machine or motor. And this is what helps lift the cars with a power boost.
Any hydraulic power unit comes with three essential and prominent parts: the motor, the pump, and the fluid reservoir. So how does it work for Atlas and BendPak car lifts?
Depending on the model, Atlas car lifts come with a 200-220 V motor, 2-3 horsepower, and around 2-3 gallons capacity hydraulic oil tank. On the other hand, BendPak comes with a 230-280 V power motor, 3 horsepower, and 3-3.6 gallons hydraulic oil tank.
So naturally, BendPak car lifts come with a more robust function and strength, enabling them to lift more vehicle weight without an issue. On the other hand, Atlas car lifts work efficiently to lift smaller vehicles.
Varieties
If you have been looking down upon Atlas car lifts because of their lesser power and capacity, here is something that might change your mind. Users often look for more varieties of car lifts to ensure they get the right lift without any regret later. And that is one of the reasons Atlas is ahead in this race, as it offers more car lift varieties than BendPak.
Atlas offers car lifts like two-post, four-post, alignment, portable car lift, and parking scissors, along with their famous specialty car lift. Though BendPak has several of these, it still does not have something like the specialty lift.
Cost
You should know that car lifts do not come at a cheap price no matter what. However, with all the essential qualities, Atlas car lifts come in a comparatively affordable price range. But BendPak car lifts ultimately cost more as they come with more lifting capacity and other features.
Certifications
Owning a safety certification increases a product's legitimacy and reliability. That is why it is essential to know the number of certificates they own.
The Atlas company has the ALI certificate, which is mandatory for any machine that lifts vehicles. On the other hand, the high-performance quality of BendPak had to get both ALI and ANSI certifications.
Related Post: Smittybilt 2781 Vs Viair 400p Air Compressor – Head-to-Head Comparison
Best Car Lift Review from Atlas & BendPak
Atlas Garage Pro 8000 4-Post Car Lift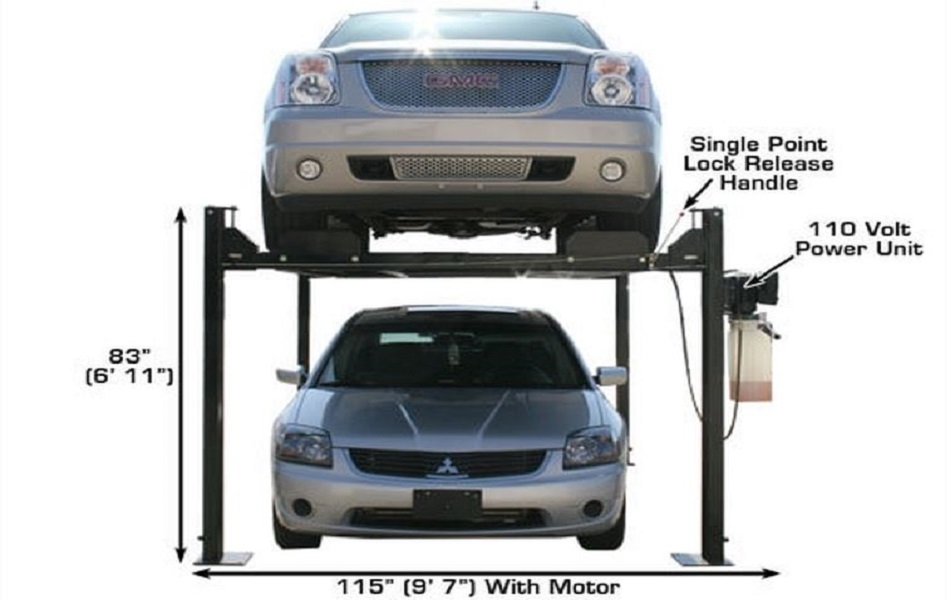 One of the popular lift models from Atlas is the Garage Pro 8000 4-Post Car Lift. This lift can come in handy when you have multiple small or mid-size cars but not enough parking or garage space.
Its four-leg feature leaves a spacious area underneath to park another car. This alloy steel-made car lift has a powder-coat finish, making the lift appear stylish.
It weighs 1800 pounds and can lift vehicles up to 8,000 lbs. The single-point lock release system allows you to operate the lift easily.
It has an adjustable lifting height which you can raise up to 6 feet. But the only thing that might bother you is the paint, which is pretty thin. However, you get a 2-year warranty for structure and 1-year for hydraulic.

How to Install Atlas Garage Pro 8000 4-Post Car Lift
---
BendPak Dual-Width 2-Post Asymmetric Car Lift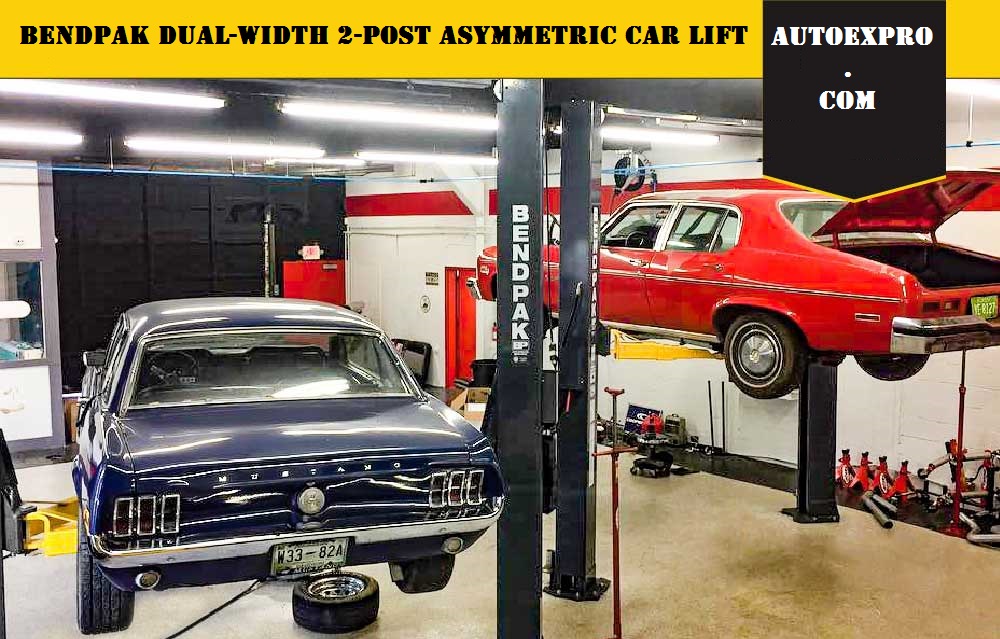 The BendPak Dual-Width 2-Post Asymmetric Car Lift is a heavy-duty lift with an excellent lifting capacity. On top of that, the lift has some remarkable features that make users choose it despite the high price.
This 2562 pound equipment can lift vehicles of up to 10,000 lbs. The padded overhead bar ensures the car's roof does not get damaged anyhow.
What I liked about this car lift is its 30-degree rotating feature when hoisted up. It leaves enough space to open a car door if needed to work from the inside.
The arm design and Tru-Metric carriage allow you to load the car both symmetrically and asymmetrically. Thus, it gives you the feel and experience of having two types of car lifts at once. On top of that, the expandable top beam has both narrow and wide drive-through configurations.

BendPak 2 Post Car Lift Video Review
---
Why Use A Car Lift?
If you are looking for a car lift, you are already aware of its benefits and uses. But if you are not fully aware, let me brief you on why having a car lift can be handy.
The modern world is making everything narrow, especially our living spaces. So if you have a smaller garage area but more than one car, parking them safely can be a challenge. But not when you have a car lift.
Since the car lift helps elevate vehicles, it can easily make room for more vehicles for parking. Besides, it is useful if you want something to save space.
Another place where car lifts are widely used is vehicle repair and maintenance shops. As it helps lift the car, mechanics can easily work to repair parts under the car without much trouble. For example, using a car lift can make car tire repair or patching less hassling and quick.
---
How to Use BendPak Car Lift (Video)
---
Pros And Cons Of Atlas Car Lift Vs BendPak
Of course, not all car lifts of the same brand are the same. Yet there are certain advantages and disadvantages to the lifts of both brands. So before we take a step ahead toward making a final decision, it is best to know the good and bad sides of Atlas and BendPak car lifts.
Pros
Atlas:

BendPak:

Offers more varieties
Suitable for small and medium cars
Easier to maintain
Comes at a comparatively low price

Suitable for heavier cars
Adaptive to varieties of vehicles
Has a robust hydraulic power unit
Cons
Atlas

BendPak

Less powerful hydraulic unit
Not suitable for heavier cars

More expensive
Not many varieties are available
Atlas Car Lift Vs BendPak: The Ultimate Decision
Here comes the most crucial moment, and we all know how challenging it is to choose between two popular brands. Car lifts do not have one purpose or are used by a single group of people. So when it comes to choosing, it largely depends on why you need this car lift.
That is why I believe the ultimate decision on which of the two is best should be on the user. The comparison discussion above should be enough to let you know that both brands offer high-quality and reliable car lifts with satisfactory performance.
Yet, the BendPak car lifts offer a better service and special features. However, if the price is an issue and you want to use the lift for smaller or mid-size vehicles, Atlas car lifts can be an excellent choice.
Related Post: Kobalt vs Husky Air Compressor – Head-to-Head Comparison
FAQs About Atlas & BendPak Car Lift
Where are BendPak car lifts made?
BendPak car lifts are made in the USA as it is its origin country. But BendPak has a huge demand for its car lifts outside the USA. That is why the company ensures its products are available globally through various e-commerce websites and online platforms.
Do I need to use hydraulic oil in my car lift?
There is no better alternative than hydraulic oil to increase the efficiency and lifespan of a car lift. Using this oil ensures all lift components are well-lubricated without missing any smaller parts. Besides, hydraulic oil helps reduce corrosion and other damages for a very long time.
Do I need a particular foundation or floor to set up a car lift?
Since most residential and commercial places have a strong foundation, it is unnecessary to have anything more special. However, the floor needs to be flat and strong enough for bearing car and car lift installation weights. If not, it can lead to fatal injury or even death.
---
How to Install Atlas Car Lift (Video)
---
Final Words
The battle of Atlas Car Lift Vs BendPak is a tough one. But it is not impossible to pick a side when you know what you look for in a car lift. The Atlas car lifts offer more varieties, are affordable, and maintaining them is not much of a hassle.
And while BendPak car lifts are expensive, they are also more robust, can lift more weight, and have more powerful hydraulic units. So now it is up to you to pick the right car lift for your vehicle.