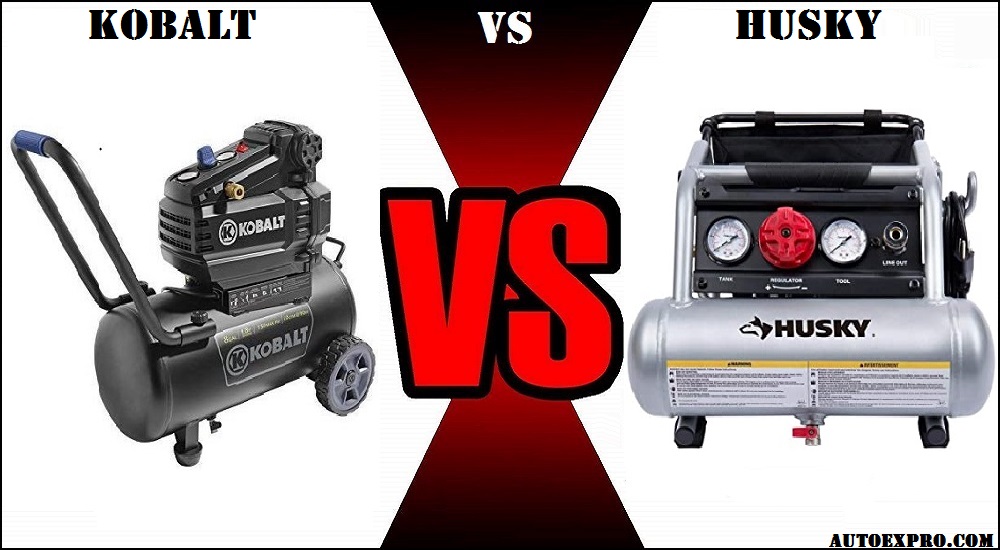 When it is about buying a good air compressor, you have some great options. Among those, Kobalt and Husky are two reliable brand names. These two brands are owned by two renowned home improvement chains. So, you'll surely get the value for the money you'll be spending.
The problem arises when you have to choose one and are confused between these two brands. You'll find several options under these two. Picking one is a really tough decision you have to make.
As long as I'm here, you don't have to think much. I know you may face such confusion. That's why I have researched and written about Kobalt vs Husky air compressor here. This article comes with a lot of information about air compressors from both brands. All the information here is gathered from personal experience, buyer reviews, manufacturer's claims, and expert opinions. Also, you'll see a head-to-head comparison that can help you in making a decision.
If you want to pick the best option, stay with me and keep reading. I hope the information here will help you to pick the air compressor that is the best for your tasks. Let's get started.
How Makes Kobolt Air Compressor? 
Kobalt is a line of several power tools, hand tools, and tool storage options owned by Lowe's. The brand started its journey in 1998. Lowe's chose J. H. Williams as the manufacturing partner and started the brand as a direct rival of the brand Husky, the other one we'll be talking about here, and Craftsman.
Different tools of this brand are manufactured by different manufacturers.  From 2003 to 2011, most of the hand tools were produced by Danaher Corporation. In 2011, JS Products started to manufacture those tools. Also in the same year, Kobalt started manufacturing power tools with the help of Chevron.
Right now, Kobalt has a lot of tools under this brand being manufactured in the USA, Taiwan, and China. This brand focuses on manufacturing tools for people who don't need that much power. Homeowners and DIYers would find these tools perfect because they typically don't require a huge amount of power.
How Makes Husky Air Compressor? 
Just like Kobalt, Husky is a brand focused on manufacturing pneumatic tools, hand tools, and tool storage options. This brand is owned and maintained by the famous retailer for home improvement, The Home Depot. Its journey started in 1924 as a brand called Husky Wrench. With time, several changes happened to the brand and it has been owned by several companies. Right now, The Home Depot owns this brand.
Husky is focused on manufacturing reliable tools for all types of work. At first, those were made for light and medium works. But you'll find several high-end tools from this brand for heavy-duty performance.
Primarily Husky tools were made in the USA. But with time, they've shifted the manufacturing process largely. Now, most of the tools from this brand are made in Taiwan and China.
Kobalt vs Husky Air Compressor: A Head-to-Head Comparison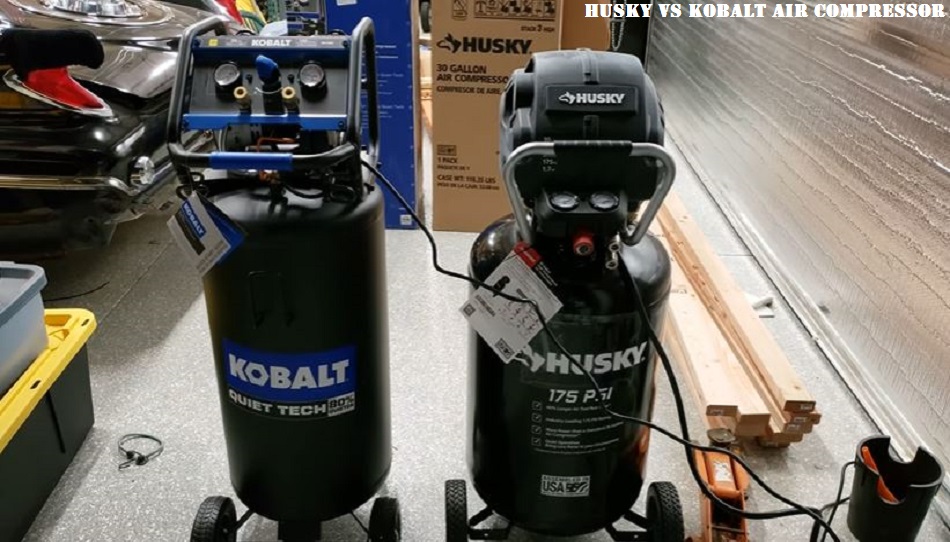 Now it is time to compare Kobalt and Husky air compressors from several perspectives. As both brands have compressors of several capacities and sizes, there can be some dissimilarity in the discussion. So, while picking one, check the features and specifications carefully.
Purpose
The purpose of Kobalt air compressors is to support light and medium home and garage projects. You'll find some large ones, but those are also built for homeowners and DIYers. These are designed to be reasonably priced so that DIYers can afford one easily.
Husky also started its journey with an almost similar purpose. Providing air compressors and other tools at a reasonable price was the focus of the brand. However, recently Husky has moved to the high-end segment too. You'll find some tough air compressors from this brand that can support tough jobs.
Variations
Both brands offer a wide variety of air compressors from which you can pick the best fit for you. So, you have a lot of options.
However, Husky offers a few more options after introducing its high-end segment. Also, you'll find more options in this brand because it offers both oil-lubricated and oil-free air compressors. On the other hand, most of those from Kobalt are oil-free only.
Noise
Noise is an important factor because you have to run the air compressor for a long time and you want to make sure that your neighbors are not being too irritated.
Husky claims that their air compressors are quiet and don't irritate much. Kobalt has Quiet Tech air compressors that ensure a low noise level. Both claim to be quiet, what should you do in this case?
According to many users, Kobalt is quieter than Husky. So, Kobalt wins here.
Weight
Weight varies depending on the capacity and size of the compressors. But comparing similar sized compressors from both of these brands, it is found that most Kobalt air compressors are slightly lighter than Husky air compressors of similar size.
The difference in weight is not that big in most compressors and you can avoid that easily. However, just for comparison purposes, we can say that Kobalt ensures a slight advantage here.
Portability
I haven't found too much difference when it is about the ease of carrying or moving these air compressors. Compressors from both these brands are designed with good weight distribution. As a result, carrying the portable ones is not tough at all.
Most of those come with comfortable handles to carry. The larger ones come with wheels so that you can easily move those.
So, I must say that both offer smooth portability.
Price
I know you're waiting for this point. Haha! Just kidding.
Price is always a crucial factor when you're buying something. In this case, I don't think it plays a huge role.
You'll see that similar types of compressors from these two brands are coming in an almost similar price range. So, choosing one wouldn't be tough for you if the price is a major factor. There is a slight dissimilarity I must say but I think that shouldn't affect the buying decision.
You'll find Kobalt compressors coming with slightly lower price tags. If the budget is a big factor for you, you can go for those.
Brand Value
From the point of brand value, I would say that Husky is the winner. It is in the market for a long time, almost a hundred years. In this long time, it has offered a lot of tools and others in the market. It knows what you need.
On the other hand, Kobalt is relatively new to the market. So, it requires a bit more time in order to gain the trust. However, this doesn't say that it is not offering good air compressors. It is doing great.
Warranty
In the case of Kobalt, the typical warranty period is 3 years. You might find a lifetime warranty in some air compressors, but the number of such tools is not many. Also, depending on the tool itself and the seller, the warranty may vary. So, it is always wise to check carefully before purchasing one.
Husky comes with a shorter and limited warranty. Most Husky air compressors are backed by a 2-year warranty on workmanship. This means that any defect in the material or build quality would be subjected to the warranty. Except that, the rest doesn't have any warranty policy.
Downsides of Kobalt and Husky
Till now, I've talked about the positive sides of these air compressors. But you need to know about the downsides too because those are similarly important at the time of deciding which one to buy.
Downsides of Kobalt
Value for Price
Kobalt ensures a good value for the price. But as the air compressors are priced reasonably, you have to compromise the value you're expecting. If you're looking for something to use at home every day, even for small tasks, Kobalt is not going to support you for long. These are made for occasional use.
Repairing Issues
Kobalt doesn't repair the air compressors by itself. So, if any issue arises that doesn't fall under the warranty policy, there is nothing to do except go to a local repair shop and expect that they can fix it. If it falls under the warranty policy, you can take help from an authorized shop or get a replacement from Kobalt.
Downsides of Husky
Long Use
Husky air compressors that are made for light and moderate use are not meant to be used for a long time continuously. Those are for small tasks at home. If you need an air compressor for something that requires continuous airflow for one or more hours, Husky is not going to help you for long. It faces overheating issues that damage the motor.
Price Gap
Husky has some large air compressors for professional use. You'll see a big price difference between the medium models and larger models. As the large ones are made to handle some heavy-duty jobs, they are equipped with advanced technology. That's why the price differs so much. Though the price gap is valid, it is a big issue for us as we're the users who have to make a buying decision.
Kobalt vs. Husky: Which one is Better?
I've compared both from several aspects and talked about the downsides. This should be enough for you to understand which one is going to help you in your task. But let me help you by summarizing all and sharing my point of view.
Kobalt air compressors are lower-priced, lighter, and quieter. On the other hand, you can't expect to use these every day. So, I can suggest you go for Kobalt if you're looking for something to help you with light tasks at home. However, when you have Kobalt, you won't get repairing backups from the manufacturer.
Husky is stronger than Kobalt. So, those air compressors can help you in regular use. However, you have to ensure the proper rest of those in between the working session. I would suggest taking Husky air compressors for use in garages or small workplaces. Those are heavier than Kobalt, but you'll find better runtime.
Now, the rest depends on you. I've shared my opinion about both brands- Kobalt is for light and home use, and Husky is for moderate and workshop use. As you know why you're getting an air compressor, you can easily make a decision.
Detailed Product Review Comparison between Husky and Kobalt
Kobalt Quiet Tech 4.3-Gallon Portable Electric Air Compressor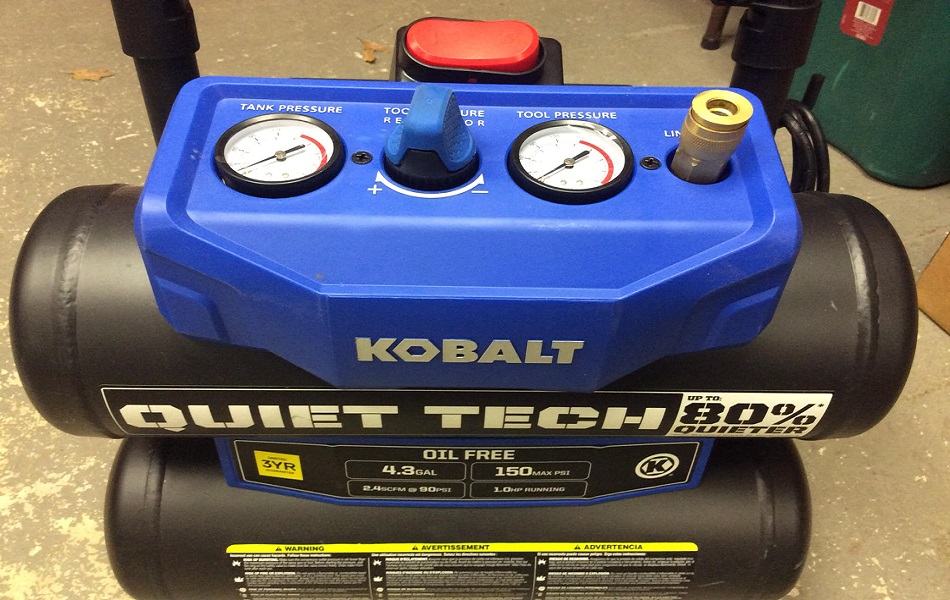 From Kobalt, this is one of the best offers when we're talking about air compressors. It is made to help you with nailing jobs. With the help of this compressor, you can also meet the demand for other light jobs that requires air.
It comes with a 4.3-gallon twin air tank. So, it can support you for a pretty long time. The twin tank design is used here to save floor space. In an ideal situation, it can serve 150 PSI air pressure which is good enough for handling the jobs for which it is designed. A 1-HP induction motor runs the compressor.
To keep the workplace as quiet as possible, it comes with the Quiet Tech feature by Kobalt. So, you'll hear slightly lower noise compared to most other compressors. So, this can be tolerated a little longer. You'll hear fewer complaints from the neighbors.
It is made of steel. So, it is durable. Oil-free pumps are used in it so that you don't have to be concerned much about taking care of it. You'll find gauges here to monitor the outlet pressure and tank pressure.
Handling it is comfortable because it has two wheels and a soft padded handle. You have the scope of adjusting the handle height according to your comfort. It's a great option, right?
Pros
Designed for comfortable use
Ensures quieter operation
Made to be strong and durable
Oil-free pump for easy maintenance
Cons
Not for meeting heavy demand

Husky 1 Gal. Portable Electric-Powered Silent Air Compressor
This one from Husky is a small and light air compressor having a 1-gallon tank. However, still it is strong enough to assist you in small home improvement tasks. Let's see what it has to offer.
At 90 PSI, this tool can supply around 0.8 SCFM airflow. In the case of 40 PSI, it turns into 1.3 SCFM. So, your small DIY and home improvement projects won't stay unfinished. A 0.5 HP motor runs the tool being powered by your home outlet. It runs at low RPM so that it can last for a long time. Low RPM also keeps it quieter than others. So, you can get your job done without making too much noise.
The oil-free pump has kept the hassles of maintenance away. As a result, it can assist you for a long time without any need for servicing.
On the front side, you'll find 2 pressure gauges and a large pressure regulator. So, you can check the pressure and control that easily. A universal quick connector is there to make your job easier.
As it is a small air compressor, you can easily carry it. This 30 lbs. tool comes with a rubber-padded handle for easy carrying and transportation. It has an additional removable storage bag where you can put your air tools while taking a small break. It has built-in storage for electric cords too.
Pros
Small, handy, and helpful for light tasks
Doesn't require frequent maintenance
Keeps the workspace less noisy
Comes with additional storage space
Cons
You can't put much pressure on it

---
FAQs About Kobal & Husky Air Compressor
What type of air compressor does Husky sell?
Husky sells almost all types of air compressors. You'll find several sized air compressors from them- small, medium, and large. Different sizes are perfect for different tasks. Also, you'll find oil-less ones for low maintenance, and oil-lubricated ones for better performance.
Where are Husky Air Compressors made?
Husky tools are typically made in the USA, China, and Taiwan. So, it is pretty sure that Husky air compressors are made in one of these three countries. However, many signs indicate that Husky mainly meets most of the demand by manufacturing the tools outside the USA. There is a huge chance that those are made in China or Taiwan.
However, this surely doesn't reduce the quality of the compressors you buy.
Who manufactures Kobalt air compressors?
Lowe's owns the brand Kobalt but it doesn't directly manufacture those. It has a third-party manufacturer who makes the compressors or parts for Lowe's.
Not much information is found about the manufacturer of Kobalt air compressors. Campbell Hausfeld was known to do this for Lowe's primarily. Later Coleman-Powermate has the responsibility as far as I know. Also, Sunborn Compressors has some responsibility for making a few components for Lowe's.
---
Husky vs Kobalt Air Compressor – Expert Comparison
---
Last Words
I guess you've already come to a decision. In this article, I've tried to talk a lot about Kobalt vs Husky air compressors and provide necessary information about both. I guess now you know slightly better than you used to know about air compressors from these two brands.
Also, I've reviewed two air compressors from these brands so that you can understand how you'll be benefited from those.
If you haven't reached any decision yet, you should do some more research. I suggest taking some time and thinking deeply about the options before making any decision. You'll pick the best one for you, I know.