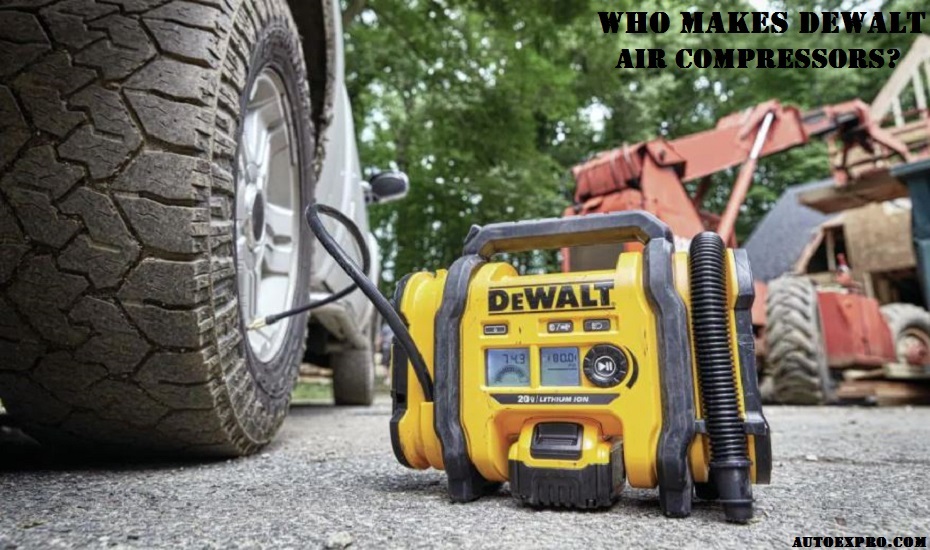 DeWalt is one of the most known names in the air compressor industry. You'll find some beasts under this brand that can help in a lot of different types of applications. These are performing well and satisfying the customers for a long time.
While talking about such good products, you may want to know who is behind these air compressors. I had the same question in my mind. So, I started digging the internet for it.
Right now I'm going to talk about what I've found in my research. If you're interested, let's get started.
Who Makes DeWalt Air Compressors?
While looking for the answer to the question, I haven't got any specific name of the manufacturer of DeWalt air compressors. But I've made an assumption.
DeWalt started its journey as an independent brand, but in 1960 Black & Decker acquired DeWalt. Till now, DeWalt is a brand under Black & Decker that is producing quality tools.
The journey of DeWalt started in Pennsylvania. The establishment of their first large manufacturing plant was also in Pennsylvania. So, there is a chance that the air conditioners from DeWalt had started their journey in Pennsylvania.
If I could find the exact year when DeWalt started manufacturing air compressors, I could be sure about it.
But there is a trace. In 2000, DeWalt bought the Emglo Compressor Company. This was also located in Pennsylvania as far as I could find out. At the end of 2003, DeWalt sold the entire air compressor manufacturing facility to Jenny.
So, at least, from 2000 to 2003, the air compressors from DeWalt were being made in the manufacturing facility of Emglo Compressor.
Right now, DeWalt has seven manufacturing facilities around the USA.
Besides, from the end of 2013, DeWalt started to assemble globally manufactured parts to make some of their products in their assembling facility. The parts come from China, Brazil, the United Kingdom, Mexico, Italy, and the Czech Republic. The products that are manufactured in this way come with the label 'Built in the USA with Global Materials.
Now, we may have some definite answers to the question.
Some air compressors from DeWalt come with the label 'Built in the USA with Global Materials. Different components of these compressors are made in different countries outside the USA and become assembled in the assembling facilities in the USA.
Other air compressors that don't come with the label are manufactured in one or more of the seven manufacturing facilities. Also, there is a chance that DeWalt still makes their air compressors in the facility of Emglo.
All of these are my assumptions based on small information found on different websites including DeWalt's official one. I've gone through a lot of sources and built my own hypothesis. I guess you'll find it helpful and interesting.
No matter who makes DeWalt air compressors, these are some of the best air compressors you'll find in the market. If you want to know about those, let's see some of the air compressors from DeWalt.
Some Best DeWalt Air Compressors Review
1. DEWALT DWFP55126 Pancake Air Compressor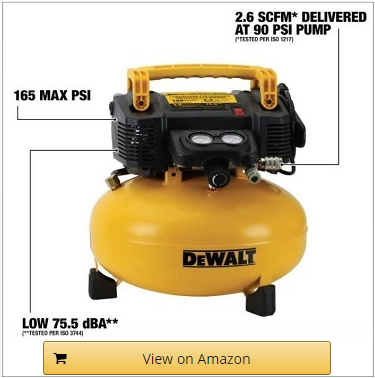 This one from DeWalt is an ideal pancake air compressor you'll find in the market. It is a quiet air compressor suitable for all types of DIY and home applications. You can use it for small applications at your workshop too.
It comes with a 6-gallon tank which ensures long runtime for the tools. As a result, you won't have to take frequent gaps while working. It can provide a maximum of 165 PSI when needed. At a regular 90 PSI, it ensures 2.6 SCFM airflow.
It has a high flow regulator and two universal couplers so that your air tools get enough airflow. As a result, this allows two tools to run simultaneously. For draining the tank, it comes with an efficient ball draining valve.
This is an oil-free compressor. So, you don't have to be tensed about the maintenance and oil change.
To keep it protected from outside hits, there is a console cover. You can easily uncover the console when you need to repair something.
The noise level is lower than a lot of other similar types of air compressors. As a part of the noise-reducing strategy, the rubber feet work great.
The overall weight of the compressor is around 30 lbs. which has made it a perfect one for home and DIY applications. You can easily carry it to places and do your task.
Overall, the DeWalt DWFP55126 is a compact yet strong air compressor in my eyes.
Related Post: What Size Air Compressor Do I Need for Impact Wrench?
Pros
Ensures long run time
Made to be strong and durable
Comes with maximum safety and security
Two universal couplers
Cons
Might be quieter than others but still louder considering the surroundings
---
DEWALT DWFP55126 Air Compressor Video Review
---
2. DEWALT D55151 Oiled Twin Hot Dog Compressor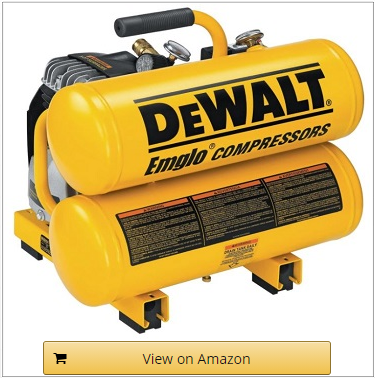 This is another air compressor from DeWalt for regular home DIY tasks. It is made portable so that you can carry it to places easily. Even in your workshop, this can be the one being used for small tasks. Let's know more about it.
It comes with two tanks of 4-gallon capacity. As a result, you'll get even longer runtime. Also, this design ensures better portability. This air compressor offers a 3.2 SCFM airflow at a standard pressure of 100 PSI. It can deliver up to 150 PSI when needed.
It comes with a cast-iron cylinder and an overload-protected motor for durable operation. Durability is also ensured by the oil lubrication. It may need some maintenance over time, but this feature has allowed it to perform better and for a long time.
It comes with dual soft-start valves. These help you to start it easily even in cold weather.
I can't call it a quiet compressor because it is loud. But the rubber feet work great to cut the noise and vibration as far as possible. It comes with a strong handle so that you can easily handle it for carrying.
Overall, DEWALT D55151 is a suitable one for using at home and small workshops.
Pros
Twin-style tanks for better portability and function
Packed with overload protection
Oil-lubricated pump for durability
Easy to carry with the help of a strong handle
---
Final Verdict
So, I have three opinions when it is about who makes DeWalt air compressors. I'm pretty sure about the compressors that come with the 'Built in the USA with Global Materials' label are assembled in the USA assembling facility and the parts are from different countries.
I guess the other ones are made in the manufacturing facilities DeWalt has across the country. But I won't be surprised if some of those are made in the facilities of Emglo.
No matter who makes DeWalt air compressors, they do the job pretty well, I must say. I've used a few DeWalt air compressors for home and inflating tires. Those were some great, user-friendly ones packed with features.