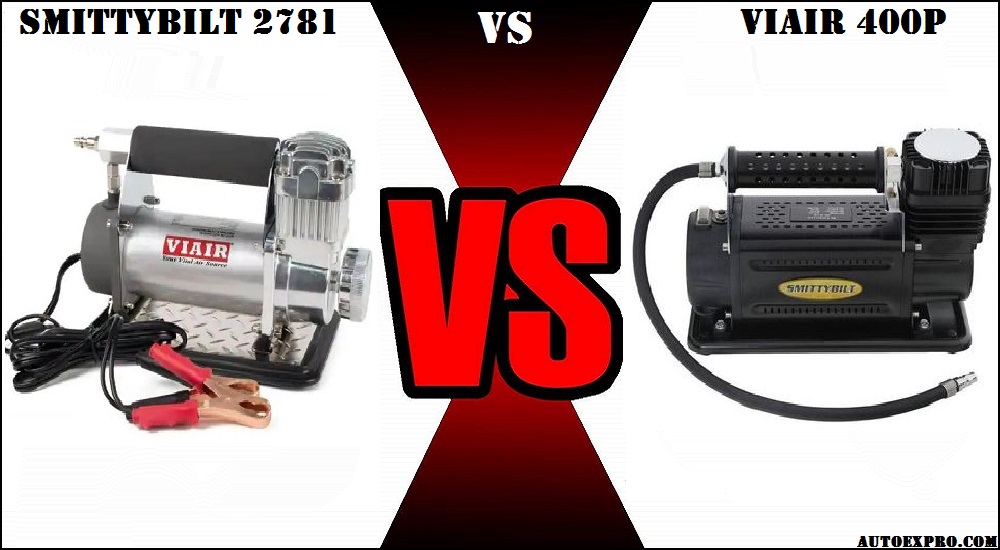 Sometimes two great automotive products fulfill your requirements but you still don't know which one to buy. When buying air compressors, Smittybilt 2781 and Viair 400p can really make your decision difficult. In this article we will be discussing the pros and cons of both the brands and their products in detail to assist you for a successful purchase.
Air compressors are selected based on their capability of supplying airflow to different places of equipment. But the right compressor consists of many other features to make your journey easier. And that's why, as a customer sometimes it becomes tough for you to choose the right product.
We deal with so many customers who are torn between two well-designed air compressors. If the same thing happens to you while choosing between Smittybilt and VIAIR's air compressors, then we are here for you. We will analyze both the positives and the negatives of these two trustworthy and renowned brands to clear your confusion.
Who Makes Smittybilt Air Compressor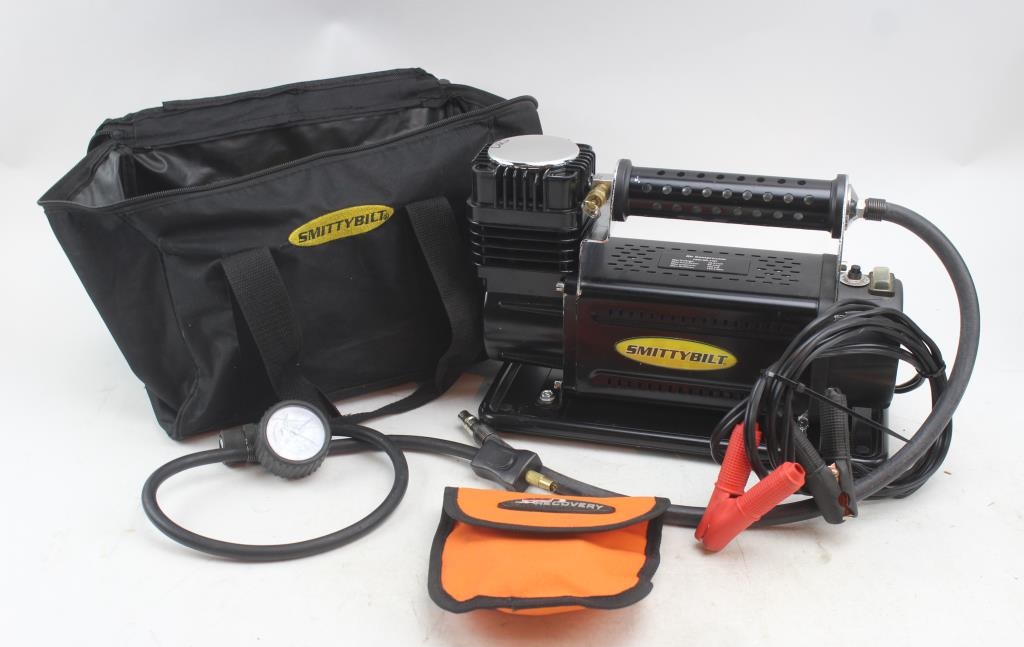 Smittybilt air compressors are designed and manufactured by Smittybilt corporation. The company of Smittybilt was officially founded by Basil Smith in 1956 but was flourished by his son Tom Smith. At the beginning, it used to manufacture drive equipment for trucks and SUVs as a four-wheel drive equipment enthusiast.
Now it is famous for producing new exciting products every day along with the original Nerf bars, side steps and classic tubular fronts, and side bumpers. In today's automotive world, Smittybilt is producing armor, bumpers, car recovery accessories, trail equipment, and Overlanding products that are built to provide truck and SUV owners with a better off-road lifestyle.
To enable your engine to air-up or air-down for accommodating various types of terrain, a Smittybilt air compressor might be a great choice. With a ⅓ horsepower oil-less direct drive motor and a 30 amp inline fuse, this compressor unit is a favorite to customers all over in the USA.
Who Makes VIAIR Corporation
VIAIR 400P air compressors are made by VIAIR corporation. VIAIR Corporation is renowned in the automotive world for offering the most comprehensive line of D.C., fractional horsepower, oil-less compressors, and air accessories for both on-road and off-road automotive enthusiasts.
The high-quality air compressors and components manufactured by VIAIR have become industry standards for 12-volt and 24-volt automotive aftermarket applications worldwide. They promise to consistently deliver performance, reliability, and value to the customers and they do so.
Smittybilt 2781 Vs Viair 400p – A Head-to-Head Comparison 
Now that we have known the primary history and whereabouts of the two companies, we can move on to the automotive features of the products made by them. We will be providing a head-to-head comparison between the air compressors manufactured by Smittybilt and VIAIR.
The companies prepare different types and varieties of products, thus some features might be present in some of the products but absent in others. In our comparison, some features might go missing. To know about all the features, kindly go through the detailed summary of those compressors.
Purpose
Smittybilt and VIAIR- both brands manufacture a large number of products of different designs and models. Smittybilt takes care of the matter that their products should enable the tires to tackle any condition during off-road journeys. VIAIR Air compressors try to manage the tires in a better way.
Just like Smittybilt, VIAIR is also lauded by off-roaders all around the world. Along with 400P the company also manufactures many other models of portable compressors.
Related Post: How to Paint a Car With a Small Air Compressor?
Quality
Smittybilt has one primary purpose behind the engineering of its air compressors – that is to prepare the riders for any kind of experience in their off-road trails. May you climb over rocks, tear down a ragged slope, or blaze a trail through mud, your tire will be challenged for sure.
To save your tires from slipping off the rim or blowing out, Smittybilt air compressors will always stay prepared.
VIAIR, on the other hand, is also liked by users who regularly go off-road and this compressor from VIAIR saves their tires, when they are miles away from home.
Structure
Both Smittybilt 2781 and VIAIR 400P come with strong structures and smart designs. Smittybilt's 12V air compressor is made with the latest technology and a ⅓ horsepower oi-less direct motor.
VIAIR 400P, Because of its strong structure it can inflate up to a 35-inch tire from 0 to 30 PSI in less than 6 minutes. A high-performance PTFE piston ring is used in this Aluminum-made compressor. Direct heavy-duty dual battery clamps with 40 amp inline fuse.
Budget
When the budget is the burning question, you can rely on Smittybilt 2781 because the air compressors under this model cost $160-$170, whereas the compressors under VIAIR 400P will cost you not less than $240- $250.
Top Air Compressor Review from Smittybilt & VIAIR
Smittybilt 2781 5.65 CFM Universal Air Compressor Review
One of the best products from the magnificent collection of Smittybilt, 5.65 CFM universal not only lets you repair or replace tires when needed but also lets you adjust tire pressure. The compressor comes with a 12-volt motor that powers directly from the car battery.
The users love the products mostly because "it's fast!". It lets the drivers (tires) air up very quickly. So much so that some users who have 32" tires on their vehicle, told us that one tire would take just 1.5 minutes to go from 15 PSI to 38 PSI. And along with being fast, it works quietly. Usually, portable air compressors are irritatingly loud but this one is different.
Other great features of the product include rubber anti-vibration feet, a dust seal over the on/off switch, etc. Another good thing about the compressor is it doesn't run hot. Even after airing up all the tires, you can touch it.
Related Post: What Size Air Compressor Do I Need for Impact Wrench?
Key Features
Not vehicle specific.
Universal application.
65 CFM (Cubic foot per minute) air intake.
Maximum airflow – 72 liters per minute.
Maximum continuous cycle time – 40 minutes at 40 psi at 75 degrees Fahrenheit.
Pros
Auto thermal cut-off switch to save the motor from damage.
Quick release 24 ft. coil hose and E-Z twist brass inflator included.
Heavy-duty easy-clip connectors.
Very fast and doesn't make any ridiculous sounds.
Powerful 12-volt motor.
10 ft. power cord and nylon bag included.
Easy to read 150 PSI pressure gauge.
Cons
The inline air gauge reads too loud sometimes and too low sometimes.
---
Smittybilt Universal Air Compressor Video Review
VIAIR 400P Portable Air Compressor Review
If as an off-roader, you want a large portable compressor kit for great inflation then, VIAIR's portable compressor kit is perfect for you. The compressor is moisture and dust-resistant, just like the other smartly designed portable air compressors manufactured by VIAIR.
The compressor can inflate up to 35-inch tires from 0 to 35 PSI in less than five minutes. It is capable of inflating and features a low power draw, provided by any available 12-volt battery. The kit includes a zippered soft carry use, inflation tips, a 5-in-1 inflator or deflator open-ended air hose with 100 PSI gauge etc.
The tire filling process becomes easier with the automatic tire inflators and VIAIR 400P portable air compressors will surely save you much-needed time and make the process effortless. The users mostly praise the fact that how small, fast, powerful, and put together the unit is!
Key Features
Designed for tires ranging from 33" to 42" dimensions.
12V portable compressor and 25ft inside braided 5-in-1 inflator/deflator.
work pressure – 150 PSI.
amp draw – 30 amps.
Ingress protection rating – 100 PSI.
3 CFM free flow.
Pros
Includes deluxe carry bag, I-beam sand tray, and diamond-plate sand tray included.
Thermal overload protector.
40 amp inline fuse holder.
Permanent magnetic motor.
Heat is well-managed with the duty cycle.
Works perfectly even in high temperatures.
---
Viair Onboard Air Compressor Install and Overview
---
FAQs About Smittybilt and VIAIR Air Compressors
For what kind of terrains, deflating the tires is the right idea?
When you are off-roading and the road is sandy, snowy, muddy or rocky, then you can deflate the tires partially. In this way you can get improved traction for your tires and the chance of tire puncture gets highly reduced.
In which cases tire inflation is a good idea?
When you are on an on-road segment, proper tire inflation is very important because it helps keep your tires lasting longer, it is better for gas mileage and overall makes for a better ride while keeping you safe on the road.
What does "compressor duty cycle" mean? 
Compressor duty cycle refers to amount of time a compressor can be operated in a given time period, at 100 PSI and at a standard ambient temperature of 72° F. Usually "duty cycle" is expressed in percentile as: compressor on time (compressor on time +off time) %.
For example, a compressor that is rated 30% duty cycle means that the compressor can be operated at 100 PSI @ 72°F for 10 minutes on and 30 minutes off.
Final Verdict
By this time you guys must have made your decision about the right air compressor for your tires. After going through the details of both the products and the reviews given by the previous customers you now know what you really want.
Both Smittybilt and VIAIR 400P come with all the great features but Smittybilt provides all these things for a much cheaper price. So if you want to save on your budget and want a quieter, faster compressor, then Smittybilt is just mare for you! So grab the product right away without thinking too much!