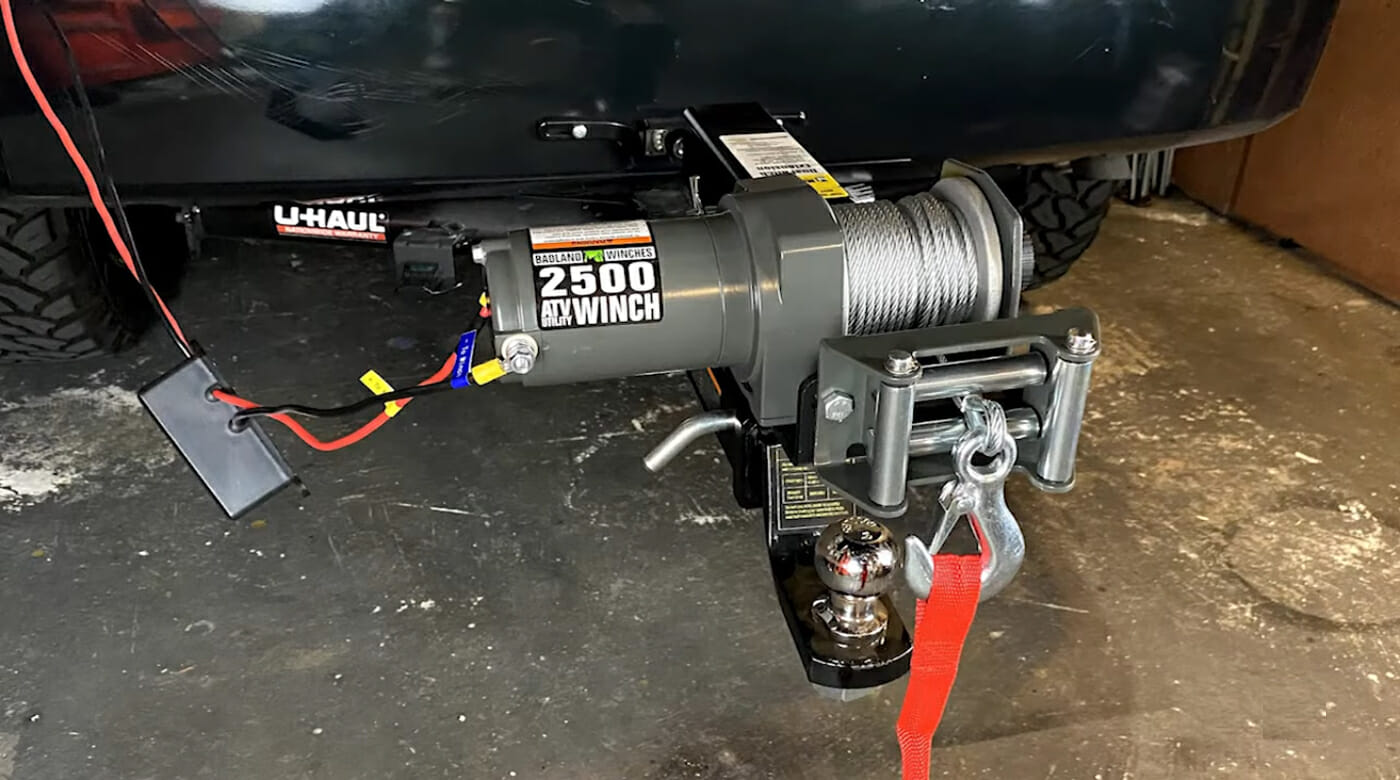 My Honda Rancher 420 has seen good days and bad days. On good days, it helps me tow various heavy objects and house them up, regardless of their type. And on bad days, I needed assistance from another vehicle or even trees to help get my Honda Rancher out of the wrong places I have driven it in.
I had an old winch that used to do a pretty decent job occasionally, but sometimes it was not enough. You cannot rely on something that does not compete well with your vehicle, can you? That is when I realized I needed a winch that was more solid and compatible with my all-terrain. And, of course, I wanted something electric or efficient and durable.
So what I did is what you can call "winch hunting".
Since there are many of them out there and from well-recognized brands, it is challenging to find a suitable winch. But keeping everything in mind, including off-road tourist enthusiasts, I have used and tested several winches for the last several months to find the best winch for Honda Rancher 420. And finally, I prepared this article to review my top 5 choices to help you find the best Rancher winch.
Top 5 Best Winches For Honda Rancher 420 Review
Not all winches work in the same way for Honda Ranchers. That is why it is essential to know what they offer, both good and bad, to understand if you are getting yourself the best Rancher winch. So here are the reviews of the top 5 winches I have picked.
1. Champion 3000-lb. ATV/UTV Winch Kit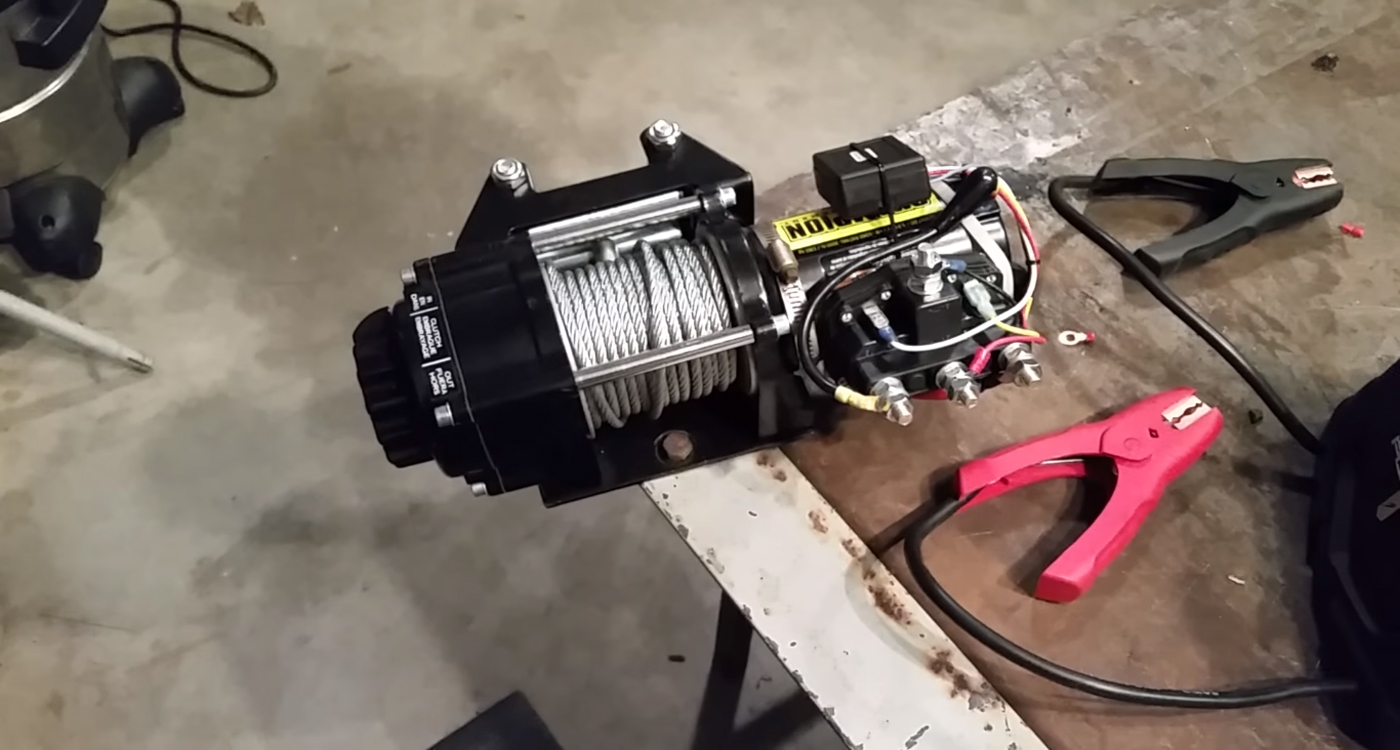 Champion Power Equipment is one of the highest-selling equipment brands when it comes to vehicle winches and other accessories. The Champion Winch Kit is a suitable winch if you are looking for something that offers a variety of options and is suitable for heavy-duty work.
Features and Benefits
Material: The Champion winch comes with a galvanized steel rope that offers a robust pulling capacity. The material ensures the rope is less prone to fraying. Moreover, its heavy-duty clevis hook ensures safe operation on and off-trails.
Fitment: You will need a 4.9″ x 3″ mounting bolt pattern on the winch mount or bumper to fit the winch. You can also put the winch on a universal mount.
Performance: With its 1.3HP magnet motor, the winch has a maximum 3000lbs pulling capacity. And that goes even for not-so-friendly terrains, such as rocks, stones, sand, mud, etc. The 3-stage planetary gear enables the winch to pull at the speed of 4.3 feet/minute with a heavy load.
Durability And Warranty: If maintained properly, this winch can last several years as it is quite robust and durable. On top of that, its 2-year warranty and lifetime free technical support make everything easier.
User-Friendliness: Though many users believe the winch is comparatively expensive, you cannot help but think the price is pretty much worth it compared to its performance. Moreover, the remote control system makes the operation more convenient.
Accessories: Now, let's see what comes with the box. Other than the winch itself, the package contains a mounting channel, roller fairlead, hook strap, remote control, etc.
Related Post: Tred Pro vs Maxtrax Recovery Boards – Which one is Best? 
Pros
Powerful motor
Heavy-duty performance
Excellent pulling speed even on highly abrasive terrains
Free pulling clutch and remote controller system offer better control
Long-lasting construction
Cons
Some users have issues with the remote's push button as it requires some pressure
Short controller wire
Reasons to Choose Champion? 
The Champion winch is a straightforward device and does not require lots of sweating for installation. Despite its slightly higher price, if you want something long-lasting, this winch kit will be highly compatible with your Honda Rancher 420.
---
2. WARN 101025 VRX 25 2500-lbs Powersports Winch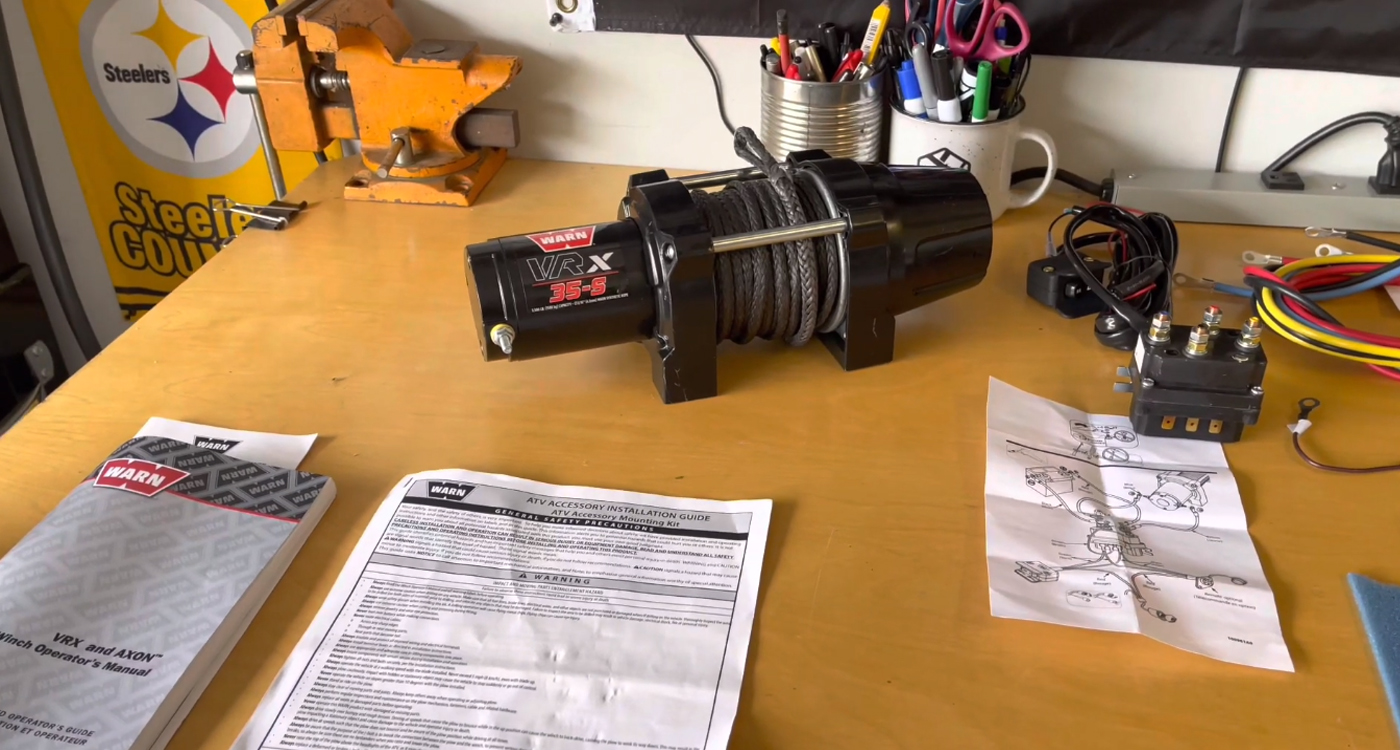 WARN is yet another globally well-recognized name when it comes to vehicle accessories. The brand is reliable for offering high-quality winches, and you can choose from various available options for one winch. And the WARN 101025 VRX 25 Powersports Winch is one of them.
Features and Benefits
Material: The WARN 101025 VRX 25 Powersports Winch has an all-metal construction. This one has a steel rope, but you can also choose a synthetic one. The zinc-plated hook with a powder-coated finish on the winch ensures it stays waterproof.
Fitment: Be sure that your all-terrain bumper or winch mount has a 3.0″ x 6.59″ mounting bolt pattern. It will ensure better fitment and performance.
Performance: The winch runs on a high-power motor, which offers 20% faster pulling speed than many standard winches. It has a 50-feet long and 3/16" gigantic thick cable to help you pull from a long distance and with ease.
Durability And Warranty: The black powder finish and all-metal construction ensure longer durability for the winch. And in case that's not convincing enough for you, the brand offers a 3-year warranty and technical support.
User-Friendliness: Users find the winch fairly easy to install. Besides, it comes with a simple instruction manual for your convenience.
Accessories: So, what's in the box? The package comes with the winch, the cable or rope of your choice, roller fairland, hook, controller, etc.
Pros
Well-responsive customer service
Durable construction
Easy to install
Smooth exterior with waterproof finish
Less prone to corrosion
Long cable and has a faster-pulling speed
Cons
Does not mention the winch motor HP
Comparatively higher price
Reasons to Choose WARN 101025? 
This WARN 101025 VRX 25 Powersports Winch is expensive, that is for sure. However, it offers excellent performance, and its long and strong cable makes everything much easier. But as WARN offers various alternatives for the same model, you can pick the one that seems like the best winch for Honda Rancher 420 to you.
---
3. SuperATV Black Ops 3500 LB Winch Kit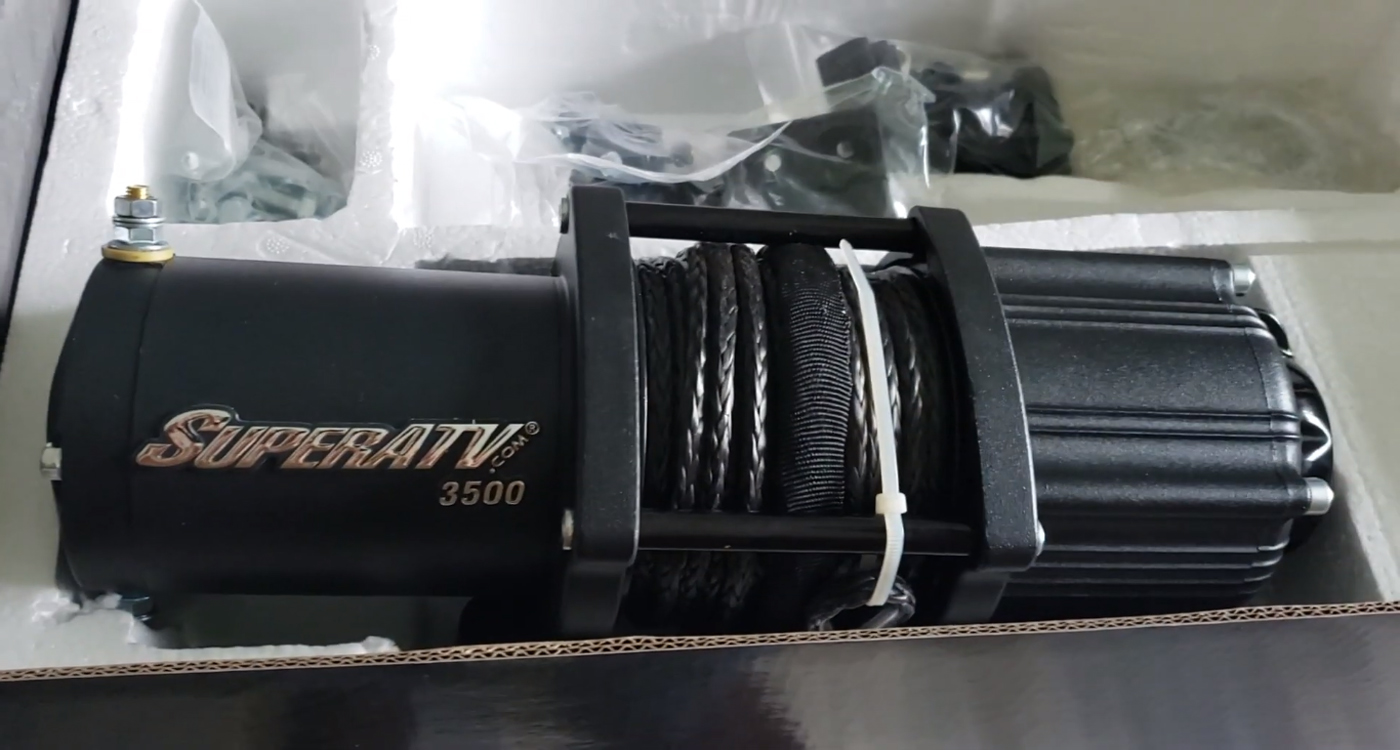 Just when I thought I had found my desired best Honda Rancher winch, I discovered the SuperATV Black Ops 3500 LB Winch Kit. Made with premium quality material, this winch has a durable construction. If you are looking for an easy-to-handle winch for a lightweight or medium job, this can be your best shot.
Features and Benefits
Material: This SuperATV Black Ops Winch Kit has high-quality and reliable materials in every part. The synthetic rope is flexible and has no corrosion risk, and the aluminum hawse fairlead will not wear out pretty soon. The waterproof and weatherproof solenoid will ensure the gear does not stop turning until you want it to.
Fitment: The winch fits pretty much most ATV winch mounts or bumpers. However, it does require a winch-ready bumper or a specific mounting plate with bolt patterns of 3.0″ x 4.87″.
Performance: This robust winch comes with a powerful magnetic 12V DC motor with 1.2 HP, offering a super fast 3500lbs pulling capacity. And the automatic brake and wireless remote control ensure the stay spool holds on the inclines. Its 50 feet gigantic rope helps you work with ease even in challenging situations, with a maximum 3-inch lifting height.
Durability And Warranty: While the winch, its parts, and its accessories are durable, the warranty and service period can be a drawback. The company offers a 1-year warranty against manufacturing defects.
User-Friendliness: Most users are fully satisfied with the winch's performance, capacity, and durability. At the same time, some users had issues with the installation and guidance due to having no instruction manual, which you can only access through the winch manufacturer's website or by scanning a QR code.
Accessories: Along with a black winch of 3500lbs capacity, you will also get a 50-feet synthetic rope, winch mounting plate, rope stopper, hook, pull strap, wire dash rocker switch, waterproof solenoid, extended wiring, etc.
Related Post: Top 5 Best Portable Garage For Snow Load
Pros
High-quality material
Comes with all essential equipment
Synthetic rope for efficient performance
Long-lasting, water, and weatherproof equipment
Easy to operate with the remote control system
Cons
Motor power could have been better
Installation direction is pretty complicated for beginners
Reasons to Choose this Product? 
The SuperATV Black Ops 3500 LB Winch Kit price is slightly high, but the performance and accessories that it comes with cover up for everything. The installation might be a bit complicated if you are a beginner, but make sure to go through the instruction a few times before starting.
---
4. RPM KFI 2500 lbs Winch & Mount Combo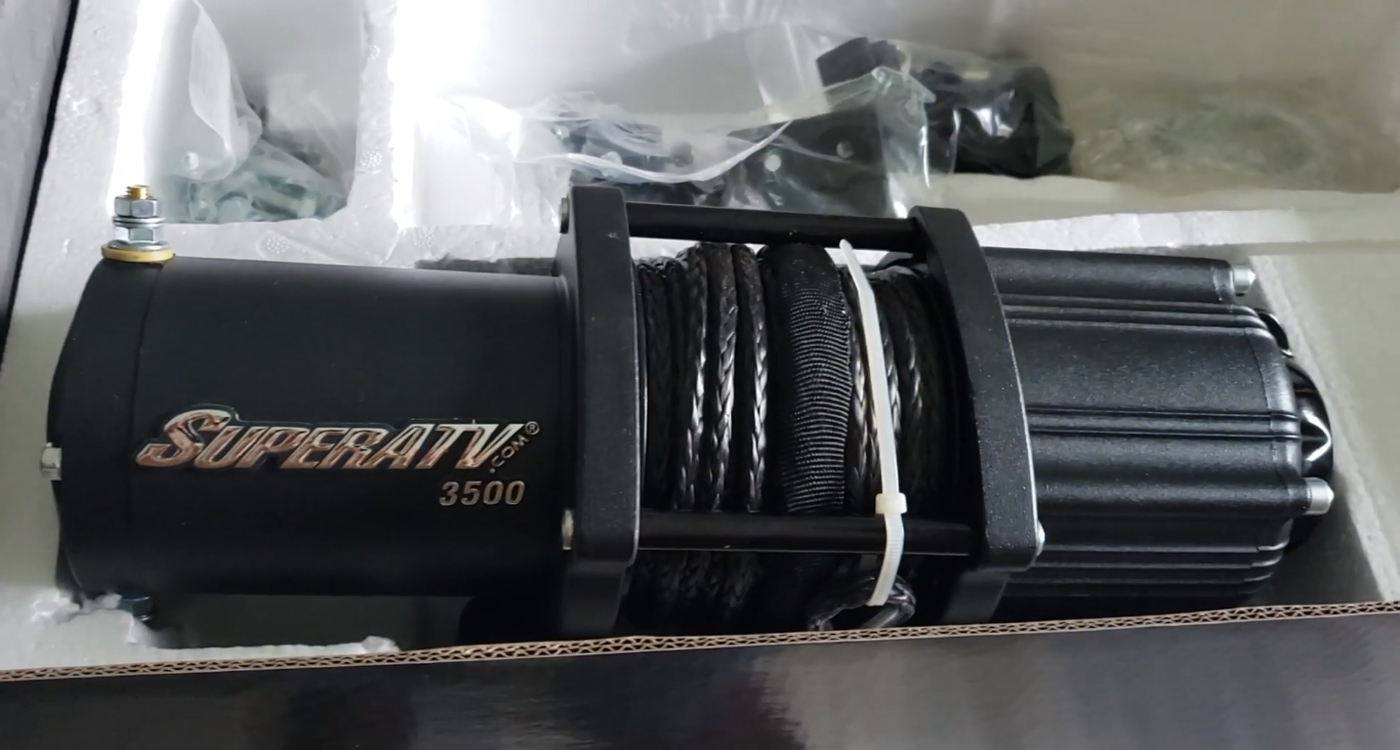 Finding a budget-friendly yet reliable winch that works efficiently on all terrains can be pretty challenging. But you can find it all in the RPM KFI 2500 lbs Winch & Mount Combo. It is affordable, offers a satisfying performance, and can last pretty well.
Features and Benefits
Material: When it comes to high-quality material, the RPM KFI 2500 lbs Winch is not exactly far behind. Most of its features contain cast aluminum and durable stainless steel components, including the 45.9" rope. On top of that, all elements contain a water-resistant seal to ensure weatherproof performance.
Fitment: Does your ATV bumper have a 3.00″ x 4.875″ 4-hole bolt pattern? If it does, you can easily align and install this winch. And the mounting plate the winch comes with makes mounting the winch a lot easier. As for fitting ATVs, this model will fit perfectly if you own a Honda Rancher or Foreman.
Performance: The winch is not lightweight and has a 1.1 HP motor, making it more reliable for handling medium pulling. With its 2500lbs pulling capacity, the winch is suitable for work off terrain, sand, and mud. However, my advice would be not to take it somewhere with deep mud or water.
Durability And Warranty: The parts and components of the winch are robust and highly durable. The manufacturer offers 1-year limited warranty but has excellent customer service.
User-Friendliness: Setting up the winch is fairly easy, as the user manual will tell you which part goes where. With all the essential accessories at hand, you can set everything up on your own. Besides, the contactor block has a color-coded system to help you connect the wires easily. For an affordable price range winch, I think it offers everything money-worthy.
Accessories: This winch package includes everything you need to install and operate the winch. Other than the winch itself with rope and hook, the package contains installation bolts, a mounting plate, a fairlead roller system, a contactor block, connecting wire, the on/off controller system, etc. However, you have to purchase the wired remote control separately.
Pros
Affordable price
Easy to setup and use
Comes with essential parts and accessories
Comes with a user manual
Made with durable material
Cons
Not suitable for heavy pulling or deep mud and water
Better options are available
Reasons to Choose RPM KFI
Unfortunately, the RPM KFI 2500 lbs Winch is not exactly the commonly heard winch. But for the price it comes at, I can hardly think of something much better. So if you are up for something that offers above-average performance, make sure to give it a go.
---
5. WARN 101030 VRX 35-S Powersports Winch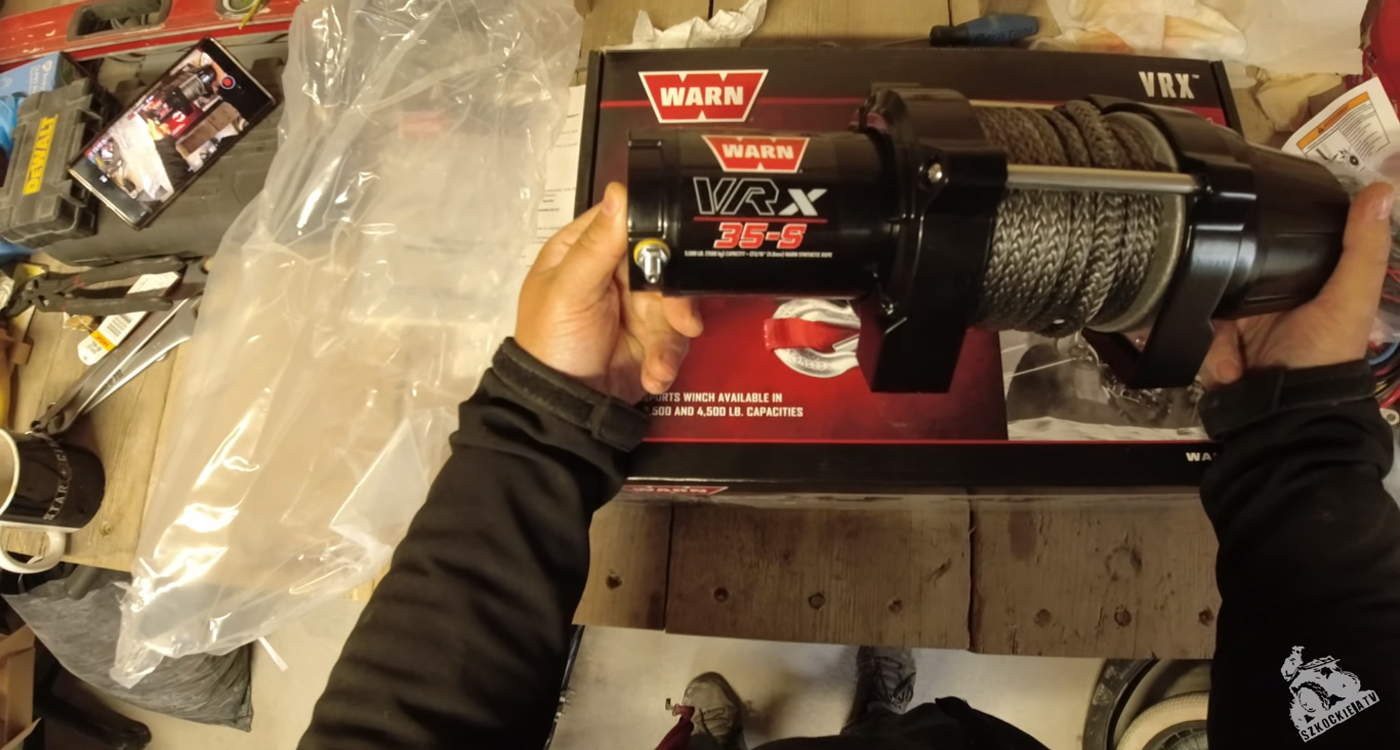 The WARN 101030 VRX 35-S Powersports Winch might be in a slightly higher price range. But have you checked out its features and qualities yet? This robust winch has a long pulling rope with a capacity of 3500 lbs. While the winch itself is pretty heavier, you can trust its ability to offer a high-performing result.
Features And Benefits
Material: The WARN VRX 35-S Winch has an all-metal construction with a black powder finish to resist corrosion. The rope is made of steel and synthetic, and you can choose any of these two options. The hook attached to the rope is zinc-plated, making it tough and reliable.
Fitment: The model will be a perfect fit for your ATV as long as it has a 3.00″ x 4.875″ bolt pattern. You can easily install the winch if your Rancher 420 has a 4-hole mounting system.
Performance: The brand does not specify the motor power, but regardless of what its power is, the winch performs excellently. And with that 50-feet massive and strong rope, you can expect a satisfying performance. Whether in deep mud or mounting climbing, you can count on this winch for pulling small to medium ATVs.
Durability And Warranty: Take good care of it, and the winch is not going away anytime soon. On top of that, the manufacturer offers a 3-year electrical warranty with a lifetime mechanical warranty.
User-Friendliness: WARN always ensures the best for its users. So it ensures you understand how everything works more clearly. That is why you get a detailed user manual in the box with an installation guide.
Accessories: The winch package comes with almost all the essential gadgets and accessories. Along with the winch, you will get a 50-feet steel or synthetic rope, mounting bolts, a contractor, connecting wires, a user manual, etc. However, you have to purchase the remote control separately.
Related Post: Atlas Car Lift Vs BendPak – Comparison, Pros Cons & FAQ
Pros
High-grade and waterproof material
Black powder finish resists corrosion
Satisfying performance
Easy to install
Responsive customer service
Reasons to Choose WARN? 
Yes, the only issue drawback this winch has is its price. Other than that, it is an excellent and user-friendly option with incredible power performance. Besides, you can install it easily by following instructions or watching YouTube videos.
---
How to Buy the Best Winch for Honda Rancher 420?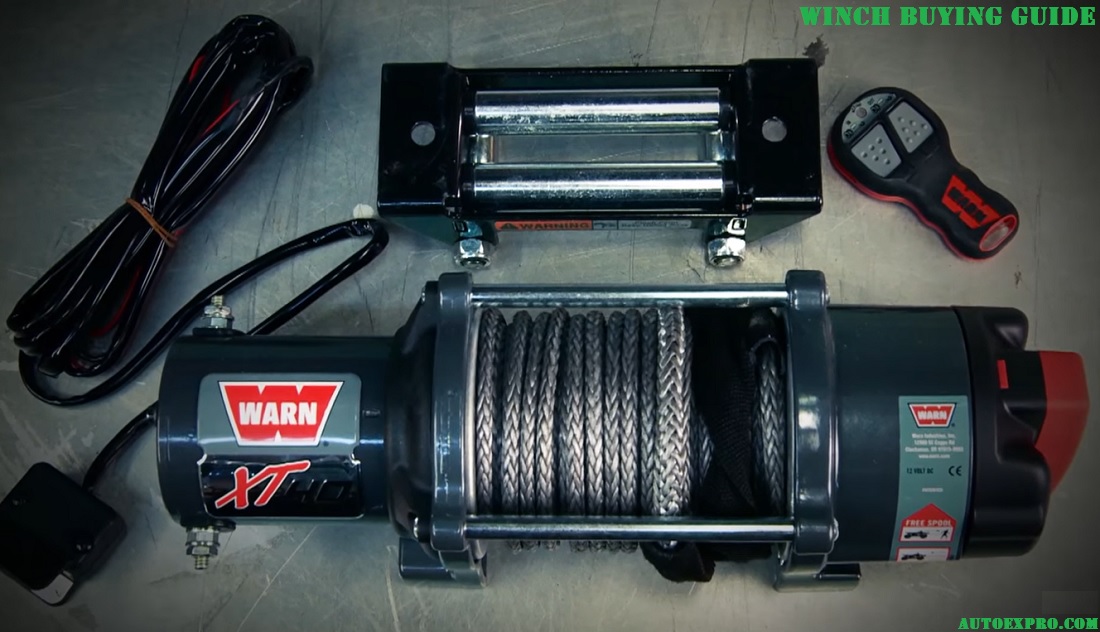 With so many winches and brands out there, it can be very challenging to know which is the best Honda Rancher winch if you don't have much experience with ATV winches.
But the key to finding the right winch is to look into its features and qualities, such as winch type, size, capacity, material, rope length and type, weight, price, warranty, etc. And for your convenience, I have prepared the following buying guide to choose the right winch.
Winch Type
You will find mainly two types of winches in the market: electric and hydraulic. You must know about these types to understand the differences.
Electric winches are more efficient and easier to operate. Unlike hydraulic winches, you don't need to install any pump to power the winch.
Hydraulic winches are more powerful than electric ones and also more expensive. However, using the winch can be complicated as you have to keep your vehicle engine running to keep the winch powered.
Rope Length And Type
Of course, the rope length matters because the longer the rope, the easier it will make to pull from a distance. And you will find two types of winch ropes, and they are-
Steel ropes are more popular because they are more reliable, resist corrosion, and last longer. However, such rope requires more maintenance, and the slightest damage to the rope can cause serious issues.
Synthetic ropes are lightweight, easier to maintain, and safer to handle. But the biggest drawback of such ropes is that they can store water and can corrode.
Winch Size, Weight, And Capacity
The winch's size, weight, and capacity all rely on one another. While most winches are compact in size, their weight varies depending on the models and brands. And the winch's weight and motor power determine its pulling capacity.
But the rule of thumb for choosing the right winch for your ATV is to choose a model that can pull at least 1.5 times more weight than your ATV. You must consider the pulling capacity if you are looking forward to some heavy-duty work.
Accessories And Installation
Only the winch is not enough because it will not run itself. You will need various accessories for that. So look into the details before you purchase the winch. Make sure the winch comes with the essentials, such as the mounting plate, bolts, contractor, on/off controller, wires to connect the winch to the contractor, fairlead rollers, hook, etc. The installation process should be easy, especially if you are a beginner.
Warranty And Service
Winch prices vary based on the brand, model, size, capacity, etc. So I will not bother with that as it's entirely on your budget. However, you must look into the warranty period the manufacturer offers. You can also check online reviews on the winch to know users' experience and customer service.
---
Why you Need a Winch for your ATV/UTV
---
How To Install An ATV Winch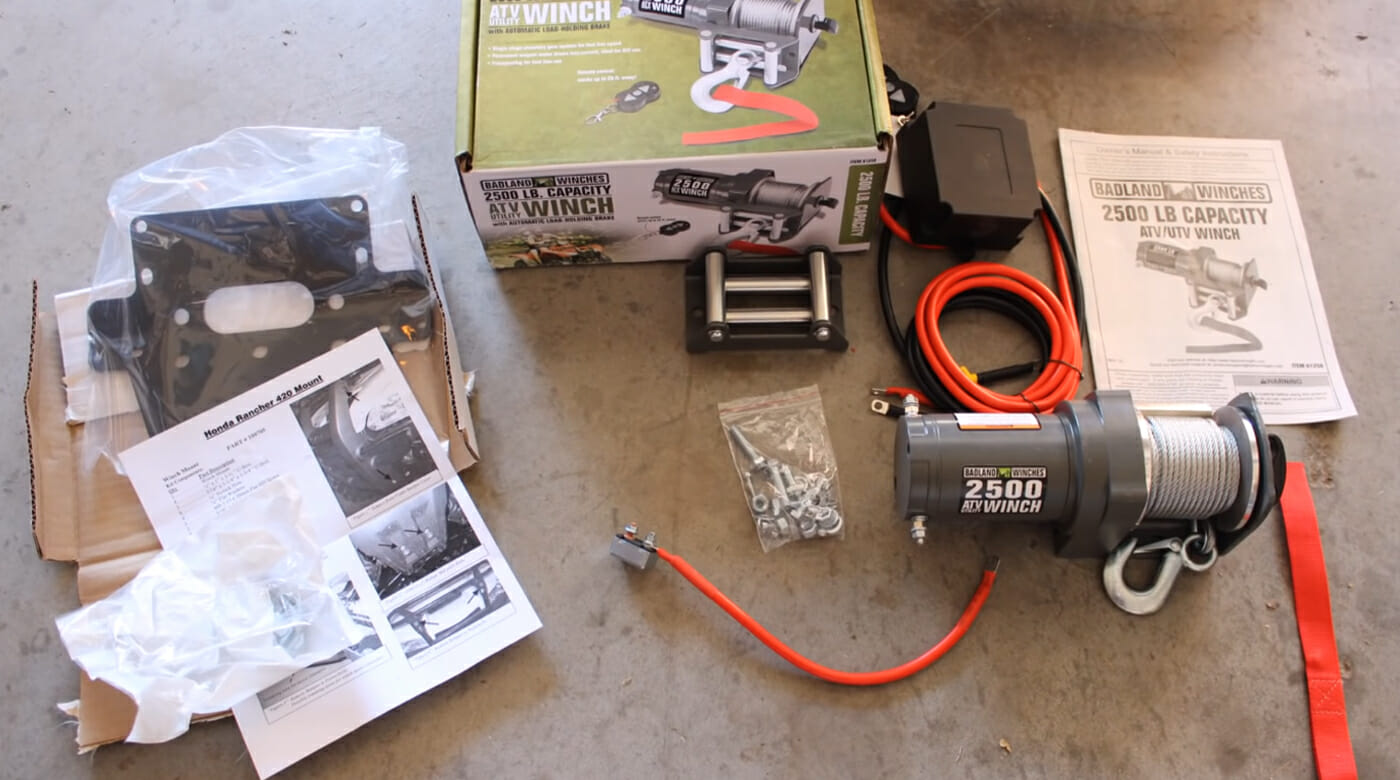 Haven't installed an ATV winch before? Don't worry. Here is a small and straightforward instruction to help you out.
Unpack the winch package and lay all the items in front of you.
Using a screwdriver, unscrew the bolts from the mounting plate on the ATV bumper and remove the existing mounting plate (if there is one). Make sure to set aside the bolts carefully.
If there is a plastic fascia on the front, remove that too.
Attach the roller fairlead and then set the mounting plate on the bumper.
Mount your new winch on the plate and secure it well with the bolts. The winch should sit tight on the mounting plate.
Then attach the hook to the cable.
Connect the contactor to the ATV winch using the cables you got in the package. It will be easy since the wires are color-coded. Make sure they are perfectly aligned.
You can set the contactor under the driver's seat and make sure the wires do not have any obstacles. And make sure they are away from any sharp objects.
---
FAQs About Winch Kit 
Is the Champion 3500lbs Winch Kit waterproof?
The Champion 3500lbs Winch Kit is water-resistant. However, it is not waterproof. The manufacturer advises not to submerge the winch and keep it covered properly when not in use.
Which diameter of synthetic rope should I use with WARN VRX 25 Winch?
The winch already comes with a compatible rope with an accurate diameter. The manufacturer hasn't tested any other diameter and recommends sticking with the rope the winch has.
Can I use the SuperATV winch to load it on the truck bed or mount it to my trailer tung?
Yes, the winch is highly reliable for both cases.
Can I chain the WARN VRX 35-S Winch to a tree to move logs?
That depends on how heavy the logs are. If your ATV is lighter than the weight it is supposed to pull, instead of pulling the logs, the ATV will get pulled toward the logs. Physics!
Can I use a pulling winch to lift loads?
No. You should not use a pulling winch to hoist loads for several reasons. First, it wasn't designed to lift loads. Second, using a winch to lift heavy loads can easily cause the load to fall off. And most importantly, doing so comes with occupational hazards.
---
How to Use ATV Winch [Practical Video]
---
Final Verdict
Now that you have read about my top pick winches, it is now up to you to decide which is the best winch for Honda Rancher 420. The key to finding the most suitable winch is to consider what it offers.
So make sure to go through the buying guide more than once if you have to. But whatever you do, do not attempt to lift heavy items with your pulling winch if you want it to last longer.