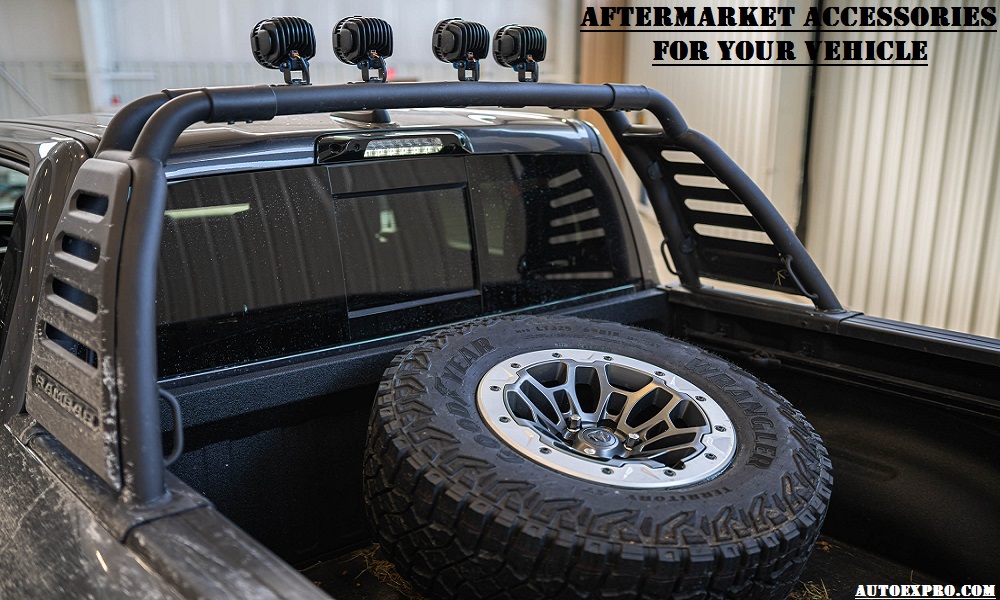 Having a truck or SUV is great. But when you have a vehicle, it is time to get some upgrades or add some accessories that can ensure an improved driving experience as well as usability of it. Some are for comforting you while some accessories are for improving the performance of the vehicle.
After getting a vehicle, you have a lot of options to get a better experience. So, this is quite confusing when you're looking for some interesting upgrades that actually work. Don't worry because I'm writing about that now.
From my point of view, I'm going to share some accessories and upgrades you should have if you want to improve your safety and get a better experience. If you have some bucks in your pocket and you want to upgrade your vehicle, keep reading. You'll know what to do.
Top Upgrades and Must-Have Accessories for Your Truck
1. Tires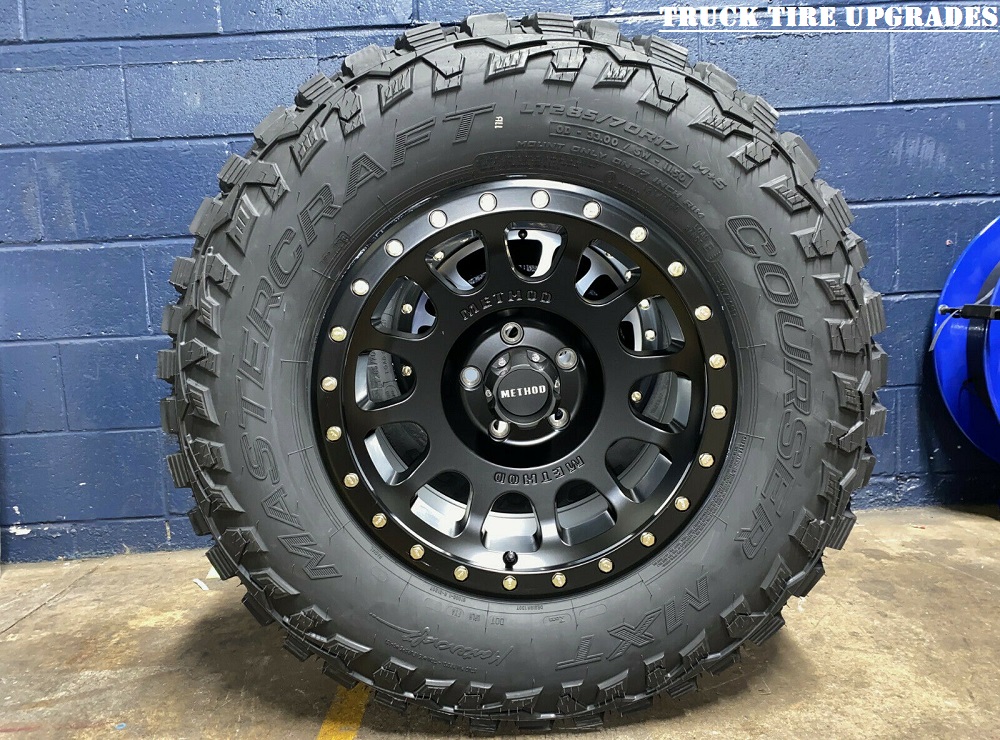 Your vehicle comes with tires. So you might have a question about the necessity of changing the tires of a new vehicle. Here's the thing you should know.
The tire is one of the most vital parts of your vehicle you must say. There are several types of tires in the market made for several types of roads and purposes. If you don't get a set of tires that are made specifically for your driving condition, you can't enjoy driving the vehicle. Besides, the wrong set of tires can be a threat to you.
In this case, changing the existing tires and having a new set designed for your purpose is the first upgrade you should focus on.
Most vehicles come with tires for riding on paved roads. So, if you love off-roading or have to drive on mud mostly, the tires are not for you. Also, you'll see that the tires that come with your vehicle are for dry roads. Those don't perform well on wet or icy roads. In this case, you have no choice except to change the set of tires and get a better set, especially when the rainy season or winter is near.
Types of Tires
Several types of tires are available in the market. Let's know about some of those.
Summer Tires- These tires are specially made to be used in warm weather. Withstanding the heat generated on the road in summer is one of the main properties of these.
Winter Tires- As the name suggests, these tires are specially made for icy roads in winter. The strong grip is one of the most common features of these. If you live somewhere in cold weather, winter tires are for you.
All-season Tires- You'll find some tires made for performing well in all seasons. These are called all-season tires. Though these are not ensuring better performance than the tires specifically made for a season, you'll get a good performance from these. If you don't want to change tires frequently, these are the best options for you.
Highway Tires- Tires that are made for ensuring a smooth driving experience on smooth highway roads are called highway tires. Those are made focusing on reducing noise and improving speed.
All-terrain Tires- These tires are designed and manufactured to support you in off-road driving. If you love off-roading or you have to do it frequently, you should install such tires on your vehicle as soon as possible. A specific type of all-terrain tire is the mud-terrain tire. It is designed to support you better in mud or unstable terrain.
Touring Tires- If you enjoy long drives or tours, these tires are for you. These are designed to support you for a long time. Ensuring more speed while maintaining safety and control is the best part of such tires.
These are the most common tire types found in the market. You might find some more types of tires out there. Don't forget to pick the right one according to your driving style.
2. Running Boards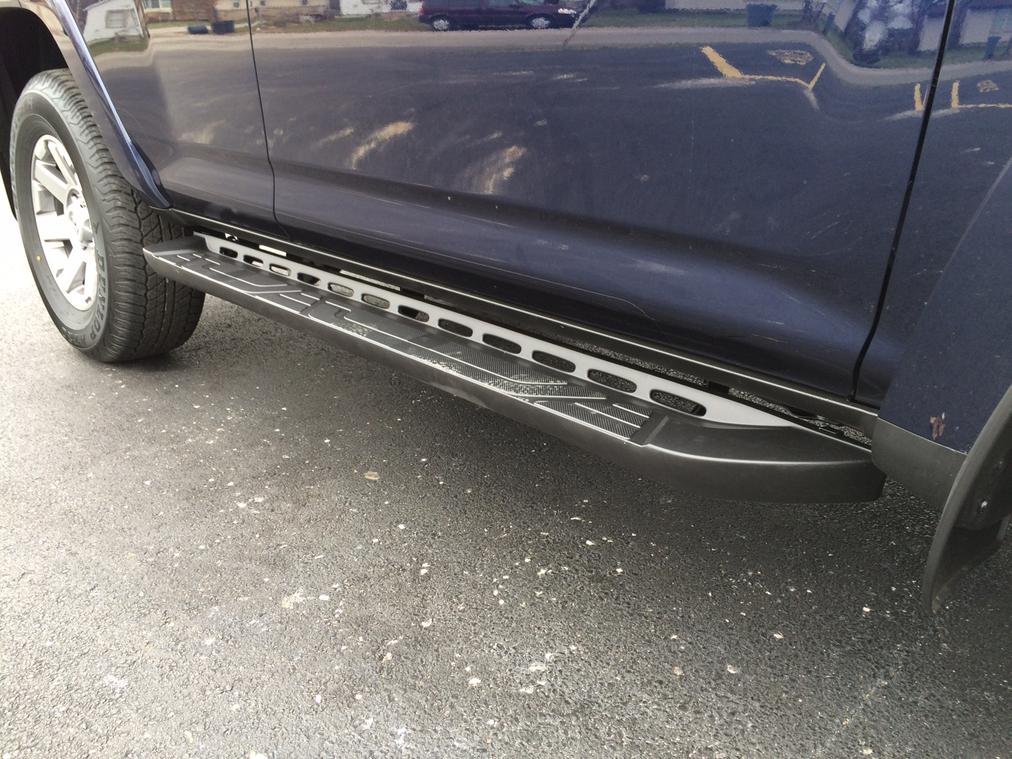 When your vehicle is a bit high, you'll need a platform to get in or come out easily. This is why you have to pick running boards. These are platforms installed to stay a few inches lower than the floor of your vehicle so that you can put your step on it instead of stepping directly inside the vehicle.
This is very useful especially when elder people or children ride the vehicle regularly. However, running boards have several other benefits. It helps you to keep the interior clean. While getting in the vehicle, you can clean the debris from your shoes on a running board. Thus, the inside of the vehicle remains comparatively fresh.
Another advantage of running boards is the safety of the vehicle. While running, the wheels kick rock chips, small stones, and many other types of debris. Running boards protect the vehicle from those.
Also, these boards help you to improve the appearance of your vehicle.
Though these boards reduce ground clearance, I think this is a necessary accessory to install.
Alternatives to Running Boards
Step bars, side steps, and Nerf bars are some alternatives to running boards. These also deliver almost similar advantages. You might find slight differences which are easily avoidable. However, I like running boards more than step bars or Nerf bars.
Things to Focus on while Buying Running Boards
A lot of running boards are found in the market. So, you have to be careful to get yourself the best one. You should focus on having good material. Metal ones are strong and durable. But you'll find those expensive. Plastic boards are light and cheap. But those may not last that long.
Try buying boards with non-slip step pads because those ensure better security in wet weather. However, you have to keep the stepping surface clean always.
Don't forget to pick a board long enough to cover all the way from the front wheel to the rear wheel. Also, make sure that the board is broad enough to put your steps properly. Check the weight capacity, especially if there is someone overweight in your group.
It should be easy to install. You don't want to face hassles while installing. Try to pick one that doesn't require any drilling or cutting.
I suggest going for a full-length aluminum running board with a 5-inch width. I think this is the best choice because it is lightweight, strong, and comes with enough space to step on.
3. Tonneau Cover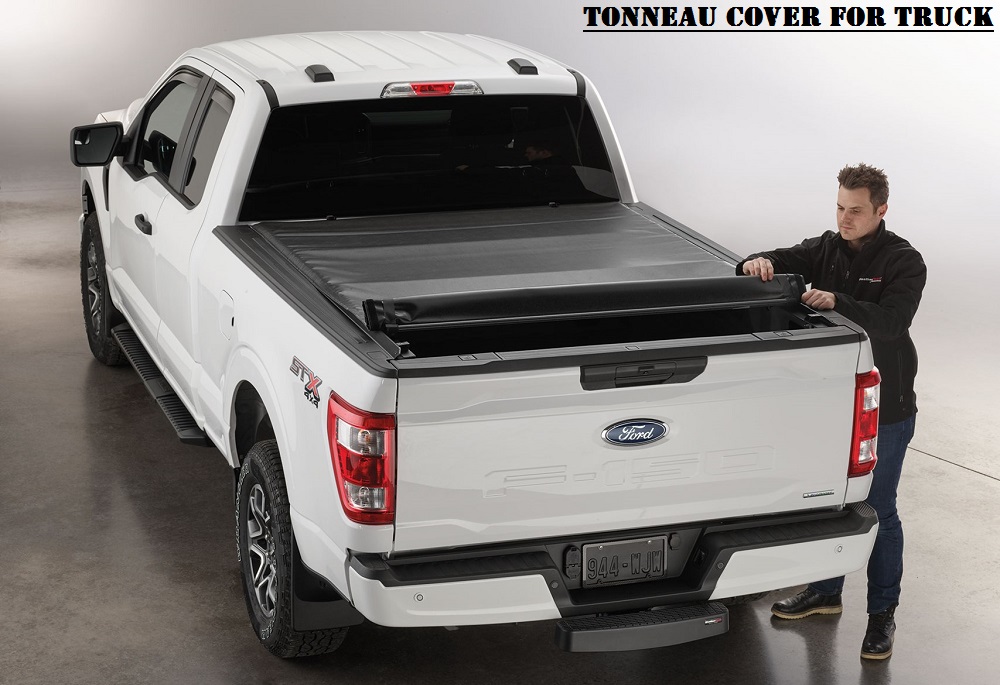 If you own a truck, having a tonneau cover or truck bed cover is a must. You have a truck means you may have to carry things regularly. Tonneau cover helps you to keep those protected from different weather conditions like heat, rain, dust, and more. Also, some of these covers keep your things safe from theft.
It is also said that the tonneau cover improves the mileage of our vehicle. When it is installed, the rear door of the bed can't block the air that it used to do normally. Thus, you get some improved mileage.
Having hard tonneau covers installed can help you to get some extra storage space. Hardcovers can carry some load. So, after covering the bed, you can have another surface to store a few things.
Types of Tonneau Covers
You can separate the tonneau covers available in the market into a few different types. Let's know about those.
Soft Roll-up Covers- These covers are made of vinyl or other types of fabric. You can roll up these covers towards the cab. These are cheap and allow you to have full access to the bed. But these can't save the bed from theft. So, if you don't have the fear of theft, this can be a good pick for you.
Soft Folding Covers- These covers are also soft but come with aluminum or plastic frames inside. As a result, you have the scope of folding toward the cab. You'll find tri-fold or quad-fold variations. The advantage of these over soft roll-up ones is they stay smooth because of the frame. However, you may have to let off a bit of space on the bed.
Hard Roll-up Covers- These covers are made of thin sheets of steel or aluminum and can be rolled up to the cab of your truck. You'll find these strong. So, these can protect the truck bed from theft. Also, these covers offer full-bed access.
Hard Folding Covers- These are my favorite type of covers. Being made with steel or aluminum sheets, these covers are folded towards the cab for access to the bed. Like soft folding ones, you'll find tri-fold and quad-fold variations. These are okay and can protect your truck bed from theft.
Retractable Covers- If you think manually opening and closing the covers is a bit tiring or hassle, these are the perfect type for you. Just like hard roll-up covers, these are made with thin aluminum or steel sheets. Instead of manual operation, these covers can be closed or opened with a push button. However, these are very expensive compared to the other types.
If you have a huge amount to spend, go for the retractable one. Otherwise, I suggest picking a hard folding cover that can lie back on the rear of the cab.
4. Cold Air Intake System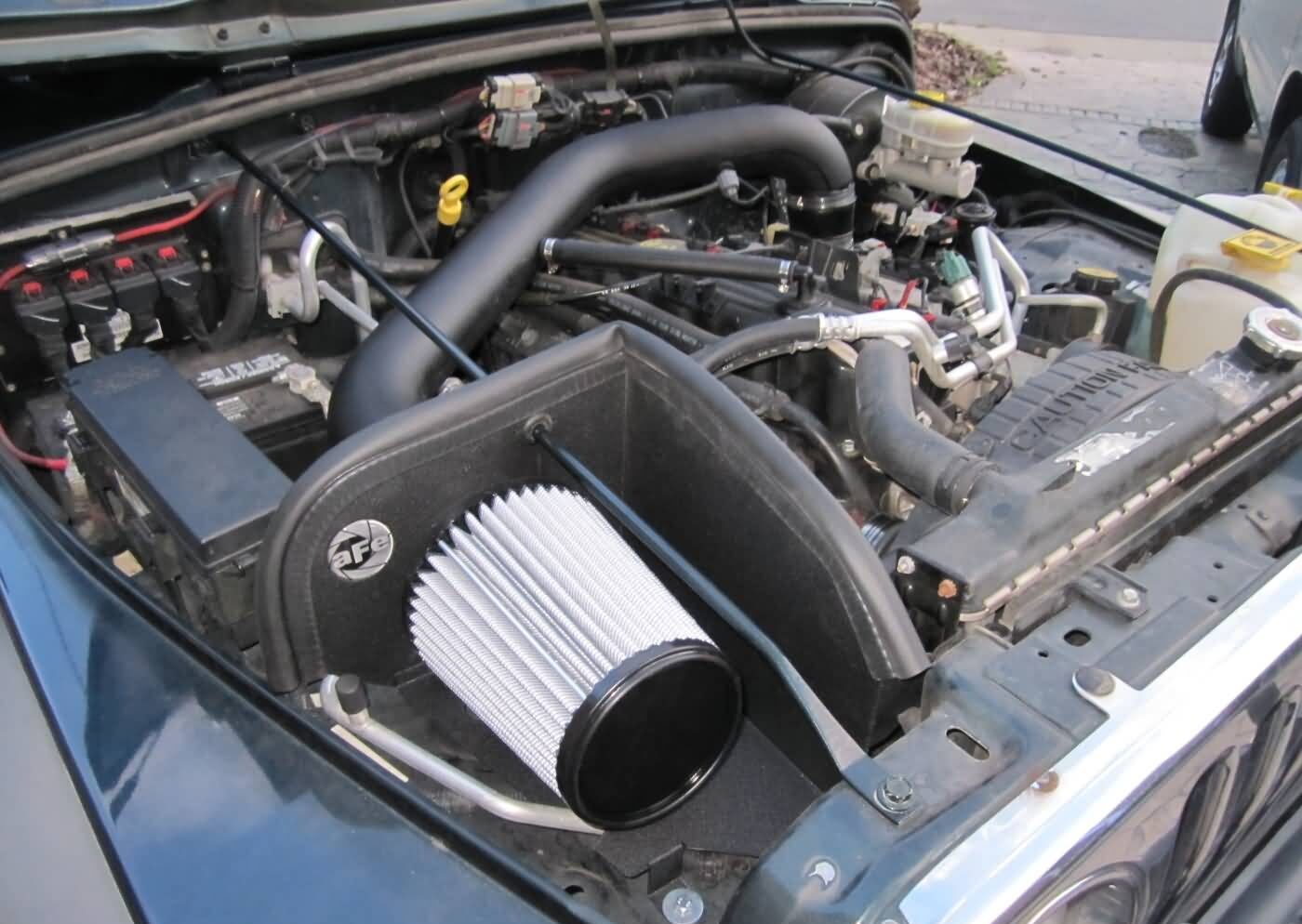 A cold air intake is designed to send cool air to the engine. When you install an aftermarket cold air intake in your vehicle, it does its duty. As a result, the engine gets cooler air with better oxygen density. Thus the fuel burns better and allows the engine to work efficiently and you get more horsepower.
Also, it makes the engine more responsive to the instructions. So, you can see better acceleration. As a result of the improvement in the air-to-fuel ratio, you'll see that the mileage has also increased. If you install an aftermarket cold air intake, don't forget to enjoy the improved roar of your engine.
Aftermarket ones come with better filters. Also, the airway is improved in these. That's why you get all these benefits. So, if you want to see improved performance, try replacing the current cold air intake system.
Buying Tips for Aftermarket Cold Air Intakes
While picking one of these, make sure that it is compatible with your vehicle model. As it sits under the hood where it is already congested, picking the wrong one would be a real hassle.
The filter is another thing you should focus on. You'll find cotton, paper, and synthetic filters. Cotton filters are widely used and these are great. Among oiled and dry filters, I would suggest oiled filters if you need speed because these come with less restriction to air. Dry ones are good when you don't need too much speed, for example- on city roads.
Don't forget to check the air path. Pick one made of thick plastic or light metal. Also, the curves should be smooth for uninterrupted airflow.
A system with a heat shield around the filter is a good pick. The shield keeps heat away from the filter so that it can do its work well.
It should be easy to install too. You don't want to spend a whole day under the hood. Try to pick the one that uses the stock fittings to sit under the hood.
---
4 Easy Upgrades For Your Off Raod Vehicles
---
Final Words
Besides these, you'll find many other upgrades and accessories for your vehicle. But I think these are the primary things you should get when you're ready for upgrading. For each of these, you'll find products of different price ranges. My suggestion is to go for the perfect fits, without thinking about the price.
I know that price is a great factor for most of us. So, it is tough to ignore. However, try to compromise as less as possible to get something within your budget, especially when you're getting a set of tires. Your safety is directly related to it.
Reference:
The Off-roading: https://theoffroading.com/
https://axleaddict.com/10-Quick-and-Easy-Truck-Upgrades
https://www.hotcars.com/first-step-truck-mods-and-first-step-car-mods/
https://driving.ca/top-10-simple-ways-to-enhance-your-trucks-look