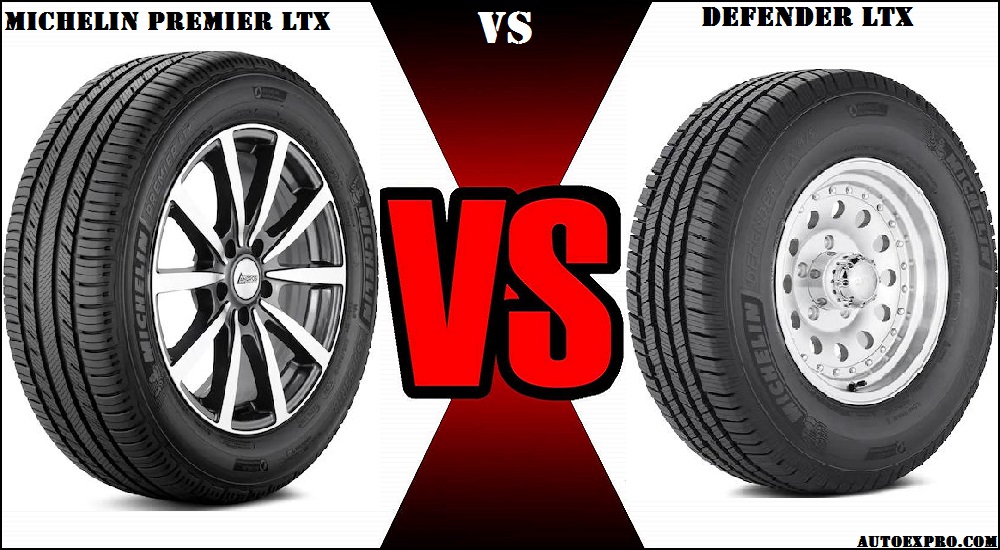 Nowadays, one of the most controversial topics is Michelin Premier LTX vs Defender LTX. Even though both models are offered by the same brand, many people become confused about which one to go for.
Both tires come with some extraordinary features, as well as limitations. So, it gets a bit confusing to choose one over the other. That's what this article is about.
We're going to walk you through a detailed review of both tires. You can decide for yourself which one seems more worthy to you. Go through the entire article so that you don't miss any points.
Michelin Premier LTX vs Defender LTX – Product Review
1. Michelin Premier LTX All-Season Radial Car Tire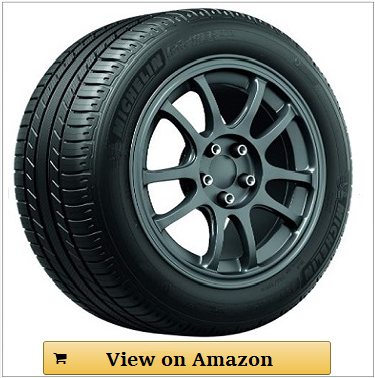 Michelin Premier LTX will surely be many people's first choice for many reasons. For instance, you can have an amazing driving experience with this tire. In addition, it will offer you a superior grip on the ground, regardless of whether it's dry or wet.
Due to the EverGrip technology, the Premier LTX provides a comfortable grip on snowy grounds too. However, it's not as good as tires specifically made for winter.
The tire also comes with short braking distances and an excellent cornering grip. So, you will certainly experience a better riding quality and driving experience when you get these tires. 
Overall, Michelin Premier has all the features you expect from a high-class tire model.
Now, let's take a detailed look into the upwards and downwards of the tire. Then, you can make your decision by comparing them.
Pros
The EverGrip technology helps you get a superior grip on the ground, regardless of what surface you are on.
You can experience a superior driving experience when driving with these tires.
The riding quality with this tire is smooth and quiet.
You can expect a comfortable drive even on bumpy roads.
Suitable for a variety of vehicles
Backed by 60,000 miles manufacturer's treadwear limited warranty
Cons
Comparatively pricier
Comparatively less durable
Not the best option for snow

Michelin Premier LTX All-Season Tire Video Review
---
2. Michelin Defender LTX All Season Tire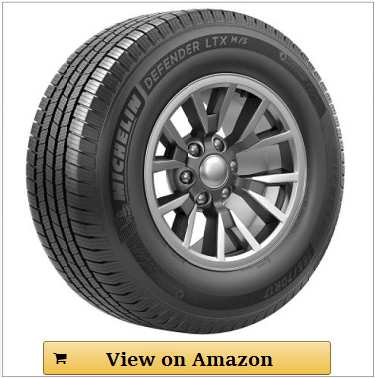 Michelin Defender LTX is the best in its category. It offers decent traction on wet surfaces and an excellent grip on dry surfaces. However, that's not the best feature of this model.
The most attractive feature is its durability. It's way more long-lasting compared to other models. Along with its short braking distances, which ensures exceptional grip on the ground, it also offers longevity at an affordable price.
The Defender also comes with a better warranty service from the manufacturer. It's backed by a 70,000-mile manufacturer's treadwear limited warranty.
So, if you're searching for a model that comes within an affordable price range and can offer you exceptional traction, comfortable driving experience, and longevity, there's no match against the Michelin Defender LTX.
We've provided you with an overview of the Defender LTX. Now, it's time to get to the pros and cons. Let's take a look at them to compare both sides.
Pros
The Defender offers you an affordable price range compared to other tire models.
The tread patterns offer superior grip on the ground, making it suitable for all seasons.
Durable material and constructions outlive most other tires.
It can offer you comfortable riding quality, even on bumpy roads.
Provides decent traction on wet surfaces too.
Backed by a 70,000-mile manufacturer's tread life limited warranty.
Cons
Not suitable for winter.
Doesn't come with fancy features.

Michelin Defender LTX All Season Tire Video Review
---
Michelin Premier LTX Vs Defender LTX Comparison
Several significant features make the tires unique and different from each other. We've tried to include all of them here, so you can compare them and make an informed decision. Let's get to it without any further ado.  
The first and most important feature we'll be discussing today is traction. When you're getting tires for your truck, you only want what's best. And that includes excellent traction on the road. However, not all tires will offer you the same traction.
In this Michelin Defender Vs Premier LTX comparison, let's see which one can offer you superior traction on different surfaces.
On dry surfaces, both tires pass with flying colors. You can expect short braking distances, excellent corner grip, and top-notch handling from both tires.
The Premier and the Defender are two of the best tires for trucks. So, you can trust them with your eyes closed. When it comes to driving on a dry road, there are no better choices than these two.
However, when you push the tires to their maximum ability, Michelin Premier will be a bit ahead of the Defender. This difference is significantly low, so going for either will be fine if you're only considering a tire for dry surfaces.
If you are only considering this aspect, we recommend both tires as equal. The reason is that the difference is so low that you can only notice it when you're pushing the tires to their maximum, which is not a daily occurrence.
If you're considering the tires for a wet surface, or say, for the rainy season, there is a winner between these two. Even though both tires provide adequate control on the vehicle on wet surfaces, Premier LTX is way ahead of the Defender.
The Premier LTX provides a better grip on the ground, better control of the vehicle, excellent corner grip, and adequate stopping power. The same goes for when you use the maximum power of these tires.
The Premier LTX has superior control on wet grounds compared to the Defender LTX. The EverGrip technology on the Premier LTX gives the tire an edge over the other. If you don't know what this proprietary technology from Michelin is, let us give you an overview.
The Premier tires feature two sets of grooves. These Emerging Grooves run over the shoulders of the tire, and Expanding Rain Grooves run around the circle. With time, as the Premier LTX wears down, the Expanding Rain Grooves open up, creating a bigger surface area for improved water evacuation.
The Emerging Grooves, on the other hand, also appear as the Premier LTX tire wears down. This allows the Premier LTX to provide great grip in wet and snowy situations.
Traction On Snowy Surfaces
If you want perfect performance on snow or ice, we wouldn't recommend any of these. You should go for tires specially made for winter. However, if you want to drive on light snow, the Premier LTX can offer you a better grip on the ground than the Defender.
Because of the Premier's stopping ability, cornering grip, and short braking distances, you can expect a better performance from this one. Besides, the EverGrip technology also comes in handy in snowy situations.
However, as we have mentioned, if you want the best driving experience, it's better to have a pair of winter tires in your collection. If you drive your truck regularly, a pair of spare winter tires can make the drive smoother on snowy and icy roads. Besides, you will also lengthen the lives of your Michelin tires by not using them on icy surfaces.  
All models from Michelin provide a positive experience when it comes to driving. However, if we compare models, the Premier will stay ahead in this case. That doesn't mean that the Defender is inferior in any field.
The Defender LTX is the best in its category. Nevertheless, if you want the best feeling when behind the wheel, the Premier can help you in all aspects, including responsiveness.
The Premier LTX is mostly preferred by users for its superior driving experience and responsiveness. Overall, it feels comparatively better behind the wheels because of its structure. So, if you want a better driving experience over affordability, we recommend the Premier model.
There are no differences in the noise these tires make. There is a low growl-like sound that's generated by the tires. However, it's extremely unnoticeable compared to the engine sound.
So, there's no significant difference between Michelin Premier LTX and Defender LTX when it comes to making noises. Both of them produce low growls.
There is a slight difference in sizing and fitment. The Premier LTX ranges between 16 and 22 inches, whereas the Defender ranges between 15 and 20 inches.
These tires can cover almost all passenger touring vehicles available in the market. So, you won't have to worry about the fitment.
You can expect a comfy ride from both tires. Even when you are driving a bumpy road, you won't feel any discomfort due to the tires' quality. However, the Premier does have an advantage compared to the Defender.
Nevertheless, the difference is hardly noticeable, so you shouldn't consider this field for making the final decision. Because the Premier and the Defender are two of the most smooth tires available in the market.
If you're going into detailed dissection, the Premier will have a small edge due to its smooth and quiet operation. As we have mentioned before, Michelin Premier can surely offer you better comfort and driving experience. If you are after these features, the Premier will certainly be a suitable option for you compared to the Defender LTX.   
As for durability, the Defender LTX is clearly the superior choice. The Premier and the Defender were made keeping different attributes in mind. The Premier LTX will be more suitable for you if you are all about comfort and performance. But if you are about longevity, you will certainly like the Defender more.
 The Defender comes with a more sturdy case to be more precise about durability. Having a robust case means that the tire is less prone to tear and cuts. If you look at the warranties of the two tires, you will notice that the Defender has a longer one compared to the Premier LTX.  
The Michelin Defender LTX is a cost-effective option compared to the Premier LTX. The Premier LTX has some qualities and advantages that you can't get from the Defender. However, you will surely prefer the Defender when it comes to price.
And the price difference isn't very low. The price difference between these tires is almost 20%. So, if you're looking for a budget-friendly option, you'll be more than happy with the Defender. Besides, the durability it provides gives it another point.
If you are more into the driving experience, traction, and riding quality than durability and don't mind the added expense, the Premier is a better option for you.
The Defender features an asymmetrical tread pattern for all seasons. It ensures a quiet and comfortable ride for you. In addition, Michelin Defender LTX has an exclusive technology called the IntelliSipe technology, which features zigzag sipes. These enhance tread blog rigidity, which results in better cornering and stability.
On the other hand, the Premier LTX features symmetrical tread patterns. It ensures better handling, responsiveness, and straight-line tracking.
The Defender and Premier LTX tires have nearly identical warranties and guarantees. The Premier LTX comes with a 60,000-mile treadwear warranty that lasts for six years. The Defender, on the other hand, comes with an 80,000-mile tread life warranty for the H and T-rated sizes and a 50,000-mile tread life warranty for the LT sizes.
Both tires have the same materials and workmanship warranties. Both tires are covered by a 6-year workmanship and materials warranty, as well as free tire replacement for the first 2/32-inch of the original usable tread. Outside of the free replacement timeframe, Michelin will provide a prorated replacement.
---
Which One Is Better Between Michelin Premier LTX Vs Defender LTX?
Both tires exceed in different areas. So, it depends on what you're looking for in your truck tires. If you want the most comfortable tire with advanced technologies, you should definitely go for the Michelin Premier LTX. It will cost you a few extra bucks, but you won't be disappointed about the extra money.
The Defender, in comparison, is for those who are looking for a more budget-friendly option. Nonetheless, there's no need to think that this model lacks any aspect. It may not have the fancy features you will find in the Premier, but the necessary features are all there.
As we have mentioned before, The Premier and the Defender excel in different fields. If you want a durable tire to support your truck for a long time in all seasons, the Defender doesn't have a match. On the contrary, if you prefer a tire for superior comfort and responsiveness over durability and affordability, you should go for the Premier LTX.
Final Verdict
As you can see, Michelin's Premier and Defender have some pretty exciting features. Nevertheless, when it comes to choosing one of them, some significant differences can help you.
For instance, in this comparison between Michelin Premier LTX vs Defender LTX, the latter will always win in a fight of longevity and affordability. Similarly, the former will win when it comes to comfort and responsiveness.
So, if your budget is high, we recommend you to go for the Premier LTX because of its superior features. However, if you want your tires to last long, stick with the Defender LTX.