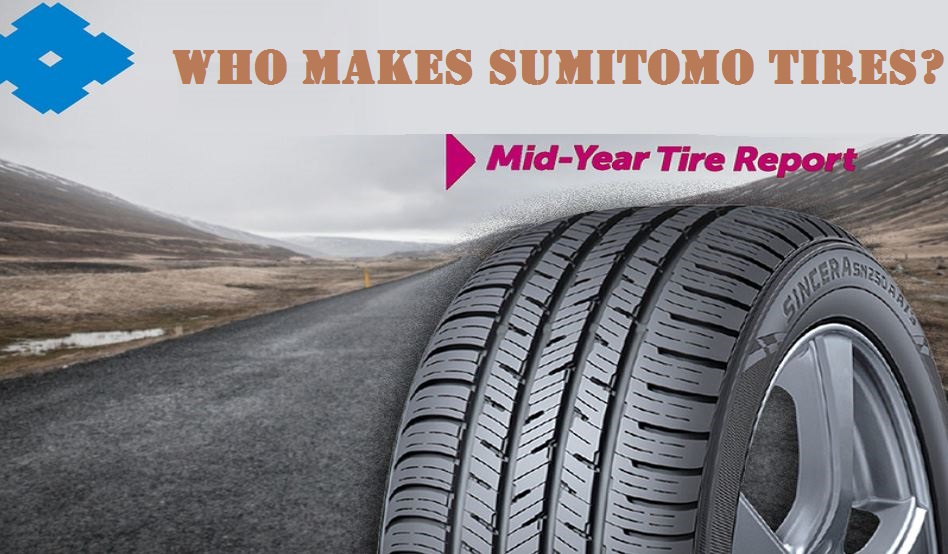 In today's automotive world, there are no vehicle owners or users who haven't heard the name of Sumitomo tires or haven't bought it and loved it. Sumitomo makes both passenger tires and SUV, truck tires and excel in every type of products that they produce.
But we have met many users who keep asking questions regarding the whereabouts of the manufacturers of the tires. So let's go and take a tour into the company's yard and find out all our inqueries.
In this article we will go through the history of Sumitomo's rise as one of the prominent tire-producing companies, along with discussing the different varieties of tires that they manufacture. This might interest the users who are eager to know all the products designed and made by the company as well.
Who Makes Sumitomo Tires
Sumitomo Rubber Industries Ltd. is the manufacturer of Sumitomo tires. Sumitomo Rubber Industries Ltd. is a global tire and rubber company. Along with tires, they produce many other rubber-based products, like golf balls and tennis balls.
It is one of the most successful and influential automotive companies in the world and Sumitomo Rubbers is the premium export brand of them. Along with Sumitomo tires, they also make Ohtsu and Falken tires.
History of Sumitomo Rubber Industries Ltd.
During the early 17th century, a small shop was opened by Masatomo Sumitomo in Kyoto, Japan. The company was developed over the time, with integrity and sound management practices. In 1909, the then Sumitomo group made an investment in Dunlop group in Japan and later in 1963, they acquired the complete control of Dunlop group, naming it Sumitomo Rubber Industries Ltd.
Now, as an American company with roots in Japan, Sumitomo continually demonstrates from the well of America and  Japanese heritage. The company also produces and brings fresh innovations based on technologies that last.
What are the Different Types of Sumitomo Tires?

Sumitomo mostly produces tires of three types, those are – passenger tires, SUVs, trucks, and also winter tires.
1. Passenger Tires
Some of the most loved passenger tires manufactured by Sumitomo are
HTR Z5
HTR Enhance LX2
HTR Enhance WX2
Touring LS
HTR Z5 – HTR Enhance is an all-season touring tire. To provide you a high-comfort ride, these tires are designed for a variety of road conditions and features. They come with a warranty of 90000 mile treadwear for T-rated and 75000 mile treadwear for H and V rated.
The product is equipped with cutting-edge Sumitomo technology and thus helps vehicle owners to get the best out of their modern sports cars or Sedan.
HTR Enhance WX2 – This model, Enhance WX2 from Sumitomo is one of the newest launches of the company. If you are a driving enthusiast and seek for a sporty appearance along with predictable handling and all-season traction, then this one is the perfect tire for your vehicle.
The tire features full-depth grooves and sipes that help deliver confident performance throughout the tire's life. A large outside tread block provides responsive handling and stable cornering while the angled grooves water for increased hydroplaning existence.
HTR A/S P03 – The HTR A/S P03 is designed to get sporty performance from your vehicle. The high-performance tires significantly increase wet braking distance, superior grip and handling. Increased fuel efficiency, extended tread life along with outstanding winter traction – the tires are complete power packs.
2. SUV/ CUV/ Light Truck Cars
Just like passenger tires, for SUVs, CUVs or light truck cars, Sumitomo manufactures some excellently designed and built tires. Some of the tires from this category are HTR Enhance CX2, Touring LX, Tour Plus LX, Encounter HT2 etc. We are going to discuss only some of them here –
Encounter HT2 – Newly launched Encounter HT2 is the perfect choice of tires for the new generation of CUVs, SUVs, and pickup drivers. They demand for both traction, toughness and versatility from tires and Encounter HT2 is made for that.
The reasons behind the tires are liked tremendously from the time of its launch are impressive dry handling and a smooth quiet ride, year-round.
Encounter HT- Encounter HT is the model of tire that Sumitomo makes for confident, on-road adventures so that they don't have to care about the weather. Outstanding dry pavement handling with surefooted wet-traction performance – all these things make the tires the perfect choice for your journeys.
The tires are made with excellent materials to tackle both the daily commute and the open road with strength, stability, and style.
3. Winter Tires
Sumitomo manufactures tires for wintry days and snowy roads. Ice Edge tires belong to the winter tires category of Sumitomo.
Ice Edge – When you want a tire that will give you edge on snow, slush or ice-covered roads, then you should give Ice Edge from Sumitomo at least one chance. The tires are certified with the USTMA 3PMSF symbol for severe snow performance and specially engineered to meet the needs of users in different winter driving environments.
Are Sumitomo Tires Good? – Features of Sumitomo Tires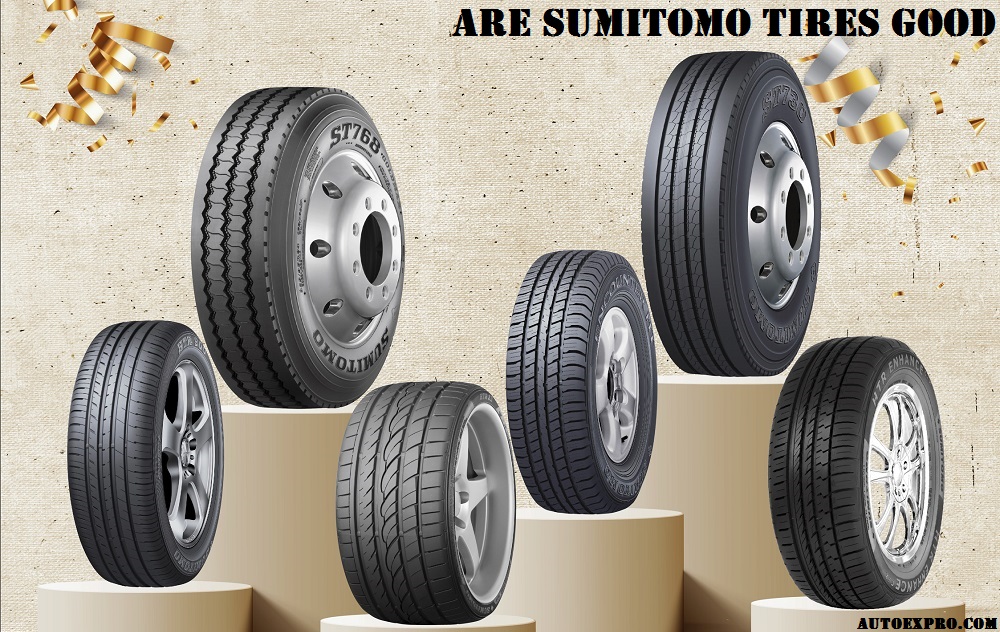 After you read the above mentioned detailed history and specifications of Sumitomo tires, we hope there are no more doubts in your mind about the quality of them. But if you still have any questions and want to know if Sumitomo is any good for your vehicles, then we are ready to answer those queries.
In this section, we will mention the reasons why Sumitomo is one of the best options available in the market.
The low-budget tires from Sumitomo have won the trust of customers over the years for their durability. Different types of tires from Sumitomo – may it be off-road tires or on-road tires, but all are designed with optimized contact patch to extend tire life.
Improved tread rigidity ensures high speed stability and grip and thus the tires survive a much longer period of time then the ordinary ones.
For better performance, Sumitomo tires use so many different technologies that we have already talked about – 3D Zigzag sipes, bending sipe technology, optimized sipe technology, etc.
The 3D zigzag sipes work to reduce irregular wear and create more biting edges. Binding sipe technology is used to create rigidity in the center block and maintain stability. Optimized contact patch distributes road surface pressure evenly to provide extended tire life.
Apart from superior performance, design and durability, Sumitomo tires excel in warranty and budget along with providing comfortable and quiet riding.
How Much do Sumitomo Tires Cost?
Compared to its contemporary brands present in the US market the Sumitomo tires cost much more reasonably. Usually, they range from $85 to $220.
If we look at the price range of the different types of tires manufactured by Sumitomo, we can see that various models of Sumitomo Ice Edge cost approximately $100 – $220. But when it's a tire for SUV, CUV or mini truck, like Encounter AT or passenger car tires like HTR Z5, it will cost more than $230/$240.
Apart from these models, all the other tires will be available for you, if you spend merely $90 to $150.
Top-Rated Tires Review from Sumitomo
Among the numerous tires that we have mentioned and discussed above, one of the most popular ones is the Ice edge. Though all the products from the company are quite popular among vehicle owners, we are choosing the Ice Edge for a detailed review for it has received a tremendously positive review from all its users.
Sumitomo Ice Edge Studable Winter Radial Tire
The Ice Edge tires are developed with advanced cutting-edge technology and deliver an outstanding combination of cold-weather grip and superior stability.
The tires are designed by expert engineers from Sumitomo to handle performance and smooth ride comfort.
What the customers love the most about this tire is that the so-called "all-season" tires get stuck at least once every "winter driving conditions", but with Ice Edge, it never happens. They described how going up a cliff or hill has become easier and effortless and even one foot of snow can't slow down these tires.
This tire is loaded with design features that specifically target the unique demands of cold weather driving. Some of these include a specially formulated tread compound tuned to superior performance in low temperatures and Sumitomo's unique 3D sipe technology that provides the ultimate "bite" on snow and ice.
Key Features:
Section width – 225 mm.
Load capacity – 1653 pounds.
Rim size – 60 inches.
Construction – Radial.
Mud + snow rated.
Pros
Specially formulated tread compound tuned to superior performance in low temps.
Unique Sumitomo 3D Sipe technology.
Superior stability and handling for smooth ride.
Free lifetime replacement.
Wide and serrated tread channels to enhance snow grip.
Optimized stud pin distribution for the maximum performance capability.
Frequently Asked Question About Sumitomo Tires
Which model of Sumitomo tire should I use for the highest treadwear warranty?
HTR Enhance LX2 and Tour Plus LX are two great choices for passenger tires if you want to get the highest number of treadwear for T-rated. They provide 90000- mile treadwear for T-rated and almost 65000-70000-mile treadwear for H&V rated.
Why do Sumitomo use outside shoulder blocks?
Outside shoulder blocks that Sumitomo uses are enhanced with integral lateral grooves to provide better wet handling and reduce road noise. 
Which model of Sumitomo tires is the most eligible for all-season highway rides?
Encounter HT is the most eligible tire for you if you want an all-season tire that can be used for highway drives.
---
Expert Interview About Sumitomo Tires
---
Final Verdict
We have tried to cover as many details as possible to bring in this one article to inform you about Sumitomo. We hope that all the information will come in handy to you while purchasing the right tire for your vehicle.
The company with its hundred-year-old history of success in making greatly-engineered tires will help you to enjoy a smooth journey on all types of roads – on and off in all seasons- summer and winter.