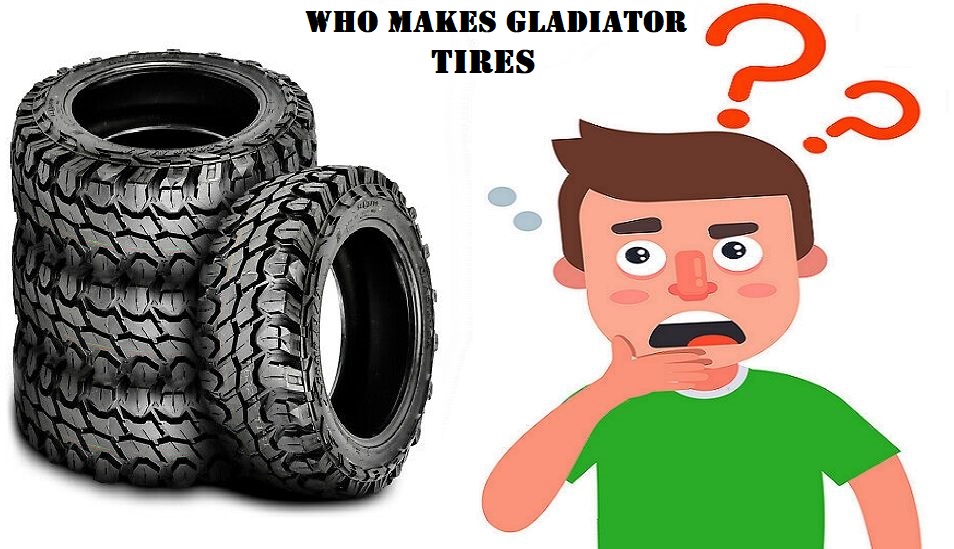 Tires are a costly purchase somehow and directly related to your safety. So, knowing enough information about the brand before purchasing a tire is mandatory. At least I do this all the time.
I've been using tires from the brand Gladiator for a long time. Before picking them, I researched a lot about the brand and gathered a wide range of information about it. Recently I've seen that people are asking a question- who makes Gladiator tires? So, I thought could answer this question, share my findings on Gladiator tires, and review a few.
If you're interested in these tires, I know that you are, this article is going to help you a lot. So, stay with me.
Who Makes Gladiator Tires?
Gladiator is a tire brand under American Pacific Industries, Inc (API). It started its journey in 1982 with the aim of delivering dependable and quality products in exchange for a reasonable amount of money.
Though this is a US-based brand, the tires from this brand are manufactured mostly in China. After being produced in China under expert supervision in quality manufacturing plants, these tires are exported to the USA to serve the market demand.
Though they are made in China, Gladiator tires are designed and manufactured focusing on performing in the USA weather and road conditions. Being made with the best raw materials available, they ensure smooth and long support in tough road conditions.
Gladiator was focused on manufacturing tires for light trucks, trailers, ATVs, and UTVs. Recently, they've started making tires for cars too.
Besides Gladiator, API has several other brands in its pocket. Zenna is another tire brand from this company.
Top Features of Gladiator Tires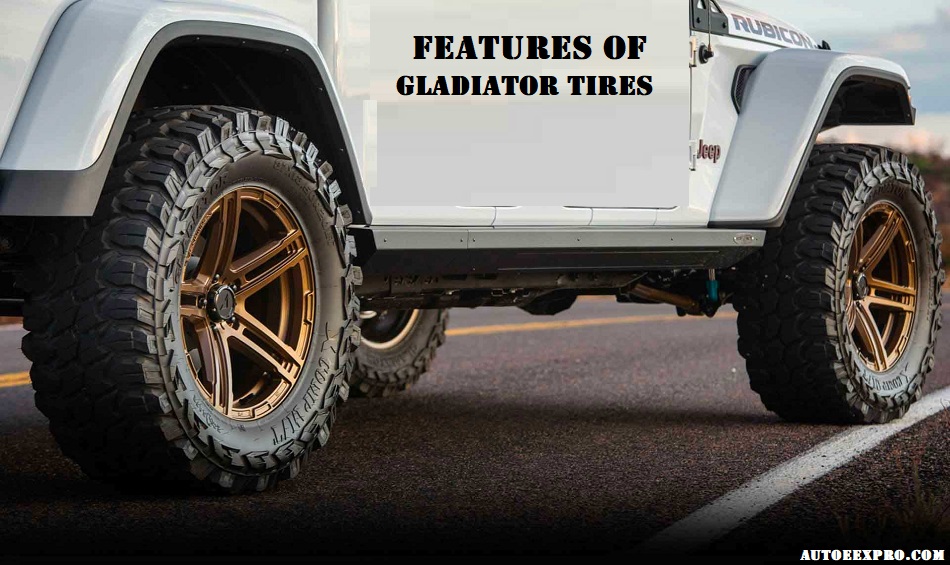 Gladiator tires come with several new features and technologies. As there are many tires under the brand, you won't find all the features in all the tires. However, let's talk about the common features of them.
Tires from Gladiator come with a special design. The treads are wide and large. Most of them come with this type of tread design.
The main advantage of this design is traction. Wide treads ensure great traction on both dry and wet surfaces. As a result, the steering response is satisfactory in these tires. Such design also has an impact on the braking performance. A wide contact surface ensures better braking.
Gladiator tires come with a steel-belt construction which helps them to stay strong under extreme pressure. So, you can expect stability. Besides stability, this construction trick ensures that the tires are durable and serve you for a long time.
Off-roading comes with a lot of pressure on the tire as the road is not smooth. Steel-belt construction helps these tires to handle that pressure without being punctured.
Sidewalls are important especially when the tires are for off-roading. API knows this very well. That's why Gladiator tires are made with strong and reinforced material which allows the tire structure to stay strong under pressure.
As a result, the risk of side puncture is very low in these tires.
All the tires from this brand come with motorsport quality. This ensures that quality material is used to build them and they are able to support you for a long time on the road.
Also, they ensure motorsport performance too. So, if you're someone who loves to hit the road at high speed often, these tires are the perfect choices for you.
They come with a stone ejector feature too.
No matter what type of road in which you drive, there is a chance of stone getting stuck in the tread grooves. This causes an uncomfortable driving experience and leads to serious accidents.
Gladiator tires are safe from such issues because of their stone ejector feature. Stone or rock chips can't get stuck in the grooves because of this feature. Thus you can stay secure.
The warranty policy of Gladiator satisfies everyone. The policy is simple- as long as the treads are usable, the tires have material and workmanship backing them.
So, if your treads are still in good condition but the tire has an issue, you'll get a new one from Gladiator without any issue if you claim a warranty.
However, the related costs like mounting cost, cost of balancing, etc. should be covered by you.
Gladiator tires are priced reasonably. When you'll see other off-roading tires expecting you to spend a huge amount on them, Gladiator requires less than that.
Getting some heavy-duty tires for your vehicle within an affordable price range is very satisfactory. Gladiator is ready to help you enjoy this satisfaction. So, you can go for those.
Gladiator has a great customer support system for answering the queries of the customers. The customer-focused support system helps you with any issue. If you face any problem or if you have any questions about this brand, quick customer support will help you.
Though this has nothing to do with the tires directly, I would like to talk about it a bit because the environment is a great concern nowadays.
The manufacturing process and plants used for Gladiator tires are environmentally friendly. API focuses on the least impact on the environment with this brand. So, having these tires may give you a feeling of keeping impact in saving the environment.
Downsides of Gladiator Tires
Besides the features that can blow your mind, Gladiator has some downsides too that you have to keep in mind.
The very first issue with these tires is the tread warranty. Many Gladiator tires don't come with any tread warranty, only a workmanship and material warranty. Those which come with a tread warranty are backed by a short one, maybe 30,000 miles.
So, you have to be extra careful with the treads. Though the tread material is a good one and comes with a dependable construction, you should maintain the treads. Otherwise, you'll see that treads wearing out really fast.
How Long Does a Gladiator Tire Last?
I've already said multiple times that Gladiator tires last for a long time. But how long?
There is no perfect answer to the question. It depends on several factors like how frequently you use the tire, common riding situation, your riding style, etc. Calculating all these, you can get an answer.
Typically, you can expect your Gladiator tire to run around 35,000 to 40,000 miles. So, if you run around 12,000 to 15,000 miles yearly, you can expect these tires to last around 3 years. Maintaining them properly may help you to make these last for a bit longer.
Are Gladiator Tires any Good?
As per my experience, Gladiator tires are good. You'll find the actual value for money from these tires. Coming at an affordable price range, these tires are offering dependable performance in offloads. You won't find many off-roading tires within this budget.
The only issue with these tires is no or limited warranty on tread life. So, you have to spend some extra energy and time on maintaining them. Except for this, you won't find any problem with these tires. Being backed by a 100% replacement warranty, they are there to ensure true satisfaction.
That's why I think Gladiator tires are good. Many users would support my opinion I know. If you want to get the exact answer, I guess you should pick a set for your vehicle and check it by yourself.
Review of My Top Choice Gladiator Tires
1. Gladiator X-COMP M/T 33/12.50R17 126 Q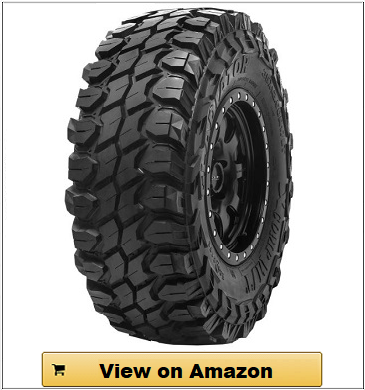 Gladiator calls it a true beast because of the rugged build quality and unstoppable performance. For a smooth off-roading performance, you can pick this tire. Off-roads are never smooth though.
I used this tire for a few months when I was enjoying my time off-roading. I've found this aggressive enough for this type of application. I've run through many tough trails having it installed in my vehicle and received satisfactory performance.
It provides great support on off-roading because of the aggressive tread pattern in the shoulder. The build quality is also enhanced in the shoulder parts. As a result, it can withstand outside forces without failing. The tread pattern in the middle is also designed and built sturdily to support when you're driving on smooth roads.
It is designed to ensure a quiet riding experience, but not the quietest. The tread compound and design both help in this matter.
To keep mud, snow, rock, and dirt away, it comes with a special feature. Because of this feature, such components can't get accumulated in the tread gap. Thus it ensures a safer ride.
My overall experience with this tire was good. It is an inexpensive option for off-roading. If you're under a budget restriction, you should go for these tires for sure. You'll get enough control over the vehicle to enjoy your time.
Pros
Provides guaranteed satisfaction
Comes within a very reasonable price
Made for extreme off-roading
Works great on both types of roads
2. ST205/75R15 Gladiator QR25 Trailer Ply Tire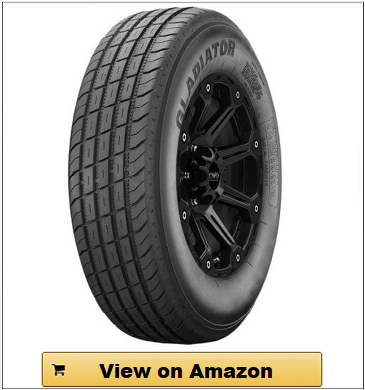 For my RV, I love this one from Gladiator. This is specially designed for RVs and light industrial applications. If you need something for your RV, I would advise picking this one.
To me, the best thing about this tire is its impact on fuel economy. It is designed to ride smoothly on the road. The tread patterns are designed for handling pressure easily. The special tread material keeps it protected from wear in all types of weather.
It comes with stone ejectors that don't allow small rock chips to get stuck inside the tread gap. The ejectors are placed in the circumferential grooves where there is the most risk of such problems. By keeping stone or rock chips away, it allows you to ride smoothly.
You can speed up having this tire installed because Gladiator has produced it with 'N' Speed rating. So, it allows you to speed up better than most other trailer tires allow.
The overall performance of this tire seemed good to me. I didn't face any issues for complaining. However, during winter, you have to be extra careful while using the tires. However, taking a break during winter is the best thing to do.
Pros
Designed to eject stuck stones
Allows you to run at a good speed
Helps in fuel economy
Works well on almost all road types
Cons
Getting the right size might be a bit tough
---
Gladiator Xcomp MT Tires Video Review 
---
Ending Words
I think this article has helped you to know a lot about Gladiator tires. I've used those for a long time. So, I assumed sharing my experience and thoughts about these tires would help you more.
If you're looking for tires for long-distance running and carrying heavy loads, tires from Gladiator are awesome. If you're thinking about some off-roading fun, tires from Gladiator are great. You'll get them within a strict budget.
All you have to make sure that you're spending on the right one if you want to get the best out of them. So spend some time researching and choosing the most perfect tires for your vehicle and purpose.