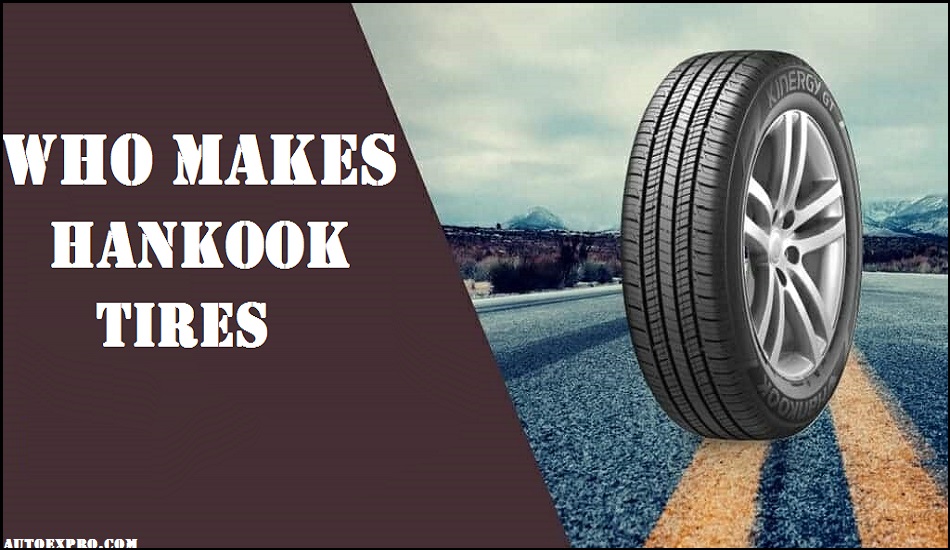 If you're with vehicles and automobiles for around a year, you must know the name of Hankook tires. These are some awesome tires found in the market known for their excellent performance. Starting from improved handling to durability, Hankook tires are of absolute value for the money spent.
So, a question should come to your mind- who makes Hankook tires? Not knowing it is not a big deal. But if you're really interested in knowing, here I'm talking about the manufacturer of Hankook tires and a few more information about them. So, stick to me.
Who Makes Hankook Tires?
Hankook tires are manufactured by the company named Hankook Tire & Technology.
This company has several manufacturing plants around the world where it manufactures its tires. So, we can say that Hankook tires are made solely by Hankook. They don't have any third-party manufacturing plants involved in their process.
Maybe this is one of the crucial reasons Hankook tires are performing this good. With almost zero quality drops, Hankook is serving the market for a long time.
Hankook has its own manufacturing plant in Clarksville, Tennessee. From this plant, it produces and delivers to cover a huge portion of demand in the USA.
History of Hankook Tires
Hankook started its journey in 1941 as Chosun Tire Company which was the first automobile tire manufacturing company in Korea. In 1953, the name was changed to Hankook Tire Corporation.
Just after 20 years of operation, it started exporting tires outside Korea. In 1962, it exported tires to Pakistan. In 1975, Hankook tires went to Iran. In 1976, it started its branch in Kuwait.
With its innovation and manufacturing power, Hankook started spreading its offices and getting recognition from different countries. Its USA office started its journey in 1981. This was just the start. With time, it has established several manufacturing plants and offices around the world.
Also, Hankook has partnered with a number of brands and become the official tire supplier for those brands.
Hankook is in motorsports too. It has sponsored a lot of motorsports competitions and teams to prove themselves on the track by setting new records. With the help of the quality tires from Hankook, several records are set. Overall, the involvement of Hankook in motorsport has helped the brand itself and racers to prove themselves.
With a rich history, impressive track record, and continuous improvement, Hankook is obviously a dependable name when it is about vehicle tires.
---
Different Types of Hankook Tires
Hankook makes tires for several types of vehicles. Below are some of the types of Hankook tires you'll find in the market.
Tires for Bus/Truck
Smart Flex is a truck or bus tire from Hankook that is made for different types of trails. Smart City is specially made for city roads. Also, e-cube and AH are two more bus/truck tire series from Hankook.
Tires for Light Truck
For light trucks, the most effective tires from Hankook are the tires of the DynaPro and Vantra series. These are typically for all-season and all-terrain tires. In winter, i*pike is the perfect pick for you.
Tires for SUV/CUV
For SUV/CUV, Hankook has several series. Among those, DynaPro is a good one. Ventra tires are also good for SUV/CUV. Also, you'll find i*pike, i*cept, and Kinergy.
Tires for Passenger Cars
Several tires from i*pike, i*cept, Ventas, and Kinergy series are designed and manufactured for passenger cars. Obviously, there are differences because of the seasons and terrains.
These are the common types and series of tires from Hankook. Also, they have two tires under the Vantra series that are specially designed and made for trailers.
---
Reasons You Should Pick Hankook Tires
Hankook is a well-known name in the industry because of many reasons. Below are some reasons why you should select Hankook tires.
Value for money
Hankook provides value for the money you spend on it. Compared to a lot of tires in the market, it may seem a bit overpriced. But it performs way better than those cheap tires.
According to the performance, Hankook ensures premium tires within a lower budget range.
Groundbreaking Technology
Hankook has spent a lot on its research and development purposes. This is why it has introduces some of the great tire technologies in the tire industry.
To help you face the harshest road condition, Hankook sure has something. With time, their technological advancement is helping them to be better day by day.
Tire for Every Situation
Hankook has tires for every weather condition and all types of roads. From winter-specific tires to all-season tires, check Hankook and you'll find the most suitable one for you. You won't be disappointed with any tire from Hankook.
Improved ride Quality
Hankook is focused on improving your ride quality. This is why it uses multiple ways to help you to get rid of excess noise while driving.
Besides, it has introduced technologies that ensure that your tires are not shaking at high speed. Also, it has focused on improving handling.
These are not the only reasons why you should go for Hankook tires. There are many more.
---
Top 2 Hankook Tires in 2022 – Expert Review
1. Hankook Kinergy GT H436 All-Season Radial Tire – 225/60R17 99H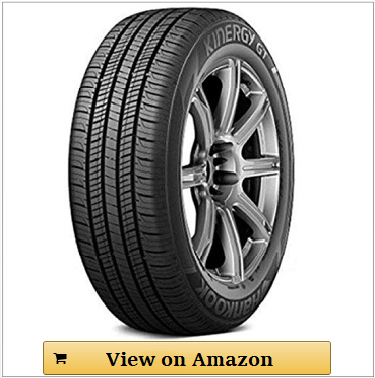 From Hankook, this is a good passenger car tire on which you can depend around the year. This all-season radial tire is made of quality material to withstand the issues on the road. However, on a dry road, it delivers its best performance.
It comes with four circumferential grooves and wide lateral grooves to ensure a better hydroplaning design. Besides, the step-wing shoulder also ensures quick expulsion of water. Thus, it ensures a better control on wet roads.
The strong center rib also ensures a better grip. For winter, it comes with champer sipes. These ensure better snow grip. You'll also find lateral grooves optimized for snow performance.
The overall handling is improved in this tire by its uniform tread pattern. And finally, to keep the noise low, the pitch sequence is optimized for calm performance.
Overall, this is a tire that is designed and manufactured for maximum handling in almost all types of road conditions. If you own a passenger car, you should try this one.
Pros
Designed for all-season dependability
Optimized for different road condition
Made to make low noise
Stable and sturdy structure
Cons
Tire life is shorter than expected
2. Hankook Dynapro HP2 All-Season Radial Tire -255/55R18 109V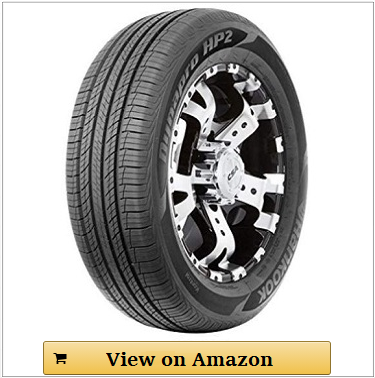 For your SUV/CUV, if you need an all-season tire, you can depend on this from Hankook. It offers a calm and almost noise-free driving experience because of the building material and special tread design. Let's talk more about it.
This tire includes a silica compound that ensures better traction and less sound. Besides, to keep sound lower, it comes with silencer sipes on the sides.
To get maximum water out of the road, it comes with 4 circumferential grooves. Besides, it is loaded with aqua slant sipes and grooves to reduce contact with water. For better control, the center tread blocks are made stronger and designed precisely.
This tire is designed for a comfortable riding experience with maximum mileage. This is why it comes with a précised design with a carefully thought structure. The reinforced belt in the tire is jointless and covers it fully to ensure stability when you drive at a high speed.
Overall, you'll love how it performs.
Pros
Provides value for the expense
Performs great in both snow and rain
Doesn't shake at a high speed
Comes with a dependable structure with multiple layers
---
Frequently Asked Questions (FAQ) About Hankook Tires
Are Hankook tires any good?
Everything you've gone through till now in this article says that Hankook tires are actually very good. These are some quality tires made and offered at a reasonable price. So, you can depend on these tires without any worries.
Does Hankook have any third-party tire manufacturers?
Hankook doesn't have any third-party tire manufacturer who makes tires for them. This company has several manufacturing plants throughout the world that make tires to meet the demand. So, Hankook doesn't have to hire any third-party manufacturers to work for it.
How does Hankook improve the performance of its tires?
Hankook is focused on leading the market through innovation and the introduction of a lot of different types of technologies in the industry. So, it has established a strong Research and Development department. This is how Hankook continuously improves the performance of its tires.
Can Hankook tires be called the best in the market?
The question is a bit tricky. However, I won't say that all the Hankook tires are the bests in the market. It has several tires that outperform most of the tires. Also, some tires are not as good as expected. So, it is tough to answer it directly.
However, most of the Hankook tires are made to deliver great performance within a budget. You can say that Hankook tires are some of the bests in the price range these are offered.
---
Expert Video About Who makes Hankook Tires? 
---
Final Verdict
You can see that Hankook has a wide range of options for you that are priced reasonably. Besides, it is focused on ensuring performance and safety so that you get the best output for the money spent on these.
If you need quality tires at a reasonable price range, Hankook is the best option for you.