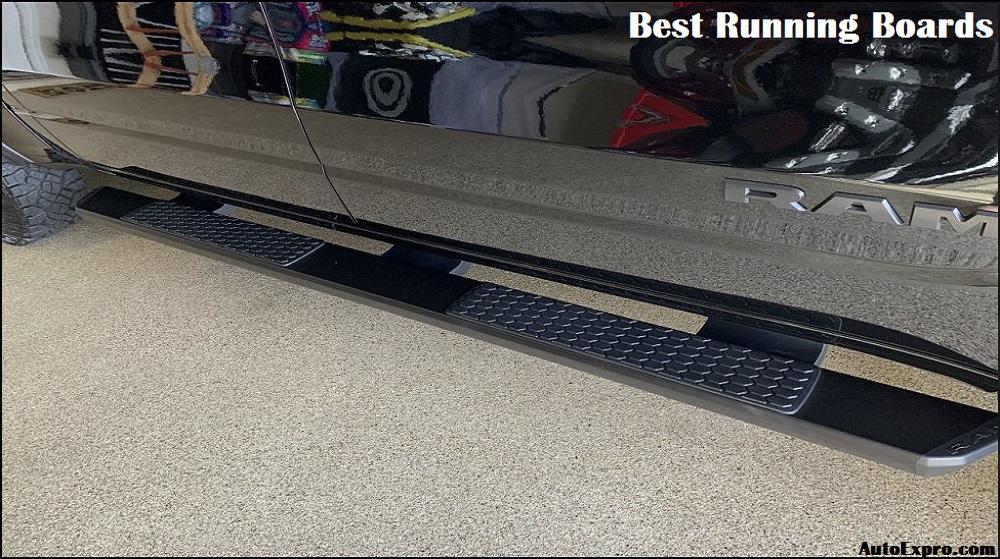 Accessing your truck and coming out is always easy if you have a running board installed. So, picking up an aftermarket running board as a part of upgrading your vehicle is always recommended. I guess you're trying to do that and search for one right now.
If so, keep patience. I have something for you. As a vehicle enthusiast and workshop owner, I've had enough scope to go through several running boards for different vehicles. From that experience and personal research, I'm going to recommend you the best running boards for some common vehicles- Chevy Silverado, Chevy Colorado, Toyota Tundra, Jeep Wrangler, and Ford F150.
I guess you'll find your vehicle model here and get to know the running board that fits the best to your vehicle. I've talked about all the features in detail and how those help you. So, you'll know how you'll be benefitted by picking those. Also, I've added a buying guide to help you to know the way to choose the best one.
Seems interesting? If so, stick to me till the end, and let's talk. Together we'll find the best fit for your vehicle.
Top 6 Best Running Boards and Side Steps in 2022
1. APS iBoard Running Boards – For 2020 Silverado Crew Cab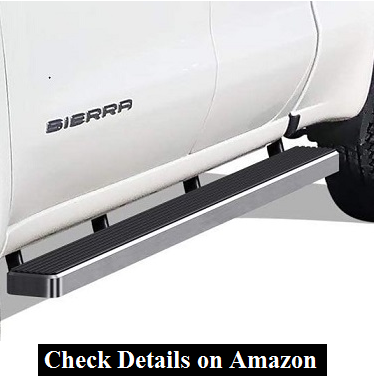 Do you own a 2020 Silverado Crew Cab and looking for a running board? If so, don't hesitate to pick up this APS iBoard. It delivers superior performance because it is strong, built with quality material, and fits perfectly into your vehicle.
6061 Aircraft-grade Aluminum is used to build the body of the board. As a result, it is strong and rust-free yet lightweight. To ensure better corrosion resistance, it comes with a matte black powder coating that covers the whole board properly.
The step pad of this is made of premium quality rubber that ensures a firm grip on your legs. The pad is secured on the body with an extra rivet so that it doesn't come out after a few days.
The rubber anti-slip grip covers the whole body of the board. As a result, you'll have enough space to step on. The whole board ensures a low-profile look that goes with the body of your Silverado.
The whole board is made of solid one-piece aluminum ensuring that there is no weak point or joint in it. Thus it provides a longer service life. Also, durability is ensured by the rubber pad because it is UV resistant. So, the sunlight can't do any harm.
The iBoard comes with color and size variety. You'll find two color variations – black and silver. The black one is black powder coated and the silver one is polished hairline finished.
There are three size variations- 4-inch wide, 5-inch wide, and 6-inch wide. You can pick any according to your need.
Each APS iBoard is made to take a load of around 300 lbs. Thus it ensures support for a wide weight range.
With the help of rocker panel mounts, you can easily install the boards to your vehicle. In total, you may need only one hour to finish the installation process. All the necessary hardware is included with it. There is also an instruction manual that can support you to understand the process.
Pros
Durable
Easy to install
Ensures wide stepping area
Great for you if you like low-profile design
Cons
The instructions are slightly complex
---
2. Tyger Auto TG-RS2C40048 RISER – For Chevy Silverado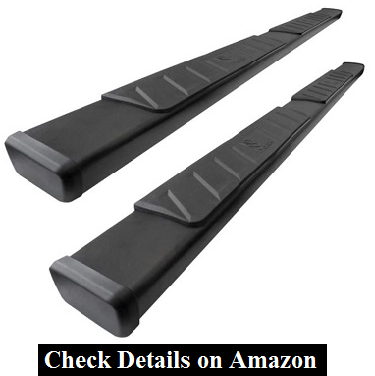 For Chevy Silverado running boards, Tyger Auto is a dependable name in the market. These Risers from Tyger Auto designed for Chevy Silverado are the best performers according to my experience.
Right here, I'm going to discuss the riser that fits the 2015-2021 Chevy Silverado Crew Cab. But others that fit other models also have similar features.
The riser from Tyger Auto is made of a heavy-duty mild carbon steel tube that ensures strength. Because of the heavy-duty steel construction, the bars are slightly heavy.
Step-pads are made of quality material to ensure better grip.
The steel tubes used are triangle-shaped. So, these don't reduce the ground clearance by a large amount. Also, the simple design ensures a low-profile look when rectangular end caps put an OE appearance.
The step pads don't cover the full length of the board. But those are long enough to provide you enough space to step on while getting in or coming out.
To ensure maximum performance for a long time, the tubes are pre-treated to extract impurities. After that, special e-coating is applied inside and outside of the tubes. And finally, two coatings of gloss black powder are applied. Hence, the tubes remain safe from rust, sun, and other components for a long time.
Step pads are made to be UV resistant to support the longevity of the bars.
You'll see color and size varieties for these running boards. These come in two different colors- black and stainless steel.
As for size variation, you can choose between two widths- 4-inch and 5-inch.
I haven't found the maximum weight capacity of these running boards. But I assume that it comes with a minimum of 300 lbs. weight capacity. One of my clients is around 255 lbs and he hasn't found any problems with this weight at all.
These running boards are easy to install. You won't have to drill while installing these. Each board comes with pre-drilled holes to make the installation easy. The rocker panel mounts are enough to get it installed. With the help of the instruction manual, you can install it within an hour.
Pros
Multiple coating for longer life
Ensures low profile and OE look
Maximum rust protection
Strong enough to hold a load
Cons
Installing by newbies is not recommended
---
3. Tyger Auto TG-AM2C20178 Star Armor Kit – For Chevy Colorado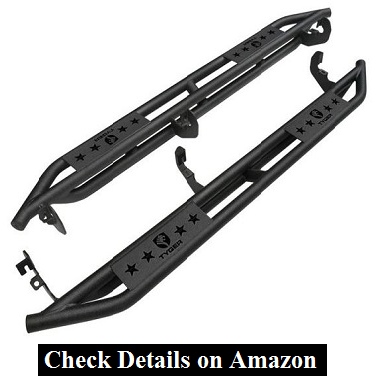 Star Armor is another top-rated chevy colorado running abords variation from Tyger Auto that comes with a sturdy and rough look. Right now I'm going to talk about the Star Armor kit that fits the 2015-2021 Chevy Colorado Crew Cab. If you own another model, you'll get one for yours too.
Star Armor running boards are made from carbon steel tubes of 2-inch diameter. The tubes are connected using seamless robotic welding to ensure maximum strength. Step pads are made of metal for stronger support.
There are sealed end caps on each side to provide strong protection so that water can't enter the tubes.
Each board is made of three pieces of tubes connected. There are multiple support tubes too. Its three-tube construction consumes comparatively more space at the bottom. So, if you need huge ground clearance, you need to lift your truck if it is installed.
The step pads don't cover the full board but those are placed precisely in exact places. These pads come with star marks on them done by laser-cutting technology. The design is patented by Tyger Auto.
To ensure durability and better rust-resistant, each tube goes through a 3-step process- pre-treatment, e-coating inside and out, and at the last two stages of textured black powder. So, you're getting a durable running board that'll support you for a long time withstanding any type of weather condition.
The step pads also go through multiple coating processes to withstand the durability of the tubes.
According to Tyger Auto, each Star Armor board can take a load of 300 lbs. But I think it can withstand a bit more load than this. I haven't tried this yet.
It comes with the comfort of easy bolt-on installation. So, you won't have to spend a huge time installing it. You can install two running boards within only 30-40 minutes. Installation guide and all hardware are available in the package.
Pros
Withstands different weather conditions
Provides a sturdy and rough look
Super-fast installing
Supports you for a long time
Cons
May face ground-clearance issues in not-lifted trucks
---
4. TAC Side Steps – For Toyota Tundra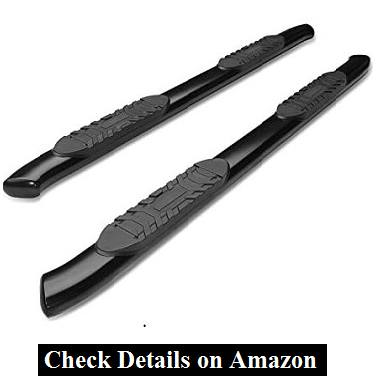 For Toyota Tundra, you'll find APS or Tyger Auto with similar features talked about above, but I prefer TAC. There are reasons. Let's talk about one of my favorite TACs, suitable for 2007-2021 Tundra Double Cab.
TAC running boards are made of heavy-duty engineering-grade steel or marine-grade mild steel, to ensure strength.
Each of the boards comes with step pads with a textured surface. Being manufactured with non-slip material, the pads offer firm steps for you.
The one-piece steel tube construction with a CNC machine bend ensures a perfect look from the outside. So, if you want running boards that look simple and perfect, you can pick these.
Each board provides a 3-inch wide surface for stepping which is kind of a con for some people. But I like this because 3-inch is quite okay for me. Also, as the width is not much, it helps me to keep a low-profile appearance.
The boards come with two coatings over the steel tubes. At first, it is e-coated and then powder coating or mirror polish finishing is applied over it. Thus the boards are made and secured from rust and other contaminants. So, you'll get a durable performance from your TAC.
The step pads are made of UV-resistant material to ensure long-term service.
You'll find two variants of TAC side steps for your vehicle. The black-colored one is made of heavy-duty engineering-grade steel and comes with a black powder coating. The steel-colored one is made of marine-grade stainless steel with a mirror-polish finish. Both offer superior performance. So, you can pick one without any hesitation.
I haven't found the weight capacity of these bars. But, while researching, I found that someone has tested it and each was able to handle 350+ lbs weight. So, it can handle your weight, for sure.
It comes with everything needed to install it. The installation process doesn't need any drilling. But installing with the help of a professional is recommended. It may take around 2 hours to install both of the boards.
Pros
Keeps low-profile appearance
Handles 350+ lbs
Made to be durable
Simple but works great
Cons
The installation process needs expertise
TAC Side Steps for Toyota Tundra Video Review
---
5. AMP Research 76151-01A PowerStep Electric Boards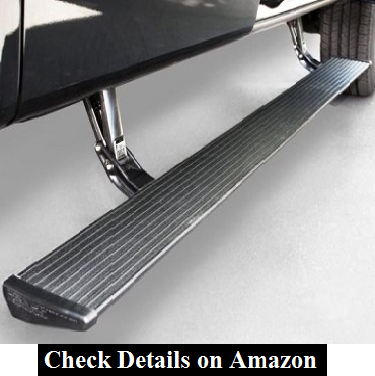 Here I'm picking an electric running board for your Ford F150. It extends when you open the door and hides when you close the door. Seems great, right?
This electric running board is designed to be compatible with 2015-2020 Ford F150 all cabs. But trimming is needed for Regular Cab and SuperCab.
The stepping board is made with high-quality die-cast aluminum that can take the excess load while ensuring lightweight. So, handling it is very easy. The pivot pins of these boards are made of stainless steel.
OEM quality motor, wiring harness, and drive system are used to control the boards. So, you can depend on the performance without worrying.
The boards are designed to ensure a very simple look. You won't find any specific step pad. But the whole board is textured so that you can step anywhere without the risk of falling.
As it is designed to hide when the door is locked, you'll get maximum ground clearance while driving.
These boards come with a military spec finish- anodization and PTFE coating. So, it ensures safety from corrosion and you can use it for a long time.
To ensure durability, each component of the package is weather-proof. Even the bushings are maintenance-free and self-lubricating. So, don't worry about durability, no matter what is the weather.
Each of the boards comes with a huge load capacity of 600 lbs. I'm sure that you won't need this much load capacity, but this is awesome, right?
Installing these running boards is a bit complex process and requires time and patience as you need to connect with the motor and face some other hassles. So, I recommend you get it installed by an expert. The installation process needs drilling too. This may affect your vehicle warranty too. But it is worth the risks you take.
It comes with an integrated LED light system so that you can see where to step at night.
Pros
Fully automatic running board
Weather-proof
Lightweight yet extremely strong
Ensures maximum ground clearance while driving
Cons
Needs drilling which may violate your vehicle warranty terms and conditions
---
6. AUTOSAVER88 6 inches Running Board – for Jeep Wrangler Unlimited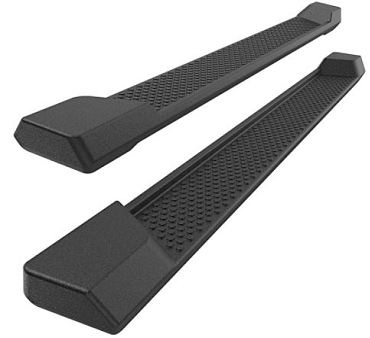 Plastic-made running boards also work great to serve you the purpose and support you for a long time. Right now, I'm going to talk about one of this kind from AutoSaver88. The board I'm discussing right now is compatible with the 2018-2021 Jeep Wrangler JK Unlimited. You'll find it for other models too.
Heavy-duty premium UV and corrosion-resistant ABS plastic is used to manufacture these running boards. The material is slip-proof. So, you can step on these without the risk of breaking.
Because of the plastic construction, the boards are lightweight and ensure easy handling.
There is no extra step-pad in these side steps. Instead of that, almost the whole board comes with a slip-resistant textured surface. So, you're getting a long and 6-inch wide stepping surface to ensure comfortable stepping.
The low-profile sleek design easily matches your vehicle and gives it a simple yet catchy look.
The one-piece design of this board ensures that there is no specific weak point that can break easily. Also, to help it to survive in different weather conditions, AutoSaver88 has used textured coating over the surface. So, it can withstand harsh weather conditions and provides you maximum support while stepping out or in.
Being a plastic running board, it offers a huge load capacity. Maybe you won't believe that each of these boards can hold up to 450 lbs weight without breaking. So, to get great support under your feet, you can pick one of these.
You won't face any hassle while installing it. These are made to be an exact fit. You won't have to cut or drill anything because it comes with an easy bolt-on installation option to save you from installation hassles. The mounting kits are designed depending on the design of the vehicle models.
Also, as this is lightweight, you won't need a huge time to install it.
Pros
Very lightweight
Withstands harsh weather conditions
Installation is very easy
Able to handle a huge load
Cons
6-inch width seems a bit wider to me. 5-inch would be perfect.
---
Best Running Boards Buying Guide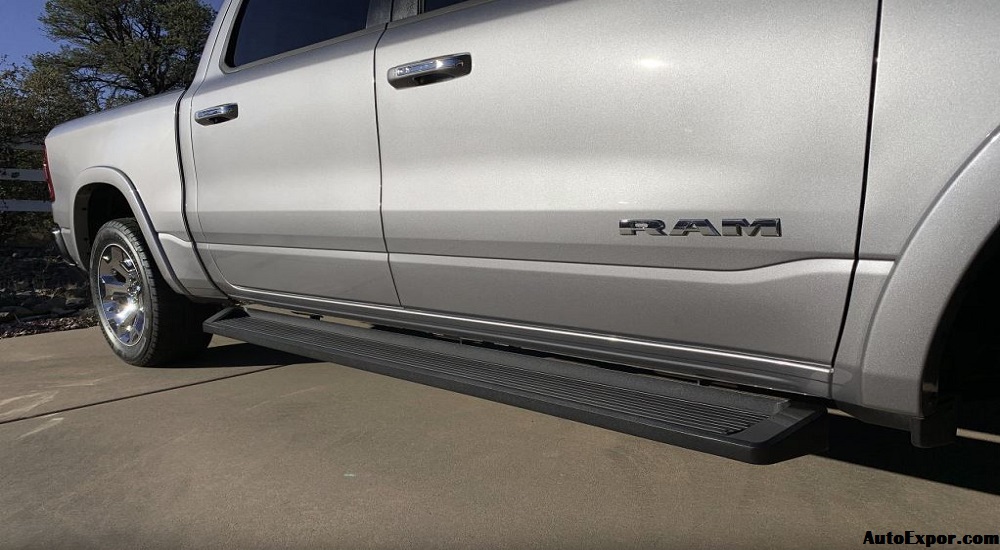 Before picking up a running board for your vehicle, you should check a few things. Below are the main points you should focus on while buying a pair of running boards.
The first thing to check is the compatibility with your vehicle. Running boards should be well-matched with the vehicle model if you don't want a mess. Installing will be a total mess if you try to fit the wrong board into your vehicle. So, check whether it is suitable for your vehicle or not.
Common materials to manufacture running boards are steel, aluminum, and plastic. Steel ensures maximum strength while aluminum ensures lightweight. Both materials offer superior weather resistance but are prone to rust in the long run.
Still, these two are the most preferred materials as many people can't put believe on plastic. But plastics are cheaper options compared to steel and aluminum. Nowadays, you'll see some plastic running boards offering strength and weather resistance too.
Some boards come with stepping pads and some offer the whole surface for stepping. No matter what the stepping surface is, it should be slip-proof and durable. To make it slip-proof, the surface should be textured.
Also, the stepping surface should be wide and long enough to ensure a firm step.
Weight capacity is also important because it ensures safety and durability. The minimum weight capacity of maximum boards is 300 lbs. which is enough in many cases. But in some cases, more weight capacity is needed. So, choose carefully.
Width also matters. Typically getting a wide board is preferred because wide boards provide a wide area to step on. Also, wide boards keep vehicle paint safer. But, too much width may restrict the access underneath the truck. I prefer 4-inch or 5-inch wide side steps.
However, if you have the tools to lift the vehicle, you can get as wide as you want.
You should pick a pair of running boards that can withstand different weather conditions. Maximum boards out there are made to survive and perform well in different weathers. So, you'll find some easily.
Besides these, you should check the customer reviews and expert reviews to get an overall view of the running board you're going to buy. Invest in a good pair of side steps and those will be supporting your steps for a long time.
Tip to Buy Side Steps for Your Vehicles 
---
Added Benefits of Using Running Boards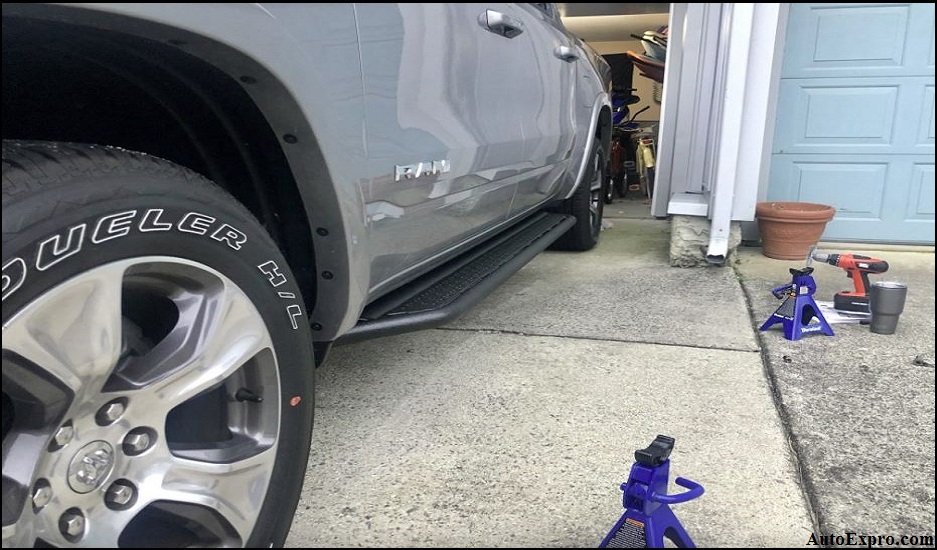 A running board is not necessary for your truck. But having a set of quality side steps helps you to enter into or exit from the truck easily. Also, there are more benefits that running boards provide. Check these below-
You can keep the interior of your truck clean by wiping your shoes on the running boards.
Running boards save your vehicle's side paint by protecting the body from friction.
Picking the perfect Nerf bars can help you to make the vehicle's appearance more attractive and cooler.
Running boards also save the side paint by blocking small pieces of stones and rocks.
---
Frequently Asked Questions About Running Boards
Does installing running boards affect gas mileage?
Adding running boards means adding weight. The added weight will affect your gas mileage negatively for sure. Running boards also do so, but not that much. Also, if want to minimize the effect to as low as possible, you have options for that. Aluminum and plastic boards are lighter. So, you can use those if you don't want to affect your mileage much.
What are the differences between Nerf Bars, side steps, and running boards?
To me, nerf boards, side steps, and running boards are just different versions of something that helps you to get into or exit the cab of your truck. The main differences between Nerf Bars and running boards are the width and shape. Nerf board is kind of oval and not so wide. On the other hand, running boards are flat and wide.
Again, the difference between side steps and running boards is the structure. Side steps are slightly dropped down and provide a little space to put your feet. On the other hand, running boards offer a long and wide space to put your steps.
Does installing Nerf bars/side steps void the warranty?
It depends on the warranty policy of your vehicle. In maximum cases, drilling or cutting voids the warranty. So, if installing the Nerf bars needs cutting or drilling, the warranty will be no longer valid. However, maximum Nerf Bars don't need drilling or cutting. So, you can use those without any worries. To get the best answer, check your vehicle warranty terms and conditions.
How much does it cost to install running boards?
Installing running boards is easy. So, you can do it by yourself. However, if you're not interested, leave the task to someone professional. It'll cost you around 50$ to 150$ to get your running boards installed.
---
Final Verdict
Each of the running boards reviewed above is the best running board for the respecting vehicle models. I've reviewed those from my personal experience, feedback from my clients, and online research on customer feedback and product features. So, I've had enough scope to find out the best one and present it in front of you.
Now you know how to pick the best one for you. So, you can compare my recommended running boards with others available in the market and choose yourself. The decision is always yours. Make it wisely.