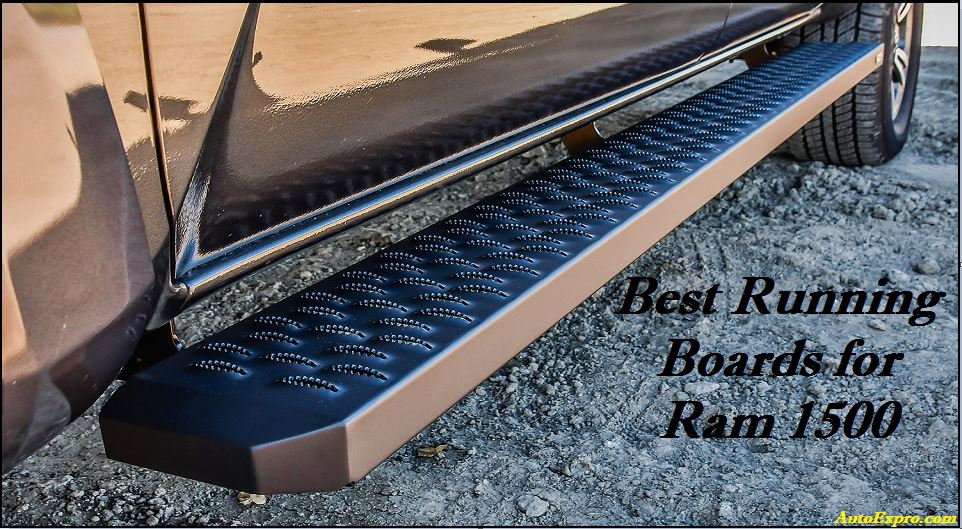 Starting from helping you or your passengers to get in or come out of the vehicle to protect the vehicle paint from rock chips, the running board does a lot for you. Adding a running board to your vehicle may not be the most important upgrade, but it is worth it. Maybe you've also understood the thing already and that's why you are here.
If you are looking for the best running boards for Ram 1500, you are in the right place. I've gone through a number of running boards available for Ram 1500 and picked up the top 10 from those. After that, in this article, I've written about the top 10 running boards I've found. So, that'll definitely help you to pick one.
Also, I've added a buying guide and answered the most common questions asked about running boards. Don't miss those. Let's start with the reviews of my top 10 picks.
In a Hurry? Check Our Top Pick!

Top 10 RAM 1500 Running Boards Comparison Table
Image
Product
Features
Price
APS iBoard Running Boards 5 inches

Made with 100% aircraft grade 6061 T6 Aluminium
5" wide non-slip step pad
Easy to install Rocker panel mount
300lbs load capacity
Silver Aluminium finish on the outer layer

Check on Amazon
Tyger Auto TG-RS2D40078 RISER Side Step

Forged with Carbon steel
4" wide UV-resistant heavy-duty non-slip step bars
Superior load capacity and easy installation
Compatible with trucks with Crew Cab
Black –powder coating for rust resistance and a better look

Check on Amazon
Tyger Auto TG-AM2D20078 Star Armor Kit

Forged with Carbon steel
Tyger patented unique STAR metal step pads
Up to 500lbs load capacity for each side
Fit with only crew cab with 4 full-sized doors
Dual stage powder coated textured black finish

Check on Amazon
axMate Oval Stainless Steel Running Boards

Made of welded stainless steel
4 Inch-wide oval-sized heavy duty 2 step bars for driver and passengers
Easy bolt-on installation with ¼ inch of minor drilling
Strong weight capacity
Easier access to pickup vans and SUVs
Stainless steel exterior

Check on Amazon
APS Drop Steps Running Boards Rocker Slider

Made of Aluminium square tubes
Non-skid threads with a raised edge on the step bars
Custom bolt-on step installation; include all hardware
300 lbs weight capacity
APS's unique patented design for light-duty urban use
Triple-layered matte black powder-coated finish

Check on Amazon
TAC Side Steps Running Boards

Bars and brackets are made with heavy-duty mild steel
3" wide round tube, UV-resistant, non-slip sidestep
Easy mounting without cutting and drilling
TAC CNC bending craft
Heavy texture powder coating finish with E-coating

Check on Amazon
OEDRO 4 inch Running Boards

Trapezoidal heavy-duty thick tubing.
4 Inch wide slip-proof, rust-resistant "set of 2" boards
300 lbs weight capacity
Texture black finish with E-coating layer, carbon steel layer
Skid-resistant surface, easier to clean

Check on Amazon
VioGi Oval Running Boards

Built from heavy-duty T-304 stainless steel
2 pcs 4" wide oval-sized tube and slip-resistant
Can hold up to 450 lbs
Mirror polished surface and shiny chrome color
Direct bolt-on installation

Check on Amazon
6″ Black Oval Tubing Side Step Nerf Bar

Built from rust-resistant stainless steel
6" wide large slip-proof step pads
Simple no-drill installation
Weight capacity-500 lbs
6" wide oval tubing

Check on Amazon
APS Off-Road 6.5in Side Running Board

Material – Aluminium
Unique square tube design and slotted step pads
Ultra-wide 6.5-inch steps for support
Supports up to 300 lbs
Rugged square tubing

Check on Amazon
---
Top 10 Best Running Boards for Ram 1500 Review
1. APS iBoard Running Boards 5 inches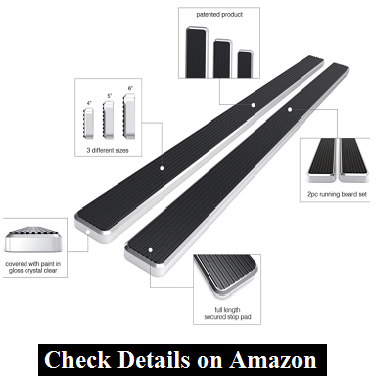 This light, durable, and simple yet good-looking running board from APS can be your first choice if you are searching for one for your Ram 1500. It is compatible with the 2009-2018 Ram 1500 Crew Cab.
The best thing about this board is its unibody design. The whole running board is manufactured from a single piece of aircraft-grade 6061-T6 aluminum. The end caps are also aluminum-built and welded by the robotic arm. This has made it ultra-light, durable, and strong. The load capacity is around 300 lbs. It is also free from rust because of the aluminum build.
The full upper surface of the board is covered with a quality rubber pad that ensures grip for your shoes. As a result, you won't slip even if you are in a hurry. This is a great feature, especially for children and elder people.
After completion, the board goes under a few tests to prove itself including a salt spray test to ensure corrosion resistance, a load stress test to check the weight capacity, an accelerated weathering test to ensure UV resistance, and a rubber friction co-efficient test to check anti-slip protection. Boards that pass the tests are made available in the market. As a result, you get a perfect running board for everyday use. Even in tough conditions, these boards can easily survive.
You'll receive a pair of running boards, easy-to-install mounting brackets, and a hardware kit. But there is no left/right or front/rear mark, so you might be confused while installing.
Related Post: Top-Rated Tonneau Cover for Your Truck Review
Pros
Light, strong and durable
Built from a single piece of aircraft-grade aluminum
Goes through a number of tests
Full-length step pad
Low-profile design with a smooth finish
Cons
No mark or front/rear end or left/right piece
---
2. Tyger Auto TG-RS2D40078 RISER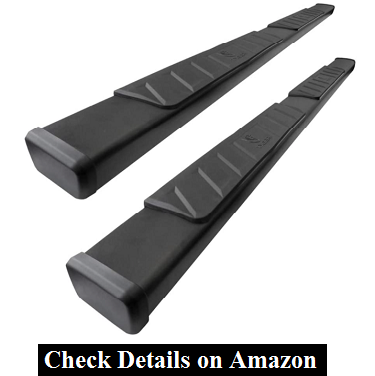 If you are looking for a compact-looking, strong, and sturdy running board for your Ram 1500, consider keeping these Nerf bars at the top of the priority list. It is compatible with the 2009-2018 Ram 1500 Crew Car and the 2019-2020 Ram 1500 Classic.
This board is manufactured using a 4-inch T304 marine-grade stainless steel triangle tube. The tube is pre-treated so that there is no impurity. Special E-coat is applied inside and outside of the bar to make sure that it remains free from rust. The dual-stage gloss black power ensures a premium look. Because of the triangle shape of the bar, it ensures better ground clearance.
Though it is a triangle tube construction, the end caps are kept rectangular so that you don't lose the OE look. There are two non-slip step pads attached to each bar. The pads are UV-resistant to make sure that the premium color lasts for a long time. The non-slip feature ensures the safety of the passengers too.
Installing this running board is really easy. Bolt-on installation allows any vehicle DIYer to fit it easily. However, some models may need small drilling. You'll find that in the installation instruction that comes with it. Also, mounting hardware is included. So, you won't have to buy anything.
Pros
Marine-grade steel construction
Doesn't affect ground clearance
Black powder finish for a premium look
Maintain the OE look
Pre-treated to eliminate impurities
Cons
Installation instruction might be a bit confusing
---
3. Tyger Auto TG-AM2D20078 Star Armor Kit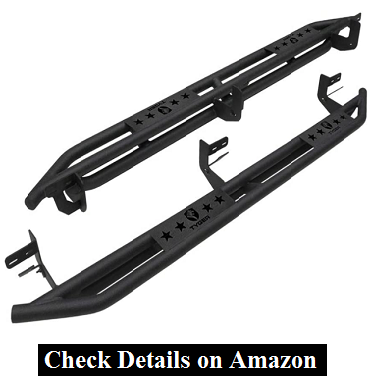 This heavy-duty and strong running board from Tyger Auto has something that has helped it to get a position in the list of the best running boards for Ram 1500. Coming with a catchy design and huge weight capacity, this running board gives your vehicle a different look. It is compatible with the Ram 1500 Crew Cab of 2009 -2018 models and the 2019 -2020 Ram 1500 Classic.
Each of these boards is made of three one-piece heavy-duty metal tubes of 2-inch diameter. To make sure that the tubes are rust-resistant, they are pre-treated to reduce contaminations, unique E-Coated inside as well as outside, and coated with textured black powder. To keep the dirt and water out of the tubes, these are welded well. Also, the sealed end caps are durable and strong enough to prevent water and dirt from entering the tubes.
The metal step pads of the board help in stepping in or out. Firmly welded step pads make sure that you get a firm and comfortable step on it. One of these durable and heavy-duty steel-constructed running boards can take up to 500 lbs weight. That's insane, right?
Bolt-on installation allows you to easily install the boards in your truck. However, drilling may be needed for 2009 – 2012 models. Everything comes with the package, along with instructions for installation.
Related Post: ARB TRED Pro vs. MAXTRAX: Ultimate Solution to a Common Debate
Pros
Can take heavy loads up to 500 lbs
Gives your vehicle a sturdy and tough look
Rust and corrosion resistance
Seamless robotic welding ensures durability
A smooth finish enhances the look
Cons
Sometimes welds are soppy
---
4. MaxMate Oval Stainless Steel Running Boards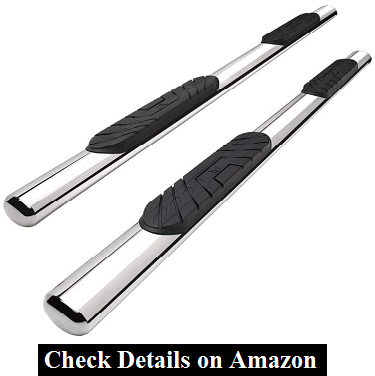 Coming from MaxMate, this is another best Nerf bars that can blow your mind. This strong, shiny, and quality running board is compatible with the following models- 2009 – 2018 Ram 1500 Crew Cab and 2019 – 2020 Ram 1500 Classic.
This oval-shaped running board is made of a 4-inch oval-shaped stainless steel tube which is durable and heavy-duty. As a result, you'll get the expected performance for a long time. There are welded steel caps on both ends of it so that it remains safe from dust and debris. The glossy look of the steel tube ensures an eye-catching premium look for your vehicle.
There are 4-inch wide step pads to place your foot when entering into or coming out from the vehicle. These pads are non-slip pads which makes sure that you get a firm grip while stepping on them. UV resistance feature is a plus that keeps the color protected for a long time. Though the bar is oval, the upper surface of the pad is flat. So, stepping on it wouldn't be a bad experience.
You can easily install this as the DIY installation instruction is included in the package. Also, just like previous boards, you'll get mounting hardware too. All you need is to get your tools and follow the instructions.
Pros
Oval-shaped bars give a different look
4-inch width keeps it low-profile
Step pads have a mild design
Value for money
---
5. APS Drop Steps Running Boards Rocker Slider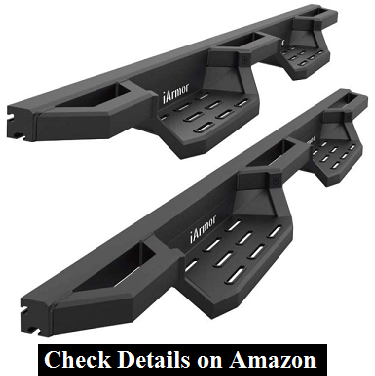 APS has designed this stylish and classy-looking running board for those who are interested in bringing a different look to their vehicle. This design is patented by APS. So, you are getting this unique look nowhere else. This running board is suitable for 2009 – 2018 models of Ram 1500 Crew Cab and 2019 -2020 Ram 1500Classic.
Being made of square aluminum tube, this running brad is lightweight and ensures better protection against rust and corrosion. It comes with a triple layer of black powder coating which enhances the protection and ensures an aggressive tough look that you'll love.
The step pads of this board are of drop-step style which enhances to look as well as makes it comfortable to step up. Long holes on the step pads reduce mud accumulation and keep it safe to step. Raised edges ensure a strong grip. Pads come with bolt-on installation, so it won't take much to attach step pads to the board.
The whole aluminum build keeps it light and that's why this board can save your fuel. Though it is light, it can handle a weight of about 300 lbs easily which is enough for you, I guess.
It comes with instructions to install and the required hardware. While installing, all you need to do is follow the instructions.
Pros
Stylish and unique design
Premium and tough look
Lightweight yet strong and durable
Protected against rust and corrosion
Low and comfortable step pads
---
6. TAC Side Steps Running Boards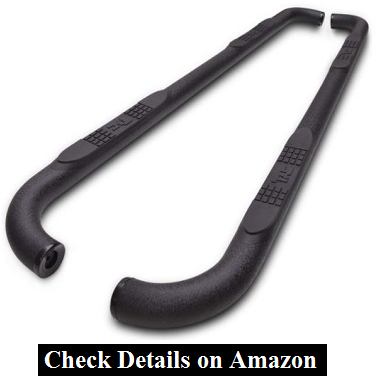 Being a low-profile and strong running board from one of the top aftermarket manufacturers, this side step is something that you can give a try. It fits any 2009 – 2028 Ram 1500 and 2019 – 2020 Ram 1500 Classic.
TAC has made this board with a 3-inch round-shaped ultra-strong and heavy-duty engineering grade mild steel tube to keep it low profile yet strong. The A+ grade black powder coating over the tube ensures scratch protection, weather protection as well as rust protection. Both sides of the bar are bent with a CNC machine for précised results. End caps with mounting holes ensure easy mounting to the vehicle.
While talking about the best side step, the step pad is one of the most important things. TAC has also focused on this very well. The non-slip pads are made from polyamides and glass fiber and come with UV protection to keep the look and grip for a long time. The rectangular block design gives it a simple yet catchy look.
It comes with custom-made brackets with a heavy texture finish. As a result, installing it to the vehicle won't be a struggle for you. Everything is included in the package. So, if you are interested, order it and install it. Simple, right?
Pros
Low profile design ensures low profile look
Easy mounting options
Mild steel tube construction
Sleek yet feels great to step
Cons
You may receive the package missing bolts
---
TAC Side Steps Running Boards Video Review
---
7. OEDRO 4-inch Running Boards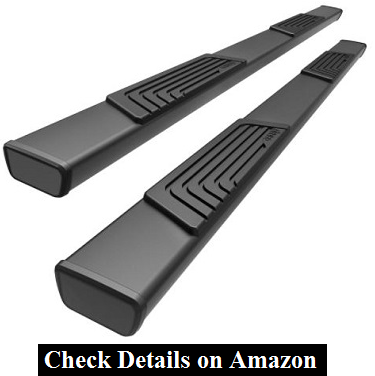 If you are looking to maintain the OE look of your Ram 1500, this can be a good pick for you. Coming with a low profile and mild appearance, it'll allow you to save the OE look. It is compatible with all 2009 – 2018 Ram 1500 Crew Cabs as well as 2019 -2021 Ram 1500 Classic.
This running board is manufactured from special trapezoidal heavy-duty and thick tubes designed by OEDRO. Coming with E-Coat inside and outside as well as a black powder coat outside, the tubes are durable, and strong and ensure great protection against rust and corrosion. The tubes come with sealed durable plastic caps on each side to prevent water and dirt accumulation inside. One of these heavy-duty running boards can take up to 300 lbs load.
There are two step pads on each board which are UV resistant, 4 inches wide, and come with a non-slip surface. That's why the pads are really comfortable and safe to step in. Also, laser-cutting lines make the pads great to look at. It is able to support you in any weather condition, let it be rainy, snowy, muddy, or just dry weather.
It won't bother you that much while installing. Just for some models from 2009 to 2012, you may have to drill holes. Brackets and hardware come in the package. All you need is your tools.
Pros
Unique trapezoidal design
Specially designed to be durable and strong
Helps to keep the OE look
All weather support
Comes within an affordable budget
Cons
Instructions are a bit complicated
---
8. VioGi Oval Running Boards – Heavy-Duty Running Board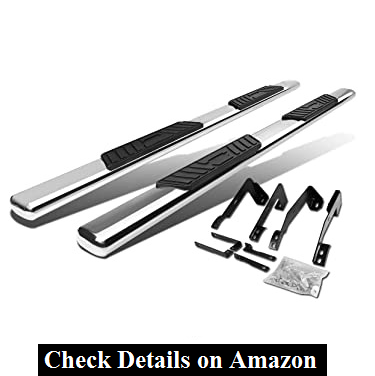 If you have an old Dodge Ram 1500 crew cab or a quad cab, keep your focus on this strong, well-built, and durable running board. It is compatible with the 2002-2008 Dodge Ram 1500 Crew Cab and Quad Cab.
This board is made of T304 heavy-duty stainless steel which has made it strong and sturdy. The oval-style tube gives a bit vintage vibe, but the shiny chrome color brings brightness to the look. The mirror-like look is brought by mirror polish. Also, as the steel used is stainless, the risk of rust is very low. So, it can maintain the look for a long time if you take care of it.
The step pads of this board are made of plastic. But don't worry, those are slip-protected. So, your steps are safe. 4-inch wide pads give enough space to step. Being made of strong steel and quality plastic, the board can take a load of up to 450 lbs which is more than you may ever need.
Installing it won't be a problem for you as it comes with easy bolt-on installation. Everything is included in the package. Take those out, get your tools, and follow the instructions to get a shiny upgrade on your Ram.
Pros
Made with quality stainless steel
Can take around 450 lbs of load
A shiny surface ensures an eye-catchy look
A good option for old models
Cons
Using in salt water may result in quick rust attack
---
9. Auto Dynasty 6″ Black Oval Tubing Running Board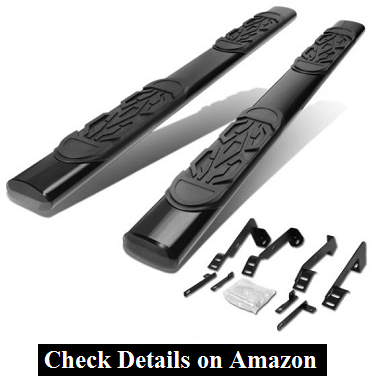 Auto Dynasty makes this awesome, wide, and tough running board for you if you are a fan of comfort and ease. For your Ram 1500 Crew Cabs from 2002 – 2008 models, this 6-inch wide running board is a great option to pick.
Rust-resistant, durable, and heavy-duty mild stainless steel tube is used to manufacture this board. The oval shape of the tube brings a bit vintage look which is a great thing. To keep it durable, the end caps are sealed to prevent water, dirt, or anything from entering inside.
The step-pads of this board are also 6 inches wide, which ensures enough space for your steps. Step pads should be non-slip to ensure safety, these are too. I like the design of the pads too. Besides the vintage look of the boards, the step-pad design brings a feeling of strength to it.
There are sturdy mounting brackets included too. These high-strength brackets help the board to tolerate up to 500 lbs. This brings a great plus point for this board, though in most cases, the boards don't face this much heavyweight. Installing the boards is so easy that you won't take more than one hour if you are a regular vehicle DIYer.
Related Post: Top Rated Bumper Guards for Truck Review
Pros
Strong and handle up to 500 lbs
6-inch width ensures a comfortable and safe stepping
The oval tubing design brings a vintage look
Pad design brings a feel of strength
Cons
Instructions are a bit complex
---
10. APS Off-Road 6.5in Side Armor Aluminum Running Boards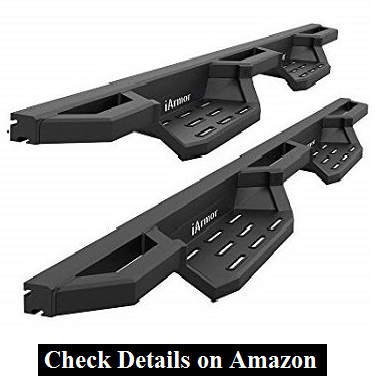 The first one of the best running boards for Ram 1500 is from APS, and the last one is from APS too. This one also maintains the APS quality just like the first one I've talked about. Don't believe it? Let's see.
This is a great running board if you are into off-roading. This light, strong, and durable running board also works as a rock slider. It is made of square-shaped aluminum tubes. As a result, it is light and strong at the same time. Also, the aluminum build ensures protection from rust and corrosion. Tri-tube design comes with a 6.5-inch width which is very much safe and secure. But it reduces the clearance a bit.
The slotted wide step pads are strong and durable. These are seamlessly welded and ensure a smooth surface that enhances the look. The look is also enhanced by the black powder-coated finish of the overall running board. This running board can take a load of up to 300 lbs easily.
Mounting brackets and other hardware come with the package. It includes an installation guide too. So, you can easily install it with the help of basic tools. This aggressive and strong running board is for the 2009-2018 Ram 1500 Regular Cab and 2019 Ram 1500 Classic.
Pros
Tough and aggressive look
Maintains APS quality
Aluminum built has made it lightweight
Square tubes ensure a unique look
Smooth finishing
Cons
Installation instruction is a bit confusing
---
Best Running Boards for Ram 1500 Buying Guide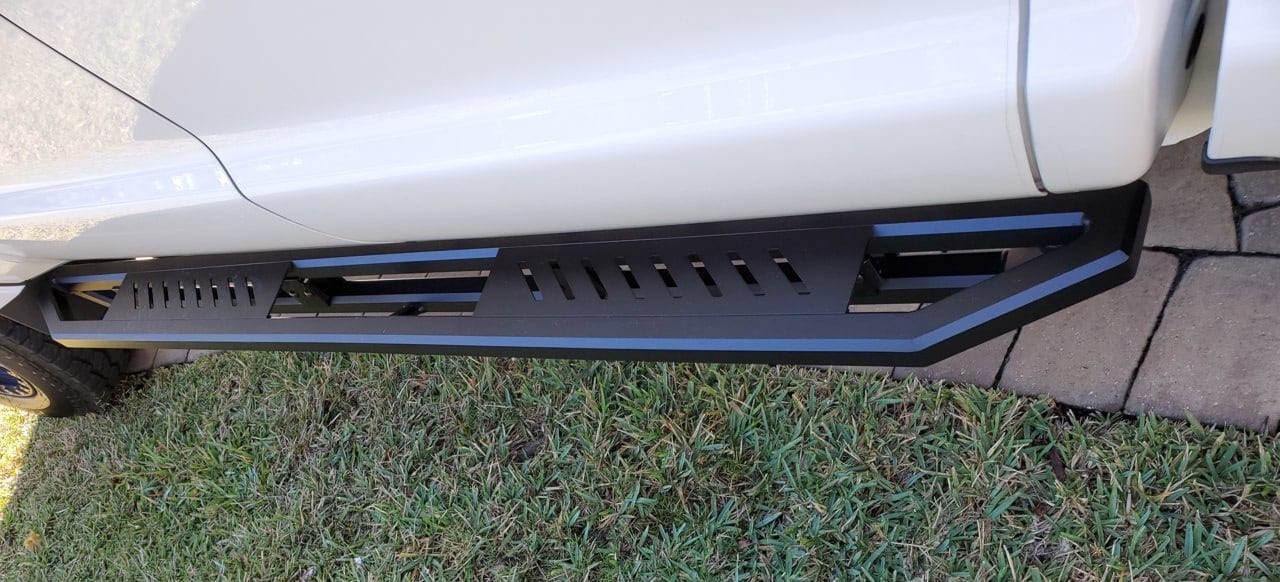 Different running boards come with different features. Before choosing one, you need to know which one important feature is and which is not. That's why, in this section of the article, I'm going to discuss the things you should consider while choosing one of the best running boards. Let's start.
Running boards are made of three common materials – Aluminum, Steel, and Plastic. Boards that are made of aluminum and steel are more durable, can take a huge load, and are less prone to dents. But the prices of these boards are higher than the plastic boards.
On the other hand, plastic running boards are cheaper, but those can't take much load. Also, these boards are vulnerable to scrapes and bumps. Again, aluminum boards are much lighter than steel boards. So, if you are willing to spend a good amount on running boards, I'll suggest you buy an aluminum or steel board.
While choosing a running board, step pads are also important but we normally skip these. The step pad is the part where you are keeping your feet while entering or getting out of the vehicle. So, make sure that the pads are non-slip and allow you a firm grip. Normally pads that are made with rubber material are likely to support you the most in this case.
If you are buying a running board with metal step-pads, make sure that there are some openings on the surface so that mud, ice, water or dirt can pass out easily.
Wide boards have two benefits- these ensure enough space to step on and save the paint of your vehicle. But these also make it tough for you to reach underneath your vehicle. To me, 4 or 5 inches is a good enough width of running boards. Your opinion may vary.
You must focus on your vehicle model too. Depending on the model, the length of the board, position of the mounting bracket, and mounting option may change. So, while surfing the internet and checking hundreds of boards, keep your vehicle model in mind.
The weight capacity of the board depends on the material and mounting style of the board. Normally steel and aluminum boards come with around 300 lbs weight capacity. I think that is enough for a running board. However, you'll find a few options that can take a load of more than 300 lbs. You can choose one of those if you want.
Running boards are open to the weather and face a lot of dirt, ice, water, or stone crushes. So, the finish is very important. The most durable finish nowadays is black powder coating. These are reasonable too. Textured powder coating or Chrome finish are also used a lot because of their durability, but those are a bit costly. Choose wisely.
Price, warranty, installation options, etc. are also a few things that you should check while buying a running board.
How to Install Running Board on RAM 1500
---
Frequently Asked Questions About Running Board
Does installing a running board void my vehicle warranty?
It depends on the vehicle manufacturer. With your vehicle, you'll find a warranty package. There is a section discussing vehicle upgrades and the effect on warranty. Something about installing running boards should be there. Check that section.
In recent models, running boards are installed through the pre-drilled holes of the vehicle. In that case, the warranty shouldn't be voided. But, if you need to drill holes, there is a chance that the warranty will be affected. So, if you are thinking about the warranty, check the warranty package of your vehicle.
Do running boards affect gas mileage?
Yes, running boards have an effect on mileage. Adding running boards to your vehicle means you are adding weight. As a result, mileage will be decreased. Depending on the weight of the board, the effect varies. So, I'll suggest installing aluminum boards as those are lighter than other boards.
Is it a must to install running boards?
No, installing running boards is not a must. But, these provide a handful of advantages. Firstly, running boards help elder people or children to enter or exit easily. Secondly, these save your vehicle paint from things like rock chips. Thirdly, these bring a difference in the appearance of your vehicle. Fourthly, running boards help you to get rid of the dirt on your shoes before entering the vehicle. So, I suggest having running boards if possible.
---
Final Verdict
In this article about the best running boards for Ram 1500, I've tried to clear all your confusion about running boards and also suggested a few. Now it is your time to pick one. If you ask me, I would like to pick the Tyger Auto Star Armor Kit. But depending on your budget, personal choice, and many other things, your decision may vary.
Don't worry about that. All the running boards I've talked about here are really great to have. So, you can pick anyone without hesitation.