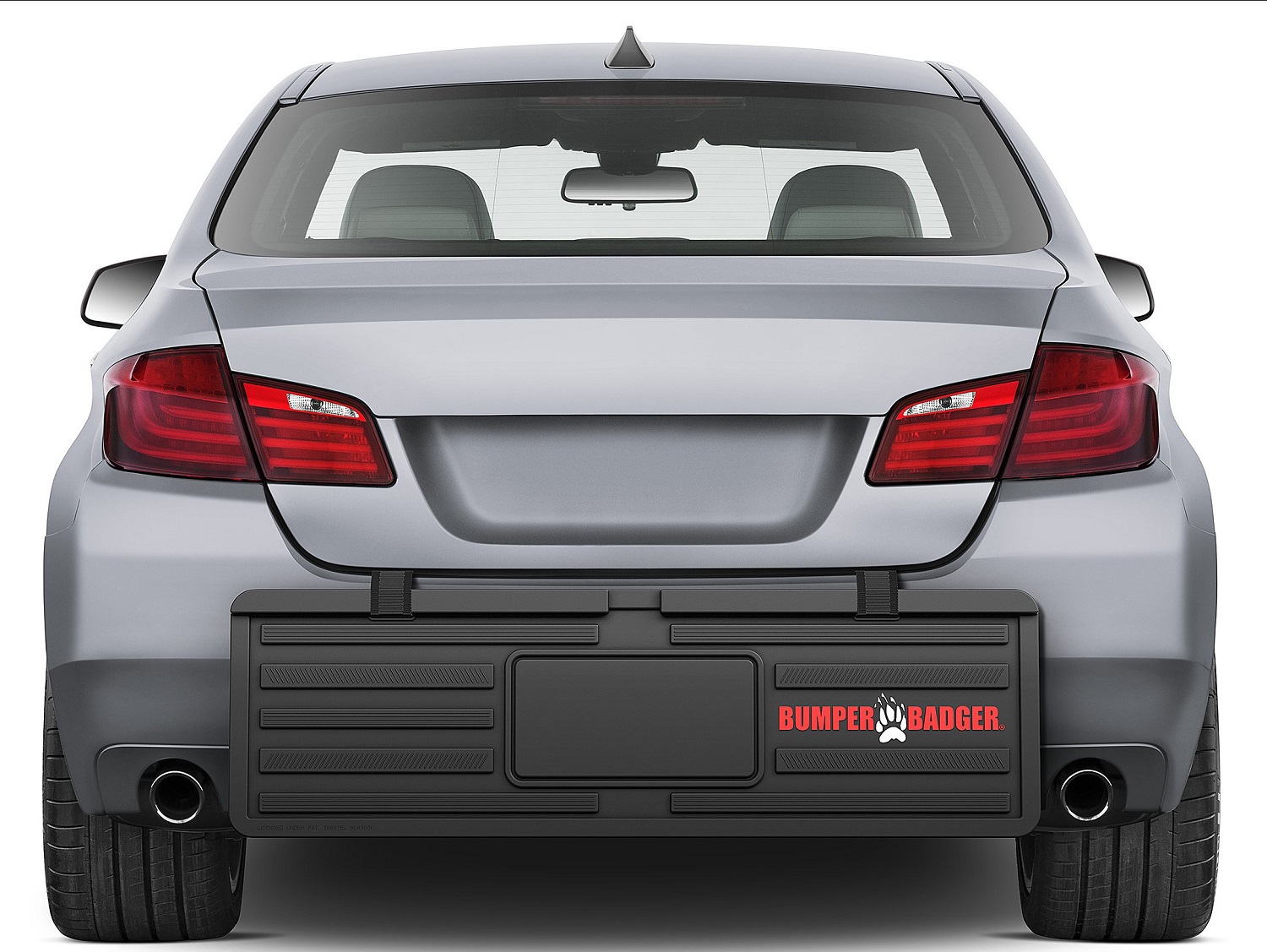 If you live in areas with tight traffic, you know finding a place for parking is really tough. Small bumps often happen when someone tries to fit the vehicle in a tight space. The bump can be really light, but the impact is not. It scratches the paint or bends the fender.
There is a way out- using a bumper protector. I guess you know that too. That's why you are searching for the best bumper guards available in the market. And yes, you are in the right place.
As the owner of an auto shop, I've seen many of my clients are using bumper guards. Some of them were satisfied at the performances and some were not. From their reviews and my experience with bumper guards, I've prepared a list of some bumper guards that work great to protect your vehicle.
As you are looking for the best one, I guess this list will help you to pick one. If you think that too, stick to the article till the last. There is also a buying guide after the reviews that'll help you to know how to pick the most suitable one.
So, worry not! Let's start. But before diving into the reviews, let's know the major types of bumper guards available in the market.
Top Rated Bumper Protector Comparison Table 
Image
Product
Features
Price
T-Rex Rear Bumper Protector for Cars

Material: high-density durable material
Width: 72 inches (360-degree protection)
Universal fit
Wight: 1.5 lbs only

Check on Amazon
Bumper Thumper Front Bumper Guard

Extra wide viewing angle
Width: 15" 
Material: All-weather absorbing foam
Stainless steel reinforced rigidity
Universal fit

Check on Amazon
BumperButler F16408 Rear Bumper Guard

Dimension: 15"X12"X4"
Material: Rubber
Designed for passenger cars
Position: rear

Check on Amazon
BumpShox XL – Front Car Bumper Protection

Material: V-tech all-weather foam
Pyramid design: Steep angles
14" extra wide and 8.5" tall
All-weather material
Sandblast textured surface

Check on Amazon
Gold Edition Bumper Bully Extreme

Material: premium grade rubber
Measurement: 46"X12"
Steel reinforced security bars
Patented stabilizer bars

Check on Amazon
Luv-Tap Rear Complete Bumper Guard

Comes with elastic ropes on either side
Width: 18.7 inches
All-weather and machine washable
Material: rubber

Check on Amazon
BumperBadger HD Edition – 2021

Dimensions: 46"X 12"
Triple stitched trunk straps
Material: rubber
Patented top stabilizer bars

Check on Amazon
Parking Armor 4.2 Bumper Proctor

Dimensions: 46"X 12"
Water-proof steel reinforced straps
Weather-resistant rubber-like material
2" thick foam core

Check on Amazon
CityBumper Rear Bumper Guard

Dimensions: 42"X 12"
Soft touch trunk security straps
Premium quality material
Shock absorbing ribs

Check on Amazon
Rhino Guard by BumpTek

Dimensions: 20"X 2"X 0.75"
Black matte finish for UV stability
Air pocket design
Includes 4 pieces

Check on Amazon
---
Types of Bumper Guards
Bumper guards come in different types depending on the mounting style. Before jumping into the reviews, let's know about the types in short.
1. Trunk mounted
As the same suggests, this type of rear guard is mounted in the trunks. When you park the vehicle, just open the trunk and hang it. That's all. But a disadvantage is- it won't protect your vehicle while driving because you can't drive hanging it outside. When driving, you'll have to send it back to the trunk.
2. License-plate mounted
This bumper guard works as a license plate frame as well as a bumper guard. It is a front guard that is easy to use. Once you install it, you won't have to do anything else. It is thick and ensures great protection in the middle. But, it can't do anything about protecting the corners.
3. Stick-on
A Stick-on guard is one that uses a special type of adhesive to stick to the bumper of your vehicle. Some stick-on bumper guards protect the middle, some protect the corners and some protect the whole bumper including the corners. You can pick one according to your need. But a stick-on guard can downgrade the look of your vehicle.
4. Hitch mounted
The name says it all. It is the type of bumper guard that is specially made for SUVs. It is mounted to the rear trailer hitch of SUVs or trucks and saves the rear side from damages caused by mild collisions. It performs very well but in most cases, it is not very attractive to look.
---
Top 10 Best Bumper Guards Reviews in 2023
1. BumpShox XL – Front Car Bumper Protection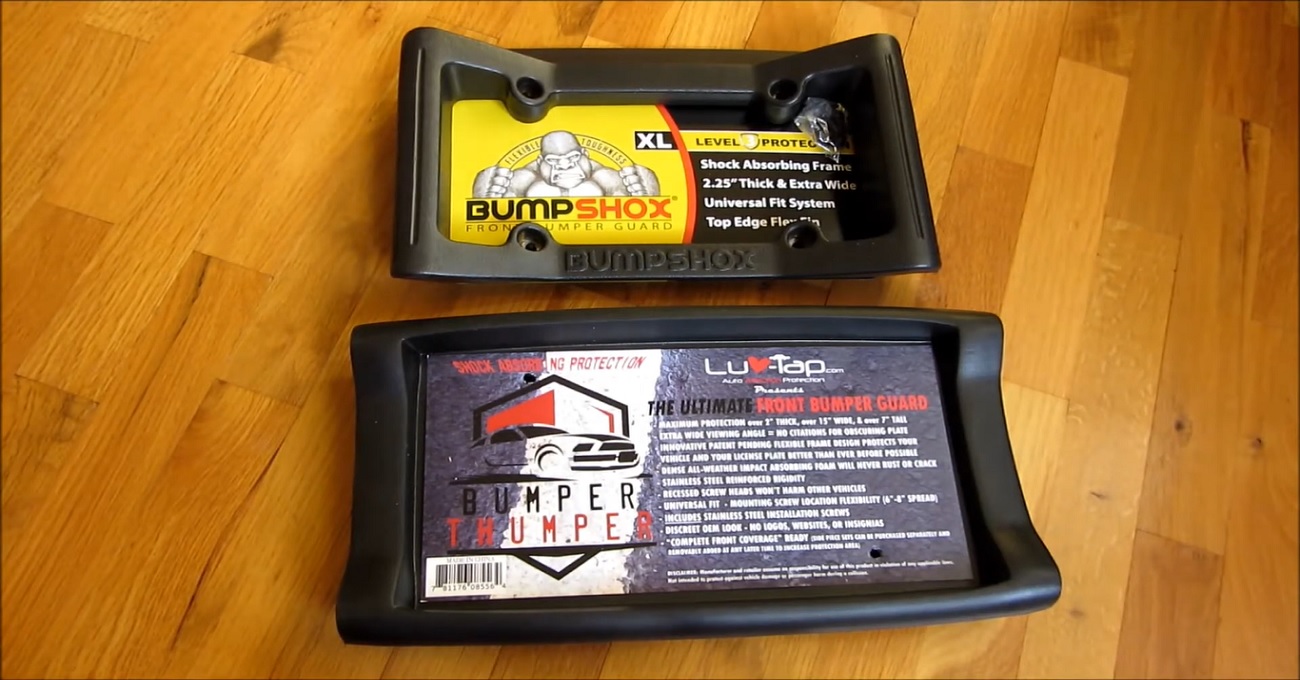 BumpShox XL is a front bumper guard which is also used as a license plate frame. So, basically, you are getting two things in a single purchase. Maybe there are a few more similar bumper guards in the market, but I prefer BumpShox XL because of its thickness and material. This 2.25-inch think bumper protection protects your front bumper from almost any kind of collision.
V-tech all-weather foam is used to make this bumper guard. So, this is super tough but flexible enough to stretch around the bumper when the collision happens. Thus it ensures higher protection. As it is made of all-weather foam, you can expect the same superior performance all year round.
This is wider and taller than a standard license plate, so you can easily place your license plate inside it. The screw holes are placed similarly to license plates. So, to install it, you just simply take out your license plate, keep it in the guard, and use the screws to attach both to the front bumper. That's all. There is no metal part that stays out and damages other vehicles.
If you are worried about the look of the vehicle, you don't have to be. It comes with sharp angles and ornate arches that maintain the perfect shape and look. The military sharp tough structure enhances the look and makes it look strong and smart.
Pros
Super tough but flexible all-weather foam
Wider than a standard license plate
Can stretch around the bumper
Installing is super easy
Works as both license plate shield and bumper guard
Cons
Might get a ticket for 'Altering the appearance of licence plate'
---
2. Gold Edition Bumper Bully Extreme Outdoor Bumper Protector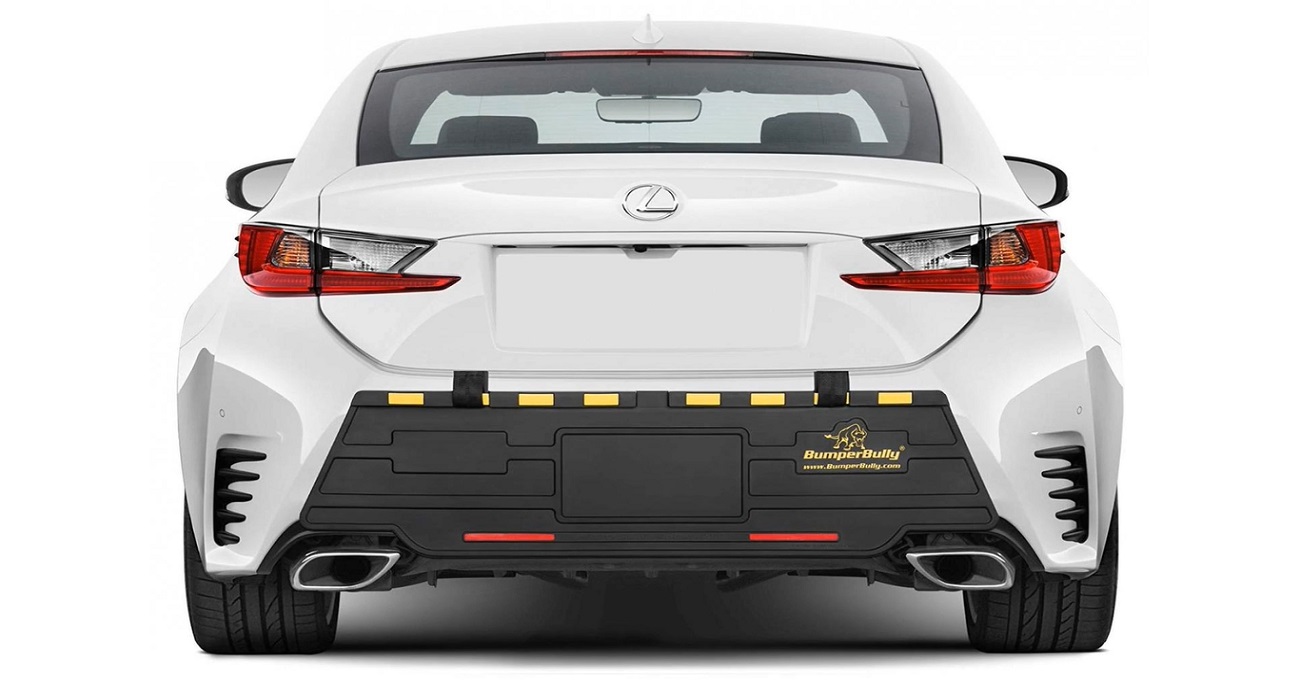 If you are looking for a rear bumper guard for parking security, I'll suggest you to go for Bumper Bully Extreme Gold Edition. This extra wide and thick bumper guard covers the maximum area of your rear bumper. Thus it ensures better protection than most others out there in the market.
The Gold Edition Bumper Bully is made of soft and durable premium-grade rubber material. There is no plastic inside. As a result, it is durable and ensures better protection. Also it doesn't damage other vehicles. The truck straps of this bumper protector come with reinforced steel. It adds strength and makes it waterproof so that it lasts for a long time. The unique shape and design doesn't look bad on your vehicle.
I've loved the Hi-intensity Red Security reflector of this bumper protection. It alerts the approaching drivers that someone is already there. Thus it ensures safe night-time parking. The gold edition comes with patented golden stabilizer bar. It keeps the protector in its place by stopping the corners from folding. Thus it keeps the bumper covered as much as possible and ensures better bumper protection.
As much as I've experienced, picking up one of these won't disappoint you at all. Well, there is a thing to remember. You can't drive with it attached. This is a bumper guard that is only for keeping your vehicle safe when it is parked.
Pros
Made with pure premium rubber to ensure better protection
Steel-reinforced straps for ensuring durability
Security reflectors for warning other drivers
Stabilizer bar to keep it in place
Covers the maximum area of the rear bumper
Cons
Should come with better theft-protection feature
---
3. T-Rex Rear Bumper Protector for Cars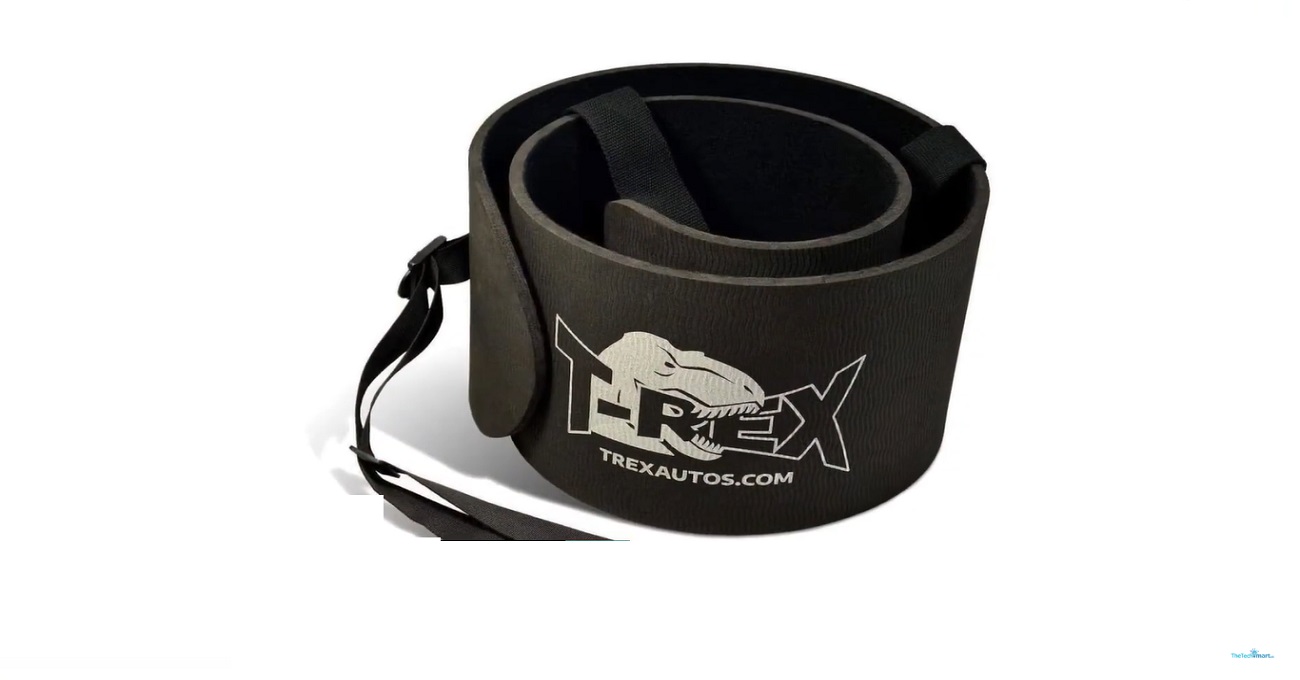 From T-rex, this is a wide bumper protector that protects the rear side of your vehicle, including the corners, from parking newbies or someone who is trying to fit their car in a really small place. I loved it because this is a universal bumper protector that fits to the rear of any small or large vehicle. So, you may change the car, but you won't have to change the bumper guard.
This bumper protector is made of durable, high-density, and all-weather foam material. As a result, it can save your rear bumper from any kind of dents and scratches from accidental collisions caused by parking difficulties.
It comes with 2 Velcro straps and 2 adjustable side straps to keep it attached to the bumper perfectly. Its minimalistic look ensures that the look of your vehicle in enhanced. To make it look better, you can install it without the side straps. No matter you use the side strap or not, the protection remains the same.
This top rated bumper guard comes with a weight of only 1.5 lbs. As a result, you'll find it quick and easy to install. Installing it takes only 2 minutes or lesser than that. Purchasing this affordable, good-looking, and long-lasting rear bumper guard will have your back for a long time. So, you can think about it.
Pros
Universal protection to use with any small or large vehicle
Lightweight and easy to install
Protects the rear corners of your vehicle too
Comes with quality foam that absorbs shocks fully
Can be used with or without side straps
Cons
The metal hooks may scratch the paint a bit
---
4. Bumper Thumper Front Bumper Guard Flexible License Plate Frame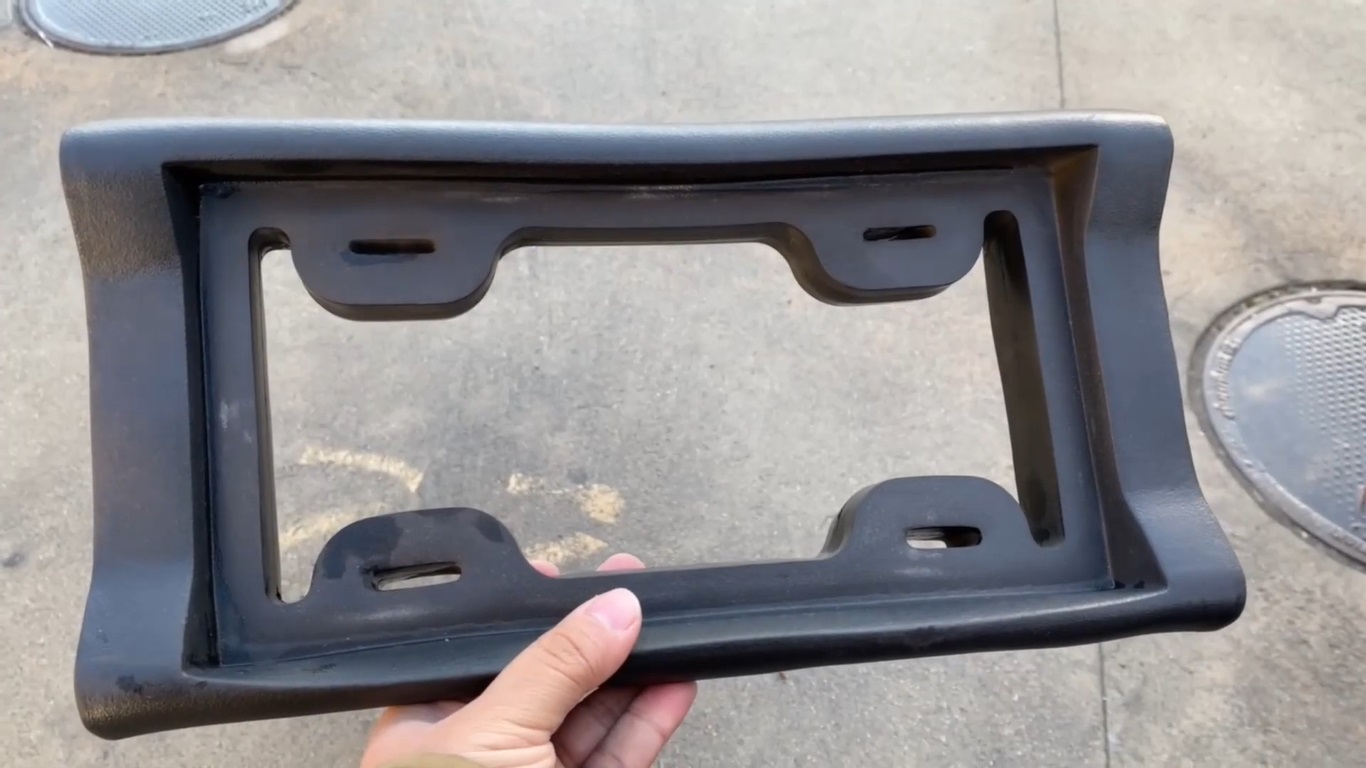 Here is another bumper protector as well as a license plate frame that you might be interested in. This one from Luv-Tap comes with some awesome features that I personally love. Allow me to tell you about those.
This license plate frame as well as a bumper guard in made with a premium all-weather foam material that doesn't rust. As a result, it protects your front bumper for a long time. Also, there is reinforced steel material. It enhances strength and durability a lot. This universal fit bumper guard saves both your and other peoples' vehicle at the same time. It doesn't hold any logo or other prints in its visible parts. Thus it doesn't ruin the look at all.
It elevates the license plate almost 1.25 inch off of the bumper. Thus, the license plate doesn't damage your vehicle. Besides, it becomes more visible. To increase visibility, it comes with an extra wide viewing angle. So, you are not getting any ticket for violating traffic rules.
To fit to most of the vehicles out there, it comes with the flexibility of mounting the screw in different locations. Stainless steel mounting screws are included in the package. The lower head of the screws doesn't cause accidental harm to other vehicles. Installing it is really easy, you won't need any expertise.
Related Post: Top Rated Recovery Board from ARB Review
Pros
Ensures better visibility of the license plate
Fits almost all the vehicles
Pushes the license plate so that it can't harm your vehicle's front
Reinforced steel ensures sturdiness and durability
Adjustable mounting screw location
Cons
Hardware could be a bit better
Bumper Thumper Front Bumper Guard Installation Video
---
5. BumperButler F16408 Rear Bumper Guard Protector New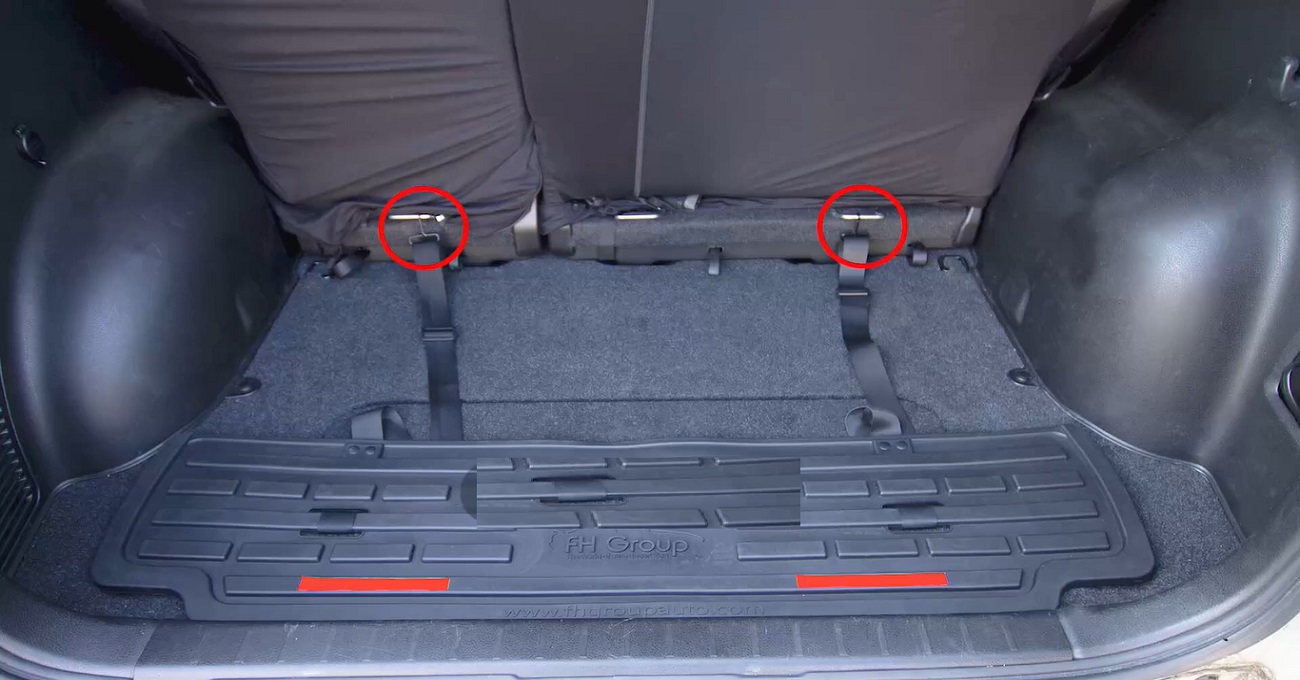 In spite of being another common type of bumper guard, the F16408 from Bumper Butler works great to save your vehicle's bumper from parking collisions. Coming with a long-lasting rubber design, it provides long time service if taken care of properly. This durable, impact-absorbing bumper protector can be a good choice for you.
It comes with durable straps to keep it in place when in use. The straps are adjustable. As a result, you can change the length according to your vehicle. These are also made to be theft-proof. This is designed to fit most of the sedans and SUVs out there.
The guard comes with shock-absorbing pop-ups all over it. These take the shocks of mild collision and don't let your vehicle body to take any impact. It also contains hi-intensity reflectors. These reflectors reflect the front light of the car behind and let the driver know that there is a vehicle. Thus, it prevents collision.
Installing it is not a big deal. Everything comes with the package. You can't drive your car when it is hanging outside. Doing this will ruin your vehicle paint. It comes in full black color that doesn't ruin the look of your vehicle.
Pros
Patented design for long-lasting support
Durable and adjustable strap
Low-profile look for matching the vehicle
Made to fit most sedans and SUVs
Hi-intensity reflectors attached
---
6. Luv-Tap Rear Bumper Guard Complete Coverage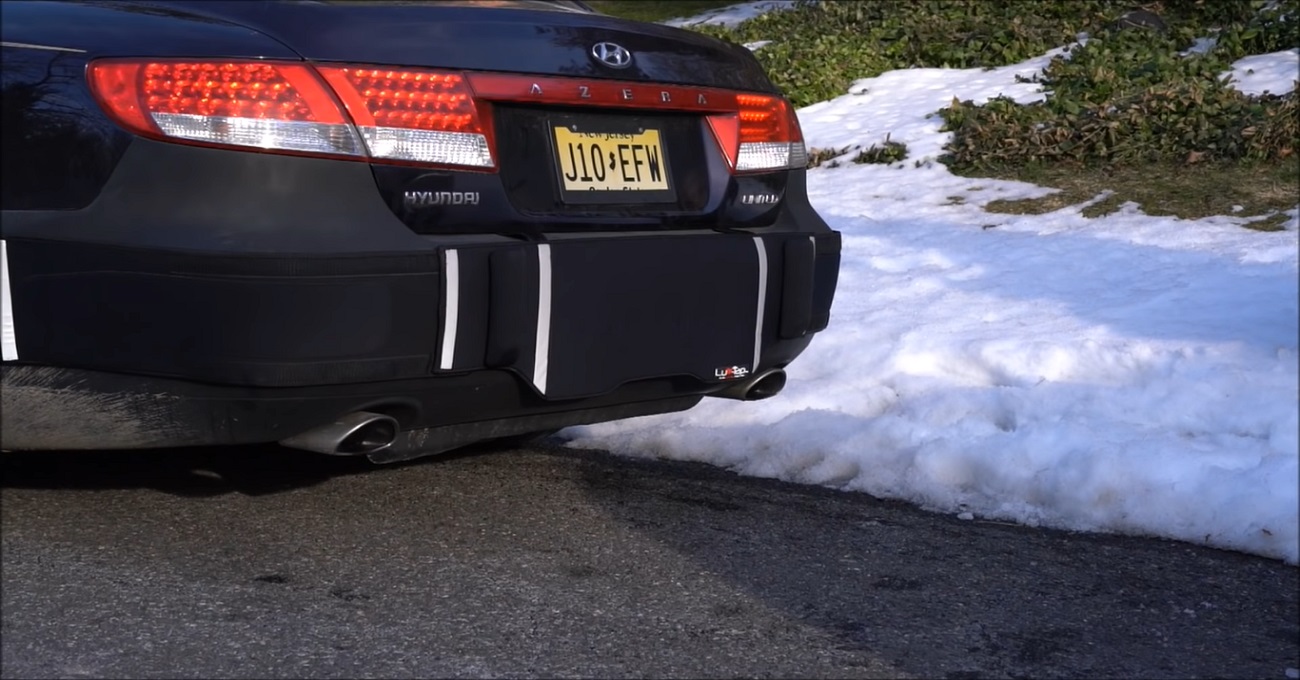 If you are looking for protection for your rear bumper that covers the whole bumper with the corners, get one of these from Luv-Tap. I love the feature of fixing the size and resizing it without any worries. Because of this, I can use it with both of my cars.
It comes with Embedded Steel Straps that contain hidden steel border cables. Thus it has become tough for thieves to steal the bumper guard. The straps also make sure that the guard stays firmly at its place. The Quick Release Anchoring Parachute Buckles ensure easy removal when needed. To keep the sides attached firmly, you'll have the option of using bungee cords or suction cups. You'll get both supplied in the package. The suction cups come with gel adhesive that leaves no residue.
This adjustable rear bumper protector fits to most of the popular vehicle models. It is designed and made to protect your rear bumper from scratches and dents from small collision. Scorching heat, bitter cold, or snowfall- this will have your back all year round. It comes with a cut-out for a license plate. So, you can drive when it is attached to your rear bumper. Just make sure that you've attached it firmly.
Installing it is not a big deal. Once you customize it according to the size of the rear bumper, you can easily install or uninstall it within minutes.
Pros
Easily adjustable to use in multiple vehicles
Safe for driving with it attached to the rear
Protects corners also
Hidden steel border cables for theft protection
Two options for attaching the sides
Cons
A bit more protection was expected
Luv-Tap Rear Bumper Guard Video Review
---
7. BumperBadger HD Edition – Heavy Duty Bumper Guard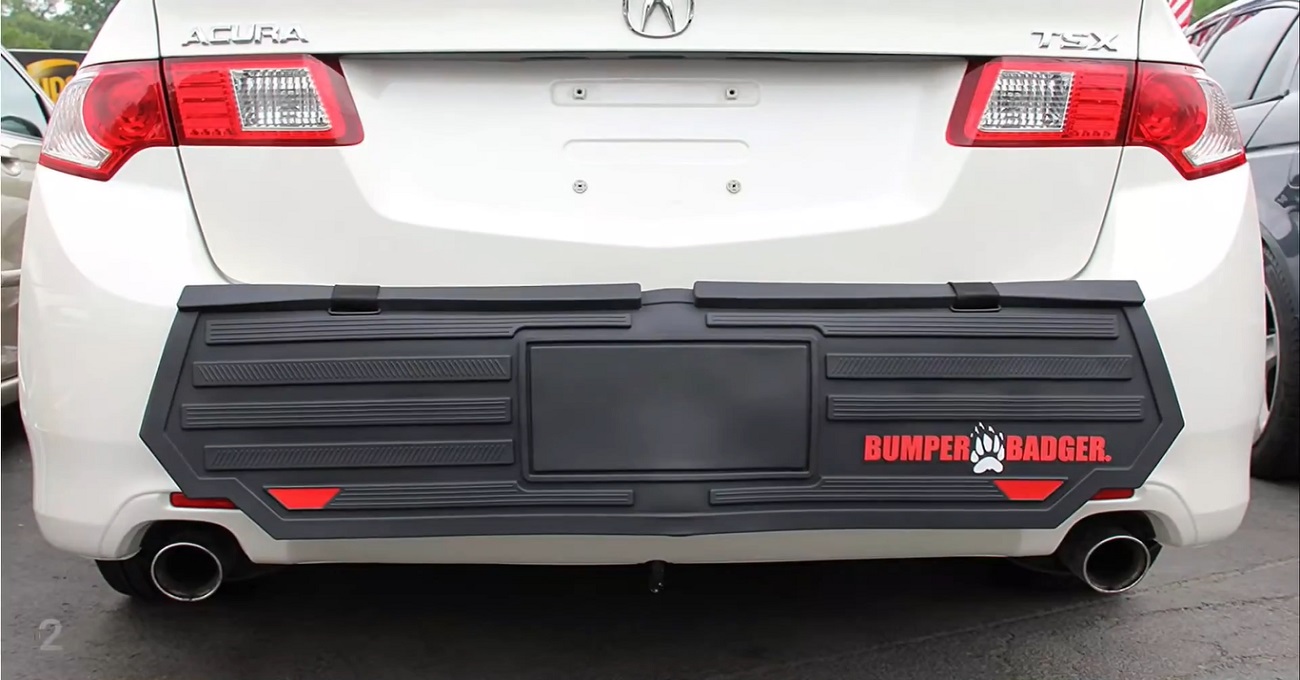 BumperBadger HD Edition is a promising bumper protector that keeps your vehicle's rear bumper safe when it is in parking. I've researched a bit about it and taken feedback from a few of my clients. The positive feedback from them have made me to keep this on the list of my top-rated guard for bumpers. Let's know what it offers.
The BumperBadger HD edition is made of quality material. As a result, it supports you for all the year round in all weather conditions. To make sure that the corners stay at their places, it comes with a stabilizer bar at the top of it. Thus it covers the maximum area to ensure maximum protection.
The bumper guard comes with raised rib cushions that absorb the shock of light parking bumps and save your vehicle's rear from dents. To hold it in its place, it comes with triple-stitched straps that are strong and durable. There is a license plate-sized shape that you can cut to show your plate if it is on the rear side.
Installing it is really simple. This bumper guard is only for protecting your vehicle's rear when it is parked. So, while driving, make sure that it is inside the trunk. Otherwise, there'll be a mess. Also, keeping it clean is recommended if you want to use it for a long time.
Pros
Made with quality material to support all the year round
Triple stitched straps for durability
Stabilizer bar to keep the corners in place
Raised rib cushions
---
8. PARKING ARMOR 4.2 Indoor/ Outdoor Ultimate Rear Bumper Protector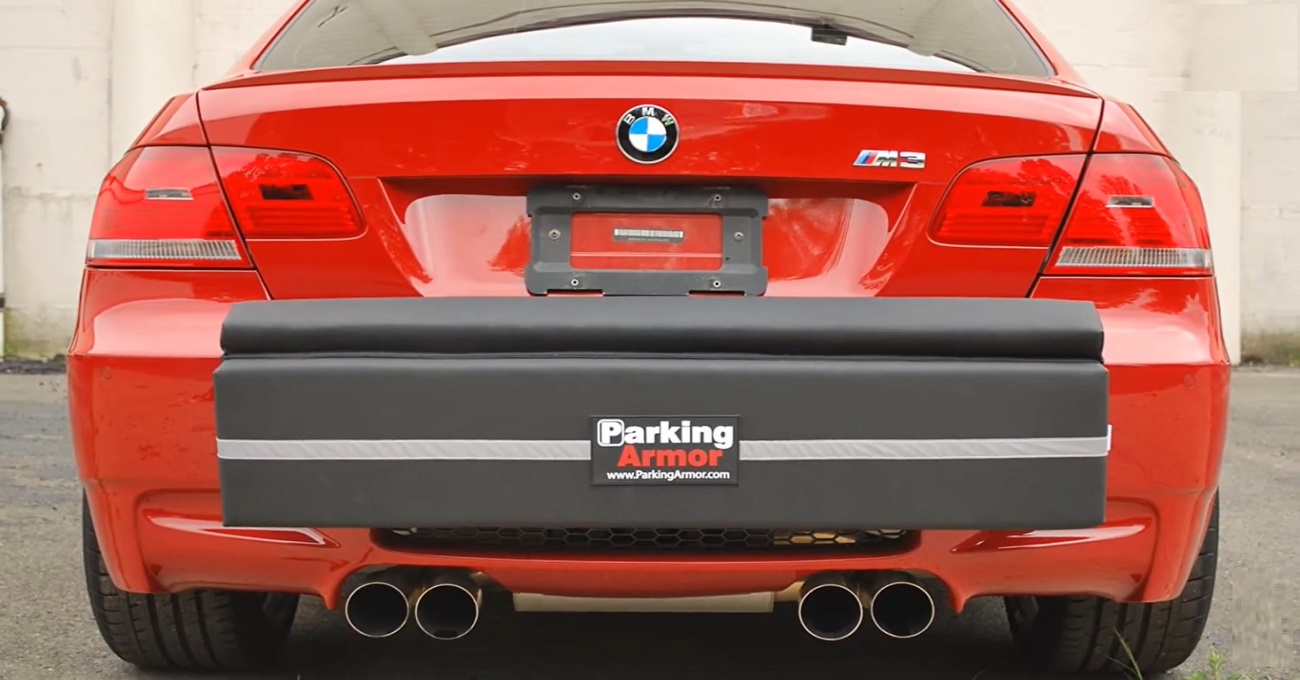 I've worked with and seen many bumper protectors that get the job done. But there are some which step forward to ensure better protection than just getting the job done. This one from Parking Armor is such a bumper protector that seems simple but does a bit more than just being simple.
The all-weather rubber material is used to build this bumper protector. So, it supports you all the year round. The pad includes 2-inch think Hi-density foam which ensures superior protection from light bumps. Thus it saves the color and shape of your rear bumper. Also, as it is thick, the corners don't flip or fold. It covers the area it promises.
Unlike other bumper guards, it comes in a flex-body style. Thus it sits according to the curve of your vehicle. To ensure better safety from being stolen, it comes with reinforced steel straps. This also makes the strap strong enough to hold the thick cushion for a long time. Behind it, there are two anti-skid foam pads that keep it straight in position. It is soft on the paint, so don't worry.
This is a tall rear bumper protector. So, vehicles with narrow bumpers can't use it. Also, it doesn't cover the exhaust pipe. If it does, check if you've installed it properly or not. If it blocks the exhaust pipe, both the protector and your vehicle will be in a problem.
Pros
Made with thick hi-density foam pads
Flex-body style to cover around the contours
All year-round service because of the all-weather foam
Strong and theft-proof straps
Cons
Storing in your trunk can be a bit problem
Parking Armor Rear Bumper Protector Video Review
---
9. CityBumper Rear Bumper Guard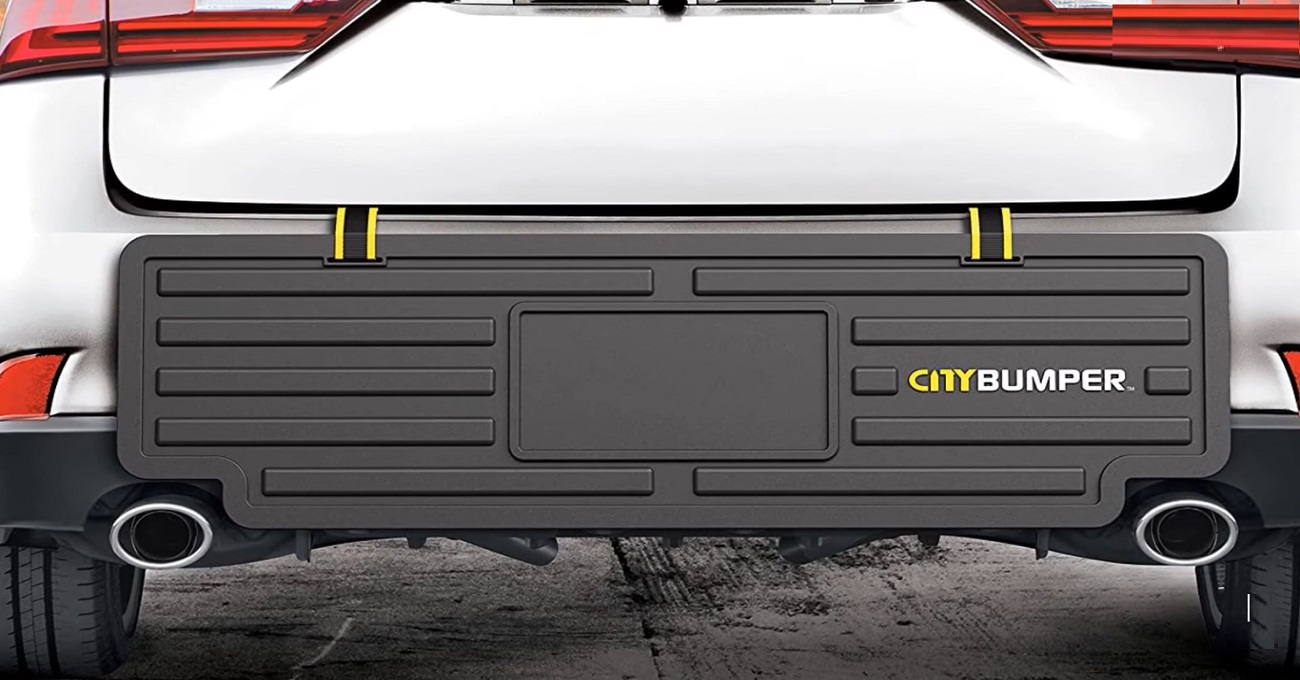 CityBumper rear bumper guard is something that comes with premium quality and offers premium protection for your vehicle's rear bumper. It is made with all-weather rubber material that works its best in every weather condition. So, buy it once and use it all year round. Premium rubber material lasts for a long time. So, if not any accident happens, it is there for you for at least a few years.
It comes with two Velcro straps that keep it in place when in use. The straps are strong and durable to ensure better support for the pad. The soft pad comes with shock-absorbing ribs. These ribs take the load when a vehicle accidentally bumps your vehicle while parking. Thus it protects your vehicle from dents and color from being spoiled. There are corner cuts to keep your exhaust unblocked when it is installed.
Installing and using it is really easy. Like most of the bumper guards out there, you'll have to attach the strap firmly. Then, when needed, just hang it outside when your vehicle is in parking and keep it laid inside the trunk when you are driving.
To keep your rear license plate open, it comes with a cutting indicator. If your license plate is in the rear bumper, cut the inside of the rectangle shape and you'll be safe from getting a ticket.
Pros
Made with quality rubber material
Shock-absorbing ribs are soft but work great
Corner cuts to ensure unblocked exhaust
Ensures minimalist look
Cons
Doesn't have stabilizing bar to keep it flat
---
10. Rhino Guard by BumpTek HEAVY DUTY Bumper Guards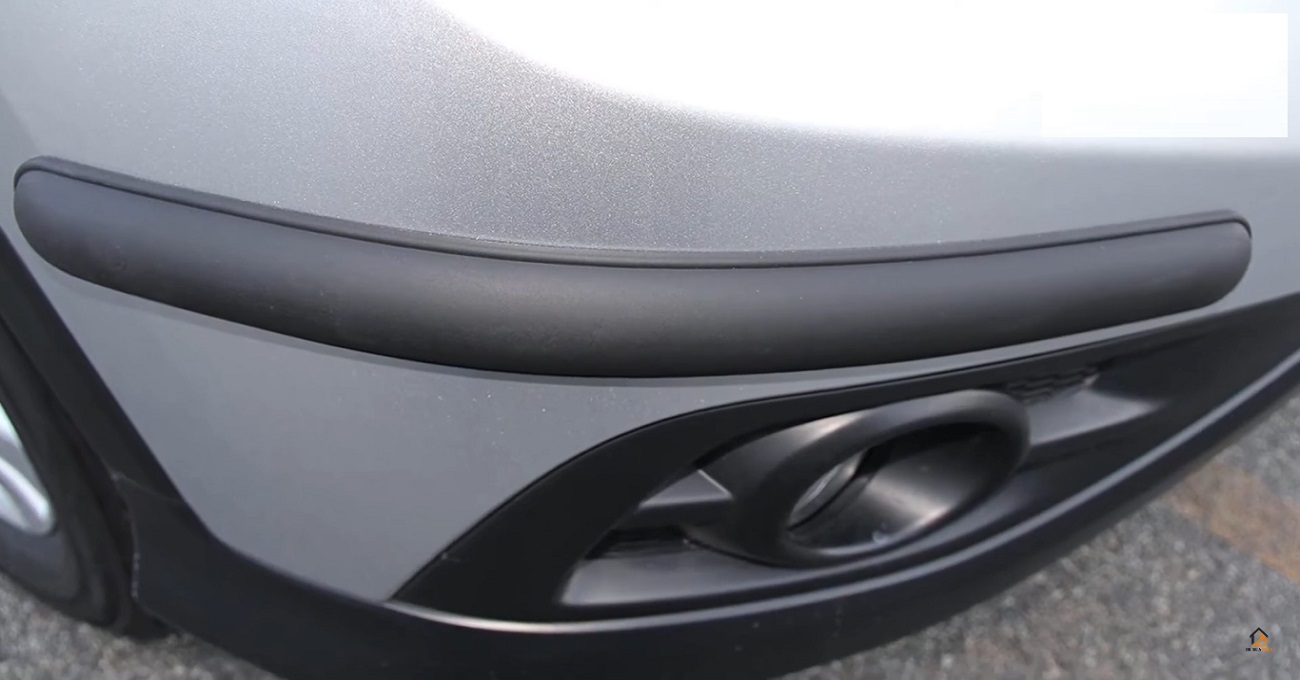 If you are worried about keeping the corners of your car safe, I suggest you go for this one. Rhino Guard fromBumpTekis a dedicated corner protector that can easily tackle small collisions and keep your vehicle safe. While keeping your car safe, if doesn't ruin the look at all. It makes your car to look better. Thanks to the matte black finish.
The guard is made from a high-quality flexible material that absorbs the impact of the collision as much as possible. There are deep air pockets inside to help it absorb the impact. It is made for both front and rear corners. So, you'll get four pieces in the packages for four different corners.
It comes without any impact of weather on it. So, it'll support you all year round. It doesn't have any impact on the license plate. Thus, keeping it installed is not a problem. It fits to almost every type of curves in the corners.
Installing it is really easy. It comes with the installation guide. I recommend checking the installation guides properly, knowing what to do, and then installing it. This will help you to enjoy the durable support of the guard for a long time. Another advantage of this guard is- no one would come to steal it.
Pros
Secures four corners of your vehicle from small shocks
The matte black finish maintains the look
Made with quality material that absorbs shocks
Comes with an air pocket to keep collision impact low
Cons
Can't help if the car is hit in the mid points
---
Unboxing and Review of Car Bumper Protector
---
Best Bumper Guard Buying Guide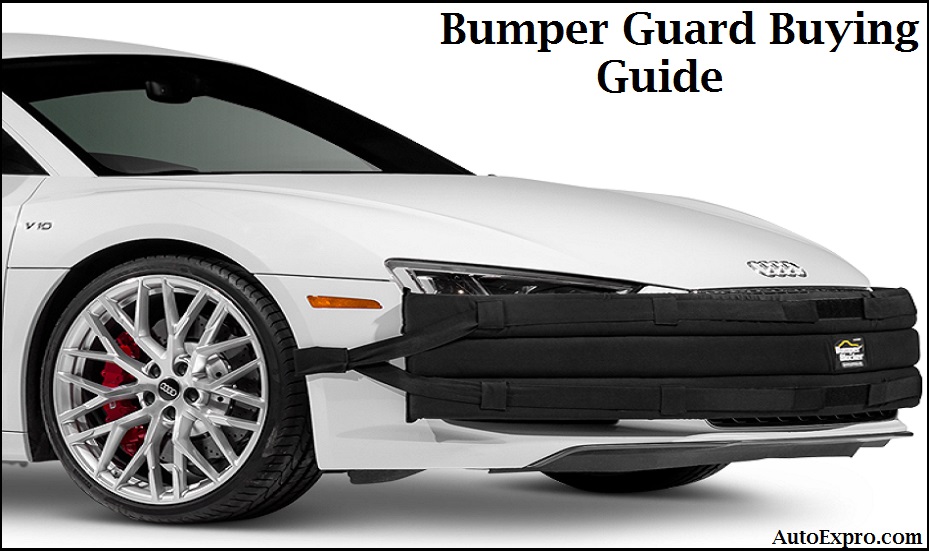 Buying a bumper guard might not be so costly. But as it keeps your vehicle paint and shape protected, you need to invest time while buying one. You should focus on a few things when you are confused between so many options available in the market.
Bumper guards are made of different materials. Most of those are made of rubber, compact foam or plastic. Personally, I like guards made with high-quality rubber materials. Those ensure better protection. Also, bumper guards made with compact foam are my favorite. If you want to save some money, you can go for plastic bumper guards. Make sure that the bumper guard you are buying is an all-weather protection that can support you all year round.
Thickness is one of the most important things you should focus on. Thick guards ensure higher safety. Those have a better capacity of absorbing the impact of collisions that happens while parking. Thin guards may keep your vehicle paint safe, but dents may happen if the collision is a bit strong. So, I suggest going for a think one. That may look a bit wired but your vehicle will be safe.
A flexible bumper guard can ensure better safety than the one that doesn't flex. Flexible guard stretches during the collision and covers a bit more area. Thus it ensures better protection. So, picking up the one that is flexible is a good decision.
Before selecting a bumper guard, you should check how much area it'll protect. Some guards protect the rear side and some are for the front side. You'll also find bumper guards that are made to keep the corners safe. Again these come in different sizes.
So, before buying one, check which area it protects and how much area it can cover. It'll also help you to buy one that won't cover your exhaust pipe.
Ease of installation and use
When you are buying a bumper guard, you must keep your eyes on the ease of installing and using it. You don't want to go to a mechanic to install a bumper guard. That's why ease of installation is important. Most guards come with a really easy installation process. You can easily install it with beginner-level mechanic tools. So, you don't have to worry.
Except trunk-mounted guards, other bumper guards are easy to use because you won't have to do anything after installation. Trunk-mounted guards will need your effort every time you park. But that's not a big deal. You'll have to hang it when you are parking and put it back in the trunk when you are going on the street. It takes 10-15 seconds only.
It is illegal to restrict the visibility of the license plate. So, if your bumper guard does this, there is a huge chance of getting a ticket for this. So, while buying a bumper guard, make sure that it doesn't affect the visibility of your license plate.
Depending on your personal choice, there are some other things you can focus on like- price, shape, design, look and so on. But the ones I've discussed above are some of the most important features that you must check out. Otherwise, the purchase may not satisfy your need and you'll find yourself in a worse situation.
---
Reasons to Get Bumper Guards for Your Truck
If you own a truck, you likely know the importance of keeping it in good condition. One area that often takes a beating is the bumper. That's where bumper guards come in. Here are five benefits of using bumper guards on your truck:
Protection from scratches and dents: Whether you're navigating tight parking spots or driving off-road, your truck's bumper is at risk of getting scratched or dented. Bumper guards act as a barrier between your bumper and any obstacles, helping to prevent damage that can be expensive to repair.
Improved resale value: If you plan to sell your truck down the line, keeping it in good condition is key. BG can help preserve the appearance of your truck's bumper, which can improve its resale value. When potential buyers see that the bumper has been well-protected, they may be more willing to pay top dollar.
Enhanced safety: Some bumper guards come with additional safety features, such as sensors or cameras, that can help with parking and reversing. These features can help you avoid collisions and keep you and your passengers safe.
Customizable style: Bumper guards come in a variety of styles and colors, so you can choose one that fits your personal taste and complements the look of your truck. Some guards even feature custom logos or designs, allowing you to show off your individuality.
Cost-effective solution: Repairing or replacing a damaged bumper can be expensive. Bumper guards offer an affordable way to protect your truck's bumper from damage and avoid costly repairs. Even if you do need to replace the guard itself, it's typically a much cheaper option than repairing or replacing the bumper itself.
---
Frequently Asked Questions About Bumper Guard
Are license plate bumper guards suitable for using as rear bumper protectors?
No, those are generally not for using at the rear side. However, if you want to do that, you can do it. In most cases, this is not possible because of the shape of the rear side of the vehicle. I suggest following what the manufacturers say. The rest is on your hand. Just make sure that your license plate is properly visible.
What is the maximum protection that a bumper guard offers?
Bumper guards are made to protect your vehicle from small parking lot collisions that happen while parking the vehicle. These are not for saving your vehicle from the impacts caused by road accidents. Road accidents are generally very much strong. No bumper guard can protect your vehicle from the impact of that, even not the best one.
Is there any chance of my bumper guard damaging my vehicle?
Bumper guards are made to protect your vehicle, not to damage. The manufacturers are aware of it and they design and make the guard in such a way so that it doesn't damage anything. But I've seen and heard about such a situation where the guards have done bit damage. Manufacturers are always trying to improve their products. So, the risk is really low now.
How much do bumper guards cost?
The cost of bumper guards can vary depending on the type of guard, the material it is made from, and the features it includes. Rubber or plastic bumper guards can cost anywhere from $20 to $100, while metal bumper guards may cost upwards of $200 or more.
Can bumper guards be used on any type of vehicle?
Bumper guards can be used on most vehicles, but it's important to make sure that the guard is compatible with the vehicle's make and model. Some guards are designed specifically for certain types of vehicles or bumpers.
---
How to Install Car Bumper Guard Protector
---
Final Verdict
The reviews of the bumper protectors above are a blend of my research and the experiences of both me and my clients. So, I hope those will make it easy for you to find out the best bumper guard. In the reviews, I've tried my best to cover the pros and cons of each guard so that you can know those better. Knowing everything about the products will help you to pick up the best option.
If this helps, don't forget to leave a comment and share it with your friends.