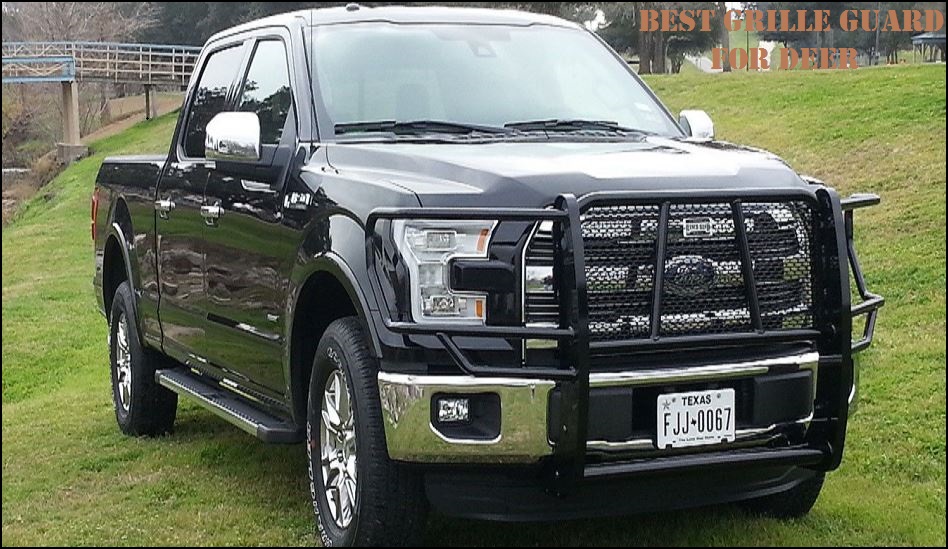 In the case of most collisions, the front side of your vehicle is the one that faces maximum impact. But some expensive and important parts of your vehicle system sit here. As a result, you should keep this part protected.
A grille guard can support you with this. It receives and reduces the impact of the collision so that the front side faces minimum impact. Starting from the collision with a deer, grille guards protect the front end of your vehicle from a lot of impacts.
If you're tensed about the perfect protection for your vehicle's front part, have no worries. Here in this discussion, I'm going to talk about some of the best grille guards for deer. Deer in this case presents all types of similar animals and impacts.
These guards are chosen from a lot of options available in the market after deep analysis of the information found on the internet, personal experience after using, reviews from people who use, and expert opinions.
I know that you're looking for one and you're here for that reason. Don't worry, I have the exact thing you need. Check out the reviews and choose the best one. To assist you in the selection process, I've also added a buying guide to it.
So, have no worries. Start reading.
In a Hurry? Check our Top Pick
AUTOSAVER88 Bull Bar Fits 04-22 Ford
Features: 
Protection and Rust Prevention
A skid plate that provides extra undercarriage protection
Features pre-drilled holes to easily add additional lighting
100% bolt-on installation, no drilling required
Specifications
Color: Black
Material: Carbon steel
Surface Finish: Smooth powder-coated
Included: Skid Plate Light Mounting Holes
What You Will Get
1 x Bull Bar
1 x Set of Mounting Hardware
1 x Instruction
Top 10 Best Grille Guards for Deer Review
1. Tyger Auto TG-GD6T60028 Front Bumper Guard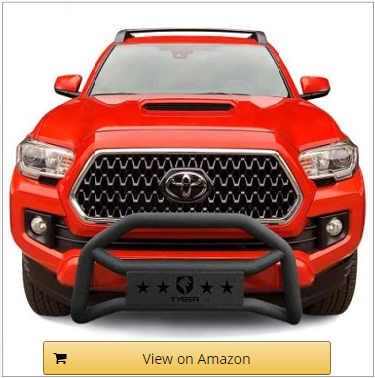 Tyger Auto is offering this grille guard for maximum protection in the center of the front side of your vehicle. This is a ruggedly made guard that saves your vehicle from strong impacts.
Heavy-duty 2.5-inch marine-grade stainless steel tubes are used to make it. Seamless welding of the joints ensures strength and no weak points. You'll find a textured black surface with E-coating. It enhances the look, protects from rust, and provides a strong and rugged appearance.
It comes with a pre-welded light mount channel. Here you can add LED lights if you want. Also, for license plate relocation (if required), it comes with pre-drilled mounting holes. You'll find two holes that are enough to hold your license plate strongly.
The Bolt-on installation process is easy. To make it easier, it comes with an installation guide. Also, you'll find the necessary mounts to install it in the package. However, you may need to cut a bit of the factory skid plates.
Also, if equipped, it may restrict the front sensors.
Pros
Strong and bold
Enhances the rugged look of your vehicle
Comes with rust protection
Light-mount channel and license plate mounting holes
Cons
May need to modify while installing
---
2. AUTOSAVER88 Bull Bar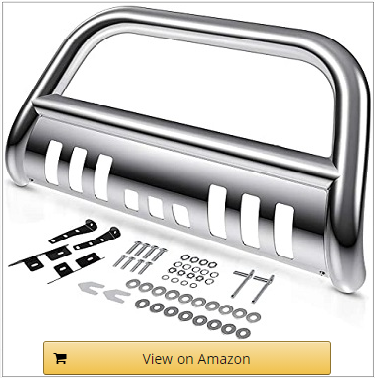 Instead of matte, if you love to shine, this bar is for you. This silver-colored shiny guard ensures protection, enhances the look, and offers convenience in off-roads. Let me tell you more about this.
The first thing you should see in a guard is strength. It comes with wide 3-inch stainless steel tubes. The glossy mirror finish over the tubes enhances the shiny look and keeps rust away. The joints are welded to ensure joint strength. To hold the shiny look, the joint welds are ground for a smooth finish.
It comes with a skid plate that ensures safety. However, if you don't need the plate, you can remove it. It also comes with two pre-drilled holes. In these mounting holes, you can add optional lights if you want.
The package offers everything that you need to install it, including a guide. Total bolt-on installation saves you from the hassle of drilling or cutting. So, you can install it at your home garage.
Pros
Comes with a shiny appearance
Included removable skid plate
Wide 3-inch steel tube design
Easy to install without cutting or drilling
Cons
Instructions are a bit complex
---
3. TAC Heavy Texture Bull Bar for Truck
If you're looking for a tough guard with a rough appearance for your bumper, TAC has just what you want. The thick and heavy texture on the bar gives it a heavy look and makes it tough enough to withstand large impacts.
This guard is made of 3-inch heavy-duty mild steel. E-coating over the steel protects from rust. Over the E-coating, it comes with a heavy powder coating that ensures a rugged structure and protection from scratch.
The tubes are bent using a CNC machine so that there is no weak point. To ensure zero weak points, the joints are welded, ground, and protected with powder coating.
You'll find a skid plate with the guard which is also coated for rugged appearance and durable performance. If you don't need it, you can simply unscrew and store it somewhere. For mounting LED lights, you'll find two mounting holes.
Installation doesn't need any cutting or drilling. Bolt-on installation instructions are included in the package. Installing brackets are also E-coated and powder-coated to ensure maximum strength and protection from rust. TAC suggests seeking professional help to install it. But I guess you won't need it.
Pros
Black powder coating over E-coating
Appears and performs rugged
Included coated and removable skid plate
Brackets are also double-coated for durability
Cons
Installation could be a bit easier
---
4. WARN 102346 Front Bumper Stinger Grille Guard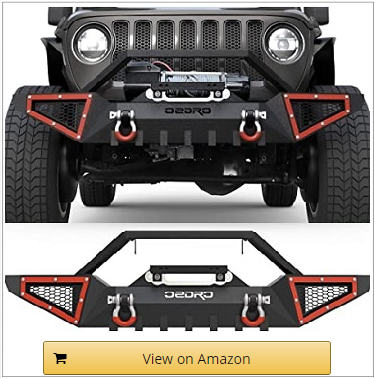 If you're looking for a grille guard for your Jeep, you can depend on Warn. This grille guard from Warn is manufactured to be strong and durable. Let's check what it has to offer.
This Warn grille guard is made of 2-inch steel tubing. The powder coating over the tube ensures durability and protection from rust. The tube is bent using the latest technology to ensure zero weak points. So, it doesn't break easily while facing large impacts.
This simple yet strong grille guard for Ford is available for high, mid, and low stingers. So, no matter which one you use, you'll find one in the market.
It is very easy to install. Bolt-on installation without cutting or drilling allows you to get it installed easily and quickly. The package includes the bolts and installation guide to help you.
Overall, this is a good guard for your ford that ensures a good look and enhanced protection. The only thing I haven't liked is it doesn't come with an option for mounting lights. It could have two mounting holes.
Pros
Easy to install
Made for strong protection and an enhanced look
Available for high, mid, and low stingers
Cons
Doesn't include mounting holes for LED light
---
5. Go Rhino! 3160B Black 3000 Series Step Grille Guard
From Go Rhino!, this is a great grille guard that you can have for your truck. It is a sturdy and low-profile grille guard. So, if show-off is not your thing, I guess this is for you.
It is built strong to save your truck from heavy impacts. Thick and heavy-duty stainless steel is used to build the guard. A black powder coating over the steel ensures protection from rust. As a result, this can serve you for a long time.
The best thing about this grille guard is it comes with a built-in step. You'll get easy access to the hood and windshield. For comfortable and firm stepping, it comes with a quality step pad. This built-in step feature is patented by Go Rhino!
The grille guard is very easy to install. Just make sure that you're not messing up with the tiny hardware.  Go through the instructions properly before installing. This one of the best grille guards for deer comes with a comparatively higher price tag. But it is worth it.
Pros
For maximum protection
Built-in step with comfortable step pad
Ensures value for money
Available with and without side guards
Cons
Installation instructions are complex
---
6. Westin 57-2505 Black HDX Grille Guard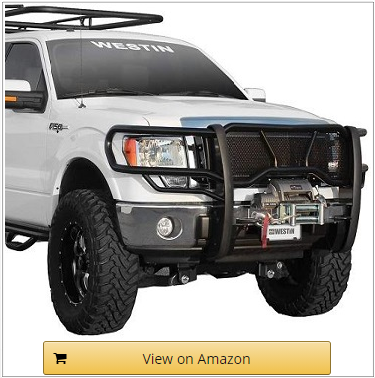 If you need a grille guard with headlight protection, I mean a full grille guard, you should go for this one from Westin. I like this one for a lot of reasons. Let's talk about those.
Just like other guards, it is made of E-coated stainless steel tubes with smooth welding. 2-inch tubes are used for the main structure and 1-1/4-inch tubes are used as the supports. I love the punch plate that covers the grille fully. The one-piece solid construction ensures better protection.
Another thing I love about this guard is the extra-wide rubber strips covering the uprights. These help to reduce the shock of the impact. The uprights are solid and come with a 1-piece design. Powder coating over it keeps rust away and allows it to last long.
The installation process is very easy if you order the right one. In that case, bolt-on installation won't take much time. You only need to cut or drill if you order the wrong one. However, the instructions are hazy. It is better to search for video instructions.
Related Post: High-Quality Side Steps for Truck Reviews
Pros
Full front protection including headlights
Thick rubber padding on the uprights
Punch plate for protecting the grille
Made to be durable
---
How to Install Westin Grille Guard
---
7. Dee Zee DZ501819 UltraBlack Bull Bar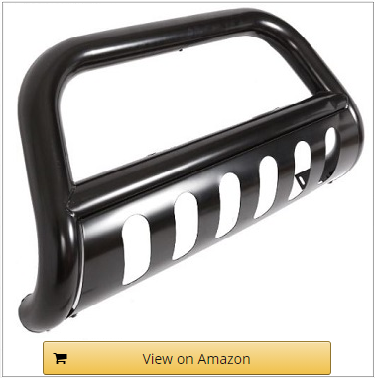 If you're looking for a low-profile but strong and best bull bar for your vehicle, Dee Zee has this one to offer. This is an ultra-black grille guard that ensures a shiny but low-profile look.
3-inch steel tubes are used to build this guard. The tubes are mandrel-bent. As a result, there is no weak point in the structure. The joints are welded perfectly so that the connection stays strong. The smooth ground on the joints keeps the look flawless.
On the tube, there is a black powder finish that protects it from rust. The glossy black powder also provides a shiny black look.
For better protection, it comes with a skid plate. You can keep it there or remove it according to your wish. The skid plate also comes with a shiny black powder coating. To add auxiliary LED lights, you'll find pre-drilled mount holes.
All the installation accessories and instruction books come with the package. It is easy to install. So, you won't have to run to a mechanic.
Pros
3-inch tubes for strength
Removable skid plate included
A glossy finish ensures a classy look
Low-profile appearance
Cons
Installation may need some time
---
8. Tyger Auto TG-GD6T60037 Front Bumper Guard
If you trust Tyger Auto but are looking for a silver shiny grille guard for your vehicle, wait no more. This shiny and tough grille guard from Tyger Auto is exactly what you want.
High quality and marine-grade 304 stainless steel tubes with 2.5-inch diameter are used to build this guard to make it rust-proof. The tubes are welded seamlessly and the joints don't have any weak points. The joints are ground smoothly to ensure a perfect appearance.
For better rust and weather protection, it is coated with mirror polish. Besides rust protection, it gives a shiny silver look.
For mounting LED lights, it comes with pre-welded mounting options. Also, in case your license plate can't be seen, it comes with two pre-drilled holes where you can install your license plate.
With the installing accessories it comes with, you can easily install it. The installation instructions will help you. However, it may interfere with tow hooks and the front sensor.
Pros
Ensures a shiny and catchy look
Enhanced rust protection
Pre-drilled mounting holes for the license plate
Pre-welded mounting option for LED lights
Cons
Interferes with front sensors and tow hooks
---
9. Rough Country LED Best Bull Bar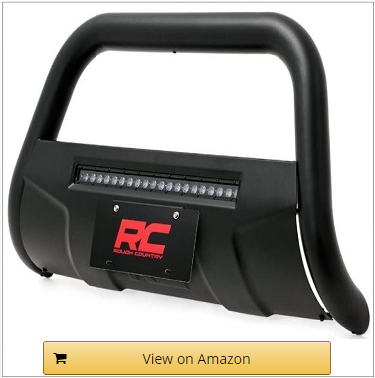 This tough grille guard from Rough Country can be the one you're looking for. You may have to sacrifice one or more front sensors, but I think it is worth it.
For strength, it is made with 3-inch sinless steel tubes. The tubes are bent and welded in a way so that no weak points are found in the guard. The polished joints and a black powder coating over the guard give it a matte look. The powder coating also saves it from rust.
It comes with a skid plate. I love the LED light bar that is integrated with the skid plate. The bar comes in die-cast and durable aluminum housing for maximum protection. Also, it comes with a waterproof and braided wiring harness equipped with an in-line fuse and toggle switch.
In case it covers your license plate, there are pre-drilled holes to install your license plate and ensure visibility.
It comes with the hardware needed to mount it. Installing doesn't require any cutting or drilling. However, it may block one or more sensors.
Pros
Integrated LED bar with maximum protection
Smooth matte finish for a bold appearance
3-inch strong steel tube construction
Included skid plate
---
10. Armordillo USA 7168947 MS Series Bull Bar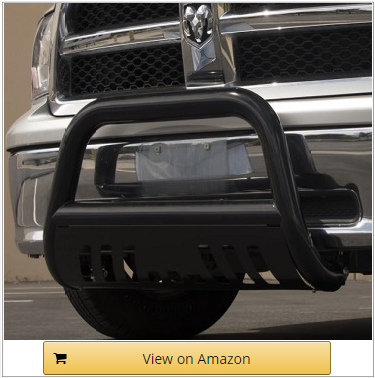 The last one on my list is from Armordillo. This is another low-profile but strong guard for your vehicle. Being made with quality material, this guard saves your vehicle front from heavy impacts.
3-inch stainless steel tubes with mandrel-bent are used to build the structure of the guard. Mandrel-bent ensures the absence of any weak point. The seamless welded joints also make sure that there is no weak point.
The guard is covered with a black powder coating. It ensures protection against rust and thus enhances the durability of the guard.
It comes with a skid plate with a mesh design which enhances the appearance. Besides, it doesn't block the airflow to the radiator. You'll find pre-drilled holes for installing LED auxiliary lights.
To install, you don't have to drill or change anything. Bolt-on installation has kept it easy and simple. Everything is included in the package. You have to take these out and go through an easy installation process.
Pros
Mesh skid plates of maximum airflow
Strong stainless steel tube construction
Very easy to install
Low-profile appearance
Cons
Instruction could be simpler
---
Buying Guide for the Best Grille Guard for Deer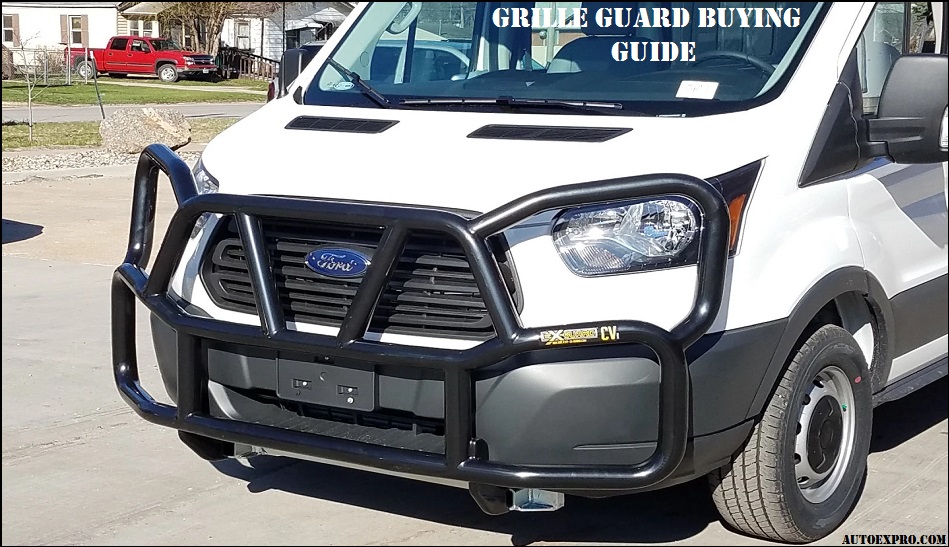 Picking a random grille guard won't work. You can't get the expected performance if you do this. So, you should take time, know your preferences, and pick one according to those. Below are some points you should keep in mind before you pick up a grille guard for your truck.
These guards come in different styles. You should pick a style that meets your needs.
Full grille guards come with total coverage for the front side of your vehicle. These cover the entire front side along with the headlights. So, these ensure maximum protection including protection for the headlights.
Center grille guards are designed to protect the center only. As a result, you won't get headlight protection from these. A nugget grill guard is another type. These guards are not for protection from heavy accidents, only for some small and medium bumps.
Depending on what you want, you can pick any style.
Grille guards are for the protection of your vehicle. So, the material should be strong and durable. Typically most of the grille guards are constructed of steel. There are some other materials, but steel guards are the strongest.
A durable coating on the material can keep away the rust and allow the guard to last for a long time.
Grille guards are heavy. So, while picking one, you should make sure that it is easy to install. In most cases, you'll need assistance. But make sure that you can do it at home. A guard that comes with a complex installation process will cost you more because you'll have to go to the mechanic.
Airflow is important for your radiator. It catches the airflow and keeps the engine cool. So, you should make sure that the airflow is not hampered by the grille guard. While picking a grille guard, check if there is enough space for airflow or not.
Don't pick a grille guard that blocks the airflow.
The price of the guard matters. As it is a matter of protection, you shouldn't limit your budget. Still, you may have some budget constraints. However, try to have a decent budget so that you can afford a good guard for your vehicle. Don't consider the quality for the sake of budget.
Also, you should make sure that the best grille guard for deer you're going to pick is the one that goes with your vehicle.
---
Grille Guard vs. Push Bar vs. Bull Bar
There is too much confusion about grille guards, push bars, and bull bars. Different enthusiasts have come to different conclusions about these three. To me, these three are almost similar, but the primary aim is a bit different. Let's talk more about these.
Grille Guard
A grille guard is a protective instrument for the front side of the vehicle. It protects the front side from light to medium impacts. It is also known as a brush guard because the primary aim of it is to save the front grille from brushes while off-roading. But these are also great to protect your vehicle from a crash with an animal like moose, deer, etc.
Typically you'll find a full grille guard that covers the whole front side and protects the grille, headlights, and other elements of the front part. Also, there are center grille guards which are made to protect the center part of the vehicle only.
Push Bar
Push bars come with the primary purpose of pushing something. These come with rubber protection in the pushing points so that the thing you're pushing doesn't get damaged. Typically, the main pushing bars are vertically placed and curved to ensure better pushing with evenly spread pushing power.
Though push bars come with the primary aim of pushing something, these also serve a similar purpose as grille guards. These protect the grill from impacts like collisions with deer or similar animals. There is not much difference between push guards and center grill guards.
Bull Bar
The 'Bull' in the name Bull Bar refers to any type of cattle that often come into the roads and highways, especially in rural areas. This bar is used to protect a vehicle from a collision with such cattle. So, it can similarly protect your vehicle from other animals like moose, deer, etc. that suddenly come in front of your vehicle. So, bull bars are typically center grille guards.
Another use of a bull bar is the protection of the underside of your vehicle. These often come with skid-plates that protect the vehicle's underside from the small rocks chips, and other similar elements while running on off-roads. In most cases, these are removable so that you can remove them while running on the road.
So, to me, bull bars, push bars, and grille guards are similar types of protective gear for the front side of your vehicle that do the same thing but with some different added abilities.
---
The Legality of Grille Guards for Deer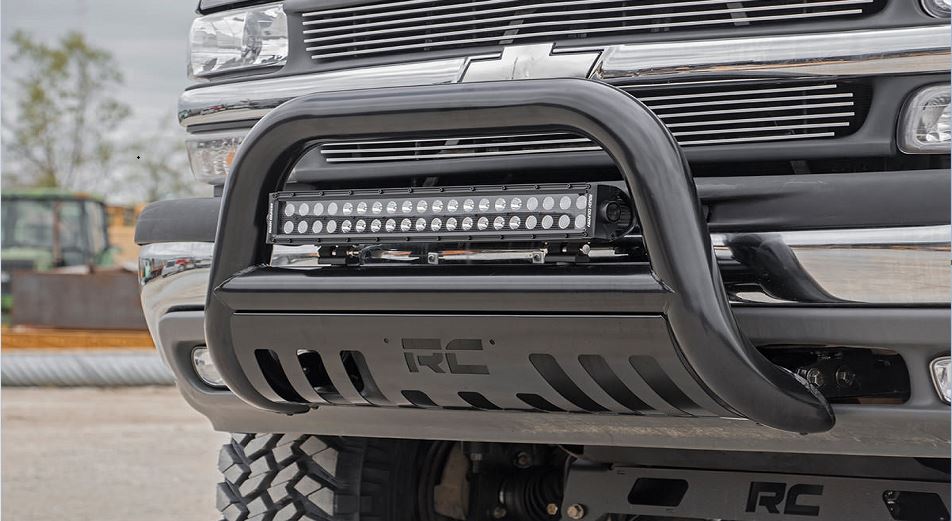 In most parts of the US, grille guards are legal. In other parts, having a grille guard installed is illegal. There are reasons too.
Grille guards cover or interfere with some important censors. As a result, driving issues may occur. Also, some grille guards cover the license plate. Keeping the license plate covered is a huge issue in the states of the USA. Again, some full grille guards interfere with the headlights. These are the common reasons why grille guards are illegal in some states.
However, there are ways to tackle these issues too. Installing the license plate on the guard solves the license plate issue. Many guards come with holes for mounting license plates. Center grille guards don't block the headlights. So, there should be no issue here.
The issue of blocking sensors is legitimate and can't be solved easily. But some guards don't block the sensors. You can go for those.
But as there is a question about legality, things are not this easy. In some states, grille guards are illegal because they may harm pedestrians and bicyclists. This is true in some cases. Adding grille guards enlarges the front side. As a result, if you're not careful, you may harm them. Also, there are chances to damage things and properties.
You can go through the laws of your state to be sure about the legality of using grille guards.
---
Frequently Asked Questions About Grille Guard
What is the main use of a grille guard?
The primary use of a grille guard is to protect the front of your vehicle from any kind of impact. The front side contains a lot of small and large parts. The grille guard ensures the safety of those in case of any collision.
Besides protecting the front, it also improves the tough appearance of your vehicle. Sometimes, grille guards are used to pushing and driving through barriers. But this is not recommended.
Do grille guards affect gas mileage?
Grille guards affect gas mileage. The impact could be very tiny or heavy, but there is impact.
One of the most important factors that influence gas mileage is weight. An increase in weight causes a reduction in mileage. While adding a grille guard, you add weight to your vehicle. As a result, the gas mileage would go lower.
Also, adding a grille guard changes the aerodynamics of the vehicle. When the aerodynamic change takes place, your vehicle faces more wind barriers. This also reduces the gas mileage.
No experiment has been able to calculate the exact reduction in gas mileage after adding a grille guard to your vehicle. Depending on the weight of the guard and change in aerodynamics, it may vary.
Is Using a Grille Guard Worth the Investment?
Grille guards protect the front side of your vehicle. Typically, the front side of your vehicle is equipped with a lot of small and large important parts. Any small impact on those parts may cost you a good amount of money.
Grille guards save those parts from sudden impacts. Thus it saves you money. Spending an amount on something that saves a lot is always worthwhile. So, investing in a grille guard is worth.
---
How to Install a Grille Guards
---
Final Verdict
The best grille guard for deer should save you from not only a collision with deer but also a lot of other impacts. That's why picking the best one is important. I hope now you know how to pick a grille guard from a lot of options.
My favorite one is the one from TAC. It looks sturdy and it is sturdy. For off-road riding, you can pick this one. You can go for the one from Westin if you want to have full front protection.
You may have a different choice and it is totally okay. Pick one that goes with your needs. All the guards I've talked about in this article are worth buying. All you need to make sure that you're picking the right one. All the best.