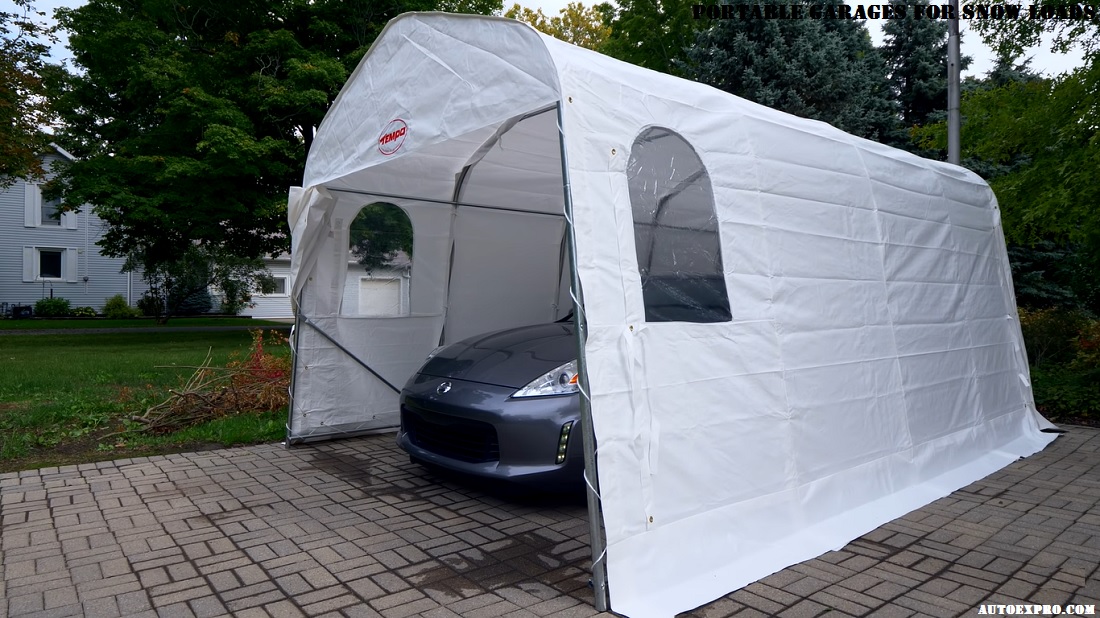 Protecting your vehicle from the biting cold of winter requires a quality portable garage. An issue with that is you really have to find a sturdy one. Otherwise, selecting a poorly constructed temporary garage at a low price will cause failure to fight the snow loads and lousy weather.
That is why people often worry about the price of a garage, fearing finding no match for their budget. So, this article will be dedicated to fetching the best portable garages for snow loads, which will satisfy you while you hold the purse strings.
It will discuss the key features and their pros and cons, followed by a buyer's guide to help you make the best carport for snow purchase. You will also find informative sections to learn about the product better. Let's get started!
Top 5 Best Portable Garage For Snow Loads Reviews
1. Palram – Canopia Vitoria Carport And Patio Cover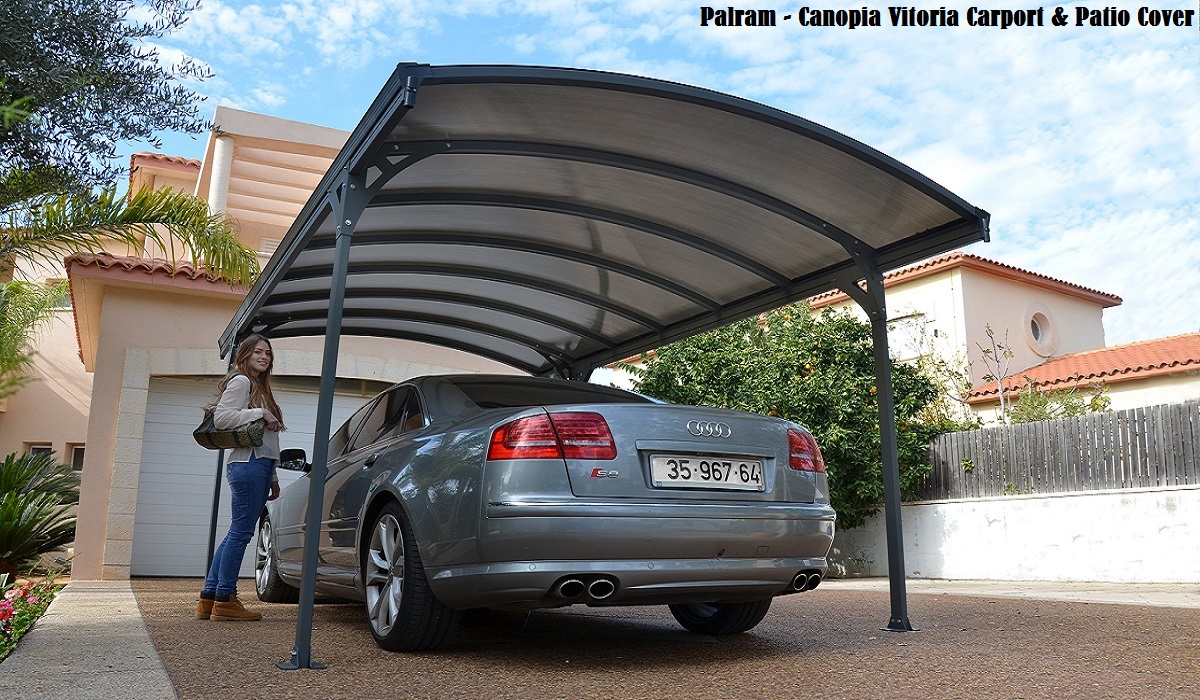 If you live in Alaska, Michigan, or New York, snowfall has to be one of the alarming concerns for your vehicle. The carport and patio cover from Palram is highly capable of protecting car shelters against heavy snowfalls.
Features and Benefits:
Quality Materials: Palram used high-quality aluminum and galvanized steel to manufacture the carport. Afterward, it powder-coated it to upgrade its look and make it rust-resistant.
Powerful Canopy Panels: The polycarbonate panels are as thick as 6mm, making them next to impossible to break. Their UV protection is strong enough to keep your vehicle from getting yellow in the sunlight over time.
Easy Assembly: There is nothing challenging about assembling it. You just need to place it on plain and solid land to secure its pole footing. No additional tools will be necessary. However, it will be a two-person job.
Competitive Price: The price is neither high nor low. Among the current portable garages in the market, it has a competitive price that will serve you well for what you pay.
Warranty: The company provides a 10-year warranty period. You will also get their customer support if you live in the USA.
Pros
Use of galvanized steel and aluminum to ensure long durability
Movable beams to match your driveway or patio
Highly resilient canopy panels
Arched roof for additional support
Easy maintenance due to rust resistance
Simple installation process
A 10-year warranty
Cons
There are no verbal instructions, which may make assembling hard for some users.
---
2. Bestmart Inc. Advanced Ripstop Garage Storage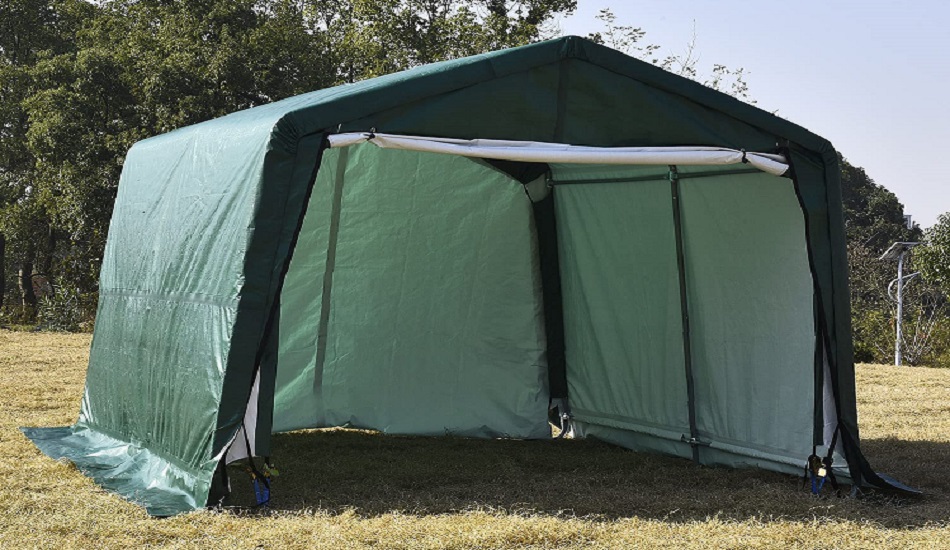 The first one had a price tag too high to be affordable for some. So, here goes a widely used and budget-friendly temporary carport.
Features and Benefits:
Quality Materials: The tarped garage consists of entirely waterproof polyethylene materials. Besides, the company UV-treated it for higher durability and protection. Apart from that, you will get an anti-aging, anti-yellowing, and anti-fungal garage. It will remain unfazed even after several years in the sunlight.
Powder-Coat Finish: The garage has a top-notch powder-coat finish. Talk about peeling, corrosion, or chipping; you will forget about it when you get it in your hands.
Suitability: If you have a small truck, trailer, automobile, or wood storage, the Bestmart temporary garage will be the perfect choice for it.
Easy Installation: Installing it is quick and straightforward. The product comes with manual instructions, and you can also watch YouTube tutorials for further assistance.
Pros
Premium materials with powder-coating
Highly durable, anti-yellowing, and anti-fungal
No risks of chipping, corrosion, or peeling
Suitable for different types of vehicles
Budget-friendly
Cons
It will not hold up well during sandstorms and heavy snow.
---
3. Abba Patio Portable Garage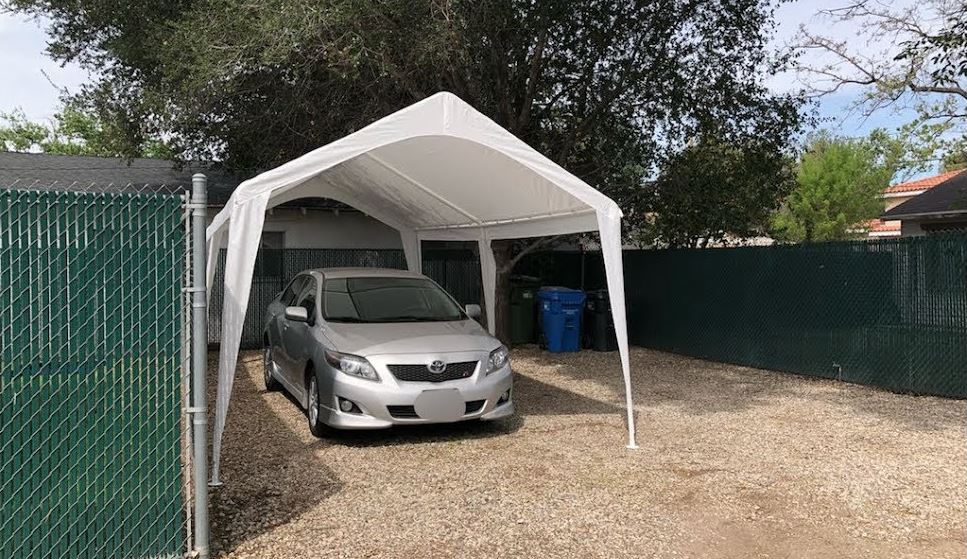 Abba Patio Portable Garage is one of the well-made, popular, and overall top-rated carports for winter. It is ideal for users living in places that often encounter high winds and fierce storms.
Features and Benefits:
Well-Engineered: The brand designed the carport frame to weigh higher than similar traditional styles to make it less vulnerable while safer and more prepared for adverse weather. The joints of the metal corners back up with extra support, while the 1.5-inch wide legs provide the garage more stability. Of all the garages I examined, the build quality of this one trumped by a considerable margin.
Mobile Doors And Sidewalls: They are there if you need more protection and security. Plus, they also help with privacy. You can assemble them easily.
Rust-Resistant: Like the other two reviewed above, the fabric of the portable garage is also UV- and water-resistant. Plus, it is not vulnerable to rust, owing to its powder coating. You can use it all year.
Inclusion Of Essential Accessories: You will get everything you need to install the garage in the package. The bungee cords will fix the cover to the garage frame, and the foot pads with the canopy legs will add more steadiness.
Pros
Ample space inside the garage
Suitable for any season
Additional support, sturdiness, and stability
Exceptionally high build quality
Inclusion of accessories for assembly
---
How to Install Abba Patio Portable Garage
---
4. Quictent Heavy-Duty Carport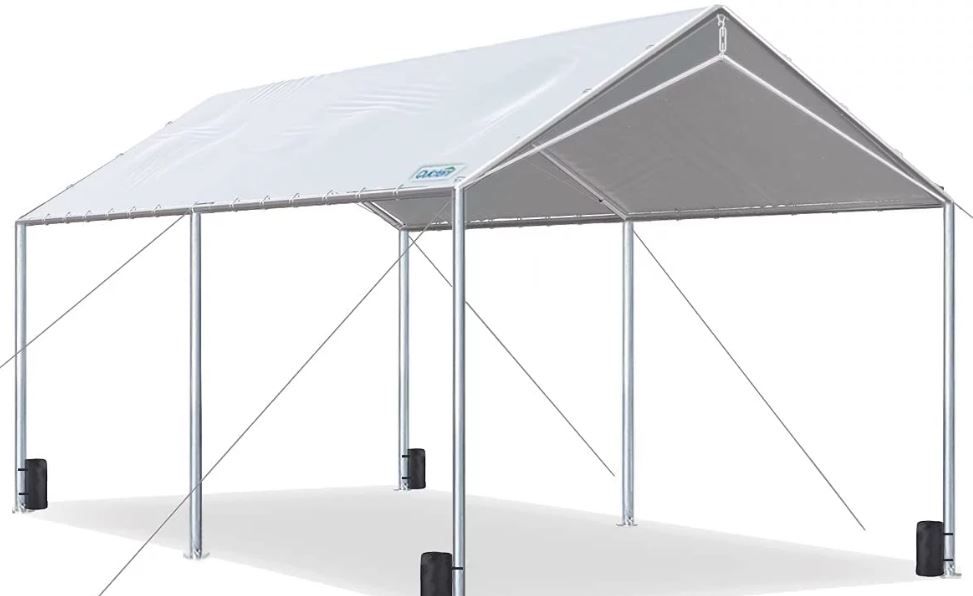 The heavy-duty carport from Quictent is a combination of everything standard you want in your mobile car shelter but at a very moderate price.
Extra-Thick Fabric: The 180g reinforced polyethylene fabric is extra-thick for extra protection against water, UV, and tear. As a result, maintaining the car shelter will be a piece of cake for you.
Wide And Steady: The material of the car canopy is white powder-coated steel. Now, if you wonder how it looks as good as new, even after years of dealing with snowfalls, you know why.
Highly Thick And Rustproof: The L-shaped pegs of the carport enhance their depth into the land to magnify the carport's capability to tackle rain and wind. So, whenever a storm hits your locality, you will not have to worry about the well-being of your vehicle.
Color Options: You can pick green or white. While the price is already budget-friendly, the upside of the latter is that it charges you lower.
Warranty: If you have any issues with the pegs, ropes, connectors, and elastic ropes at any time, you can contact Quictent to use its lifetime warranty to replace the components. Furthermore, there is also a one-year warranty available for poles and covers.
Great Packaging: Quictent delivers the carport in a meticulously well-reinforced package to minimize the possibility of damage. From what customers said about their delivery hassles, I want to give the brand a bonus mark for such thoughtfulness.
Pros
High-quality materials
Availability of 2 colors
Reliable customer service
Lifetime replacement warranty
Extra thickness to make the canopy more resilient
Highly capable of surviving heavy storms
Cons
According to some customers, some poles were dented on the carport's ends, which required them to bend them back.
---
5. Rhino Shelters Portable Garage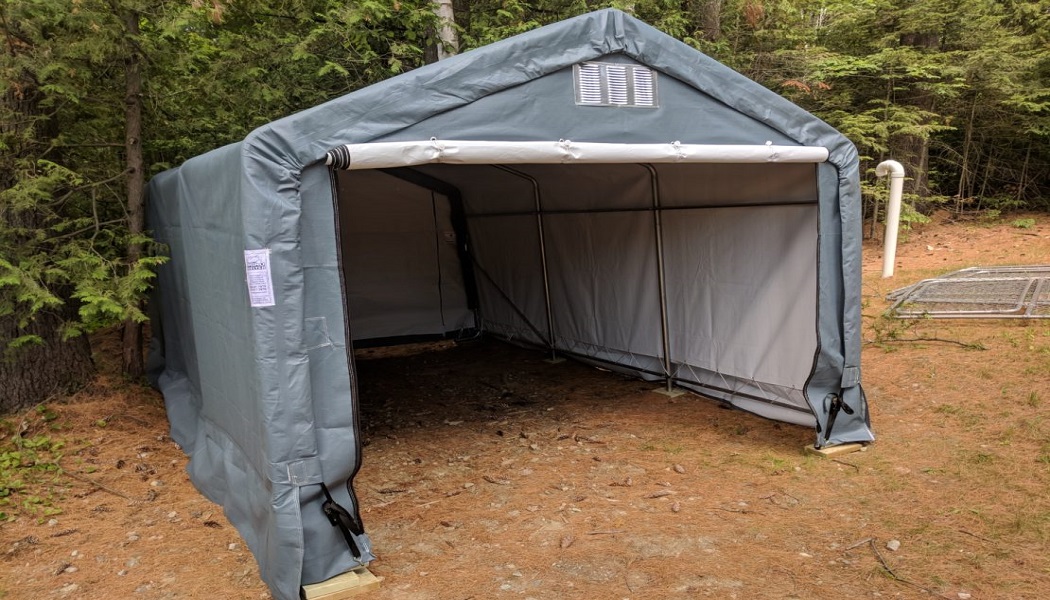 Most products today come within a budget, as portable garages are like an investment. The last one on my list from Rhino Shelters is no exception – in price or quality.
Features and Benefits:
Hardy Frame And Fabric: The highlights of the portable garage are the industry-grade fabric and galvanized steel-made frame. The manufacturer also used industry-grade strong carriage bolts. All the components ensure the carport proves to be a reliable companion for your vehicle in your time of need.
Additional Protection: The carport has an inner black scrim to offer more protection. It will block UV rays so efficiently that there will be no ill effects on your vehicle.
No Piles Of Snow: If you check out the product from the link below, you will notice that the car shelter has a round shape. It makes the snow slide off. So you will not have to clean piles of snow from the rooftop, making taking care of it more manageable for you.
Warranty: There is a 2-year warranty available to cover all labor and components. And the frames have a 10-year warranty period, whereas the industry standard is only a year. That is something to take this one a notch up on your list, innit?
Others: You can get the cable hook anchors to hold tight regardless of the surface condition. Once you stick them in, it will take extreme pulling before they come loose. Finally, I'd like to point out the double zipper doors. They are pretty dependable and will not freeze up or jam.
Pros
Top-quality fabric and frame for high durability
Inner scrim for extra protection
Easy maintenance
10-year warranty for frames and a 2-year warranty for parts and labor
Workable on any surface
Cons
It may not sustain if there are too many storms.
---
How To Buy The Best Portable Garage For Snow Loads?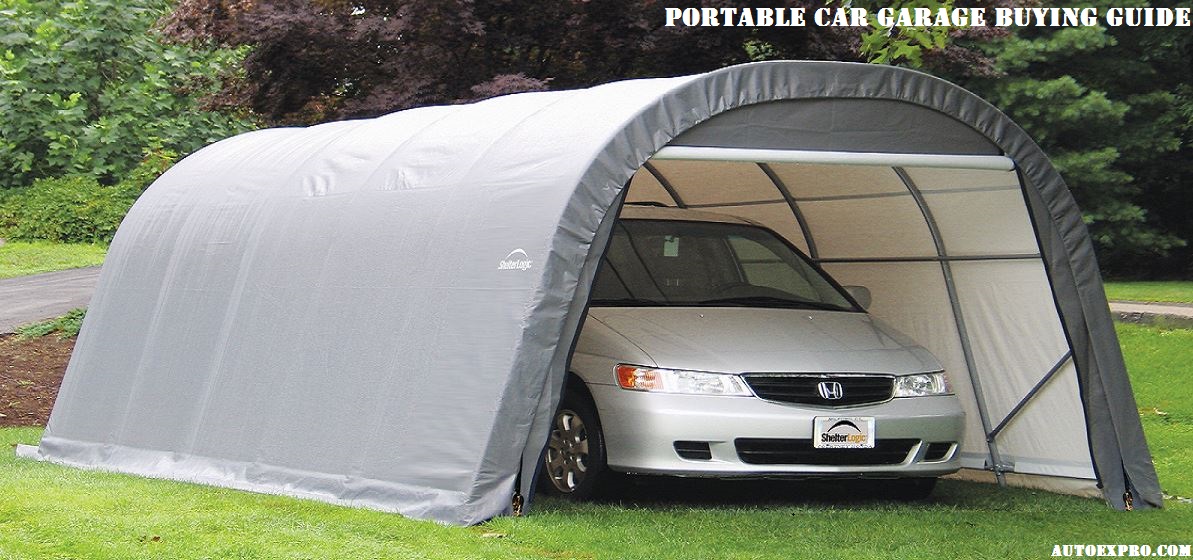 There are some essential characteristics any portable garage should have if it is to be a standard one. Let's find them out.
Access
It should be easy to assemble the portable garage. Check that you can manage the setup with a couple of persons and that it does not need additional tools. A ratchet tensioning mechanism will always produce the best results on pulling the canopy cover firmly over its frame. A smooth and tight layer increases the likelihood that the pile of snow will eventually fall off.
Diameter Of The Poles
The strength of the portable garage will directly depend on the diameter or thickness of the poles that make up the structure. You can estimate it at about 2 inches. Determine the thickness of the pole wall too, if you can. The frame will be more durable when the wall is more solid.
Build Of The Frame
A way to identify the best carport for snow is the materials of their frames. They have to be full aluminum, galvanized steel, or metal. If they are not galvanized, make sure they are powder-coated for protection against rust.
In that case, look for sprayed-on powder coating instead of baked-on. It provides higher rust protection and lasts longer.
Blocking UV Rays
UV rays fade the color and crack poor-quality fabrics even during winter. If you want to go years with a single carport, you will need to pay more and search for materials with fade-blocking and anti-aging properties.
Resistance To Wind
Heavy winds are often responsible for causing quick damage to portable garages. Sometimes, it is not because of the garage construction but faulty installation.
Make very sure the canvas panels are secure and not loose or flapping. Also, see that the corners are correctly staked, fixed, and weighted. Always use additional anchors and weights included with the temporary garage.
Fabric Of The Tarp Cover
The fabric of the tarp cover must be water-resistant and UV-proof. It is preferable if it has fire-retardant properties. If you can choose one from sewn, stitched, or heat-bonded seams, it should be the last one for its higher quality and performance. However, keep in mind that it should also be anti-fade, anti-fungal, and anti-aging.
Moreover, you will get the most efficient weather protection from a tarp cover made of PVC fabric. It is less likely to develop mold, dry rot, and mildew than others.
How To Protect A Car Shelter From Strong Winds
1. Choosing An Appropriate Place      
First, you have to anchor the car shelter to the land with its bolts. You can do it in any place, concrete or solid, but it cannot be moist. A ground exposed to moisture will loosen the bolts.
It is wise to pick a place around a large establishment to assemble the carport. It will create an additional shield against strong winds.
2. Picking A Metal-Made Carport
A wooden or plastic carport is more prone to blasting winds than a metal one. The latter is more powerful and likelier to tackle the elements.
3. Assembling It Properly
Check and double-check that you have assembled the garage correctly by following the manufacturer's instructions. If you miss out on even a single screw, it will run the risk of the carport letting go when the wind hits hard.
How To Determine The Size Of The Carport
Determining the size of your carport depends on the spare land available in your place. Then it is up to what you decide to keep in the garage.
If you have a single and small car, you can easily do it with a small temporary garage. Since most garages will charge you several hundred bucks, you should check out all your options to find a versatile one.
But a large-sized portable garage has its perks too. I am not talking about a gigantic one. A slightly wide-ranging carport will allow space for storing other things. You can also run your car around when you park it there.
Be very clear that bigger does not indicate better. If you want to dismantle your car shelter during the summer, it will take up a lot of space. That will become burdensome if you have a colossal portable garage.
How To Maintain A Portable Garage
It will not be fruitful if you find the best car shelter for winter but do not keep it well-maintained. Here is what you can do to get the most use.
Checking The Roof
Customers mostly complain about roof leakage or upper fabric tear. That is normal because the rooftop is more vulnerable to damage due to continual beating by rain, snow, and UV rays. So, keeping them in check will extend the lifespan of your portable garage.
Regular inspections will give you a chance to revamp or replace the impaired roof before the entire tent gets destroyed. And remember to keep the fabric tight to prevent it from holding water.
There are kits in the market to repair or replace the roof. You can buy any that suits your tent.
Securing The Garage
Windstorms or heavy rain can be severe for a portable garage. It might collapse or break during those circumstances if not secured adequately.
You will find equipment like threaded rods, weights, and anchoring kits to secure your carport. Just ensure that they comply with it before purchasing.
Washing And Cleaning
Natural elements like bird poop, dust, and dirt are common in temporary garages. Regular washing and cleaning are necessary for the tent to prevent any damage.
You can do the cleaning using a water hose under low pressure to wash the dirt. But do it when the day is sunny to facilitate the tent to dry faster.
Keeping The Neighboring Area Clean
Keep the neighboring area clean where you set up your portable garage. Many plants grow in those places during spring and summer.
Cutting the branches and roots will fend off probable damage. Users usually prefer keeping 2 to 4 ft. around the garage clean. It is simple yet effective, as it takes only several minutes to pull them out.
Retreating The Fabric     
You will notice the toll of nature on your garage fabric over time. The layer will become less UV- or water-resistant until it becomes shabby.
Retreating the fabric will give your garage an extended lifetime by invigorating it with better sustainability.
---
FAQs About Portable Garage Storage 
How long does a portable garage typically last?
A high-quality portable garage typically lasts a substantially long time. You can expect it to protect your vehicle for 10 to 20 years. But if the quality is poor, the lifespan will be much shorter.
What might cause a garage to flood during the rain?
If you live anywhere near lakes or water sources, it can cause a garage to flood. Rainwater can access it from below, above, and into the side. You must keep it well-prepared from every angle to prevent that.
How can I keep my mobile garage free of moisture?
You can set up a vent to solve the problem, as it will let moisture escape. There are ventilation kits available in the market for carports. You can try one of them.
---
Portable Car Garage Installation & Review
---
Final Verdict
Phew! I am finally done showcasing the best portable garage for snow loads. But you need only one, right? Let me see if I can help you by further narrowing down your options.
The carport from Bestmart would be a fitting pick for people living in areas with light snowfalls. It is affordable, has a powder coating, and is suitable for small cars and trucks. Users looking for standard quality and performance within a budget will find it a good deal.
But if your case is the opposite, where heavy storms demand a capable carport, Quictent will be your savior. It has an excellent and extra-thick fabric. If you live somewhere notorious for snowfalls, you can depend on Quictent to keep its head high regardless of whatever comes. And guess what? It will not cost you an arm and a leg!
However, if you are willing to throw in a little more money, you could have the best of the best – the Abba patio portable garage. It is built to withstand storms and winds and remain unperturbed during the scorching summer. You can assemble it anywhere and use it any time of the year.
I hope the verdict helped you decide on your purchase. Good luck!
References: 
https://www.garagejournal.com/forum/threads/portable-garage-anyone-have-one-thoughts/
https://www.rv.net/forum/index.cfm/fuseaction/thread/tid/18717823/print/true.cfm
https://www.portablegaragedepot.com/information/which-portable-garage-best-winter-weather.html
spy.com/articles/hacks/car-hacks/portable-garage-1202719637/
https://www.thehulltruth.com/boating-forum/159845-ever-use-portable-garage.html
https://www.garagedoornation.com/blogs/home/best-portable-garages
heavy.com/home/portable-garage/