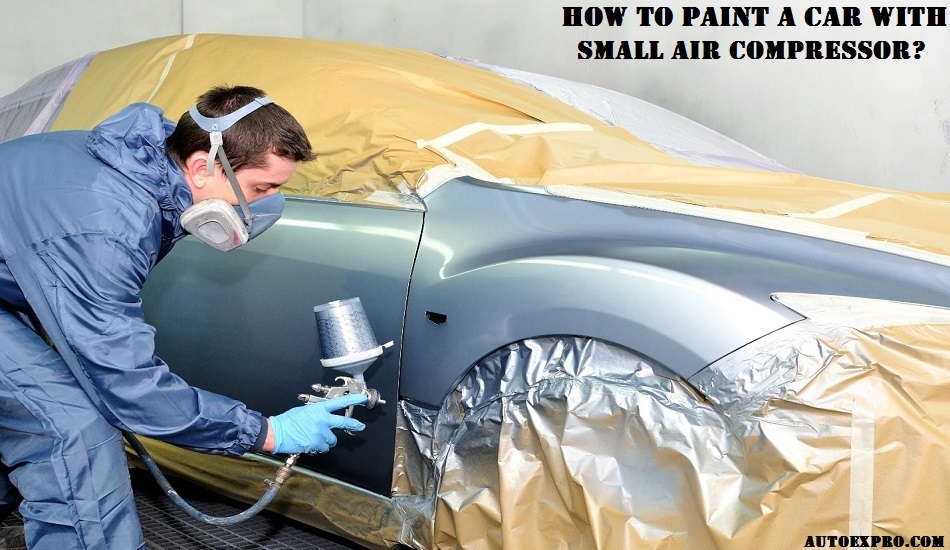 Among all the vehicle painting methods, painting with the help of air compressors is preferred by auto owners. But, multiple numbers of matters are there to be taken care of for a smooth paint. Here in this article, we will discuss how to paint a car with small air compressor along with other related details to take care of.
When you paint your car with a small air compressor at home and want it to come out perfect, you need to focus on minute details. Along with the process of painting, you must have awareness of accurate compressors for your car as well as other safety tips to follow and smart tricks to remember.
Here we will discuss the process step by step along with a guide to choosing the right compressor. We have also recommended an air compressor which is one of the most used and popular one in the automotive market.
How to Paint a Car With a Small Air Compressor?
It may sound an easy-to-do job to paint a car with the help of an air compressor, but in reality, you need to be a lot more cautious, experienced, and flawless. We have revealed the secret mechanism behind the process, as well as the safety tips that you should follow while painting your car.
You should never miss the preparatory steps as that will impact the evenness of the color and texture of the painting.
1. Process of Painting
In the process of spray painting, the compressor provides enough pressurized air to break up the paint.
That pressure produces enough mist of paint through a nozzle. The compressors follow "high volume low pressure" mechanism and provide a consistent flow of air to create an even coat of colour over the vehicle.
2. Important Materials
Some other materials that you need for a flawless finish on your car, along with a suitable air compressor are –
An electric sander.
Sanding pads
A paint sprayer
1200 and 2000-gritt wet and dry sandpapers
Primer
Masking tape
Newspapers for masking off
Safety glasses, gloves, a respirator or mask
Paint thinners
Enamel, acrylic enamel or polyurethane paint
A clear coat lacquer etc.
3. Preparatory Steps
The process of painting takes time and patience. You need to prepare your materials and vehicle before the air spray gun comes to the scene. So at first let's have a look at the preparatory steps –
Surroundings – Choose a clean and large enough working area. The area should be well ventilated.
Painting Area – Decide if you want to paint the whole car or only some specific areas like the trunk or inner doorsills.
Safety Gear – Apply all the safety gear beforehand to avoid any accident.
Dust and Rust – Remove any kind of dust from the surface of the car. Check if there is any kind of dents, rust and corrosion and repair them.
Sanding – Sand your entire vehicle (if possible, to the bare metal) to provide the paint a polished surface which it can cling on.
Cleaning – With the help of alcohol or liquid spirits and a piece of old cloth or rag you should clean the vehicle thoroughly.
Masking – Areas like the mirrors, window trims, glasses, grills etc are needed to get covered. You can do that with the help of masking tapes.
4. Steps of Painting
Get the air compressor and the spray gun connected via a hose.
Keep the air spray gun at least 6 inches away from the vehicle.
Check and be sure that the air compressor is providing enough CFM.
Follow the manufacturers' guide before mixing the paint and the solvent to ensure that they are getting mixed in recommended ratios.
Use a side-to-side sweeping motion while painting and apply the colour in thin and even coats. In an unusual way, you will need three to four coats to cover the surface level.
If you want to re-ensure the deliverance of consistent paint flow by the compressed air spray, then the pressure paint sprayer pattern on a piece of cardboard.
5. Steps to Remember After Completing Painting Process
Follow the dying time recommended by the manufacturers.
You may apply another even coat of paint, after giving a 24-hour break.
Make sure that you have removed the masking tapes.
Complete the process with buffing. With a circular motion, buff the areasthat you have painted.
How to Choose the Right Air Compressor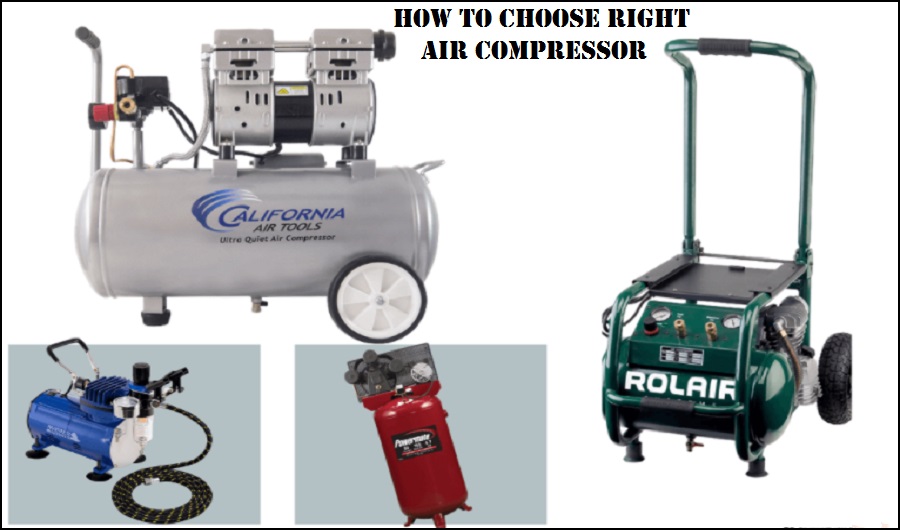 It is known to all mechanics and car owners that for car painting, choosing the right compressor and size is more important than the painting process. Even if you are passionate about mechanical painting, you still need the right equipment.
We will discuss the most important factors that determine the right type of compressor for car paint.
There is no strict rule that you have to use a large compressor. When you paint the car through a step-by-step process, you may choose a small compressor with small sized tank. But you will need to refill them repeatedly and there is a risk of overspray.
With smaller tanks, you cannot finish the process at a stretch and it results into difference in pressure and flow and uneven coats. So if you want to avoid all these issues, then go for 60-gallon tank size. This much will be enough to complete an entire vehicle's coating in one pass.
So, a large compressor is much more efficient and helpful for even coating and smooth painting experience.
As far as the matter of CFM rating is concerned, a higher number will make the painting of a large vehicle possible. CFM or cubic feet per minute is used to measure the volume of flow coming out of the compressor.
When you are spraying a car, a large volume of air is required to be injected for creating atomization. Compressors with approximately 20 CFM is enough for an evenly applied painting and well-finished coating.
To get enough CFM for painting, you need a two-stage compressor. They are better than single-stage compressor as they deliver higher number of CFM of air per horsepower.
Rotary Screw compressors and reciprocating compressors are two of the most common 2 stage compressors available in the market.
You need to take care of psi, horsepower, weather condition etc while choosing the right air compressor for painting. A minimum 15 psi is must for this job but if you want a clear coat and nice finish, then go for 20-25 psi.
The ideal horsepower needed for car painting in an air compressor is 10 hp, though a higher number may bring an advanced level of efficiency.
Other related things to remember
Weather can affect the volume of the compressor as well. The amount of moisture and oil in air can also affect the process. To handle these issues, two-stage compressors are better.
Another matter to consider here is the sound produced by the compressor and you will like a quieter one.
Expert Suggestion on Best Air Compressor for Painting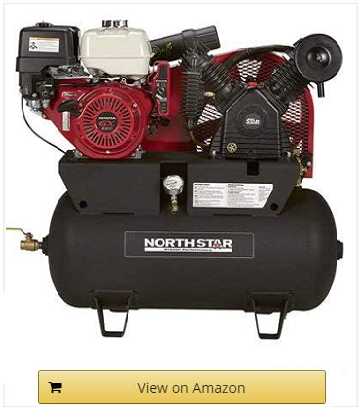 One of the most efficient and powerful air compressors in the market, NorthStar portable gas-powered Air Compressor is undoubtedly our expert choice. This product is one of the highest-rated and loved products among our US customers.
The biggest reason behind its popularity is it is survivable and made of extremely powerful material.
When you are painting with the help of your air compressor, the last thing you want is irritating vibration. This product is designed with Low Vibration Technology to ensure longer life and comfortable operation.
Another extremely useful feature of this air compressor is the cooling power of its V-cycle cylinder. This cylinder eliminates hot spots and saves the pump from getting heated, resulting into longer life for the pump.
You can easily carry this compressor from one place to another as it gets easily mounted in your cars bed.
Key Features
V-style cylinder to ensure superior cooling.
Material – Full cast iron.
Low Vibration technology for durability.
Four to five years of warranty.
Dual crankshaft bearings
Durable steel belt guard.
Liquid-filled pressure gauge.
CFM- 24.4
Pump runs at 1300 RPM.
Final Verdict
To get a satisfying result in car painting task means giving a controlled finish to the car surface and getting a proud feeling of accomplishing an excellent job. To enjoy that feeling, you just need to show patience, caution and efficiency.
As we have mentioned earlier, no other car painting process is as fast and comfortable as the one with air compressor. You just have to match the right compressor with the right spray gun, and that's it!