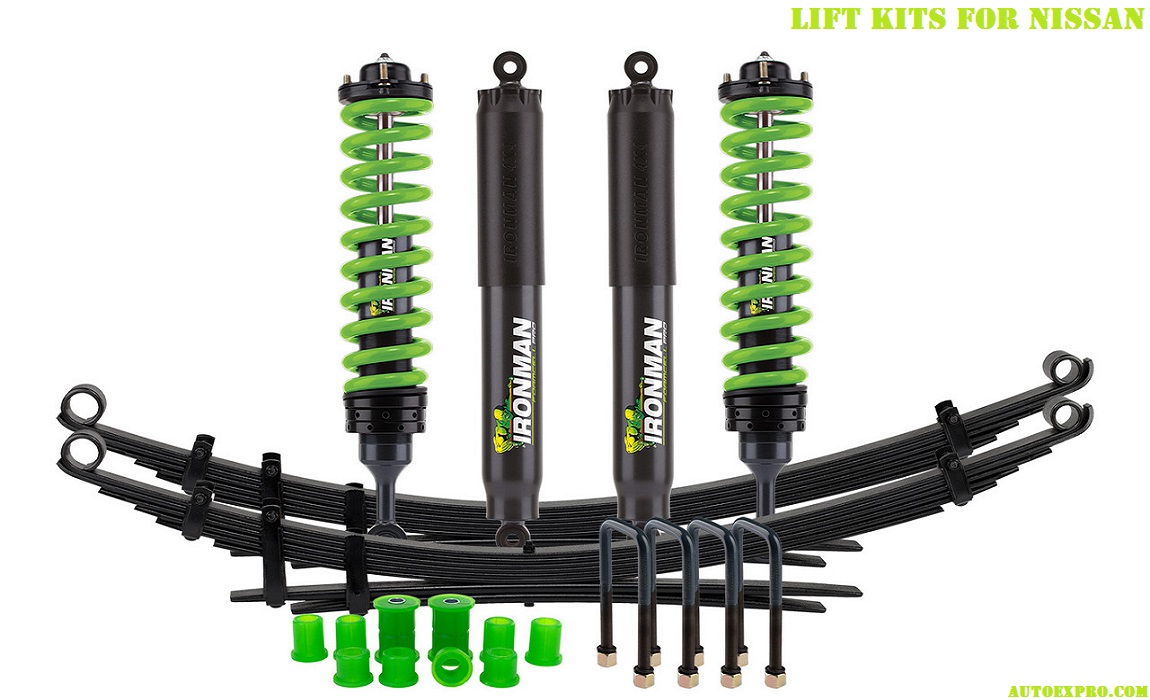 Are you excited to drive your Nissan Frontier outside for a genuine untamed experience but thinking of getting body modifications for the vehicle? You know that a lift kit will be a great addition, but what you don't know is where to find the right lift kit. To help you with that, we will be discussing the top five best lift kits for Nissan Frontier in this article.
Nissan Frontier is a valuable vehicle to have in your garage and go for a wild ride with. But to ensure that you can ride safely, you might need to make changes to your vehicle before going on an off-road journey with it. To begin with, raising the car's height a few inches can give you more ground clearance and enable you to navigate the territory. You can accomplish this with the aid of a lift kit, either the body type or suspension.
Here, we will be discussing not just the top-notch brands and their products, but all the sustainable budget-friendly products. As dealers of automotive products, in the last 22 years, we have seen hundreds of new products getting launched but a few have been trusted by the US people. From the recent market, we will be choosing the best 5 products.
Top 5 Best Lift Kits for Nissan Frontier Review
1. Truxxx 705060-3″ Front & 1.5″ Rear Lift Kit
If you think that Nissan Frontier has a traditional body design but could use more tires and a leveler appearance, then Truxxx's lift kit is for you. Truxxx's 3′′ front and 1.5′′ rear lift package are compatible with all the models of the 2005–2021 Nissan Frontier S, SV, and Pro4x 44 and are one of the all-time favorites of automotive dealers.
This lift kit will also work with 2WD vehicles, but longer rear shocks might be necessary. This kit is for someone who uses the truck as a daily commuter. Also if you like hauling dirt bikes, mountain bikes, and snowboards, and using a lift kit for driving in the snow and rain, this product is for you. The reason behind it is that this 3" allows the users to run bigger tires on either a stock or an after-market rim.
The 2″ kit (part # 705059) is recommended over the 3″ kit for a few reasons. One of them is that the standard shocks and brake lines are completely stretched with the 3″.This 2" is preferred mostly when you are off-roading and that consists of gravel roads.
Pros
Every kit is welded using the latest US-made welders.
Triple-checked to ensure proper fitment.
The kit is a direct bolt and doesn't require any modification to the vehicle.
Designed to retain OEM ride quality and alignment specs included.
High-quality alloy steel is used as material.
Cons
Some versions of the standard rims will not be broad enough.
---
2. Rough Country 2.5″ Lift Kit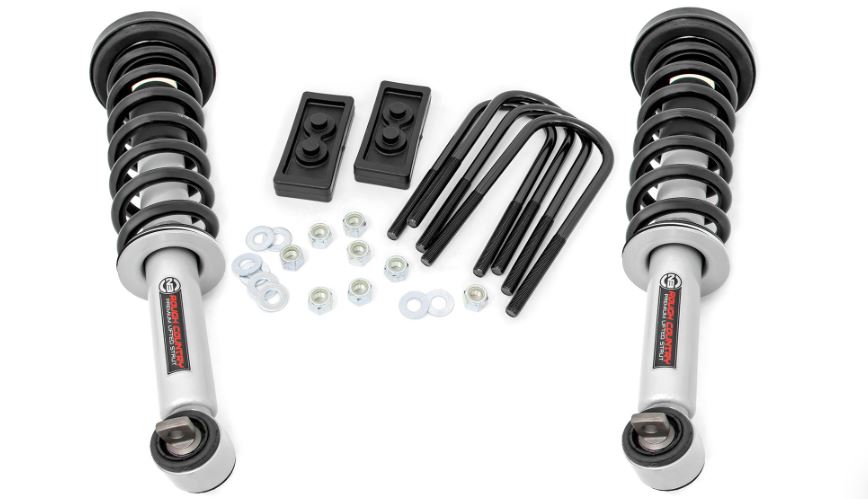 From the famous house of Rough country, this 2.5" lift kit has been one of the finest choices for the last few years. Among friends and fellow automotive dealers, the kit is popular for being easy to install and for its smart design. To provide your Frontier with the desired protection, and style, this Lift Kit is great.
To ease the process of installation, a set of strut spacers attach to the top of the strut without any strut disassembly required. Because of this, the process becomes smoother.
A set of ⅜" plate steel shackles is also included in the set. It is engineered to preserve the factory ride quality and reduce driveline vibrations. These heavy-duty shackles provide lift height easily and effectively, while their beefy design and powder coat finish is durable enough to hold up to the elements.
But apart from all these features, the most notable thing that the users love is that this shackle kit includes a set of DOM tubed bolt sleeves and Grade 8 hardware, meaning unparalleled strength in an area where most competitors suffer. Now they can wheel with peace of mind knowing our strong sleeves and bolts won't break or split like cheaper alternatives.
Pros
Easy and straightforward installation.
Looks great.
Unmatched ground clearance.
T6061 aircraft-quality billet aluminum is used as the material.
Maintains smooth and OEM-like rides in both on and off-road rides.
5" lifted shackles.
Cons
According to some customers, the shackles are difficult in fitment.
---
3. Supreme Suspensions – Full Lift Kit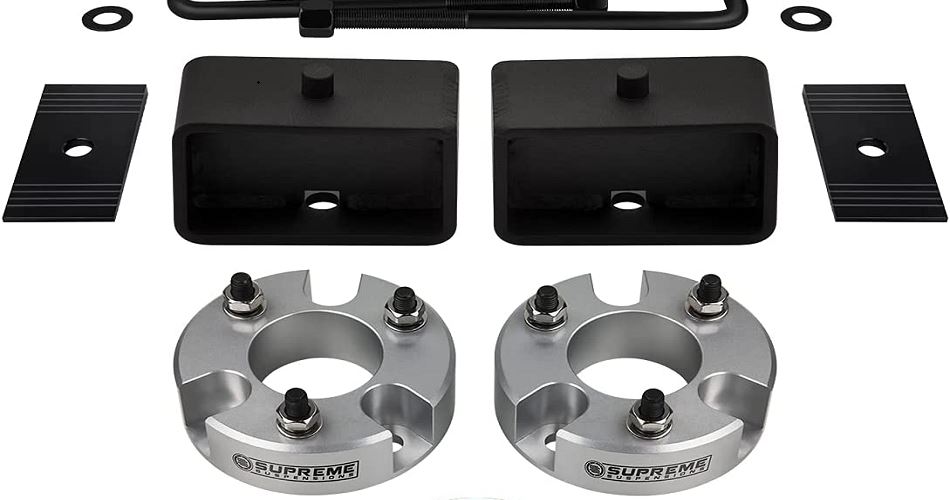 Fearful that the component you intend to buy may not be entirely suitable with your Nissan Frontier? You won't have to think about that at all if you purchase this lift kit package from Supreme Superstar. The kit is appropriate for Frontier versions made between 2005 and 2022  according to the reviews we have received from customers in the last some years.
The majority of the Frontiers that are frequently encountered on roadways are essentially covered by this wide spectrum. Your astonishment at the total construction quality will be great. T6 billet aluminum is used for the components.
If you are wondering why this is considered to be one of the best lift kits for Nissan Frontier, then focus on its beautiful technical notes. Along with technical excellence, the kit also improves the look of your vehicle and increases ground clearance, allowing you to fit larger custom rims and tires.
The package also includes an appropriate assembly manual. You won't encounter too many difficulties installing the components because they are simple to handle. Additionally, it includes every piece of gear needed for assembly.
Pros
T6 billet aluminum strut spacers with high steel tapered lift blocks.
Proprietary protective coating to prevent oxidation and rust.
The package includes a 16"x16" supreme suspension black microfiber towel
Precision machined for outstanding performance and quality.
Heavy-duty square bend U-bolts.
Cons
Some users complained about the installation process.
---
4. Heavy Metal Suspensions Lift kit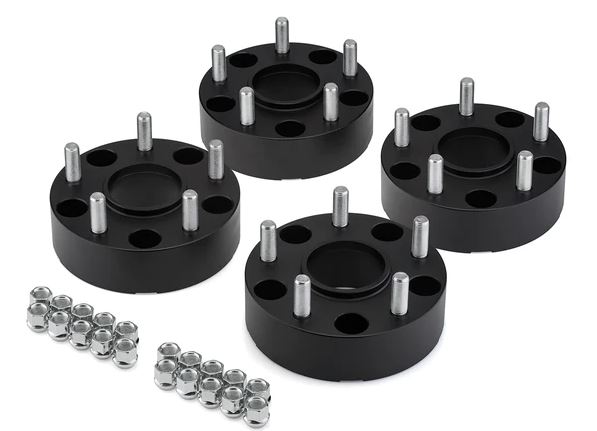 The Heavy Metal Suspensions variant will give you a 2-inch back lift if you're searching for one. Of all the items on our list, this one has the smallest height increases. However, the model can withstand many challenging terrains thanks to the robust carbon steel construction.
This Heavy Metal Suspensions kit is designed to provide a 2-inch rear lift. The Add-A-Leaf springs from Heavy Metal are forged from steel and flex Powder Coated to withstand high compression without cracking. The Add-A-Leaf springs are perfect to renew old sagging leaf springs or to increase towing capacity. If they are used to restore aged springs, the lift height can vary depending on the factory spring's condition.
Due to the U-bolts, this raised kit's suggested assembly time of 3 to 4 hours makes it one of the fastest on our list. To keep the best ride quality, you must still make sure that the parts are fitted and aligned properly.
Pros
CNC constructed with computer-programmed pulse welds
Heavy Metal high-grade steel
Safe to lift the vehicle without compromising ride quality.
Easy to install.
Durable and corrosion-resistant finish to withstand even the toughest abuse.
---
5. Rough Country 3" lift kit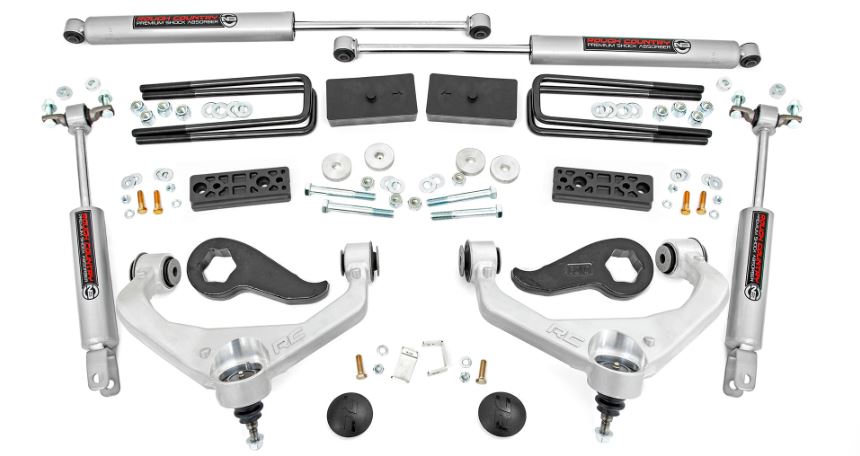 We want to include another Rough Country product which is the last but not the least in our list. This is the choice for you if you want a substantial lift package to elevate your Frontier to a new level.
It offers a high-quality raise with a lifted knuckle suspension system, extremely robust manufactured blocks, a high-clearance cross member, and more. Additionally, the product comes with a lifelong guarantee from Rough Country, with the exception of the N3 shocks. They also receive a three-year guarantee.
We ensure you that this is one of the finest lift kits for Nissan Frontier vehicles overall.  This kit features a set of durable forged torsion bar keys offering uncompromised strength and rigidity over factory keys This kit also includes a set of forged upper control arms and rear blocks giving your truck plenty of ride height for up to 33″ tires while offering a clean level look from front to rear.
A set of front and rear N3 Nitrogen-charged shocks are also included in the kit giving your truck incredible ride quality both on and off-road. This all-inclusive kit comes with everything you need and installation is a piece of cake compared to other 3″ kits on the market.
Pros
Gives the Frontier a perfect blend of performance, protection, and style.
T6061 aircraft quality billet aluminum is used as the material.
Great ground clearance for both on and off-road rides.
100% bolt-in installation process.
Zero cutting or drilling is needed.
---
Buying Guide for the Best Lift Kits for Nissan Frontier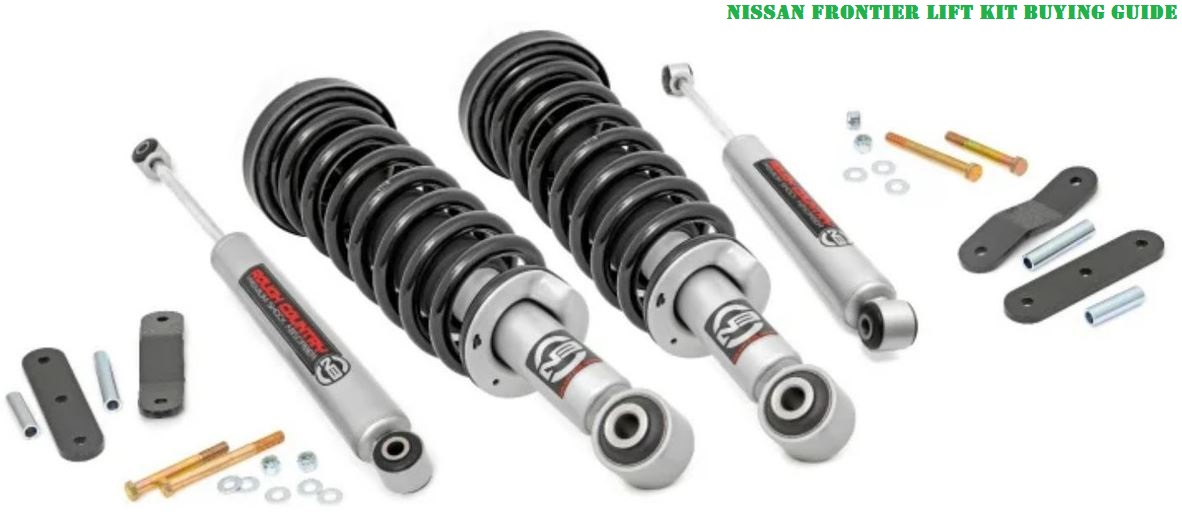 Just like all the other automotive products, there are a number of companies in the present US market, manufacturing lift kits. But to choose the right one you need some background knowledge.
Here, the following buying tips for the top-rated Nissan Lift Kits, presented by our experts will be helping you to refrain from buying any faulty product.
Design and Material
The Nissan Frontier like the majority of other Vehicles and pickups has a raked stance, with the rears being taller than the fronts. You have a wide range of options for how to raise your Nissan Frontier. But most importantly you are supposed to focus on the component the kit is made with and the look it will be giving your vehicle.
Cost
Lift kits can vary in price depending on the type, height, and material. Set a budget and choose a lift kit that offers the best value for your money.
Body Lifts or Strut Spacers
Think about the labor, expense, and advantages and disadvantages before deciding whether to use body lifts or strut spacers in the suspension.  Even though you won't get many inches, you can install higher tyres by raising the wheel wells. Additionally, this choice is advantageous if you have a limited budget, though you might need to make some car modifications. For instance, it might be necessary to lengthen the transmission.
On the other hand, if you choose a suspension boost package, you can swap out the leaf springs or shocks. Spending more here gives you access to elements like custom four-link systems, control arms, and extending arms. Additionally, you can upgrade your Nissan Frontier's off-road capabilities by fitting larger rims and tires.
Height
Consider how high you want to lift your truck. Most lift kits offer a range of height options, so it's important to choose one that provides the lift you want without compromising the safety or performance of your vehicle.
Front or Rear Lift
It is a crucial issue to address whether you choose a front lift or a rear lift to alter the standard ride quality. To ensure proper fitting, you can choose to perform the changes yourself if you are an expert or have a lot of experience working with cars. As an alternative, you can search for a technician or repair facility that has the necessary equipment and the capacity to handle the full alignment specifications.
However, if you use aftermarket shocks, the maker might nullify your guarantee. Therefore, if you have changed your vehicle, you might not be able to submit a claim. In order to determine how a lift kit will affect your warranty before purchasing and fitting one, do your study.
---
Benefits of Installing a Lift Kit on Your Truck
After going through our discussion on the good and bad sides of the most popular lift kits for Nissan Frontier, if you still have any doubts about its necessity, then this is for you. Our experts are here to explain the various ways that a lift kit will serve your vehicle.
You know that, a leveling device adds lift to the front of your car to correct its raked posture and raise the car's turning radius, height, and weight to compensate for adding a winch or shovel to the front of the vehicle. Apart from all these, some other advantages of a lift kit are mentioned here –
By adding spacers or blocks to rest between the vehicle's body and frame, a body lift kit provides 1 to 3 inches more of increased ground clearance. The car's original intended geometry means that you cannot alter the OEM suspension's ride quality. As a result, you won't need to purchase new shocks, which lowers the funding needed for adjustments.
Additionally, because these versions are less expensive than their competitors, you might not need to spend a fortune on the modification. Furthermore, since only the height changes, you can avoid having the car realigned.
The benefit of suspension lift kits over their counterparts is that they add more inches to your ground clearance while still enhancing articulation. Again, there are a few options available for these lift systems. To begin with, a shackle-reverse (S/R) offers a comfortable ride in normal off-roading circumstances, but traveling on highways is not advised.
If you want to crawl over pebbles, spring-over-axle (SPOA) suspension lifts are great because they increase articulation and traction. Off-road trails are where coil variations perform best for comfort, and they are popular with seasoned drivers. Lifted spring suspension lifts will provide you with great clearance and more control if you are new to driving in the wilderness.
With a lift kit, you can install larger tires on your truck. This can improve your off-road performance and make your truck look more aggressive.
Enhanced Towing and Hauling Capabilities
The increased height and ground clearance provided by a lift kit can improve your truck's towing and hauling capabilities. This is because it reduces the amount of weight that is resting on the axles, which can reduce wear and tear on your vehicle.
Overall, installing a lift kit on your truck provides several benefits that can improve your driving experience both on and off the road.
---
How to Install Lift Kit on Nissan Frontier
---
FAQs About the Nissan Lift Kit
What Kind of Lift Kit is the Best?
Usually, body lift kit is considered to be the best type because they provide better ride quality and also better handling. But for off-road rides, truck drivers mostly choose suspension kits.
What is the Most Important Step for a Lift Kit's Maintenance?
Re-greasing along with other steps mentioned by the manufacturer are useful maintenance steps for the well-being of a lift kit. Proper torque and marking bolts are some of these things you can do.
How Much Does a Lift Kit cost in the US?
Normally, the price range of a lift kit varies between $100-$500 in the US. But for a high-quality suspension lift kit, you might sometimes have to pay more than that.
How Long Does a Lift Kit Serve your Vehicle?
A well-made lift kit should be serving your truck for 10-15 years at least. In some cases, especially if you maintain property, they can go on for 2 years.
How do you Understand that the Lift Kit is Faulty or Having Problems?
When you hear clunking sounds coming, or find your vehicle getting pulled to one side, you understand that the lift kit attached to your vehicle is faulty. Apart from all these, uneven tire wear or vibrating sounds coming during the ride also indicate that the kit is having problems and you need to check.
What is the Difference between a Suspension Lift Kit and a Body Lift Kit?
A suspension lift kit raises the entire suspension system of the truck, increasing ground clearance and providing additional space for larger tires. A body lift kit, on the other hand, only raises the body of the truck, providing additional ground clearance but not altering the suspension system.
---
Final Words
For the comfort of your Frontier,  now you can choose the right lift kits for your Nissan Frontier, as we have discussed all the other additional information along with the review, buying guide, and FAQs. You now are aware of the goods and bads of the product manufactured by the best brands of the country and the tricks of choosing the best product for your vehicle, based on your budget and needs.
As dealers of automotive products, we can ensure you that any of the five products reviewed here will be helping your vehicle with a great look and perfect ground clearance. So, best wishes for your lift kit shopping!