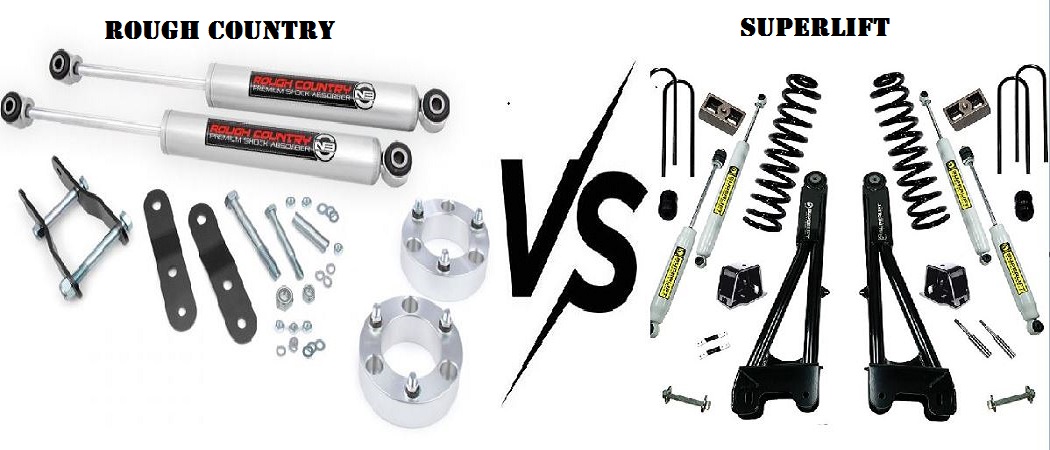 Lift kits allow you to help your vehicle gain a bit more height. It is an attractive offer if you want to install larger wheels. Also, lifting your vehicle ensures a different look.
But gaining the look is not easy. The first barrier you must face is picking the right lift kit. As many brands offer lift kits, you'll be confused.
I guess you've already faced this situation, and that's why you're here to find the result of the Rough Country vs Superlift competition. These two are the most common brands for lift kits, offering you a bit of confusion as you have to pick only one.
However, I can help you eliminate the confusion through an informed comparison between lift kits from these two brands. Stay with me.
A bit about Rough Country
Rough Country is a well-known brand in the automotive industry for manufacturing and supplying after-market accessories for vehicles. Besides lift kits, it offers lighting solutions, exterior and interior components, performance upgrades, wheels and tires, drivetrains, and many more.
The official website doesn't contain data about the journey of the brand. But users are satisfied with the components it offers, and that's what matters the most.
A bit about Superlift
Superlift is a brand brought up and handled by truck and jeep enthusiasts. It started its journey in the 1970s, intending to help customers ensure a better and more attractive look for their off-road vehicles, where safety is also a major focus.
It focuses on suspension and lift kits and ensures top-level performance through its products. So, it emphasizes making the best quality products in top-notch manufacturing facilities. Most of the users are happy with their purchase from Superlift because of the quality and user experience it offers.
Rough Country Vs. Superlift: Quick Comparison Table
Just in case you're in a hurry, here's a comparison table for you. The details are discussed after the table.
| | | |
| --- | --- | --- |
| Criteria | Rough Country | Superlift |
| Build Material: | Cast Iron or Aluminum mostly | Alloy Steel mostly |
| Build Quality: | Performance focused | Precision engineering |
| Performance: | Improved off-road performance | Maximum performance improvement |
| Lift variation: | Many options with up to 7.5-inch lift | Several options with up to 8-inch lift |
| Durability: | Better than average upgrades | One of the most durable upgrades |
| Price: | Comes in a reasonable price range | Comes in a premium price range |
| Installation: | Easy | A bit complex |
Details Comparison Between Rough County & SuperLift
Build Material and Quality
You can't choose a winner between these two when it is about build material and quality. Both use high-quality building materials. Rough Country uses cast iron or aluminum to build its lift kits. On the other hand, Superlift uses alloy steel. Both are quite strong and dependable materials.
Build quality is also almost similar. However, Superlift focuses most on precision engineering, which results in some of the best lift kits to pick.
Performance
Both brands offer some great performing lift kits to install in your vehicle. Thus, you'll see superior performance improvement after installing them.
Still, Superlift is known for offering high-performance lift kits to ensure maximum performance improvement. On the other hand, Rough Country helps you to have a better-performing vehicle but also focuses on an off-road aesthetic.
For improved off-road performance, you can depend on both. But, besides enhancing overall off-road capability, Superlift kits allow a better on-road performance compared to the kits from Rough Country.
Choosing one among these two brands based on performance is tough. But Superlift will be a bit ahead of Rough Country.
Components
Based on the necessity, model, and design, kits from both brands come with the necessary components. It's tough to talk much about this as they have many models and designs available.
In my experience, Rough Country kits are packed with components supporting longer rides. On the other hand, Superlift kits are designed with components that focus on performance. So, you'll find a clear difference here.
There is no specific winner in this category. You have to pick one based on your preferred driving style.
Ground Clearance
Both brands have several height adjustment options to pick from. So, you can easily have one from them according to your preference. 3-inch and 3.5-inch are the two most common options in both brands.
Superlift offers up to 8-inch lift kits. On the other hand, Rough Country offers up to 7.5-inch lift kits. But it has way more options compared to Superlift.
So, you'll have a huge ground clearance no matter which one you pick. But Rough Country offers you a lot of varieties to pick from.
Durability
From the durability perspective, I would keep Superlift on top. Let me tell you the reason.
Besides precision engineering, Superlift focuses on premium making that'll support you for a long time. It uses alloy steel to make the kits, making them durable enough as the material is resistant to rust.
It doesn't mean Rough Country kits are not durable. They can also support you for a long time as they're made of high-quality materials. But in most cases, they're not as durable as the ones from Superlift.
Price
When it comes to price, Rough Country is the clear winner. Both brands come with premium-priced lift kits. But in the battle of the price range for similar types of products, Rough Country wins because it offers kits at a lower price.
Such price advantage has made it one of the most favorite brands for people on a budget. They are inexpensive, but not cheap. So, you can depend on them.
Superlift kits come at a higher price because it focuses on precision engineering and durability more than anything.
This is the most common scenario. But some Rough Country products are priced higher than the similar from Superlift.
But, from this perspective, I guess Rough Country wins.
Installation
According to most users and mechanics, installing Rough Country kits is a bit easier than installing Superlift kits.
As I've already said, Superlift is known for precision engineering. So, the kits come with a slightly complex structure in most cases, requiring some advanced knowledge and ability. This is what has made it complex.
On the other hand, installing Rough Country kits is easier as it comes with a simple mechanism. Also, detailed installation instructions come with the package, which helps get the job done with basic mechanical skills.
I don't have direct experience installing any of these two. So, I had to completely depend on what others said.
Warranty
No clear winner is there when it comes to warranty. In most of the kits, both brands offer a limited lifetime warranty.
However, not all the products are covered by this warranty. You may find products with a different policy. So, before you pick one, check and discuss the warranty with the seller.
---
Is Rough Country Any Good?
From the comparison above, you can see that Rough Country offers quality lift kits and other reasonably priced products. You can expect them to serve you for a long time.
You'll find several premium products under this brand. They may cost you a bit more but offer way better service than regular products. So, no matter whether you're looking for a budget-friendly option or the most durable product, you'll get them here.
So, the answer to your question is- yes, this brand is really good. It has satisfied numerous users with its products.
Comparing Similar Products from Both Brands
Rough Country 3.5″ Lift Kit w/N3 Struts for 07-13 Chevy/GMC 1500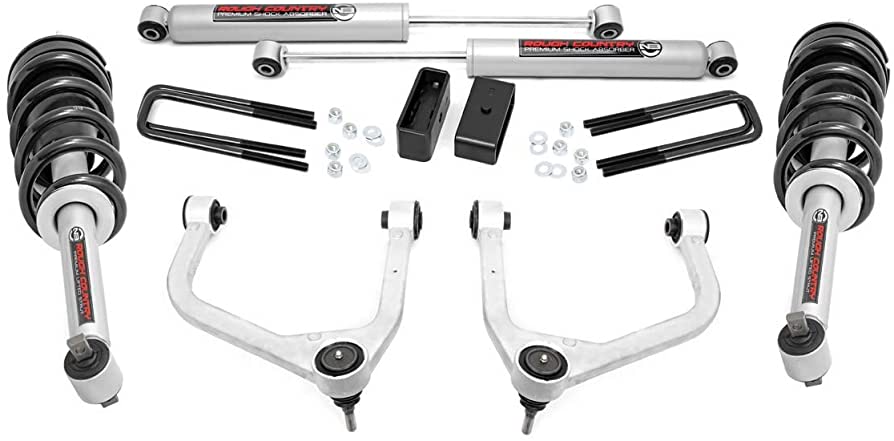 If you want to improve your Chevy's performance, Rough Country has this to offer you. It sits on the driveline and lifts the vehicle around 3.5 inches. Thus, your Chevy gets a better aesthetic look too.
The package comes with premium N3 loaded struts and shock absorbers, making it one of the most premium offers from Rough Country. Other components in the package are- Forged Upper Control Arms, POM ball joints, fabricated blocks, etc.
In a word, everything required to offer you durable and satisfactory lifting is included in it. Each component is constructed with high-quality material to ensure smoothness and efficiency.
Being backed with a limited lifetime replacement warranty, it is one of the best offers from the brand. You have to spend almost eight hundred bucks for it, but it is worthwhile.
Pros
Comes with the most premium components from Rough Country
Installation is very easy
Offers great performance in both off and on road
Satisfaction guaranteed
Cons
Requires regular checking
---
Superlift | 3850 | 3.5″ Lift Kit Fits 2007-2016 Chevrolet Silverado/GMC Sierra 1500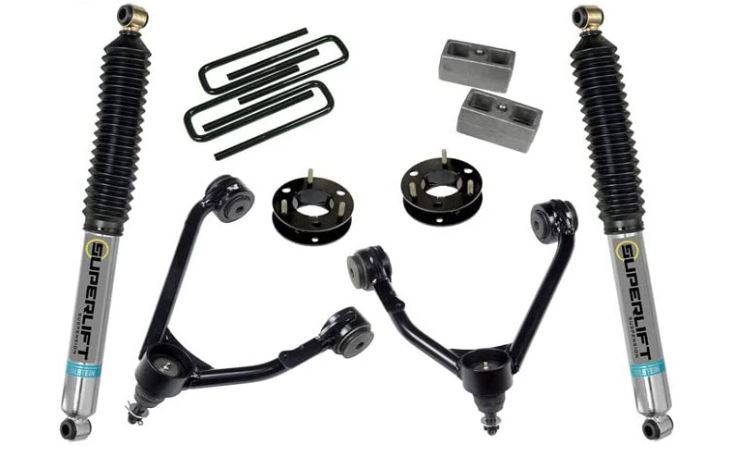 Superlift offers this kit for 2007-2016 Chevy owners who are performance-hungry. Besides offering a 3.5-inch lift, it offers smooth performance both off and on roads. You can expect an attractive appearance too.
The best thing about this kit is the available shock options. You can pick from Shadow Series Shocks, Kind, Bilstein, or Fox shocks. It also includes- upper control arms made of alloy steel, MOOG ball joints and bushing, differential spacers, axle skid plate, rear block kit, and other necessary components.
While installing this kit, you don't have to cut or trim the cross members. Also, you can keep the factory splash guard and use OE wheels without any wheel spacer. Thus, you can enjoy the comfort of not investing huge bucks at a time.
The limited lifetime warranty backs this kit by Superlift. However, have a chat with the seller about it before buying. Within the range of seven hundred bucks, it is a good offer from Superlift.
Pros
Comes with everything needed
Easy installation instructions are provided
Powder coated for durability
Cons
Not the best Superlift can offer
---
FAQs About Rough Count and SuperLift
Which lift kit is better for heavy-duty off-roading?
Superlift Lift Kit is better for heavy-duty off-roading because of its superior durability and performance. It is designed to handle the toughest terrains, including mud, rocks, and steep hills. Rough Country Lift Kit, on the other hand, is better suited for light to moderate off-roading
Which lift kit is easier to install
Rough Country is generally easier to install than Superlift. It comes with detailed installation instructions, and most of its components are bolt-on, which means no welding or cutting is required.
On the other hand, Superlift requires more technical expertise and may need professional installation.
Can Rough Country and Superliftbe be used on any vehicle?
Both Rough Country and Superlift Kits are designed to fit specific make and models of vehicles. It is important to make sure that the lift kit you choose is compatible with your vehicle before making a purchase.
Do Rough Country and Superlift come with shocks?
Yes, Both Kits come with shocks as part of the kit. The shocks are designed to work with the lift kit to provide a smooth ride and improve performance.
Related Post: How to Do Lippert Leveling System Troubleshooting
---
Rough Country Or Superlift: What to Pick?
So, when it is time to decide on a Rough Country vs Superlift discussion, you need to pick one of these two brands.
Both come with several pros and cons. Also, both are better than the other in several criteria, and there is no clear winner. So, it is tough to select one.
In such cases, you need to consider your preferences and situation.
If you're on a moderate budget or just want to check if lifting helps you go for Rough Country. It offers the maximum performance improvement you can have within a reasonable price.
On the other hand, if you're focus is to pick one that'll support you for a long time and budget is not a matter, a kit from Superlift is the best choice. They offer you maximum performance improvement, making your investment worthwhile.
Don't worry! No matter what you pick, you'll get value for the money you spend.
---
How to Install Rough Country Lift Kit