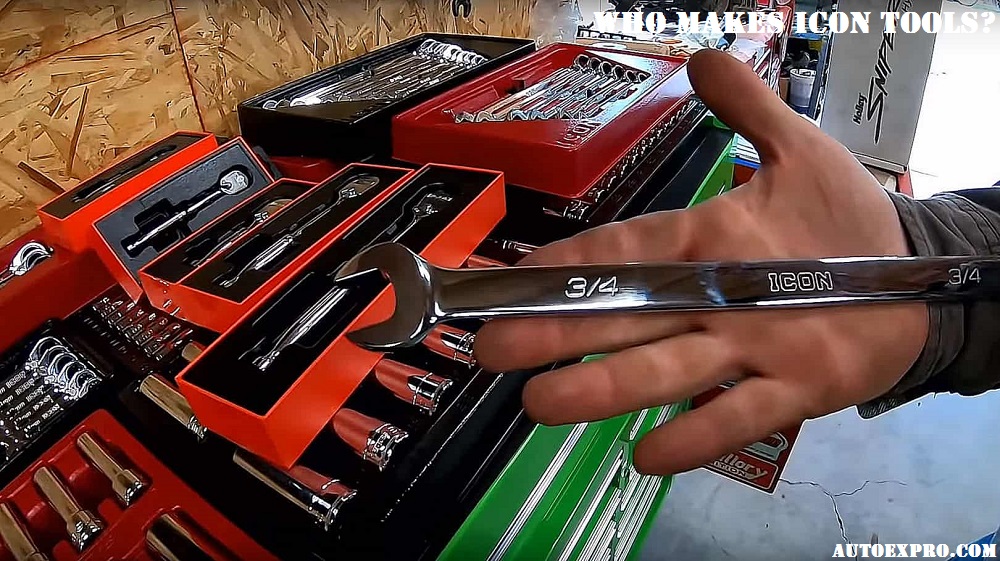 Having the right tool at disposal is the first requirement for any mechanic. When you're working in a professional environment or completing a DIY project, you require a top-notch mechanic's tool set. Many also claim "the better tools the better result".
In this demanding industry, there are many re-owned brands for hand tools. But recently, one brand is trending in the market called Icon tools. Its well-crafted hand tools and storage system throw out great competition for others.
As Icon tools are newly introduced in the market and their name whirring all around, many of you wonder who manufactures Icon tools. We are here to provide some enlightenment about the overall interpretation of this latest brand.
Who Makes Icon Tools?
Harbor Freight is the company that has launched, distributed, and marketed the Icon tools. It is one of the most exclusive brands of Harbor Freight. Its headquarters is based-in Calabasas, California. The company started its journey in 1977 as a mail-order tool business. Later, they moved on to the toolbox business.
After launching two Icon torque wrenches in 2018, Harbor Freight earned elementary success. Keeping this succession, the company introduced a whole line of Icon tools in the following year. It has included automotive special kits and storage units.
Where made Icon Tools?
Harbor Freight is a U. S. based company but their Icon tools are made in Taiwan, China. From raw to finished products all are produced in China. But don't question the quality as being China products. The design and craftsmanship of the tools reflect precision, quality, and durability.
Icon tools contain a wide array of hand tools and all of them are tested in their own quality assurance facility. Undoubtedly, you will get great quality products with long-lasting service.
Where To Buy Icon Tools?
Harbor Freight distributes its Icon tools through retail stores and online markets. It operates over 1200 retail stores across 48 states in the United States. Also, they are available in local shops and online platforms like Amazon.
Moreover, Harbor Freight owns a website where you can buy all sorts of Icon products. So whenever you decide to buy the icon tools, you can get them with ease.
How Much Does Icon Tools Cost?
Harbor Freight is a well-known brand for its lower prices on quality tools. Alike, all the Icon tools are pocket-friendly which is a plus point for the users. You can manage their premium hand tool sets for under $200.
Further, Icon tools offer various types of storage units at affordable prices which are also hard to beat for the competitors. Sometimes, they also offer a 20% off coupon for buying their storage unit if you purchase from their website. It is really a big save for your next project.
Most DIYers and beginners are likely to invest a small fortune in hand tools. So many of you spend several hours sorting out affordable entrees. Afterward, if you can find something, there is a lot of confusion about whether the brand doesn't rob you blind or not. In this situation, Icon tools will save you. The brand provides top-quality tools to everyone at the lowest price.
Related Post: Who Makes Polaris Oil? – Complete Overview
Why should you choose Icon tools?
Those looking for high-quality, affordable tools will be pleased with icon tools. It offers an impressive array of tools that will last for years. These tools will be a great selection if you want:
Any mechanical tool must meet the type of work that you intend to use it for. They are able to cover your needs and fasten your work process. You will get wrenches, sockets, torque, and other tools in different sizes. They simply handle your workload and beyond other demanding works.
Icon delivers the best tools that you can easily afford. There is no room for bad quality. You will get something that every master dreams for. Their sockets, wrenches, and ratchets are made of high-quality steel or chrome vanadium to ensure high-impact tools. They come with a highly-polished finish that looks so glossy as well as ensures corrosion resistance.
The brand also ensures a heavy-duty storage system so that your investment doesn't go in vain. Each tool set includes a durable toolbox and holds the kits firmly in place. However, it can be the effort of an hour to keep them in their respective places.
The lower price point of the Icon tools makes them attractive to consumers. Yet, the craftsmanship and materials are equal to or more than other reputed brands. With these tools, you will obtain more value for your bucks. There are hundreds of consumer reviews where they claim no objection about their performance.
To fill your mechanic backpack, Icon tools are the most reliable option. Built for professionals who opt for top quality. You will be impressed to see the tool's features and precision with unbeatable values.
Related Post: Who Makes Diehard Batteries? Complete Overview
Icon makes a very big claim that their tools will provide a long-lasting service, even for decades. Harbor Freight is very strategic with its product development which is the main reason behind it. Well, it is a matter of time to see whether these tools will really last for decades. Icon tools deliver exactly as advertised. This full line of premium hand tools will withstand extreme conditions. Moreover, it feels more comfortable to work with as their slimmer and gripped profile.
Full Product Lines Of Icon Tools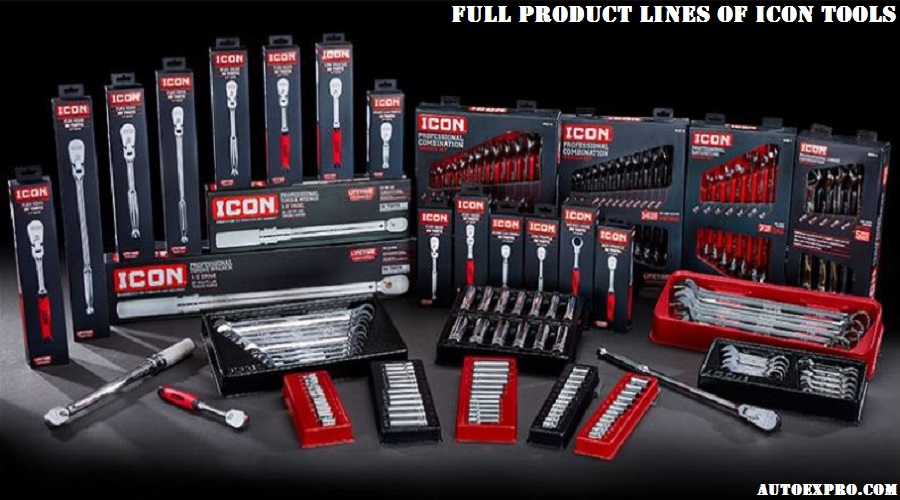 Icon brings up a full line of hand tools, automotive special tools, and storage systems. It's interesting to see that the brand comes up with every tool and gadget that master mechanics demand. Check out their different types of products:
>> Check List of Icon Tools on Amazon <<
Icon wrenches are one of the best products of Harbor Freight. Various lengths and styles are available, along with combo packs. So, it is effortless to choose the suitable one. Talking about wrench material, there is used premium chrome vanadium steel that is very durable and tough. They also feature rust and corrosion-resistant coating.
Icon torque wrenches are the right selection where you require precise torque. They come with a factory certificate of calibration and 9 present torque settings. You can get between 72 and 90 tooth ratcheting mechanisms with a tight 5° arc swing. Moreover, they are easy to read with click markings, even some have digital displays.
For the best sockets, Icon is the ultimate choice for you. Mainly, Icon sockets have three categories: shallow, swivel, and deep. A 6-point design on the shallow Icon sockets provides superior torque and fastener engagement. Swivel sockets feature a universal free-moving joint so that you can easily access hard-to-reach nuts and bolts. The deep one has chamfered socket openings and a thin wall design for more efficient work. All of the sockets cometh marked for easy organizing.
Icon has brought various types of nuts and screwdrivers, available in combo sets. They contain S2 steel shaft material for extreme durability and polished chrome finish preventing grease build-up. There are oversized ergonomic handles for optimal grip and torque. The sizes are clearly marked on the handles.
Icon has brought about some outstanding storage systems, suitable for professional usage. They are constructed with the strongest steel and precision reinforced welds for extreme durability as you need to handle the daily grind of your busy workshop.
The storage systems feature 16-gauge for outer panels and 18-gauge for inside panels to prevent dents and add ultimate strength. They are designed for heavy-duty usage. There is an integrated power system allowing you to use the powered tools with ease. These cabinets grow with your tools addition. The advanced locking system is included with the storage unit for safe and secure.
Icon storage units are available in various sizes, colors, and designs. One of the most popular types is the rolling cabinet. However, you don't need to break your bank for buying one of them. They come at reasonable prices compared to other competitors.
Best Of Icon Tools – Top 2 Products
1. Metric Professional Ratcheting Combination Wrench Set, 10 Pc.
This professional ratcheting combo wrench set is perfect for any professional or beginner-level mechanics. The ratcheting box ends with 72 teeth making fastener engagement a breeze. Their non-slippage mechanism gives you a smoother, powerful, and efficient operation in tight spaces.
It's easier to get around obstructions when there's 15° of knuckle clearance. Moreover, the design, durable materials, and superior anti-corrosion resistance ensure long-lasting usage.
2. 3/8 In. Drive Metric Professional Shallow Socket Set, 12 Pc.
Icon shallow socket set is made out of chrome-moly steel increasing torque and strength. Its highly polished finish resists corrosion, allows easy cleaning, and great looks year to year. Combining 6-point and thin-wall designs, the sockets can easily access difficult fasteners, while precision-forged gives maximum grip and torque.
>> Check List of Icon Tools on Amazon <<
Icon Tools Warranty
Buying Icon tools is a great deal as it offers a lifetime warranty on their toolsets. In this term, you can make hassle-free replacements or a full refund on all Icon tools. If you need tools sizing or damage issues, you turn right around and return them. Also, if any tool doesn't work as promised, you can ship it back. It works with in-store returns of online purchases.
Best Alternative Of Icon Tools
Although Icon tools are the best choices at affordable prices, you may experience some flaws. In this case, you can look for the alternatives like Snap-On, Craftsmanship, and Tekton. They have a full line of mechanical tools as well as storage units. Their product quality is also appreciable. But comparing price point and quality, there is hardly any brand that can beat the Icon tools.
Frequently Asked Questions About Icon Tools 
Are Icon tools worth the money?
Icon tools are an affordable option for mechanics without compromising high quality. Their manufacturing quality, functionality, and long-lasting service make them attractive choices for professionals to DIYers. Icon tools are worth every penny as it gives the best value.
What is a good mechanic's tool set?
Your experience and what you are working on will determine which mechanic tool set is right for you. However, the basic rule is your tools set should have all the equipment to deal with any fastener that you will come across.
Do Icon tools come with a toolbox?
Almost all Icon tool sets include a toolbox for easy and secure storage. You can keep the tool organized and use it efficiently. The Icon toolboxes are made of heavy-duty materials to withstand daily operation.
---
ICON Tools vs Pittsburgh Pro: Which one is the Best?
---
Final Words
Since there is no parameter to determine the standard quality of the tools, you should look for well-reputed brands for getting quality products. This article explains the background and performance of the Icon tools. According to their perspective, they will surely provide you with some extraordinary performance in the field.