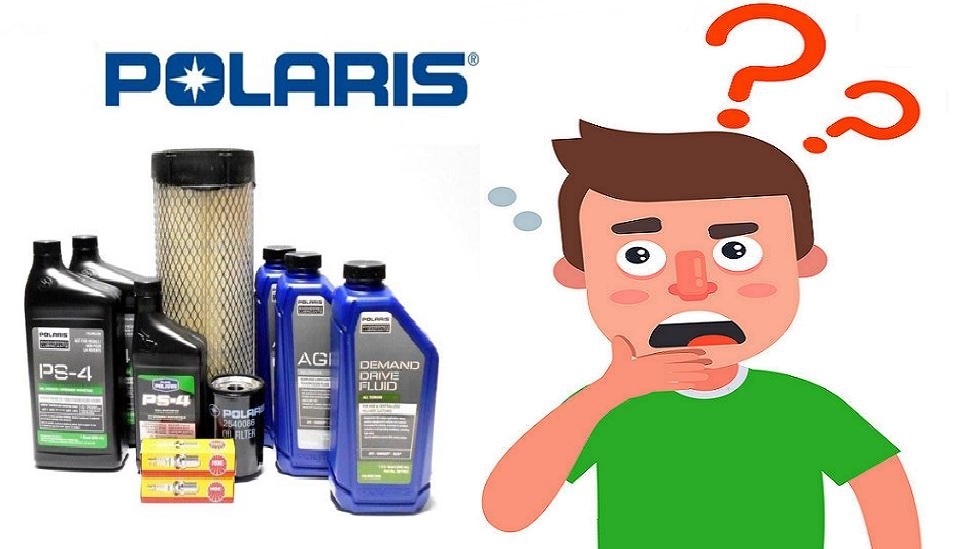 It won't be wrong to say that engine oil is like blood in any vehicle. It serves as an essential protection for car components, even when the engine temperature goes to 120 degrees. Hence, here comes the point to opt for the exemplary quality of the engine oil.
Those who own a motor vehicle must hear about Polaris Oil. They are popular for their premium quality. People indisputably use this engine oil in the intricate parts of their most prized possessions.
Polaris Oil delivers the exact performance that it promises. It ranks high in the quality and experience department. So, the consumers are curious to know who makes Polaris oil. In this post, you can explore all the details about the brand and better understand why you should purchase it.
Who Makes Polaris Oil?
Polaris Inc. is a well-known automotive manufacturer in the United States. The brand is popular for its top-rated motorcycles, all-terrain vehicles, snowmobiles, and lubricating oil equipment. Furthermore, it produces neighborhood electric vehicles. The corporate headquarters of Polaris is located in Medina, Minnesota.
The genuine Polaris oil has come through a firm named Lube Tech Inc. This brand is a U.S.-based wholesaler and one of the world's largest OEM manufacturers in creating high-performing fluids for many industries. Lube-Tech develops fluid formulas for application longevity. All their products meet OEM's strict warranty specifications.
Related Post: Oil Type and Oil Capacity for Ford F150
Benefits Of Using Polaris Oil
Polaris oil provides the best performance and engine protection. Its superior formula is just what you need for smoothing riding. The benefits of using high-quality Polaris oil are many. For example:
Polaris oil provides the necessary lubrication between the mechanical parts of the engine. The slick oil molecules evenly spread and create a layer inside the engine mechanism. In this way, there is less friction against the components, which helps them function properly.
When the components run smoothly, there is less fuel wasted to generate power. Full synthetic Polaris oil ensures the least amount of friction that renders better burning of fuel in the cylinder compartment. The oil's flow and viscosity decrease frictional heat losses, and thus, it gives fuel efficiency even throughout different climate conditions.
Engine life greatly depends on the quality of the engine oil. There are all metal components in the exhaust system, and they constantly rub and brush each other to work. In turn, the engine gets wear and tear. But Polaris oil's slick form saves all these components from scratching and rubbing against each other and increases engine life.
The better engine oil you use, the nicer performance you get. Polaris oil extracts very standard-rated performance out of your vehicle. The synthetic compounds lessen the friction level, enabling the engine to run smoothly and respond quickly to your inputs.
Polaris oil helps to keep the engine cleaner. While the oil spans through the engine components, it picks up dirt, deposits, and tiny chiseled metal filings that can damage engines. The outside contaminants can interrupt the normal functioning of the engine. This oil works to remove these impurities and save the engine from expensive damage.
Polaris oil is formed for burning cleanly with less odor and smoke. This aids in the functioning and helps to protect the environment. Moreover, Polaris synthetic engine oil is free from sludge chemical properties which are very surprising.
Fast starting even in extreme cold temperature
Random engine oil gets settled in the low temperature, which is not good for an engine. It can block the engine. However, Polaris oil's special formula is thinner than conventional oil. These synthetic oils translate throughout the engine faster, offering fast starting even in extremely cold weather.
The Most Common Types of Polaris Engine Oils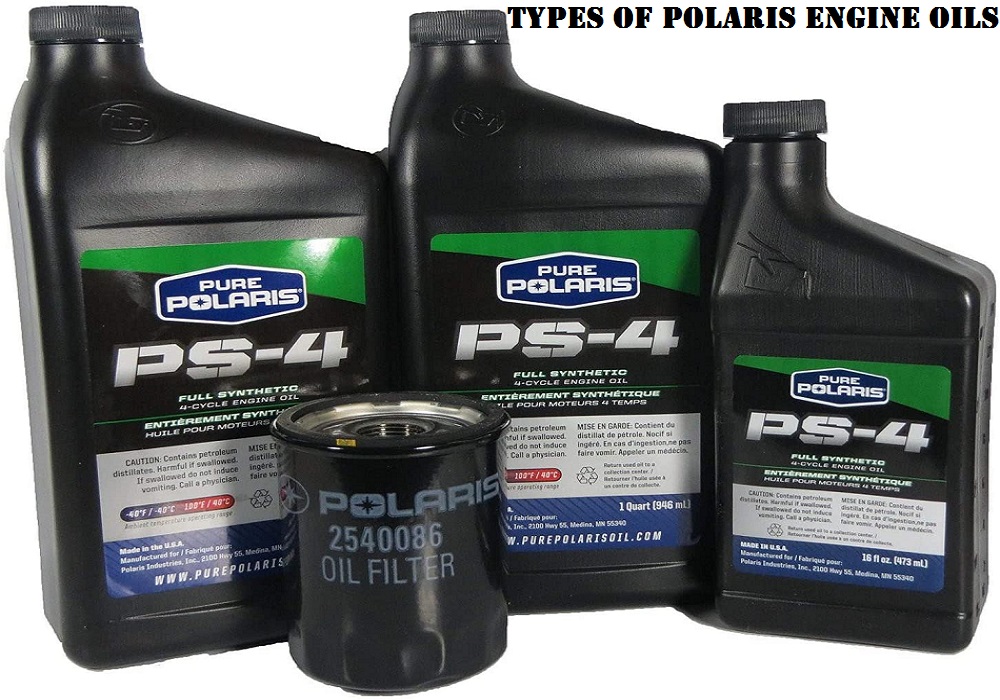 Polaris produces different types of engine oils to handle intense conditions and high-performance requirements. Although these specially engineered lubricants are formulated to work with Polaris vehicles. All of the fluids are tested to Polaris tolerances and wear parameters. So this is the best oil available for vehicles.
1. PS-4 Extreme Duty 10W-50 Engine Oil
PS-4 Extreme duty engine oil is formulated to operate in high heat conditions. The oil efficiently protects vital engine components and controls oil oxidation. It delivers maximum performance to protect the engine in extreme conditions.
This type of oil contains the ultimate full synthetic base materials for the highest temperature engine protection. Polaris PS-4 is suitable for 4-stroke engines. Moreover, it includes an antiwear additive system that significantly increases engine temperature, thus allowing them to safely and confidently operate their vehicles. Proprietary anti-wear agents give superior engine wear protection.
2. PS-4 Full Synthetic 5W-50 All-Season Engine Oil
Polaris brings all-season synthetic engine oil to give peak performance every time. It is best for Polaris Powersports engines. This oil is also formulated for Polaris 4-cycle engines. Its latest lubricant technology controls moisture and protects critical engine components on start-up.
Further, the oil adds a custom clean engine additive system that reduces engine deposits. This oil keeps the engine 50% cleaner compared to other aftermarket products. It also prevents oxidation in high and low temperatures. Thus, there is no rust and corrosion despite intermittent use.
3. VES Full Synthetic 2-Cycle Oil
VES full synthetic oil is specially used for 2-cycle engines like snowmobiles. This VES synthetic oil ensures less piston and cylinder wear and gives a new-like performance every time. Despite subzero temperatures, there is cold flow protection and instant lubrication.
Engineers formulate the oil with anti-wear and detergency additives to burn clean with minimum carbon deposits. It gives improved corrosion protection from moisture during off-season storage.
4. Polaris Blue Synthetic Blend 2-Cycle Oil
Polaris Blue is a semi-synthetic base oil designed for Powersports-grade vehicles. It delivers optimal performance and engine protection. There is a blend of mineral and synthetic base additives for vintage machines, per-mix, and oil injection applications.
No matter how hard you ride, Polaris Blue oil maintains a clean-burning, low-smoke engine and protects it. It works surprisingly in extreme weather conditions.
Best Polaris Oil: Polaris 2877883 Full Synthetic Oil Review
Polaris OEM VES full synthetic oil is the top-selling motor oil in the market. Other types of oil cannot match its broad range of advantages. It allows the engine to run longer at maximum power. The oil reduces corrosion, wear, and tear.
This Polaris oil works even in extremely cold weather. It is formulated to reduce the damage to your car's exhaust system. The oil supports work with a variety of cars. Still, you can check your car's handbook to ensure. You can get the oil in two varied sizes.
What we like:
Polaris oil is made to operate your car more efficiently and smoothly.
It works with different exhaust systems.
Decreases wear, rust, and corrosion of the engine.
Works in extreme high and low temperatures.
What we don't like:

Is Polaris oil worth it?
Polaris oil is very highly rated and there is hardly any complaint about performance. But pricing is the only area that many consumers want to consider. The cost of the oil is a little more costly than supplementary brands which is the main drawback.
To be a savvy consumer, you should check out different motor oils at different prices. Sending a few more bucks is worthwhile if it saves you in the long run. It also relieves you from more frequent oil changes.
FAQs About Polaris Oil 
What kind of oil is Polaris oil?
Polaris oil is available in fully synthetic and semi-synthetic forms. Full synthetic oil is more popular among users. People who have off-road vehicles always prefer Polaris oil for better performance.
Is Polaris oil really better than regular motor oil?
Certainly, yep. Polaris produces more refined synthetic oil than others. So it lowers the friction, and engine sludge, and increases the engine performance. If you own a high-performance vehicle and want the best experience in extreme temperature conditions, Polaris oil is the ultimate choice for you.
What viscosity is Polaris PS4 oil?
Polaris PS-4 oil has a wide 5W-50 viscosity range that provides critical engine protection in all seasons.
---
Polaris vs. Super Tech vs. Rotella: Which oil is Best
---
Final Words
Polaris oil serving is kind of what you expect. It offers a clean-burning, low-odor, and smokeless formulation. Overall, it is intended to improve exhaust valve execution. The oil confirms maximum engine protection and flawless support in extreme weather conditions that are hard to beat.