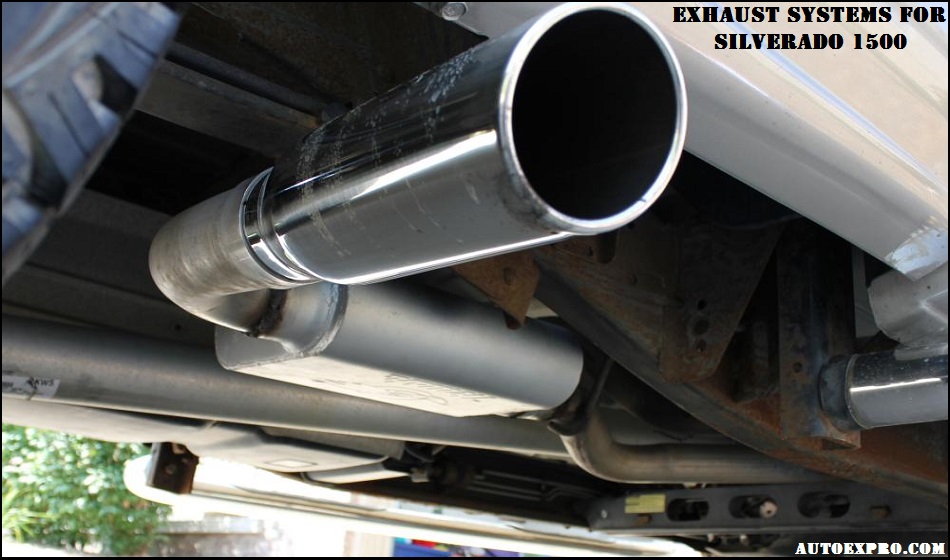 Is the grumbling sound of a classy exhaust system music to your ears? Is that low yet fierce growling coming from your Silverado is daunting for you? If yes, then you may need to take a look at our list of the top 5 best exhaust systems for Silverado 1500 to make a smart deal. 
But you may question the necessity of a review as hundreds of models are easily available in the market. Look, this entire system deals with burnt exhaust gases and guides them away from your vehicle's engine. Due to its structure and material, it can make a huge difference in your vehicle's functions and the tone it produces.
And there are many customers who got duped to buy faulty products. So you better be a cautious buyer and know the details beforehand. We have prepared a comprehensive review of the best products present in the US market along with buying tips.
In a Hurry? Check Our Top pick


A product par excellence, the most loved exhaust system by Silverado owners, Borla 140357 ATAK Cat-Back exhaust system is undoubtedly my top pick.
Though it is not an easy decision to select one among the great systems manufactured by MagnaFlow and Flowmaster, for some special features, this Borla product excels the others.
Exhaust Systems for Silverado 1500 Comparison Table
Image
Product
Features
Price
Borla 140357 ATAK Exhaust System

Pipe diameter: 2.75" into muffler 2.75" out
Tip size: 4
Exit: Truck single split exit
Material: Stainless steel
Universal fitment
Easy install and comes with all the parts

Check on Amazon
Flowmaster 817669 Exhaust System

Emission Code: 5
Patented Delta Flow technology
Exit position: Dual out Rear/Dual outside
Tip diameter (in): 3.5
Tip Length (in): 13

 

Check on Amazon
MBRP Cat Back, Dual Rear Exhaust System

Cat-back exhaust system
Uses factory exhaust bezels
5" and 3" Mandrel Bent tubing
Fully sealed tubing
4% increased flow

Check on Amazon
MagnaFlow Cat-Back Exhaust System

Tip diameter: 4"
Main piping diameter: 3"
Muffler Type: Straight-through
Material: Stainless steel
Inlet collection type: Clamp-on

Check on Amazon
Flowmaster 817689 Cat-Back Exhaust System

Exhaust series: Outlaw
Inlet Diameter: 3
Mount type: Flanged
Muffler Series: Super 10 series
Muffler Type: Welded baffle
Shape: Oval.
Tip diameter (in): 4
Tip Length (in): 13

Check on Amazon
---
Top 5 Best Exhaust Systems for Silverado 1500 Review
1. Borla 140357 ATAK Cat-Back Exhaust System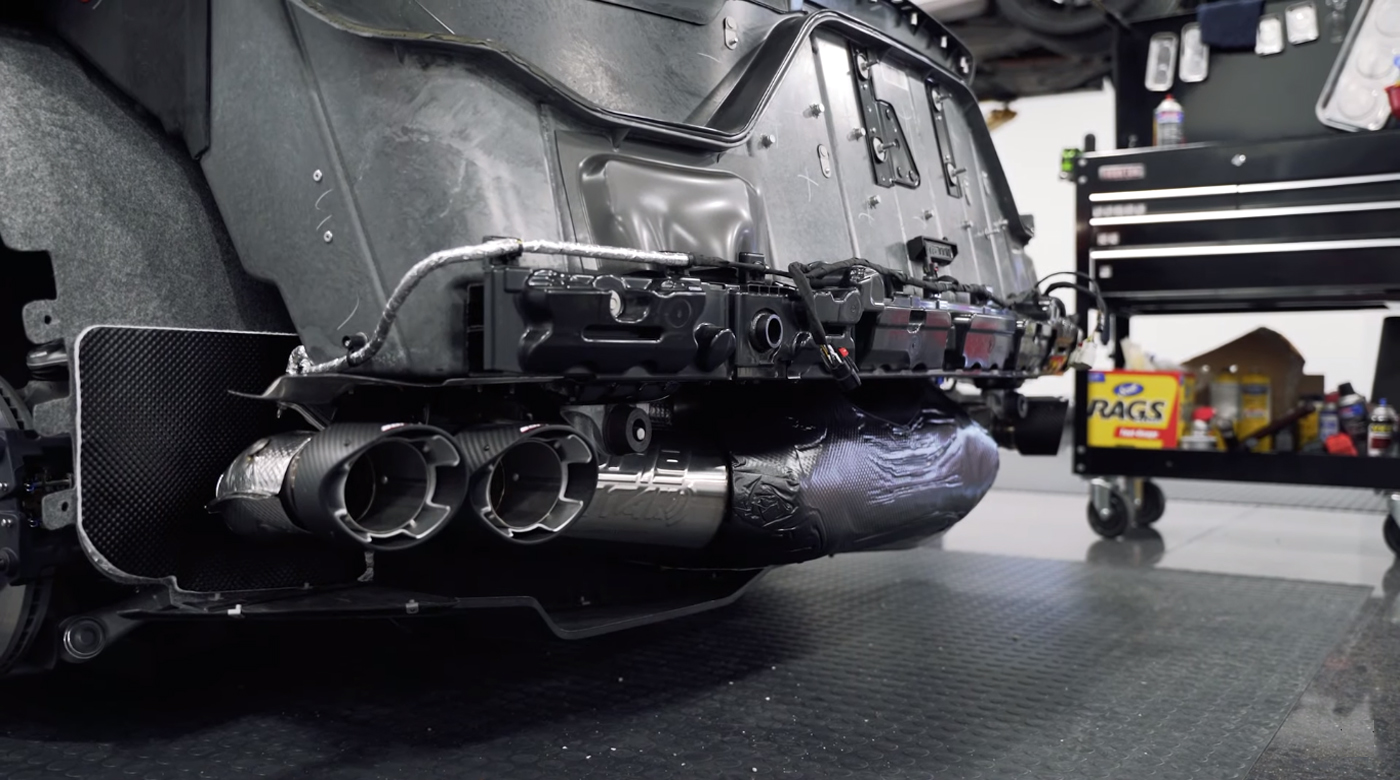 Some products are so appreciated by users that you don't even need a review of those. Exhaust systems from the world's most experienced exhaust brand Borla belong to this category. Widely popular and used, this product is loved for many reasons –
Stainless steel as a material
The extraordinary efficiency of this Borla Cat-Back system stems from its material. The system is built from premium T-304 stainless steel.
The material, even after long-term use, doesn't get rust and corrosion. This material builds a better product than the previous T-400 knockoff series.
The most appreciated attribute of this system is its excellent sound quality.
The X-pipe technology is applied to get high-pitched and exotic sounds. The users described the sound as "very throaty", "not obnoxiously loud", "music to ears" and "deep and loud". The system provides a "sweet, plain, throaty rumble" after a cold start-up of your Silverado 1500.
Because of its material quality, the Borla exhaust system lasts for many years. Though the usual lifespan of the system is 5 years, users report that they have used the system for a much longer period.
The manufacturers provide a warranty for the black coating, carbon fiber part as well as tip finish.
Gas Mileage and Performance
Borla's patented flow-through design and proper diameter mandrel bent tubing evacuate the gases out of the system much faster.
This process is conducted at a much greater temperature than the factory exhaust. This results in fuel economy and performance gain.
As an aftermarket exhaust system, Borla improves virtually all the undercard piping, incorporating Borla's ultra-smooth mandrel bends.
The patented straight-through technology and patented multi-core technology are designed with computer modeling and extensive prototyping. These technologies increase power and ensure an amazing sound system as well.
Related Post: Top 5 Best Cam For Lq4 With 317 Heads Reviews
Pros
The CNC technology is used in the product to ensure better fitment with the Silverado 1500.
Provides a smooth, enhanced driving experience.
Features bright chrome on T-304 stainless steel.
Axle-Back multi-core technology to unleash hidden horsepower.
Increased exhaust velocity to add power, driving excitement.
Nice rumble after a few minutes of running.
Cons
According to some users, the tailpipes are not online.
---
2. Flowmaster 817669 American Thunder Exhaust System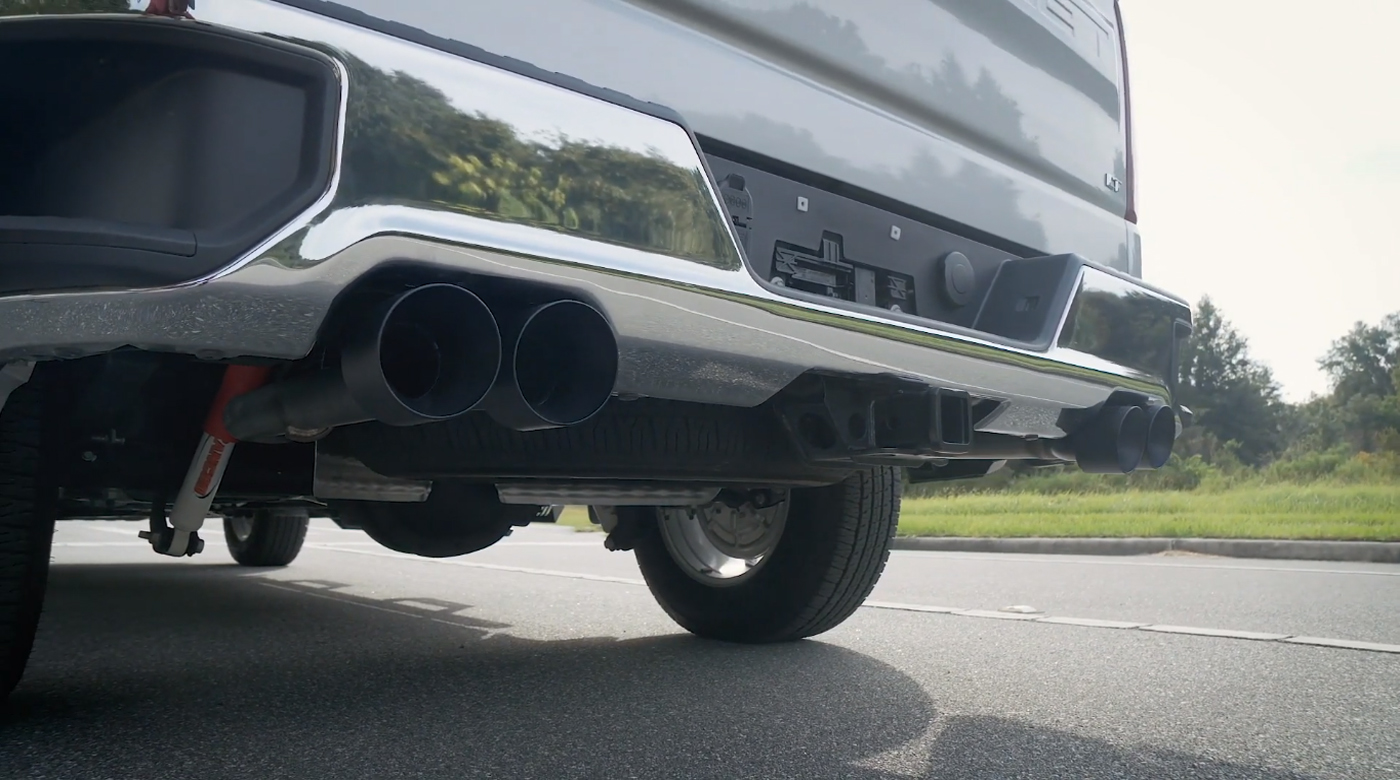 Flowmaster is famous in the automobile market for manufacturing a huge range of top-notch products. From their manufactory, some of the classy exhaust systems have come out. For the Silverado 1500, one of them is Flowmaster's American Thunder Exhaust system.
The best things about this product to product are –
High-quality Stainless Steel material
The product is made with top-quality T-409 stainless steel. The super-smooth mandrel-bent tubing flows into a Super 40 series muffler. It takes to exit with dual 2.50-inch mandrel bent tailpipes.
The system uses the factory hanger locations. The technicians have finished off it with a pair of large 3.50-inch polished stainless steel tips.
The exhaust system is designed with a bolt-on emissions legal system. This works for both crew cab and double cab models with 4.3 L or 5.3 L engines of Silverado.
You will find your choice of tailpipe exits; may it be dual-out the rear, under the bumper, or dual–out the sides, behind the rear tires.
Perfect Fit for Silverado 1500
This piece from the American Thunder series of Flowmaster is a perfect match for your Silverado 1500. Every other user in the US has expressed their satisfaction regarding the installation process.
The product is custom-designed for 2014-2019 Silverado trucks.
Designed for an easy fit, this system includes all the necessary parts and hardwires for installation.
The sound quality of this product has been reviewed by the customers as a "very clean, deep tone". The sound coming off it is characterized as a "very deep growl" by them.
They reviewed "if you want a loud deep rumble but not obnoxious" then this system is perfect for you.
Pros
Aggressive interior with moderate interior tone.
Super 40 series performance muffler.
Delta flow technology.
Custom fit for installation.
All stainless steel construction.
Lifetime limited warranty.
---
3. MBRP Cat-Back, Dual Rear Exhaust System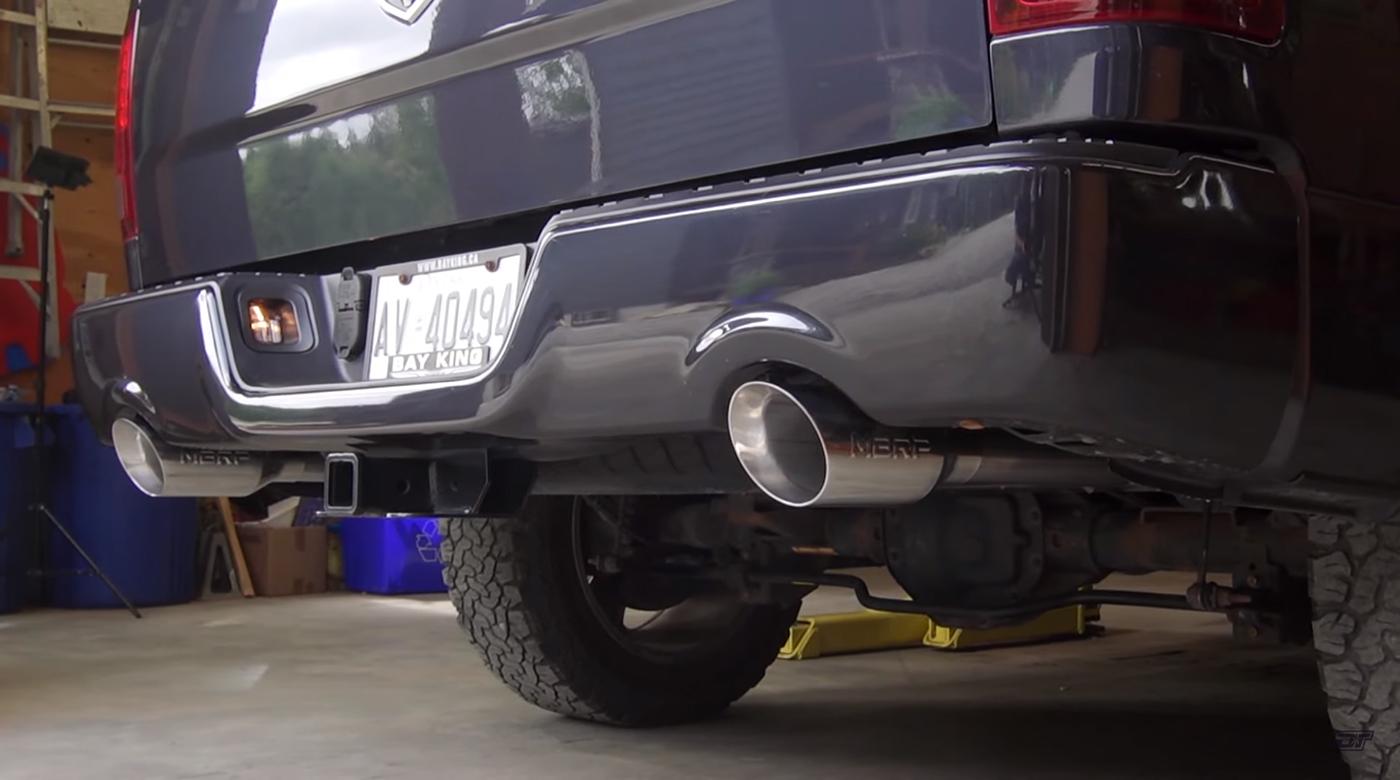 If your search aims at finding a quality exhaust system for your Silverado 1500, on a limited budget, then this MBRP Cat-Back is made for you. This product at a much lower price provides your vehicle with the maximum flow of exhaust gas.
This product is for its value price which is almost half of the price range of its.
Other features that prepare the product to deliver astounding performance include –
Aluminized Steel as a material
The product is built with 100% aluminized steel to ensure safety from rust or any other kind of corrosion. The 16 gauge heavy aluminum steel, designed for rough and repeated use, is the soul of this product.
In a dual rear exhaust system the gases can depart much faster. In this way, the backpressure is reduced and an engine's efficiency is increased. This MBRP exhaust system, being a dual rear exhaust system also can provide extra horsepower.
This system is extremely easy to install as aftermarket equipment. It is a bolt-on, no-weld design. Everything is a direct fit for the OEM hangers.
You receive all the clamps and parts that are needed for your system kit.
Every customer who uses this product agrees on one matter. They all love its "throaty rumble sound".
Pros
Built up to stand up to the harshest road conditions.
High-flow MBRP muffle.
Super mellow acceleration.
Uses factory exhaust bezels.
Uses band clamping.
Dual rear exhaust.
Pocket-friendly.
---
4. MagnaFlow Cat-Back Performance Exhaust System 15267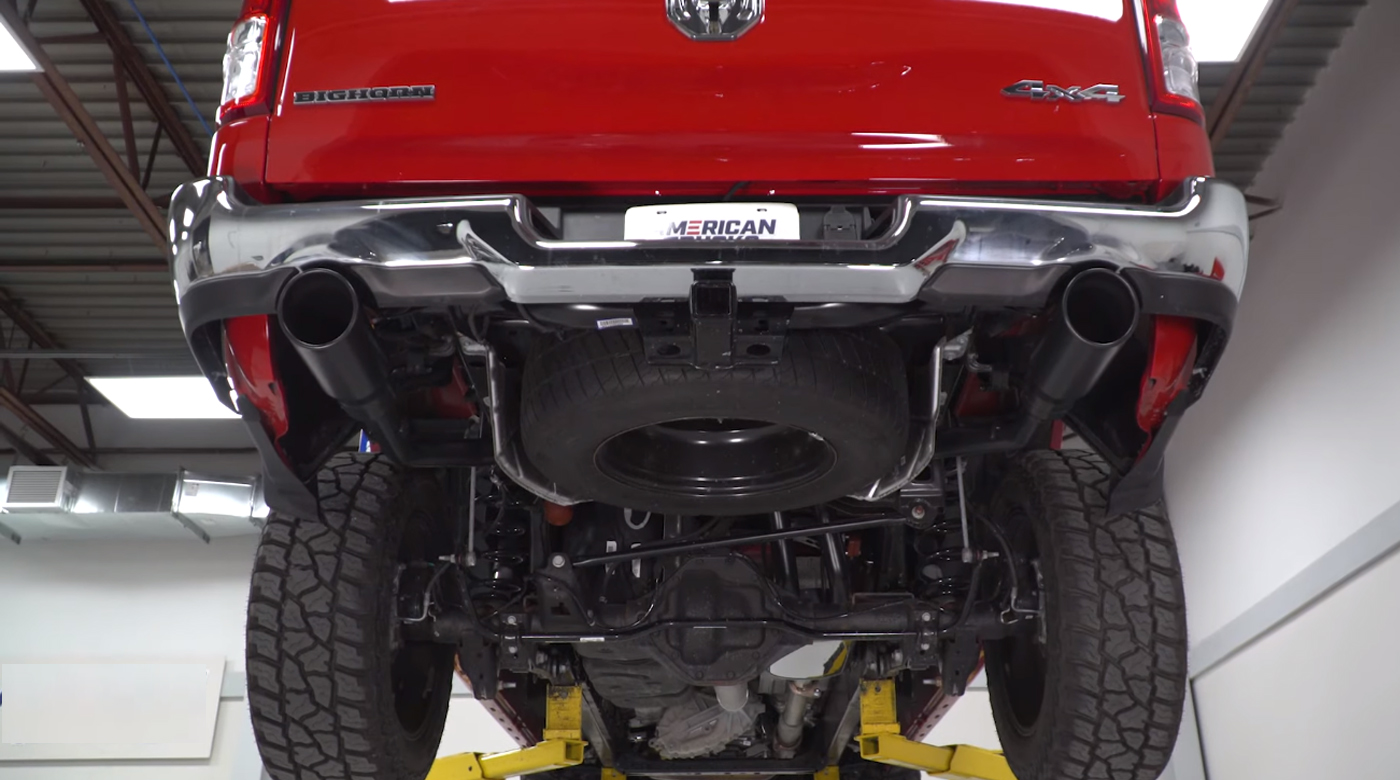 Your search for the smartest exhaust system comes to an end with this system from MagnaFlow's Street Series. With its moderate sound system and perfect system, this will ensure the following facilities –
According to the users, this is not for the lovers of loud noisy sound. For people who love a mellow, lower tone with a little growly resonance coming from their car, this product is built for them. The mandrels of the system are bent in a fast-flowing way. They are accompanied by straight-through mufflers. In this way, the exhaust restriction is reduced. And thus comfortable interior sound is produced.
Among all of its many qualities, structural excellence attracts the attention of the users at first. Right out of the box, you will see the clamps are heavy; metal is a heavy gauge on the muffler and piping. The welds are clean and precise. The fit is perfect for the Silverado 1500.
The system comes with a nice welded exhaust tip, thus relieving you from visiting the muffler shop to get that welded.
The manufacturers designed the street series in a way that they fit with the 2014-2019 Silverado 1500 in a "made for each other" way.
The power that they use for the processing of an exhaust system is dyno-proven and manufactured after extensive testing
The smoothness of the mandrel enables MagnaFlow performance tone.
Powerful Material and Durability
Strong highly corrosion-resistant Stainless steel is utilized to build this system.
The technicians incorporate CNC precision robotic engineering. In this way, the systems become durable for a long period of time.
Related Post: Cataclean Catalytic Converter Cleaner Review
Pros
Great transaction.
Easy installation.
Comfortable interior sound and performance exterior sound.
State-of-the-art 3D scanning technology is utilized during the research to ensure perfect fitment.
Larger diameter tubing and better-flowing mufflers for more efficient exhaust.
Cons
Some users found the chrome of the tip getting peeled off after a few months of use.
---
Tips to Know Before Buying MagnaFlow Exhaust System
---
5. Flowmaster 817689 Outlaw Stainless Steel Exhaust System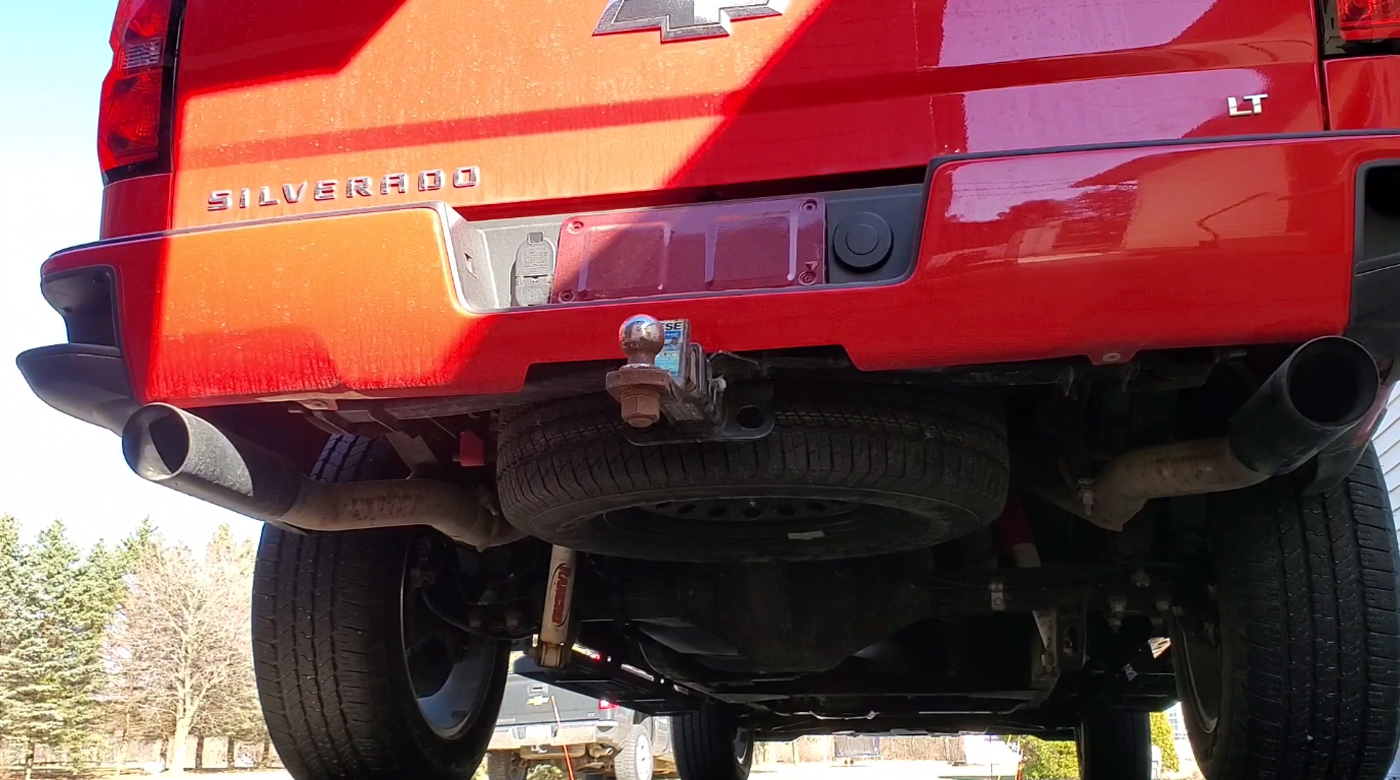 Another one from the house of Flowmaster, this 817689 Aggressive sound exhaust system is appreciated for its flawless structure and manufacturing features.
If you wish to enjoy a loud exhaust setup without an unbearable drone, then this model of Flowmaster exhaust system is for you –
Like other Flowmaster products, this system also works for both crew cab and double cab modes. It also comes with your favorite choice of tailpipes and both types of duals.
Because of its structural beauty, the sound it produces is loud enough yet not annoying and on the highway, it is head-turning. It gives you the option for straight pipes to the back bumper.
Careful manufacturing and great technology
This product is built with premium quality 409S stainless steel construction. The R&D team of Flowmaster invests in continuous monitoring to ensure the best design, engineering, and testing of the products.
Some of the great sides of Flowmaster's manufactory are exclusive mufflers, factory mounting points, and, full bolt-on fitment.
To ensure maximum performance the system gets dyno-proven. All these tests and techniques ensure optimal flow and superior service.
The system uses factory hanger locations. It is finished off with a pair of large 4.00–inch black ceramic-coated stainless steel.
The features of this system include mandrel bent tubing flowing through a 10-series muffler. This flow exits with 3.00-inch stainless steel mandrel bent tailpipes.
Pros
Dual Out The Rear or Dual Out The Side Exit Options
Large 4.00-inch Black Ceramic Coated Tips
All Stainless Steel Construction
Uses Factory Hanger Locations
Super 10 Performance Muffler
Lifetime Limited Warranty
Deep Aggressive Sound
Easy Installation.
Cons
Produces groaning noise when used with 4-cylinder mode.
---
Best Exhaust Systems for Silverado 1500 Buying Guide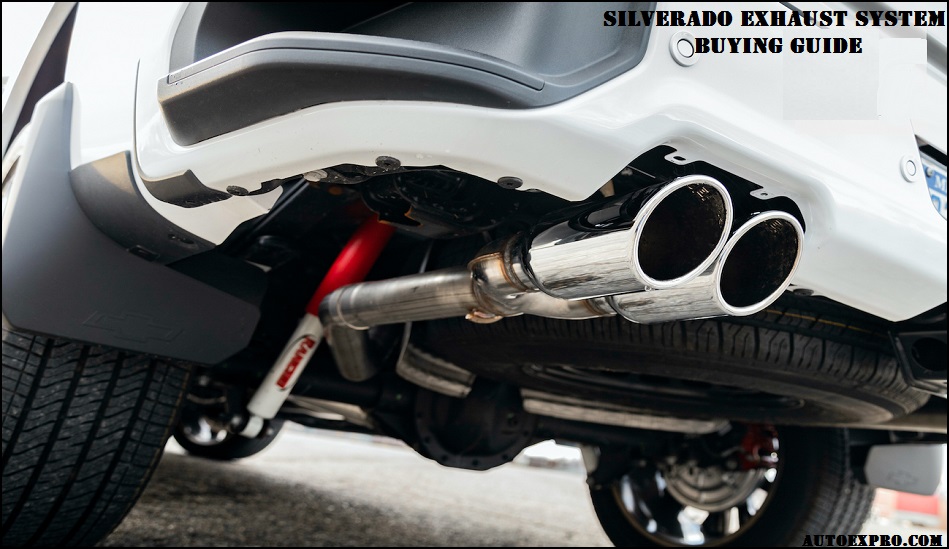 Before purchasing such a critical and expensive device like an exhaust system, if you don't act carefully, there are chances that you will get duped by fraud. That's why we are presenting here the most crucial factors to keep in mind with our review of the top-rated 5 best Chevy Silverado exhaust systems.
We find many customers who end up getting their new aftermarket exhausts unsustainable. Because of not considering the fitment and quality issues they face such problems. So kindly go through this guide once, to avoid regretting it later.
You need to enlist detailed measurements like inlet diameter, outlet diameter, length, etc. before selecting the right exhaust system for your Silverado 1500.
To get a fitting exhaust tip that is not too long than necessary, you need to take care of these issues. It also requires your knowledge of tubing, welds etc as well.
Different Types of Exhaust Systems
There is single-exit and double-exit exhaust systems, opposite dual and dual-side exhaust system. Single exit type is the most common and budget-friendliest of all. In dual rear exhaust systems, the pipes bend but in opposite duals, they don't.
It can be somehow confusing to decide the type of exhaust system you want. So think twice about the needs of your vehicle, its model, and your bank balance as well!
Not all exhaust silencers or mufflers are the same. Depending on shape and design multiple types of mufflers are available in the market.
Larger muffler pipes make more sound to pass through the power wave. Big pipes make more sound. As they determine the sound coming from your car, you better choose something after enough scrutiny.
On the basis of your financial condition, you have to make a decision that will focus on the material quality and technical brilliance of the exhaust system. If you are going for industry-leading brands like Flowmaster or MagnaFlow, then be prepared for a heavy expenditure.
Be sure that the manufacturers are providing all the necessary installation hardware. While checking online information or contacting the sellers, you must try to clear all the installation-related issues.
You also need to keep in mind the expense of installation, which you will need to pay later. If you take help from professionals for that, in the USA that can cost $100 to $300.
Silverado Exhaust System Video Review
---
FAQs About Exhaust Systems for Silverado
What stainless steel actually is?
Stainless steel basically is the combination of cast iron, steel, steel alloys, and other ferroalloys. Chromium present in the alloy (more than 11%) works behind its rust resistance.
What are the differences between T409 and T304 stainless steel?
Usually, two series of stainless steel are used in the automotive industry – 300 and 400. Usually, exhausts made with T-304 is better if you want an exhaust tip, a better appearance, and the best corrosion resistance. But they are way too expensive sometimes.
If you can tolerate a little bit of tarnishing or scratches on the surface is okay with then, T-409 is fine. They won't make your pocket feel empty.
What are cat-back and axle-back exhaust systems?
Axle-back systems focus on producing better tone compared to the stock system as well as easy installation. But cat-back systems provide more efficient flow with larger diameter tubing and better-flowing mufflers along with improved sound.
Which one is better and which one is pricier – the cat-back or axle-back system?
In short, if your focus is aimed at an aggressive loud noise, then Axleback exhaust systems are accurate for you. But if your priority also includes better performance then you should turn to cat-back exhaust systems.
But better quality costs harder; cat-back exhaust systems are more expensive than axle-back ones.
How much should an exhaust system cost?
The costs of an exhaust system depend on the type of your vehicle, its model, the area of your residence, etc.
Usually, the range of exhaust system costs varies from $300 to $1000. Products from renowned brands where pure T–304 steel is used with a variety of newly invented technologies are utilized, can cost from $600- to $1000.
But this price range is calculated without the labor cost. Keep that in mind.
What is an exhaust manifold leak?
The exhaust system is designed to remove all the toxic gases including carbon monoxide from the system of the car. But what if those fumes go back to your vehicle instead of exiting?
This happens when your vehicle's exhaust system has gotten a leak. It will certainly be a dangerous decision to drive your car with a leak in its system. So try to fix the leak as soon as possible.
If you can do it yourself, the labor cost will be saved. Otherwise, it can cost up to $270- to $300 to get it done by a mechanic.
---
Magnaflow vs Flowmaster: What's the Best Exhaust Brand?
---
Safety Precautions for Exhaust System Users 
We have repeatedly talked about the risky nature of exhaust systems while discussing the right buying decisions. But you also need to be cautious during the time of your installation and use of the product in your truck.
You may consider following these pre-purchase and after-purchase precautionary steps to avoid any accidents:
If you are living in a dry area of the USA, go for an aluminized steel muffler. If the air of the area you are residing in is highly humid then a stainless steel muffler should be your right choice.
The more powerful your exhaust system is, the more noise will be created by it. So before purchasing a system with a race-ready muffler and increased flow, make sure that the sound won't cross the local decibel limit. Usually, in most US states, 95db is the limit for street applications. Performance mufflers are better in bringing out natural tone than OEM mufflers
The exhaust system of your vehicle is that one part that goes through the harshest roads and faces all the roughness of snowy, muddy, and sandy routes. It cools, cleans, and removes toxic gases from the system. Thus this system needs regular maintenance, inspection, and repair.
When you find your fuel getting finished at an unusual speed and, peculiar sounds and burning smells coming from the engine, you should immediately inspect your vehicle as these signs indicate a leak in the system.
---
How to Install Aftermarket Exhaust System
---
Final words
So if you have gone through our complete article focusing on the list of the top 5 best exhaust systems for Silverado 1500, you know the secret of choosing the right product for you now.
You are aware of the tricks to select the best product based on your geographical location and financial condition. You are aware of the merits and demerits of different materials and techniques. You are aware of the methods of proper maintenance of the system. In short, you are a pro now in this world and nobody can befool you.
[Main photo credit: ShutterStock.com. Product images provided by the manufacturer.]
Reference: