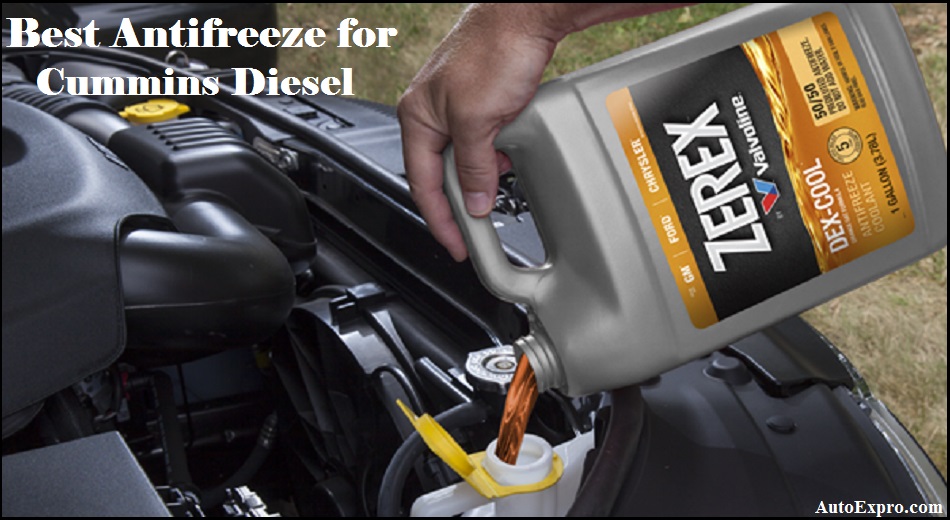 Antifreeze is responsible for the connective heat transfer of internal combustion engines. May whichever region you are living in, if you want your coolant to be effective for your engine then you must purchase that gallon of liquid very cautiously. Here is a detailed review of the top 5 best antifreeze for Cummins diesel.
If your vehicle is operated with an engine from Cummins then you are aware of the superior quality of the brand's products. To let that engine perform the same smooth way you might need to be choosy in purchasing the antifreeze.
Among multiple brands manufacturing antifreeze, we have picked the 5 best engine coolants from four companies who are renowned for their automobile products. You can check all the variations and according to your requirements, you can select them.
Check our Editor's Choice

Zerex ZXG051 G05 Phosphate Free Antifreeze
The formulation is designed for both gasoline and diesel engines
ZEREX G-05 contains a high-quality defoamer system
ZEREX contains deposit control additives
Low-silicate, low-pH, and phosphate-free formula
Formulated for long-life performance
Top 5 Best Antifreeze for Cummins Diesel
1. Zerex Extended Life Red Heavy-Duty Antifreeze
Key Features:
Meets the Caterpillar EC-1, Cummins 14603 & 3666286, Detroit Diesel 7SE298 & 93K217.
3 Years / 300,000-mile protection guaranteed.
Fully formulated or pre-charged to protect against liner pitting and hard water scale.
Extend drain interval to 6 years, 14,000 hours, or 600,000 miles with the use of ZEREX™Extended Life Extender.
A 50% – 70% concentration range is recommended for optimum performance.
Zerex has produced the life-red heavy-duty antifreeze with their special kind of inhibitors to protect diesel engines from liner pitting. They also charge the liquid with that inhibitor to protect hard water scales for longer engine life.
The liquid contains 30 – 50 ppm of denatonium benzoate as a bittering agent. You are supposed to add one bottle of Zerex Extender for every 50 quarts of system capacity at 300000 miles or 3 years of duration for another equivalent time or distance. After every extender cycle, the fluid should be replaced.
Traditionally ethylene glycol solution is used to make to finest kinds of antifreeze the finest kinds. This product from Zerex is no exception. They exploit Virgin ethylene glycol of superior quality to make this coolant for freezing and boilover protection purposes.
The manufacturers also use the earlier mentioned inhibitors in the form of an acid corrosion inhibitor package so that it can save the cylinder liners from cavitation and the engine from rust and corrosion.
---
2. ACDelco 10-101 DEX-COOL Extended Life Coolant
Key Features:
Long shelf life and storage – stable for 8 years.
Formulated especially for long service intervals.
Able to retain superior heat transfer features for improved water life, owing to non–silicate formula.
Provides excellent high-temperature protection for aluminum components.
From the house of ACDelco, this Extended Life coolant is formed. It is formulated to last for almost 5 years or 150000 miles. The fluid can protect brass, cast iron, steel, solder, and copper components. In this way, it helps to provide resistance to corrosion.
ACDelco GM OE  Dex-Cool Antifreeze Extended Life Coolant is an orange-colored, silicate, and phosphate-free, premium-grade coolant that is formulated with a chemical composition. This composition minimizes the breakdown of metal components in contact with the fluid.
Based on Carboxylate technology, the concentration of this coolant has all the properties necessary to optimize the efficiencies of the new hybrid vehicles. The company suggests that you must replace the coolant every 2 years or 30000 miles when they are used in a vehicle not originally designed to use Dex-tool.
This product is acceptable for use in all vehicles that require Dex-Cool coolant and the undiluted formula means that the user can customize the concentrations of water to coolant/antifreeze for optimum performance in a range of environments.
---
Video Review of ACDelco 10-101 DEX-COOL
---
3. Zerex G05 Phosphate Free Antifreeze – Heavy Duty Truck Antifreeze
Key Features:
Automaker-approved technology. Provides protection for 5 years / 150,000 miles in light-duty applications and 3 years / 300,000 miles in heavy-duty applications.
Formulated for long-life performance.
Low-silicate, low-pH, and phosphate-free formula.
Helps protect all cooling system metals, including aluminum.
Compatible with Cummins Deere, Detroit Diesel, Mercedes, MTU, etc., and approved by Cummins 14603.
Another brilliant production from the house of Zerex, this high-quality engine coolant is formulated with Hybrid Organic Acid Technology chemistry which ( HOAT)  combines the best of conventional and organic acid-based chemistry. This combination provides ultimate protection against rust and corrosion.
The virgin ethylene glycol used to formulate this Phosphate-free antifreeze is of superior quality. The European technology used to formulate the fluid possesses qualities like – reduced pH, Phosphate-free, and lower silicate. As a result, it is able to save all cooling system metals including Aluminum from corrosion.
Zerex G05 antifreeze is eligible to protect diesel engine cylinder liners from cavitations as they contain Nitrate.   It also contains a high-quality defoamer system and doesn't cause any harm to hoses, plastics or original vehicle finishes.
---
Zerex G05 Free Antifreeze Video Review
---
4. Fleetguard CC2825 ES Compleat – Heavy-Duty Antifreeze
Key Features:
Maximized cavitation corrosion protection.
Improved heat transfer.
Compatible with gaskets, electrometers, and other nonmetallic in the engine.
Get mixed readily with clean tap water.
Provides freeze protection up to – 26°F at 50/50 premix and -60 °F at 60/40 premix.
Fleetguard is a North American manufacturing company and their antifreeze products go with heavy-duty diesel, gasoline, and natural gas engines. Fleetguard ES Compleat is a fully formatted extended-life coolant that protects cast iron, brass, aluminum, copper, and solder against line pitting as well as provides solid corrosion protection.
This antifreeze from the House of Fleetguard is characterized by dual borate. It is free of Phosphate and Nitrate and possesses a /low silicate formulation. Experts recommend that users should test the engine after it goes 250000 km or 4000 hours using this coolant or they can just do it once a year.
Normally the lifetime of a one-gallon container of this antifreeze is 1000000 miles. Made of Ethylene Glycol of superior quality this fluid improves the performance of the cooling system and water pump life.
---
Fleetguard ES Compleat OAT Heavy-Duty Coolant Review
---
5. Mopar 10 years / 150000 Mile Coolant – Best Engine Coolant
Key Features:
Genuine OEM Dodge/ Mopar factory fit part.
5 years / 100000 miles.
Extended life formula.
Widely used.
This 50/50 coolant from Mopar is formulated in a way that makes it great in preventing freeze-up and boil-over.  The coolant is also an expert in inhibiting all kinds of rust and corrosion of metals.
Users love this product and have frequently described this as a "great coolant". One unique factor about this product is its duration. It can go up to 10 years with a single filling which is almost 150000 miles if measured in distance. After one cycle of 150000 miles, you should get the fluid replaced and it is better to change it before it reaches that limit.
This antifreeze is perfect for your Cummins engines and is made of pre-diluted ethylene glycol. So you don't have to add the required water to it.
---
Buying Guide for Best Antifreeze for Cummins Diesel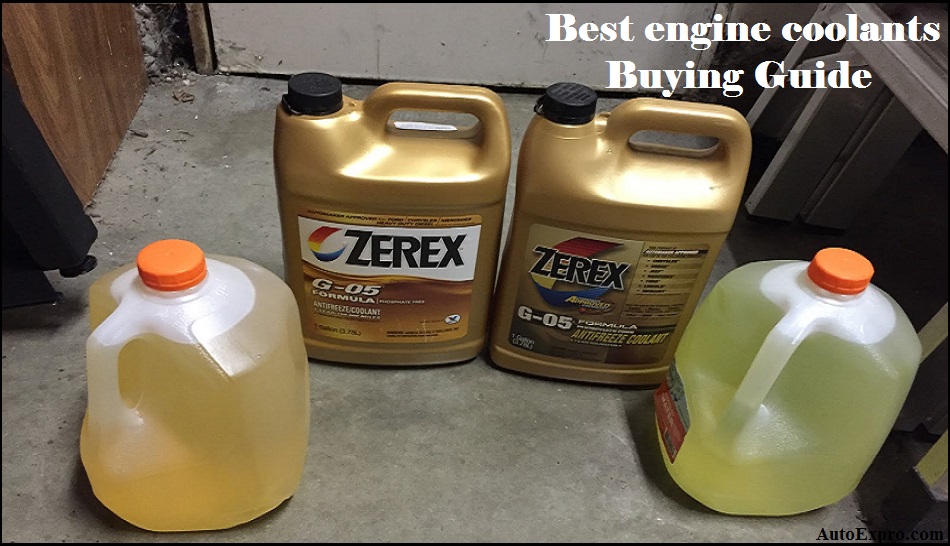 To save your car from any kind of damage you must use the right antifreeze from the right manufacturers. There will be many things there to decide the eligible coolant for your engine like the formulation, color, corrosion resistance, etc. With the knowledge of the top 5 best antifreeze for diesel engines, these buying tips will also help you in a budget buy.
You are supposed to know the basic substances of an efficient antifreeze and choose the right coolant for your engine depending on that. Those features include the amount of water in the coolant, its primary active ingredient of it and its corrosion-inhibiting ingredients, etc.
Be sure about the compatibility of the coolant to check if it is approved by the manufacturer of your engine. Usually, the manufacturers mention the list of the right coolants for your engine
There are different types of engine coolants and usually, that is the variety to be found to be recommended in your engine manual. The color and name of them make them different from one another.
Green-colored IAT (Inorganic Additive Technology) engine coolant, orange-colored OAT (Organic Acid Technology) HOAT (Hybrid Organic Acid Technology), Phosphate HOAT, Silicate HOAT, etc. are the prime varieties. You just have to be careful enough to not mix the colors and types.
Some of the coolants available in the market need to get diluted with water but some others come premixed. They can go to your engine directly without any additives. Normally the user's guide recommends the type of coolant necessary for your engine. Just follow that.
The corrosion inhibitors are differently formulated in different regions because of the weather and climate.  Asian antifreeze usually doesn't use silicates as an anti-corrosive material. But coolants for European vehicle engines need a mixture of silicate and carboxylate as anti-corrosive agents though they avoid Phosphate. Take care of these matters before purchasing your engine coolant.
Related Post: Top-Rated Carburetor Cleaner Reviews
---
How to Change Antifreeze on a Cummins Diesel Engine
Maintaining your vehicle is essential for keeping it running smoothly and efficiently. One important task is changing the antifreeze, which is the liquid that helps keep your engine cool and prevents it from freezing in cold temperatures. In this post, we'll show you how to change the antifreeze on a Cummins diesel engine.
Step 1: Locate the coolant drain valve
The first step in changing the antifreeze is to locate the coolant drain valve. This valve is typically located at the bottom of the radiator or near the engine block. Use a wrench to open the drain valve and allow the coolant to drain into a container.
Step 2: Drain the coolant
Once the coolant drain valve is open, the coolant will begin to drain out. Be sure to have a container on hand to catch the coolant as it drains out. This process can take a few minutes, so be patient. Once the coolant has drained, close the drain valve.
Step 3: Remove the pressure cap
Next, remove the pressure cap from the coolant recovery tank. This tank is usually located near the radiator and is used to store excess coolant that expands when the engine gets hot.
Step 4: Mix the new antifreeze and water
In a clean container, mix a 50/50 solution of new antifreeze and water. It's important to use the recommended coolant for your vehicle, so be sure to check your owner's manual for the specific type of antifreeze that your engine requires.
Step 5: Pour in the new coolant mixture
Slowly pour the new coolant mixture into the recovery tank until it reaches the full level. Be sure to keep an eye on the level as you pour so that you don't overfill it.
Step 6: Start the engine
Start the engine and let it run for a few minutes to circulate the new coolant. This will help ensure that the coolant is properly mixed and that there are no air pockets in the system.
Step 7: Check for leaks and the coolant level
After the engine has been running for a few minutes, check for any leaks and ensure that the coolant level is at the proper level. If everything looks good, you're ready to hit the road.
It's recommended to change the coolant every 2 years or 24,000 miles, whichever comes first. This will ensure that your engine stays cool and running smoothly. Always consult your vehicle owner's manual for specific instructions and recommended coolant for your vehicle. Also, make sure to wear protective gear and dispose of the used coolant properly.
---
Red vs. Blue Antifreeze – Which One Do I Need?
When it comes to choosing between red and blue antifreeze, there are a few key differences to consider. Both types of antifreeze provide similar protection against freezing, boiling, corrosion, and rust, but they are formulated differently and may be recommended for different types of engines.
| | |
| --- | --- |
| Red Antifreeze | Blue Antifreeze |
| Red antifreeze, also known as ethylene glycol antifreeze, is the most common type of antifreeze used in vehicles. It is specifically formulated for use in gasoline and diesel engines and is designed to provide excellent protection against freezing, boiling, corrosion and rust. It is typically recommended for use in older vehicles and in diesel engines. | Blue antifreeze, also known as propylene glycol antifreeze, is a newer type of antifreeze that is becoming more popular. It is a non-toxic, biodegradable antifreeze that is less harmful to the environment than traditional ethylene glycol antifreeze. It is also used for extended-life coolant (ELC) which can last up to 600,000 miles or 6 years whichever comes first, without the need of additional additives. It is typically recommended for use in newer vehicles and in vehicles that are designed to be more environmentally friendly. |
In summary, it is important to check your vehicle's owner's manual to know the recommended type of antifreeze, as some engines have specific requirements, especially diesel engines which typically require red antifreeze. If you are uncertain, you can always consult a mechanic or the vehicle manufacturer for guidance.
---
FAQs About Antifreeze for Cummins
What are the qualities of effective antifreeze?
As a user, you can ensure the effectiveness of antifreeze if you find the following features in it –
Improved heat transfer.
Having corrosion inhibitor compounds.
Protecting metals including copper and aluminum.
Controlling the formation of scale and rust.
What should be the ratio of water and antifreeze in the coolant?
A crucial step in using coolant is to add the required ratio of water with the antifreeze if it is not pre-diluted. The user's manual mentions the type and ratio of water that you are permitted to mix.
You have to be careful as the coolant being too strong or too weak can be dangerous for your vehicle engine. This is dependent on formulation and based on warmer or colder areas stronger or weaker forms of coolants are used. But usually a range of 40%60% to 60%40% is specified to ensure protection from corrosion.
How do I understand that my engine coolant needs to get replaced?
Usually, the container of coolant comes with an approximate duration mentioned on it, measured in hours or in miles.
But the signs that show you the necessity to replace your coolant immediately, are – the comparatively higher temperature in the gauge reader while the engine is running, leakage of antifreeze resulting in puddles of fluid under the vehicle, and a grinding noise originating from the hood of the car.
---
How to Change Engine Coolant for Cummins Diesel
---
Final Words
The above-mentioned list of the best antifreeze for Cummins diesel will provide you a bunch of mechanically brilliant fluids. All of them contain a balanced formulation of anti-corrosion and anti-cavitation agents and can be proved to be great for your engine. Just be careful in selecting the right one and protect your engine from any kind of wear or rigid expansion.