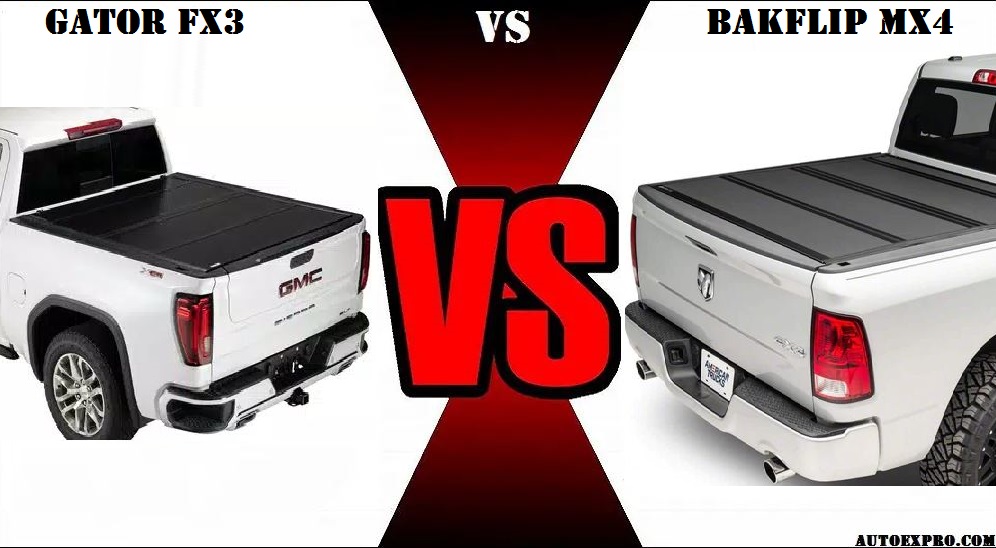 Selecting the right tonneau cover is crucial as it is important for the safety of the goods in your truck bed. A right cover saves your goods from not only theft but also environmental elements. So, when selecting one to buy, confusion is very common.
BAKFlip MX4 and Gator FX3 are two common names when it comes to quality covers. That's why people often get stuck between these two while searching for the best tonneau cover for them. I think you're in the same situation.
For you, I've designed this Gator FX3 vs BAKFlip MX4 comparison where you'll see these two covers face to face. This will make your task easier.
Quick Overview of Gator FX3 and BAKFlip MX4
Both are two popular tonneau covers that are designed to protect the cargo in the bed of a truck from harsh weather conditions and theft. Let's take a closer look at each of these covers and their key features.
Gator FX3:
The Gator FX3 is a tri-fold cover that is made of heavy-duty aluminum panels. It features a matte black finish that not only looks sleek but also provides added durability against scratches and dents. The cover is equipped with a dual-action tailgate seal, which provides a tight fit and ensures that your cargo stays dry during rainy weather.
BAKFlip MX4:
The BAKFlip MX4 is a hard folding cover that is constructed with aircraft-grade aluminum panels. The cover features a matte finish that complements the appearance of any truck. It is designed to provide full access to the bed of the truck when needed, thanks to its unique folding mechanism. The cover is also equipped with a dual-action tailgate seal, which keeps the bed of the truck dry and secure.
Let's jump to the comparison right away.
Gator FX3 vs BAKFlip MX4: A Side-by-Side Comparison
BAKFlip MX4 and Gator FX3- both are hard-folding tonneau covers that are made for better security. Besides several similarities, they have differences too. Let's check the similarities and differences between them.
Material and Finish
The panels of Gator FX3 are made of Fiberglass Reinforced Polymer. This FRP is heat and dent-resistant to ensure the look doesn't fade after a few months under the sun. The panels have a textured appearance with a gloss-black finish.
BAKFlip MX4 comes with aluminum panels. The panels are made of lightweight yet durable and corrosion-resistant aluminum, which lasts for a long time. Over the aluminum surface, a matte-black finish is applied as an additional layer of protection. It looks great too.
The frame is made of aluminum in both cases to ensure durability, strength, and performance.
Weight Capacity
Hardcovers come with the ability to carry some weight on them if you evenly distribute the weight. When it is BAKFlip MX4, it can carry around 400 lbs. because of its strong aluminum panels.
On the other hand, Gator FX3 can carry 300 lbs. of evenly distributed weight.
Access to Bed
Both covers offer complete access to the truck bed by standing against the truck cab. To drive while keeping the cover fully open, both come with support struts. Also, both allow you to drive with a 2/3 open cover.
However, MX4 has an added cushion to protect the cab's paint when folded against the cab.
Installation
Easy-to-install is a feature that both covers have. You won't face any hassles while doing this because both come with a drill-free installation process. Just with a wrench and socket set, you can do this.
However, Gator FX3 may need drilling in some cases.
Fitment to Bed and Appearance
Both MX4 and FX3 fit inside the bed after installation. Thus, the sleek appearance of your truck remains intact.
However, because of the difference in finish, the appearance looks different. Pick MX4 if you love a matte finish. FX3 is for you if you love gloss finish.
Weather Protection
To protect your goods from weather components, both come with EPDM rubber seals along the rails and hinges. This seal doesn't allow rainwater, dust, dirt, or other weather components to enter inside.
BAKFlip MX4 comes with a great drain tube to carry the rainwater out. This may need drilling in some trucks. FX3 has drain tubes too. But the one in MX4 is slightly better.
However, no cover is completely water-resistant. You may find a small amount of water getting inside it in heavy rain.
Theft Protection
To ensure maximum protection from theft, both come with tailgate locks that work along with your truck's tailgate. However, MX4 is equipped with a dual-action tailgate seal that allows you to open the cover, whether your tailgate is open or shut.
Such locks offer great security to your truck bed.
Usability
Both are easy to use. You can get access to the bed easily by pulling the locking latch. Because of the lightweight panels, folding them is just a piece of cake. And you can get as much bed access as you need.
When you need to close the cover, just unfold them to the tailgate. The latch will automatically shut the cover and lock the panels.
Warranty
From the warranty perspective, MX4 is way better than FX3. BAKFlip offers a five-year warranty for MX4 covers. On the other hand, Gator FX3 is backed by a two-year warranty policy, that too against manufacture defects only.
However, some sellers may not offer any warranty. Talk to the seller about it before buying a cover.
Price
The amount you need to spend on the covers is not the same. Compared to Gator FX3, BAKFlip MX4 has a slightly higher price tag. The reasons are simple- the panel material, stronger drain tube, and longer warranty support.
If you think you need these, go for MX4. Gator FX3 is not a bad choice too. You'll just miss some features.
Durability
According to my experience, MX4 is slightly more durable compared to FX3. Both are made to protect the look for years. Besides, high-quality materials are used to keep them lasting for a long time.
You can expect both covers to support you for around five years if you use them carefully. Don't put too much pressure and handle them sensibly; both will be there for you for around 5-6 years.
>> Buy Gator FX3 From Amazon <<
Gator FX3 Vs MX – A Quick Comparison Table 
| | | |
| --- | --- | --- |
| Criteria | BAKFlip MX4 | Gator FX3 |
| Material: | Aluminum frame and panels | Aluminum frame with Fiberglass Reinforced Polymer (FRP) panels |
| Finish: | Matte black finish | Gloss black finish |
| Weight Capacity: | 400 lbs. | 300 lbs. |
| Access to Bed: | Complete access | Complete access |
| Driving: | Closed, fully open, or 2/3 open | Closed, fully open, or 2/3 open |
| Protection: | Weather and theft protection | Weather and theft protection |
| Warranty: | 5-year warranty | 2-year warranty on manufacture defects |
| Price: | $1,110-$1,200 | $850-$999 |
So, Which Is The Best to Choose?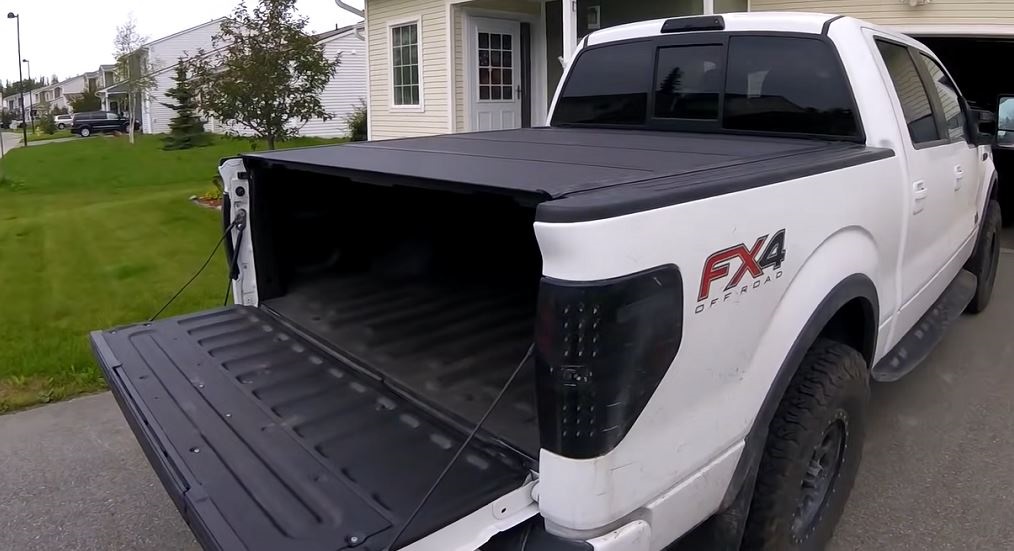 Deciding between Gator FX3 and BAKFlip MX4 can be challenging as both are popular tonneau covers with great features.
If you prioritize an affordable and easy-to-install cover for light to medium-duty use, the Gator FX3 is a great option. On the other hand, if you need a tonneau cover with a higher weight capacity and greater security features, the BAKFlip MX4 is the better choice.
It's important to carefully consider the key features of each cover, such as durability, weight capacity, security, and price, and choose the one that best meets your needs. Additionally, reading reviews from other truck owners who have used these covers can provide valuable insights and help you make an informed decision.
>> Buy BAKFlip MX4 From Amazon <<
Frequently Asked Questions (FAQ)
Can you travel by sitting on your FX3 tonneau cover?
No, it is not recommended to travel by sitting on your Gator FX3 tonneau cover. The tonneau cover is designed to provide protection for your truck bed and its contents, and it is not intended to support the weight of a person.
Which one is more secure, Gator FX3 or BAKFlip MX4?
The BAKFlip MX4 is generally considered to be more secure than the Gator FX3 due to its more advanced locking system, which includes both tailgate and panel locks.
Are Gator FX3 and BAKFlip MX4 compatible with bed liners or bed extenders?
Yes, both the Gator FX3 and BAKFlip MX4 are compatible with most bed liners and bed extenders. However, it is important to ensure that the bed liner or bed extender is compatible with the specific model of your truck before purchasing.
How do I clean my Gator FX3 or BAKFlip MX4?
To clean your Gator FX3 or BAKFlip MX4 tonneau cover, use a mild soap and water solution or a specialized tonneau cover cleaner. Avoid using harsh chemicals or abrasive materials that can damage the finish or components of the cover.
Final Verdict
From the Gator FX3 vs BAKFlip MX4 comparison, I guess now you know the similarities and differences between these two covers. From my experience and research, I suggest going for MX4.
But FX3 is a good choice too. If you have budget issues, you can try this out. I don't think it would disappoint you in the long run.
My suggestion about buying a tonneau cover is to pick wisely no matter what you pick.