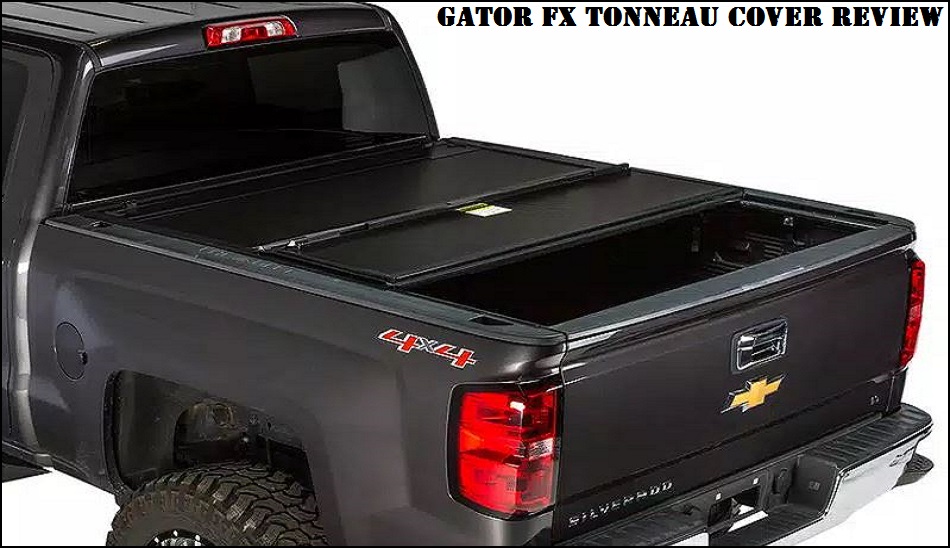 As a truck owner and automotive expert myself, I cannot imagine one day of driving without the support that my truck receives from its tonneau cover. But when buying such an expensive and important product, I have seen almost every truck owners to confuse authentic products with so called "fancy" yet faulty products.
So one question that I always receive from the customers is, which model or brand of tonneau cover do I prefer as a user and the answer is Gator FX tonneau cover. There is no doubt that tonneau covers help you protect your truck bed as well as the goods that you carry in there. But choosing the right cover is important for that.
As a brand, Gator has come out with numerous well-built, smartly designed products in last some years. But this hard folding tonneau cover with its extraordinary material and structure has impressed a large number of truck owners. Let us discuss the best things about this tonneau cover.
Gator FX Hard Folding Tonneau Cover Review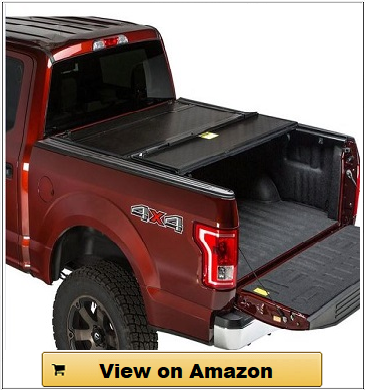 Hundreds of customers in the US end up buying some low-quality truck bed covers. The reason behind that they don't doesn't know about the things to seek in an ideal tonneau cover. If we discuss the features of Gator FX, then it will be easier for you all to understand the characteristics of a perfect truck bed cover.
Smart, Flexible Design
Gator FX truck bed cover has got all the features of a well-built truck bed cove. Its hinged, folding design ensures simple and fast access to your full truck bed. You can fold it completely against the rear window and lock into place with the integrated prop rod system.
Superior Security
The buckle straps are there to secure the cover when it's in 2/3 position. It ensures that may the cover is partially opened or flipped or fully closed, the driver won't face any problems. When the cover is closed, the latches can get automatically locked to provide extra safety.
Strong Material
When it is about truck bed cover, you will hear the name of Aluminium a lot but authentic powder-coated aluminum to build the covers is a rare activity, to say the truth. Gator FX's heavy-duty aluminum with its solid layer of protection ensures weather resistance effectively.
May it be heavy rain or extremely dusty weather, the cover doesn't react to either of them and looks great in every condition. At the same time, the products or contents that you are carrying also stay safe. And the black powder coat finish is used to ensure scuff and scratch resistance.
The perimeter EPDM rubber seals and hinges keep the weather out of your truck bed to keep the cargo dry and safe.
Complete Bed Access
Apart from the great material and technology, the tonneau cover also comes with amazing durability and total bed access.
You will need 100% bed access when hauling larger loads. To provide the truck 100% bed access, the Gator FX truck bed cover can be folded up against the cab of your truck. The 3rd brake light also stays visible in this way.
Weight Support
The Gator FX cover is capable of holding up 300 pounds of weight, evenly distributed on top.
Key Features: 
Tonneau finish – Semi-Gloss.
Material – Aluminium.
Weight capacity – 300 lbs.
4 years warranty.
Pros
Hard quad-fold cover folds up 100 % of the way toward the truck cab.
Black powder-coat finish on aircraft-grade aluminium panels.
Cover mounts inside of bed rails provide a low profile.
Can be completely removed in minutes without the use of tools.
Scratch and UV resistant.
EPDM rubber seals and hinges for water resistance.
No-drill warranty.
Cons
After 3-4 years of use, sometimes leaks appear in the cover.
Video Review About Gator Truck Bed Cover
---
Gator FX Vs. Tonno Pro Tonneau Cover Comparison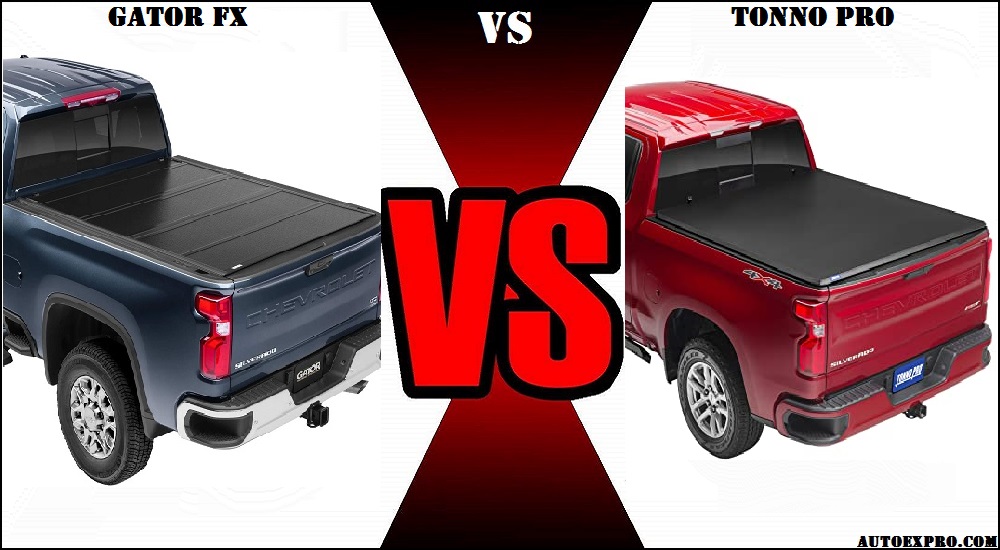 After coming to know all the positive and negative features of Gator FX, if you want to compare it with other market-ruling products then that's absolutely okay. Tono Pro hard-fold truck bed cover is one of the best products present in the US market now. But is it better than the FX from Gator? Let's compare and contrast –
Material
When it comes to material, Gator's FX is stronger and sturdier than Tono Pro's covers.
We receive complaints from a number of customers that, though Tono claims to use aluminium to build the product, it in reality is made of some kind of plastic. But the product material and finishing of Gator FX has always stood up to the trust of truck owners.
Water Intrusion
Sometimes the Tono Pro hard-fold covers cannot work on their waterproofing quality in a satisfying way and hamper the job of water-tight seals. As a result, the users stay in a fear of water intrusion. On the other hand, the Gator FX hard-fold covers are well-known for their integrated water management.
Bed Access
Gator FX hard-fold tonneau cover comes with complete bed access, while the Tono Pro cover folds 2/3 of the way toward the cab of the truck. 100% bed access allows you to haul large cargos.
Price
As far as the price range is concerned, Tono Pro might be a bit relieving for customers with low budget. It comes in less than $600, whereas, Gator FX costs nearly $700 in the USA.
Verdict
So, as we can see, apart from the price range, Gator's FX has all the great features of Tono Pro but in many cases, the features of Tono Pro don't work out the way they claim to do.
And as far as the budget is concerned, if you are actually concerned about the security of your truck bed and cargo, then you should not think about that extra $100. If you want a product for all-rounder performance. Then always go for Gator FX.
---
FAQs About Gator FX Tonneau Cover
How hard-fold tonneau covers are better than soft-fold covers?
With hard-fold truck bed covers, the cargos in your truck bed are provided with extra security and are kept in place. Because of the strong material, instead of vinyl as used in soft-fold covers, hard-fold covers offer safety.
What kind of truck bed Gator FX is made for?
Gator FX tonneau covers are made for 5.7 inch long truck beds. They are compatible with 2015-2020 Ford f150.
Are Gator truck bed covers manufactured in the USA?
Yes, Gator truck bed covers are made in the USA, using globally sourced materials.
Can I keep the Gator FX Truck cover at any position during driving?
Yes, you can keep it in any position – partially open or flipped up to the window in the fully open position.
Do I need special tools or equipment to remove the cover?
No, you can easily remove the truck bed cover without using any equipment.
---
How to Install Gator FX Truck Bed Cover (DIY Video)
---
Final Words
After this detailed discussion on the pros, cons and features of the Gator FX hard folding tonneau cover, one thing must come clear to you and that is the usefulness of this product. Except from being a bit expensive, this tonneau cover is an example of overall all-rounder product.
So, considering all the facts, you can understand why Gator FX is the kind of product that we place at the top of our list for being "overall best". Along with giving you the ultimate control of your truck, this cover also gives a very comforting experience of driving and carrying cargos. So happy shopping!