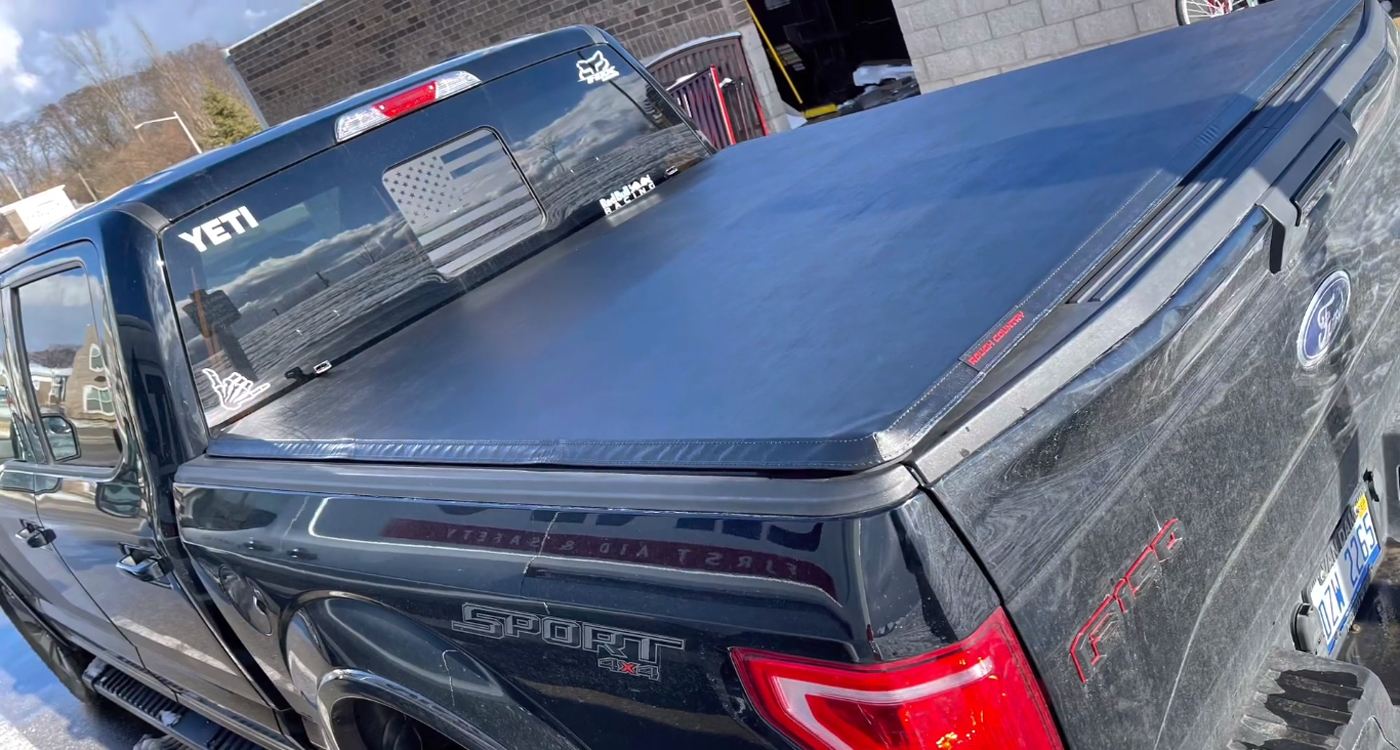 Keeping your truck bed safe from weather conditions is a must if you frequently carry things that are sensitive to weather. A tonneau cover can help you in this matter. Depending on which one you're picking, you can protect your truck bed even from theft. So, picking the right one is mandatory. My Rough Country tonneau cover review can help you in that case.
Rough Country is a brand that you'll hear about when searching for the best tonneau cover for your truck. It might not be in the top three choices of quality is the only focus, but you'll get awesome support from the covers of this brand.
There are several reasons behind this. We'll be talking about those in detail later. First, let's know a bit about the brand Rough Country.
How Makes Rough Country Tonneau Cover?
Heckethorn Products Inc., one of the first suppliers of aftermarket automotive products, bought Rough Country in 1986. They are the current producer of tonneau covers for Rough Country. The brand Rough Country started its journey as an OE off-road shock manufacturer. It was in 1975. In the year 1986, it was sold to Heckethorn Products Inc. This was the time when this brand stepped into manufacturing lift kits and leveling kits for vehicles.
Right now, Rough Country is a brand that offers a wide range of after-market products for lighting, steering, performance improvement, interior, and exterior of the vehicle. Starting from wheels to lights, you'll find a lot of things for your vehicle from this brand.
Rough Country has a sharp focus on the quality of the products it supplies to the market. The main target of this brand is designing and manufacturing products for off-roading.
Being led by off-road vehicle enthusiasts, Rough Country offers a lot of quality products at reasonable prices. Being innovative is one of the strengths of this brand. If you stay tuned with this brand, you'll see new ideas and new products.
Different Types of Tonneau Covers from Rough Country
Rough Country produces four types of tonneau covers. Let's know a bit about all of those.
1. Hard Folding Tonneau Covers
The hard folding tonneau covers from this brand are tri-fold ones which means they come in three parts. The best thing about them is the low-profile design. So, your truck won't appear bulky.
Installing and using them is very easy as they come with some comfortable features. You'll find them strong enough to last long and save your truck bed from rain, snow, dirt, sun rays, and theft.
2. Soft Folding Tonneau Covers
You'll find soft folding covers too from this brand. These are also tri-folding covers made of quality material. Most of the soft covers from this brand are made of marine-grade vinyl and 6061 Aluminum frame.
These easy-to-install covers can be installed within a few minutes if you have an idea about how to install one. For protection from weather conditions, you'll find them performing great. But they can't save the bed from theft.
3. Soft Roll-up Tonneau Covers
You'll find quality soft roll-up covers from Rough Country. They are easy to install and quick to open. Rolling up is also comfortable so that you can easily get access to the full bed. Being made of durable and high-quality leather-grain fabric, they can protect your truck bed for a long time.
Coming with a low-profile appearance, they don't hamper the sleek look of your truck. Though they are soft roll-up ones, they can protect your truck bed from weather conditions. All you need to make sure that you're maintaining them properly.
4. Retractable Tonneau Covers
Rough Country offers retractable tonneau covers too. These innovative covers are made to ensure maximum protection from theft and weather conditions. Being made of powder-coated aluminum, they are durable and dependable. The matte black finish along with the sleek design ensures an attractive appearance of your vehicle.
Installing them doesn't require any drilling. Just use the bolts to connect it to the rails and you're ready to haul with your truck. It doesn't take too much time.
Hard & Soft Rough Country Tonneau Covers Review
1. Rough Country Soft Tonneau Cover Review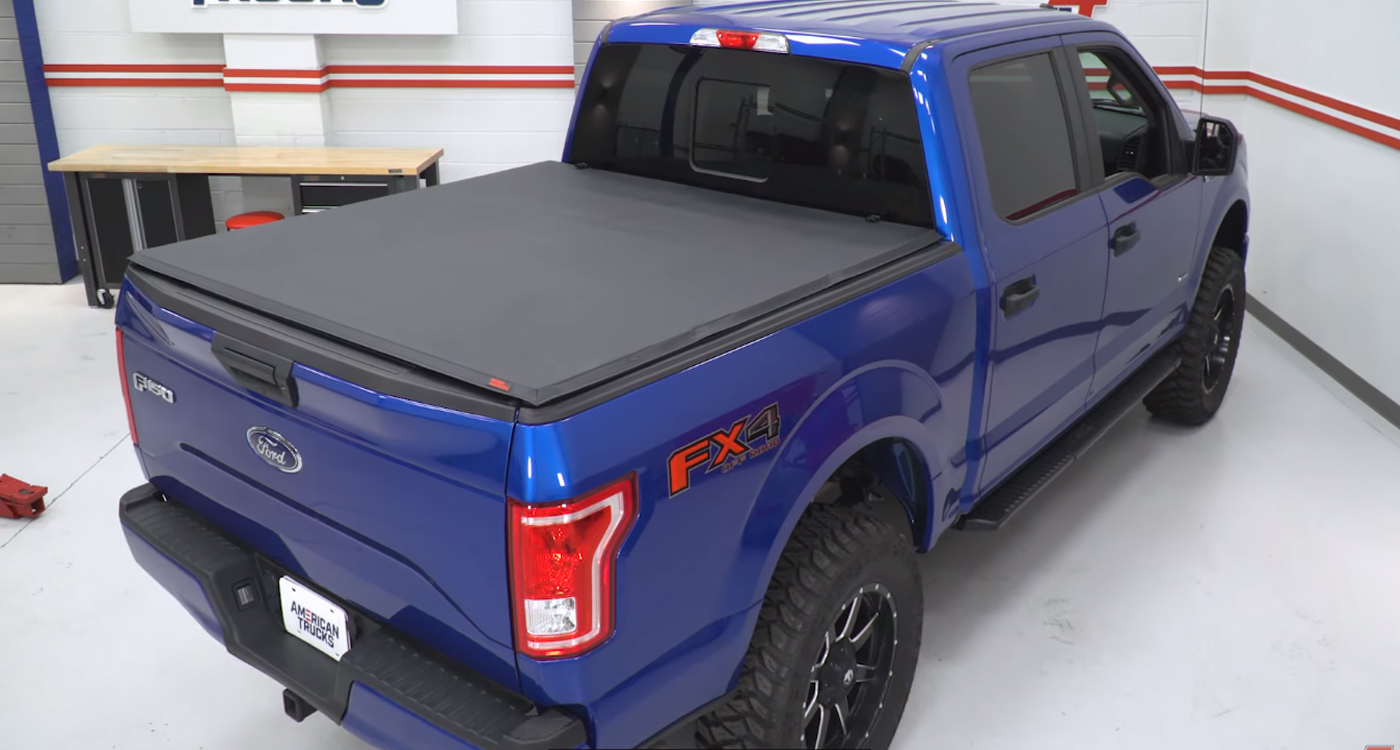 Though I'm not a big fan of soft roll-up covers, I had to use one for a few days. I chose the one from Rough Country. Now I have an opportunity to write a bit about that, and I'm going to do so. If you're looking for a soft roll-up tonneau cover, you can check this.
The leather grain fabric seemed to be great to me. I didn't find it to wear or tear easily. I guess it can serve for a long time. It made my truck look really nice. Also, sitting at only ¾-inch higher than the truck rail, it didn't ruin the appearance.
Unlike many other soft covers, it was sitting flat with the help of the tension-control feature.
Installation took only 5 minutes. You won't face any hassle installing it as the instruction shows everything clearly. All you have to do is read those carefully.
The cover was good enough to fight all types of weather conditions. There were seals at the front and back as extra protection from water. I found those working great, though I found some water in the bed after rain. But that was not a big deal. If there was no seal, way more water could enter the bed.
You can run with the cover open as there is scope for binding it near the cab with the help of safety latches.
Though I was not a fan of soft covers, I found this one pretty handy. If a soft cover is your target, you can go for this.
Related Post: Top Rated Car Cover for Sun Protection
Pros
Very lightweight and handy
Protects well from weather conditions
Made with durable and quality material
Fast and easy installation
Cons
Water protection could be better

2. Rough Country Hard Tri-Fold Bed Cover Review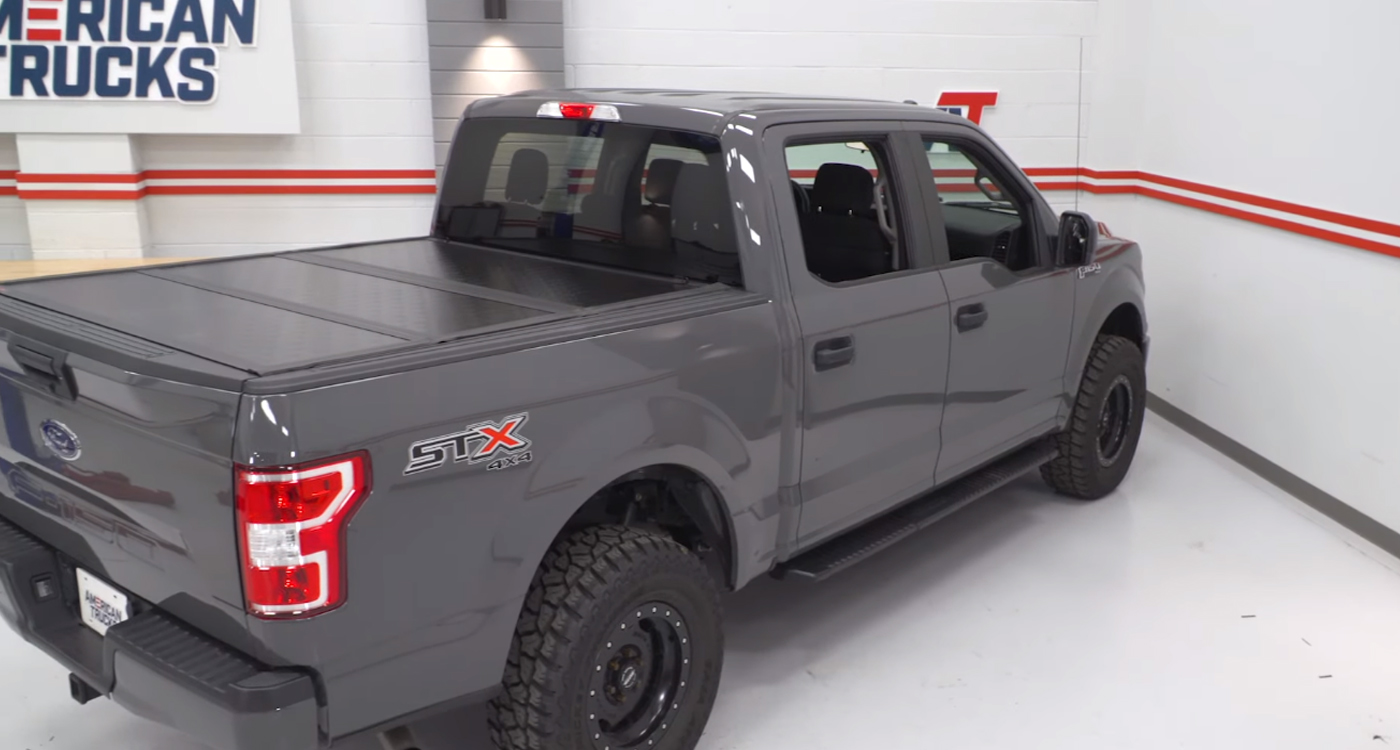 I've used several hard folding covers from Rough Country. So, I know how those perform. Let's talk about a hard tri-fold cover from this brand.
You already know that the material is aircraft-grade aluminum. Above it, there is a black textured finish that ensures another protective layer. As a result, I haven't seen the UV rays damaging the color and look of the cover.
Just like most other covers from this brand, it is also a low-profile one. I love how it sits closer to the height of the rail and ensures a sleek look for the vehicle. Sitting there, it saves your truck bed from weather conditions. It is strong enough to protect your bed from theft too.
It comes with a secure locking system which allows you to quickly access the bed but keeps it safe from theft.
I've carried weight on the cover too. It can take around 300 lbs. load on it. You just have to distribute it evenly.
Folding or unfolding is very easy as it is light. Using the cable, you have to disengage the latches at first. Then you can fold the panels towards the cab. There you'll find safety latches to secure the cover. So, you can run keeping the cover open if you want.
The installation procedure is very easy and takes around 15-20 minutes. I did it alone. With someone helping, installing it is easier and faster. Overall, I've loved using the hard tri-fold covers from Rough Country. If you're a fan of hardcovers like me, I suggest going for this.
Pros
Quality material with black textured coating
Able to take a huge load
Installation is very easy and fast
Maximum protection from weather and theft
Cons
Doesn't give full access to the bed

---
Why Pick Rough Country Tonneau Covers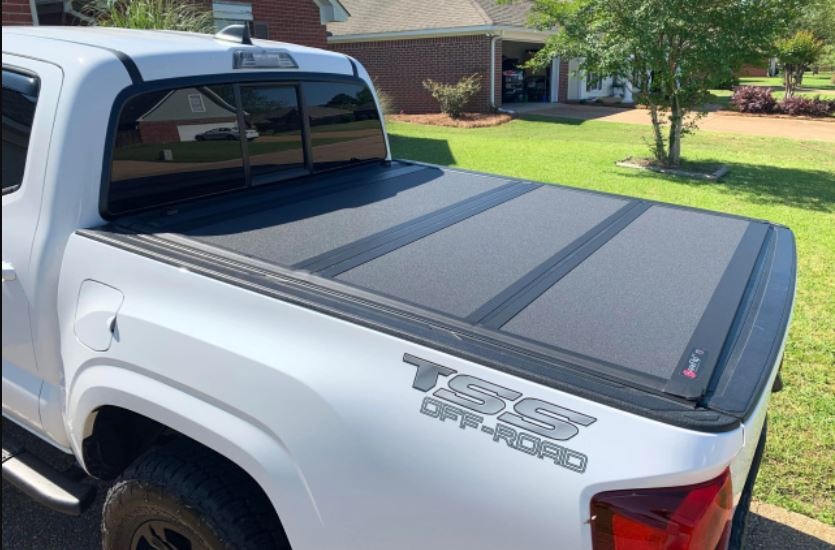 I've used several tonneau covers from this brand. From that experience, I'm going to share some of the reasons you should go for the covers from Rough Country.
Rough Country makes the covers and frames with quality materials. The hard parts of these covers are mostly made of 6061 Aluminum which is very strong and durable. As a result, the covers support you for a long time.
To make the soft covers, quality marine-grade vinyl or leather grain fabric is used. As a result, you can expect the look to stay for a long time if maintained properly. The locks, bolts, and other small components are also focused on similarly. They are also made of quality material and proper concentration.
Being made of excellent material, these tonneau covers are proven to be dependable.
Besides material, build quality is also a factor that asks you to go for these covers. Poor build quality makes a tonneau cover weak. In the case of these covers, you won't see anything like that.
Tonneau covers from Rough Country come with a great and smooth finish. Each part is made to sit perfectly with the surroundings. For this, the panels and other parts come with perfect measurements. Besides, the use of perfect-sized screws has made these covers smoother and more perfect.
Most of the covers from this brand are low profile. The main advantage of using a low-profile cover is its appearance. Installing such a cover doesn't impact the look of your vehicle that much.
I love to have the sleek look of my vehicle and these covers are just made for that.
Most of these covers come with a very easy bolt-on installation process. The whole process may take around 15-20 minutes. Even if you're new to it, you won't need more than this. Installation instruction comes with the covers. So, being worried about it is not an option.
Weight is a matter to consider when it is about installing a tonneau cover because you're adding weight to your vehicle. From this perspective, picking one from Rough Country is not a bad decision.
Coming with quality aluminum and dependable fabric, the covers from this brand are extremely lightweight compared to many others from other brands. This lightness comes with several benefits. You can easily install it, your vehicle doesn't have to have a huge load as an addition, and the fuel economy doesn't get declined.
Rough Country covers are made keeping driving comfort in mind. You won't have to fully spread the cover every time you drive. There are several options for securing the covers when they are open. No matter whether you want it closed or open, you can run with your truck anytime.
Tonneau covers from this brand are some of the most affordable ones in the market. If you compare the quality and price, you won't find many covers which can beat them. If you're looking for value for the money you spend, consider buying Rough Country tonneau covers.
Downsides of Rough Country Tonneau Covers
You won't find many things that actually pull you back while choosing these covers. However, you'll find some minor issues.
Some covers from this brand can't ensure maximum protection from rainwater. So, after heavy rain, there is a possibility of seeing some water on your truck bed. Though you won't find any cover that can completely block rainwater, it is still a drawback.
Another issue with these covers is maintenance. Cleaning is a bit tough, especially the soft ones. However, this is not a disadvantage to many people.
---
Rough Country vs. Bakflip Tonneau Cover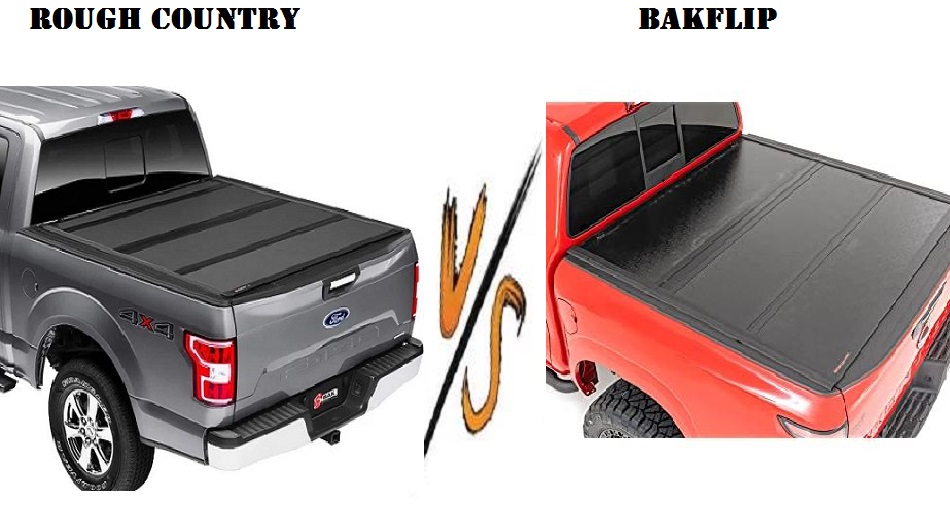 Another well-known brand of tonneau covers is Bakflip. You'll also get a lot of recommendations about Bakflip covers. So, let's compare these two so that you can have an idea about which one to pick.
Rough Country is focused on manufacturing a wide range of components for off-roading. On the other hand, Bakflip is only focused on designing and producing truck bed covers. So, you'll find more product variations from Bakflip.
Tonneau covers from Rough Country are made with aircraft-grade aluminum. On the other hand, Bakflip uses premium or standard aluminum in some of its tonneau covers. Some are made of aircraft-grade aluminum though.
So, you have to be a bit careful while choosing Bakflip.
Both offer no-drill installation which has made the process very easy. However, installing the covers from Rough Country takes around 15-20 minutes while the ones from Bakflip require more than 30 minutes.
The prices of the covers from these two are close. You'll find similar types of covers from these brands are priced almost similarly. However, Bakflip covers are priced slightly higher. The reason is the warranty maybe.
Weight is also almost similar while talking about the truck bed covers from these two brands. Depending on the category of cover, the weight varies. You may find a slight difference between the weight of Rough Country covers and Bakflip covers, but that's not a big deal.
Most of the covers from Rough Country are UV resistant. The aircraft-grade aluminum and smooth coating outside have made them resistant to the harmful rays of the sun. On the other hand, only a few covers from Bakflip are resistant to UV rays.
Both brands offer some features that ensure the convenience of the users. For example- the lightweight and easy-to-install covers from Rough Country allow you to conveniently install or uninstall them when needed.
Hard folding covers from Bakflip allow you to get access to the whole bed by keeping the cover standing against the back of the cab.
You should go through the features thoroughly to check which one ensures the most convenient for you.
From the point of security, I haven't found much difference between these two brands. Both offer secure locks that protect the bed from unwanted access. The locks are easy to work with too. So, you can leave all the worries.
However, in the case of soft covers from both brands, the security risk is different. You'll have to handle that differently. We suggest not keeping any valuable thing under a soft cover. If you frequently carry valuable things, get your truck a hard tonneau cover.
This is the basic comparison between these two brands. Making a choice is totally up to you.
---
FAQs About Rough Country Truck Cover
What is the warranty for Rough Country covers?
The ones from Rough Country are typically backed by a lifetime warranty. However, it varies.
It is always better to talk to the seller about the warranty while purchasing one. Not all of them are under the lifetime warranty and there are several conditions too. So, I suggest spending some time knowing the warranty policy for the specific one that you're choosing.
Otherwise, any type of confusion may create and you may end up in a messed up situation.
Are Rough Country tonneau covers good?
In this article, I've talked a lot about these covers. I've talked about the features and the downsides and reviewed a few. So, now it is your task to decide whether it is good for serving your purpose or not.
My experience with this brand was really good. I've used several covers from this brand and each was great. The only issue I faced was the rainwater leaking. However, this was not a huge issue because only a small amount of water could enter the truck bed. Except for this, using these covers was a satisfactory experience.
Is there any Rough Country Cover for Ford?
Rough Country has introduced tonneau covers for a lot of types of vehicle models. Ford is a common vehicle and it has covers for this brand too. You'll find these covers for several models and makes of Ford.
However, I'm not sure but I've heard about a few minor issues in Rough Country covers made for Ford. I guess they've solved the issues. Still, just spend a bit extra time researching while picking one for your Ford.
---
How to Install Rough Country Truck Bed Cover
---
Final Verdict
From my experience with Rough Country, I can say that it offers some fine tonneau covers at affordable prices. In my Rough Country tonneau cover review article, I've talked about everything I can share about this brand. Now it is your time to make a decision.
Going for one from this brand should not be considered to be a bad decision. They ensure a good value for the money you spend on them. You just have to make sure that you've researched them and picked up the right one. It's not a tough task but you have to spend enough time.
I wish you a satisfactory experience too with this brand.