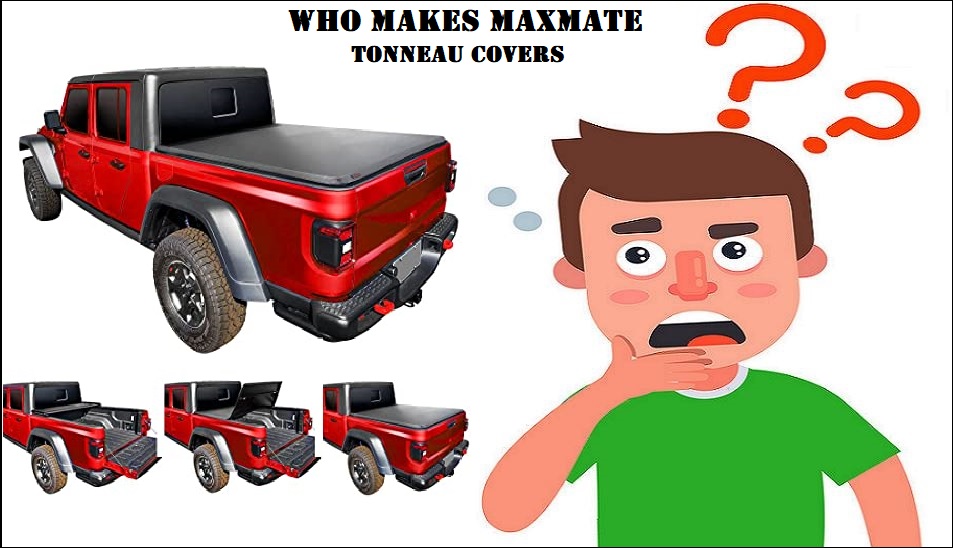 A tonneau cover is a protective gear for the truck bed. It is a simple solution to enclose the goods kept on the bed of the truck. Many brands have brought out tonneau covers in various styles and materials.
Among them, Maxmate is one of the top sellers in this industry. The brand ranks in the review rating for its best tonneau covers. The potential customers are truly satisfied with their product's quality. This is the reason people want to know who makes Maxmate Tonneau covers.
Here we will enlighten you about this brand. You can explore their specialty which sets them apart from the rest.
Who Makes Maxmate Tonneau Covers?
Maxmate was established in 2012 and this trademark is patented by Tyger Auton Inc. Under this chain, Maxmate manufactures aftermarket automotive parts including tonneau covers, running boards, exterior decorative metal body, trim, molding, car seats, truck seats, and so on.
Tyger Auto Inc. is a car culture innovator that is located in California USA. It is launched by a group of automotive enthusiasts who focus on the user's perspective while designing any product. The brand's mission is to bring top-quality products that emphasize functionality, durability, and innovative style to the market. Moreover, they continuously diversify and expand their product line to meet the user's expectations.
Different Types Of Maxmate Tonneau Covers
Maxmate makes both soft and hard tonneau covers. You can choose according to your needs. However, all of them are US designs patented. So whether your truck model is, the tonneau cover will fit into it. Typically, their tonneau covers come in three categories. For example:
Soft Roll-Up: This type is the cheapest addition to the Maxmate tonneau cover. The soft roll-up cover is made of dual-coated heavy-duty 24oz. marine-grade vinyl based on horizontal crossbars. It gives support when the cover is laying flat. These covers are ideal when your truck is carrying a bulk load or leaving it for an extended period.
Tri-fold: This is the brand's high-profile tonneau cover. It features the same marine-grade vinyl but the frame has aircraft-grade aluminum. It offers great durability and protection. It is suitable for your truck while carrying a large load every day.
Quad-fold: The tonneau cover has the same material and build quality as the tri-fold. The only difference is that the covers can fold into four parts and are convenient to use. That's why the price range is a bit higher than the tri-fold tonneau cover.
Reasons To Pick Maxmate Tonneau Cover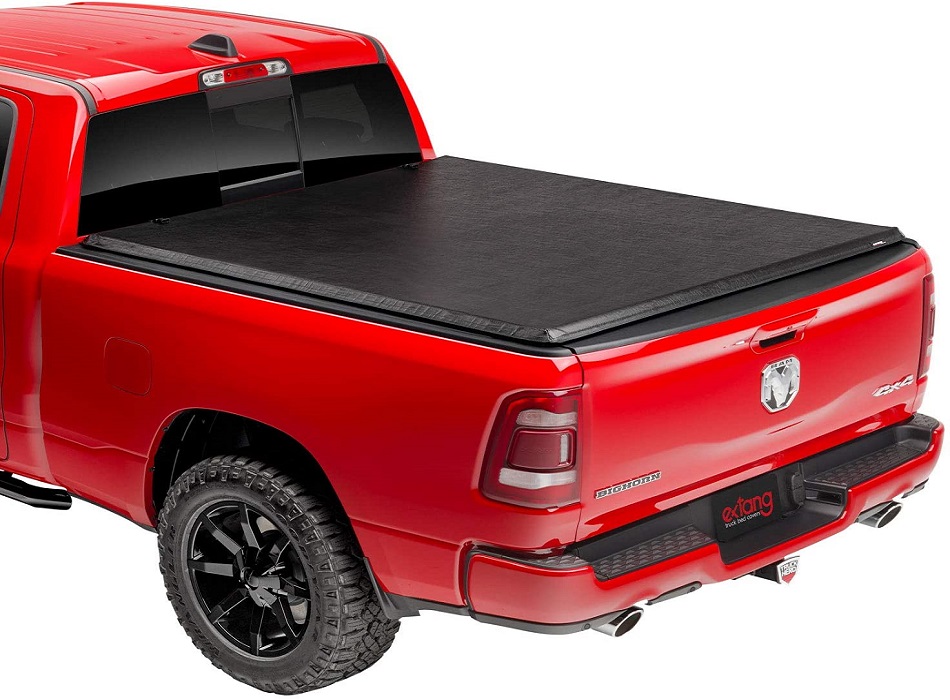 A tonneau cover is beneficial in many ways. Along with enclosing your truck bed, it makes the place weathertight and protects it from rain, snow, dust, and even theft. So it is important to pick the right cover for your truck bed. In these terms, Maxmate is the ideal choice. There are several reasons you should pick it. Like:
Sleek Design: Maxmate tonneau covers comes in sleek black color that looks great after installation on the truck. Whether the color of your truck is, the cover will simply adopt it and give a nice appearance.
Heavy-duty Material: Maxmate uses heavy-duty 24oz. marine-grade vinyl in their tonneau covers. The vinyl material is soft yet strong enough for optimal support. The folding covers have aircraft-grade aluminum frames, so there is no doubt about their durability. Buying a Maxmate tonneau cover is a good investment for long-lasting usage.
Easy to install: The installation process of the tonneau cover is super simple. In the manual, you can see instruction with pictures that makes it easy to understand at a glance. However, no drilling is required for installation, you only need a standard screwdriver and a wrench for the clamps. All the mounting hardware is included. The clamps are constructed of stainless steel for rigidity and hold everything in place in heavy wind. The plus point is that the clamps have foam lining so they won't scratch the paint underneath.
Access To Full Bed: Maxmate tonneau cover gives access to the full truck bed where some other tonneau covers don't. You can conveniently fold up and lay down the cover.
Protection: Since you are installing the covers for the protection of your truck bed and elements kept on the top. And Maxmate tonneau cover won't disappoint you. It prevents entering the water in the truck bed and keeps things dry. Moreover, it helps to enhance the lifespan of the truck bed.
Price: The price of the Maxmate truck bed cover is much more reasonable. The price range is affordable for the value you are getting. Comparing the quality and cost, you are getting a great deal.
Warranty: Maxmate includes 10-year hassle-free customer service. The users are truly satisfied with their service.
Top Best Maxmate Tonneau Cover In 2023 (Editor's Choice)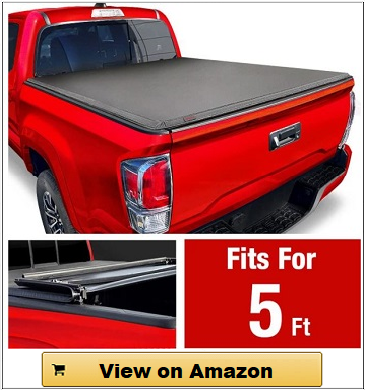 MaxMate soft tri-fold is ranked as the best truck bed tonneau cover this year. Both its quality and functionality make it the best among numerous covers. Further, the price point is spot on which is another reason to be in the top position.
This tonneau cover has US patented design. It comes in many sizes which is apt for various truck beds. However, the tough vinyl top and aircraft-grade aluminum frame make the cover durable enough. It is straightforward to install and it takes only 20-25 minutes. The cover seal and aluminum clamps give a tight and wrinkle-free top. The cover features weather stripping that keeps moisture and water out.
Pros
Affordable price.
US patented design
High-quality construction
The installation process has no hassle
Offers optimal security.
Cons
Not as slim as other soft tonneau covers
Not 100% waterproof
---
FAQs About Maxmate Truck Tonneau Cover
Where is the Maxmate tonneau cover made?
Since Maxmate owns a US production company, all the tonneau covers are manufactured in the United States. Both soft, folding covers are made in the same plant.
What brand of Tonneau cover is best?
According to the trending market, Maxmate makes the best tonneau covers. They have an excellent balance between quality and price. So the users are more likely to invest in their tonneau covers.
Do tonneau covers increase gas mileage?
The tonneau cover can reduce 5.7% drag on average which can increase about a 1.8% fuel efficiency. Though it is not massive, definitely makes a difference in the year.
---
How to Install Maxmate Truck Cover
---
Final Verdict
Maxmate tonneau covers are a great addition to your truck bed. They are able to meet your expectations. These covers are thoughtfully designed so that you can access all the facilities. Depending on your needs, you can pick from soft and hard covers. The soft covers are versatile, highly reliable, and convenient to use. Or choose the folding ones, if you need higher security. Whether your selection is, Maxmate won't disappoint you.