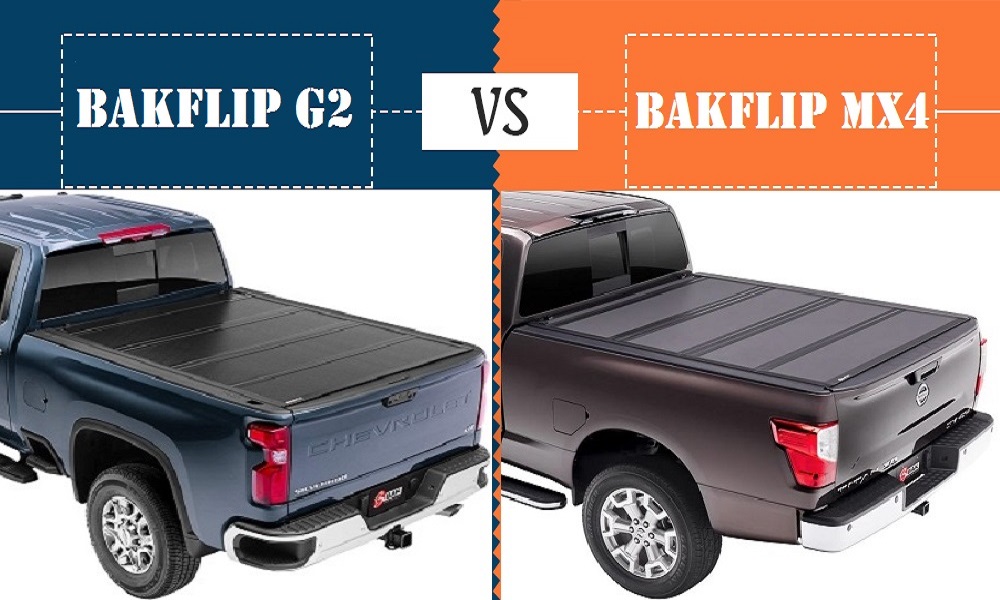 If you are a truck owner and in need of a truck bed cover, you should know that it's essential to choose a good, hassle-free cover that is ready to go at any time of the day. I mean, who wants to struggle for thirty minutes with a cover when it can be spent doing more important stuff?
For hassle-free use, hard-folding covers for truck beds are the trend now. Today we are going to discuss two of the most convenient truck bed covers from the manufacturer BAK, which is a manufacturer of truck bed covers in the USA.
These two famous covers among the users of BAK are G2 and MX4. Both of these covers are excellent, and users often get confused about which one to choose between the two. Well, I can't tell you who wins in the battle of BAKFlip G2 vs MX4. But I can surely give you some insight into its details and differences to help you choose.
BAKFlip G2 vs MX4 Truck Bed Cover Comparison
BAK BAKFlip G2 Truck Bed Tonneau Cover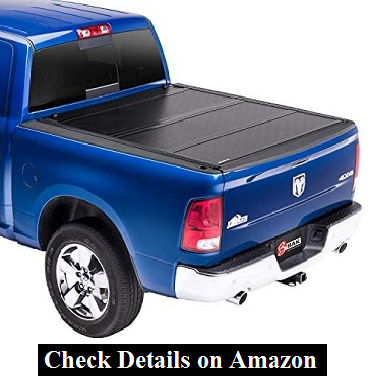 This particular cover fits Ford F-150 5′ 7″ bed models from 2015 through 2020. (67.1 "). It lets you have full access to the bed of the truck. When you require sturdy cargo safety without compromising full bed access, this BAKFlip G2 tonneau cover is a wise investment.
The minimal BAKFlip G2 hard folding cover lets you drive however you need, whether you want it with the cover closed, stowed, or lifted without blocking the third brake light. Because of the incorporated buckle system, you can travel while keeping the cover closed in any case.
It also provides enhanced security for your baggage. Unlike the vinyl covers that we see on the market, this cover is made of robust aluminum panels and has an automated locking system. It is also more secure than vinyl covers, providing you with peace of mind while you're not near the truck.
This cover from the BAK brand has a polished, painted look that is chrome with a matte finish. The cover comes with an innovative automatic locking paneling system which is enabled when you shut down the cover and seal the tailgate, and it provides effective cargo protection.
The G2's propping rods keep the cover straight when it is opened and securely fold away if the cover is closed halfway or fully. The cover can hold up to 300 pounds, is simple to install, and comes with a two-year warranty. There are quick-release cables underneath the panels that allow the G2 to be operated from both sides of the bed.
The G2's hassle-free functioning includes a double-action tailgate seal that allows smooth tailgate closure regardless of whether the cover is opened or completely closed.
It also includes dual drainage tubes to direct water away from the truck's bed and a full-perimeter seal, so you can drive even if it's raining without having to worry about shackling tarps over the cargo.
Pros And Cons Of G2 Tonneau Cover
With the excellent features in mind, let's look at the pros and cons of BAKFlip G2 to weigh its positive and negative sides. Let's have a look at the pros and cons of this cover:
Pros
If you require full cargo access, the BAKFlip G2 is a sturdy, adaptable truck bed covering, and if you don't want that, then it also provides optimum theft protection.
Premium, original equipment perimeter seals have been installed on the BAKFlip G2 to designate efficient, weather-resistant protection against the outdoors.
The G2 gives you full accessibility to the bed of your truck without obstructing the third brake light.
When you are hauling a hefty load, just fold the G2 cover when flipping it open and put it back by flipping it over the cab.
Strong propeller rods keep the G2 upright, letting users haul huge loads without having to remove the cover.
The G2 has tough, solid-core metal panels that sit flat with the truck's bed for a sleek, low-profile look.
The BAKFlip G2 is made of good quality raw materials and UV-resistant aluminum panels that provide another level of protection for whatever you keep in the bed of the truck.
Cons
The cover has no built-in lock system.
Crossbars tend to fail.
The tailgate overlaps with the cover.
BAKFlip G2 Hard Tonneau Cover Video Review
---
BAKFlip MX4 Hard Folding Truck Bed Cover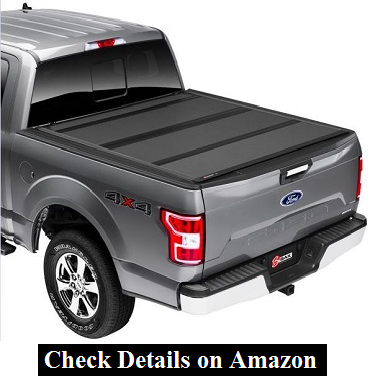 If you have a 2015–2018 Ford F-150 Short Bed, this tonneau cover from the BAK brand is for you because it fits trucks that are 5'6" in length. They have other types of cover for other models and lengths.
Its low-profile design lets you protect the vehicle's appearance yet securely store cargo inside. The exterior is painted and has a matte-finished, polished chrome look.
The textured and matte coatings on the cover provide a premium aesthetic while also guarding it against UV damage, irritating finger imprints, and scratching. It includes all of the features you'd expect from a high-end cover.
This cover is made of excellent raw material. It's composed of aircraft-standard sandwich panels made of aluminum. It's also pretty manageable and surprisingly light while still providing heavy-duty toughness.
This sturdy folding tonneau cover attaches to the spot with ease. You won't need any more drilling. This cover will be properly stuck in place, and you'll have excellent protection against rain, snowfall, theft, filth, and heat.
Very small details were maintained beautifully in this cover, from installing cab corner capping and applying a matte finish across the cover's side rails, clamping, and elevator bolts. And because it has an integrated buckling system and an automated latching function, you can travel with both the tonneau cover partly or completely open in the meantime, covering the third taillight.
Pros And Cons Of MX4
Along with the features, we also need to learn the pros and cons of MX4 to get a good idea of this cover. The pros and cons are:
Pros
You can close it while keeping the tailgate up or down to suit your needs.
It is a very aesthetic and sturdy-looking hard folding cover.
It can be pushed completely upright against the vehicle, which lets you use 100% of the space. This allows you to move huge items without removing the bed cover.
You can open it from either side, and it comes with modern latch housing pieces for increased strength and longevity.
When you fold the cover upright and in an open position, it does not block the 3rd brake light, helping you to move the cargo easily.
The MX4 is held upright by durable support rods that may be pulled open without the need to use any tools at any time.
Cons
The raw material of the locking mechanism is not as sturdy.
Packaging is often poor.
The cover is said to come with scratches and adhesive marks.
BAKFlip MX4 Hard Folding Bed Cover Review
---
BAKFlip G2 VS MX4 Tonneau Cover
The brief discussion above will give you a detailed understanding of both the BAKFlip G2 and the MX4. But there are still some differences that might be highlighted for you to make the decision easier on whether to choose BAKFlip G2 or MX4. Here is a short comparison between both of these truck covers:
The MX4 has a premium matte finish, whereas the BAKFlip g2 has more of a glossy look. Both of these covers have a painted, polished look and a chrome exterior. The pro side of the BAKFlip MX4's appearance is that it will match with most of the OEM accessories of your truck, such as truck bed caps, etc., and give your truck a more aesthetic look.
Although appearance must not be a great deal, it can surely improve your truck's overall look, and that's an aspect you might need to think about.
While conventional tonneau covers force users to shut the tailgate when the cover is open, the MX4 has a dual-action tailgate seal feature that allows you to open and shut the truck's tailgate at any time, no matter whether the cover is on or off.
But the G2 cover's tailgate seal has the problem of overlapping with the tailgate like most of the other covers. So you'll have to close your tailgate first to close the cover.
The MX4 can take up to 400 lbs of weight if the weight is evenly distributed on the surface because it has a foam core with a high density. On the other hand, the G2 can only support 300 lbs of weight if you evenly distribute it because it is made of a foam core that has a standard density.
The density of the MX4's core is ⅝ inch, whereas the G2 has a ½ core. If you want to put more stuff on your truck's cover, then you might need to consider the weight differences that both of these covers can put up with.
A 3-year limited warranty on manufacturer's failures is included with the MX4, which is a very good time to keep it on hand for a truck's bed cover. On the other hand, a 2-year warranty on manufacturer's failures is included with the G2, which is also not bad but less than the MX4.
The BAKFlip MX4 costs $969.88, whereas the G2 costs $889.88, so the BAKFlip MX4 is a bit costlier than the G2.
The Ultimate Decision: BAKFlip G2 vs MX4?
If we see the discussion of BAKFlip MX4 vs BAKFlip G2, we can see that the difference between these two truck bed covers is very subtle. So it is totally up to a user to choose one of these two. But if asked for a personal opinion, the vote will go to the MX4 cover.
Although it is a bit pricier than the G2, given the slightly better benefits, the extra cost can be seen as worthwhile. If you want more of a matte look with a better warranty and weight capacity on your cover, then the MX4 is the one for you. If these things are not on your list, then G2 will also work smoothly for you.
Final Verdict
So who won in the battle of BAKFlip G2 vs. MX4? Well, now you know that both of these covers are excellent at what they do. They have the aesthetics to be used on your truck bed, are made of good quality aluminum, hard-folding, have a good weight capacity for covers, easy to install, hassle-free, easy to set up, and come with a good warranty period.
They have a good price for such good quality. However, there are slight differences in appearance, performance, weight capacity, price, and warranty. If any of these differences are on your priority list, then go for the cover that doesn't contradict your needs. Either way, you will end up winning. However, if you want the best of the best and have no budget limitation, then go for the MX4.