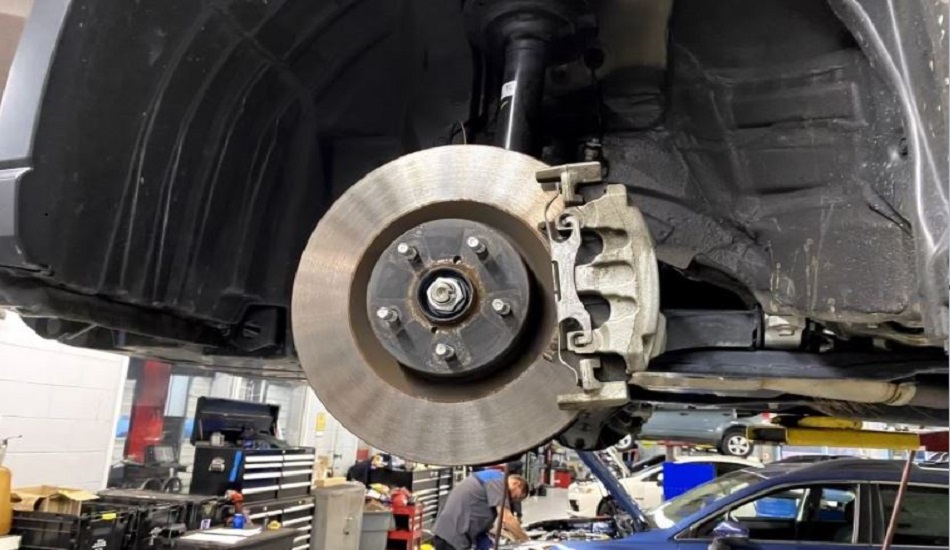 Suppose you're on a highway driving your car at the top speed allowed and all of a sudden you have to brake instantly. While braking, if you feel a vibration through the brake pedal or steering wheel, the first question that should come to your mind is- what has happened to my car? Why is my car shaking when braking at high speeds?
Maybe you've faced the vibration recently and that's why looking for an answer to that question. I won't say that it is a minor issue. Maybe a proper discussion will help you to know the issue better. So, let's start the discussion. However, I'm also going to talk about the ways to fix this issue too.
Yes, you're at the right place where you'll find everything about it.
Let's don't waste more time and start talking about it.
What is the issue called?
The issue of car shakes when braking is called Brake Shudder or Brake Judder. It may happen for several reasons that we're going to discuss later.
Brake Shudder can be a barely noticeable shake, a heavy vibration, or something in between. No matter how much vibration you feel, you should take care of it immediately.
Reasons behind Car Vibration when Braking
When you face a brake shudder when stopping, there are several possible reasons behind this. Let's know about those.
As a crucial part of the braking system, your brake rotors play an important role while braking. To make braking efficient, it should have a smooth surface.
But braking through friction creates a massive amount of heat in the rotors. The rotors are made to withstand the heat and cool down themselves quickly. But when you brake frequently at a high speed and don't allow the rotor enough time to cool down, the even surface may turn into an uneven one because of the heat.
When your brake pads come in contact with this uneven rotor surface while braking, it causes vibration. Thus, a brake shudder happens while braking at a high speed.
When one or more of your brake pads are in poor condition, your car shakes when braking at high speeds.
Brake pads may get damaged for several reasons. The heat caused by frequent braking at high speed is one of those. Also, those get damaged with time. External elements like dirt, oil, or other things also cause damage to your brake pads.
Damaged brake pads with uneven surfaces can't grab the rotors properly. As a result, when you brake at a high speed, a brake shudder occurs.
To have a proper driving experience, keeping the wheels aligned is a must. When the wheels are not aligned properly and you press the brake pad at a high speed, one or more of the wheels respond differently to the braking.
As a result, your car shakes when braking at high speeds not rotors. You can feel the shake through your steering wheel.
Issues with Suspension Components
Due to a lot of reasons, the components of your suspension system may wear out. Worn suspension components may cause vibration while braking at high speed. Also, you may feel vibration at the time of normal braking if there are issues with the suspension system.
These are the most frequently happening reasons behind car shakes when braking. Also, there might be issues with engine components. Let's talk about the ways to fix the issue.
---
How to Fix Brake Shudder
To fix brake shudder, at first, you have to identify the exact reason that is creating this issue. So, you have to carefully examine all the possibilities. For that, you can start by checking the alignment issues first.
There is an easy way of testing if there is an alignment issue or not. Choose an empty road where you can drive your car at around 60 mph. Then leave your steering or hold it lightly and check whether your car goes straight or tries to turn left or right.
If it goes straight, the alignment is right. Otherwise, go and get the wheels aligned as soon as possible.
If the alignment is okay, check the brake rotors. Check each rotor one by one. Also, check the brake pads too. If you find any rotor with an uneven surface or any pad with issues, change those. If you're changing rotors, try to get new brake pads too.
Till now, if everything is okay, there are issues with the suspension system maybe.
Check the components of your suspension system. You're surely going to find some issues there.
I suggest going to an expert mechanic to get your car tested. If you don't have an idea about the car and its components, don't do it by yourself.
---
How to Avoid Car Shaking when Braking at High Speed?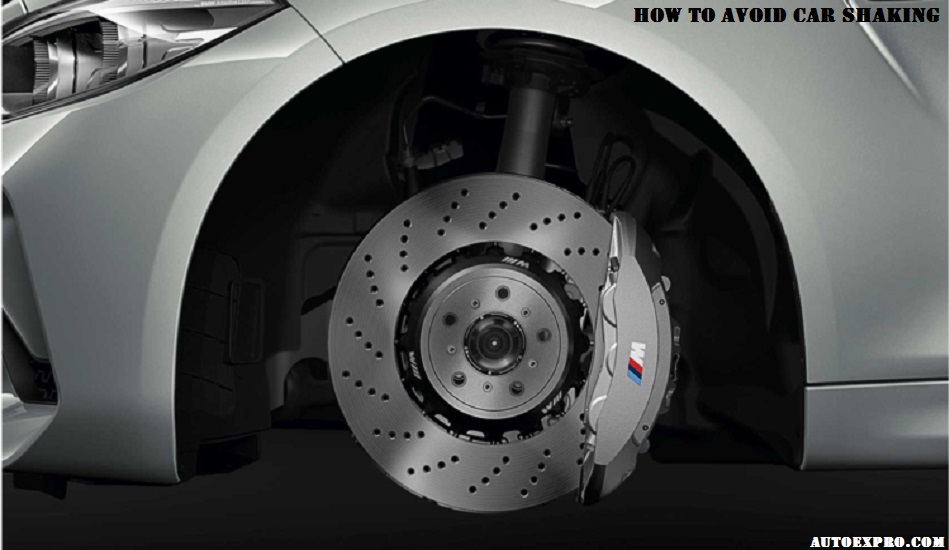 As you know the basic reasons behind car shaking while braking, you must have guessed the ways to avoid it. Still, I'm going to talk about some basic steps to avoid brake shudder as much as possible.
Not Braking at High Speed Frequently
Uneven rotor surface is one of the most common reasons behind brake shudder. The rotor surface becomes uneven because of the heat produced while braking. Though the rotors are made to withstand the heat and cool down quickly, you need to allow them enough time for cooling.
If you frequently speed up and brake at high speed, the rotors don't get enough time to cool down. Thus they heat up and eventually get uneven.
So, if you have such habit of speeding and braking frequently, get rid of it as soon as possible. Otherwise, you might end up with some uneven rotors and frequent brake shudders.
Use Quality Brake Components
As brake components heat up easily, those should be good enough to withstand regular heat at least. So, use quality brake rotors, pads, and calipers that can withstand the heat.
Using low-quality components may result in facing such issues again and again.
You should keep the wheels properly aligned. Besides, check the alignment regularly. I've shared a way of checking the alignment of your vehicle. Use that trick and get the wheels aligned if those are not.
If you keep the wheels aligned, the chance of facing brake shudder is very low. The wrong alignment may result in accidents too. So, don't avoid this vital issue.
Make sure that you're checking your car regularly. Learn how to check the basic things like the alignment of the wheel, condition of the braking system, etc. Get your suspension system and other systems checked by an expert mechanic once every six months.
If you use the car frequently on off roads, checking should be done more frequently. Regular checkup allows you to stay away from several issues besides brake shudder.
These are some of the ways to keep brake shudder away from your car.
---
Other Car Shaking Issues
Besides braking at a high speed, car shaking may happen in a few more situations. Let's talk a bit about those too.
Car Shaking when Driving at a Low Speed
Sometimes you may see that your steering wheel shakes when you're braking at a low speed. In this situation, the main culprit might be your driveshaft if your car is rear-wheel drive.
Driveshaft carries the engine power to the rear axle. A bent driveshaft shakes the car, especially the steering wheel. In most cases, the shake increases with the increase of speed. In this situation, you should check the driveshaft and change it if needed.
Car Shaking when Braking at a Lower Speed
A rotor with an uneven surface can be the reason for car shaking at a low speed if the rotor surface is warped badly due to the heat caused by braking. It happens mostly when you use low-quality rotors and brake pads.
So, if you face something like this, check the brake pads and rotors. Change those if needed.
---
Frequently Asked Questions about Brake Shudder
Is driving a car with a brake shudder unsafe?
It is always suggested to run to a mechanic as soon as you face brake shudder. Mild shudder might not affect you immediately, but it would damage your car with time. Strong shudders may cause accidents too.
So, it doesn't matter where the shudder is mild or strong. Whenever you face something like this, you should go to a mechanic to get it fixed immediately. Driving with a brake shudder ends up in big damage.
How much does it take to repair a brake shudder?
In this article, you've seen that there are several reasons behind brake shudder. The cost of repairing it depends on the exact reason behind it.
If brake rotors are the main problem, you have to get new rotors and add the service charge with it to find out the cost. The cost of aligning the wheels is different from the cost of changing rotors. If the problem is in the suspension system, it would cost you more maybe.
So, you won't find any fixed answer to your question. The cost varies depending on the issue. Until you find out the exact reason, you can't guess the cost.
Can I fix the brake shudder by myself?
If you have experience of working on your car braking system, alignment, and suspension system, you can find out the issue and fix it. You exactly know what the things to check are. So go for it.
However, you need to have enough knowledge about the systems and essential mechanic tools. Otherwise, trying to fix the issue might turn into a disaster. I don't want you to face that.
With enough knowledge, skill, and confidence, you can fix the brake shudder issue. If you think you have lackings in any of these, you should go to a professional mechanic.
---
Final Verdict
If you see your car shaking when braking at high speeds, you should understand that the braking or suspension system is facing some serious issues and needs your attention. So, don't be late to pay attention.
In this article, I've discussed the issue of car shakes when braking and told you the ways to fix it. I hope you'll understand why you need to take a step quickly and solve the problems as soon as you face brake shudder.