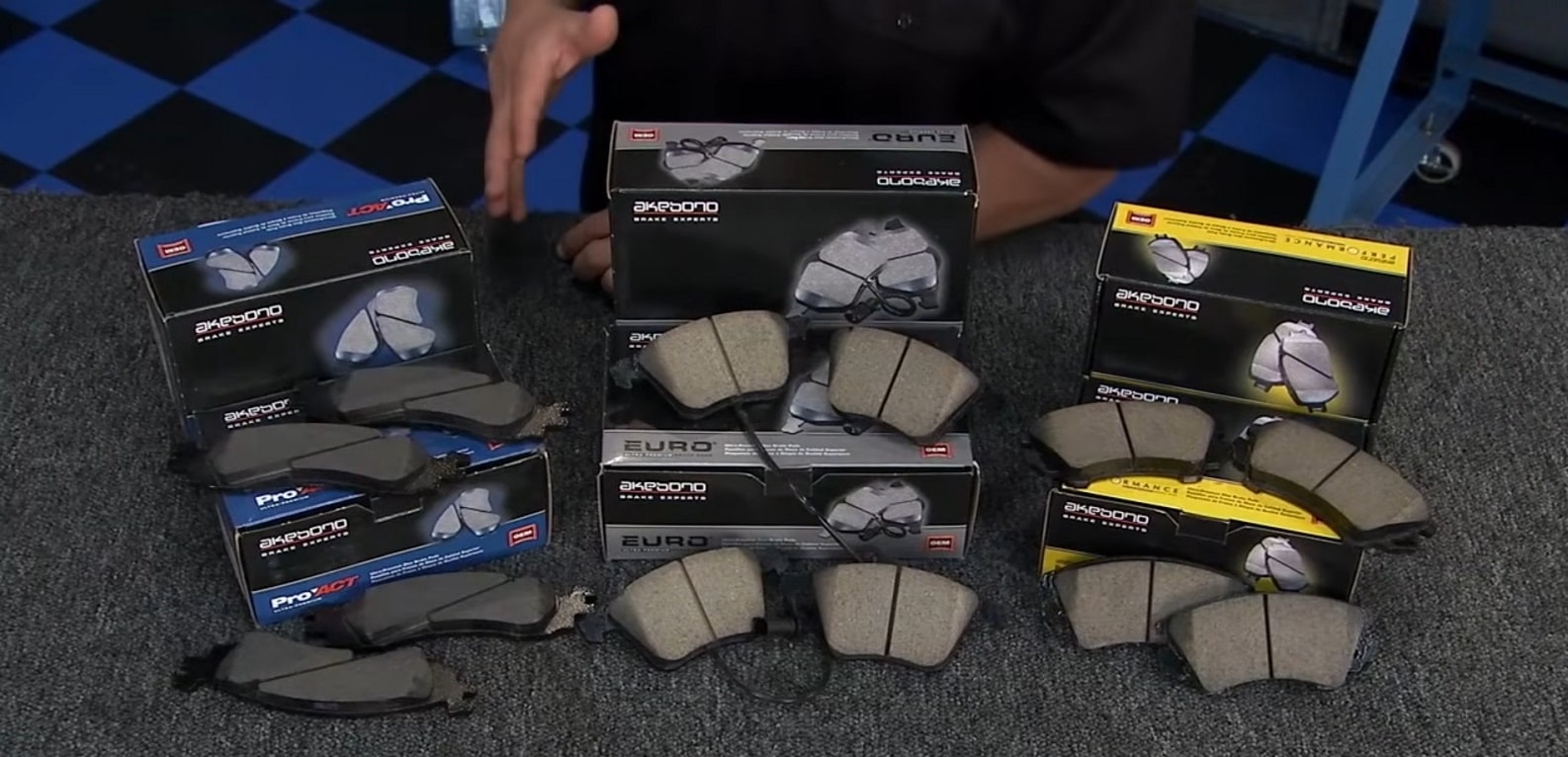 The braking system consists of a few things and the brake pad is one of those. Comfortable braking is important if you want to have a comfortable ride. The brake pad plays an important role here. It helps to reduce noise and shakes while braking to ensure a smooth braking experience.
Today I'm going to share my thoughts about brake pads from Akebono Brakes in this Akebono Brake Pads review article. I've used a few of those and I think those are some of the best brake pads in the market. So, I was thinking that sharing my points will help you to get a great option when you'll go to look for a replacement for your OE brake pads.
Akebono Brake Pads are the perfect OE replacements because they are made for being compatible with rotor materials that most manufacturers use nowadays. So, if you choose those, you won't regret it.
But before knowing the brake pads, let's know something about Akebono first.
About Akebono (Company Review)
Akebono is a tier 1 aftermarket brake supplier as well as an OEM brake provider for a number of vehicle manufacturers. With experience in brake design and production of more than 90 years, Akebono knows exactly what it takes to make a good set of brakes. This company designs and manufactures brake components with the help of its strong Research and Development team.
It started its journey in 1929 in Japan. Now, after 90 years, Akebono has 30 fully owned or affiliated manufacturing facilities around the world. Also, it has technical centers for Research and Development in Japan, the USA, and France.
Akebono focuses on innovation, improvement, and quality control. So, the brake components from it are technologically advanced and suitable for recent versions of vehicles and premium performers. The proven quality control technique of Akebono has made it a trusted manufacturer of brake components.
Purchasing Akebono brake pads or other brake components from Akebono is not a wrong decision. In this Akebono pads review article, I've talked about some brake pads from this manufacturer which are real performers for your vehicles. I hope it'll help you to make a decision.
Let's not spend more time here. Keep reading.
Top 5 Akebono Brake Pads Reviews
1. Akebono ACT905 Disc Brake Pad Kit
If you are looking for quiet braking with maximum performance, Akebono has this deal for you. ACT905 from Akebono is the perfect OE replacement you can get. With advanced research and development processes, this pad is manufactured to ensure maximum safety in braking.
Brake dust is a thing that you may face in OE replacement pads you find in the market. But in this pad, dust is not the thing that bothers you. Materials in this pad are selected to be compatible with today's open-wheel aluminum designs. As a result, you'll face less dust, sometimes less than your OE brake pads.
As the dust is low, pad wear is definitely slow. So, you'll find a visible difference in the gaps between brake jobs. However, it depends on the driving condition. But if you drive regularly in normal driving conditions, you'll definitely see the difference.
Akebono has developed a unique ceramic formulation for its brake pads. This ensures comfortable and quick stopping, even in panic stops. Besides, it also reduces noise and vibration at a large scale.
Overall speaking, Akebono ACT905 is a real performer if you compare it with any other OE replacement brake pad. In some cases, it can compete with your OE brake pads too. So, if you want a replacement pad, keep your eyes on it.
Pros
Reduced braking noise
Less vibration while braking
Consistent performance for a long time
Less brake dust
Less wear
Cons
The brake duct can be an issue if you don't get the right set
---
2. Akebono EUR1549 Euro Ultra-Premium Ceramic Brake Pad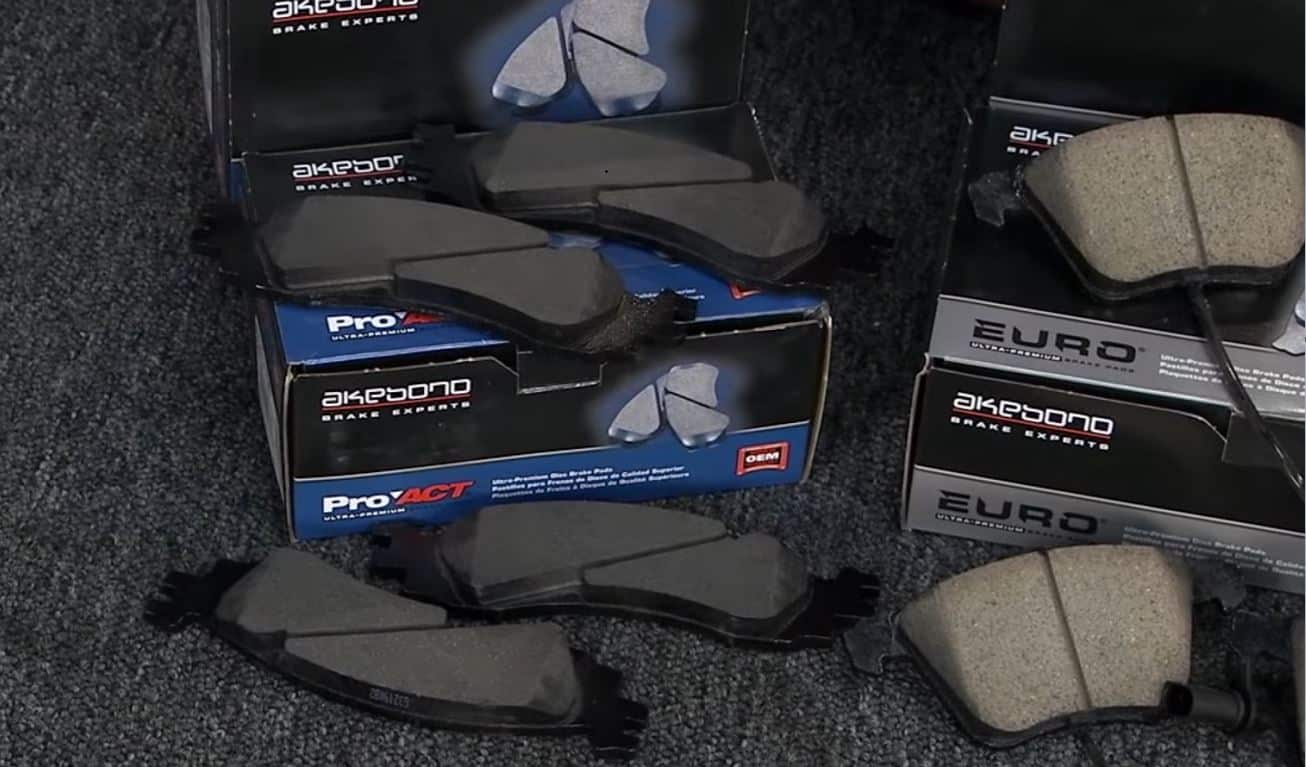 Akebono has specially made brake pads of the EUR series for being used with European-manufactured vehicles. Though made in the USA, these brake pads offer to have the European braking feel in those vehicles. EUR1549 is a premium brake from the series that offers something that you can't ignore. Let's check out.
Coming with two pair of brake pads, this front brake pad kit ensures a minimum level of brake dust. The material is compatible with most of the brake rotors out there. As a result, you get optimal friction that produces less amount of brake dust. Thus, you'll find a visible change in rotor life as well as pad life. A wear sensor is included so that you know when to change.
Highly innovative ceramic brake pad technology cooked exclusively by Akebono's Research and Development team ensures maximum stopping power in different braking situations. Maybe it is a sudden brake or normal stopping, you'll always feel the improvement in performance. Also, the braking distance is less than regular brake pads.
While braking, quietness is something that you look for, silently. This brake pad ensures this very well. You can expect a good drop in braking noise and vibration compared to semi-metallic or no-metallic brake pads.
Pros
Specially made for European-manufactured vehicles
Less noise and less vibration while braking
Low brake dust
Great OE replacement for European-made vehicles
Cons
Not a great option for USA-made vehicles
---
3. Akebono ASP976 Disc Brake Pad Kit
Akebono offers brake pads of the ASP series for trucks and SUVs that need more stopping power than regular. These brake pads are engineered for performing in extreme braking conditions where additional braking ability is needed. ASP976 is one of those which can be used in such cases.
This brake pad is prepared from a unique mix of ceramic that ensures durability even in extreme braking situations. The ceramic formula helps it to ensure maximum friction while braking. As a result, you can stop your vehicle smoothly, no matter how harsh the road condition is.
Just like others from Akebono, it produces very low brake dust. So, your brake rotor and brake pad both remain safe and last for a long time. Less brake dust also ensures low maintenance and lower noise level while braking. Besides noise, vibration while stopping is also much lower in this brake pad.
Akebono wants you to get optimum performance. So, they have designed the pads for each of the models distinctively. As a result, if you find a set for your vehicle model, you can expect the best performance because that is designed to fit your vehicle. Even it'll outperform your OE brake pads in most cases. Want to try? Go for it.
Pros
Perfect for vehicles that face extreme braking conditions
Maximum stopping power
Durable
Produces less noise and less brake dust
Outperforms OE brake pads
Cons
Doesn't come with anti-rattle clips or any hardware
---
4. Akebono – ACT1280 PROACT ULTRA BPS
To ensure a premium braking experience, Akebono has designed and manufactured this brake pad compatible with recent brake rotors. This pad comes with quality material that ensures maximum braking performance. The innovative ceramic compound reduces pad wear in regular driving conditions. It is not harsh on the rotor, so rotor life also increases to a great extent.
It comes with a great stopping power that makes stopping significantly comfortable compared to most other brake pads around us. The noise is low, friction is low- what's more you need from a brake pad. Also, you'll see a change in braking distance too.
This pad from Akebono can be a great addition to your vehicle's braking system. So, don't miss out. Give it a try.
Pros
Premium braking experience
Low level of brake dust
Less noise and friction
Increased pad and rotor life
Cons
Generates a bit less heat
---
5. Akebono ASP1303 Performance Ultra-Premium Brake Pad Kit
Coming from Akebono, this brake pad is one of the bests for trucks and SUVs where you need to be enhanced stopping power. To help you in extreme braking conditions, it comes with a unique ceramic mix.
Besides of ensuring maximum friction while braking, this ceramic mix produces incredibly low brake dust. Low brake dust means less decay of the brake rotor and pad. As a result, you'll see a positive change in the durability of the rotor as well as the brake pad.
If you are a performance enthusiast or drive law enforcement vehicles, SUVs, or trucks, you can pick this brake pad for your vehicle. Premium braking power is the first priority here, so, this pad will help you. Try this.
Pros
Designed for extreme braking
Low brake dust and low maintenance
Suitable for trucks, SUVs, and law enforcement vehicles
Reduced braking noise
---
Akebono Brake Pads Review and Unboxing Video
---
FAQs About Akebono Brake Pads
Are Akebono brake pads compatible with only the rotors from Akebono?
No. The brake pads from Akebono are compatible with brake rotors from other manufacturers too. These pads come with a unique ceramic formula that works with all types of rotor materials. So, you won't have to be worried about it. But it is true that Akebono brake pads perform best with the rotors from Akebono.
Can I use Akebono pads as an OE replacement?
Yes, you can. Akebono is the OEM manufacturer for a wide range of vehicle manufacturers. So, it knows the exact technology that is used to manufacture the OE brake pads. This helps the company to produce quality pads to meet OE quality. In fact, some of the Akebono brake pads perform better than OE pads most of the time.
Do Akebono pads come with hardware?
No, Akebono only provides the brake pads. You'll have to purchase the hardware separately from stores. That may take a few more bucks from you.
---
How to Install Akebono Brake Pads (Practical Video)
---
Conclusion
Overall speaking, purchasing Akebono brake pads is a worthy investment when you need an OE replacement. These are durable, low-maintenance, and real performers. In this Akebono Brake Pads review, I've tried to inform you about the pro and cons so that you can make a decision. I'm sure that purchasing these pads won't be a bad decision for you.
If you've already used the pads from Akebono, let us know your experience in the comment section. That'll help others to take a decision too.
---
Video Reviews for Top Akebono Brake Pads