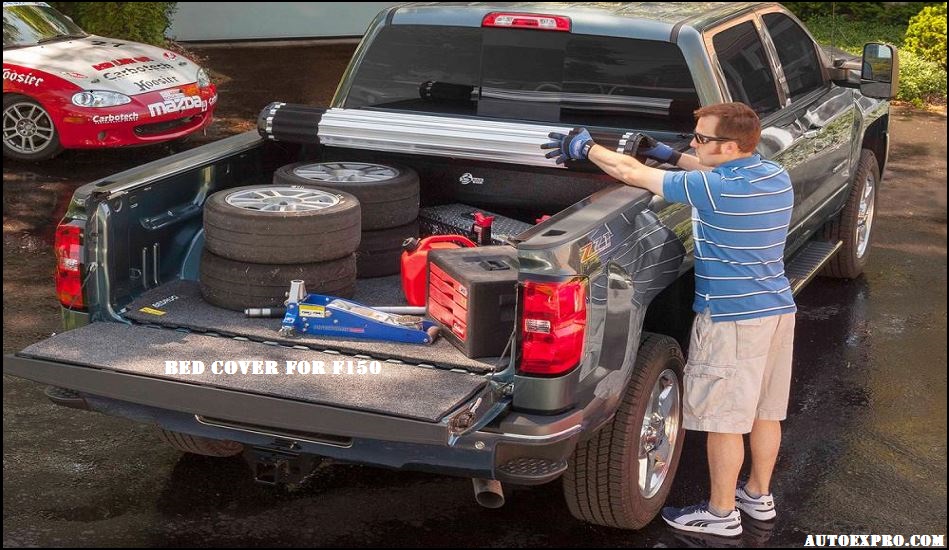 Starting from enhancing the look of your truck to protecting the cargo from weather elements, a truck bed cover or tonneau cover has a lot to do. Doing all these is possible only when it is the best one you can choose.
If you pick a bed cover that is not the best one for your purpose, it'll end up in a mess. The result is a waste of money, time, and effort. You should invest these in something worthy.
That's why I'm here today. If you own a Ford F150 and looking for a good bed cover, I'm going to bring you the best bed cover for F150. All you need to do is carefully checking my suggestions and pick one at the end.
The bed covers I've talked about in this article are picked after going through in-depth research, practical experience, direct user reviews, and obviously product description and manual. After going through a lot of research, finally, I've picked ten of the best tonneau cover for F150. So, you can depend on what I'm talking about.
So, why waste more time? Let's jump into the reviews.
Top 10 Best Bed Cover for F150: Bed Covers You can Depend on
1. Tyger Auto T1 Soft Roll Up Truck Bed Cover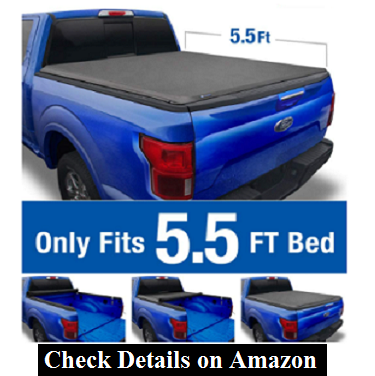 Roll-up bed covers ensure maximum access to the bed. So, these are loved by most enthusiasts if those can save what's inside from outside weather conditions. Tyger Auto knows this and that's why they've designed this one for the 2015-2021 Ford F150 models with both 5.5-ft and 6.5-ft beds.
To make sure that everything on your truck bed is safe, it is made of 24oz marine-grade vinyl with a durable double coating. Side rails and clamps are made of heavy-duty aluminum with powder coating. The cover is sealed on the sides by Velcro strips. And the tailgate latch locking system secured the end of the cover.
The vinyl cover is tear-resistant. Once you seal the Velcro strips and locking system, no weather condition can harm what's inside.
The end comes with a built-in horizontal crossbar for keeping it flat. The adjustable tension system helps in it too. Thus it maintains a low-profile and sleek look which also saves gas. The horizontal bar has made it easy to roll up the cover. You can roll the cover and get access to the bed. When you don't need it, you can simply roll it up fully and securely with the help of the strap.
Installing it doesn't require cutting holes if your F150 comes with an under-the-bedrail Bedliner. Drilling holes might need if it has an over-the-bedrail Bedliner. It'll cost you around 30 minutes to finish installing. Overall, this is one of the best bed cover for F150 available in the market.
Pros
Weathertight bed cover for keeping inside safe
Easy to install and use
Wear, tear, and corrosion resistant
Low-profile and sleek look
Doesn't have an impact on gas
Cons
The latching system could be better
---
2. Gator ETX Soft Tri-Fold Truck Bed Cover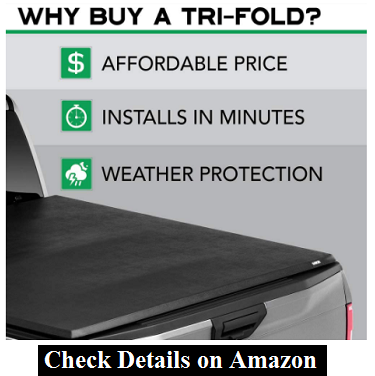 Folding covers are great to use and ensure a more sturdy feeling. So, if you're one of them who want to enjoy the strong and sturdy feeling with a soft touch, this soft tri-fold bed cover from Gator is for your 2015-2020 F150.
It comes with a heavy-duty 3-part aluminum frame. The frame is covered by industrial-grade nylon that ensures protection from dust, rain, sunlight, or other environmental components. It also has superior perimeter sealing which keeps the cover in position.
I love it because installing it doesn't take more than 10 minutes. With the help of durable and strong clamps, you can secure it without a single tool. You won't need to drill any holes. Also, the position of the Bedliner doesn't have any effect on it. So, after you receive it, just spend 10 minutes and you're ready to go out with it installed on your F150 bed.
Coming with a low-profile and clean design, it enhances the look of your truck. Whenever you need access to the bed, you can simply fold the panels towards the cab to get access. However, it allows access to 2/3rd of the bed when you have large loads.
To keep the bed open while driving, you can use the integrated buckling system. It helps to secure the panels when you're driving and prevent accidents. This soft tri-fold cover is available for both 5'7" and 6'7" beds.
Pros
No tool is required to install
Keeps inside safe from rain, snow, dust, and other components
Allows easy access to the bed
Enhances the appearance of the truck
Made with quality components
Cons
The clamps should be stronger
---
3. Tyger Auto T3 Soft Tri-Fold Truck Bed Tonneau Cover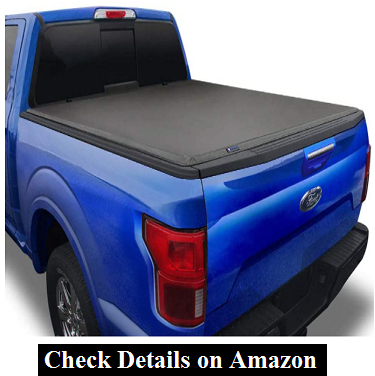 Just now I've talked about a soft tri-fold bed cover. Why not talk about another of a similar type? This time it is from Tyger Auto. If you're looking for a quality tri-fold bed cover from Tyger Auto, the wait is over. For your 2015-2021 Ford F150, this one is one of the top truck bed covers and that's why it is on the list.
The frame is made of aircraft-grade aluminum and comes with three parts. There are multiple horizontal bars added to the frame to hold the structure firmly. The 24oz marine-grade vinyl cover with two coatings is attached to the frame to ensure protection from different types of weather elements. It is wear, tear, and weather-resistant to ensure the safety of the things inside.
The whole cover is attached to the truck bed rail with the help of stainless steel clamps. Front clamps secure it in place and rear clamps ensure quick latch. Installing is tool-free when your Bedliner is under-the-bedrail one. Drilling is required for over-the-bed rail Bedliners. However, it won't take more than 30 minutes if you understand the process properly.
The minimal and sleek design helps you to enhance the appearance of your F150. While improving the look, it doesn't forget to do its work. All around weathertight sealing keeps inside safe and secured. If you want the bed open while driving, you can simply fold it towards the cab and lock it using the straps. You'll get 2/3rd of your truck bed open.
Pros
Easy and quick to install
Made with quality material for superior performance
Improves the appearance with a low-profile design
Built to last for a long time
Easy to fold and unfold
Cons
The front clamps should be improved
---
4. MaxMate Soft Roll Up Truck Bed Tonneau Cover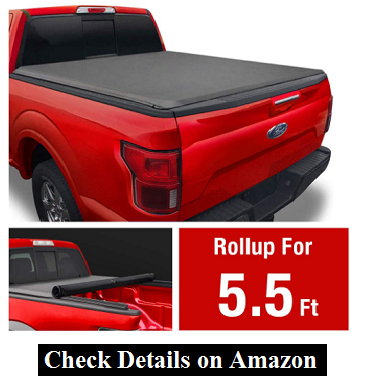 On my list, this is another low-profile and sleek soft roll-up cover that you may like. It is from MaxMate and is loved by a lot of vehicle enthusiasts. If you're interested in roll-up bed covers, you should have a look at it.
Being made of 24oz heavy-duty marine-grade vinyl, this is one of the toughest vinyl bed covers. Dual coating over it ensures better resistance to weather elements. The side rails are prepared using aircraft-grade aluminum and secured by stainless steel clamps. As a result, there is no chance of corrosion attack on these.
The latch lock system in the tailgate keeps the cover secured in its place. When you need access to the bed, simply unlock it and use the horizontal crossbar at the end to roll up the cover. The Velcro strip secured cover will easily roll up. You can get full access to the bed when it is installed.
You can also enjoy driving keeping the bed fully open when it is installed. Just roll it up to the cab and secure it with the strap.
Installing it is not a tough task. For an over-the-rail Bedliner, you'll need to cut holes. But if you have one with an under-the-bedrail Bedliner, just attach the side rail with clamps, and installation is done.
It is available for 2004-2021 F150 with a 5.5-inch bed and 2009-2021 F150 with a 6.5-inch bed.
Pros
Strong and sturdy
Dependable weather resistance
Made with quality materials
Lasts for a long time
Ensures full access to the bed
Cons
A bit heavy but that doesn't affect much
---
5. BAK BAKFlip G2 Hard Folding Truck Bed Tonneau Cover
If you're a fan of hard bed covers and believe that hard covers ensure better protection, this one on my list is for you. You'll love it for the features it comes with. From BAK, this is one of the best hard bed covers for your Ford F150. So, don't miss this out.
Being rated at 300 lbs. capacity, it is one of the strongest bed covers you'll find in the market. The panels of G2 are made of heavy-duty and solid core aluminum. As a result, it ensures strength and durability. The frame is also made of high-quality aluminum to ensure superior strength against different weather conditions.
To protect against different weather elements, it comes with high-quality perimeter sealing. It doesn't let anything, even water, enter the truck bed.
The automatic latching system ensures easy locking. On the other hand, quick-release cables below the panels allow you to easily and quickly open the cover and access the bed whenever you need access.
The thing I love the most about it is it ensures full access to the bed. Whenever you need full access to the bed, you can just flip it towards the cab, keep it standing, and secure it in the place with the help of strong, durable, and reliable pop rods. It doesn't even block your third-brake light. Isn't it great?
The UV-resistant aluminum panels and frame, précised placement, quality perimeter sealing, and low-profile presence improves the look of your truck. It comes with an eye-catchy high glossy finish that adds to the appearance.
It is available for 2015-2021 models with 5'7", 6'7", and 8'2" beds.
Pros
Ensures full access to the bed
You can haul your truck keeping it open
Ensures strong protection against weather
Strong, durable, and reliable
Easy and comfortable to use
Cons
Installation takes a bit of effort and time
---
6. TruXedo Pro X15 Soft Roll Up Truck Bed Tonneau Cover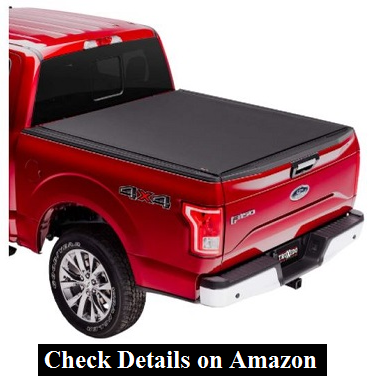 Here is another soft roll-up truck bed cover we're going to talk about. It is from TruXedo. Its low-profile appearance and easy functionality will blow your mind. If you're looking for a soft roll-up one, checking this is mandatory. Let's see what else it can offer.
Unlike most other soft roll-up covers you'll find in the market, it is made of superior-quality woven fabric. It is extremely durable and protects your truck bed from all types of weather conditions. It is dirt-resistant. So, it maintains a stylish, matte, and crisp look for a long time, if regularly washed.
The automatic tension control system keeps it tight to ensure a better look. The rails and quick release system are also made of quality material to prevent rust-attack. So, you'll find durable and dependable support from it.
It is designed to be assembled inside of the bed. As a result, you won't lose access to the stake pocket. This is what I love the most about it. The installation process barely takes time. You don't need any tool or drilling while installing it. Just clamp the rails and fasten the cover on those. You're ready to move.
Opening it is very easy. The trigger-latch is on the driver's side. You can unlock it with only one finger. Unlock the latch and roll up the cover towards the cab- you just have to do this little to get access to the full bed.
The Pro X15 from TruXedo is available for the 2015-2021 models of Ford F150. Compatible bed sizes are- 5'7", 6'7" and 8'2".
Pros
Extra low-profile and crisp look
No drilling installation with zero tools
Easy to operate
Allows access to the stake pocket
Made of quality material
Cons
The fabric needs to be washed regularly
Truxedo Pro X15 Bed Cover Review and Installation Guide
---
7. Lund Genesis Roll Up Soft Roll Up Truck Bed Tonneau Cover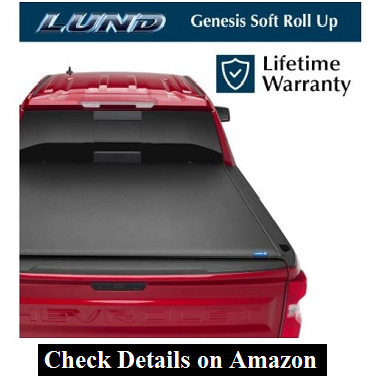 This is the last soft roll-up bed cover I'm going to talk about in this article. From Lund, this is a great truck bed cover for F150 that you can depend on. It can save your bed from harsh weather conditions. Rain or snow, dirt or sand- no matter what you talk about, it is there to protect your truck bed.
It is made of marine-grade vinyl which is tear-resistant and ensures strong protection. The rails and bows are made of strong and long-lasting aluminum. Thus, the overall system is robust and survives for a long time.
The unique adjustment latch is patented which ensures easy covering and opening. The tension control system is hassle-free and keeps the cover properly spread on the truck bed. The sides are locked by an extreme sealing system from Lund. So the bed is completely protected from all types of environmental elements, even water.
You can easily get it installed within 20 minutes. You won't need a tool. Also, there is no need to drill the truck. Set the rails in their positions and use clamps to attach those strictly. After that, set the vinyl cover on it. And the installation is done.
With just a simple pull of your finger, you can unlock the cover and roll it up to get access to the bed. You can keep the bed fully open while driving. Just make sure that you've secured the cover with the leashes.
You'll find it available for 5'7", 6'7", and 8' beds of the 2015-2021 models of Ford F150. The low-profile tonneau cover will really blow your mind.
Pros
High-quality vinyl and aluminum-constructed
Easy to install and use
Made to last for long
Ensures full access to the bed
Cons
The foam on the rails should be improved
---
8. UnderCover Flex Hard Folding Truck Bed Tonneau Cover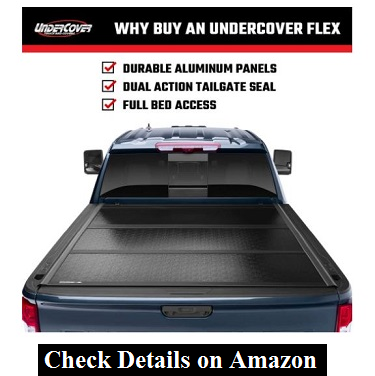 Hard truck bed covers are one of the most reliable options, I agree. So, here I'm talking about another hard tonneau cover that you might like. This one is from UnderCover and is called Flex. Let's see what flex it offers which can help you to make a buying decision.
Just like most other hard covers out there, the panels of Flex are also made of durable and lightweight aluminum. The rails are also aluminum-constructed. As a result, the overall structure ensures dependable and long-term protection from all types of weather.
A great feature is the drainage system attached to the rails. It carries the water away quickly. There are rubber seals also. So, there is no chance of water entering the truck bed.
Using the slam latches, you can open the cover from both sides of the truck. Also, when you're closing the tailgate, you won't have to lift it first because it comes with a dual-action tailgate seal.
I love this because it comes with three different driving positions and each of those is secured. You can drive keeping it fully close, folding 2/3rd of it, or folding it upright. While it stands upright, two built-in pop rods keep it safe in its position. When it is folded 2/3rd, there are slam latches to keep it secured. So, you can drive without any worries.
The gloss back finish and low-profile setup enhance the look of your truck. Installing this cover is not a big issue at all. You'll find it available for 2004-2021 Ford F150 with 5'7" and 6'7" beds.
Pros
Comes in a low profile look
Constructed for maximum protection
Three safe driving options
Comes with drain tubes to carry water away
Easy to install
Cons
Installation directions are not properly described
---
9. Syneticusa Aluminum Retractable Low Profile Waterproof Tonneau Cover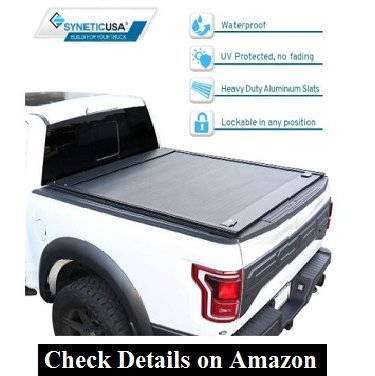 If you're looking for some more control on your truck bed cover, you should go for it from Syneticusa. This is a retractable bed cover that you'll love. You can control this easily. The best thing is- you can lock the cover in any position. That's why I love it.
It is made of high-quality and heavy-duty aluminum slats. The textured black matte finish over it ensures a classy look and protection from different elements, including rust and scratch. As a result, it is strong and durable enough to ensure the protection you need.
Installing it is not so tough but needs some time. Mounting brackets and screws come with the package. So, you won't have to buy anything separately. However, to install the drainage tubes, you'll have to drill holes. Overall, the installation will take 30 minutes.
Spend this 30 minutes and you'll have a low-profile, great-looking bed cover on your Ford F150 truck bed. The powder-finish is UV resistant. So, the color is not fading away. It is ready to protect your goods from any type of weather condition.
It comes with a key-lock system. So, thieves don't have to way to get access to your truck bed if you keep it locked. The system allows you to lock the cover in any position. So, you can drive without any concern about it.
You'll find it available for 2004-2021 Ford F150 short truck beds. If you love retractable covers, this is one of the best tonneau covers for F150 you can pick.
Pros
Lockable in any position
Comes with a drainage system to keep water away
Protects from anything, even UV ray
Simple, low-profile yet classy look
Made with quality aluminum
Cons
Installing instruction is a bit complicated
---
10. YITAMOTOR Soft Tri-fold Truck Bed Tonneau Cover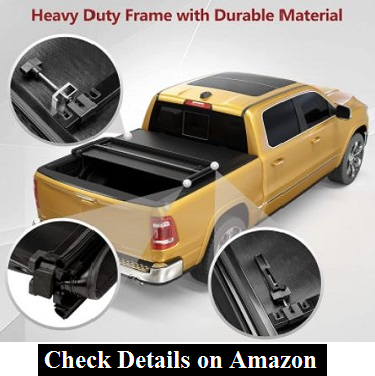 If your Ford F150 is a bit old (2009-2014 model) and you're looking for a soft tri-fold bed cover, this is a great option. Yitamotor provides some great products in the market. This cover is one of those. You'll find it available for 5'6" and 6'7" beds. Let's check some more things about it.
Like always, at first, let's talk about the material. The structure is constructed of solid alloy. So, it is pretty durable. The cover is made of tear and temperature-resistant double-layer PVC. You can easily say that it is made to last with the frame. Corners are reinforced to ensure maximum protection.
To keep everything away, it comes with water-resistant seals on the sides. Also, you'll find two additional seal strips.
The installation process is very easy. Clamps with adjustable holes ensure easy and quick assembly and disassembly. You won't have to drill or cut anything to set it up. So, within 20 minutes, you can get it done.
It allows you to drive keeping 2/3rd of the bed open. While doing this, just take the help of the buckles to secure it in its position and you're ready to go. It ensures a cool appearance when it is closed. The smooth finish and flat design ensure a low-profile yet catchy look.
This is a premium-quality and great-looking cover that ensures the best protection against everything. So, you can try it.
Pros
Double layer PVC for durable and strong protection
Easy to install without any drilling
Made to be solid and durable
Flat, smooth, and cool appearance
Cons
Operating tailgate would be a bit tough
---
Best Bed Cover for F150 Buying Guide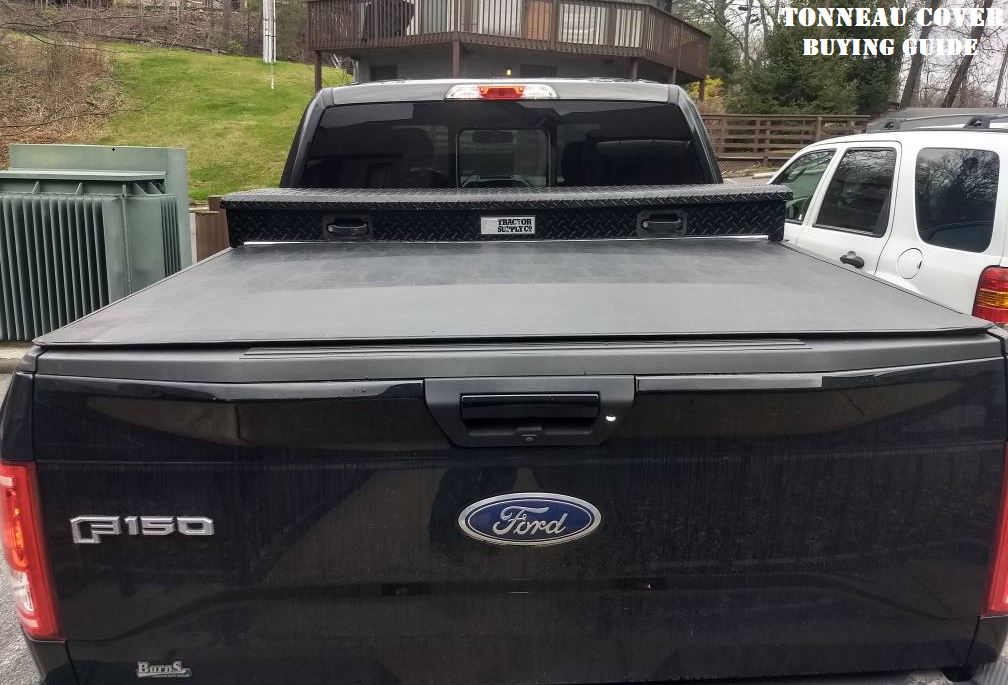 Bed covers are of different types and made of different materials. So, finding one that can really help you is a bit tough. Picking the right one needs many things to consider. Don't worry. Here I'm talking about the things you should look at while buying the best tonneau cover for Ford F150.
Depending on the model and make of the truck, the compatibility varies. Again, covers are made depending on the size of the bed. So, the very first thing you should look at is the compatibility with your vehicle.
Before starting searching for a bed cover, know your vehicle model, make, trim, and size of the bed. Shortlist the ones those are compatible with it.
You should know the exact purpose of buying the bed cover. If you want to protect your belongings from thieves, you should look for hard covers with a dependable locking system. It ensures better protection than soft covers.
On the other hand, if your purpose is to protect your belongings from different weather conditions, soft covers with good sealing will do. In this case, you should look at the appearance of the cover.
If your purpose is enhancing the look of your vehicle, focus on the covers with a low-profile appearance.
Typically hard covers come with aluminum construction. Aluminum is durable and lightweight, but dents easily. Still, this is the first choice of maximum users. Also, you can look for fiberglass ones. Those are a bit heavier but dent less.
If you're looking for soft covers, you'll find materials like vinyl, PVC, fabric, etc. Going for vinyl covers is the best choice. But my choice is a fabric cover. However, fabric covers need to be washed frequently.
Bed covers come with weather protection. But the climate of the place you live in might not suit it.
For example- if you live in a dry area, covers made of aluminum are great choices because aluminum can withstand dry weather. On the other hand, if your area is typically wet, you can get one made of fiberglass or plastic. The reason is- metal covers can get corrode in such weather.
The installation process should have some influence on your buying decision. Some bed covers are light and don't need help while installing. On the other hand, hinge covers are heavy and require help from others.
Again, installing some bed covers doesn't need any drilling on the bed. On the other hand, some require drilling for installation purposes.
A typical suggestion is going for the ones which are light and don't need drilling to install. But I suggest if other things are okay, drilling could be considered. Drill holes and install it. It may take a bit more time, but should be worth it.
However, if you frequently assemble and disassemble the bed cover, you should go for the one that requires no drilling.
Price has a great influence on the buying decision. Typically soft covers come within a lower price range comparing to hard ones. You should pick one within your budget.
This doesn't mean that you can pick the cheapest one. If you want, you can do that, but I suggest going for one from the moderate price range. Cheap ones don't ensure the quality you need.
---
How to Take Care of Your Truck Bed Cover?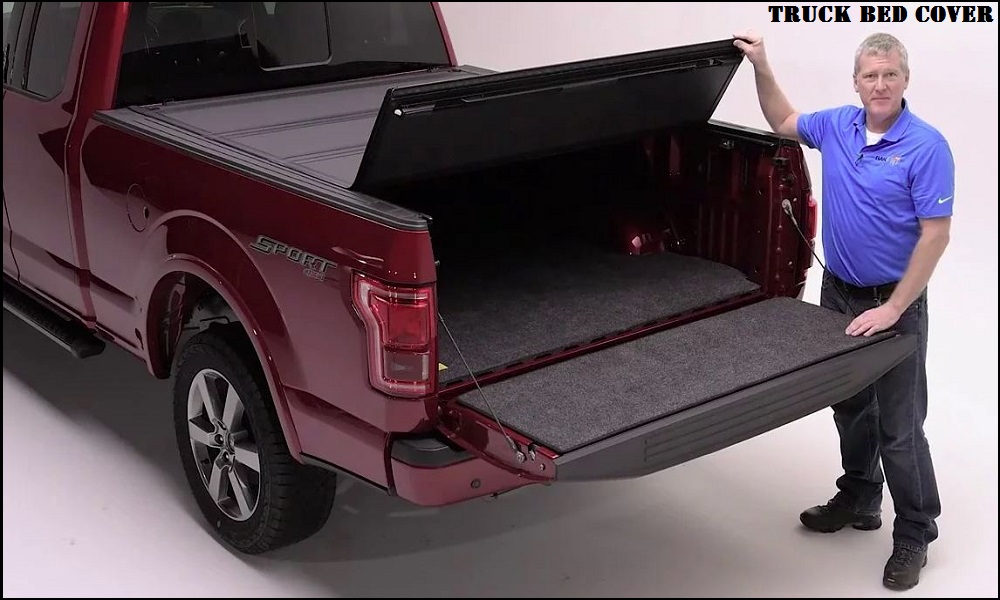 After you install a tonneau cover, you should take good care of it if you want it to last long. No matter how much you spend to buy the cover, if you don't take care of it, it won't be there to serve you for a long time.
So, you should know some basic maintenance tips and follow those regularly. Here I'm going to talk about some tips that you should follow to maintain your tonneau cover.
1. Perform Regular Check for Dust and Dirt
Regularly check for dents, debris, damage, bump, corrosion, etc. Also, make sure that no dirt or debris is getting accumulated somewhere, especially in the folds and corners. Accumulated dirt or debris may result in scratch or corrosion. The worst thing is- corrosion or scratches spread quickly.
2. Keep It Clean
Clean the cover regularly, at least once a month. Use proper chemicals. If your cover is made of vinyl, pick vinyl cleaners instead of regular detergents. Vinyl cleaners are gentle on vinyl and don't harm the cover.
For other materials, use mild soaps and cold water. Bleaches, strong soaps, detergents, and similar chemicals may harm the cover by creating corrosion or fading the surface.
3. Wash with Care
Make sure that you're washing the cover under a shade or a tree. Don't do this under direct sunlight.
Before you start cleaning, make sure that there is not hard grit on the cover. Use clean water to remove these things at first.
Use soft-bristled brushes instead of hard-bristled ones. Hard-bristled brushes put scratches on the covers. If the cover is a soft one, these brushes may tear it. You don't want that for sure.
Don't leave the cover wet after you finish cleaning. Use a soft cloth, towel, or sponge to wipe out the visible water.
4. Don't Put Weight on It
Avoid leaving heavy objects on the cover. Soft covers can't handle much weight. If you put heavy objects on these, they will get torn or worn.
Again, hard covers come with a fixed weight capacity. If you keep more weight than the capacity, it'll be damaged and dented.
If you need to put things over the cover, first check the weight capacity from the user manual. Also, make sure that you're distributing the weight as evenly as possible.
5. Lubrication is a Must
Use lubricants to keep the cover properly functioning. Moving parts like rails should be lubricated properly. Proper lubrication keeps it working accurately without any issues. Also, lubrication keeps wears away.
Typically you'll find what lubrication to use if you check the user's manual. Try to use the suggested if you want the best outcome. If you can't, use something of a similar type to the suggested one.
6. Check the components regularly
Checking the Components is Necessary. Make sure that each of the components is sitting tightly in its place. While running in rugged road conditions, loos components may create dents, tear or wear. Also, the components can be broken if those are not fastened tightly.
A loose component is a barrier to smooth operation. So, you should make sure that the components, especially clamps and clips, are tightened properly.
---
Bed Covers Improve Gas Mileage- Myth or Reality?
A common claim by the bed covers manufacturers is- bed covers improve gas mileage. This is also counted as one of the most common benefits of using bed covers. But many users have claimed that it is just a myth.
So, the question is- is it really a myth that bed covers can save some gas?
The answer depends on some factors.
Logically bed covers should improve some gas mileage. While driving, the cargo area captures air and the tailgate prevents it to flow easily. Thus, an open bed adds some drag. As a result, the truck requires more gas to run.
When there is a bed cover, the truck becomes more aerodynamic as there is no chance for the tailgate to barrier airflow. As a result, the drag is low and it requires less gas to run.
But this is not the only factor to consider. Adding a tonneau cover means adding some weight to the truck. When you're adding weight, the gas mileage will be reduced.
Also, speed is a big factor. If you don't run at highway speed, the aerodynamic shape has not many things to do in the improvement of fuel economy. It applies only when you run at a high speed. As a result, if you're driving your truck within the city maximum time, you'll hardly find any change.
Claiming that bed covers can show improvement in fuel economy is still not wrong. Some experiments have proved gas mileage improvement after adding bed cover. But, still, there are also experiments that haven't find any improvement in the mileage after installing the cover.  
So, what is the final decision?
In such a case, it is tough to find a certain point to stand on. It is believed that the vehicle model, make, and the cover itself also have an influence on this.
If you ask me, I'll tell you to have zero expectations about improving gas mileage while buying a bed cover. If it does, obviously it is your benefit. If it doesn't, still you aren't losing anything.
---
Video Review on Best Hard Tonneau Cover
---
FAQs About Truck Bed Cover
Is a truck bed cover worth buying?
Absolutely yes. Bed covers come with a number of advantages that you can't even think of. Even if you look at some common advantages of a bed cover, you'll find it worthy. It keeps your truck bed clean and dry, saves your cargo from different harmful elements, improves fuel economy (sometimes), enhances the appearance of your truck, and lifts the resell value.
If you buy a hard cover, it also protects the cargo from thieves. Thus it saves a huge amount of bucks.
So, you can see that bed covers are worth buying.
Do bed covers prevent full bed access?
It depends on which bed cover you're going to buy. Roll-up and retractable covers allow you to access 100% of the truck bed. There is no chance that these covers can prevent full bed access.
Some folding covers may prevent access to the bed, but not all. There are some folding covers that can be kept standing against the cab after folding fully. These types of bed cover also allow full access to the bed.
This problem happens only in the cases of the covers which can't be kept standing. These covers allow access to 2/3rd or 3/4th of the bed, depending on the type.
Do bed covers create a problem to open and close the tailgate?
In the case of soft covers, you won't find such problems. These are designed in a way so that you don't face problems with opening and closing the tailgate.
However, you may face this problem in cases of some hard covers. Hard covers are made to keep things secured from theft. So, these are designed to overlap the tailgate. In such cases, to open or close the tailgate, the cover should also be opened a bit.
Maximum retractable bed covers don't affect opening or closing the tailgate.
---
How to Install Truck Bed Tonneau Cover
---
Final Verdict
So, finally, we're at the end of the article. Now what?
Yes, now it is your time to make a choice. If you ask me what my choice is, I can't pick only one. For soft covers, my choice is the soft roll-up from Tyger Auto. If you ask me to pick a hard one, I'll go for BAK BAKflip G2. Besides quality, I love how easy to handle these are.
Don't get confused while picking the best bed cover for F150. Take some time and set your priorities. Then, check the covers that can meet those. Then, pick one among the ones which can meet the priority within your budget.