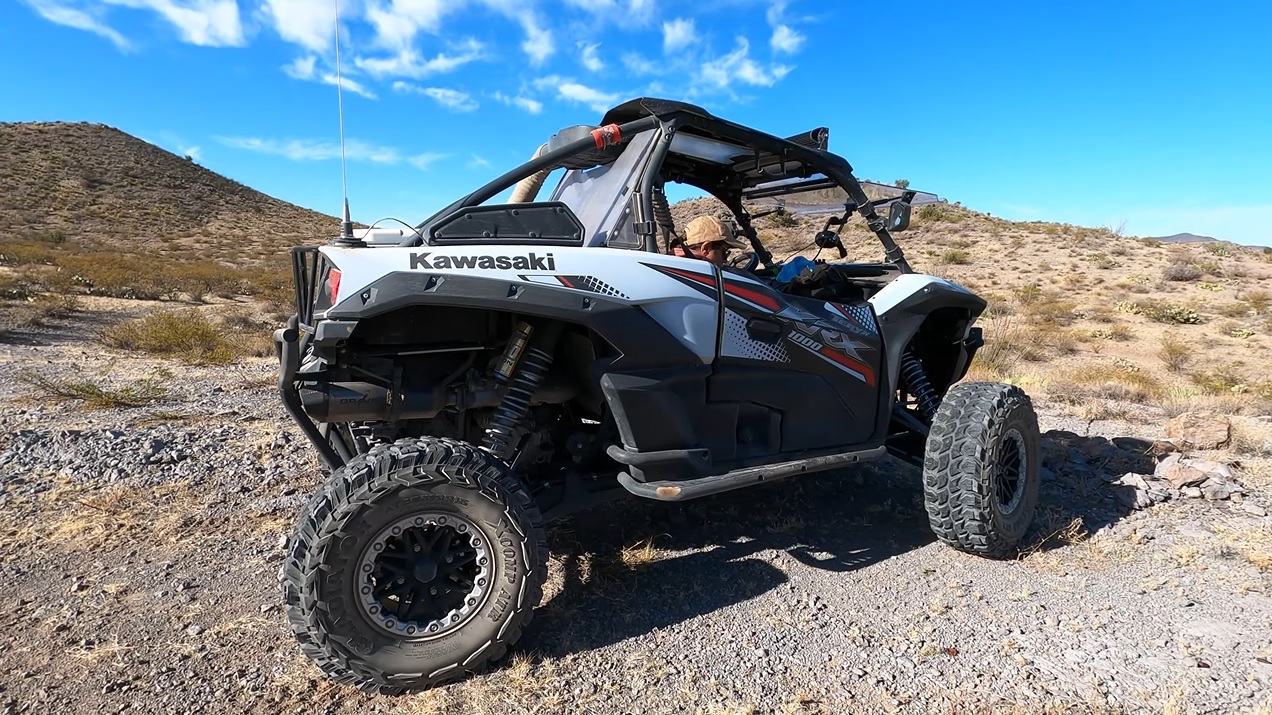 Conquering challenging off-road trails brings an unparalleled thrill, and here, the Kawasaki KRX 1000 is the ideal partner for adventurers. Yet, rugged journeys often bring obstacles; even the mightiest UTVs can encounter issues.
I've observed that KRX 1000 users often experience issues with their clutches and suspensions, engine failures, grounding problems, braking faults, and a range of other mechanical problems over time.
No need to worry; these issues can be addressed with the right guidance. Simply follow my instructions carefully, and your vehicle will be back in optimal condition in no time.
9 Common Problems of Kawasaki KRX 1000
Engine Overheating
Clutch Issues
Cooling fan issue
Water won't drain from the car
Noisy Undercarriage
Rear Trailing Arms Ripping Off
Driver's Seat won't adjust properly
Inaccurate Fuel Gauge
Grounding Issue
Troubleshooting and Fixing Kawasaki KRX 1000 Problems
Since 2019, I've been troubleshooting various issues with the Kawasaki KRX 1000. Among these, clutch and brake problems have been the most prevalent, while Engine Failure has been the most critical.
Now, let's explore the common KRX 1000 issues and their potential DIY solutions that you can perform at home.
1. Engine Overheating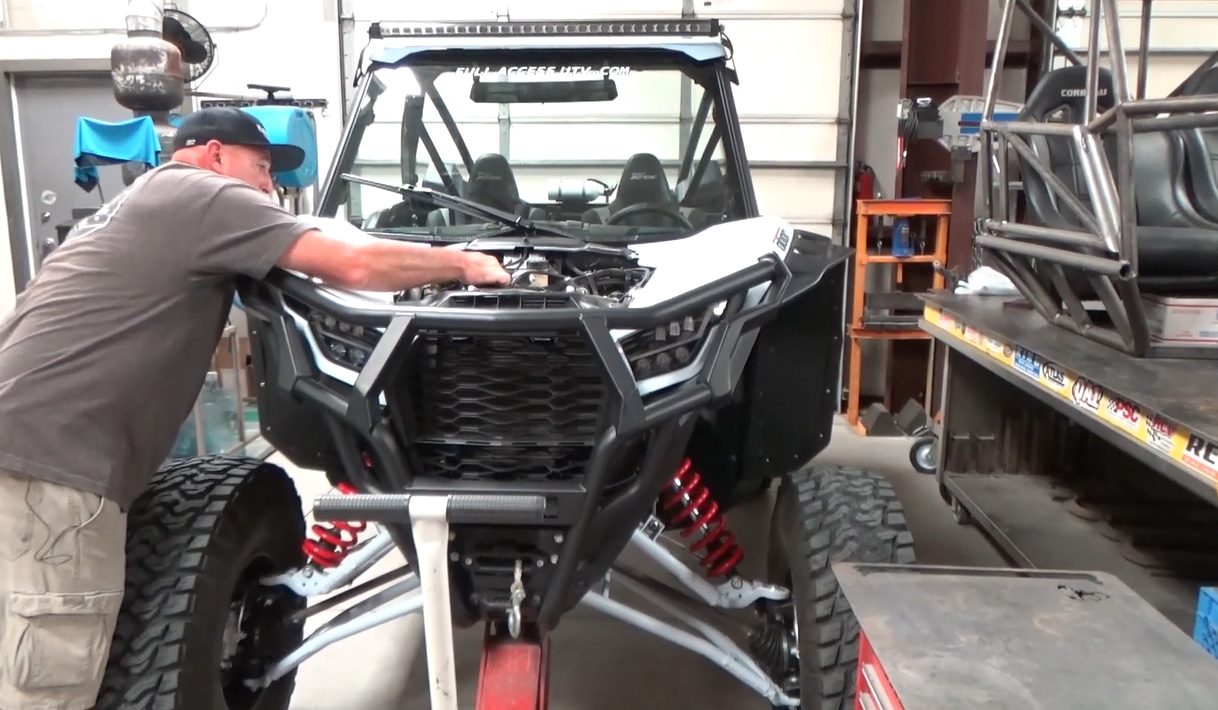 I've noticed that numerous users have experienced engine failures in their KRX 1000, primarily due to overheating. This issue is common because the 2020 and 2021 models lack a safety switch or mechanism to automatically shut down the engine when it reaches dangerously high temperatures.
Possible Fixes:
Temperature Monitoring: Keep an eye on the temperature gauge, especially in older KRX models. If it starts running too hot, shut it down.
Cool-Down Method: Let the engine cool down completely before you start it up again and try to get it off the trail safely.
Tips: You can also install a snorkel kit for the drive belt to reduce the heat even more.
2. Clutch Issues
Another most prevalent issue that KRX 1000 owners consistently encounter relates to the stock clutch system. It's a frequent occurrence for people to bring their KRX 1000 UTVs to me with these frustrating clutch problems:
Shifting gears feels like a workout because of excessive clutch drag.
Annoying whining sounds creep in when idling or going downhill.
Gears can unexpectedly pop out while cruising.
Well, the main culprit behind the KRX 1000 Clutch is the two components, the Clutch Weights and Clutch Rollers.
First, those factory clutch weights come shiny with chrome, but that's not a good thing. The chrome rubs against the clutch sides, causing them to wear down quickly and messing up your clutch sheaves.
Inside your KRX's rollers, there's this fragile bushing that just can't handle the pressure and tends to wear out way too soon. It leads to rollers getting all sticky, messing with how those weights are supposed to work. It's a real pain.
Possible Fix:
Swap chrome-coated factory weights with the uncoated ones for better longevity and performance.
Be cautious during idling to limit clutch wear.
Regularly clean clutches to prevent grit buildup.
Kawasaki may cover clutch replacements under warranty if issues arise.
Many opt for aftermarket clutch kits and preventive maintenance.
3. Cooling fan issue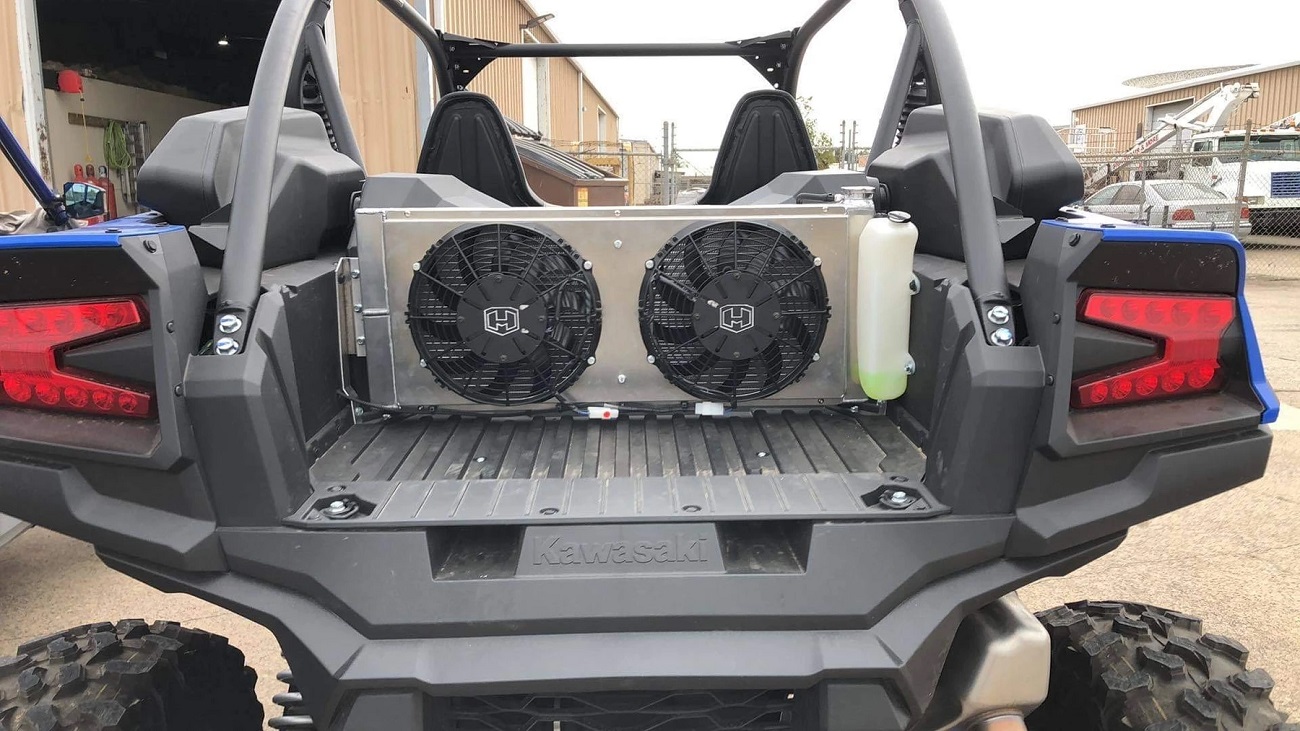 Another common issue I frequently encounter is the problem with the KRX 1000 two-seater UTV, where the cooling fan abruptly stops or fails to start.
This problem often arises because the cooling fan in the Kawasaki KRX 1000 isn't very sturdy and secure.
So, if you happen to navigate through water frequently or use a power washer on the radiator, water can easily seep in and disrupt the fan's operation, causing it to malfunction.
Possible Fixes:
Fan Inspection: If your fan starts sounding weird, like it's making a clunk noise or doesn't spin freely, you need to replace the fan.
Warm-Up Properly: Before going out, warm up your UTV to 186-187 °F; you will see the fan starting. And once the temperature drops to 185 degrees, the fan will stop. Then you should take out your vehicle. This process will help the fans to start at the right time.
Avoid Direct Water Spray: Prevent water from getting into the fan by not directly spraying the radiator with a power washer.
4. Water won't drain from the car
When you take your KRX 1000 on a wet trail, it tends to retain water inside due to its sealed floor design, which prevents dirt from entering the cab.
The vehicle typically has just one drain plug, which is often tightly sealed and challenging to remove using just your fingers. Consequently, water finds no escape route, leading to its accumulation within the car.
Possible Fix:
If you want to keep the original parts, You'll need a flat-blade screwdriver to pop the covers while driving through rivers. However, I recommend you get a functional aluminum drain cap for your KRX 1000 UTV.
It will only cost $44.99, and you can install it yourself.
5. Noisy Undercarriage
Under the hood, the KRX 1000 can produce significant noise, especially when cruising on gravel roads.
The rocks kicked up by your Kawasaki UTV can generate a cacophony of sounds. Additionally, you'll experience similar noise and vibrations under your feet when maneuvering through turns or accelerating.
The KRX 1000 has almost every underneath part made with metal to ensure durability. However, when you ride on a rocky path, these metal sheets connect with the gravel rocks, creating a huge noise.
Possible Fix
Well, if you've ever ridden in an RZR or Can-AM X3, you'll realize that the KRX isn't all that noisy. However, if the noise is too much, you should invest in a nice UHMW skid– a durable plastic material. This skid will dampen the sound and reduce the rock noise.
6. Rear Trailing Arms Ripping Off
Numerous Kawasaki KRX 1000 owners have encountered issues with their rear trailing arms. Though It's not a problem everyone faces, it's still worth discussing here.
You mainly face this problem because the material used for these trailing arms is too thin on both the inside and outside diameter.
Possible Fix
Get some 12-millimeter chromoly weld washers and weld them onto the bolts holding the rear trailing arms. This adds some serious strength and durability. You don't need to go all the way around; a few good welds will do the trick.
7. Driver's Seat won't adjust properly
The driver's seat of the Kawasaki KRX 1000 can be a bit peculiar. Sometimes, when you slide it all the way forward, it hangs up and doesn't release to move back as smoothly as it should.
Possible Fix:
While you're sitting in the seat, just lean forward a bit, and it should slide like butter—no need to force it.
8. Inaccurate Fuel Gauge
The inaccurate fuel Gauge problem is also quite common among Kawasaki UTV users, and I've fixed many of those. This issue mainly happens because the KRX 1000 has a low-category fuel-sending unit.
Possible Fix
Bend quarter inch: You need to bend the fuel gauge sender float rod down about 1/4", and the gauge will become much more accurate.
Use a Rollover Valve: If you don't want to perform any bending, switch to a rollover valve for your fuel system.
9. Grounding Issue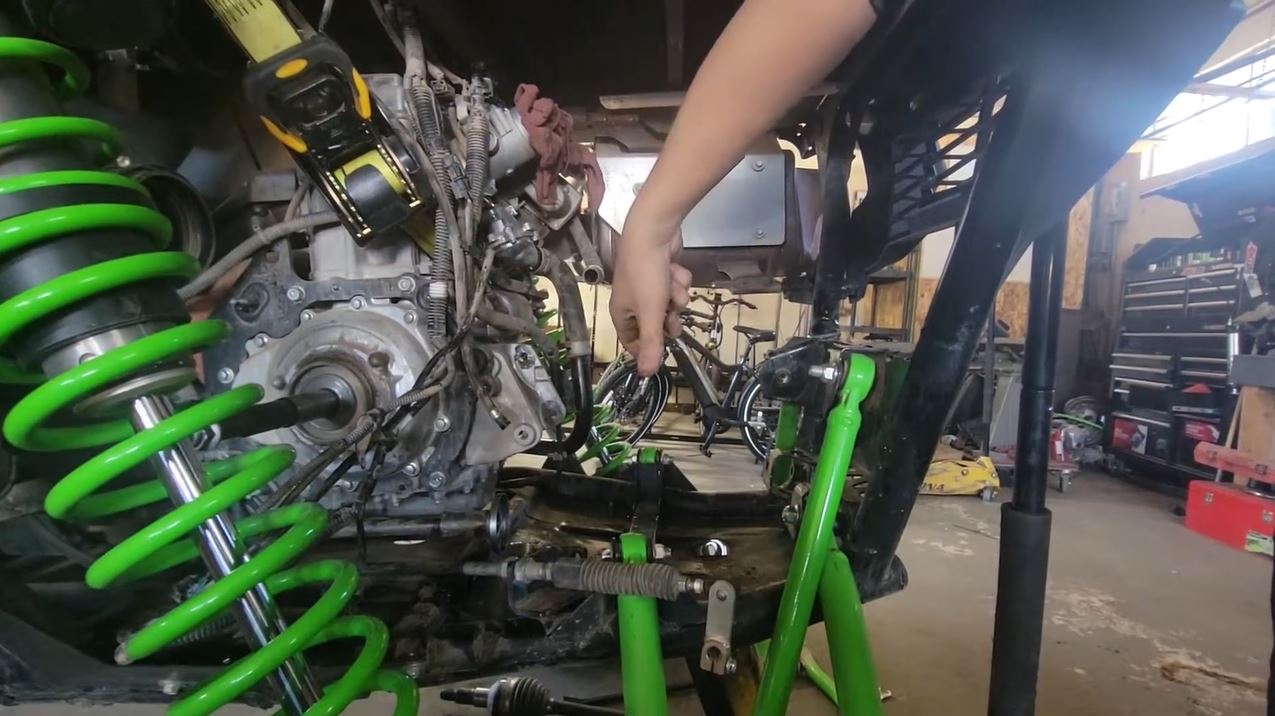 Grounding is crucial in vehicles, especially when it comes to computerized fuel injection systems. UTVs like the Kawasaki KRX 1000 usually have poor grounding due to the quick assembly process and powder coating.
That's why people often come to me to fix the Grounding. But if you apply a simple trick, you won't need a mechanic to solve your grounding.
Possible Fix
You need to Clean Up Your Grounds for better performance. Here are the steps:
Disconnect the Battery: Disconnect the negative terminal of your battery to ensure safety while working on the grounding.
Locate the Main Grounds: Go to the back left corner of the driver's side and look for some metal loops – these are the grounds you must remove.
Remove Ground Loops: Carefully remove the ground loops from these points. Sometimes, these loops have paint or powder coat residue behind them, which we must clean up for better connectivity.
Clean the Contact Surface: Use an M6 tap (6 millimeters by 1.25 pitch) to clean the threads in the grounding holes. It will not only remove any powder coat residue but ensure a secure connection.
Reattach Ground Loops: Put the ground loops back in place once the threads are clean. Make sure they're tight and secure.
Reconnect the Battery: After completing the steps, you need to connect the negative terminal of your battery and start your engine.
While cleaning the Kawasaki KRX 1000 might not add horsepower, it can make your KRX feel more responsive.
Many riders told me the cleaning not only improved performance but also crisper throttle response after cleaning up the grounds.
Expert Tips To Avoid Kawasaki KRX 1000 Problems In The Future
When it comes to keeping your Kawasaki KRX 1000 in top shape, experienced advice can make a big difference. So, if you want to avoid any issues with your Kawasaki KRX 1000, here I've got some tips for you:
Fluid Check: Inspect and maintain engine oil, transmission, and front differential levels regularly.
Fluid Types: Use the recommended fluids: 80w90 gear oil with GL5 additive for the front differential and transmission and 10w40 engine oil.
Oil Choice: You should use the Shell Rotella T6 for your Kawasaki KRX because it has additional zinc and phosphorus.
Clutch Care: Clean the clutch system every 300 miles.
Avoid Idling: Turn off the engine during long stops instead of idling.
Follow Service Schedule: Stick to your manual's service schedules or consult a pro for maintenance.
And if you follow these tips, the KRX 1000 will serve you for a long time without any fault.
---
Kawasaki KRX 1000 Engine and Cooling Fan Issue
---
FAQs About Kawasaki KRX
Here, I've put together a list of questions that Kawasaki KRX 1000 owners often ask. I aim to give you straightforward and easy-to-understand answers.
Is The KRX 1000 Slow?
No. The Kawasaki KRX 1000 is not slow. It may not have the extreme speed of Can-Am and Polaris models, but the excellent suspension makes it a capable off-road vehicle.
Does the KRX 1000 Have a Turbo?
No, it doesn't come with a turbo, but you can add a turbo kit to your Kawasaki KRX 1000 for around $5000.
What is the fuel range of a Kawasaki KRX?
Usually, the Kawasaki KRX 1000 has an average of 100 miles of fuel range.
---
Conclusion
And there you have it. After reading this post, I'm sure you get enough data to fix some common problems with your Kawasaki UTV at home.
But always remember to properly clean and check your Kawasaki KRX 1000 after returning from a bumpy adventure.
Because if you look after your vehicle, it will look after you on the roads. Peace out.