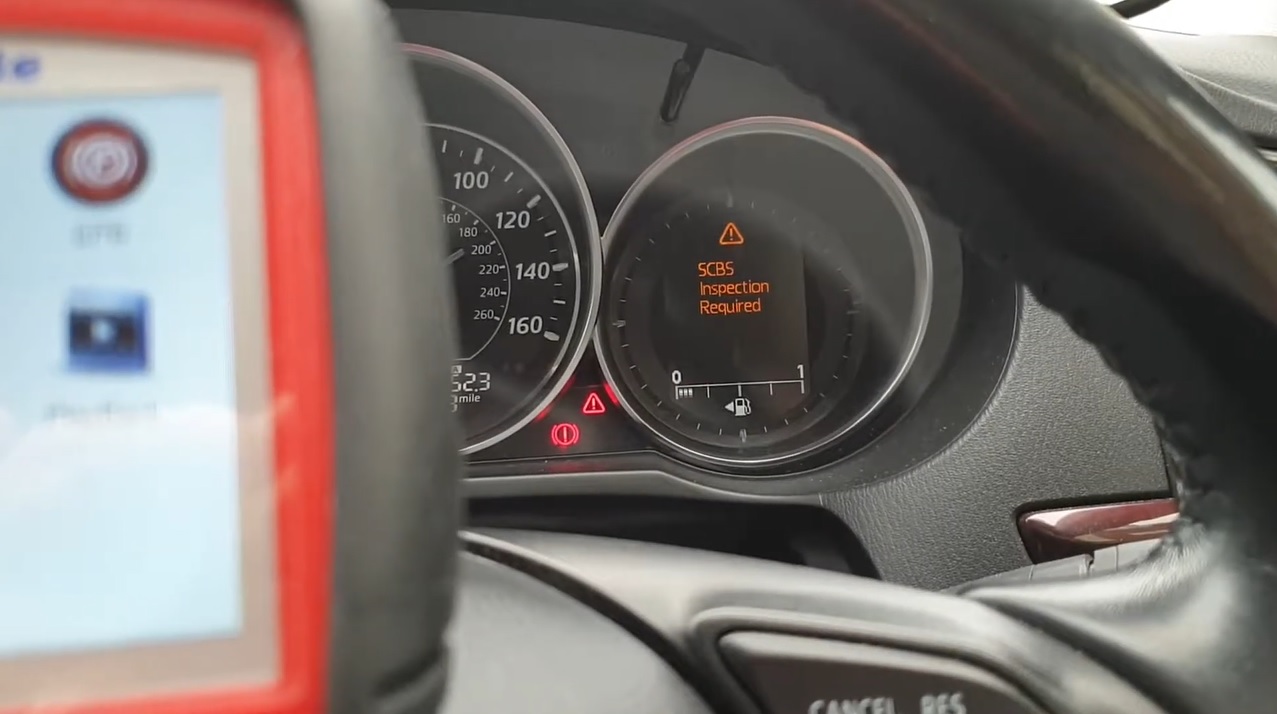 Mazda's CX-5 is a true all-rounder with a sleek design, nimble handling, and advanced safety features that set it apart from SUVs. What makes it even cooler is its smart braking system, designed to prevent collisions and save you from significant damage.
Unfortunately, the SBS error is pretty common on the CX-5. Usually, that occurs in most cases when something blocks the laser and radar sensors. However, simple windshield cleaning usually does the trick.
However, if cleaning the device doesn't solve the problem, you need to apply some advanced fixes. Follow this post for an in-depth overview.
What Does Mazda CX-5 Smart Brake System Malfunction Mean?
The Smart Brake System issue in the Mazda CX-5 usually means a defect in your braking system, and it won't work properly.
The SCBS & SBS in Mazda CX-5 uses sensors to identify whether a car is stopped or slowing down and apply the brakes automatically if necessary.
When the sensor malfunctions, you mainly see the SCBS/SBS warning light. But in extreme cases, the CX-5 can break out of the blue and become AUTOHOLD, which can cause severe damage.
How Does The Smart Brake & Smart City Brake Support Work On Mazda Cx-5?
There are two types of smart barking systems in Cx-5: the Smart Brake Support (SBS) and the Smart City Brake Support (SCBS).
Smart City Brake Support (SCBS) uses a laser sensor on the windshield to detect potential collisions when you drive under 18 miles per hour. If the system determines a collision is unavoidable, it automatically applies the brakes and reduces engine power.
On the other hand, the Smart Brake Support system works at higher speeds. It uses a radar sensor behind the grille. When you turn off the SCBS, the Smart Brake Support (SBS) automatically activates in your SUV.
Wherever you go from 15 km/h to 145 km/h, it scans the surroundings for vehicles. And if you become too close to other vehicles, the car's computer sounds a warning and displays a cluster indicator.
And if things get dicey, SBS automatically brakes your vehicle at full throttle to minimize damage.
And here's the cool part: when you hit the brakes, SBS gets your back by responding faster, which is especially handy for vehicles with brake fluid pre-fill.
Moreover, when you press the brake pedal, the brakes respond more rapidly thanks to the SBS. But it's only available in CX-5 molds with pre-fill brake fluid.
Signs And Symptoms Of Smart Brake System Malfunction In Mazda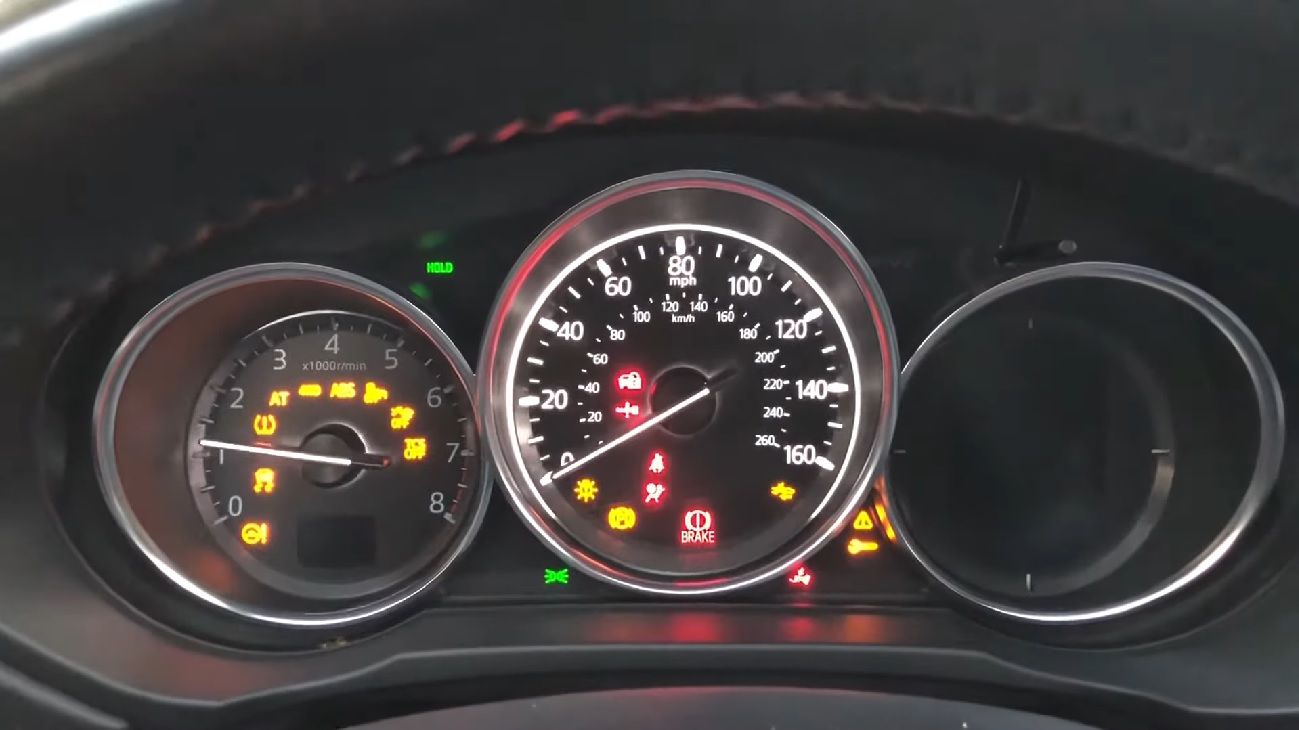 When the CX-5 SBS malfunction happens, you mainly see a braking system warning light. But there are other symptoms you can easily miss sometimes.
So I've gathered some signs to help you determine any fault in the CX-5 smart brake system:
The brake system warning light will start blinking, and you will see "Front radar sensor malfunction" and "Smart brake system malfunction" on the dashboard.
The SUV unexpectedly brakes even when there is no obstacle in its path
In severe cases, you can't start the car, and it won't even lock and unlock because of the AUTOHOLD feature.
Whenever you see any of these signs in your Mazda SUV, apply the DIY solution first. But if the issue remains, you must take the car to the nearest Mazda service center.
Common Causes Of Smart Brake System Malfunction In Mazda CX-5
Usually, the Mazda SBS and SCBS systems use a laser and radar sensor to operate in your Mazda CX-5. So when those sensors can't transmit the radio wave/electromagnetic wave properly, those brake systems won't work.
Here's what I've found after troubleshooting multiple cases with Mazda CX-5 smart brake system malfunctioning issues:
When fog, dirt, and drizzle (finding water drops) block the SBS and the SCBS sensor, they will malfunction.
When you drive your SUV during snowfall/ rain, the sensors or the front camera can't see the surroundings and won't work properly.
If your car's air pressure is high, it can show the SBS warning message on your dashboard
Sometimes, low battery charges can trigger smart brake faults.
Also, I once saw the CX-5 brake system fault happen due to low brake fluid in the car.
These are some common causes behind your Mazda SUV's smart brake system malfunction. If you suspect any of those reasons in your crossover SUV, you should apply the following solution ASAP.
Note: Also, do not modify your CX-5's suspension. Because if the vehicle height or inclination changes, the SCBS system may not operate correctly.
How To Fix The Smart Brake System Malfunctioning Issue In Mazda Cx-5?
In my case, whenever I have to deal with their Mazda Cx-5 SBS issue, I always check if anything is blocking the signals. Then, thoroughly clean the sensors and camera.
If the issue remains, I go deeper into the car and apply some thorough hardware and software checks.
Here's a list of possible fixes you can apply for the Mazda CX-5 smart brake system malfunction:
1. Wipe the Windshield
When something is blocking the windshield view, like rain/fogging, the front camera and laser sensor can't determine what's ahead. So you will see the BS warning light.
That time, start your wipers to keep the windshield clean. But if the rain is too heavy, just turn off the Smart Brake System or wait somewhere until the rain stops.
2. Clean the Sensors & Cameras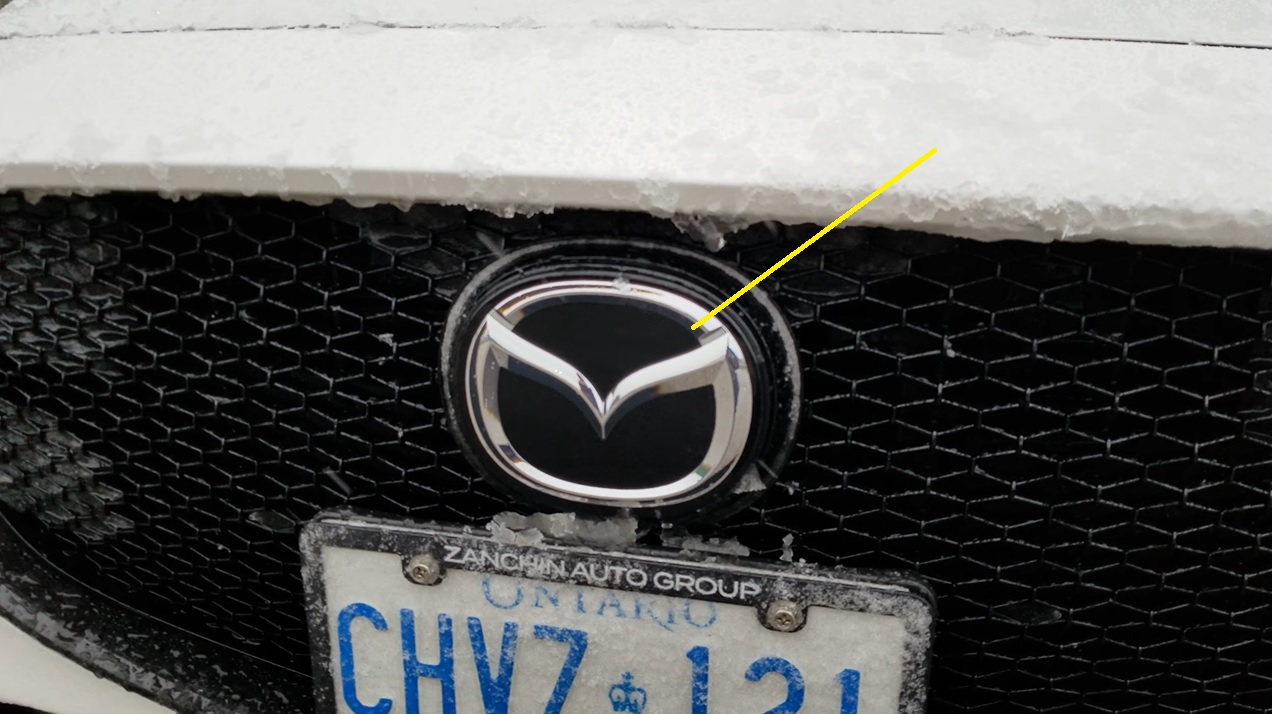 In the Mazda CX5, the front laser sensor is usually located in the back of the rearview mirror and front grille emblem, so it can detect what's ahead easily.
But sometimes, for humidity reasons, the windshield's inner side of your SUV sweats or becomes foggy, stopping the front laser sensor and the front camera from working.
When that happens, just turn on the defrost mode and clean the back of the rearview mirror and the front grille emblem; the warning light will go away.
3. Update the Firmware
Sometimes, the SBS or the SBCS malfunctions because of software bugs. So check for any software update releases on the Mazda website. If any new version is available, use these steps to install it on your car:
Download the Toolbox and create an account on your computer.
Eject the SD card from your Mazda Connect navigation system and insert it into your computer.
Follow on-screen instructions in the Mazda Update Toolbox to update your map.
Re-insert the SD card back into your Mazda Connect navigation system.
4. Check the Wiring & Battery
When the car battery dies or the wires rip apart, you will see the SBS warning light and the "Smart brake system malfunction" on your dashboard. But how can you know if your battery is dead? Well, you'll see some symptoms, like below-
A sudden or slow start
The battery becomes fat or swollen.
Smell from your battery.
When that happens, you should take your SUV to a mechanic and change the battery. Usually, you need to spend between $226 and $233 to replace any Mazda CX-5 battery at a decent car shop.
But if you do not have the time or the money to change your CX-5's battery, just use jumper cables. They will temporarily solve your battery issue.
5. Verify the Brake Fluid
Without enough brake fluid, neither the manual brakes nor the smart brake system will work in your car. And you will face the smart brake system malfunction issue.
So always keep an eye on your brake fluids using these steps:
Check for the reservoir on the left side of the engine bay, next to the battery.
Ensure the fluids are between the minimum and maximum markings.
If Brake Fluid is below the minimum, clean the cap, twist it off, and add DOT 3 brake fluid up to the max.
After that, tighten the cap properly to keep moisture out. And you are good to go.
6. Go To the Mazda Service Center
When you can't determine what's causing your Mazda SBS/SCBS malfunction, it's time to call the manufacturer.
You can call (800) 866-1998 whenever you face problems with your Mazda SUV. Their website also has a chat service available from Monday to Friday: 05:00 AM – 05:30 PM PST.
Can You Drive A Mazda CX-5 With Smart Brake System Malfunction?
Technically, you can drive the CX-5 SUV while the smart brake system malfunction light is on. However, you shouldn't do that on any occasion.
Because while driving, your car can suddenly brake in the middle of the road for no reason, causing serious accident risks.
Also, the rear wheels could lock more quickly during this time, making you lose control over your vehicle.
Pro Tips To Maintain The Braking System Of Your Cx-5 SUV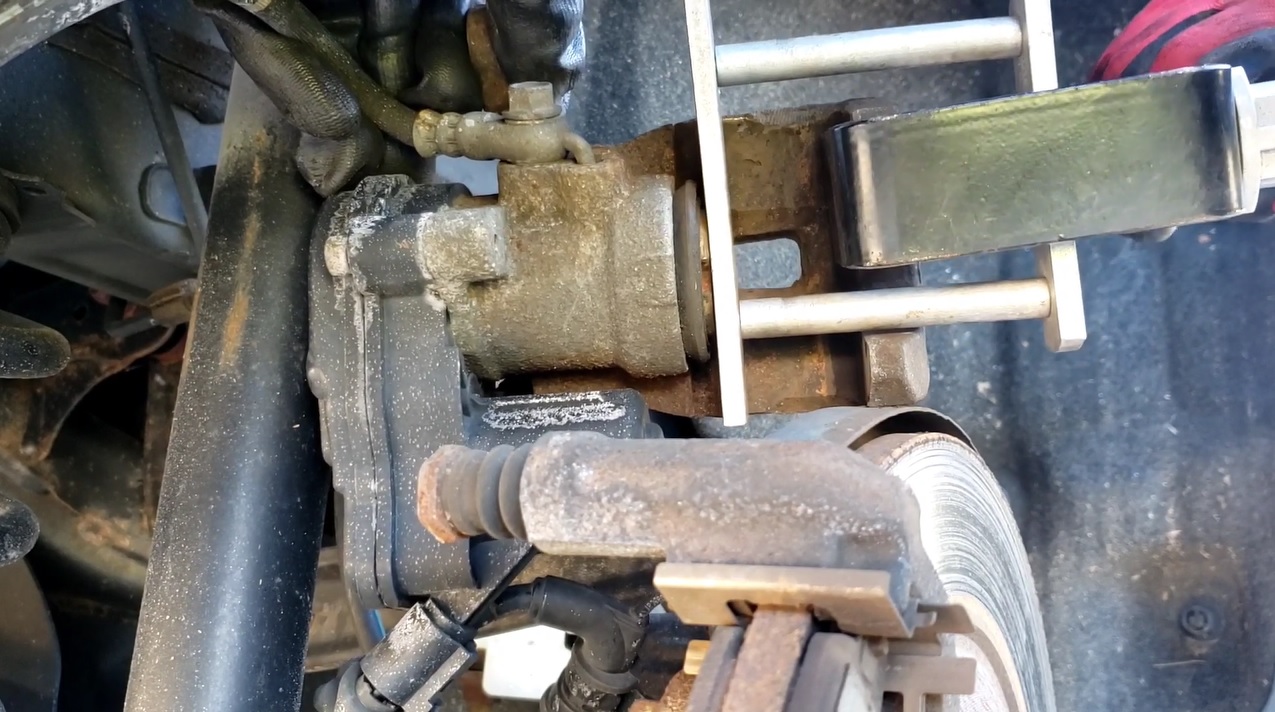 Whether you've just brought home a brand-new MAZDA CX-5 or are cruising in a pre-loved model, you can easily get a smart brake system malfunction. But to reduce the probability of this error, I've got some pro tips for you.
Also, while Mazdas are built to endure, you can use these tips to enhance their road life. Here are some top-notch tips from my experience:
Don't ignore dashboard warnings. Address issues early to prevent bigger problems.
Regular maintenance is a must. Timely oil changes and filters keep your ride in top shape.
Gentle driving extends the life of your CX-5. Avoid aggressive habits to preserve its parts.
Regular cleaning not only protects but also adds a stylish touch to your Mazda CX-5.
Trust me, these tips will keep your CX-5 going like a champ.
---
Frequently Asked Questions (FAQs)
Usually, Mazda CX-5 owners have some common questions about their vehicles. I've compiled some of those in here with clear and understandable answers to assist you in your journey.
Is Mazda CX-5 Good For Long-Distance Driving?
Yes! The CX-5 is incredibly comfortable for extended journeys. You can expect a smooth experience with minimal wind and tire noise. The AA/CP features work seamlessly, providing helpful traffic updates. Plus, the excellent visibility and useful blind spot warnings give you a stress-free long-distance driving experience.
Is The Mazda CX-5 Easy To Maintain?
Yes, the Mazda CX-5 is an easy-maintained car. Over the first 10 years, on average, you only need around $7,339 for maintenance and repairs for a Mazda CX-5, which is $1,794 lower than the popular SUV models.
Is Mazda CX-5 Fuel Efficient?
Yes. You will quickly get 23 city/28 highway MPG with FWD and 22 city/27 highway MPG with AWD, which is awesome for a compact crossover SUV.
---
How to Clear Mazda SCBS and SBS Warning Light
---
Conclusion
And here you go. Though Smart City Brake Support is a vital safety feature in the Mazda CX-5, malfunctioning sensors create more problems than they solve. So don't ignore any warning lights, and seek professional help as soon as possible. Safe journey.