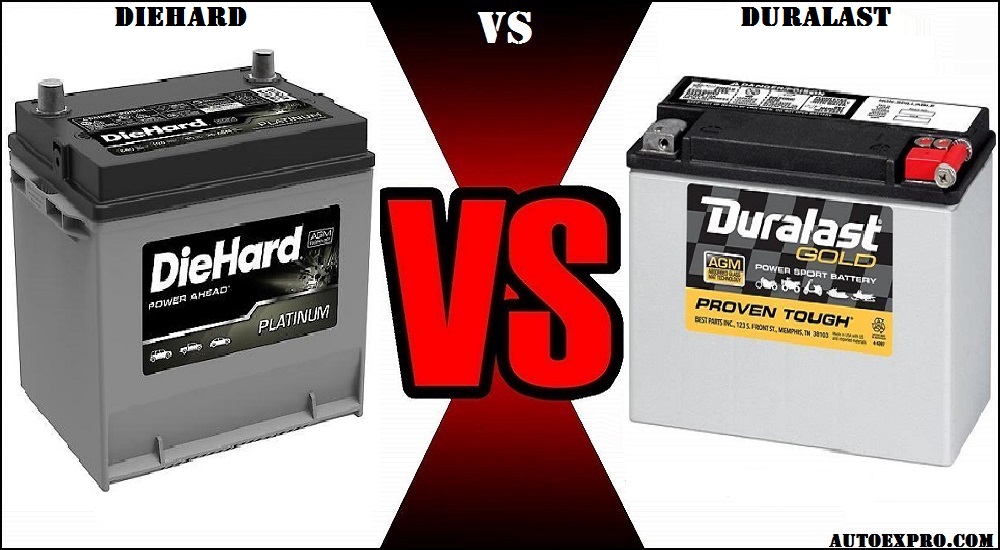 Spending for any upgrade or change in your vehicle requires you to consider several things. When it is an expensive upgrade, you need to spend more time and effort to select the best one.
Updating or changing your vehicle battery is similar.
You need to check and review a lot of batteries as numerous brands are available in the market. Among those- Duralast and Diehard are two good brands that you might get confused about.
Both brands offer good batteries to support your vehicle. So, being confused between these two is common. If you're in this stage, I've got something for you.
This article talks about Diehard vs Duralast batteries, which means I've tried to compare these two battery brands here. This might help you to decide. Without further ado, let's start by knowing the brands a bit.
Who Makes Diehard Batteries? 
The brand Diehard was owned by Sears from the very beginning in 1967. But Advanced Auto Parts bought the brand from Sears in 2019. Now, Advanced Auto Parts own the brand, but it doesn't manufacture Diehard Batteries.
Johnson Control was the manufacturer of these batteries for Sears. However, the battery division was sold to Clarios LLC. Now, Clarios manufactures Diehard Batteries.
You'll find more than 10 batteries offered by Diehard. But not all those are for your cars, trucks, or similar vehicles. Diehard EV, Platinum AGM, Platinum, Gold, Silver, Red, etc., are the most common vehicle batteries you can pick from Diehard.
Who Makes Duralast Batteries?
Duralast brand doesn't have that long history like Diehard. It is a comparatively new brand owned by AutoZone. However, just like Diehard, Duralast batteries aren't manufactured directly by the owning company.
Instead, it is manufactured by multiple companies. Johnson Control used to do this for AutoZone. After the battery division is sold to Clarios, Clarios looks after the manufacturing process of Duralast batteries. However, a few of the Duralast batteries are made by East Penn too.
Duralast typically offers four types of batteries for vehicles like trucks, cars, SUVs, etc. Duralast Platinum with AGM technology, Platinum with EFB technology, Gold, and Duralast are the common batteries offered by this brand.
Diehard vs Duralast Batteries: A Comparison between Two Brands
Performance
If you want to compare these two brands based on performance, I think Duralast should win. It offers the finest performance for a vehicle because of the advanced technology used in Duralast batteries.
But you can't avoid Diehard at all. These batteries also offer dependable performance for both power-hungry vehicles and those needing reliability.
Durability
Diehard batteries claim to be durable while supporting the electricity requirement of your vehicle. The name Diehard focuses on this too.
In this case, Duralast batteries are tough competitors to Diehard. These last for a long time to support your vehicle's power requirement. Still, I would say that Diehard wins in this criterion.
Build Quality
Duralast batteries are made with high-quality materials. Also, these batteries are equipped with vibration-resistant ability. Thus, Duralast has built strong and stable batteries.
Diehard quality is also great. You can't avoid these batteries. Through continuous research and development, Diehard has improved its build quality. So, you can depend on these too.
Performance in Extreme Weather
Both brands offer batteries that perform great in extreme weather conditions. In both hot and cold weather, these batteries can support you without losing their power.
Both brands have equipped their batteries with different technologies to cope with extreme weather conditions. You just have to pick the right one.
Variations
Diehard offers a huge variation in its batteries. You'll find more than 10 types of batteries from this brand suitable for different applications and vehicle types. This is an advantage as you have a wide range to pick from. However, you might get confused seeing all these options. To help you, Advanced Auto Parts team members are there to support you.
Duralast offers four batteries, and all those are for four-wheelers. So, there might be fewer options, but the selection process becomes easier for you.
Sustainability
If you're aware of environmental pollution, Diehard can be the perfect pick for you. The EV and AGM batteries from Diehard are made using 94% recycled materials. So, these are sustainable choices for you. This brand is slowly moving towards maximum sustainability.
Duralast doesn't offer such a thing.
Warranty
Duralast offers a 2-3 years replacement warranty on its batteries.
On the other hand, Diehard offers 1 to 4 years of warranty depending on the battery.
It is better to talk to the seller before buying a battery, as buying from an unofficial seller might hamper the warranty.
Price
Comparing the prices, I've found that Diehard batteries are a bit higher priced than Duralast batteries. To get an idea about this, I've compared the Platinum and Gold variations from both. The difference is around 30 bucks in most cases.
Reserve Capacity
Reserve capacity shows how long a battery can run with one charge. In this case, Duralast is the winner. Duralast Platinum offers a 200-minute reserve capacity, and gold offers 150 minutes.
In the case of Diehard, both batteries offer 130 minutes of reserve capacity.
Cold Cranking Amps
Cold cranking amps show how well the battery performs to start your engine when the temperature is down outside. In this case, both offer a good cold cranking amp rating of around 700 CCA.
You'll find a difference here depending on the type of battery and group size.
---
So, Which is the Best Choice?
From the comparison, you can see that in most cases, Duralast and Diehard are performing almost similar. Batteries from both brands are made with great care, provide dependable performance, come with high CCA, last for a long time, and perform great in extreme weather conditions. So, choosing one is difficult.
In this case, I would say that both are the best choices. As both offer almost similar performance, you can go for whatever you like.
If you want to save some bucks, go for Duralast because those cost a bit lower than Diehard. Duralast is also a good pick if you're looking for high CCA and reserve capacity.
In case sustainability is your choice, Diehard would help you with that. Some Diehard batteries are made from recycled materials. Also, it is focused on reducing effects on the environment throughout its manufacturing process.
---
Diehard Platinum AGM Battery Reviews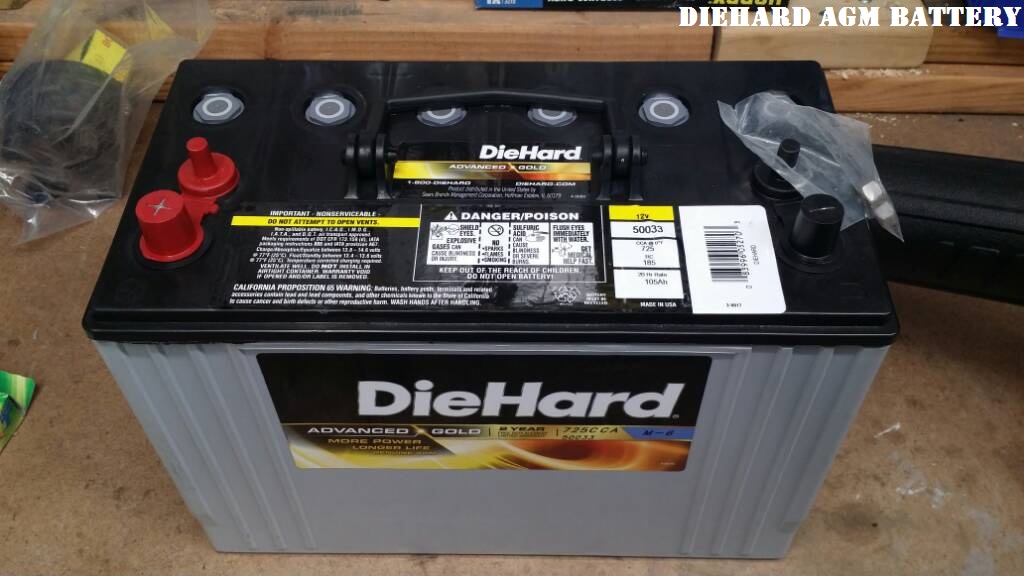 The Platinum AGM battery from Diehard is a perfect pick for the high electrical demand of your vehicle. Starting from GPS and heat seats, it can help you to power all your electric needs. This is why I love this battery so much.
It is made durable and strong to ensure such a performance. High-quality materials are used, and a non-spillable design is followed to build this battery. So, it doesn't come with any hassle of maintenance.
I have another reason to love this battery. It is made from recycled materials. Using this battery gives me inner peace.
Diehard has made this battery to perform well even in extreme weather. When it is extremely cold outside, it helps you to start the engine quickly as it comes with 750-850 cold cranking amps.
Overall, it is made to satisfy your power-hungry vehicle by performing better than the OE battery it comes with. That's why I suggest you pick this battery.
Special Features:
Outperforms your OE battery from all perspectives
The maintenance-free design allows you to install it anywhere
High Cold Cranking Amps depending on the group size
Made from recycled materials
Diehard Platinum AGM Battery Video Review
---
FAQs About Diehard and Duralast Batteries 
Are DieHard and Duralast Batteries made by the same Company?
Though these batteries are made by the same manufacturer, they are not identical. There are several differences in technology, building material, design, component, and structure.
The manufacturer produces the batteries as per the requirements of the brand owner. As the brands have different owners, the requirements and instructions are different, and thus the batteries are different.
Which one lasts longer- Diehard or Duralast?
Both these batteries are made to last for a long time. The typical life expectancy of a battery is around 4-5 years. A lot of users have claimed that both batteries offer such long battery life. So, you can depend on both.
However, companies offer a 2-3 years warranty, depending on the battery you pick, to stay on the safe side. If your battery shows any issue within this time, you can claim a warranty.
Which one is easy to maintain- Diehard or Duralast?
Diehard batteries are maintenance-free. So, you won't have to think much about it.
However, some Duralast batteries need you to maintain those regularly. If you pick one from those, you'll have to spend some time maintaining the batteries.
---
References: 
https://www.autozone.com/lp/duralast-battery
https://www.diehard.com/
https://bobistheoilguy.com/forums/threads/need-battery-everstart-duralast-or-diehard/
https://www.wranglerforum.com/threads/die-hard-or-duralast-platinum-agm-battery/
https://motorbeast.org/duralast-vs-interstate-similar-batteries-different-needs/