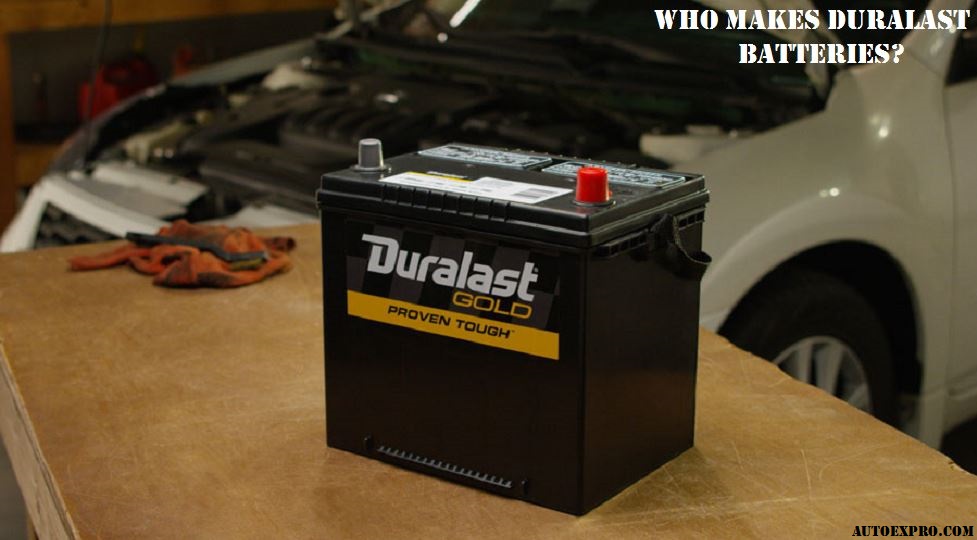 Looking for a perfect battery for your vehicle is tiring. There are many options available but most of those can't meet the expectation perfectly.
When this is the situation, you can depend on a name- Duralast.
Duralast is a battery brand that is known for delivering performance and durability-oriented batteries within a reasonable price range. This brand is available in the market for a very long time.
You can depend on this brand because these batteries are manufactured and supplied to the market by some dependable names. Ensuring quality and performance is their main focus. Let's know a bit more about those names.
Who Makes Duralast Battery?
The brand Duralast is owned by AutoZone. Under AutoZone, there are some other brands that are also known for performance and quality.
But when the question is- who makes Duralast batteries, AutoZone is not the exact answer.
AutoZone is the sole owner of the brand Duralast, but there are multiple manufacturing facilities where the batteries are made. Different series of batteries are manufactured by different manufacturing facilities. Among those, the most notable ones are Johnson Control, East Pen, and Exide.
Johnson Control
Johnson Control is one of the largest manufacturers of these types of products. With headquarter situated in Ireland, this organization has around 2000 facilities spread in 6 countries.
From the very beginning, Johnson Control handles the maximum production of Duralast batteries. Some of the premium series of Duralast batteries are manufactured by Johnson Control.
Recently they have sold their automotive battery manufacturing part to a company called Brookfield Business Partners. Now, the automotive battery manufacturing part is called Clarios.
Clarios produces similar quality batteries that Johnson Control used to produce.
East Penn
East Penn is a privately owned battery manufacturing company. This company has the world's largest lead-acid battery facility of single-site. From East Penn, a huge portion of Duralast batteries are manufactured.
East Penn also produces cheap batteries of cheap quality. But the Duralast ones manufactured by East Penn come under the premium series tag. These are costly and made to ensure performance for a long time without any issue. If you're someone who wants the quality no matter what the cost is, you should go for Duralast batteries made by East Penn.
Exide
Exide produces the Duralast batteries that come within a comparatively lower range. These are made for people who want maximum quality possible within a budget. These can't ensure quality like the premium series. But still, considering the price point, these are some of the best batteries in the market.
So, I guess now you know exactly who manufactures maximum portion of the batteries from Duralast.
Types of Duralast Batteries
Duralast makes multiple types of batteries depending on the use and level of performance. Let's know about different types of Duralast batteries.
1. Duralast
Duralast is the most basic series of Duralast Batteries. This series comes within a reasonable price point. The high-density plate formula of this series ensures durability. Cold Cracking Amp, quick-start feature, and vibration resistance have made it one of the best batteries in the price range.
Under this series, there are two types of batteries- Duralast (for vehicles) and Duralast Lawn and Garden (from lawnmowers).
2. Duralast Gold
For vehicles that require high power, the Duralast Gold series is introduced. Batteries from this series are made to deliver more power than the previous series. Using more lead plates, these batteries ensure much more performance and vibration resistance. This is perfect for vehicles with an infotainment system, heated seats, etc.
This series also comes with regular vehicle batteries (Duralast Gold) and lawnmower batteries (Duralast Gold Lawn and Garden).
3. Duralast Platinum
Duralast Platinum batteries are made to be even more powerful. These batteries are designed with AGM (Absorbent Glass Mat) technology. These batteries are sealed perfectly to be spill-proof. As a result, these can be mounted in almost every position.
These are extremely vibration-resistant and made to ensure greater performance compared to other Duralast batteries. It ensures two times the deep cycle capacity comparing to the Duralast Gold batteries. The Platinum series is a perfect solution from Duralast to handle all the power demands of a vehicle, including starting it.
4. Duralast Marine
Duralast Marine is a series of batteries from Duralast that are specially made for using in marine vehicles. These are made to last long without any issue and deliver the performance expected. There are two types of Duralast Marine batteries- Duralast Marine Starting Battery and Duralast Marine Deep Cycle Battery.
The starting battery is for providing cold-cranking amps needed to start the boat. On the other hand, the deep cycle one is made to run trolling motor and other accessories when the engine is off.
Are Duralast Batteries Good?
The answer to this question is- yes, Duralast batteries are good. If you're thinking about investing in one of these, you can go for it. Just make sure that you're choosing the perfect one for meeting your needs.
Duralast batteries are made to be durable and ensure high performance throughout the lifespan. These are designed to do what these are expected to do. So, if you buy one and use it for the purpose it is made, you can expect a long time service from your Duralast battery.
These are made for maximum performance but sold within a reasonable price range comparing to most other competitors of similar capacity. So, if you're going to buy a Duralast battery, you'll get it at a pocket-friendly price.
Duralast batteries provide performance within a reasonable price, that too for a long time. So, you must admit that Duralast batteries are good.
Duralast Battery Video Review by Autozone
Alternative to Duralast Batteries – Top One
From the point of performance and price range, Duralast is a great option for those who are looking for a vehicle battery. Here comes another question- is there any alternative to Duralast batteries?
Yes, there is. There are some close competitions to Duralast batteries which ensure performance, durability, and stability. Among those, ACDelco is one. Among the ACDelco batteries, let's know a bit about one.
ACDelco Gold B24R Hybrid Vehicle AGM Battery
From ACDelco, this is a great battery if you want performance and durability over anything else. With an experience of around a hundred years, this is made for the professionals who need a powerful battery that is able to go beyond the OE performance.
This AGM battery is made to supply huge power to run everything in a truck. It offers around 325 Cold Cracking Amps. The Calcium alloy in it is optimized for maximizing the life cycle and thus minimizing water consumption. It ensures the durability of the battery.
The compact and durable design of this battery has made it perfect for minimizing the impact of vibration. As a result, the components inside don't get affected by the vibration and do what those are supposed to do without any interfere.
Pros
Comes with AGM technology for maximum performance
More cycle life compared to regular car batteries
Durable and compact to minimize vibration
Cons
Cold Cracking Amp is a bit lower 
Related Post: How to Replace TPMS Sensor Battery
Final Verdict
Depending on Duralast batteries won't be a bad decision for you if you're looking for performance and durability. A typical Duralast battery from Duralast Gold and Platinum lasts for around 3 to 5 years if you take care of it properly. This is a good reason behind picking up Duralast batteries.
Also, now you know who makes Duralast batteries. These are some dependable names in this industry and related industries. So, if you're confused, don't be. Go and pick one from Duralast. You won't regret it, I assure you.