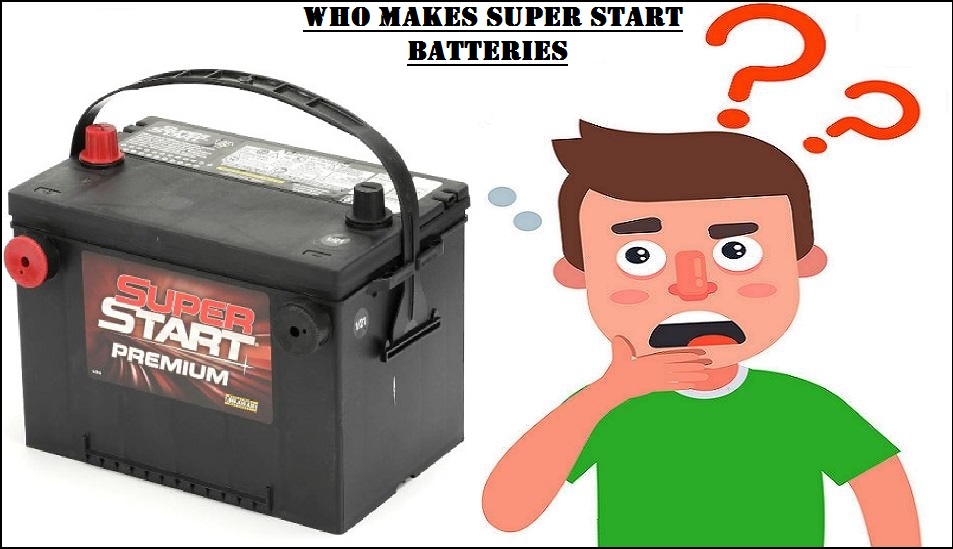 A battery is required for several uses, including a power supply when driving an automobile. Your automobile will not take you anywhere if it does not have a battery, as it won't start without one.
The O'Reilly super start batteries are among the most popular ones when you want the best of the best. O'Reilly Auto Parts is a renowned American company that retails automotive parts throughout the USA.
The brand started its journey in 1957. Ever since, the brand has developed enormously because of its experience in the automobile business. Now, the question is, who makes super start batteries? In this article, we are going to share the answer with you.
And for the best super start battery, keep your eyes on the other sections of this article as well. Without wasting any of your time, let's search for the answers.
Who Makes Super Start Batteries?
As the batteries have O'Reilly's name attached to it, many people think O'Reilly produces these batteries. But the real case scenario is that O'Reilly works just as a supplier, distributor, or marketer.
The history of the manufacturing of super start batteries is a bit different. Johnson Controls Inc. started to manufacture super start batteries in their factory. The brand has multiple manufacturing facilities along with batteries.
They started manufacturing super start batteries in early 2009. Later, the brand was sold to Clarios and got a new name. Clarios is not only a US-based manufacturer, but they are spread worldwide.
East Penn Manufacturing is now the new manufacturer of super start batteries. East Penn is located in Pennsylvania, and they started their journey long ago in 1946. From a one-room shop, now the brand has over 89 warehouses.
And they have already designed over 500 products since the beginning. The brand runs its operations all over the world and has received so many prestigious awards from eminent organizations.
Who Sells Super Start Batteries?
While many confuse O'Reilly to be the manufacturer of Super start batteries, they're actually the seller. O'Reilly does the job of supplying, distributing and marketing.
You can find every type of super start batteries at O'Reilly auto parts stores. They sell the batteries all over the country. Till noe Super Start Battery Manufacturers haven't mentioned their any other seller in the US.
Are Super Start Batteries Only Available At O'Reilly?
No. O'Reilly with its thousands of outlets sell the Super Start Batteries only in America. Primarily the batteries made by Johnson Controls are the stock of O'Reilly.
You won't find any other auto parts stores all over the US selling these batteries. Besides, Johnson Controls there is another provider of super start batteries for O'Reilly.
East Penn Manufacturing For O'Reilly
One third of all low-voltage batteries comes from the East Penn manufacturers. O'Reilly's silver premium battery series is from this section of O'Reilly. Besides since 1999, they provide many other high-quality batteries.
East Penn has departments at Clarios, LCC and Lyons, Berk Country, Pennsylvania. For producing the world-class best quality batteries for O'Reilly, the company has won Special Merit 2002 Vendor of the year award.
How Good Are Super Start Batteries?
The Super start batteries wouldn't have gotten the appreciation without doing the work. Their different types of batteries are for different purposes. Automotive batteries are designed to provide great starting power no matter how unpredictable the weather is.
And especially in the cold regions where starting the car in the morning is a huge hassle because of the freezing temperature, the super start battery works like magic. These batteries resist vibration damage, supply overall durability and provide faster starts.
If you look closely at the making, then you will find a plethora of options. They not only have lead-acid batteries but also produce AMG and lithium batteries as well. So, if you choose a super start battery for your vehicle, you will get power, sustainability, durability, and performance all in one.
The vibration-resistant quality is unique to these batteries. Which allows you to protect your car parts and personal devices from damage. If a battery can give you maximum starting power and deep cycle service in adverse weather and protect against vibration, then what else can you ask for?
How Long Do Super Start Batteries Last?
Super Start Batteries on average last over 3 years. But the type you got would be analyzed here. Some super start batteries are on the top of the list when it comes to lifespan. The lifespan of the premium quality models are the most durables ones. They last over 5 years. But the regular ones can not make it over 3 years.
If you want the highest durability out of your barrages then must consider getting the Platinum and Extreme battery models from Super Start. If you use them properly then you can expect six years of lifespan.
Types Of Super Start Batteries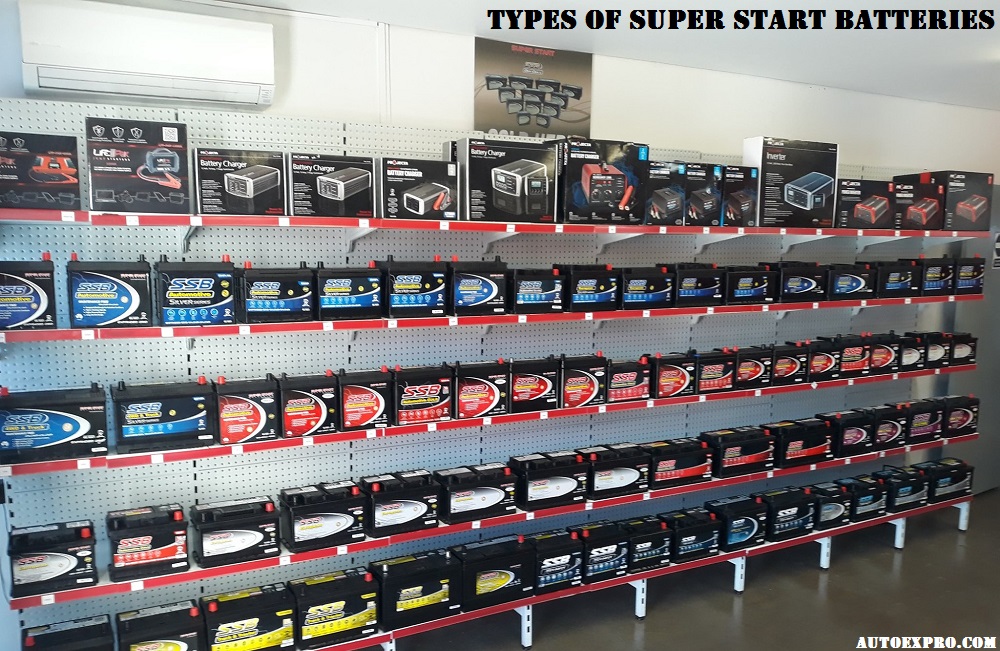 While buying a battery for your car, truck, or SUV, you need to be aware of some facts to make the best buy. Such as what the weather is like, how much power you require, and so on. Here, we have shared the types of super start batteries from which you can choose what suits you best.
1. Super Start Premium
The super start premium battery is designed for modern vehicles that need amazing starting power. These batteries work tremendously well in adverse weather conditions.
2. Super Start Platinum
Super Start Platinum is an AGM battery that is renowned for its powerful insight. AGM means Absorbed Glass Mat, which provides paramount starting power with top-notch performance. This battery is vibration resistant as well.
3. Super Start Extreme
This battery is a lead-acid battery that keeps your vehicle running in extreme temperatures. The battery is meant for the harshest conditions. If you live in an area where the temperature can be an issue for your car's batteries, then go with this one.
4. Super Start Economy
Unlike other expensive super start batteries, the super start economy battery is not that pricey at all. This battery is made especially for older versions and can give you excellent service without cutting into your pocket. When you want a battery within a short budget, go with this one without giving it a second thought.
Besides these four types, you will get other options for your marine vehicle, motorcycle, and garden equipment as well.
How Much Do Super Start Batteries Cost?
The price of different types of super start batteries differs for obvious reasons. And if you compare it to the other batteries, you will definitely not say that super start batteries are cheap.
You can find the price tag begins from 100 USD and can rise above 200 USD. The cost varies depending on their features and making elements. But the good thing is, if you pay enough attention to the dealers' websites and online/offline marketplaces, you can get a big discount and avail the best offer.
Review Of Super Start Premium Batteries- (Our Top Pick)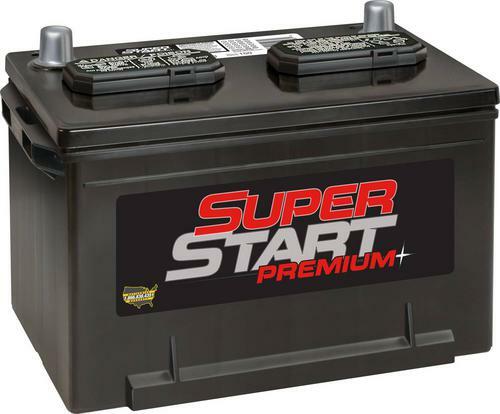 Super start premium batteries ensure reliable starting performance. Nowadays, the vehicle has so many other power consumption facilities that were absent before. And that's why providing an uninterrupted power system has been a much-needed requirement for every car owner.
The premium-built design of this battery is quite impressive. This design is engineered to maximize the starting power capability. Besides, it has a great power delivery system that provides the utmost power to the engine, which allows your vehicle to run smoothly.
Recently, the growing power demand for modern vehicles is undeniable, and it is increasing day by day. That's why if you have a smaller or mid-size vehicle, you can easily install this battery and get the best performance. However, this battery is capable of storing critical battery energy.
And by having this quality, this battery will deliver long-lasting, dependable power and life as well. This battery doesn't have any handles, nor does it have a removable cap. The CCA, or Cold Cramping Amps, is 450 in this battery.
Another good thing is that these batteries are assembled in a strategic way so that they don't lack durability.
Pros
Provides the utmost starting power.
Durable and dependable even in extreme weather conditions,
Prevents short-circuits
Extraordinary power supply
Sustainable built-in quality

Super Star Premium Battery Video Review
FAQs About Super Start Batteries
What Is The Warranty Coverage Offered By East Penn Manufacturing?
No matter how powerful your battery is, you should always check the warranty coverage by the manufacturer. And the good thing about super start batteries is their manufacturing brand East Penn Manufacturing offers 12 months to 36 months of warranty on their products. Their replacement policy is quite hassle-free as well.
What Is The Expected Life Span Of Super Start Batteries? 
To be frank, the life span depends on maintenance and use. The brand provides the best batteries that you can rely on, but you still need to take care of the product as well. The usual life span of a super start battery is around 3 to 4 years. So, keep your eyes on your batteries before they die in the middle of the drive. 
How To Tell If Your Car Battery Has Gone Bad?
Your car battery will start showing symptoms when it is about to go bad. The first sign you might observe is your engine is taking forever to start. When your car battery is bad, it gets difficult to start your engine, as the power supply is not providing enough power. Besides, your interior lights will not light up when you have a bad battery.
Final Words
Super Start Batteries are another name for a reliable source when it comes to car batteries. From their starting days, they have successfully provided the best service that a vehicle owner could ask for. And it has become possible because of the dedication of their manufacturer. Now that you know who makes super start batteries, you will certainly not have any doubt when buying a new one.