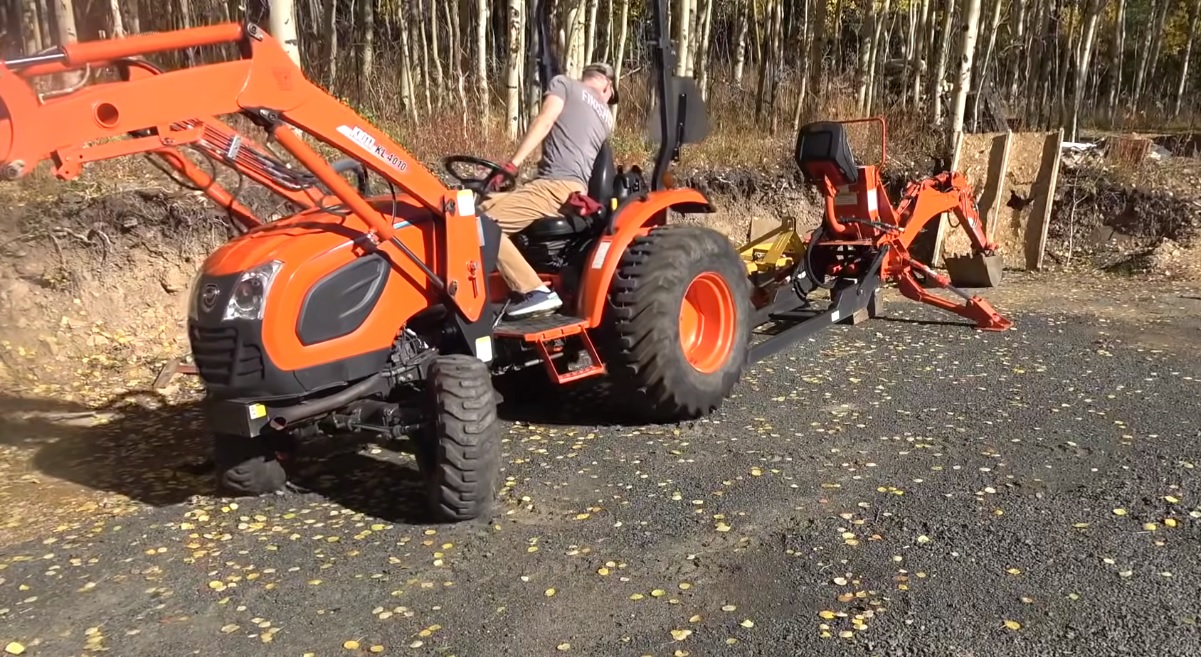 Kiotis are generally reliable and well-regarded by their owners. However, from all my time tinkering with so many of them in my workshop, I've also had to deal with some common problems with Kioti tractors.
For instance, its transmission often jerks up, oil leaks leave behind puddles, the PTO refuses to engage, or it often loses power when climbing. However, these are pretty much fixable by controlled pedaling, sealing up the cracks, readjusting the clutch, or repairing the shear pin.
Now, you still might find carrying out these repairs a bit overwhelming, so I've got a few tricks to help you. Read on to learn them all.
What Are Some Common Problems with Kioti Tractors?
Just like any other power machine, Kioti tractors aren't completely glitch-free, even though most of them perform quite remarkably. Here, I list four everyday problems I've seen owners deal with time and again.
Sudden jerks or surges in the transmission
Hydraulic oil leaks
PTO not engaging after running for a while
Loss of power when climbing hills
Troubleshooting and Fix For Kioti Tractors' Common Problems
Like every other problem, the first thing to do when your Kioti tractor acts up is figuring out what's bugging it. And once you've learned that, sorting things out and finding the right fix become pretty straightforward.
So here, I'll discuss four of the most common problems with popular Kioti tractors and what can be done about them.
1. Tackling Transmission Issues
Over the years, I've dealt with many transmission issues in Kioti tractors. From what I could gather, those hydrostatic models, especially the NX tractors, have been the troublemakers most of the time.
Owners have often dropped by, complaining about how their machines had sudden jerks, weirdly surged in reverse, or crept forward. Some also suffered delayed responses, adding to their frustration.
More often, the culprits behind these issues are dirt, debris, or damage in the drive belt, especially when the parking brake is engaged. Then there's also bad, contaminated transmission fluid.
So, if any of these problems persist, try the below steps one by one.
Step 1: Before taking any mechanical approach, try updating your machine's software to see if it helps.
Step 2: Look for dirt in the hydro drive belt and clean it if need be. However, you must replace it if it's damaged beyond repair.
Step 3: Then, try recalibrating the pedals. For this, you'll want to refer to your owner's manual or contact your dealer for assistance.
Step 4: Check your transmission fluid. If it's contaminated, replacing it is the only thing to do.
Step 5: Also, try quickly pressing the pedal in one direction and immediately pressing it again in the opposite direction.
Other than changing the fluid, fixing these transmission issues likely won't cost you a dime. But if your tractor needs a new drive belt, it may cost around $60-$110.
2. Seal up the Leaks to Stop Oil Draining
In Kiotis, leaks usually occur near the bottom of the sight glass, gear selector, or rear axle. These leaks are a real headache to tractor owners as they hike up fluid costs and damage the transaxle if you don't act fast.
And from what I've seen, this happens when there's a dent in the hydraulic filter, the hydraulic line rubs against the frame, or there's a loose connection at the relief valve.
To fix these leaks, the only solution is to backtrack to the source and seal it up. For instance, if the leak is near the bottom of your tractor's sight glass, here's how you'll need to sort it out.
Step 1: Safely position the tractor on a steep incline so it faces downhill to retain the oil within the transmission and rear end.
Step 2: Or you may drain a portion of the oil from the transmission or rear end.
Step 3: Carefully remove the sight glass and thoroughly clean the surrounding area.
Step 4: Depending on the condition, you might either need to clean the existing sight glass or replace it with a new one.
Step 5: Reinstall the sight glass, using a bead of silicone sealant to secure it in place and allow it to cure.
Step 6: Fill up the fluid and check how well you sealed it.
This method should work for any exterior leak near the transmission. However, you might need to split it up if there's significant damage in the main hydrostatic unit.
In such cases, it's best to leave the job to a professional. Yet, if you want to give it a try, the below video should help you get started.
3. Readjust the Clutch when PTO Won't Engage
Oftentimes, you may find that your Kioti tractor is running just fine for hours, and then suddenly, the PTO won't engage.
This mostly happens in live PTOs with a two-stage clutch setup. And you can confirm your Kioti has the issue when the first stage is all good, but the second stage is acting up.
To fix this, you'll have to readjust the clutch. Follow these steps if you have a feeler gauge, a long screwdriver, a hammer handle, or a similar pry bar ready.
Step 1: Turn off and secure your tractor before locating the adjustment points for the two-stage clutch.
Step 2: Loosen the lock nut on each of the three adjusting bolts using an appropriate wrench.
Step 3: Now, measure the clearance with a feeler gauge and adjust it according to what's mentioned in your owner's manual.
Step 4: Adjust each bolt by turning them as needed to get to the specified clearance. You may need to use a pry bar for easier access.
Step 5: Once you've got the correct clearance, tighten up the lock nuts on the adjusting bolts to secure the adjustment in place.
Now, start the tractor and test the clutch to see if the power take-off (PTO) engages as it should.
If it still won't engage, you should look for the hydraulic system knob that controls the back lift speed. Chances are it got unscrewed to the point where it no longer engages. So, all you have to do is screw it back well.
4. Repair the Shear Pin when Losing Power Climbing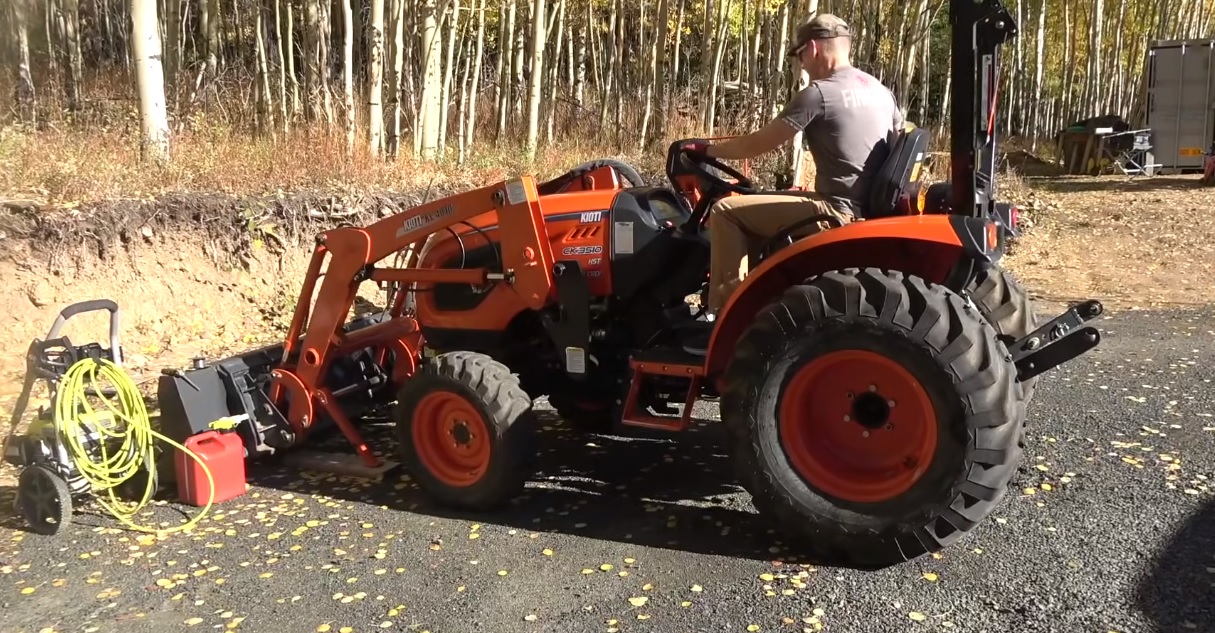 How'd you feel if you bought a powerful Kioti tractor, it's working fine, and suddenly it just loses power and won't climb a petty hill? It might as well make you mad if the machine won't budge even with a steady RPM.
Most often, this occurs due to a slipping clutch, which you can fix easily by readjusting it, as I've shown above. However, sometimes, this can result from loose pedals or, more specifically, an out-of-place shear pin.
In this second scenario, your engine and hydraulics may be working just fine, but your machine still slows down due to trouble in the linkage. This is because it makes your machine do extra pedal plays to advance.
So, here's what you must do to repair that shear pin.
Step 1: Locate the linkage that controls acceleration and look for a shear pin that connects to the spring and gearing in this linkage.
Step 2: Carefully knock the shear pin back into its proper place with a hammer.
Step 3: To expand the shear pin temporarily, insert the nail and move it back and forth.
If you don't feel certain about how careful you can be when doing this, you might want to watch this video for further help.
This should do just fine to reduce the excess pedal play and help restore the tractor's performance. Still, the solution is only temporary since the pin may fall out again. So, replacing it is the best thing to do.
---
Frequently Asked Questions
Do you have further queries about Kioti tractors and their problems? Here, I've answered a few common questions people ask that might help.
Are Kioti tractors good?
They generally are. Kioti tractors have long been known for their durability, versatility, and impressive power, making them quite popular among farmers and landscapers. Yet, just like any other power equipment, they may often have hiccups.
Should I buy a used Kioti tractor?
If you can find a reasonably-priced Kioti tractor well-maintained by its previous owner, then why not? However, I'd always suggest thoroughly inspecting it before buying, preferably with the help of a professional. You should also ask for records of any repair history.
Do Kioti tractors have frequent emission issues?
Kioti tractors use diesel engines that require DEF (Diesel Exhaust Fluid) to reduce emissions. So, there could be issues if there's a low DEF level or poor-quality DEF used. However, it's just as much as in any other engines of this type.
---
Everything You Need to Know about Kioti Tractor
---
Conclusion
Hopefully, the troubleshooting tips I shared above will save you time and effort when dealing with some common problems with Kioti tractors.
Yet, when the problems soar up beyond basic fix attempts, it's always a good idea to contact your nearest authorized servicing center.
And if there's a warranty, be sure to take full advantage of it before trying anything yourself. After all, professional hands are always more reliable.