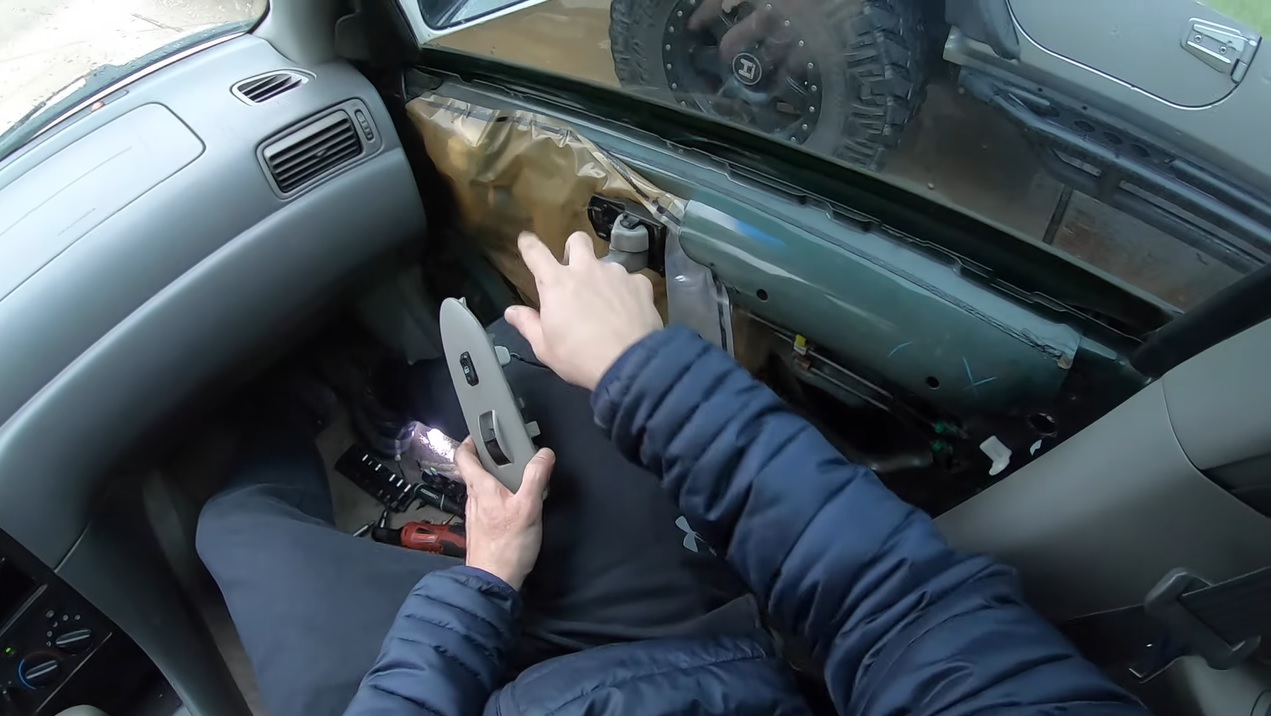 You have just parked the car outside a grocery store and are heading to buy your necessary items. Suddenly, you notice the power lock isn't responding, and you're stuck inside the car. It seems too frustrating, right?
I have seen countless people express concerns about power locks not working when the car is off. But why does it happen? The power lock may stop working due to several reasons; these include
Blown fuse,
Faulty body control module,
Bad cable wiring connections,
Damaged or failed relays
Bad actuators
Broken or defective door lock switch
Now, whatever the reason in your case, I guess the only thing you want is to unlock or lock the car as usual. If so, let me bring those hidden causes to light and eliminate them with my troubleshooting tips.
How Does A Power Lock Work When A Car Is Off?
Power locks always work in their standard working mechanism, whether the car is on or off. Most vehicles can be unlocked wirelessly using the lock.
It can also be unlocked using the key, the manual thumb lever on the door, and the button on the door. Well, car power door locks may seem like a straightforward concept, but the intricate mechanism that operates them is actually quite complex.
Phase 1: Signal Transmission Via Body Control Unit
When you press the door switch or key fob button, the body control unit receives the signal. The body control unit serves as the central system responsible for coordinating the position of the door lock.
It monitors all sources for any signals related to locking or unlocking. Once it receives such a signal, it promptly supplies power to activate the actuator.
Phase 2: Output by Actuators
The actuator and latch are connected by separate lock rods: one for attaching to the actuator and another for linking with the manual knob protruding from above the door.
Through this arrangement, both rods work together harmoniously to empower the actuator's functionality.
Inside this device, there is a tiny electric motor that turns gears, which drives a rack and pinion gear set connected to an actuator rod.
By converting rotational motion into linear motion, this mechanism unlocks your vehicle's door. To prevent any unwanted reversal, there is also a centrifugal clutch in place.
What Causes Power Locks Not to Work When Car Is Off?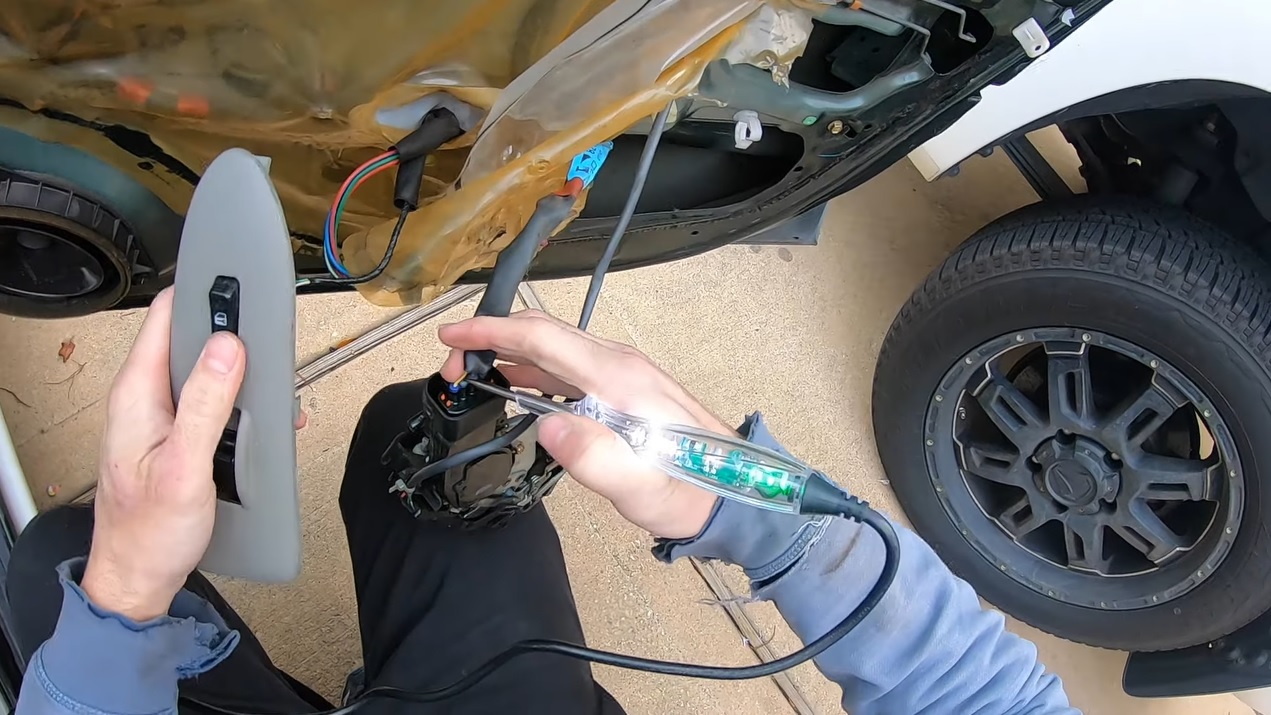 Let me clarify one thing here. You may notice people are talking about dead key fobs causing the power lock issue.
However, this is not applicable regarding a power lock that is not working only when the car is off. In the previous section, I mentioned that you can manually unlock the door without using the key fob.
So, you can't blame the key fob solely for this issue. Rather, it's caused by faulty or bad components related to the power lock. That's what I'm going to point out below:
Blown fuse
Fuses are tiny yet indispensable components in your car's electrical system. The high electric flow from the battery can damage the power lock system and its wiring. Fuses prevent such incidents by sacrificing themselves.
This means if the electrical flow becomes overloaded, the fuse will blow first and protect other vital components. In that sense, a fuse blowing out is a common scenario and, hence, a common cause behind malfunctioning power locks.
Broken or Defective Door lock Switch
Sometimes, your car's power lock may not work just because the door lock switch is broken, which you haven't noticed yet.
In modern cars, power lock switches come with a long lifespan. Yet, physical damage or moisture contamination can lead to the failure of the switch. In such cases, the actuators won't receive power.
Faulty body control module
As I described earlier, the body control unit receives the input signal from the battery as you press the power lock switch and delivers an output signal to the ignition system.
This critical component can fail due to bad wiring, short circuits, or, in some instances, hard collisions. When the body control module fails, the door lock won't receive; ultimately, you won't be able to lock or unlock the door.
Bad cable wiring connections or door linkage
From the power source to the door lock system and even inside the power door lock itself, wiring connects each portion to the other.
Bad cable wiring means the power lock won't receive power due to an interrupted connection. The same thing goes for bad linkage as well. The ultimate result is a stubborn power lock.
Damaged or Failed Relay
Power lock circuits consist of relays. You can compare these relays with a switch. The main job of this component is to drive power to actuators that finally push the lock and unlock mechanism to completion.
Now, think if one of your door's power lock circuits has a damaged or failed relay. Yes, the result is obvious.
The actuator won't receive power, and you will be stuck inside or outside the car no matter how much you push the switch and pull the lever.
Bad actuators
A door lock actuator can be described as a reversible motor, or in some cases, a solenoid, equipped with gears that effectively control the operation of the door lock.
As time passes, all sorts of gunk, like moisture, oil, dust, and debris, can sneak into the actuator or mechanical links. Consequently, rust formation may occur, leading to a gradual weakening of the mechanical links and the potential failure of the actuator.
Additionally, physical damages due to accidents or other means can also lead to door lock actuator malfunctions. In some cases, the gears inside the actuator can be broken or missing; this is also considered a bad actuator issue.
What To Do When Power Locks Are Not Working When Car Is Off?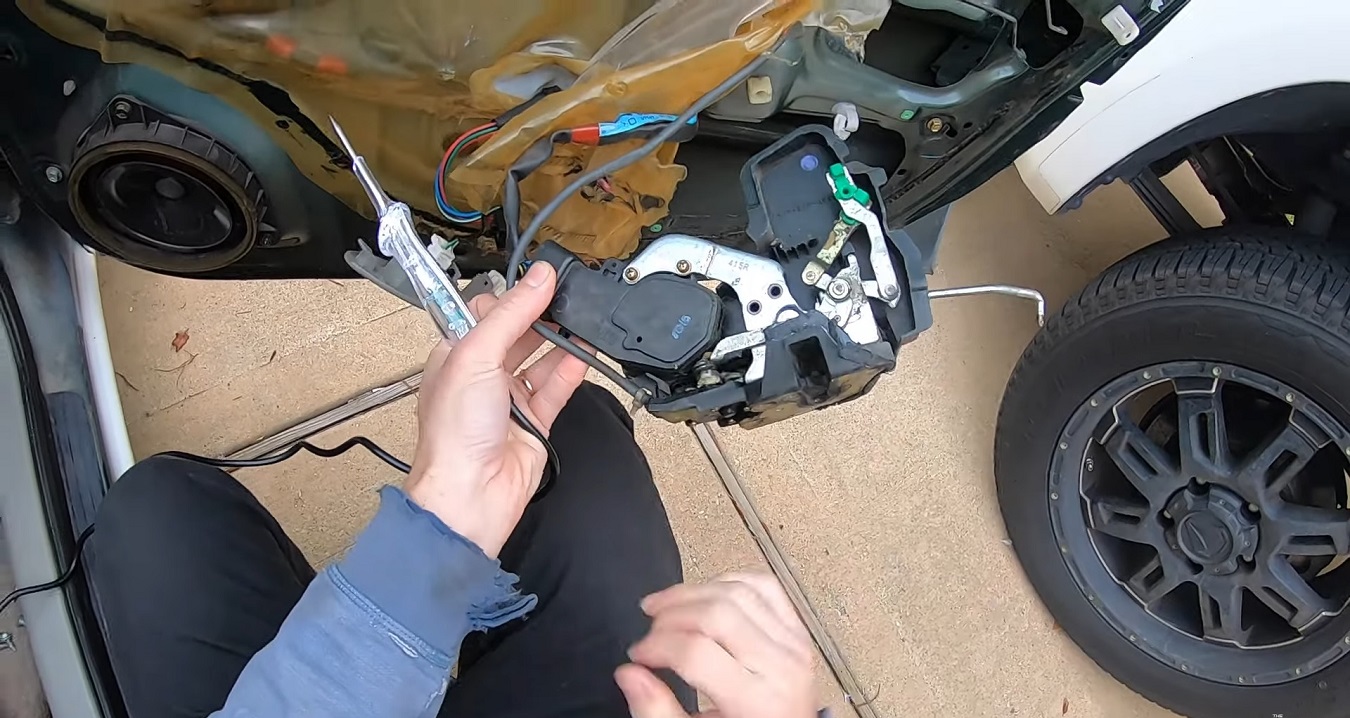 Before describing what to do if the power lock doesn't work when the car is off, check if your car's power lock isn't working only in one door; you're slightly in the safe zone. But if all the door locks aren't working, you have a more complex issue ahead.
However, no matter what the scenario is, I suggest the following troubleshooting steps here. Just remember, if the issue is at only one door, your troubleshooting should be concentrated on that specific one.
Step 1: Visually Inspect the Lock and Surroundings
Believe it or not, sometimes a bit of hard dirt inside the power lock can seize the whole locking mechanism through physical obstruction.
This is an easy-to-fix yet overlooked thing among drivers, even though I didn't mention it in the causes section.
But here, I recommend you inspect the lock and surroundings to check for any obstructions as your first duty. Who knows? Maybe a tiny piece of debris was out of sight, but removing it can make you smile.
Step 2:  Lubricate Power Locks
If your visual inspection reveals debris or heavy rust formation inside the power locks, regardless of the number of doors, lubricating power locks can sometimes get them back to work.
You might not want to lay in the operation theater for heart surgery on the first attempt, right? So, lubricate the lock using a silicone-based spray before approaching further steps.
Step 3: Check the Door Switch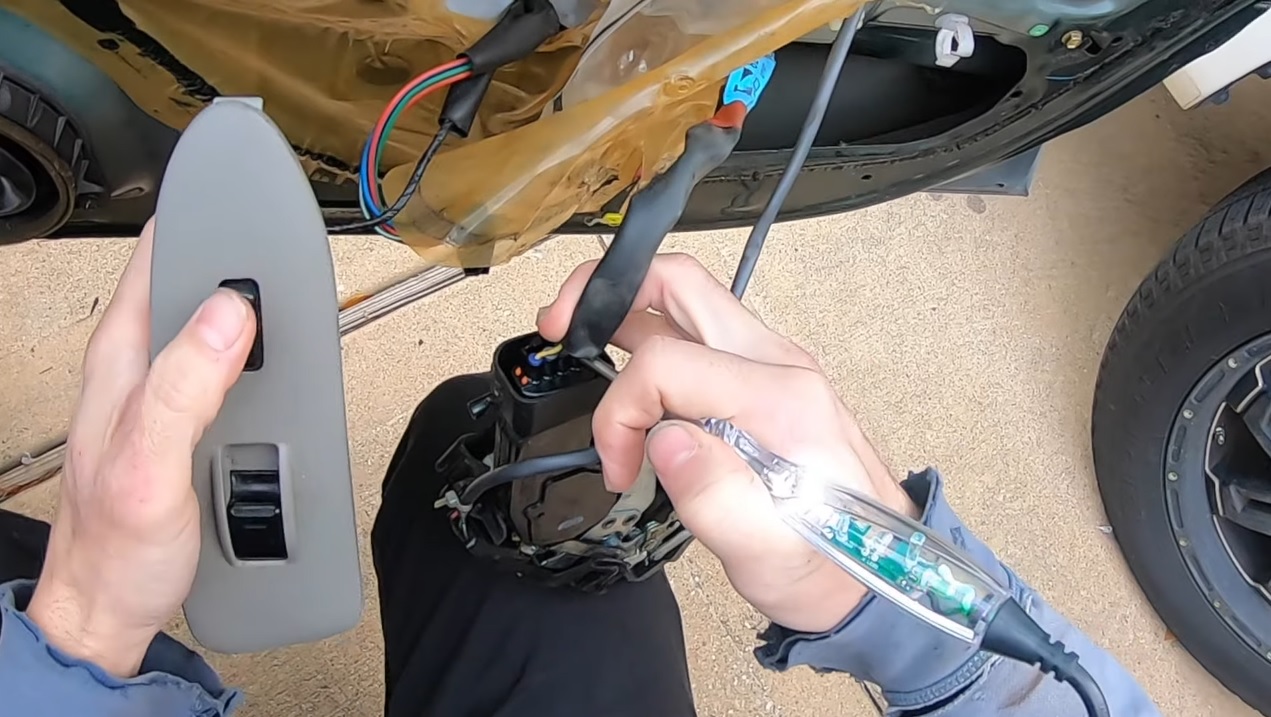 Check each door switch to determine whether the problem is in only the driver's side or others. However, getting all door switches damaged or faulty at once is quite unusual.
It can happen that the switch on the driver's side is faulty, but you're mad without checking this simple thing.
If the switch has any sign of physical damage or shows an abnormal voltage reading on a multimeter, replace it.
Step 4: Inspect Each Linkage and Wiring Connection
The linkage and wiring connections are prone to be burnt or damaged over time. So, before you get your hands on complex parts, I suggest checking each wiring connection and linkage thoroughly.
If you find burned or damaged wiring, replace it, which may resolve your issue.
Step 5: Verify Fuses
If your inspection doesn't reveal anything wrong yet, you should check those tiny fuses installed in each power lock. Maybe they have sacrificed themselves, and the power connection is lost.
The number of fuse for power locks may vary depending on your car model. Check the owner's manual to find out the particular fuse and see if it's blown out.
Step 6: Check Actuators
You're on this step; it means something bigger has happened to your car's power lock. Don't panic; you can easily test the actuators and replace them.
Just confirm whether the actuator for a particular door or all actuators is damaged or faulty. If your inspection reveals such an issue, replace the actuator immediately.
Step 7: Test the Body Control Unit
Does nothing seem problematic till now? Or the power lock isn't working even after resolving the above-mentioned causes?
Maybe the big guy Body Control Unit needs your attention. Nothing will work if the problem lies in it.
You can test the body control module using diagnostic tools designed for BCM testing. Once you have confirmed that your car's BCM is faulty, replacement is typically necessary.
How Much Does it Cost to Fix Power Locks Not Working Issue?
The cost of fixing power locks in your car varies depending on several factors, for instance, the make and model of your car, the extent of the issue, the price of parts, labor cost, etc.
I have structured a table below that shows an approximate price range for repairing dysfunctional power locks:
| | |
| --- | --- |
| Cost Section | Approximate Amount |
| Labor or mechanic cost | $75-$150 |
| Replacing actuator | $50-$200 |
| Wiring repair | $100-$300 |
| Fuse replacement | $10-$20 (per piece) |
| Replacing the Body Control Module | $402-$972 |
| Door Lock switch replacement |  $86-$90 |
How Do You Reset A Power Door Lock?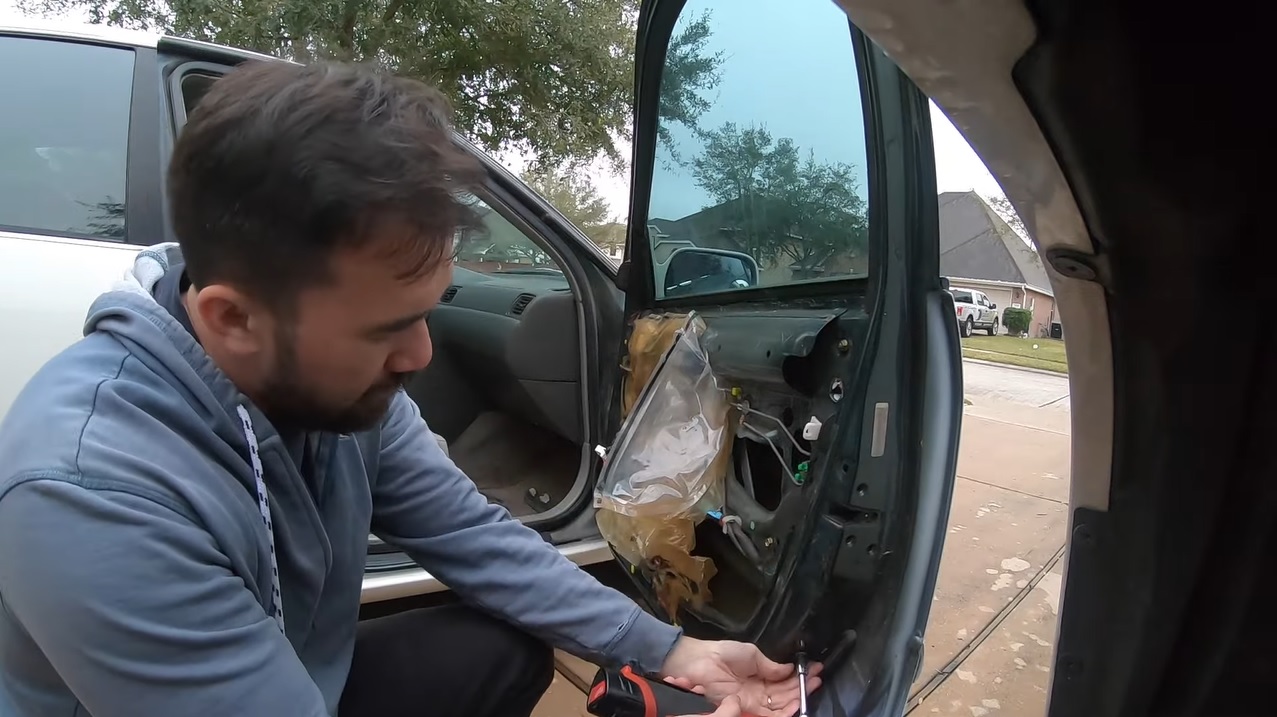 Resetting a car power door lock may seem daunting, but it's quite simple once you know what to do. I suggest two methods for resetting the power as follows:
Method 1: Battery Disconnect and Reconnect Reset
The simplest way to reset power locks is to disconnect the car battery for 10–15 minutes and then reconnect it. This can help to recalibrate the system and fix any minor glitches causing the power door lock problem.
Method 2: Button Sequence Reset
You can try another method to reset the power lock in some cars, such as Lexus. First, firmly press and hold down the unlock button for approximately five seconds.
Once released, proceed by pressing and holding down the lock button for an additional five seconds before releasing it.
After completing this process diligently, you should be able to effectively utilize your fob to unlock and open your car's doors effortlessly.
Maintenance Tips To Keep Power Lock Working Properly
Before you find yourself stuck inside or outside the car due to a stubborn power lock, I recommend following some tips to prevent such issues. Check them below:
Ensure periodic maintenance of your car and its electrical systems.
Be aware early if the power lock works intermittently
Never ignore unusual noise coming from the power lock while operating.
Use lubricant occasionally and keep the lock and its surroundings clean.
---
FAQs About Car's Power Lock
While researching and reading different forums I've found some aspects that need clear clarifications. Hopefully, the answers below will enrich your understanding of car power lock malfunction.
Can I still manually lock or unlock my doors if the power locks are not working?
Yes, most vehicles have manual door locks as a backup option. Refer to your owner's manual for specific instructions on how to use them.
Can I fix power lock issues myself?
If you have automotive repair and diagnostics experience, it may be possible to fix simple problems like a blown fuse or loose wiring. However, complex issues should be addressed by a qualified technician.
Can extreme weather conditions affect the functioning of power locks when the car is turned off?
Extreme weather conditions such as freezing temperatures or excessive heat can potentially impact electrical components, including power locks. Ensuring that all vehicle systems are properly maintained in such conditions is important.
---
How Power Door Locks Work – (Expert Video)
---
Final Words
Regular maintenance and care for your car's electrical systems, including the power locks, can help prevent such issues from occurring in the first place. Keep your power locks clean, lubricated, and free from debris, and be vigilant about any unusual noises or intermittent functioning.
By following the troubleshooting steps outlined above, you can often diagnose and fix the issue, saving you both time and money.
However, if you're unsure about the complexity of the problem or lack the necessary automotive repair skills, it's advisable to seek the expertise of a qualified technician.