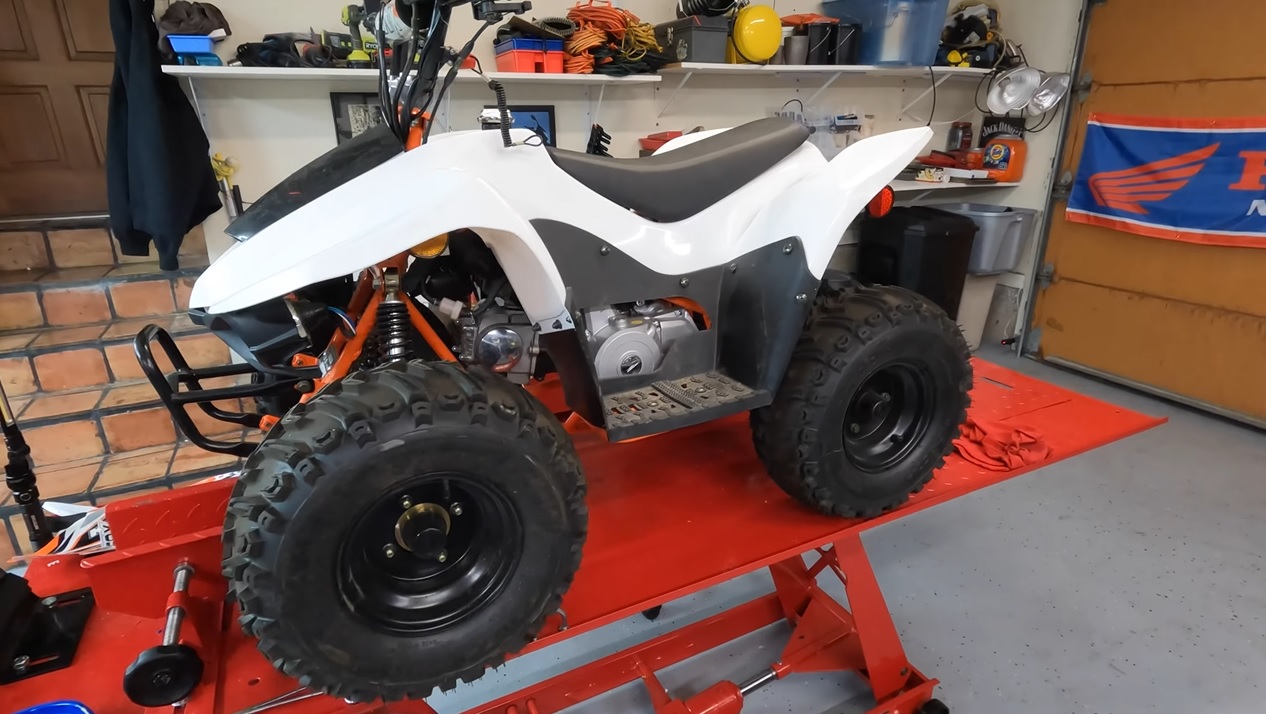 In my years of working on automobiles, I've also tackled many ATVs, including those for kids. Most notably, owners got me looking into several Kayo Fox 70 problems, one of the most popular choices for young riders.
Despite how impressively built, some common problems Kayo Fox 70 ATV users face includes its little or no low-end power, ignition refusing to kick in, trouble climbing, and fuse issues. However, these can typically be fixed by fine-tuning the carb's idle mixture screw, re-sealing the wiring, or replacing the fuse.
Now, working through these Kayo Fox 70 issues might seem overwhelming, but I have a few tricks to help you. Read on to learn them all.
Kayo Fox 70: Overview of Specifications
With a compact size, 70cc engine, and auto transmission, the Kayo Fox 70 is aimed at young riders just starting out with their off-road spinning. And its safety tether and a remote kill switch are merely the highlights.
Let's have a glance at the key specifications of this kid-oriented ATV from the table below.
Engine:

4-stroke (SOHC)
70cc
Electric Ignition
Air-cooled

Drivetrain:

Fully automatic transmission
Final drive – Chain
Single-speed 2×4

Brakes:

Hydraulic disc brakes
(Front and Rear)

Tires:

Front – 16×8–7-in.
Rear – 16×8–7-in.

Fuel capacity:
Dimensions:

49.8×31.4×34.6 inches overall
4.5-inch Ground Clearance
30.3-inch Wheel Base
23.8-inch Seat Height

Weight:
Suspension:

Non-adjustable front shocks
Single adjustable rear shocks
4 Common Kayo Fox 70 Problems and How to Fix Them
Like every other problem, the first step to solving problems on Kayo Fox 70 is to identify them. Once you know the underlying cause, assessing the situation and coming up with a solution becomes pretty straightforward.
Here, I'll discuss four of the most common Kayo Fox problems and how I recommend fixing them.
1. Little or No Low-End Power
Let's start with what people encounter most often – a significant drop in power, especially in the lower end. They say it pretty much feels like the ATV is moving like a slug up a slight slope.
When this happens, the machine may always need a little push to get going, which is exasperating for both you and your kid. Or worse, it may suddenly stop running even after a perfect start.
From what I've seen, this mostly results from the carburetor's idle mixture screw getting out of tune. Here's what I'd do to tackle it.
Step 1: Start by blowing out any blocked idle jet using an airline.
Step 2: Oftentimes, a clogged petcock prevents the carburetor from filling. So, it's a good idea to clear that up as well.
Step 3: Now, you need to readjust the carb's idle mixture screw. Check the below video to see how it's done.
Surely, the process seems a bit complex, especially if you need a replacement carburetor. So, you might want to go for professional help instead.
While the replacement may cost around $30-$50, labor costs may differ based on where you live.
2. Ignition Won't Kick in
Like this guy on the atvconnection forum, many Kayo Fox 70 owners complained about how their ATVs simply refused to start. The ATV runs great, but right when you think it would kick off – there's no spark.
Most often, this happens because of a faulty remote box or a shorted kill switch. However, it's not uncommon for the ignition system to go bad altogether. Here's how you'd want to deal with it accordingly.
Step 1: First, see if there's a spark after disconnecting the remote/tether kill switch. If there is, you likely have a faulty remote box.
Step 2: Reconnect everything, making sure the kill switch is pushed all the way in, and try again.
Step 3: If you see no change, trace back to the wiring to see if the harness has a shorted wire.
Step 4: You might see a tape coming loose or an exposed wire around the bind, causing the short. Sealing that up should do the job.
Now, if doing the above four steps won't fix your problem, you'll want to get your ignition system checked by a professional. And if it's bad, replacing it is your only solution.
3. Trouble Climbing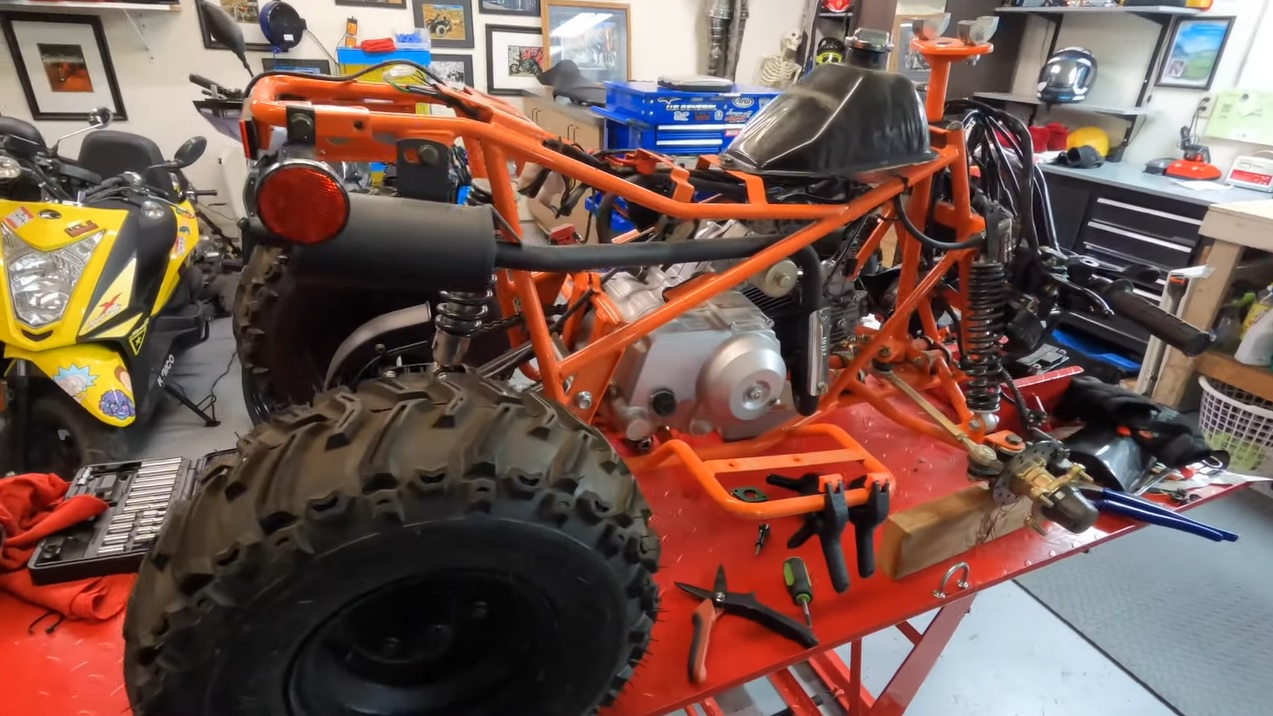 I've also seen some little kids getting upset because their Kayo Fox won't even climb up a slight hill in their backyard. While climbing up hills isn't what the machine is intended for, that is a strange compromise for sure.
Usually, this occurs due to a soft power take-off or, more specifically, a minor clutch issue, which keeps the ATV from reaching full power immediately. Here's how you can easily fix it up yourself.
Step 1: Find the snub nose screw behind the throttle.
Step 2: Twist the screw counter-clockwise with a pair of pliers.
Step 3: Unscrew it only as much as to give it a bit more room so it can generate more power.
4. Fuse Issues
Sometimes, the Kayo Fox 70 may also stop running even if the battery is fine, the ignition is okay, and everything else appears just fine.
Most of my clients lose it when their ATV suddenly goes "dead" like this. But, in most cases, the problem is just a blown fuse. Here's how to go about troubleshooting it.
Step 1: Inspect the main fuse and all connections on the thick wires coming from the battery.
Step 2: If they're okay, see if the fuse is supplying power to the ignition switch. There won't be any spark if it isn't.
Step 3: If there's no power, the problem is indeed a blown fuse. So, all you have to do is replace it.
Is the Kayo 70 a Reliable ATV?
Well, like everything else in life, the Kayo 70 ATV has drawbacks, but with proper troubleshooting and maintenance, this bike can really hold its own. Here's a list of features that make the Kayo 70 a reliable ATV for youngsters:
Fully automatic transmission for smooth handling
Durable and solid construction
Suitable for beginner riders with its safety brakes
Compact design for easy maneuverability
Adjustable speed restrictions for younger riders
Economically priced yet good overall performance
Yet, you may also want to consider the following negatives before investing in this ATV model.
Common carburetor and ignition problems, as I've discussed above
Some have noted stability issues, especially on uneven surfaces
Lower power range may disappoint riders seeking a higher speed
May lose power when climbing, even on small slopes
Should You Buy a Used Kayo 70 ATV?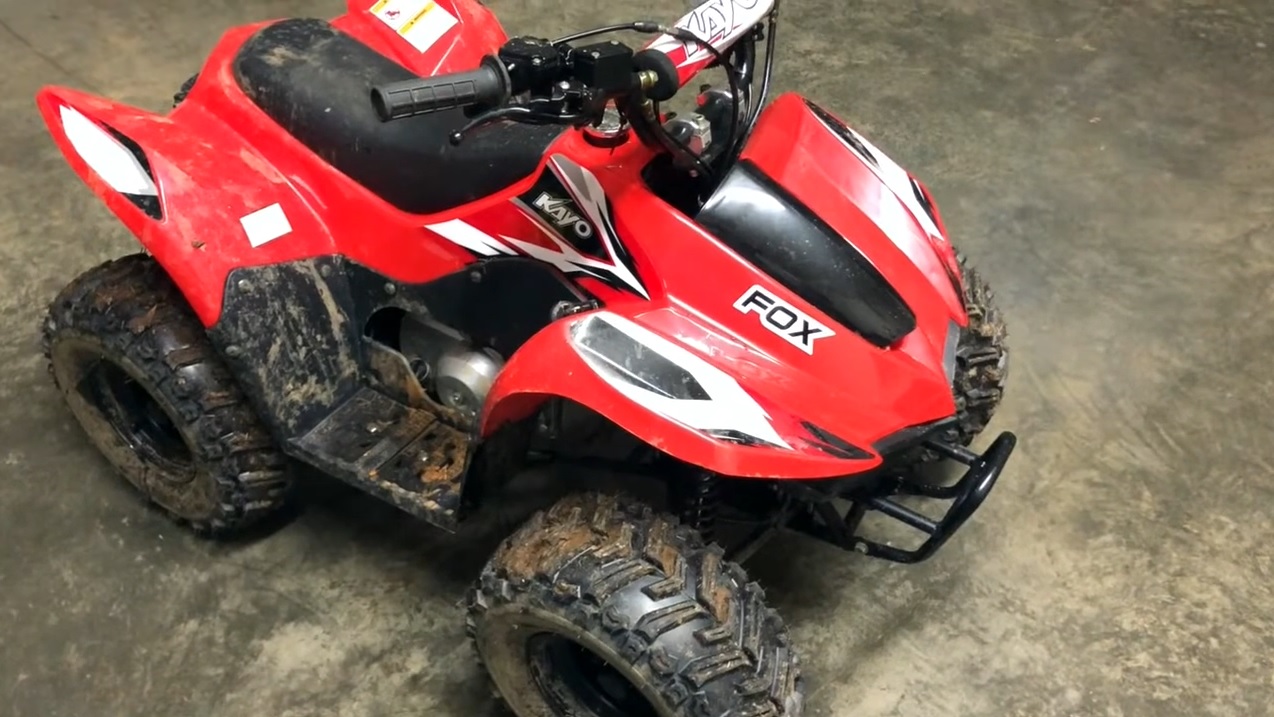 If the features seem satisfactory enough, buying a pre-owned Kayo 70 can save you a lot of money, especially if the previous owner took good care of it.
But like any used machine, it may come with risks like worn-out parts, latent damage, or fraying wiring. So, here are some things I'd recommend considering when buying a used Kayo 70 ATV:
Ask for all service records and analyze how well the machine was maintained.
Even if the ATV seems perfect, get it inspected by a professional mechanic for any hidden issues.
Check for any potential repairs due to soon-to-fail components and assess the cost.
Take a test drive to test how smooth the ride feels, especially when on small slopes.
Take the time to research and explore more options, so you get the best product at the best price.
---
Frequently Asked Questions
Have you got further queries about Kayo Fox 70 problems? Here, I've answered a few commonly asked questions that may help.
What is Kayo Fox 70's Top Speed?
The Kayo Fox 70 is designed for young riders, but at 25 km/h, it's noticeably a lot faster than most competitors at its price range. Besides, it has a throttle governor to match the child's skill and experience level.
How much fuel does the Kayo Fox 70 consume?
While the machine has a 0.55-gallon capacity, it's hard to say the exact amount of its fuel consumption rate. Yet, based on what a few fellow ATV riders said, it typically takes 4 litters for intense use.
Are there any performance upgrades available for the Kayo Fox 70?
Yes, there are several performance-boosting options, although they are limited. A common choice is replacing the standard carburetor with a more advanced one, allowing better fuel management.
---
Conclusion
So, there you have it – the commonly encountered Kayo Fox 70 problems and how to deal with them.
Is it worth doing all these troubleshooting steps by yourself? That's completely up to you. If you have the experience and you feel comfortable, then go ahead. Otherwise, don't hesitate to consult with a professional.
And remember, it's also important to inspect and tune your Kayo Fox routinely to prevent these problems from happening.