Oil filters play an important role in the performance of your vehicle's engine by removing dirt and debris from the oil. But not all the oil filters you'll find in the market are perfect for this duty.
Some of those can't deliver the expected performance.
But Motorcraft oil filters are not like those. If you're looking for some of the most renowned oil filters, you'll find Motorcraft there.
Motorcraft offers multiple oil filters for multiple vehicle models. With performance, oil filters from Motorcraft deliver a number of other benefits. That's why these are praised by a lot of users from around the world.
When these are delivering such satisfactory performance, a question is common- who makes Motorcraft oil filters?
If you're also someone having a similar question, let's know who makes these high-performance oil filters.
Who Makes Motorcraft Oil Filters?
Motorcraft oil filters are recommended as aftermarket replacements for vehicles from Ford. This is a Brand under Ford Motor Company. So, the oil filters from this brand are actually owned by Ford.
Motorcraft filters are designed and engineered by them. But Ford doesn't directly manufacture these filters.
Motorcraft filters were previously made by Purolator for a long time. But recently Ford has shifted the responsibility of manufacturing Motorcraft filters from Purolator.
The exact reason is not known. But according to some enthusiasts, Ford has changed the manufacturer for Motorcraft filters because Purolator was facing some huge issues with the filter media recently.
The OE filters for Ford are made by Champion Labs. So, it is supposed that the aftermarket Motorcraft oil filters are also being made by Champion Labs nowadays.
I don't know the exact information about it. But there is a huge chance that both the factory-installed and aftermarket oil filters for Ford are now being manufactured by Champion Labs.
If this is so, you can expect the exact OE performance from these aftermarket series of oil filters. 
What has Made Motorcraft Oil Filter the Best for Ford Vehicles?
There is no doubt that Motorcraft oil filters are one of the best aftermarket oil filters for Ford. But what has made it the best?
If you're interested to know the reason too, let's talk about that.
The first thing is- Oil filters under the brand Motorcraft are directly designed, engineered, and marketed by Ford. It is obvious that Ford will sell the best fits for their vehicles.
Another thing is the oil filters are designed to continue supplying oil even when the weather is extremely cold. The valves are made of silicon in these oil filters. As a result, these come with a huge cold/heat resistance (from -75-degree F to +350-degree F).
These are two plus points that have made the oil filters from Motorcraft the best fit for Ford vehicles.
Also, the filter media is perfect for catching maximum impurities that can be found in the oil.
You'll find many other benefits that are provided by these filters. These are durable, easy-to-install, and large for better performance.
So, you can depend on these oil filters for the well-being of your vehicle engine.
Related Post: Who Makes Polaris Oil? Expert Overview
Top Rated 2 Motorcraft Oil Filters Reviews
1. Motorcraft FL2016 Oil Filter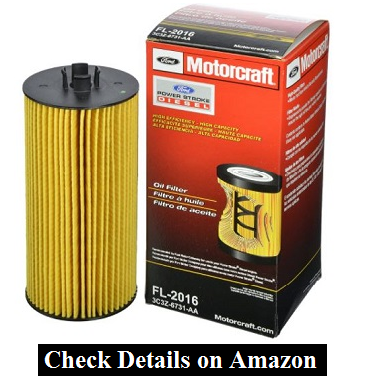 This one from Motorcraft is a perfect OE replacement for 6.0 Diesel engines. It is made to fit without any hassle and work as perfectly as the OE one.
If you want your engine to perform better and last longer, you should pick this one. It comes with a filter with unbelievable capability. It is designed to catch all the impurities the oil may have. As a result, your vehicle engine gets pure oil and performs as expected.
It is designed with pressure-relief valves. These valves make sure that the contaminated oil is not coming back into the engine again. Also, the valves are able to continue the oil supply even if the filter is clogged or the weather is extremely cold.
Anti-drain back valves are there to prevent oil drain from the engine and filter.
The steel-made outer part is there to ensure précised fit and maximize protection. To keep the rust away from it, there is a color coating on it.
Pros
Made to be a perfect fit
Can withstand extreme weather
Anti-drain valve for preventing oil drain
Rust-resistant and durable
Cons
Doesn't come with a cap. Requires stock cap.
2. Motorcraft FL2051S Oil Filter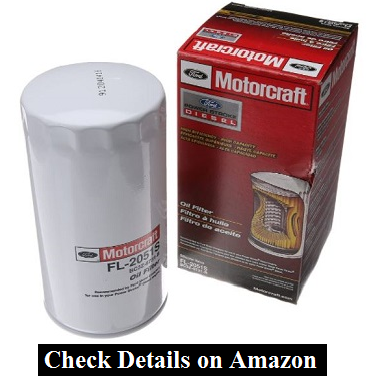 If you ever look for an oil filter for the 6.7 diesel engine of your Ford vehicle, you must go for this one from Motorcraft.
Like other oil filters from Motorcraft, pressure-relief valves are one of the best features of it. These valves don't allow it to stop oil flow even in the harshest weather condition. Also, these valves keep contaminated oil away from coming back to the engine.
It comes with a large media area so that your engine gets enough oil without interruption to run properly. The filter media is designed and made to catch almost all the contaminants that can be in the oil.
The overall housing comes with a strong structure for durability and flutings at the end to make it easy to remove. The steel center tube is strong and durable. So, it doesn't collapse under pressure. The strong bindings among the parts increase durability and pressure-taking ability.
Being a quality oil filter from Motorcraft, it comes with all the valuable and efficient features that other Motorcraft oil filters offer. So, you can put your trust in it without being worried.
Related Post: Who Makes Central Pneumatic Air Compressor?
Pros
Comes with multiple efficient technologies
Priced reasonably
Made to be durable
Easy to install and uninstall
Cons
Could but don't perform better than the OEM one
---
Video Review for Ford Motorcraft Oil Filter
---
Final Verdict
Motorcraft is a dependable name in the field of aftermarket oil filters. Searching for a quality oil filter for your Ford vehicle will surely take you to Motorcraft.
Being designed and engineered by Ford, these filters can deliver exactly what is expected. So, if you need a replacement oil filter for your ford, go for Motorcraft.