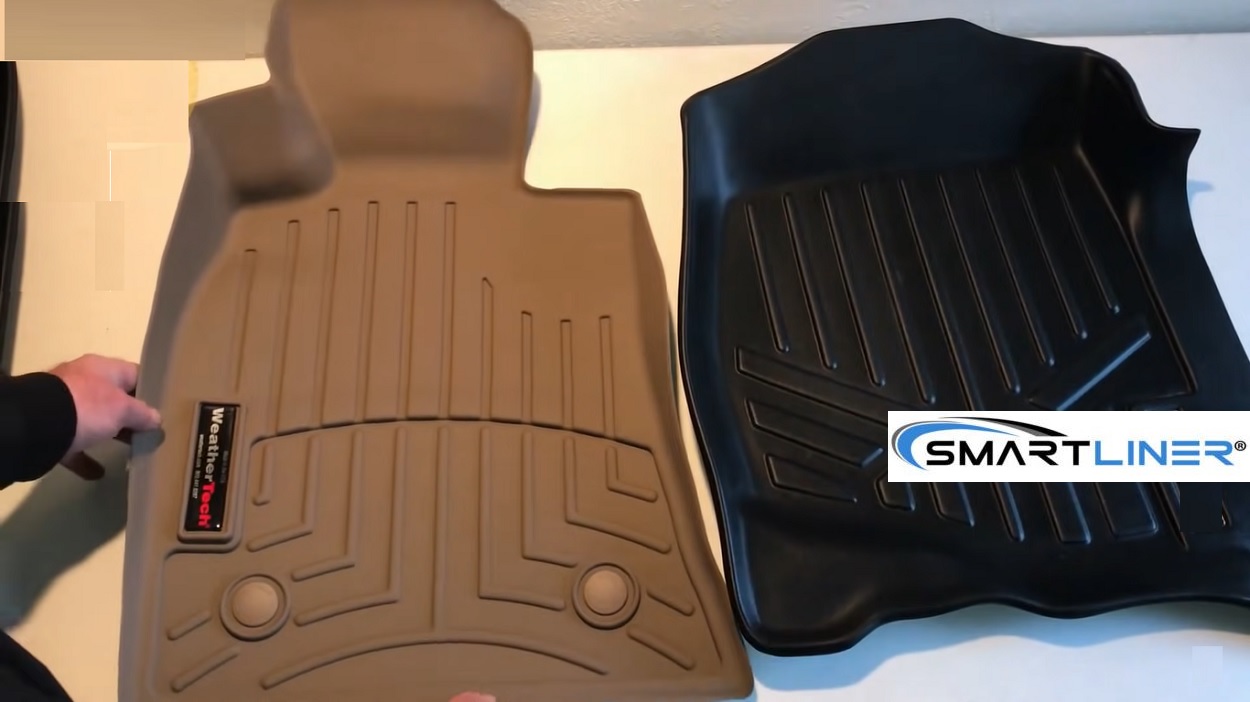 When it comes to protecting the vehicle's interior, especially the floor, getting good-quality floor mats is your best option. And when you think about getting floor mats for your cars, Smartliner and WeatherTech are two of the most reputed and reliable brands.
But as you compare Smartliner vs WeatherTech floor mats, which one do you think is more effective for protecting vehicle floor, more durable, without costing much? Well, both Smartliner and WeatherTech floor mats are robust, often customizable, fit most vehicles, and are budget-friendly.
However, when you battle to buy only one of them, which one seems more suitable? Or, which one is worth buying? Let's find out from this article!
Brand Overview of Smartliner and WeatherTech
Before I go further explaining the differences between Smartliner and WeatherTech floor mats, let's get to know the brands.
Smartliner
Before it was known as Smartliner, the company was known as Maxliner. This Thailand-based company was launched in 2009, and the company soon got recognition for manufacturing high-quality automotive accessories. However, it became more popular for manufacturing custom-fit vehicle floor mats.
Then in 2018, the company rebranded and changed its name to Smartliner. And now, it is a global yet family-owned business, and Smartliner distributes its products all over the United States and across the world.
WeatherTech
WeatherTech was founded in 1889 by David MacNeil, who is still the company's CEO. Not satisfied with existing vehicle floor mats, MacNeil began developing floor mats for his company with imported materials from England. But it is a US-based company.
The company began its journey with custom-fit floor mats that use laser measurement technology. And the floor mats are made with top-notch and eco-friendly material. They are resistant to mud, dirt, and spill and are easy to clean.
Smartliner Vs WeatherTech Floor Mats: Key Differences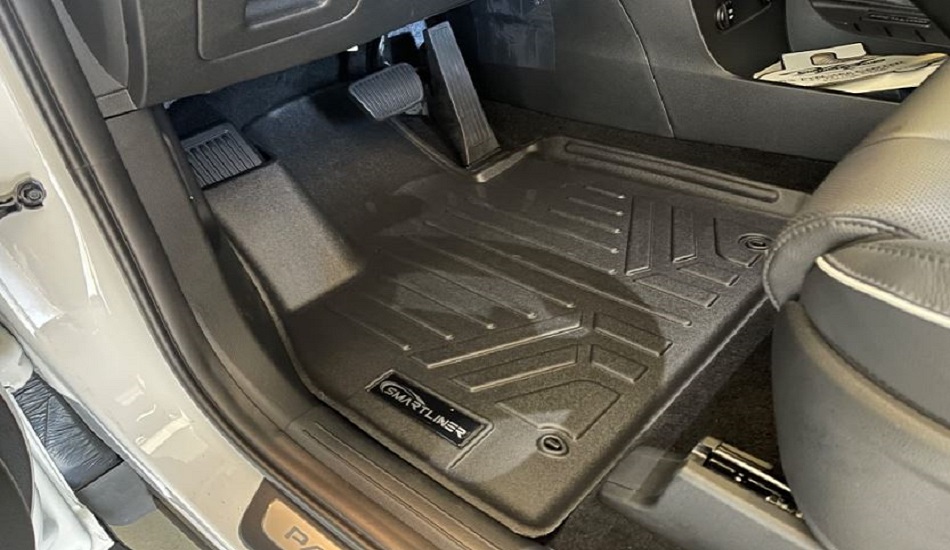 Here are some of the key differences between Smartliner and WeatherTech floor mats-
Manufacturing Technology
Smartliner uses upgraded computer-generated modeling technology and equipment to manufacture its floor mats. The mats are thick and have multiple protective layers.
On the other hand, WeatherTech uses advanced DigitalFit technology to manufacture its mats. The construction process ensures better performance and user comfort.
Material
The fact that makes Smartliner floor mats safe is because of its low-density plastic rubber with mixed polyethylene material. They are recyclable and odorless. Though the material makes the mats semi-flexible, they can still be quite rigid.
And WeatherTech uses High-Density Tri-Extruded (HDTE) as the material for making its floor mats. They also contain Advanced Heavy-Duty Thermoplastic Elastomer (TPE), which makes the mats highly resistant to wear and tear.
Design
The Smartliner floor mats have a sleek and smoother design. Their molded 3D shapes give the vehicle floor a better and more stylish appearance. The raised edges help keep all dirt and spill on the mat. And if you are picky, you can choose a different design as there are other options.
The floor mats from WeatherTech are not very different in this regard. Like Smartliner, WeatherTech floor mats have a modern design and appearance. The designs are ergonomic, and you can choose from other available options as well.
Fitment/Compatibility
Since Smartliner uses computer modeling, the fitments are always near perfect. However, Smartliner offers only custom-fit floor mats and they cannot be trimmed to resize if needed.
But, unlike Smartliner, WeatherTech's digital fit ensures both custom-fit and trim-to-fit floor mats. As these mats can be trimmed and resized to ensure better fitment, they are more convenient to use.
Installation
Installing both brands' floor mats is pretty much the same. They don't require any tools, and you can just set them up on the floor as they are. The only difference the mats make here is part of the design.
The WeatherTech floor mats feature extruded cleats at the bottom area. And this design helps keep the mat more secure on the floor as you install them and resist slipping.
Maintenance
What makes it easier to maintain both floor mats is their easy-to-install feature. You can take them out just as easily as you put them in. Both brands' mats are easy to clean as well.
You can occasionally wipe them clean with fabric or a brush. Or, you can clean them better by washing them with a water hose or soapy water.
Cost
One of the key differences between these floor mats is their price. While Smartliner mats come at a pretty reasonable price, WeatherTech floor mats are high-priced.
In most cases, you can get yourself a Smartliner 2-row floor mat set for $120-$140. And buying floor mats for 3-row vehicles will still cost you less than $200.
On the contrary, WeatherTech will cost around $135 just for single-row floor mats. The more row sets you buy, the more it is going to cost you.
Warranty/Return/Refunding
Smartliner offers a limited lifetime warranty for its floor mats and a refund for factory or shipping damages. Customers can also return the mats, but it has to meet certain terms and conditions. And in case of exchange or replacement, customers have to bear the shipping costs.
And as for WeatherTech, the company has a 30-day return policy under a few terms and conditions. And its products come with a 3-year and lifetime limited warranty. The brand will also offer a free replacement in terms of manufacturing or shipping damage. Sometimes, they even offer free delivery on floor mat purchases.
>> Buy Floor Mats from Amazon <<
Smartliner Vs WeatherTech: Comparison Table
If you don't have enough time, don't miss checking out the comparison table below to get overall ideas about Smartliner and WeatherTech floor mats.
| | | |
| --- | --- | --- |
| Features | Smartliner/Maxliner | WeatherTech |
| Material: | 100% recyclable blended plastic polyethylene and rubber | 100% recyclable High-Density Tri-Extruded (HDTE) material |
| Design: | Sleek channels and raised edges | Advanced surface channeling, raised edges, pronounced lips |
| Fitment: | Custom-fit only | Custom-fit and trim-to-fit options |
| Density: | Low-density | High-density |
| Thickness: | Thin | Thick |
| Color Options: | 4 | 4 |
| Weight: | Comparatively lightweight | Slightly heavy |
| Maintenance: | Comparatively narrow grooves, yet easier to clean | Shallow grooves are easier to clean |
| Average Price: | $50.99-$120 | $60-$170 |
| Warranty: | Limited Lifetime Warranty | Limited Lifetime Warranty |
| Country Of Origin: | Thailand | Bolingbrook, Illinois USA |
Pros and Cons Of Smartliner Floor Mats
Pros
The thermoplastic material used in the mats makes them durable.
Smartliner offers custom-fit mats for better protection and fitness accuracy.
Raised edges keep all mud, dirt, and spill in the mat and prevent spoiling the floor.
Can be cleaned easily with soapy water or hose spray.
Budget-friendly option.
Cons
Limited color variations often do not meet customers' expectations.
Flatting out the mats takes quite some time.
Less popular than WeatherTech.
Pros and Cons Of WeatherTech Floor Mats
Pros
Laser measurement systems offer more custom-fit accuracy.
High-density material offers more resistance against water, snow, dust, and spills.
Easy to clean and maintain.
USA-based company, and thus it makes the products more reliable
The floor mats are very durable and robust.
Cons
Comparatively more expensive.
Offers limited warranty.
---
Smartliner And WeatherTech: Top Product Reviews
So, what are the best products of Smartliner and WeatherTech?
Well, while both brands manufacture excellent and reliable vehicle floor mats, the products often vary, especially in material and design, depending on your vehicle model and size. Nevertheless, from my personal experience, here are the top products from both brands that I would recommend.
1. Smartliner Custom Fit 2-Row Floor Mat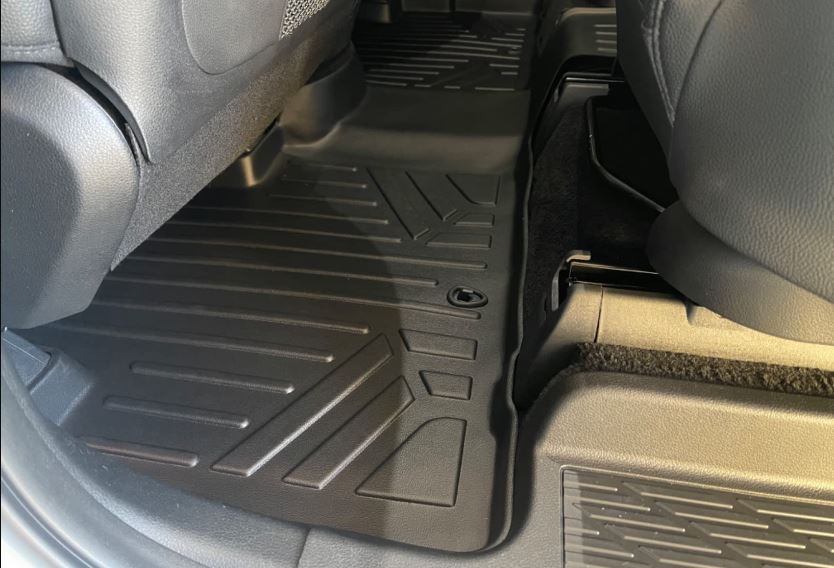 If your vehicle has bucket seats, you should not miss the Smartliner Custom Fit 2-Row Floor Mat. The mats are durable and reliable for protecting your vehicle floor in every possible way.
The mats have a polythene blend which offers multiple layers of protection. Their sleek and ergonomic design offers you more comfort. Besides, their custom-fit design can easily protect your vehicle floor. Moreover, the mats are recyclable and completely odorless.
However, while Smartliner is known for offering budget-friendly floor mats, this one is on the expensive side. But for the quality and performance you get, it is worth it.

2. WeatherTech Front Floor Liner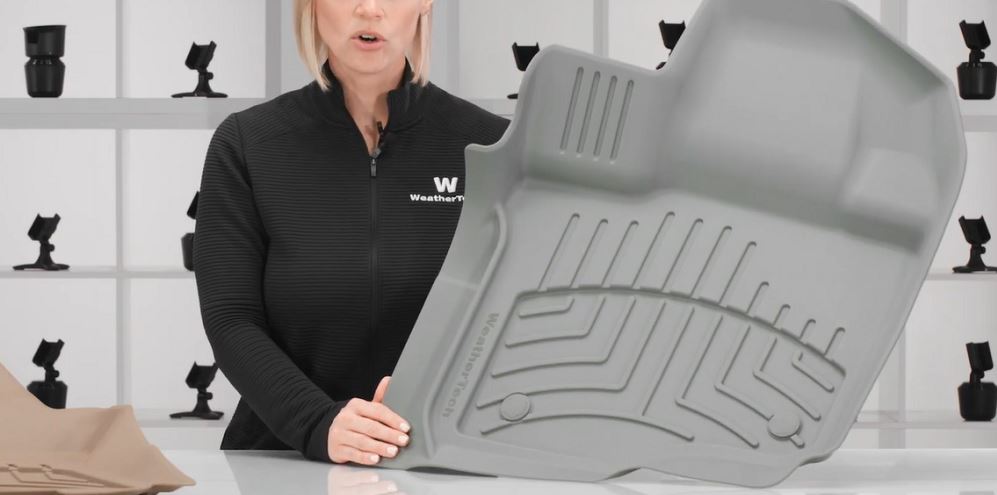 I must admit that WeatherTech always overshadows most other brands due to its top-notch material, design, safety, and overall performance. And this one is one of the most popular WeatherTech vehicle floor mats in the market.
Specifically made for the 1st row, the mats come with a vehicle fitment customizable size by measuring the vehicle with their laser system. And the design is an absolute winner with raised edges, which contains all the spills and prevents them from getting on your vehicle floor. That also makes the mats easy to clean up.
The best part is the retention devices, which ensure the mats remain secured to the vehicle floor and do not slip. However, the floor mats from WeatherTech are quite expensive.

---
Final Verdict
When it comes to Smartliner vs WeatherTech floor mats comparison, it can be challenging as both brands are known for manufacturing high-quality floor mats and liners. Their floor mat designs offer excellent protection against dirt, dust, spill, and rough weather conditions. So when it comes to buying any of them, the final decision ultimately goes to the users.
However, if you would prefer something budget-friendly, you can go with Smartliner floor mats. But if the cost is not an issue and you would prefer something more robust and durable, WeatherTech can offer what you want.