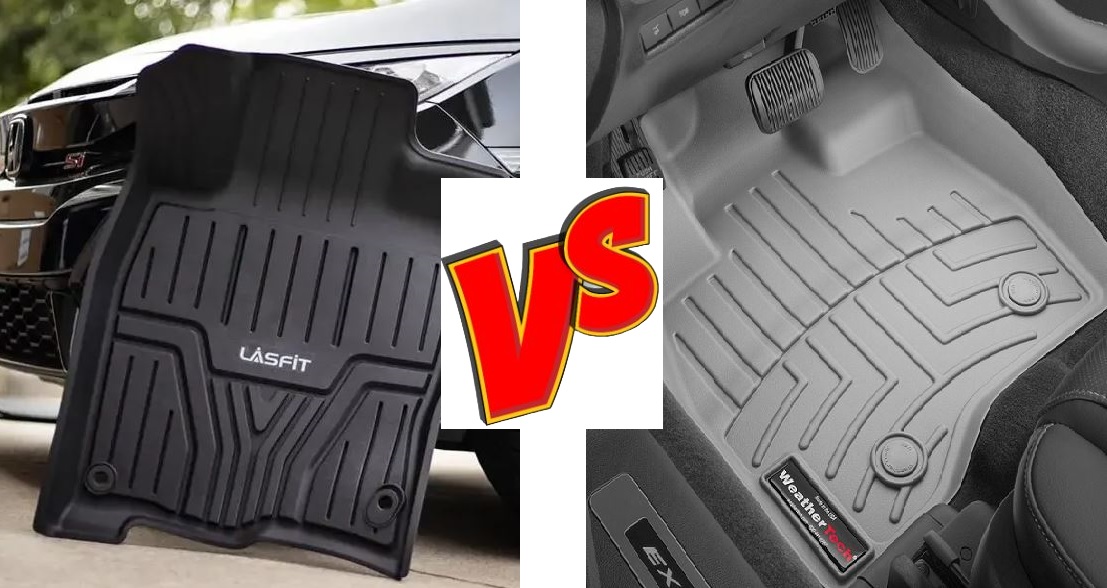 Are you in the market for high-quality floor mats to protect your car's interior from dirt, water, and other debris? Two popular options on the market are Lasfit Floor Mats and Weathertech Floor Mats. Both brands offer durable and long-lasting floor mats, but there are differences between them that you should consider before making a purchase.
In terms of picking a floor mat for your vehicle, these two brands have been absolutely at each other throat when it comes to product quality.
So, if you have narrowed it down to these two brands, this article is perfect for you. Here, we will compare the differences and discuss the similarities. In the end, we will narrow it down to a choice and explain why you should make that choice.
Who makes Lasfit Floor Mats?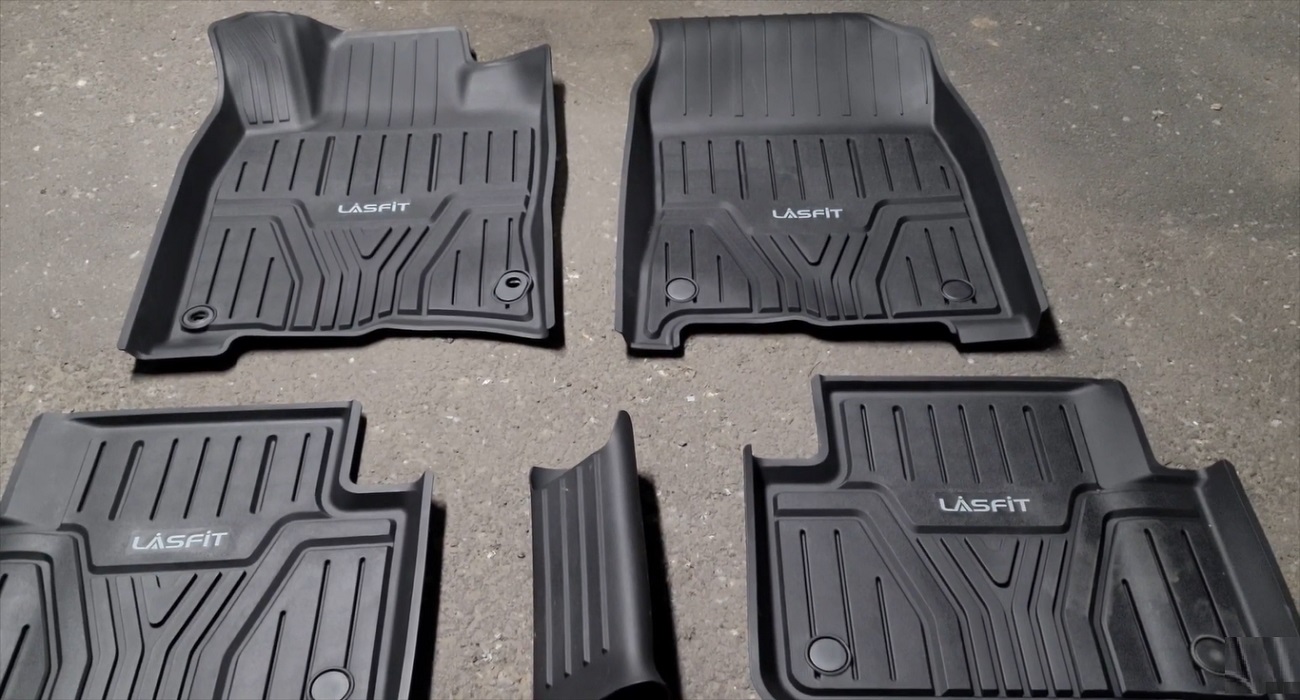 Lasfit floor mats are manufactured by Lasfit. This company was established 8 years ago. Since 2015, their goal is to become a leading brand in vehicle parts manufacturing. This company has a feedback department.
Their primary goal is to dig up every single review. After studying the reviews, the company focuses on factors to improve. So, since the beginning of Lasfit, their customer support and development has been outstanding.
Who Makes Weathertech Floor Mats
The manufacturer of Weathertech floor mats is a company named Weathertech. Since its inspection in 1989, this American company has been a household name for car parts. As you can see, they have integrated the word "tech" with their brand name.
The story behind it is that they want to improve the existing vehicle parts with the help of cutting-edge technology. They have their own research development team. This team is working relentlessly to improve their products every day.
Lasfit Floor Mats vs Weathertech Floor Mats: Key Difference
The comparison between these two floor mat brands on one specific niche product will help you to choose one brand. WeatherTech is an already established name and Lasfit is like a rising star. Let's get on with it.
Build Quality
This comparison is fair because TPE (Thermoplastic Elastomer) is the base material for both floor mats. But, if I have to pick one over another, my choice would be Lasfit. Because Lasfit floor mats are more flexible and softer. They have a better hand feel in comparison to Weathertech.
But you cannot discard Weathertech. Their Build quality is also very high. The material offers no movement whatsoever once it is attached to the floor of your vehicle. So, their will be no vibration coming from the floor.
Water Retention
Let's face it, you want to install TPE floor mats because you don't want your floor mats to go damp every time someone drops any liquids inside the car. On the basis of water retention, the obvious winner again is Lasfit.
It's actually a very problematic stand from Weathertech. Many users believe water retention of the floor mats could've been much better than it offers.
Odor
In this factor, you cannot separate the brands. As the base material of both floor mats are latex based, there's absolutely no odor. If odor is your concern, you can pick either one.
Installation
Lasfit has its installation game way better than any other floor mat. Lasfit floor mats come with locks on each side. These locks hold the floor mats very tightly at their installed spots. It's actually a very convenient method to install floor mats.
Not just Weathertech, most known floor mat manufacturers don't offer anything like that. But I must admit that Weathertech floor mats installation is not complicated at all.  You can easily install them. Maybe not as easily as Lasfit, but definitely easier than most other brands.
Cleaning
The clear winner in this segment is Weathertech. All Weathertech floor mat users can unanimously agree that they are very easy to clean.
Lasfit lags behind in this one. The design makes it softer and more flexible to use. But at the same time, the design can create quite a hassle when you are about to clean each panel.
Durability
This segment is also won by Weathertech. Weathertech not only wins this with Lasfit, it may be the absolute winner. Remember the locks that are there on Lasfit, those locks can malfunction due to frequent opening and closing.
There are no such locks on any of the Weathertech models. So, there's no chance of anything breaking. TPE is a very flexible material. Thus, you can skip worrying about breaking any panels.
Price
This is a very important factor. Nobody wants a hole in their wallets while buying floor mats. There are certain Weathertech floor mat models that can cost more than $200.
On the other hand, there are high-quality Lasfit floor mats that you can purchase within the price mark of $150. It's true you will have to sacrifice water retention and flexibility. But I think such price gap can justify sacrificing a few pros.
---
Lasfit and Weathertech: Comparison Table
To understand which is the better pick for you, the best way is to make a comparison. But don't worry, you won't have to do this comparison yourself. Just follow the table below. You will find everything there is to know about these two brands.
| | | |
| --- | --- | --- |
| Characteristics | Lasfit Floor Mats | Weathertech Floor Mats |
| Design: | Laser Measure cut design | 3D Laser cut design |
| Material: | TPU | TPU |
| Color: | Only Black | Black, Grey, Tan, Cocoa |
| Chanel Design: | To move Debris and Liquid | To Trap Debris and Liquid |
| Water Retention: | High | low |
| Side rail: | Low | Elevated |
| Flexibility: | High | Low |
| Price: | Moderate | Expensive |
Top Two Products from Lasfit and Weathertech
Not all models are the same in quality. Some are good, some are just outright garbage. So, if I have to name two of the absolute best models from each brands, my pick will be the following. If you are doing your research differently, you might disagree.
My picks are based on two things – user experience and research. My user experience includes the experience of the people that I have recommended to. So, if you can agree, you can get them right away. I can assure both of them are good picks.
1. WeatherTech Floorliner HP Floor Mat Series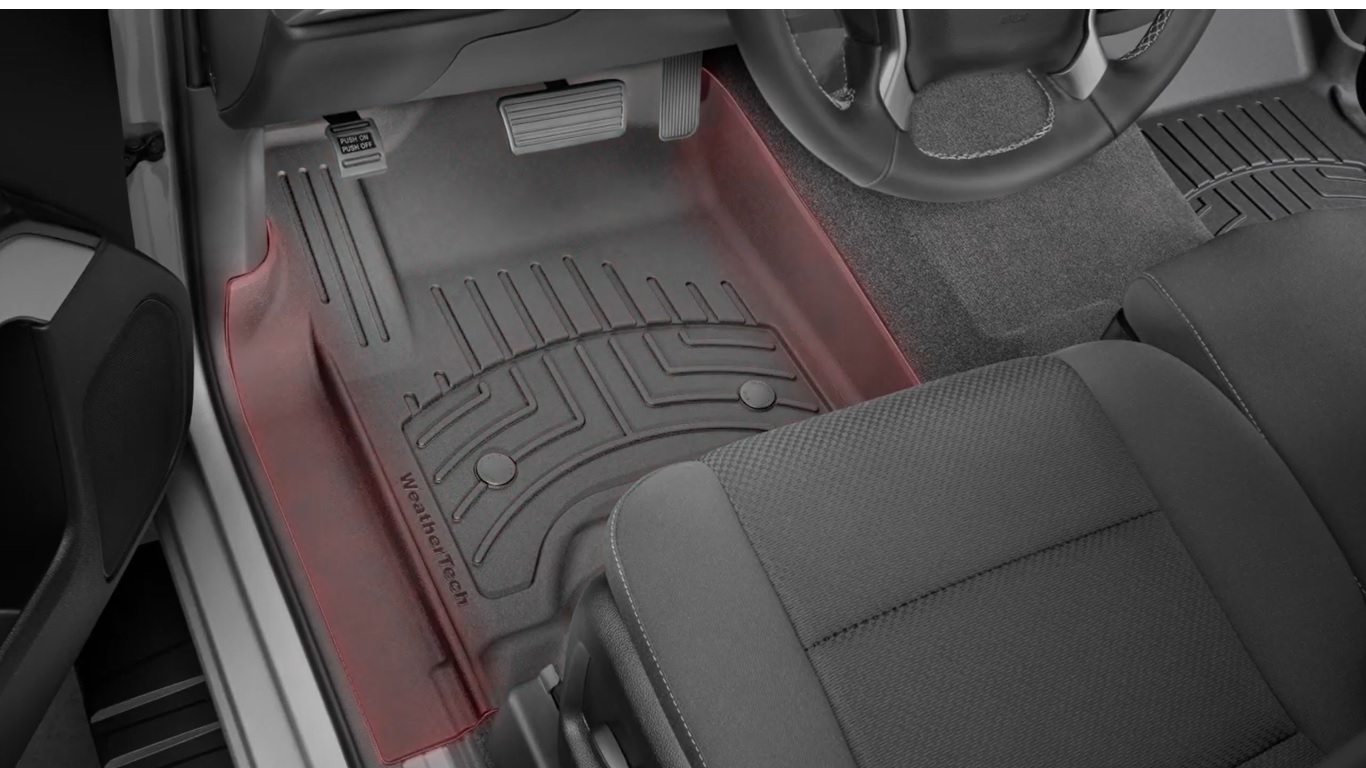 The best-selling floor mat line of Weathertech is the floor liner HP floor mat series. This rubber or TPU-based floor mat line is considered one of the best available OEM aftermarket floor mats in the US. It is a household brand for German cars.
This premium floor mat brand covers more brands and models than most other premium floor mat companies. This tells us how this brand takes account of all the users out there who need floor mats.
Overall Protection: The most common problem with floor mats is that they are designed to cover the floor only. But the idea should be to cover even the siderails of the car floor. Weathertech keeps that in mind and makes high rails. These high rails contain any mess made inside the car within the floor mat.
Perfectly Suitable for All-Weather Conditions: The material used to make these floor mats are suitable to withstand all weather. TPE is an environment-friendly material. This material is capable of withstanding snow, salt, sand, mud, rain, etc. This all-weather-enabled capability makes it a very good pick for all cars.
Versatile Design: The design of the floorliner Hp floor mats is very versatile. It's not because this model is available for almost all brands. It's because it over high side rails, skid protection, laser cut design, interior design to hold debris and liquid, etc.
Pros
High build quality
Environment friendly
Suitable for all cars
Suitable for all weather
100% recyclable
Cons
Some universal models don't fit properly
---
2. Lasfit Floor Mat Series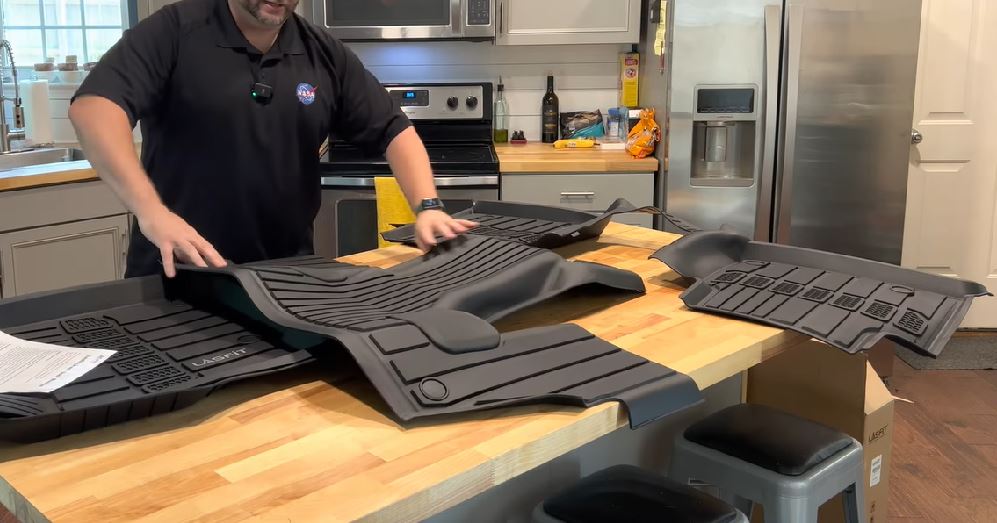 Unlike Weathertech, Lasfit doesn't have any specific line of floor mats. They have different floor mat models according to different car models. But all of them have one thing in common. All Lasfit floor mats are made to maintain the same quality.
The basic characteristics of all Lasfit floor mats are same. They are highly durable, highly flexible, and very comfortable to use. One of the most important features is that you get a 45-day return period. This enables you to change the mat if necessary.
High Flexibility: TPE is made using rubber. It's 100% recyclable and thus is environment friendly. TPE is now the most commonly used material for floor mats. But one characteristic that makes Lasfit floor mats unique is that they are really soft and comfortable.
Water retention: Some floor mat models have a design that holds the water and debris within. But doing that creates an issue with water retention. Lasfit Floor mats are different in this scenario. They have better water retention than most other floor mat models.
Custom Fit Designs: There are floor mat manufacturers who make universal fit models. These are good, but sometimes these universal models don't fit specific cars. This is why Lasfit makes custom-fit designs only.
Pros
High flexibility
Soft build
High water retention
Fully recyclable
45-day money-back guarantee
Cons
Allegedly blocks the floor air vents in some cars
---
Which One is the Best Pick for You?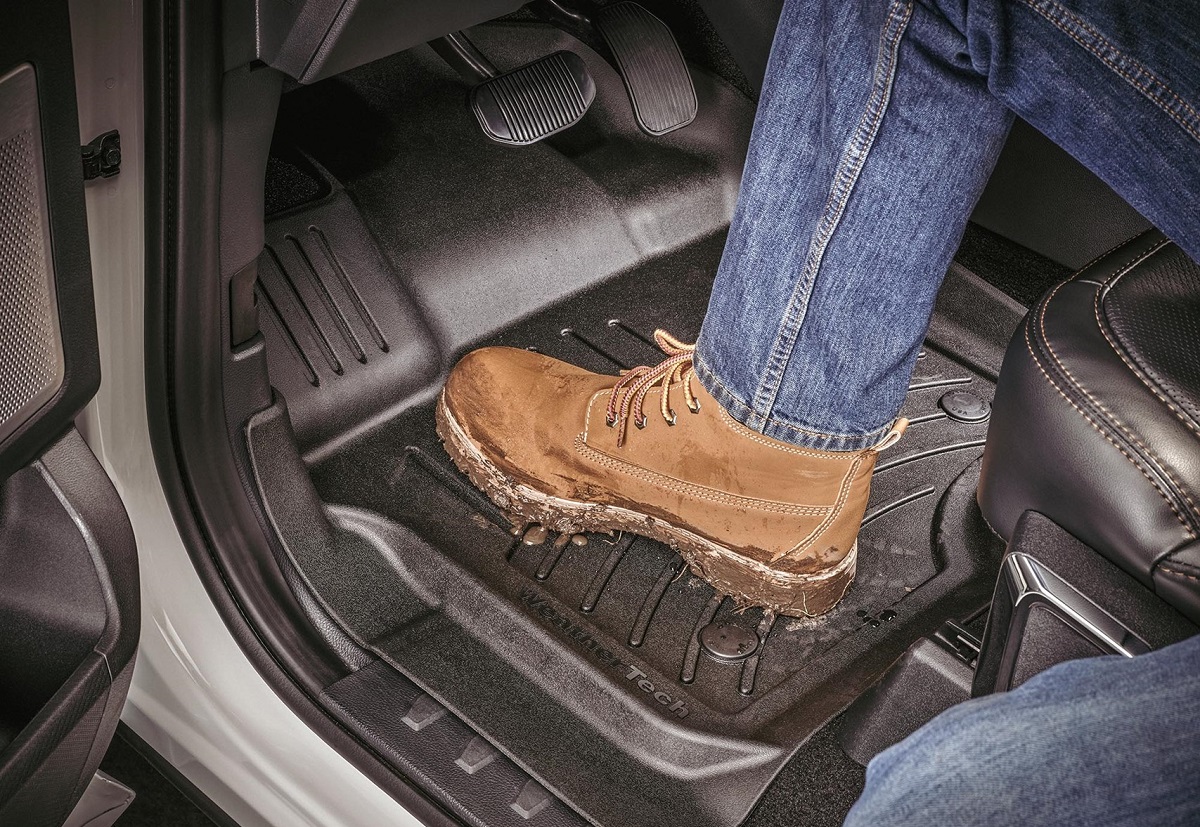 Both floor mats can be the best picks. However, I do have one favorite pick among the two. At first, I will give a verdict, then I will analyze why I think it is the better pick for you.
Among the two, the Weathertech Floorliner HP series is the obvious pick here. Before you think I made this pick because it is the expensive one, let's begin the discussion.
Design Wise
From design perspective, Weathertech has only one flaw. The water retention on these floor mats is low. On other contraries, Lasfit floor mats have better water retention. Both floor mats are all-weather. So, what makes me pick Weathertech over Lasfit?
Weathertech floor mats have high side rails. These side rails can provide all-around protection from liquids, sand, mud, or anything that falls on the floor of a car. Also, the floor mat is highly skid-proof. Your legs will not slip from the floor mat.
Also, the design has been made is such way that it contains the debris within the floor mat. So, spreading and making the car interior dirty is not an option when you're using Weathertech.
Cleaning
Cleaning a floor mat will become a hassle for two reasons. One, if it isn't capable of holding the dirt and other debris within, and two, if the design is too complicated.
Weathertech floor mats have a very aesthetically pleasing yet normal design. Yet, the floor patterns are capable of holding anything within them. This makes the cleaning process very easy.
Durability
As it has been explained once already, I don't think it is necessary to explain it again. Weathertech Floor Line HP series is one of the most durable premium floor mats out there. In terms of durability, Lasfit lags behind by a lot.
I wouldn't say Lasfit floor mats don't sustain as long, as they do. But the sheer build quality is higher when you're paying more bucks.
---
Is it worth spending so much money on floor mats?
When we are thinking about buying floor mats, we never think that they would cost this much. Yet they do cost a lot. Now, a floor mat can be as cheap as $100 and can be as expensive as $400. Is it worth spending so much money?
Weathertech floor mats are pretty expensive. When you are spending your money on them, you are not only getting floor mats, you are getting your money's worth. Cheap floor mats will not only create hassle but also will have a very short life span.
In the long run, with cheap floor mats, you will be spending more. So, getting a floor mat for your vehicle can be an investment if you pick the right one. They help to keep your interior clean. If there's no floor mat in a car, cleaning it will be very expensive.
---
Final Words
I'm sure by now you have picked your favorite one. If we know brands, we will always have a bias toward one of them. But if you are judging from a neutral point of view and have an open mind about spending money, you know what to pick.
Going through this Lasfit Floor Mats vs Weathertech Floor Mats comparison, you can easily make your pick. You may disagree with my pick. But I can assure you that if you choose to go with my pick, you will not regret it. It's a Weathertech guarantee.